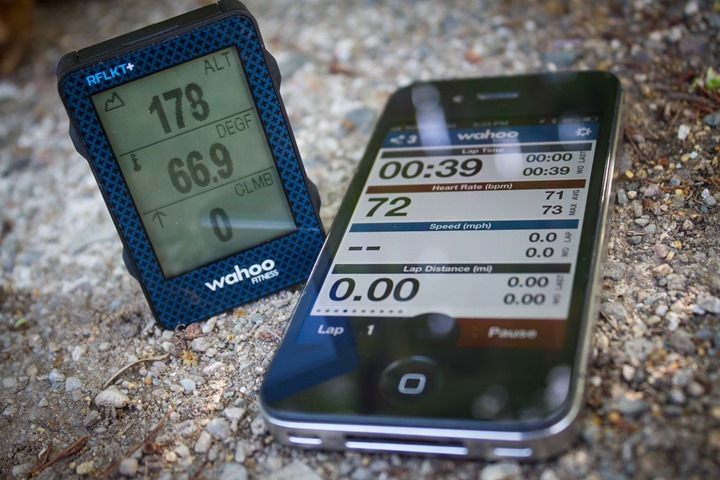 Last night Wahoo Fitness unveiled the next edition of their bike computer – the RFLKT+ (pronounced Reflect Plus).  The RFLKT+ builds upon the previous RFLKT unit that was announced about a year ago by adding in native ANT+ bridging functionality (meaning, it connects directly to your ANT+ devices).  In addition they added a barometric altimeter and temperature sensor – thus allowing for elevation and climb data.  However, unlike all previous products Wahoo Fitness releases, this isn't available from their store or your local bike shop. Instead, it's on Kickstarter.  Wahoo isn't sure whether there's demand for such a product, so is turning to the crowd-funding site to see if there are enough buyers for an initial production run.  If so, it'll become a regular staple in their product lineup and at local bike shops.
Wahoo sent over a prototype unit about three weeks ago, and therefore I've been using the unit for a bit now – luckily all on plenty of recent mountain rides.  So I've got a good feel for how things work.  Eventually the unit will go back to them (including the nifty prototype sticker I saved), like all units that I test out.  In the meantime, I'm able to give you some first thoughts on whether or not it's worth the $135US (or $100 depending on how quick you are).
Unboxing:
Ok, I lied.  There's no unboxing – mostly because there was no box.  Like most prototype units it came in a simple plastic bag.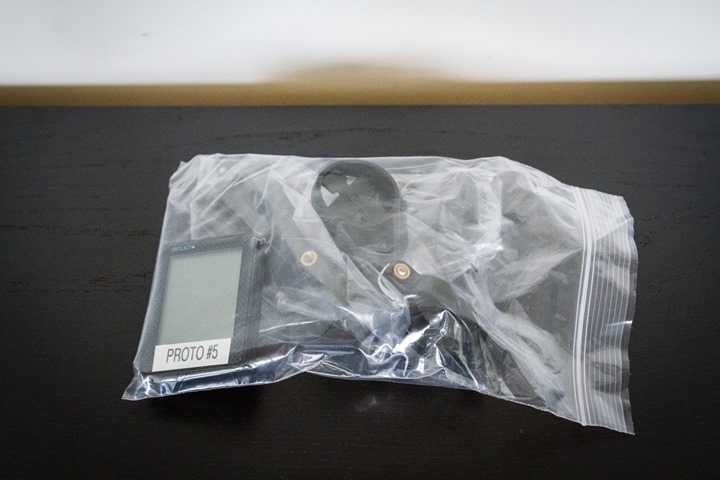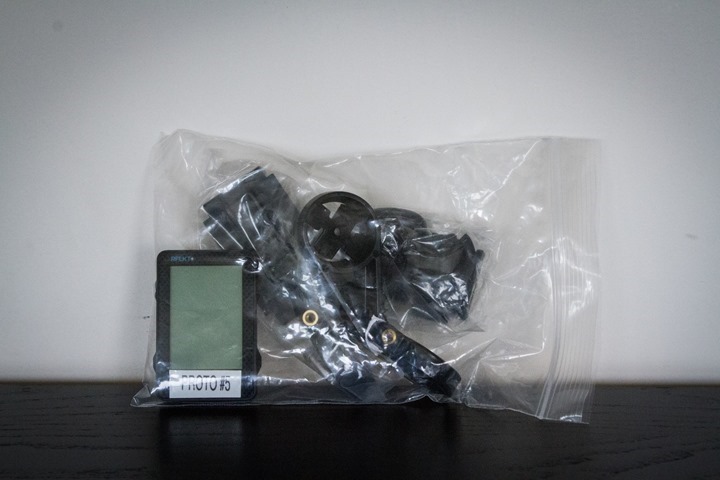 Inside the plastic bag you'll find the unit itself, and in my case, a bunch of mounts.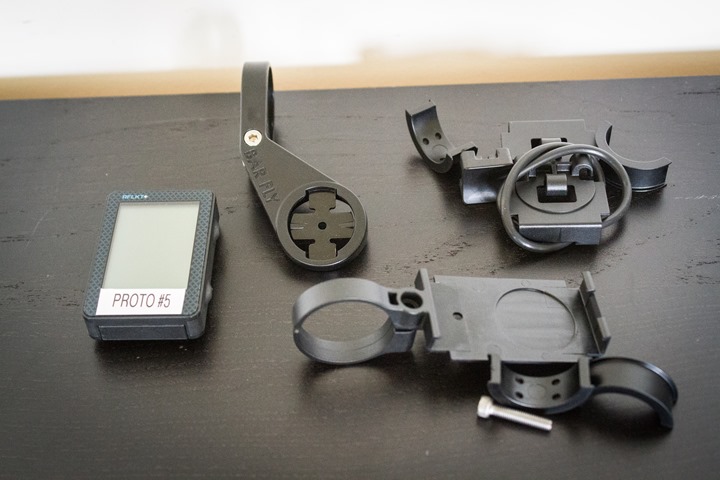 Note that the Barfly mount won't normally come with it, but was included to demonstrate the quarter-turn mount.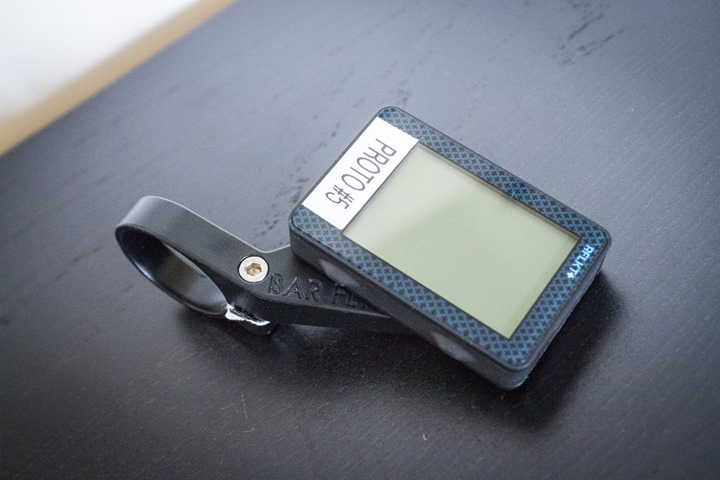 While the unit had a bunch of mount backing plates, the one I'd be most interested in was the quarter-turn compatible mount.  Also known as the Garmin Edge compatible mount.  This means it works with any of the slew of 3rd party options out there on the market today, like the Barfly lineup.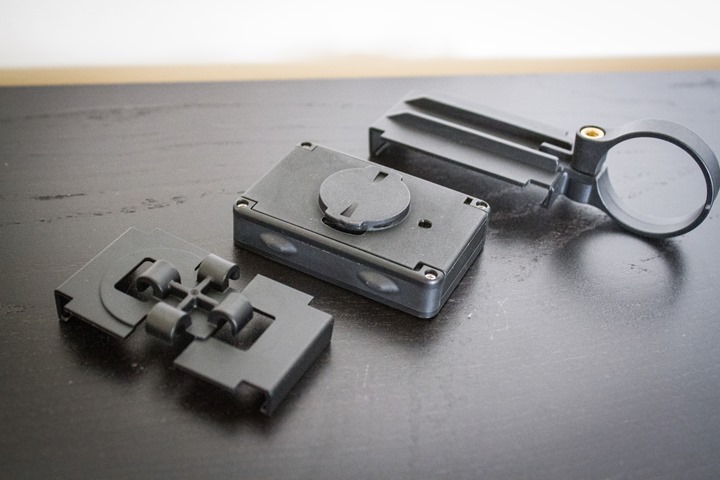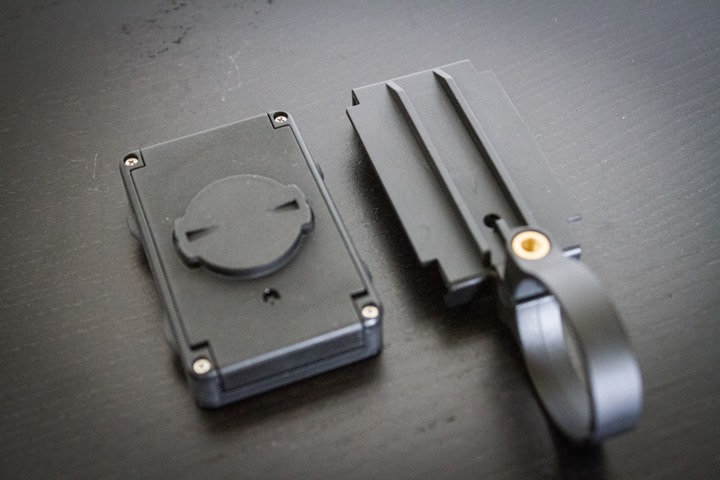 It also includes a standard mounting system as well, should you want to use that instead.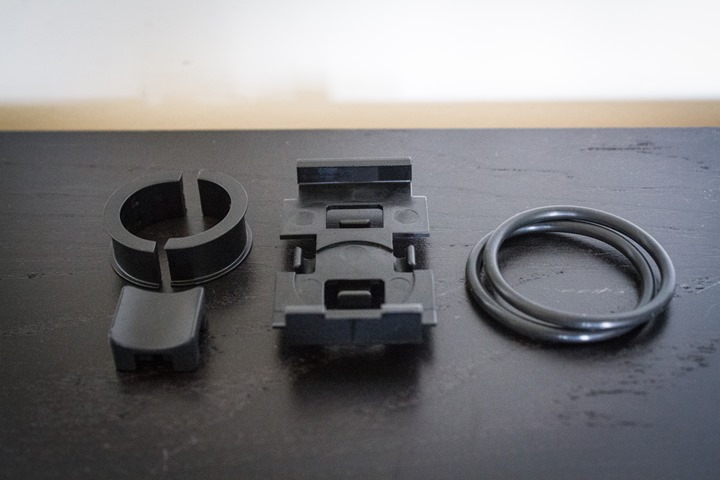 Size Comparisons: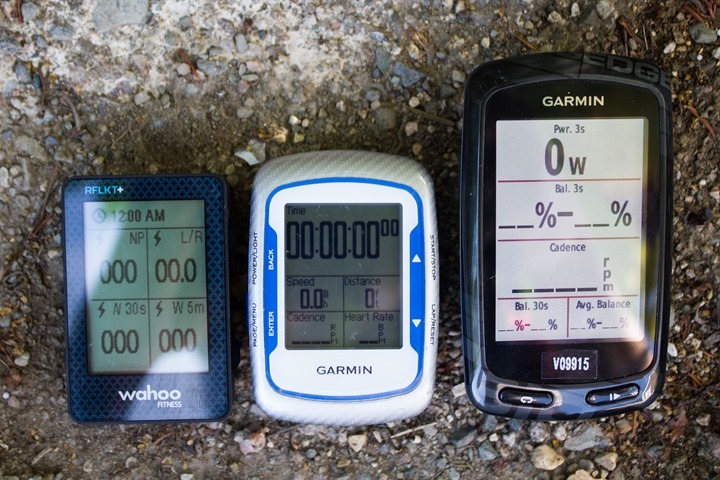 When you look at the size of the unit compared to other leading units on the market today (Edge 500, Edge 800/810), you'll see it's a touch bit smaller than the Edge 500.  And obviously a fair bit smaller than the Edge 810.  However, when it comes to screen-size, it's actually a bit bigger than the Edge 500.
The Edge 500 is the unit it's most likely to be compared to, and from a competitive standpoint it's the closest match.  Well, minus the lack of GPS part.  But from a functional standpoint they are very similar.  The areas of differentiation include more advanced features like downloading courses, workout support (i.e. predefined workouts) and virtual partner functionality.  Ultimately, these are areas that I believe Wahoo will need to implement in their app (available to all their fitness products) if they really want to compete on the same field as dedicated devices.  On the flip side, keep in mind the Edge 500 can't upload workouts to online sites, nor can it talk to Bluetooth Smart devices.  So there are tradeoffs to consider.
From a thickness standpoint, the unit is the thinnest of all units I know of in this market.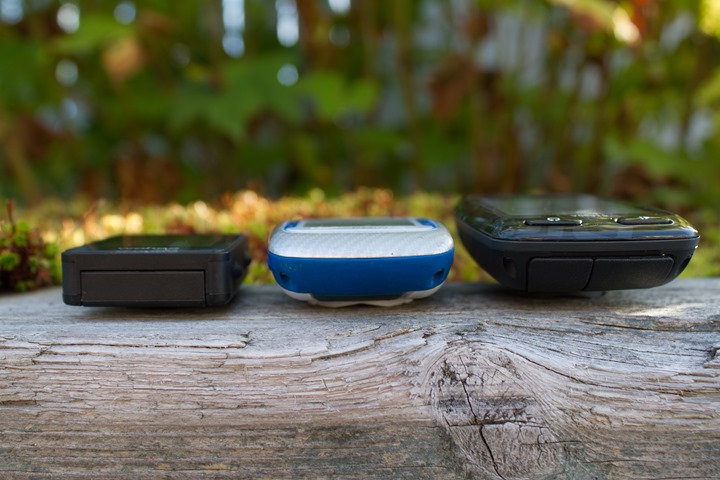 When you compare it to the existing RFLKT unit, cosmetically, you'll note it's pretty much exactly the same.  The only difference being a slight change in the background pattern and the little "+" up top.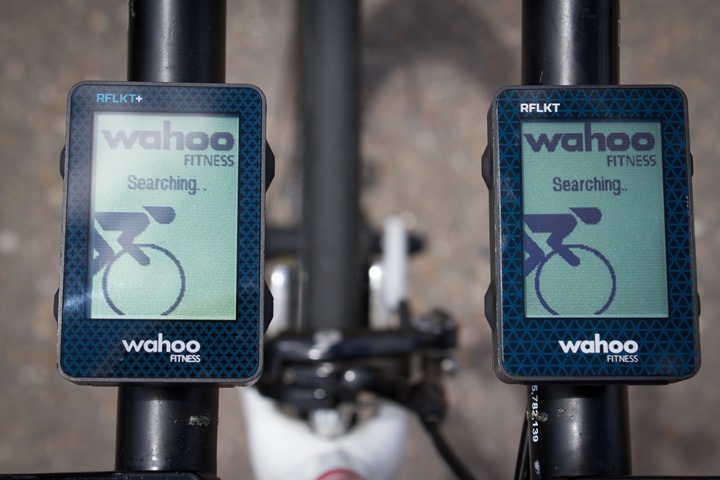 The ANT+ Bridge: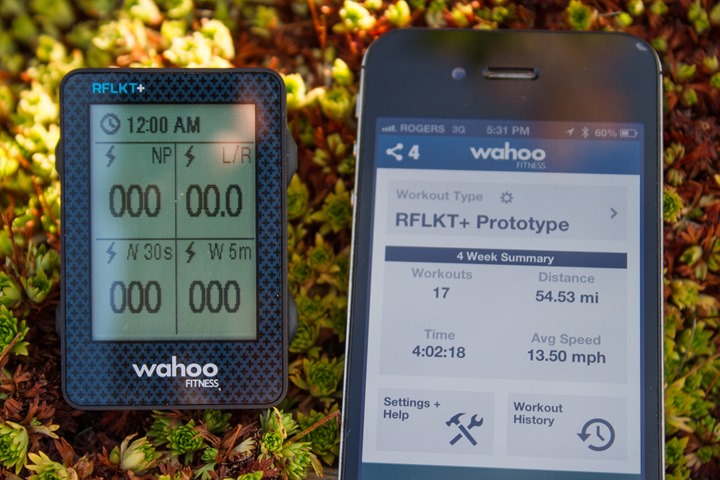 The ANT+ bridge is probably the most important feature in the RFLKT+.  The bridge allows you to get ANT+ device data into your iPhone/iPod/iPad without the need for a separate Wahoo Fitness adapter, ultimately then displaying it on the RFLKT+.  Previously, if you wanted that data in the Wahoo App (or corresponding ecosystems of hundreds of apps), you had to attach a little adapter to your iPhone.  Unfortunately, that 30-pin adapter became more of a pain with the iPhone 5 (it worked with the Lightning adapter however).  The RFLKT+ effectively takes the place of that adapter – and from a programmatic standpoint, it looks identical to it (which is good for 3rd party apps).
To find your ANT+ devices you'll simply dive into the settings for a given sport profile (i.e. cycling, running, etc…).  You can create your own sport profiles as you see fit.  From there you'll add a new sensor type and select the type of sensor.  These could be ANT+ power meters, ANT+ heart rate straps, or ANT+ speed/cadence sensors.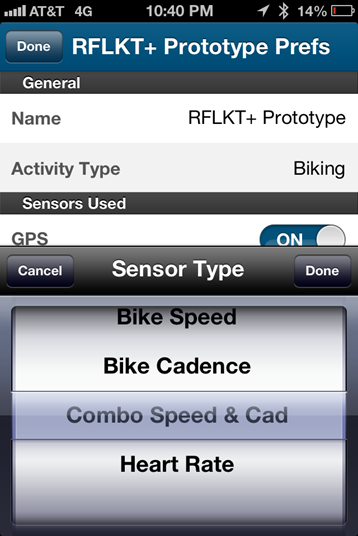 Once you've done that it'll go off and search for the sensor, ultimately returning with the ANT+ ID once found.  At this point it's paired and saved for future use.
From here on out the RFLKT+ acts as a middle-man between your ANT+ devices speaking ANT+, and your phone speaking Bluetooth Smart.  It's effectively bilingual.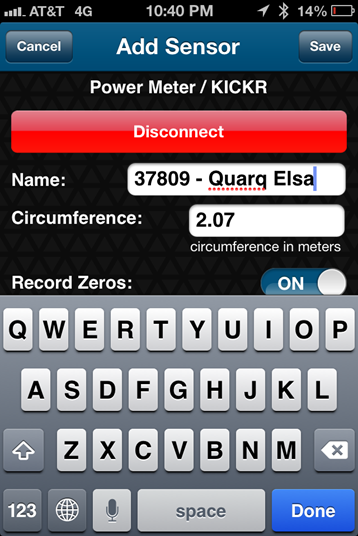 Later, while riding, data from the sensor is passed seamlessly from your ANT+ power meter (for example) to RFLKT+, then relayed to the iPhone for recording before being displayed in the data fields you've selected on the RFLKT+.  Using that example, below you can see data from the Garmin Vector being displayed below.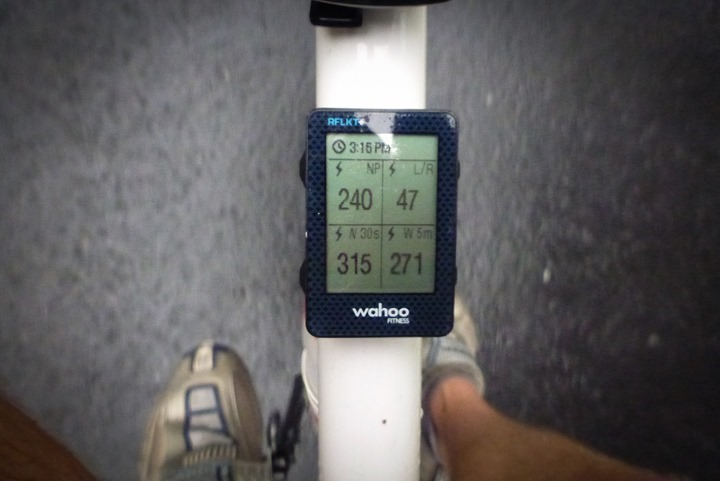 Or, from the ANT+ heart rate strap: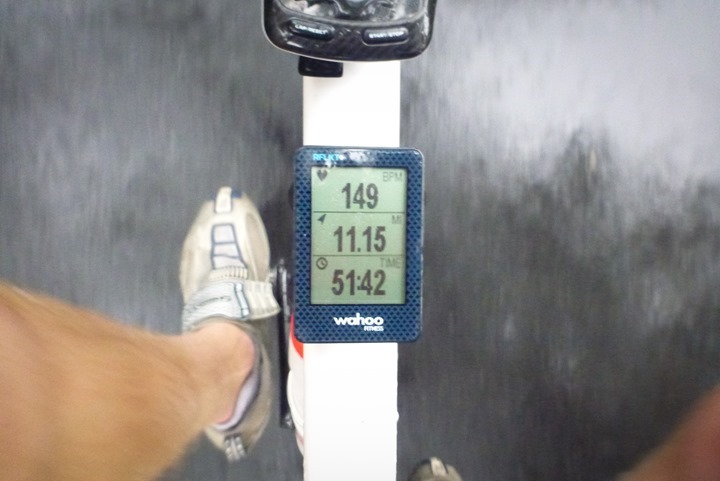 I'll dive into all the data pages options and configuration a bit more later on.
Barometric Altimeter and Temperature Sensor: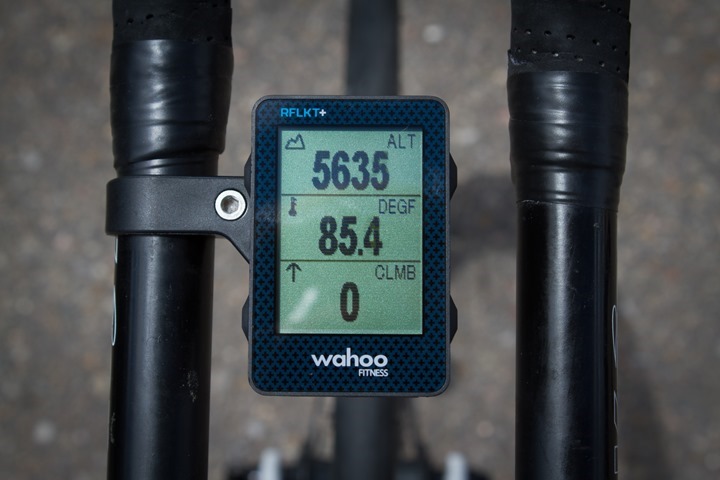 The RFLKT+ contains an internal barometric altimeter, in conjunction with a temperature sensor.  These provide the RFLKT+ with new metrics the original RFLKT didn't have, such as: Temperature, Altitude, Grade, and Ascent.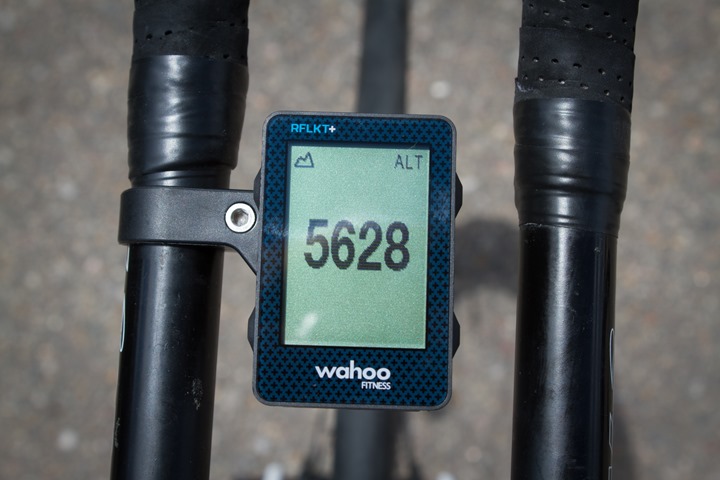 Today in beta form, the RFLKT+ doesn't yet have a barometric altimeter calibration procedure determined (as far as calibrating the current altitude).  Wahoo is working on deciding amongst a few different options prior to implementing one for the final product.  For example, they could calibrate off of GPS (like most non-phone units do today), or they could calibrate off of a known value (such as you providing data from a trail marker/sign), or via a few other methods.  In the meantime, the unit reads the pressure and makes an educated stab at the current elevation.  In my testing, I found it was pretty close to other units despite the lack of calibration in the beta version.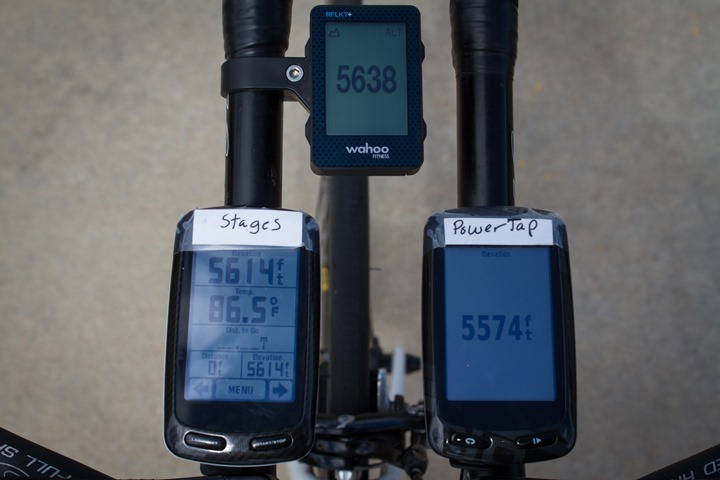 While riding, I'm able to easily see not only current elevation, but also fields like total climbing ascent and temperature.  In case you're wondering why I have it on my top tube – I had four other other Edge units I'm using for power meter collection, and this just worked easiest down there (on a simple quarter-turn rubber band mount).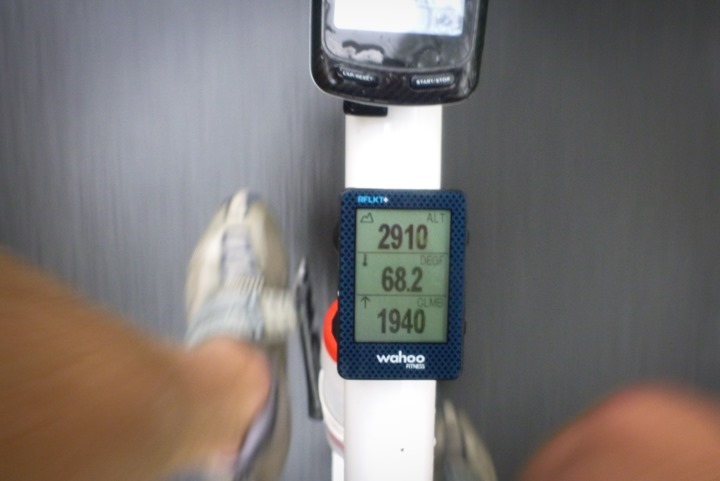 And post-ride, this data is fed into your recorded files, so if you upload to the slew of different partner sites (Strava, Garmin Connect, TrainingPeaks, etc…), you'll see the data there as well: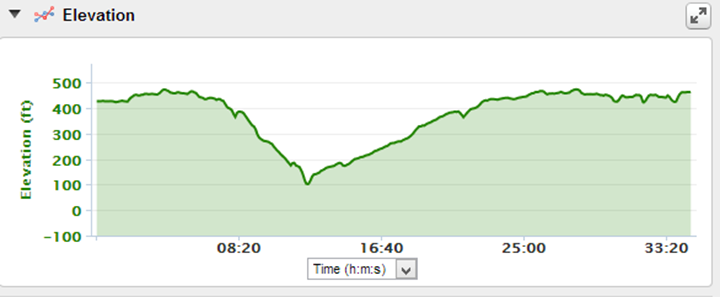 Note that you can also export out files in standard formats such as .FIT, .TCX, .CSV, etc…
Temperature data is also recorded, though in the beta builds this wasn't implemented until last night.  So I haven't had a chance to test that yet, but will in the coming days.
General use:
The RFLKT+ is identical to the Wahoo RFLKT in terms of general operation.  The RFLKT (and RFLKT+) both use your iPhone's GPS for determining location, while displaying that data to you.  This means you'll need to have your phone in your jersey pocket, but the display doesn't need to be turned on.  Instead, that information is passed via Bluetooth Smart to the unit wirelessly and continuously.  The unit uses a simple CR2450 coin cell battery that lasts a year of normal use.  From a phone battery standpoint, Wahoo claims up to 9 hours of use feeding RFLKT+.  I haven't had to go on a 9 hour ride, but on a 3.5 hour ride last Sunday it burned through 2/3rds of my battery (GPS on, WiFi on and connected, screen off).  And in that case, I actually had other data logging apps on as well burning battery – so that's well beyond a worse-case scenario.
The unit pairs via Bluetooth Smart to your iPhone/iPod/iPad, and the iPhone 'drives' the initial setup experience of the device.  For example, you'll configure all of the data pages of the RFLKT+ using your iPhone.  You can create separate 'profiles' that you can activate, each containing different pages.  For example, you could create a mountain biking profile with different RFLKT settings than a road cycling profile.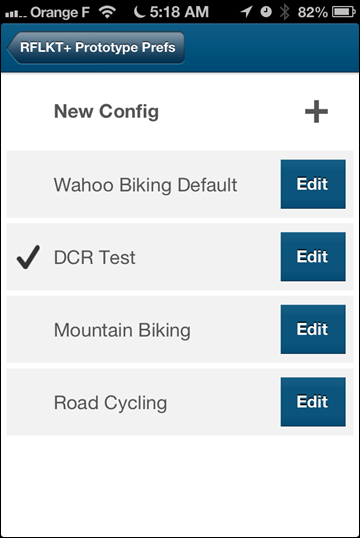 Then, within each profile you can create numerous data pages (appears the limit is about 14 data pages).  Data pages can have multiple data fields on them, and you can customize the look of them.
And finally, within each data page you can set the applicable data that you want to see.  For example – altitude, grade, or data from your ANT+ devices.
Once the data pages configuration is complete it'll be sent to your RFLKT+ unit the next time you connect to it.  In addition, you can also configure buttons.  I prefer my buttons to be configured somewhat similar to the traditional GPS bike computer I most often use, so I've set it up that way: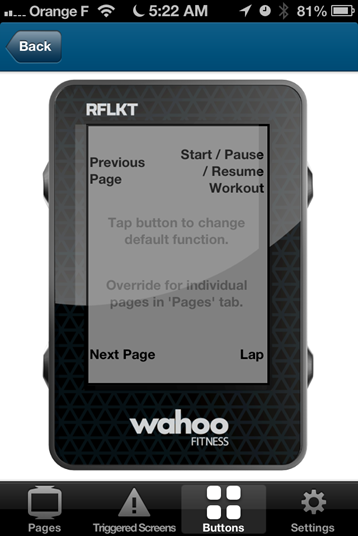 And finally, you can invert the whole screen (black and white flipped), as well as just leave the backlight as always on.  Obviously, that burns your battery a bit more.
When it comes time to ride, you'll crack open the Wahoo Fitness app.  In doing so it'll connect to the RFLKT+.  As it does so it'll send the unit your configured data pages.
Shortly after that, it'll connect to any ANT+ (or Bluetooth Smart) devices you've configured: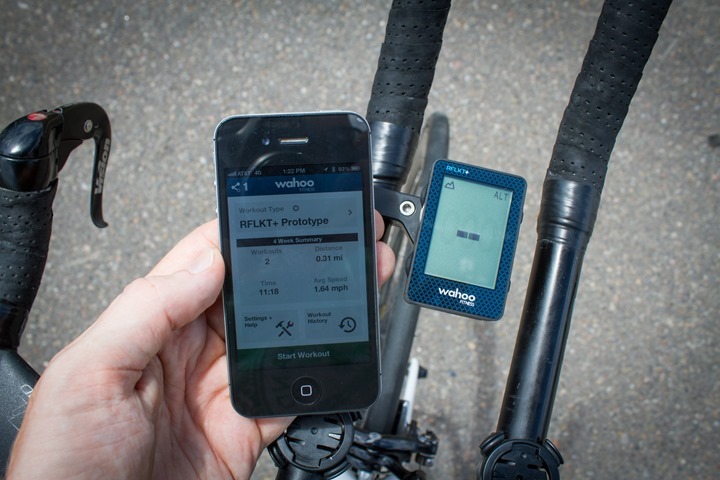 Then you'll just go ahead and start the workout.  As I do that the display fields will start enumerating data from my sensors and my ride.  The unit will use the GPS of the iPhone to provide distance (and speed), while pulling data like heart rate and power from my ANT+ heart rate strap and power meter.  Note that if you connect to ANT+ speed/cadence sensors, you can specify if you want the speed data to come from the GPS, or from the sensors.
If I press a button to switch data fields, it'll go ahead and display my altitude and climb data, as well as my temperature data.  These fields are unique to the RFLKT+.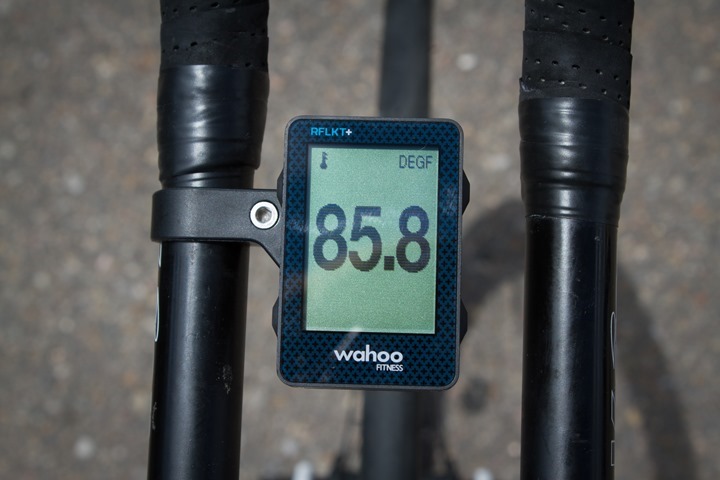 Beyond that, the unit largely works the same as the original RFLKT from an overall functionality standpoint.
Prototype Odds & Ends: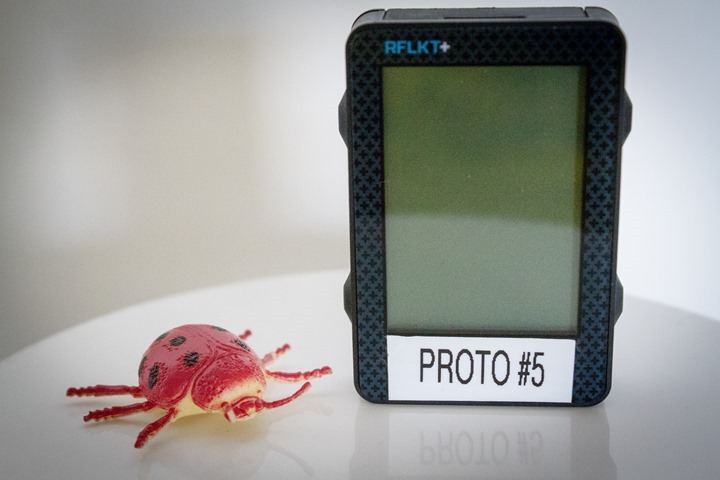 Obviously, this isn't a finished product. It's considered beta…err…prototype. They are still months away from a retail availability product (dependent on Kickstarter).  That said, I do want to cover briefly any odds and ends I saw.  Which isn't to say that I expect a perfect product – in fact, far from it (again, it's beta).
From a hardware standpoint I'm not seeing any issues.  This makes sense.  The reality is that the ANT+ chip has been in some RFLKT development units for over a year now (including an early prototype regular RFLKT unit I had).  They've made no secrets about the fact that eventual ANT+ inclusion was down the line.  The additional component here is really the barometric altimeter (which includes the temperature sensor).  Beyond the internal guts – it's really the same external case with a slightly different pattern on it.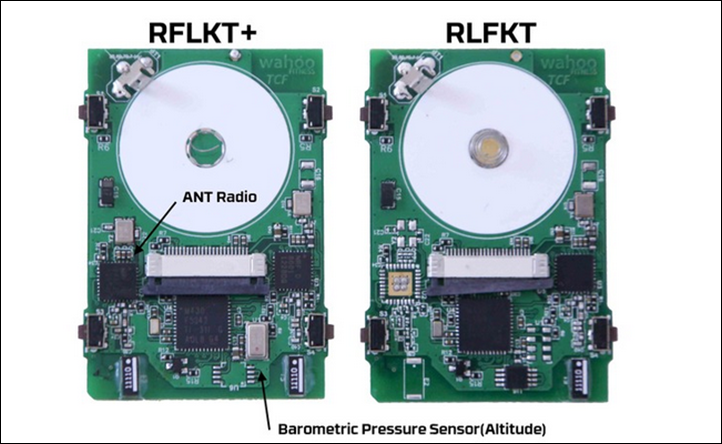 Looking at the software side of things, I've seen a few oddities – many of which have already been addressed over the past few weeks in updated beta builds (of the Wahoo app, not the firmware).  The real outstanding item on the list is pretty much how they're going to handle the calibration of the barometric altimeter.  Right now that isn't complete in the software, and I can see the variation here and there (not massive, but noticeable).  They've got a few options on the table, but they haven't quite decided which one yet.  Thus it's possible they could choose the "wrong" one, and the barometric altimeter data could be useless.  And by "wrong" choice, I mean any choice whereby the barometric altimeter data isn't accurate.  My definitions are simple that way.
From an ANT+ bridging standpoint, everything is passing the initial sniff test.  I haven't run it through a complex series of ANT+ tests to validate accuracy there (eventually, I would).  Wahoo is pretty much known as one of the most detailed apps out there when it comes to correctly recording data, so I'd be surprised if that was hosed up.  Especially given the programmatic side of it uses the same calls that the previous Wahoo iPhone Adapter used – so nothing has changed on that end.
Again, I'm sure there are bugs I've not yet encountered – but I'm not seeing any reason at this point to stay away because of outstanding beta items.
How Kickstarter Works: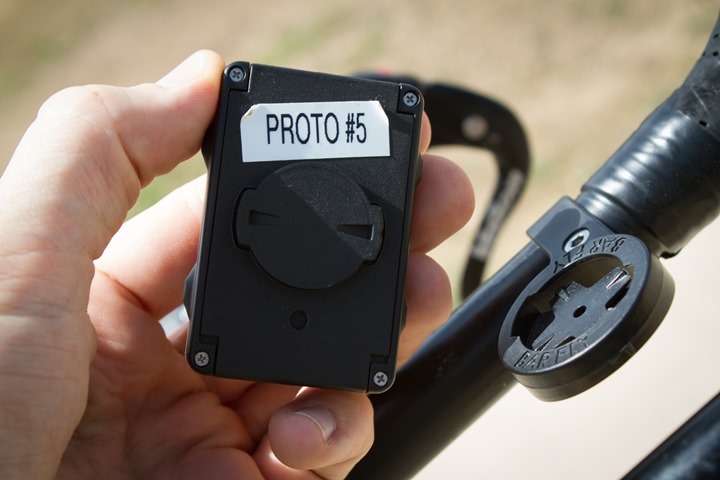 Kickstarter (or crowd funding sites in general) allows one to 'back' a project in an effort to get enough funding for the project to bring it to market.  It's just like signing a fundraising pledge form to buy Boy Scout popcorn…except you pay in advance.
In most cases (for hardware projects anyways), these are startup companies looking to break onto the scene with a new product idea from a generally unheard of company.  In order for a project to get fully realized enough backers have to pledge money to meet whatever threshold the project specifies (in this case – $100K).  As a backer, you only pay if the funding level is met.  If it's not met by the funding deadline, you're money is refunded.
In the case of Wahoo and the RFLKT+, this are a bit different than what I usually see on Kickstarter.  First, they're an established company.  Second, they're essentially pitching a modification of an existing product.  Third, they're open about the fact that they're looking to see if there's enough interest to offer it.
When I look at Kickstarter (and similar) projects every week in my 'Week in Review' post, I caution rather heavily that the Kickstarter motto is "Be late and under-deliver".  Thus far, all technology projects I've backed have fallen into that camp.  Will the RFLKT+ be the first to avoid it?  Well, on timelines I think things are a bit tight – though I do think they could make it.  On the 'under-deliver' part, I'm not seeing any issues there.  Functionally speaking almost everything in the unit today is working for me.
My general policy is that unless a Kickstarter project sends me a functioning unit to test with, you're relegated to the Week in Review post.  Obviously, in this case, Wahoo was able to send over a fully functional prototype unit that I've been using for a few weeks now – so that plays out well for them in that if I'm not seeing any major issues, it's definitely a more real product than most Kickstarter devices.
Summary: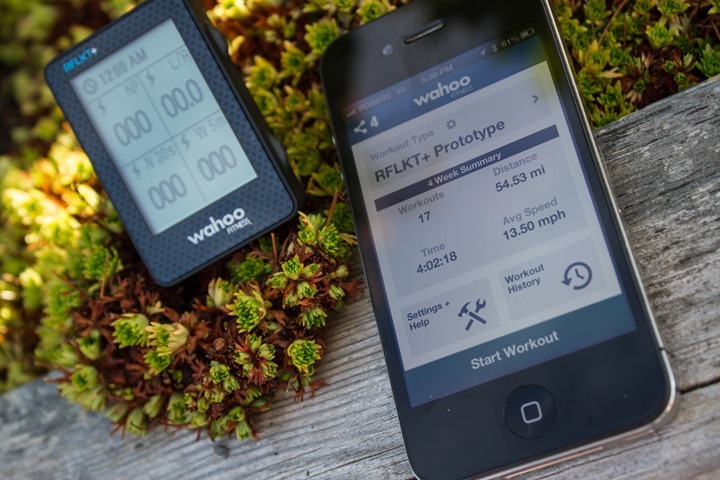 Overall, the unit works pretty much as expected.  With the addition of the elevation data and dongle-free ANT+ connectivity, the RFLKT experience has moved much closer to where I think it needs to be to be truly competitive.  And at the end of the day, almost all of us are taking cell phones with us on most training rides (races are a different problem), so for the $100 that this costs, it's a pretty solid deal for what it delivers.
Note that the unit does require that you have an iPhone 4s or higher (must have Bluetooth Smart in it), or, an iPod with Bluetooth Smart.  You can connect to a 3rd generation or higher iPad as well – I just suspect you won't want to take that in your back jersey pocket.  On the Android side, they are working on support for that – but it won't come immediately.  So if Android is in your pocket, your best to wait (and e-mail them about adding you to their Android beta).
There are no doubt areas and directions I'd like to see a future RFLKT (+ or otherwise) go in.  But some of those ideas would likely mean moving away from the coin cell battery that powers the unit.  Today you only have to swap out that $3 battery once a year, whereas moving it closer to a traditional GPS bike computer would likely mean recharging.  Outside of the physical design, I'm optimistic that the Wahoo team can focus engineering efforts on the software platform around their devices, specifically on adding features that make it competitive with other more fully rounded GPS units (i.e. workouts, courses, etc…).
As for whether I would back the RFLKT+ on Kickstarter – that answer is pretty easy.  I already did it yesterday.  I think it's a product that has a clear market and at a good price.