After driving out to Cape Spear last Monday I decided that it would make for a perfect long ride this weekend. Except, I wasn't quite content with just a 'simple' out and back. No, I'd add in a bunch more coastline riding and then a swing up the steep climb to Signal Hill as well. But, let's not get ahead of ourselves quite yet. Here's a run-through (or bike-through I suppose) of how things went down.
First up was creating my route and getting the maps all setup. I went ahead downloaded free maps for Newfoundland for the Garmin Edge. Then with the help of The Girl's Dad we plotted a route on Garmin Connect that was as scenic as possible without going overboard on the mileage.
Then Sunday morning I copied everything over and got ready to head out.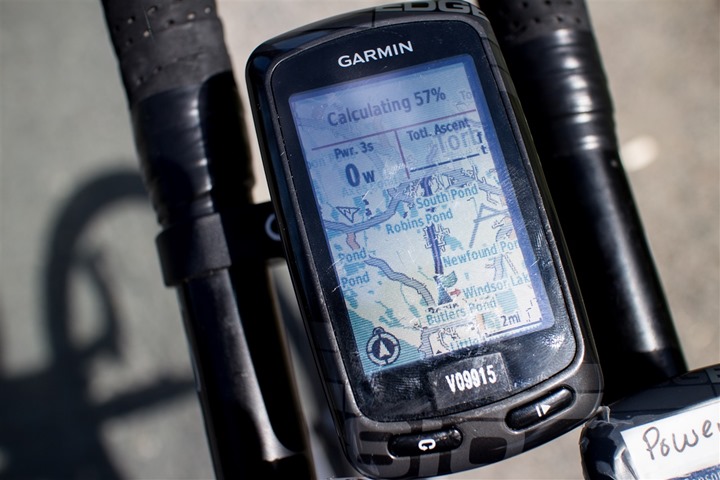 For the initial portion I set out on quiet local roads, just around lunch time. Obviously, a morning person I am not.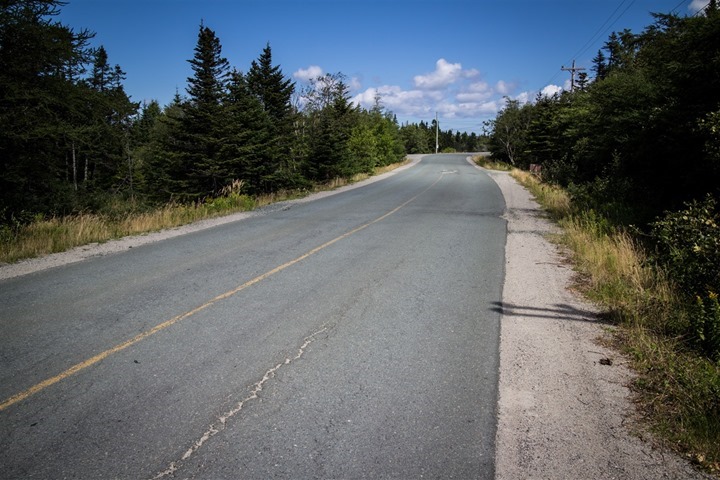 About 10-15 minutes later I was descending into Torbay and then quickly out along the coastline. It doesn't get much more picture perfect than this.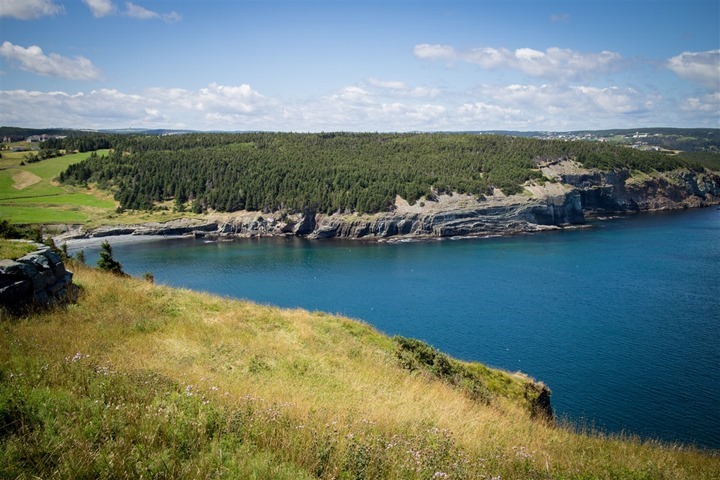 The road – appropriately named Marine Drive – would meander up and down numerous hills along the coast. Additionally, the droplet of sweat would stay on my camera lens.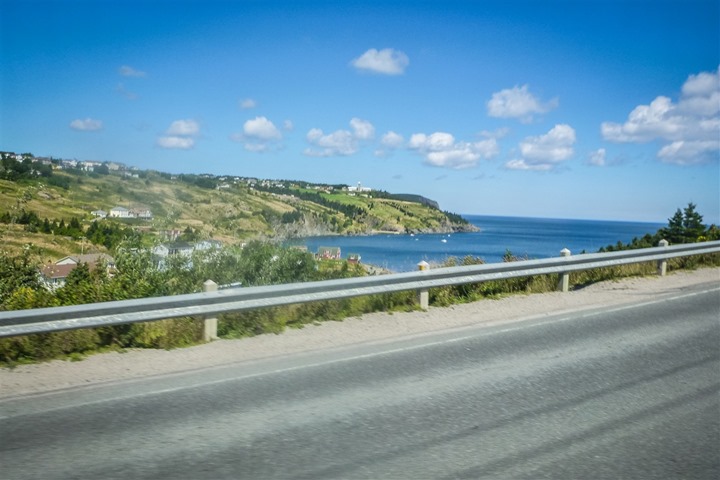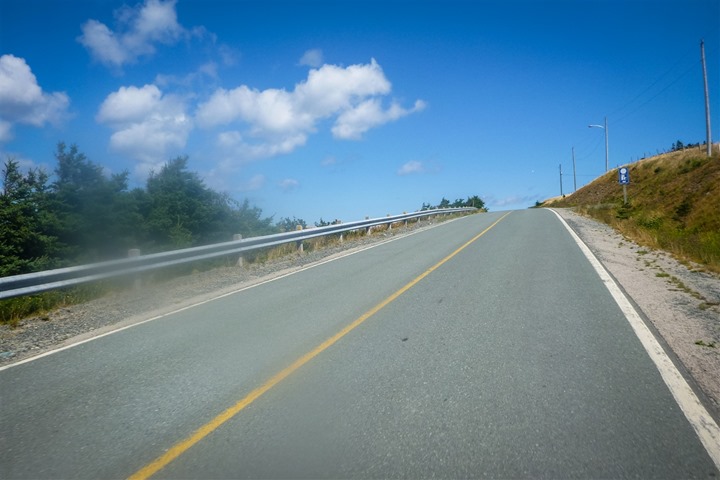 A droplet that would hose up an otherwise perfect little shot of a cove down below: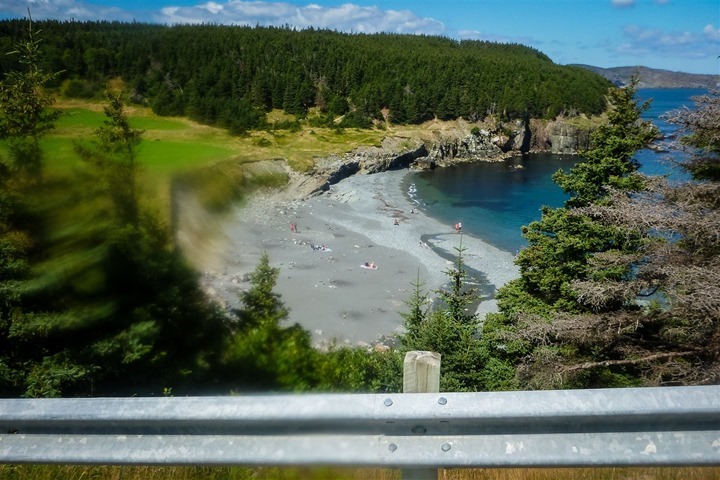 Eventually though as I turned inland a bit the droplet disappeared like the coastline, bringing me into neighborhoods mixed with a few farms.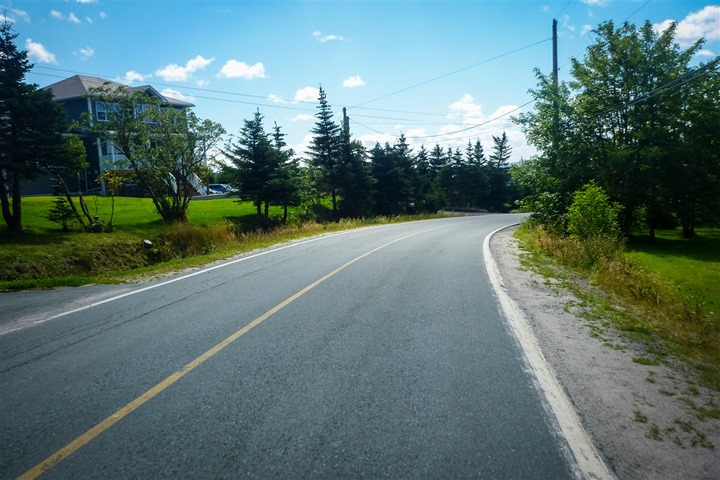 Soon I was coming up on the city line into St. John's, and at the same time heading under the end of the Trans Canada Highway. That highway starts all the way over in British Columbia and ends pretty much around the corner from this.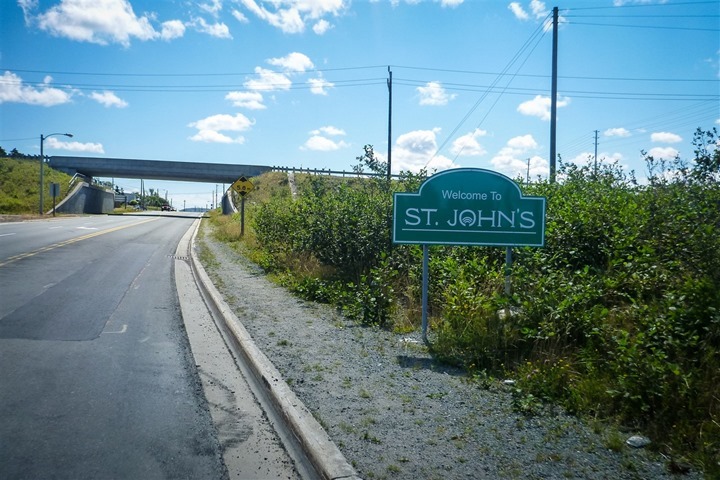 I approached the downtown area, making a turn down one of a number of "Jellybean Row Houses" streets, home to the colorful houses that you see on so many Newfoundland crafts. We actually even have little Christmas Ornaments that The Girl's Dad handmade that looks like them.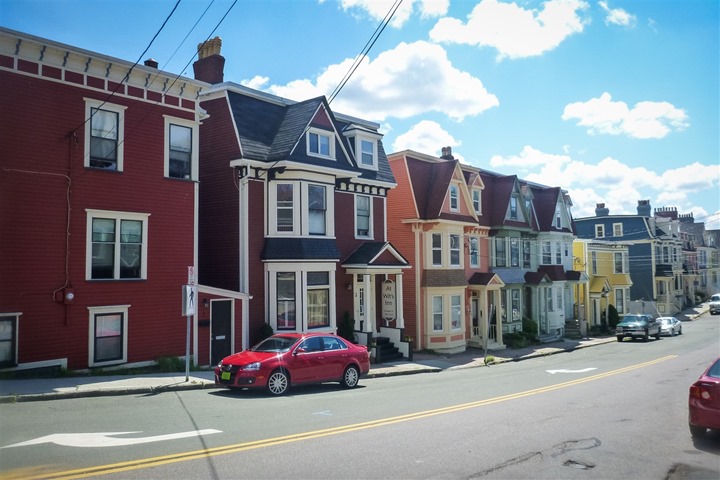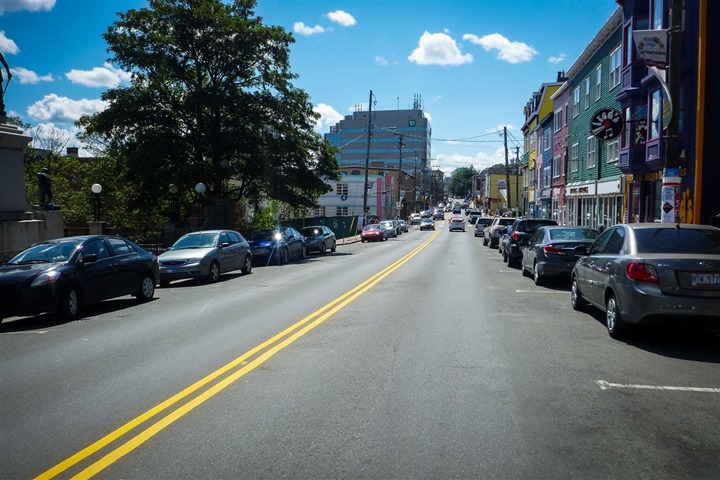 I'd ride down the main drag on the way out, passing Canary Cycles, the local bike shop here. A few years ago when I did a triathlon the guys from there gave me a spare wheel mid-race after I had two flats at that point. I'd end up having three flats that race – and I actually even found the tiny rocks (looked like little knives) that caused them. I included a picture of that in my race report.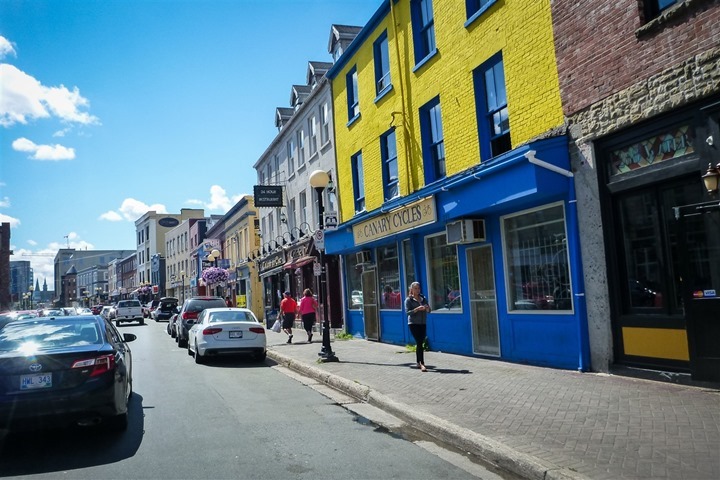 After briefly passing through downtown (it only takes about 3 minutes on bike, it's not super-long), I went another half a mile or so before turning out of town and beginning the climb out to Cape Spear.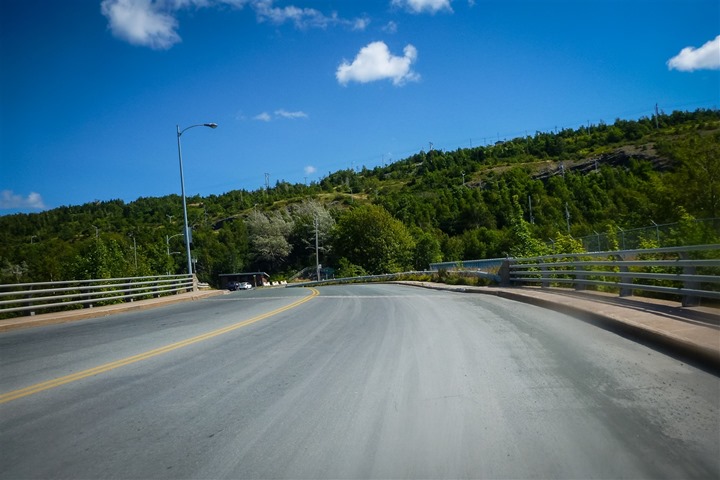 The start of the drive (and climb) is clearly marked with a sign, so it's kinda hard to mess up direction-wise.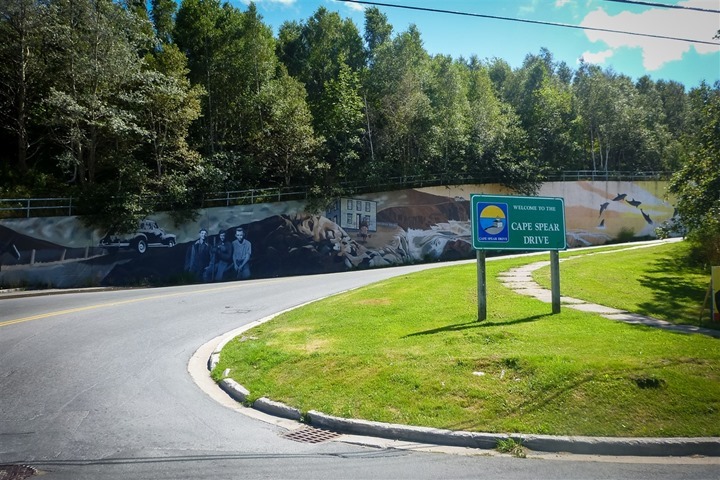 And behind the sign a pretty cool mural/painting that stretches for perhaps a hundred meters or so.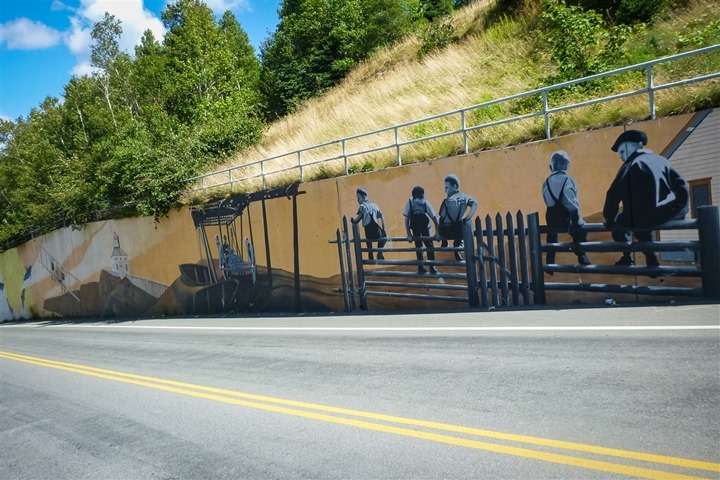 With the pretty paintings out of the way, you get down to business climbing a number of switchbacks. This would be the first of many climbs. Thankfully the road is a bit wider here, so even though there's a touch more car traffic in this initial area, I didn't have any concerns.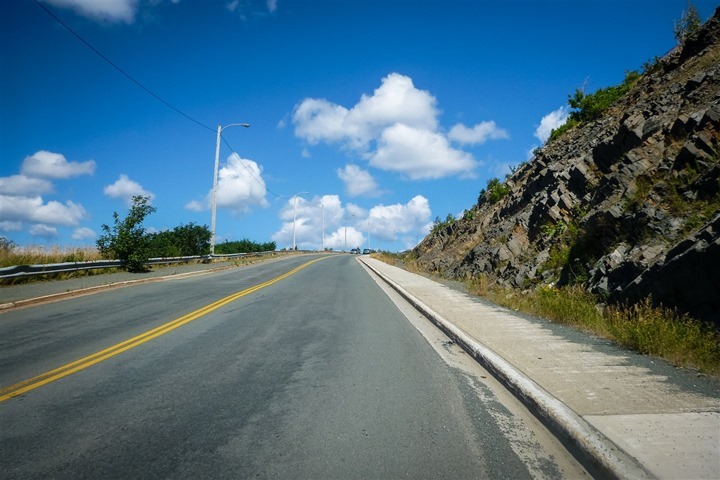 After completing the first climb I found some beautiful newly laid roadway. Not even painted yet! Ahhh…the feel of perfect asphalt.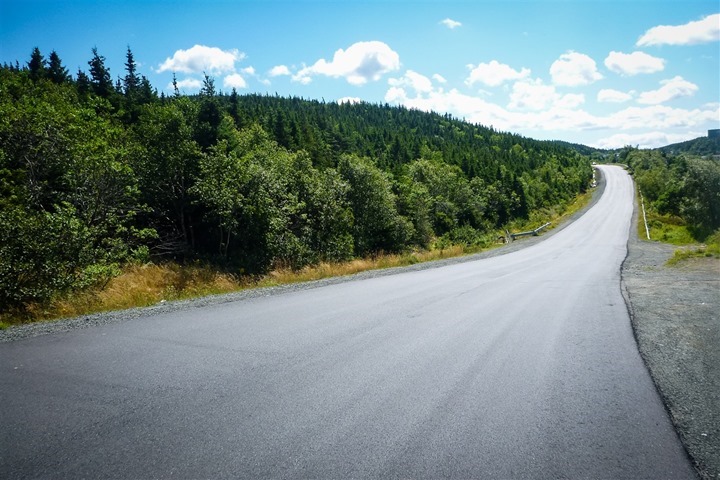 From this point until the end of the cape, the drive is pretty much like being in a national park. Only a handful of structures along the way, but otherwise just never ending trees with meandering roads.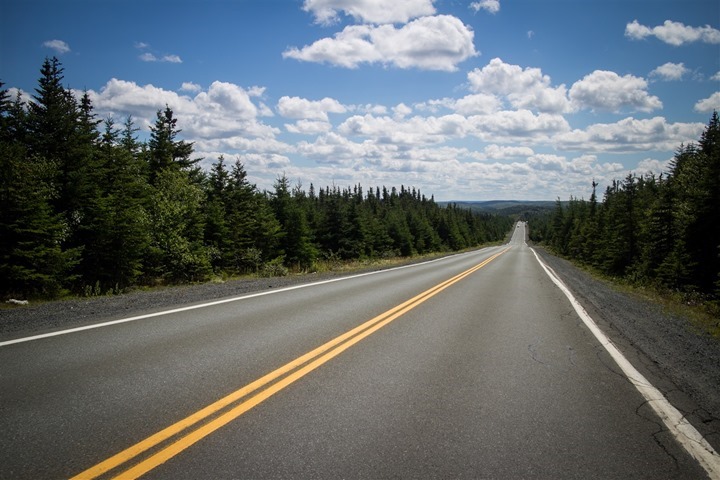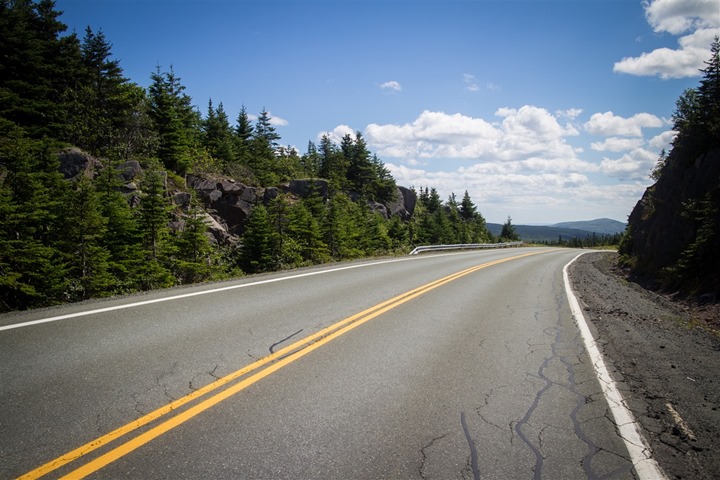 About the only reminder on this hot and sunny summer day of the harsh reality of Newfoundland winters was the orange sign below:
Oh, here's me while climbing. Yes, some folks asked last time about the new helmet and sunglasses. I picked up the new helmet in Boulder at a local bike shop as I felt like my red one was a giant beach ball. And then on the sunglasses front my more recent pair of Oakley's had the little rubber piece break apart and fall off, and getting that replaced turned out tougher than you'd expect these days for an older pair. So, new pair while down in Philly it was.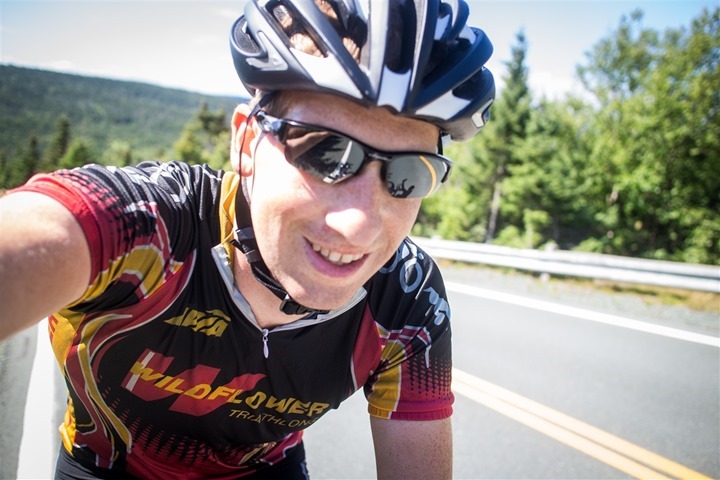 As noted, there was a fair bit of climbing (see below). But after being in Colorado riding the mountains there the week prior, this all seemed quite tame. I'd end up climbing some 4,580ft during the ride.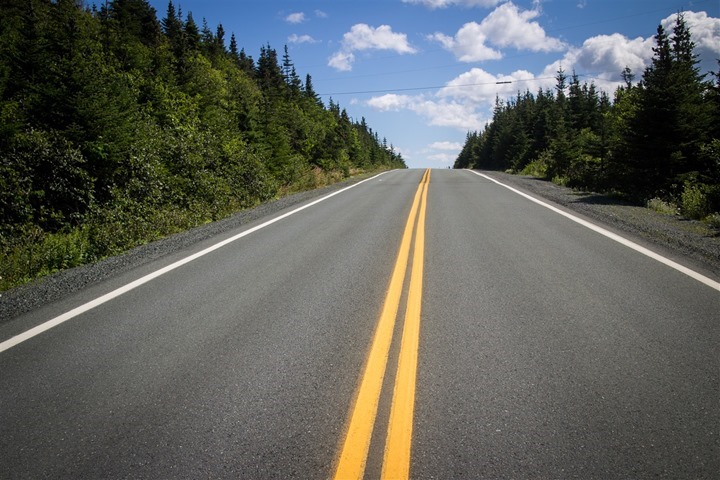 A whole slew of up and down hill later, I was able to see the lighthouse off in the distance: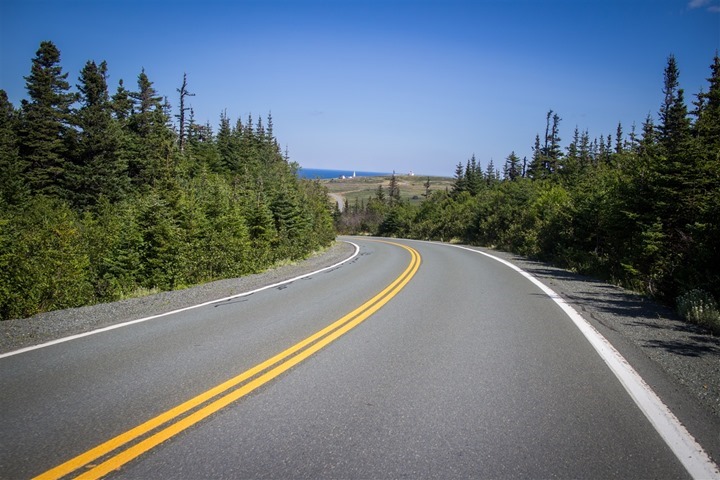 Just one final short hill left after crossing some of the meadows to get up to the visitor center.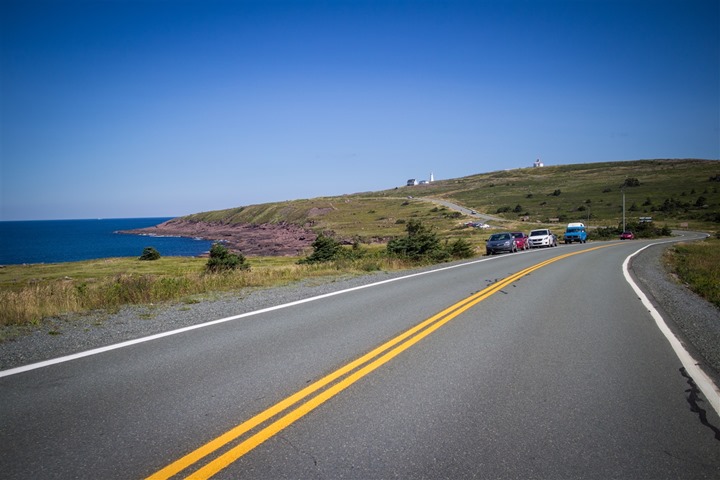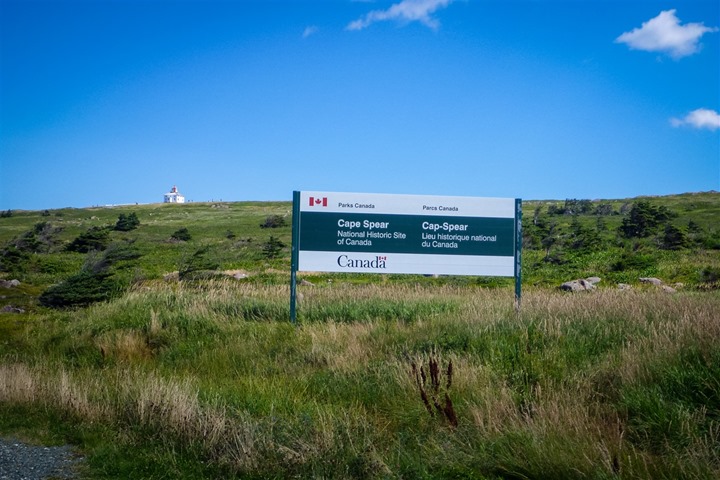 As I made that climb across the meadow I found perhaps my 'most favored' sign – a simple question mark with an arrow. Yes, I know how you feel sign, sometimes I don't know where I'm going either.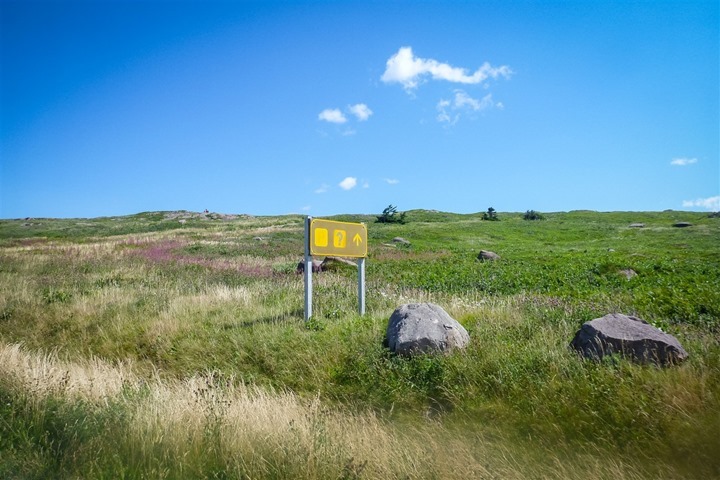 But despite the 'questionable' signs, I did arrive.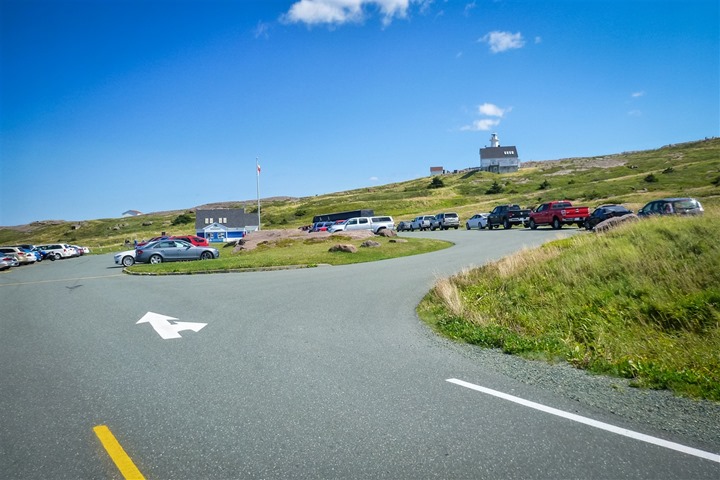 I knew this because not only did the road end (with no other choice), but the tourists became plentiful.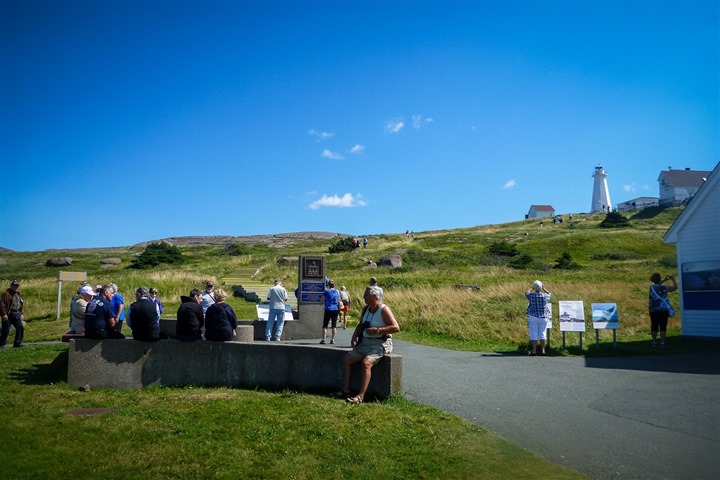 Further, the GPS told me so. Well, actually, it told me "You win!". Damn straight I won. Granted, I suppose I was the only one competing, but nonetheless, I won. And that's what counts.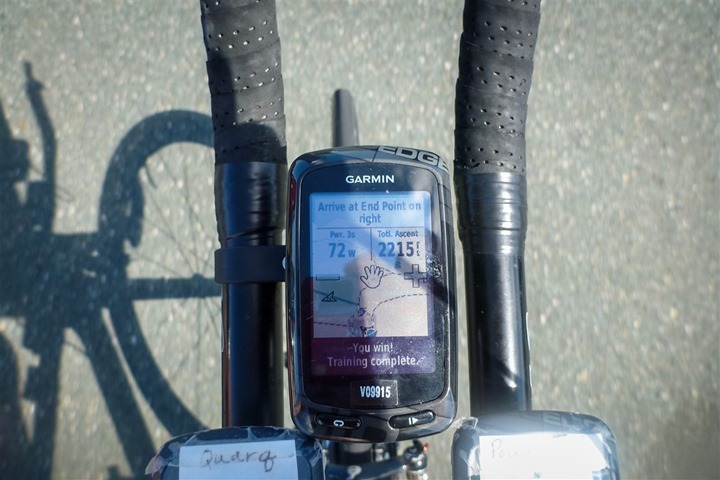 Cape Spear is the most easterly point in all North America. Next stop…Greenland. Or Ireland, Iceland, or France depending on your course. Technically if you're feeling really southern you could plot a course straight to South Africa with nothing in the way.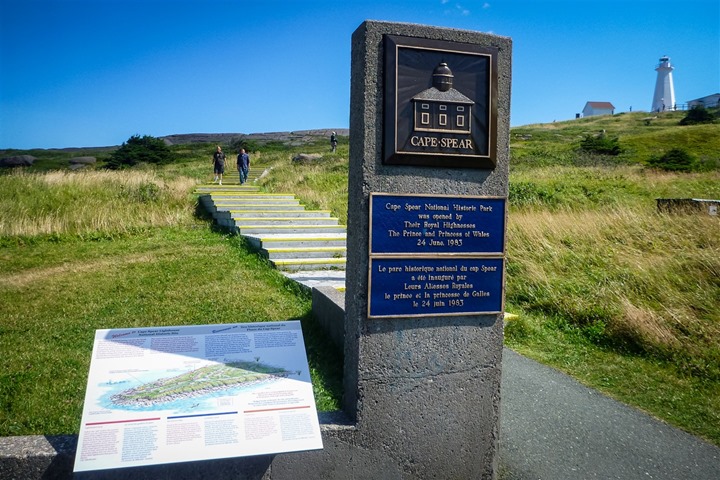 The abundance of tourists from another land were quite friendly though, happily offering to take my photo. I know they were from another land as they all had nametags with countries on them. None of which were on this continent.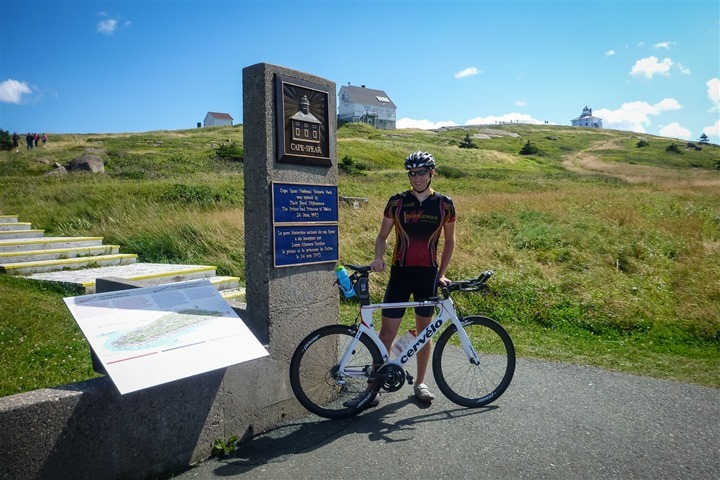 With my photo-op complete I headed back in the direction I came from. As I climbed up and down the never-ending hills I'd spot my next stop along the way – Signal Hill. You can see the tiny little tower mid-left on the photo below. I should point out that I really do appreciate Newfoundland naming of geographic locations. Always straight forward: Signal Hill (with a signal on top), Square Lake (it's square), Round Lake, Triangle Lake, Upper Cove, Lower Cove, etc… There's never any ambiguity about the situation. Simple, yet effective.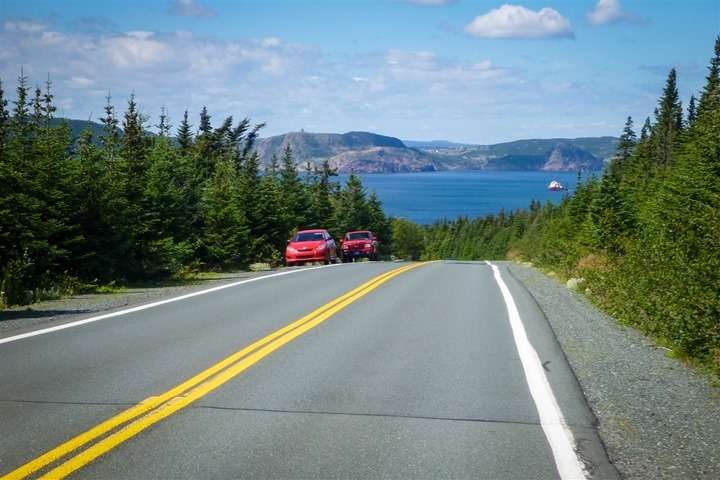 About 35 minutes after leaving the Cape I'd be back on the outskirts of town, passing an old train that used to bounce back and forth across the country on the transcontinental railroad.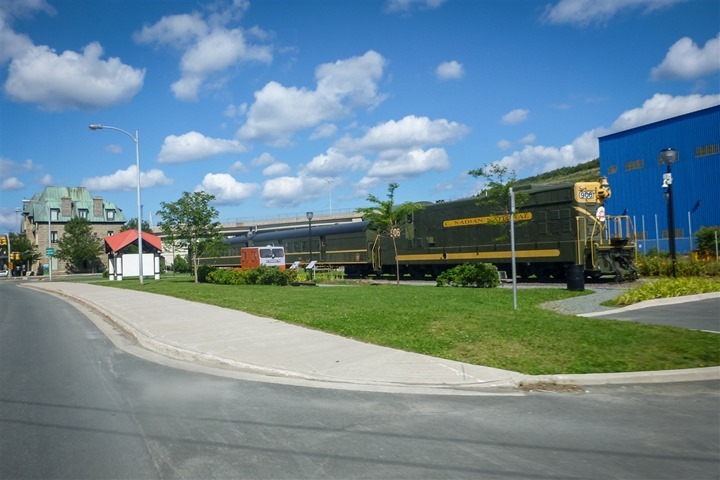 I then turned and rode up along the docks. This inner harbor is well protected (perhaps too much in fact, sometimes icebergs clog up the entry). And in the old days, Signal Hill (middle of photo) provided a lookout to unwanted non-iceberg visitors.
I paused here to address what appeared to be a slow leak out of my rear tire. I added a bit of CO2, but that wouldn't be the last time I'd have to deal with it.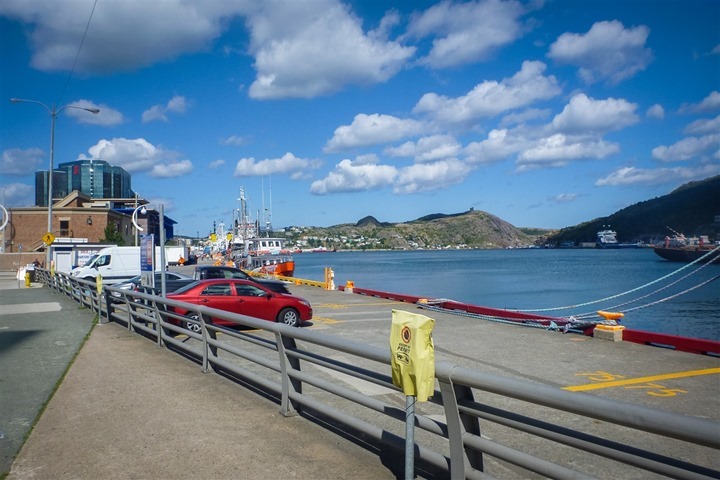 Next I headed up the sorta-steep road to Signal Hill.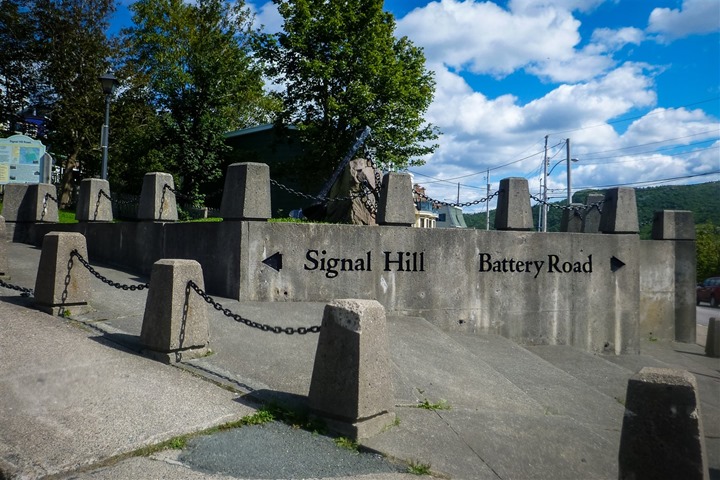 The road zigzags back and forth in a bit of a national parkland, ultimately culminating at the tall tower you see standing on the top of the hill.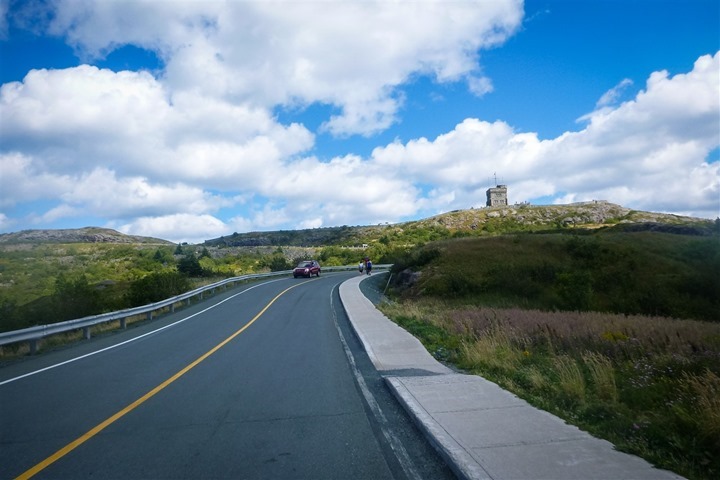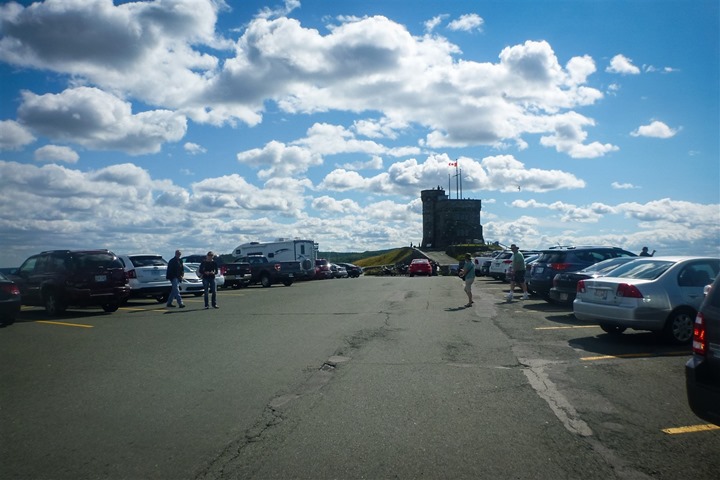 The tower can be seen from just about anywhere in the greater St. John's region. It's in this very spot (just a little further up from where those people below on the right are standing) that I proposed to The Girl.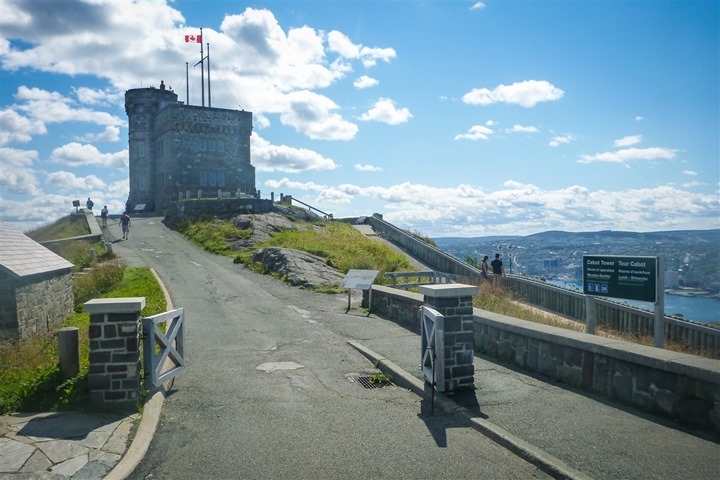 They've got a signpost up here indicating how many mikes/kilometers it is to a variety of cities. You know, in case you wanted to swim there. Though, I'd imagine the last few miles of the swim to Kabul might be a bit rough…or dry.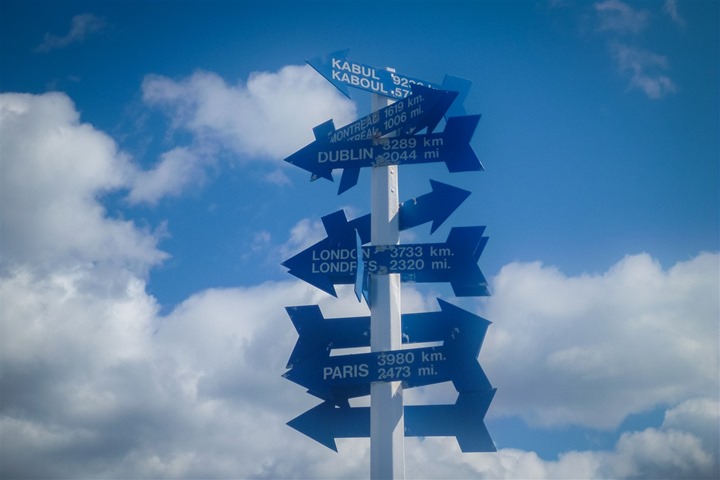 Meanwhile, here's the view. Way off in the distance is where I reached the point of Cape Spear.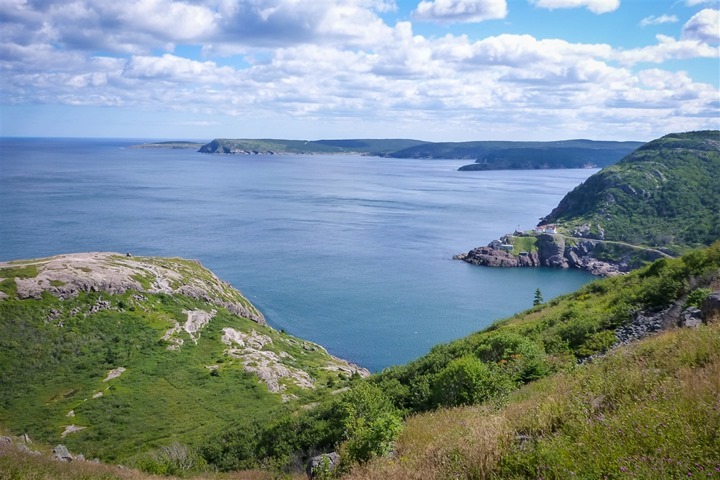 I didn't see any whales this day, but I did see a boat. That counts for something.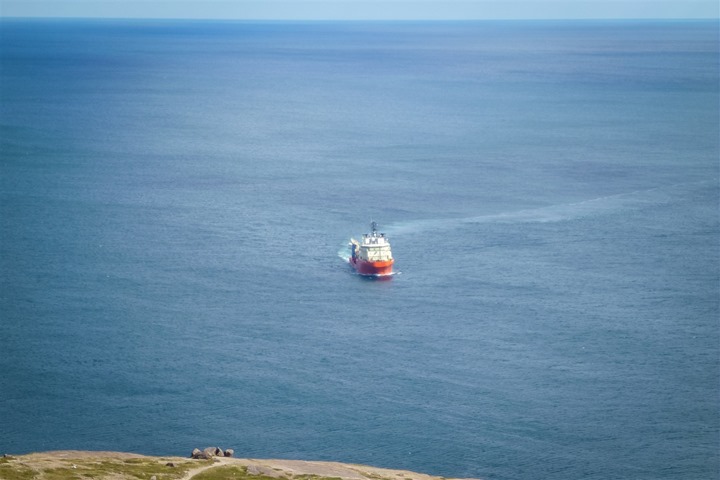 Whale watching complete I once again added a bit more air to my tire. I could have swapped it out entirely with a new tube, but I was feeling somewhat lazy and just decided to keep topping it off.
Top-off done I zipped down the hill and made my way across town. The only notable item on this section was Dairy Queen. Regrettably, I did not stop.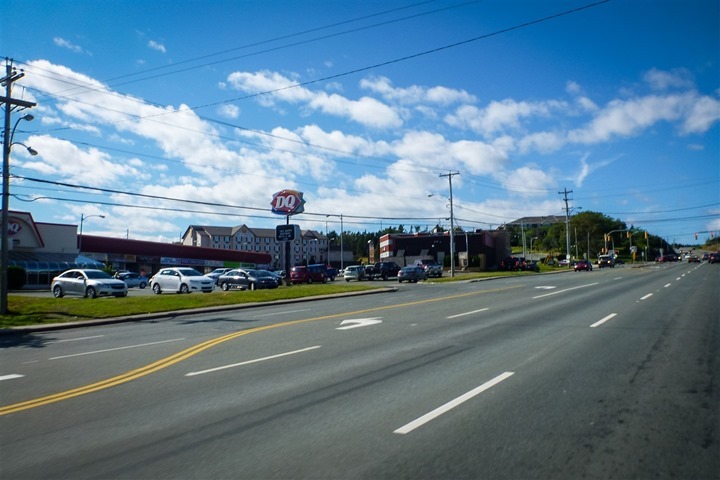 Just a bit beyond Dairy Queen was the airport, pretty much my last landmark of any sort before hitting the final stretch home.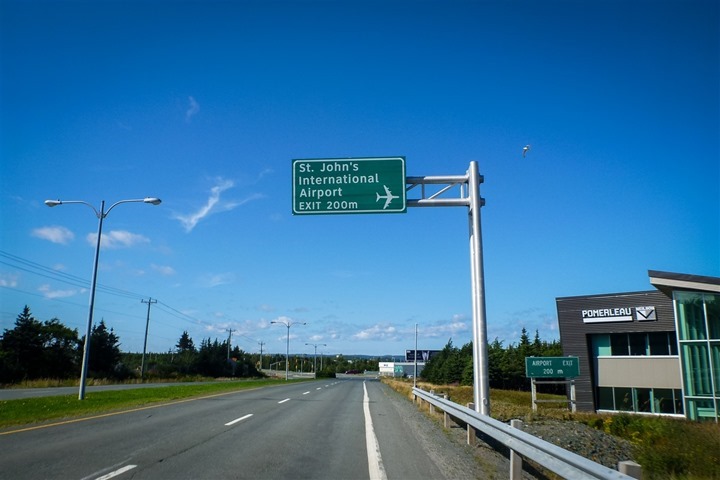 It's this final stretch that I had been somewhat looking forward to all week, given all week it would have been a strong tailwind. Today, not so much. Direct (and strong) headwind. With a touch of flat tire. Beautifully slow.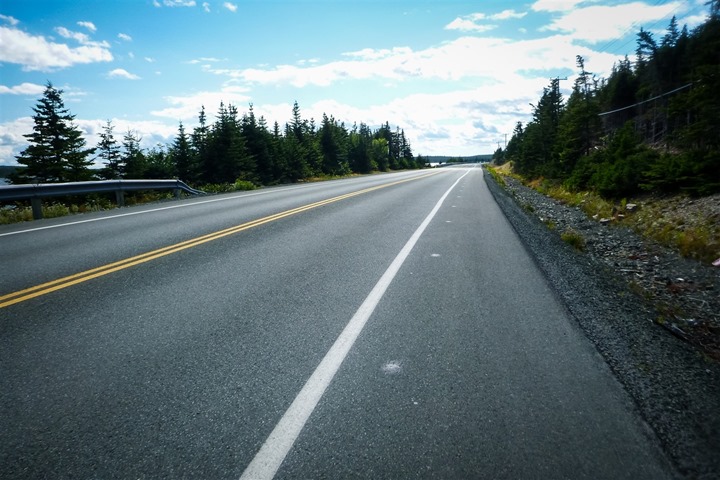 Ultimately though about 20 minutes later I arrived at my final destination – a small pond where I'd call it done.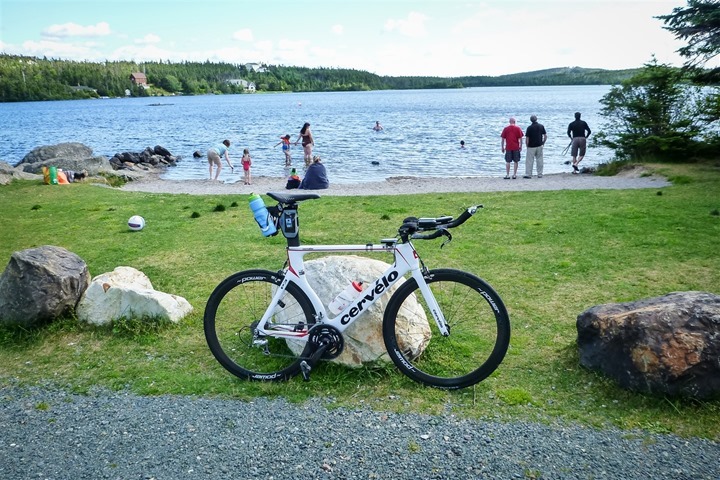 The Girl's Dad met me there, and I was able to just toss the bike into the truck and then we both headed out for a swim.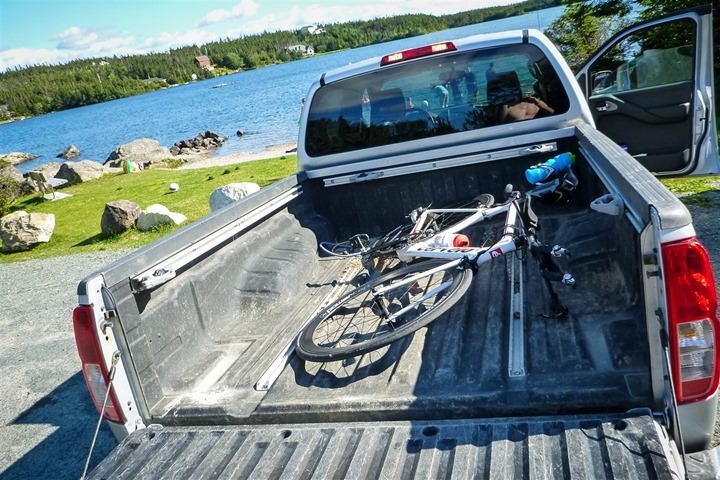 The chilly waters was a perfect way to end the ride!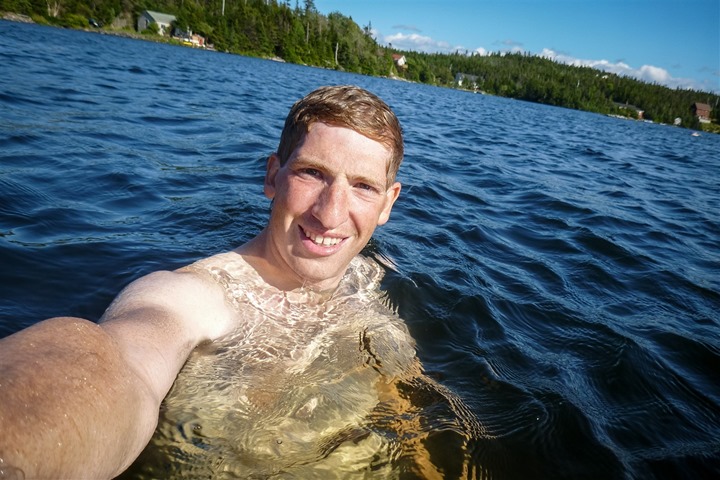 Here's the overview map of where I went, creating a bit of a circle of sorts. More like a broken lollipop I suppose.
I thought it was interesting to look at a plot of my left/right power balance over time. You can see a semi-clear pattern that I was somewhat even for the first chunk (out to Cape Spear), then slowly becoming more right-leg dominate during the next chunk (back to Signal Hill), and then very much right-leg dominate for the last haul home. What that means – if anything – is really up for scientific debate. But, I thought it was interesting.

With my riding done for Newfoundland it was time to enjoy one last meal (moose stir-fry), and then wrap-up the night roasting marshmallows out back.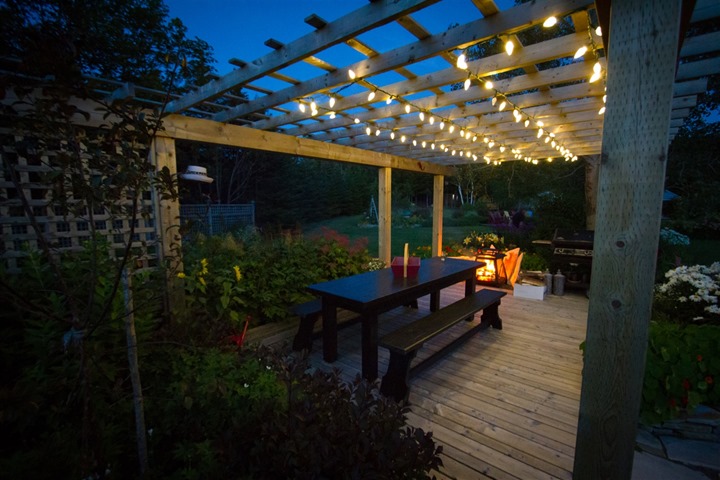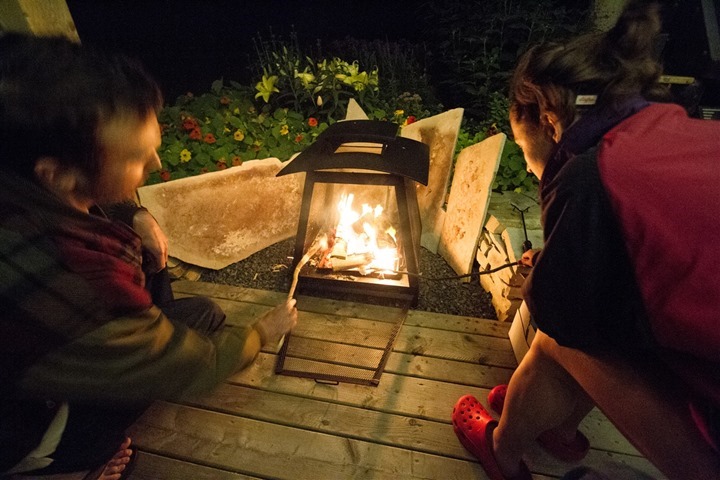 Yup, good times on The Rock!
And with that I'm now about 1,500 miles east of Newfoundland at 34,998ft, just two hours away from home back in France. Thanks for the good times Newfoundland, and see you again in the future!
Thanks for reading!