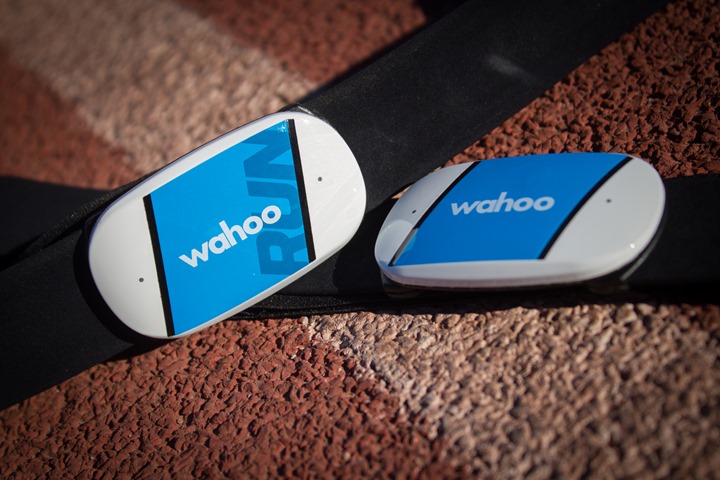 ** Update: These products have since been upgraded. Check out the lastest In-Depth Review of the Wahoo TICKR and TICKR X here!**
Overview
Today, Wahoo Fitness announced three new products for the fitness market, and in doing so, started what they describe as a new push towards cross-platform support.
The three products are all heart-rate strap based, but with different (cumulative) features and slightly different price points.  They are as follows:
TICKR – Heart Rate

· Concurrent dual band heart rate with ANT+ and BLE (Bluetooth Smart)

TICKR Run – Heart Rate / Running Motion Analytics

· Everything above, plus…

· Treadmill Mode tracks speed and distance while on a treadmill

· Wahoo Running Smoothness tracks running form and efficiency

· Vibrate Functionality

TICKR X – Use with Any Sport / Memory / Post Workout Syncing

· Everything above, plus…

· Vibrate Functionality

· Motion analytics measures variety of motion from repetitions to swim laps to cross-training to cycling

· Workout now, sync later: Memory allows users to workout without a smartphone and auto-sync later (Note: In cached mode, it only syncs pace/time/calories)
The prices aren't yet final, but will start at approximately $60US, and go up to roughly $100US.  The first two (TICKR & TICKR RUN) are scheduled to be available around March.  While TICKR X will be available in the April/May timeframe.
Features & Functions:
Looking at the features, the first and most common one is the dual-band ANT+ and BLE transmission.  This means that the unit will transmit just fine to ANT+ devices (like a Garmin watch), while at the same time transmitting to Bluetooth Smart phones and apps on those devices (or even the new Polar V800 or TomTom watches).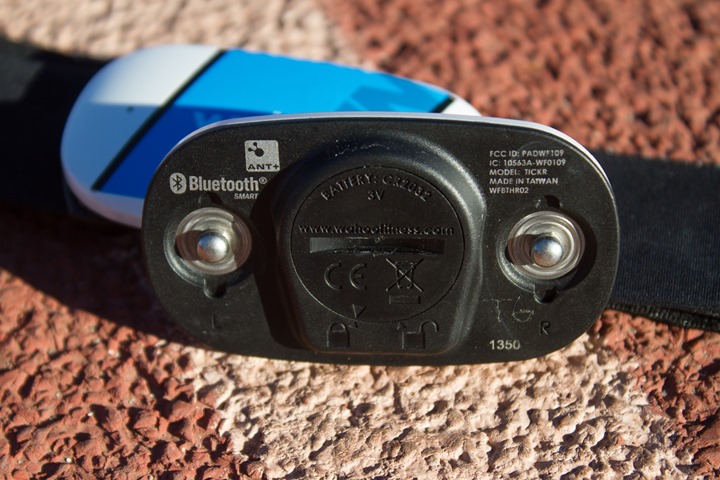 In talking with Wahoo about it yesterday, their push for 2014 is that all of their products will ultimately get dual-band support (concurrent ANT+ and BLE).  You've seen this already in some of their products like the Wahoo KICKR trainer and Wahoo RFLKT+ unit, but expect it to continue into any new products as well as revamping some of the other products they have in their stable.
As an interesting aside, on the Wahoo KICKR front, they will be releasing a firmware update to the KICKR that will enable it to act like a ANT+ to BLE bridge (like the RFLKT+).  This will allow you to use existing ANT+ cadence sensors (or even ANT+ HR straps) with Bluetooth Smart devices (such as iPads or iPhones) without a separate adapter.  Wahoo doesn't yet have a timeframe for when this update will occur, but it sounded like the target was by summer at the latest. [Random 2019 Update: This never happened.]
Getting back to the heart rate straps, you'll notice the addition of what Wahoo is calling "Running Smoothness".  This is essentially the same stuff that was introduced on the Garmin FR620 as Running Dynamics (and also introduced by Scribe labs at roughly the same time as well).  These metrics will be in both the TICKR Run and TICKR X straps, and are based off of an internal accelerometer that measures ground contact time, cadence (stride rate), and pace and ultimately gives you smoothness score.
On the below non-final UI screens (far from final actually), you can see some of this being illustrated.  They're able to start analyzing how much motion and bounce you have, and how it impacts your smoothness score.  On the left they chart this smoothness against pace, which is an interesting twist.  If you look at how Garmin does it, they only show Running Dynamics metrics charted against time/distance – and while you can start to correlate that yourself, the below chart against pace makes it really clear that pace tends to be the main component in shifts within running economy metrics.
Ultimately, running smoothness is simply a marketing term for what is effectively running economy.  It's well known and understood that how efficient you are in your running stride has a substantial impact in your final finishing times (even if you have a lower VO2Max).  Simply looking at some of the fastest marathoners plotted against their variable VO2Max scores shows the impact of running economy.
As you might guess from looking at the above screenshot on the left, there's two things of note.  First is that Wahoo is working on rebuilding their app from the ground up.  You'll see this down the road in a bit.  More importantly however, is that Wahoo is indeed determining pace from the strap.
This means that while indoors on a treadmill (or, I suppose a fun 200m indoor track), you'll get pace and distance without having to wear a footpod.  While I wasn't able to test that functionality yesterday, you can bet it'll be one of the top test priorities in my in-depth review.  As it would be the first company to put pace detection in a HR strap (most do it in footpods, or within the watch itself).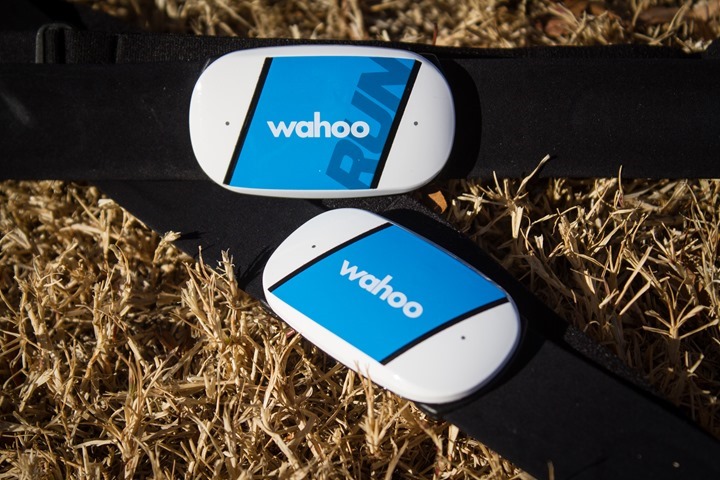 Another piece of functionality found on the two higher end units is the vibration motor.  This will allow you to configure actions to trigger a vibration alert.  For example, you can setup the Wahoo App to automatically buzz every you complete a mile (lap) during a run.  Personally, I would name this feature 'Buzz your Boobs', but I'm not sure that'll fly.
In the same vein as the vibrate functionality, they can also detect taps or touches.  For example, you could configure the unit to mark a lap whenever you tapped your chest (the HR strap pod).  Or, it could change the song.  Anything you want from within the Wahoo app is configurable (for those existing Wahoo users, it follows the same configuration as the button options for the RFLKT).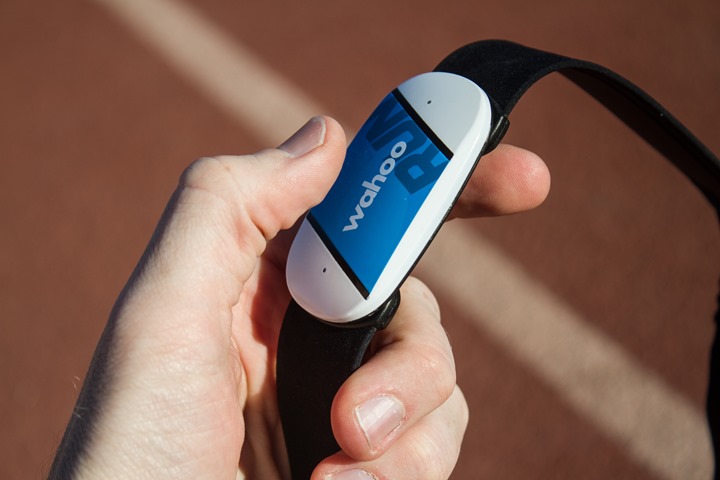 Before I wrap-up with the TICKR X's unique features, there's one that's common to all units.
On the front of the unit you can see two little LED lights on the left/right sides.  These lights will blink during connection, indicating the strap is actively communicating (a handy way of double-checking that the battery is working).  You can see on the left the little blue light illuminated (hard to take a picture of in bright sunlight).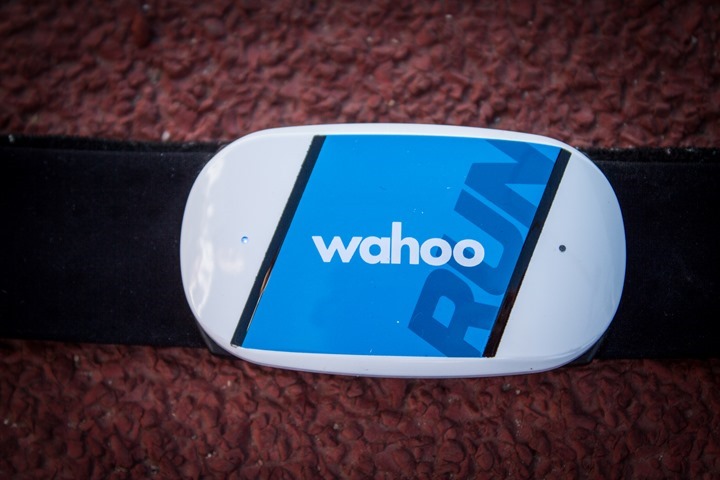 Last but not least, we get to the TICKR X.  The TICKR X is named that simply because it's implying there's features yet to be announced and/or decided (or, one could argue: yet to be figured out).  Essentially, a platform for continual development of new functionality.
Wahoo looks at the TICKR X as sorta the pinnacle of creativity when it comes to use of accelerometers.  In addition to all the stuff I've noted above, they're also planning features including swimming detection.  They believe they can capture swimming metrics such as distance and pace data in the strap, and then download it afterwards to your phone for later analysis [Update Mar 2017: Note, this never happened].  Of course, it'll also track heart rate too underwater without any issues (transmission of HR underwater doesn't work across either ANT+ or Bluetooth Smart, it only gets about 1" of transmission distance).
They also believe they can apply this technology to other sport areas, such as cross-training (core training, gym routines) to track data and movements – similar in many ways to what the Motorola MOTOACTV did in later firmware updates across a variety of sports (i.e. tennis, yoga, etc…)
You'll note the 'Workout Now, Sync Later' tag line.  This is because the TICKR X contains memory in it that allows it to store the data.  This enables you to train without having your phone or ANT+ device nearby. For example, you could go for a run and it would track pace/distance/heart rate/cadence/running smoothness all within the strap – and then later allow you to download that afterwards [Update: Mar 2017: You cannot offline sync running smoothness, just duration/heart rate/calories].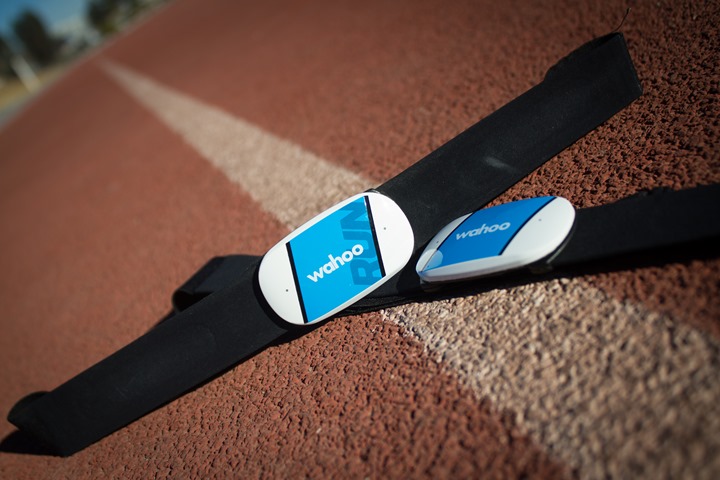 In talking with them, there are of course many new metrics that don't fully line-up to existing standards.  For example, while Garmin does Ground Contact Time and Vertical Oscillation within their Running Dynamics, all of that is considered 'Private ANT', and not open to ANT+ members.  Wahoo is looking to go back to ANT+ and get some of that made into a specification that's more widely accessible.  This would benefit not just them, but other companies like Scribe that are looking to leverage data in similar ways.
Further, it would benefit companies like Training Peaks and Strava.  Both of which Wahoo has talked to a bit about the technology.  While it's one thing to have the Running Smoothness data within the app, it's likely far more beneficial for the most interested endurance consumers to have that data visible in 3rd party apps such as Training Peaks and Strava.
Ultimately, it'll be really interesting to see where Wahoo goes with this technology, and how accurate it can be made.
Thanks for reading!
Found this review useful? Support the site!
I've partnered with the retailers below. Any shopping you do through these links help support the website. Thanks!
Wahoo TICKR – Amazon
Wahoo TICKR X – Amazon
Wahoo TICKR Fit – Amazon
For European/Australian/New Zealand readers, you can also pickup the unit via Wiggle at the links below, which helps support the site too!
Wahoo TICKR (EU/UK/AU/NZ – Wiggle)
Wahoo TICKR X (EU/UK/AU/NZ – Wiggle)
Additionally, you can also use Amazon to purchase the unit (though, no discount/points). Or, anything else you pickup on Amazon helps support the site as well (socks, laundry detergent, cowbells). If you're outside the US, I've got links to all of the major individual country Amazon stores on the sidebar towards the top.
Thanks for reading!