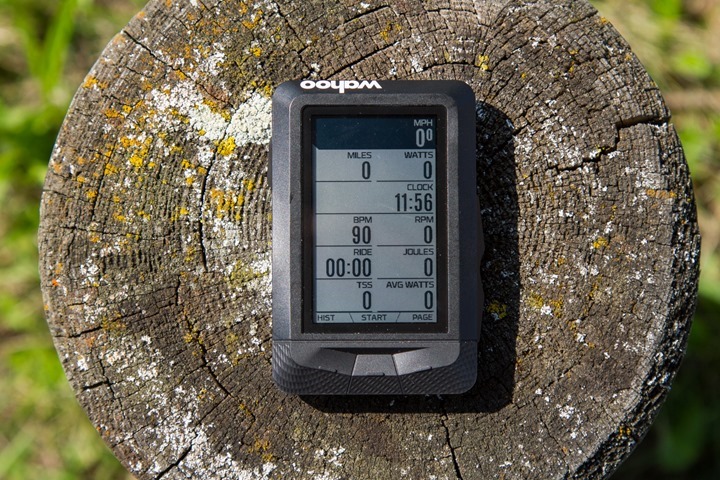 Heads up April 2016 – Update!  My Wahoo ELEMNT In-Depth review post is now available and published over here.  Definitely swing over for all the details!
Wahoo has made their first entrant into the GPS bike computer world, with ELEMNT (it's like the word element, but missing one 'e').  You'll remember their past bike computers (RFLKT & RFLKT+) which were driven by a connected phone and utilized the phone for GPS and control of the screens.  With ELEMNT, it's fully self-sustaining during a ride (no phone needed).  Yet at the same time, it's got much stronger phone integration than most other units out there.
I had a chance at Eurobike to go out for a ride with the unit, as well as poke at it a few other times this summer (and now have a beta unit to test).  Of course all these units are/were prototypes/beta, and thus things are subject to change.  Like any other pre-release product it may get better…or worse.  As such, this isn't an in-depth review but rather a look at the features and functionality.  So…let's dive into it!
Features and Functionality: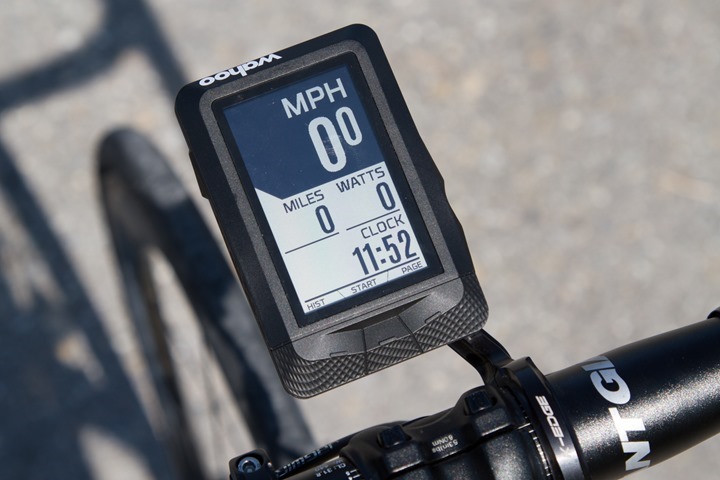 While the ELEMNT is first and foremost a GPS bike computer, it does more than just display data metrics.  For example, the unit can display maps and routes, which are pulled from OpenStreetMap and 3rd party services like Strava.  Additionally, it has a bit of a higher level of integration on the phone than most competitive units – allowing for features such as friend location display and complete configuration via the phone app.  Plus, the pairing process is pretty cool and much cleaner than any other bike computer out there.  Not to mention the sweet LED scheme on the unit for displaying intensity information.
When it comes to data display, Wahoo obviously displays your ride data.  It can connect to both ANT+ and Bluetooth Smart sensors, such as heart rate straps, power meters, and speed/cadence sensors.  As well as trainers and soon the GoPro action cam.  But the ELEMNT arranges the data fields a little bit differently.  For starters, you don't configure each data page separately.  Rather, you configure what is sorta a 'list' of prioritized data metrics.  You can then increase or decrease the number of metrics during the ride on the fly.  Higher priority metrics get displayed, and then lower priority metrics disappear.  So you can see this below as I change from 1 field to 10 fields: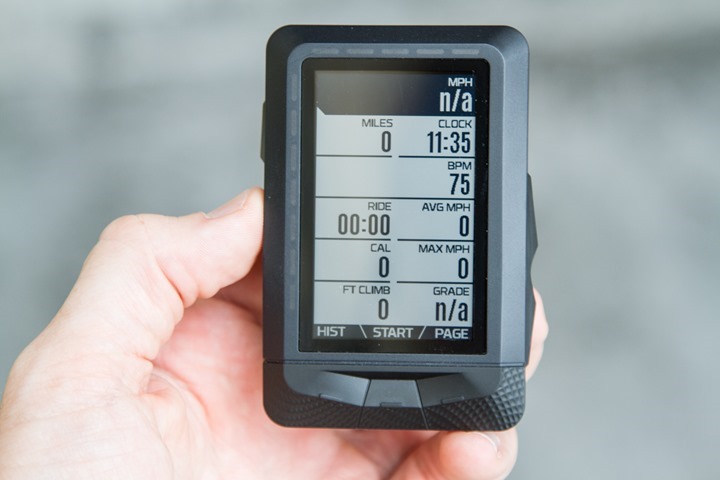 In the case of sensor-driven data, such as a power meter, the unit will automatically hide fields for non-connected data.  So if I had a power meter connected normally, but on this one ride I didn't, then it'll hide those data fields.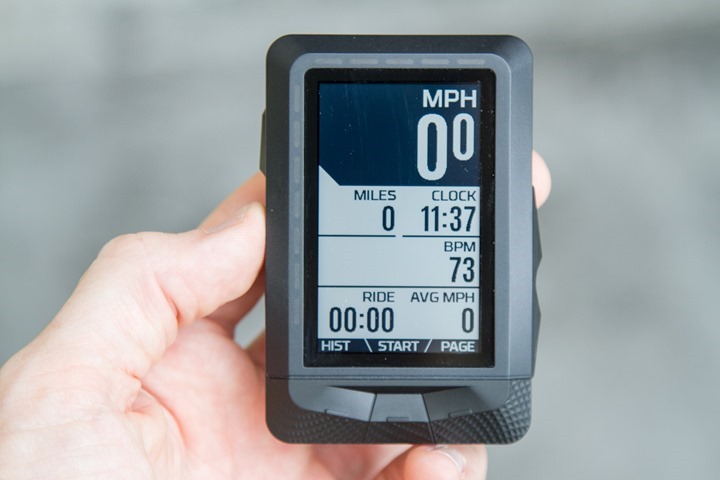 You can create a number of custom data pages, it's just that you can't specify exactly where things will fit on that given page without doing a bit of a sizing Jenga puzzle.  It's certainly a different approach.  I'm sorta half and half on it. I like the flexibility of increasing/decreasing data pages, and hiding non-connected sensors.  But at the same time, sometimes I just want my data pages a certain way and don't want an app thinking it's smarter than me (even if it is).
When it comes to control, the unit has 6 buttons.  Starting with two buttons on the right side.  These are for increasing/decreasing the number of data fields, as well as changing options (like up/down).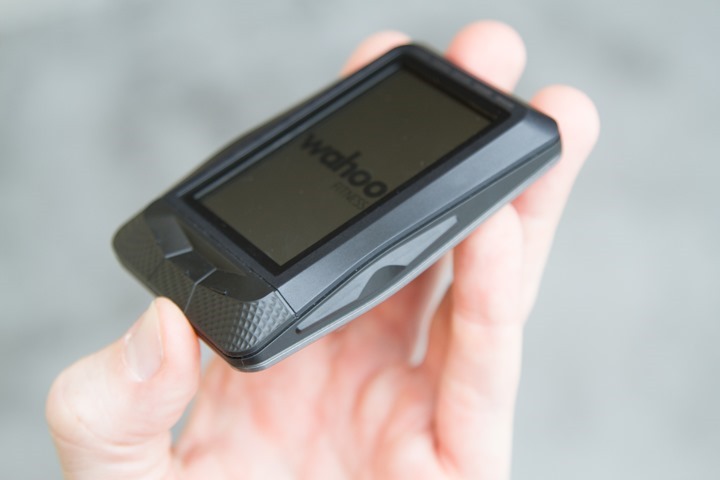 On the face there are three buttons, these are context-focused in the menus, but during a ride they control the lap, pause, and page change functions: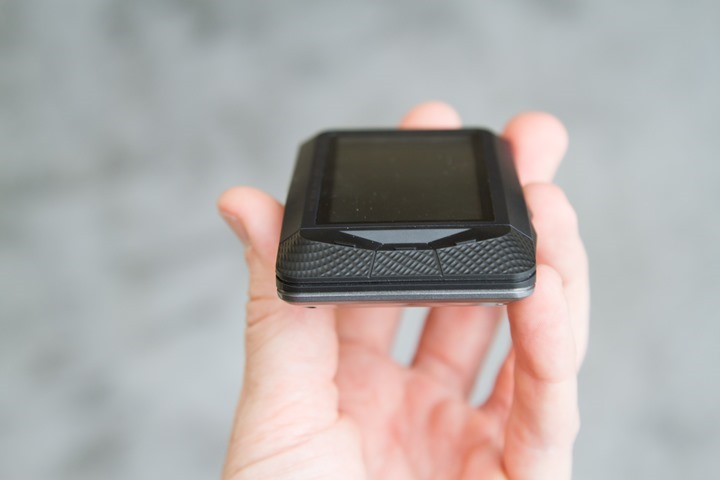 And on the left there's one button.  This is for getting to the settings, and turning on/off the unit.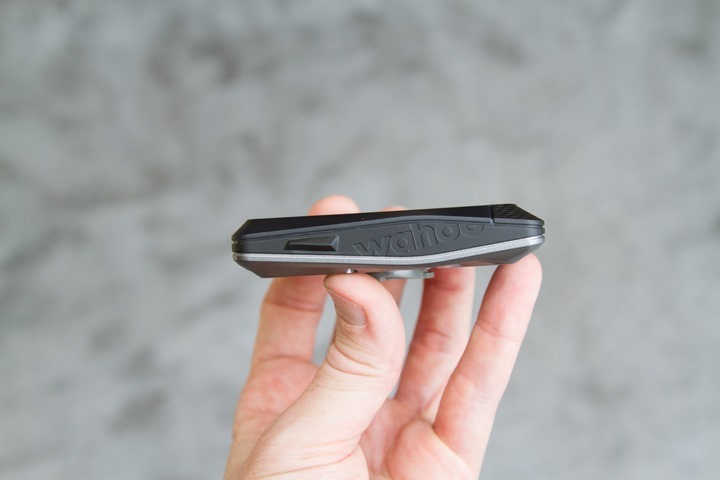 Speaking of settings, when you pair the unit to your iOS or Android phone it pairs very similar to an Apple Watch.  This being that you point your camera at the QR code and instantly it's paired.  No funky relations with the Bluetooth control panel required: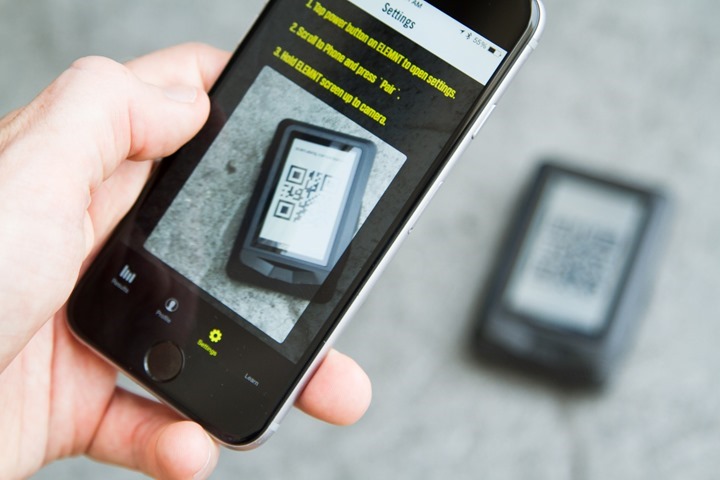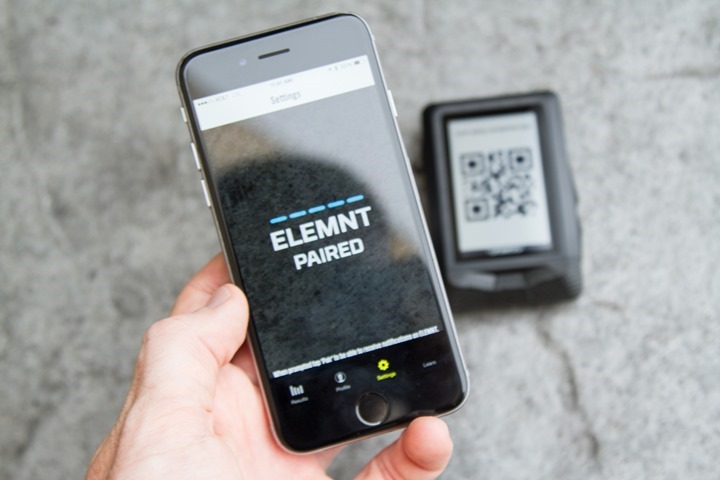 Next in settings you can pair sensors – either ANT+ or Bluetooth Smart.  For example, here I am paired to a Wahoo BlueSC cadence sensor via Bluetooth Smart, a power meter for ANT+, and a HR strap: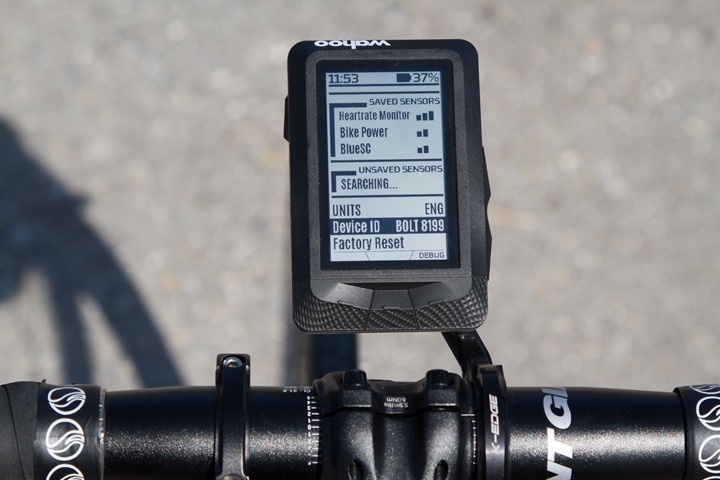 If indoors, you can rely purely on sensors for speed/distance, and turn off the GPS functionality.  The unit is rated at 17 hours of GPS battery life – and will pre-cache satellite information to speed satellite acquisition times.
Within ELEMNT, almost all of the configuration is done via your phone with the ELEMNT companion app.  This app acts as your hub for interaction with the unit.  It stores your rides, allows you to configure settings on the device, and also allows you to setup Live Tracking and integration with 3rd parties like Strava.
Starting with the customization of screens, you've got the following main pages you can enable/disable:
– Lap Data
– Workout Data
– Climbing
– Map
– KICKR Control (when connected)
Then you've got custom pages you can add, each with their own data sets.
The data sets you prioritize from 1-10, thus allowing you to increase/decrease the data fields per page with a simple up/down on the unit.  Any metric you like you can change:
Next, you can create 'Profiles'.  These profiles simply allow you to enable/disable various data pages in a predefined set.  This is useful if you have different screens for racing vs training vs touring.  For example, you may not care about a map screen during a race.
Moving to other app-controlled functions, you've got the ability to automatically upload to various 3rd party sites. This is done via either your phone (meaning, the ELEMNT is paired to your phone), or, via WiFi when in range.  The unit actually makes the direct connection straight to the 3rd party service – such as Strava or Training Peaks.  The full list is seen below, but it's easy for Wahoo to expand as other sites add integration points.
The unit also displays smartphone notifications.  You can enable or disable these in three categories: Phone Calls, Messages, and E-Mail, as well as simply activate a 'Do not disturb' function so that you aren't annoyed by texts from your boss wondering why you're not back from your lunch break yet….again.
The ELEMNT also has the rather unique ability to leverage LED's for zone/intensity information on the top and bottom.  These are like gauges that can show you current intensity for speed, power, and heart rate zones.  The side ones are for showing intensity, while the top ones are for more status-oriented options:
Here's how it looks on the unit – it's very sharp and pretty bright.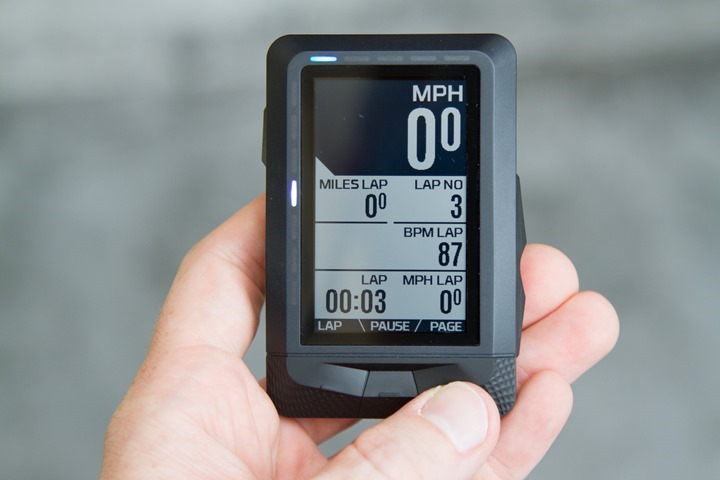 It's a really cool idea that doesn't take up data field real estate on the display itself.
Finally, the unit can control the Wahoo KICKR directly.  It can either specify a resistance/wattage level, or can re-ride past activities or downloaded rides.  I didn't have a chance to poke at this feature yet, so here's a few screenshots from Wahoo on how it works: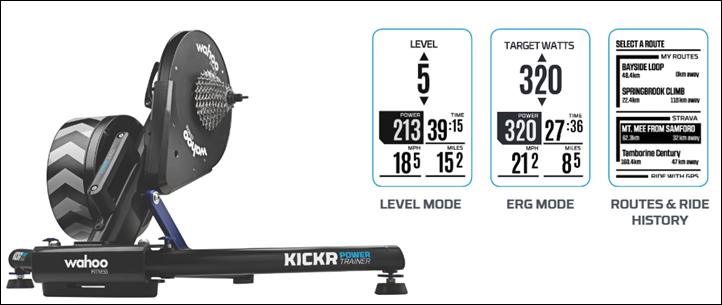 For now, it'll just control the KICKR/KICKR SNAP, but in the future they'll implement FE-C trainer control for 3rd party trainers.
Mapping:
The Wahoo ELEMNT includes the ability to display maps, routes, and even where your friends are currently riding.  The mapping uses OpenStreetMap (OSM), and the unit comes pre-loaded with the entire world.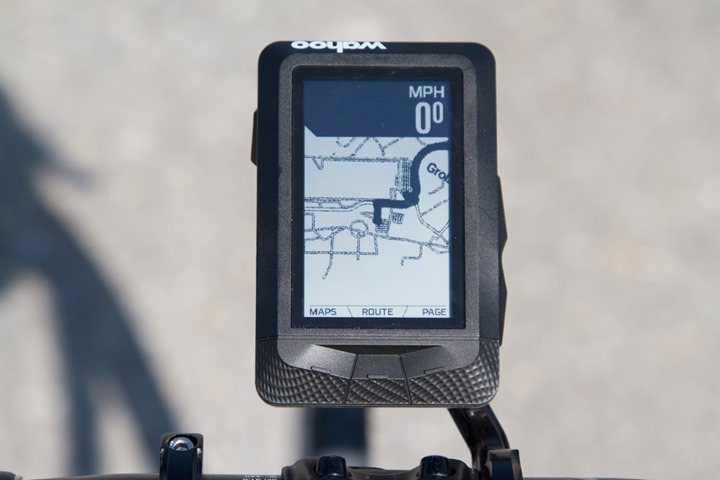 The ELEMNT has routing capabilities, based on either past routes you've ridden, or routes that you've created with 3rd party services.  It'll automatically download any routes you've created with Strava, RideWithGPS, and MapMyFitness.  Or, you can open .GPX file routes (via opening an e-mail, from iTunes, or even a Dropbox share).  Pretty cool integration.
These sites are pretty easy to create routes, so the process is rather straightforward.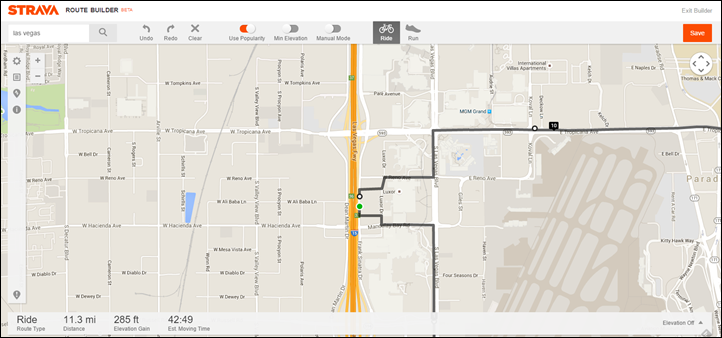 Once you head to your unit, you can see it listed in the routes section:
Then while riding, it'll show you the route on the screen: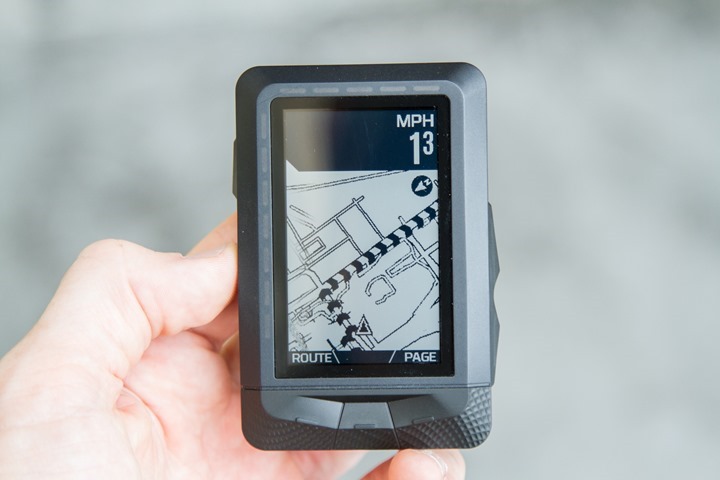 As you can see, the screen is black and white – but looks surprisingly crisp, likely due to the high contrast.  With the ELEMNT you do have to plan ahead a bit on where you're going, as you can't just do it on the fly – such as entering an address.  The ELEMNT gives you a breadcrumb trail to follow, and then notifies you if you're off-course.  It also will give you turn by turn navigation for apps/routes that support it.
The unit includes Live Tracking as well.  By leveraging your phone it'll broadcast your position automatically to a predefined contact list of friends and family.  You just pick and choose which people you want to add.
Then when you start your ride they'll get a link to view your current location.  Tied into that is the ability to see other riders that you're friends with that are out and about.  This is shown directly on the unit itself, which is very cool.  Especially useful in group-ride situations where your little peloton may have broken apart.  It's not yet enabled on the beta unit I have, so here's what it should look like once ready: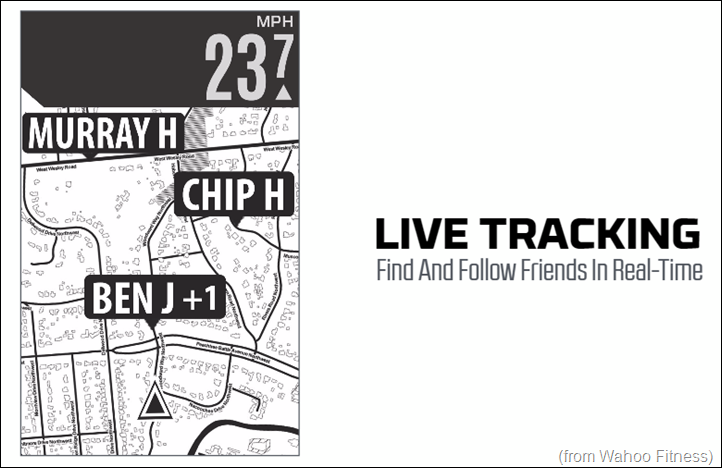 Pretty neat stuff.
Size & Mounting Comparisons:
When it comes to size, the ELEMNT isn't exactly the smallest kid on the block.  But it's also not the largest either.  Its somewhere in the middle.  For example, it's a bit smaller in length/width than the Edge 1000: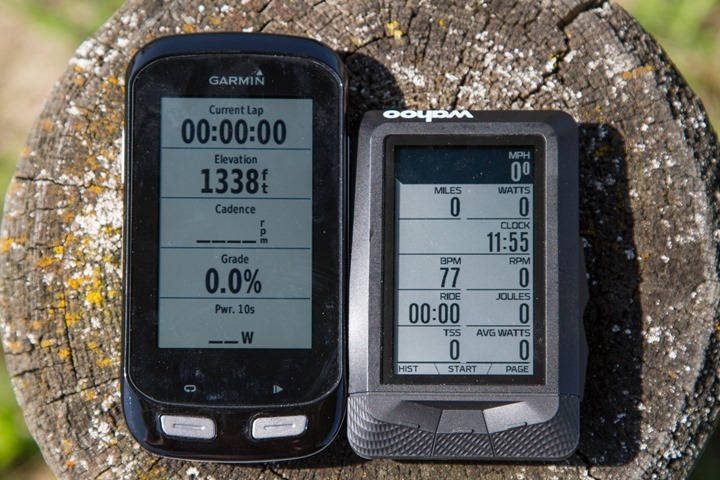 Yet, it's also a tiny bit thicker (depth) than the Edge 1000.
It's basically the same height as the Edge 810, but has more bulk around the edges making it a touch bit wider: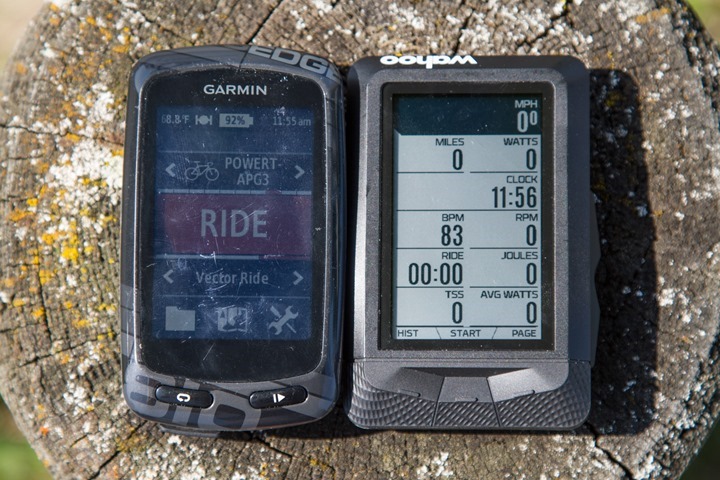 And thus of course, it's larger than the Edge 520:
It is smaller than the Polar V650, but larger than the Polar M450.
When it comes to mount, it unfortunately does not use the ubiquitous Garmin quarter-turn mount system.  Rather, uses something very similar but not compatible.  That means you won't be able to use the numerous 3rd party mounts out there for the Garmin units.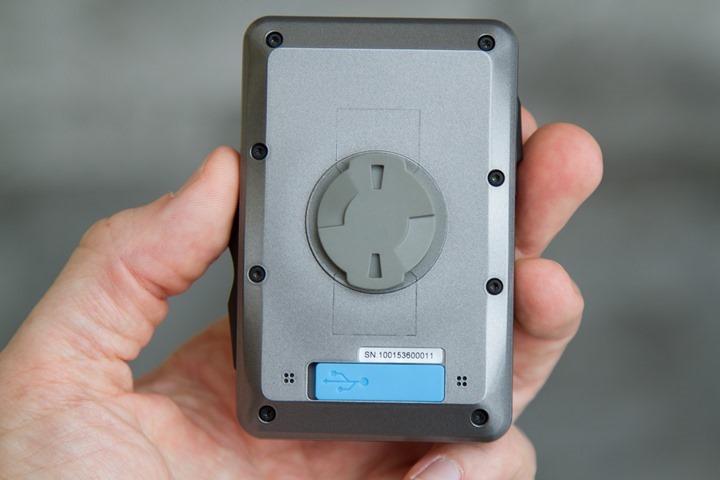 To try and soften that blow, Wahoo is including a flotilla of mounts in the box.  This includes an out-front mount, a triathlon/TT bike aerobar mount, and a handlebar/stem mount: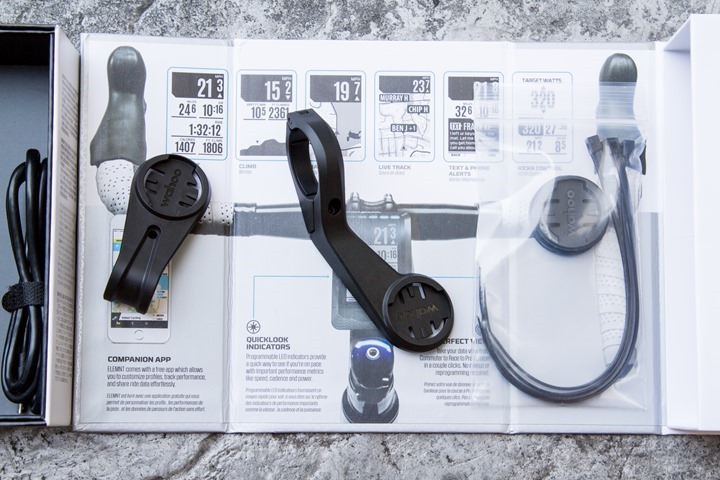 They're also working with 3rd parties like K-Edge and others to get insets made to allow you to easily adapt your existing mounts for these 3rd party products.
Product Comparison Tables:
I've added the Wahoo ELEMNT into the product comparison tool/calculator, which allows you to compare features of the ELEMNT to all other products I've tested.  For the purposes of below, I've compared it against the Garmin Edge 810 and the Polar V650 (simply because both have mapping) – but you can customize which products to compare against here in the full tool.
Function/Feature

Wahoo ELEMNT
Garmin Edge 810
Polar V650
Copyright DC Rainmaker - Updated April 9th, 2021 @ 10:29 am New Window
Price
$329
$399
$253/€220
Product Announcement Date
Sept 15th, 2015
Jan 7, 2013
January 26, 2014
Actual Availability/Shipping Date
March 1st, 2016
Jan 2013
March 2015
GPS Recording Functionality
Yes
Yes
Yes
Data Transfer
Bluetooth Smart, WiFi, USB
USB & Bluetooth
USB
Waterproofing
IPX7
IPX7
IPX7
Battery Life (GPS)
17 Hours
17 hours
10 Hours
Recording Interval
1-Second
1-Second or Smart
1-second
Alerts
Sound/Visual/LED's
Sound/Visual
Sound/Visual
Backlight Greatness
Great
Great
Great
Ability to download custom apps to unit/device
No
No
No
Acts as daily activity monitor (steps, etc...)
N/A
No
No

Music

Wahoo ELEMNT
Garmin Edge 810
Polar V650
Can control phone music
No
Has music storage and playback
No

Connectivity

Wahoo ELEMNT
Garmin Edge 810
Polar V650
Bluetooth Smart to Phone Uploading
Yes
No
Not yet
Phone Notifications to unit (i.e. texts/calls/etc...)
Yes
No
TBA
Live Tracking (streaming location to website)
Yes
Yes
No
Group tracking
Yes
Emergency/SOS Message Notification (from watch to contacts)
No
No
No
Built-in cellular chip (no phone required)
No
No
No

Cycling

Wahoo ELEMNT
Garmin Edge 810
Polar V650
Designed for cycling
Yes
Yes
Yes
Power Meter Capable
Yes
Yes
Yes
Power Meter Configuration/Calibration Options
Yes
Yes
Yes
Power Meter TSS/NP/IF
Yes
Yes
Yes
Speed/Cadence Sensor Capable
Yes
Yes
Yes
Strava segments live on device
Yes
Q3 2015
No
Crash detection
No

Running

Wahoo ELEMNT
Garmin Edge 810
Polar V650
Designed for running
No
No
No

Swimming

Wahoo ELEMNT
Garmin Edge 810
Polar V650
Designed for swimming
N/A
No
No

Triathlon

Wahoo ELEMNT
Garmin Edge 810
Polar V650
Designed for triathlon
No
No
No

Workouts

Wahoo ELEMNT
Garmin Edge 810
Polar V650
Create/Follow custom workouts
Yes
Yes
Yes
On-unit interval Feature
No
Yes
No
Training Calendar Functionality
Sorta
Yes
No

Functions

Wahoo ELEMNT
Garmin Edge 810
Polar V650
Auto Start/Stop
Yes
Yes
Yes
Virtual Partner Feature
No
Yes
No
Virtual Racer Feature
No
Yes
No
Records PR's - Personal Records (diff than history)
No
Yes
No
Tidal Tables (Tide Information)
N/A
No
No
Weather Display (live data)
No
Yes
No

Navigate

Wahoo ELEMNT
Garmin Edge 810
Polar V650
Follow GPS Track (Courses/Waypoints)
Yes
Yes
Planned
Markers/Waypoint Direction
No
Yes
No
Routable/Visual Maps (like car GPS)
Yes
Yes
Yes
Back to start
Yes
Yes
Yes
Impromptu Round Trip Route Creation
NO (BUT CAN CREATE ONE-WAY ROUTES FROM PHONE APP)
No
No
Download courses/routes from phone to unit
Yes
Yes
Planned

Sensors

Wahoo ELEMNT
Garmin Edge 810
Polar V650
Altimeter Type
Barometric
Barometric
Barometric
Compass Type
Magnetic
GPS
GPS
Heart Rate Strap Compatible
Yes
Yes
Yes
ANT+ Heart Rate Strap Capable
Yes
Yes
No
ANT+ Speed/Cadence Capable
Yes
Yes
No
ANT+ Footpod Capable
No
No
No
ANT+ Power Meter Capable
Yes
Yes
No
ANT+ Lighting Control
No
Q3 2015
No
ANT+ Bike Radar Integration
Yes
Q3 2015
No
ANT+ Trainer Control (FE-C)
Yes
No
No
ANT+ Remote Control
No
Yes
No
ANT+ eBike Compatibility
No
No
No
ANT+ Gear Shifting (i.e. SRAM ETAP)
Yes
Shimano Di2 Shifting
Yes
Yes
No
Bluetooth Smart HR Strap Capable
Yes
No
Yes
Bluetooth Smart Speed/Cadence Capable
Yes
No
Yes
Bluetooth Smart Footpod Capable
No
No
No
Bluetooth Smart Power Meter Capable
Yes
No
Yes
Temp Recording (internal sensor)
Yes
Yes
Yes
Temp Recording (external sensor)
No
No
No

Software

Wahoo ELEMNT
Garmin Edge 810
Polar V650
PC Application
N/A
Garmin Express
Polar Flowsync
Web Application
N/A
Garmin Connect
Polar Flow
Phone App
iOS/Android
Garmin Connect (iOS/Android)
-
Ability to Export Settings
No
No
No

Purchase

Wahoo ELEMNT
Garmin Edge 810
Polar V650
Amazon
Link
Link
Link
Competitive Cyclist
Link
Wiggle
Link

DCRainmaker

Wahoo ELEMNT
Garmin Edge 810
Polar V650
Review Link
Link
Link
Link
Again, you can make your own product comparison table here, using the full tool.
Availability & Pricing: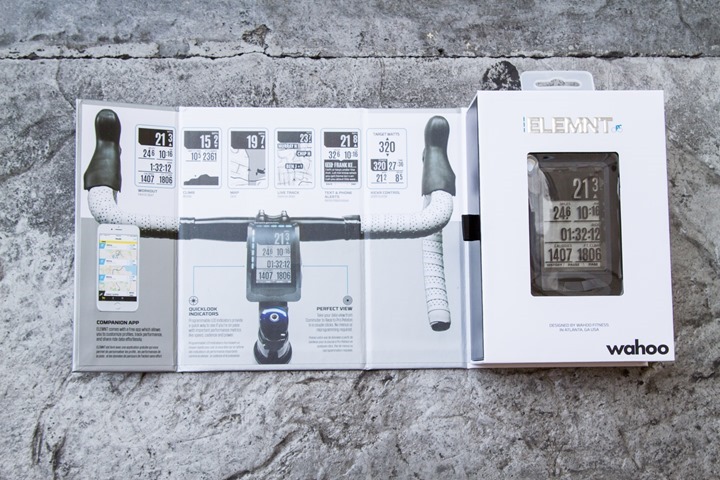 The ELEMNT is slated to be available by Black Friday (the day after Thanksgiving in the US, so November 27th), but could also ship earlier.  Meanwhile, ordering will open up tomorrow (Wednesday, September 16th) for the unit.
It's priced at $329US, so more expensive than the Polar V650, but cheaper than the Edge 810. Note that this does include all three mounts I listed above, within the box.
[Update note: Nov 20, 2015 – Wahoo has announced delayed shipping until January 2016]
Summary: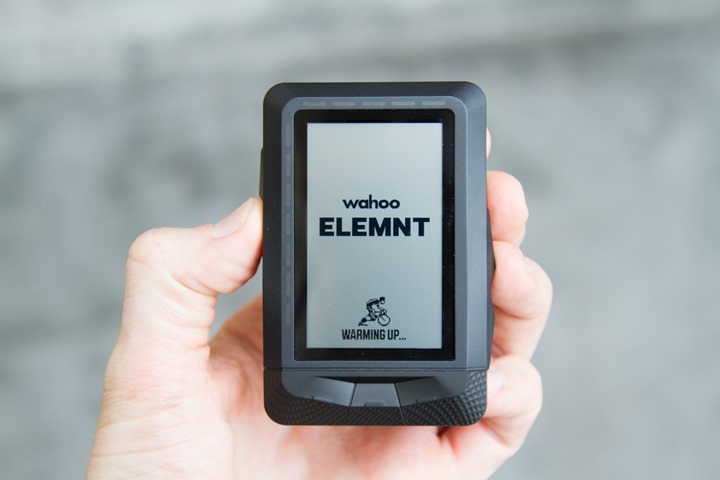 Overall the unit certainly looks very promising – and it's great to see more competition in the GPS bike computer space.  Wahoo obviously has a history of disturbing various athletic segments they've entered, starting with sensors, then trainers, and now GPS bike computers.
The ELEMNT has some new and unique features not found elsewhere, such as the LED bars and friend tracking (on device), as well as far more comprehensive integration with 3rd parties around saved routes.  On the flip-side, it currently lacks a lot of the structured workout capabilities of its competitors, or the more advanced on-the-fly destination input that other companies have as well.  There are also some areas, such as Strava Live Segments, that are on the roadmap for enabling in Q1 2016.
Once the unit starts shipping I'll do a full in-depth review.  But obviously at this point it's in the beta stage (though fairly stable in most areas), so it'll be a bit of time until their expected shipping timeframe in November January.  Nonetheless, expect to see me using it here and there over the next few months within various posts.  So keeping an eye on the weekly '5 Random Things I Did This Weekend' posts is probably a good idea.