Ok, catching up after a busy weekend going into Mobile World Congress here in Barcelona.  You'll see a bit more on that as the week goes along.  In the meantime, here's what I was up to this past weekend.  It was a bit of a blur!
1) Riding around Paris
I started off with numerous rides over the period leading into the weekend, as well as during it.  Testing out various things, lots of things really.  Watches, power meters, bike head units.  Craziness!  Including final rides on the PowerPod system as I wanted to get a few more scenarios in (now it's just writing and analysis that's left).  I was also trying out the Brim Brothers power meter cleats – which are up on Kickstarter right now.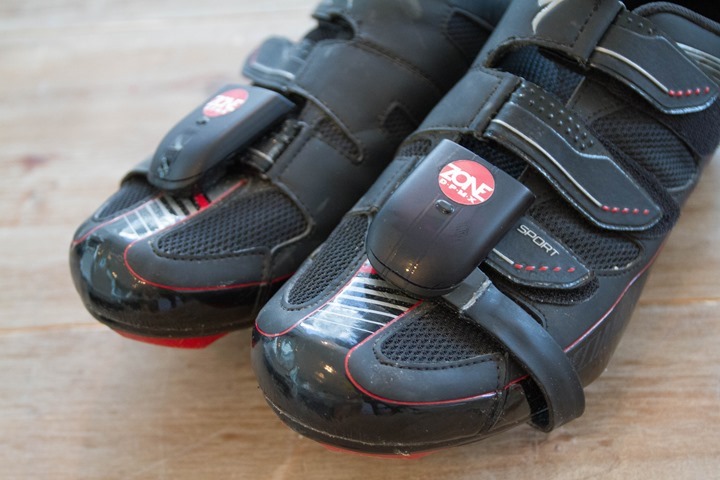 Unfortunately, there was a physical snag there on the hand-built unit, which appears to generate error messages due to a wiring connection issue being frayed.  They're getting me another unit and hopefully upon return from my trips in time to get out a first look post prior to their campaign ending.  I'm not terribly worried at the moment about the error, as that's one of the inherent risks of working with non-production line samples.  It's the same whether it's Garmin, Adidas, or PowerTap.  Hand-built samples are notoriously fragile.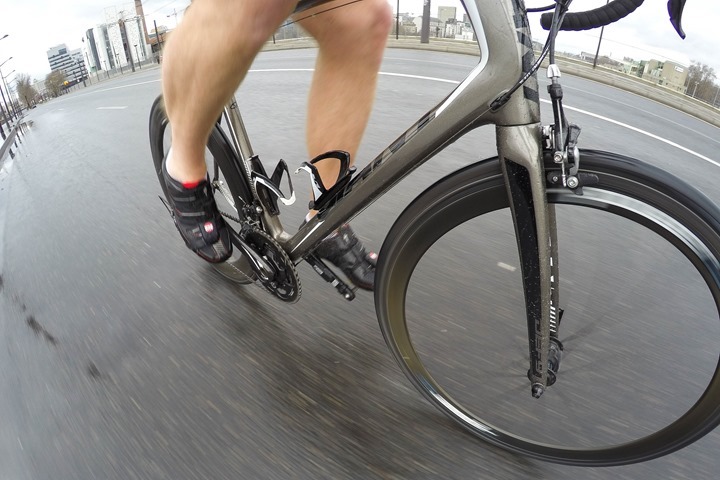 Still, the install went well and was silly easy to use.  More on that once I get the updated units back, and get back to my bike.
Last but not least, I cracked open a production Wahoo ELEMNT to get started there.  While I've had an ELEMNT since September, this is the final production hardware.  It now just awaits them wrapping up their software.  As pre-order customers know, they've been trying to crack one last software bug before release – and have been delaying shipment as a result.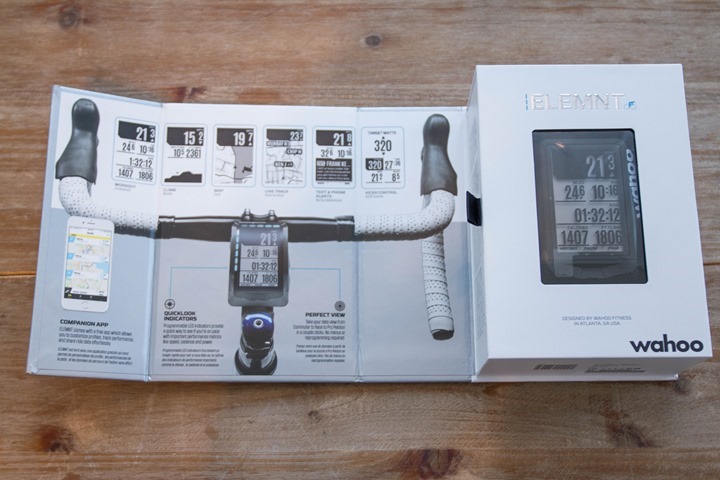 As far as my use goes, so far, so good.  Their particular software bug doesn't impact my usage, so it's not something I'm worried about at the moment.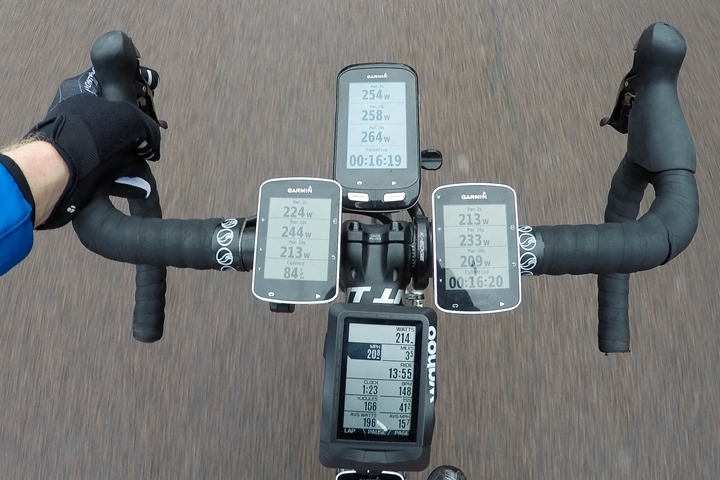 Overall the unit works fairly well.  And, it kinda-sorta fits into my existing Garmin mounts.  It just takes a bit more 'pop' & 'push' (it's a touch bit chubby for the official mounts).  No idea yet though if that'll eventually break the tabs long-term.  I'll let ya know if so.  Perhaps I'll just give the tabs a tiny trim with a file and then life will be perfect.
2) Off to Barcelona for MWC!
After my ride Saturday I finished packing things up and headed off to the airport.  It's only a short flight down to Barcelona.  I'm here for Mobile World Congress, which is the annual mobile-focused tech show in Europe.  It's massive, with some 2,000 companies exhibiting.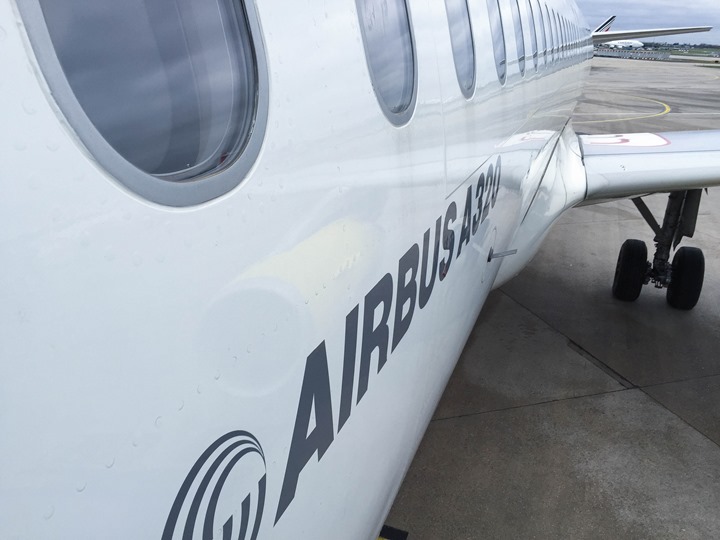 While the vast majority of them are more in the mobile phone/device/app space, there are numerous fitness companies here.  Plus, companies that make action cams and sports gadgets.  We obviously saw Garmin's MWC-timed announcements already, and while you won't see any more majors announcing this week, you'll find a few tidbits of fitness goodness at the show.
Plus, nobody can go wrong with a few days in Barcelona this time of year!
3) A waterfront long run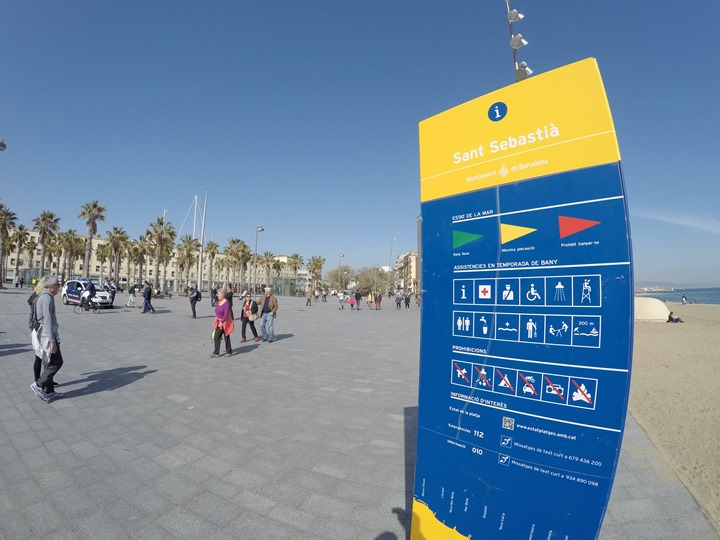 Sunday morning it was off into the sun I ran.  I had a slew of devices I've been preparing for imminent reviews, and for this run I selected the Garmin Fenix3 HR on my right wrist, and then the Fitbit Blaze on my left wrist.  However, I was also capturing data from the Stryd Running Power Meter.
To do that, I leveraged a Garmin FR920XT on a Spibelt.  And to capture some Running Dynamics data and just additional HR comparison data, I had a FR630 on the other side of the Spibelt.  From a GPS accuracy standpoint, I'd largely 'throw away' that data, because that position against my waist isn't normal.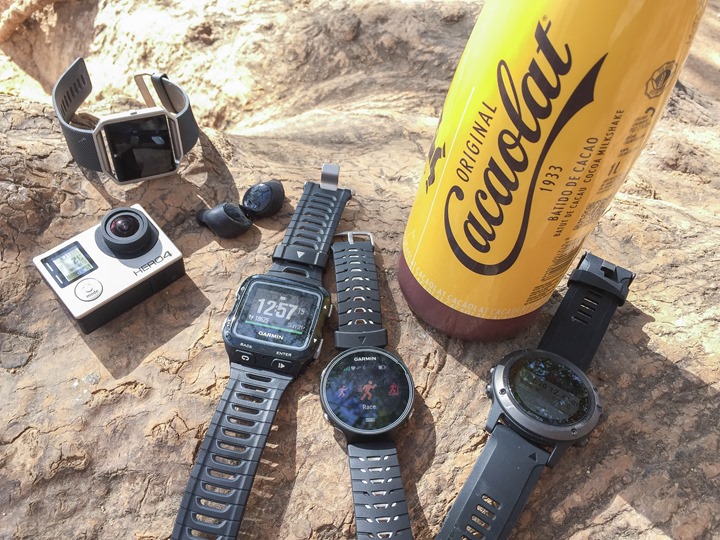 Oh, and you can see the Bragi Dash in there, as well as my usual photo cam – the GoPro Hero4 Silver.
In any case, my run was basically steps of 10 minute chunks at increasing cadences, resulting in a little under 13 miles of running.  The route was great; along the ocean – and one of my favorite 'easy-button' routes in Barcelona (or all of Europe for that matter).  I don't have to think, I just run along the waterfront.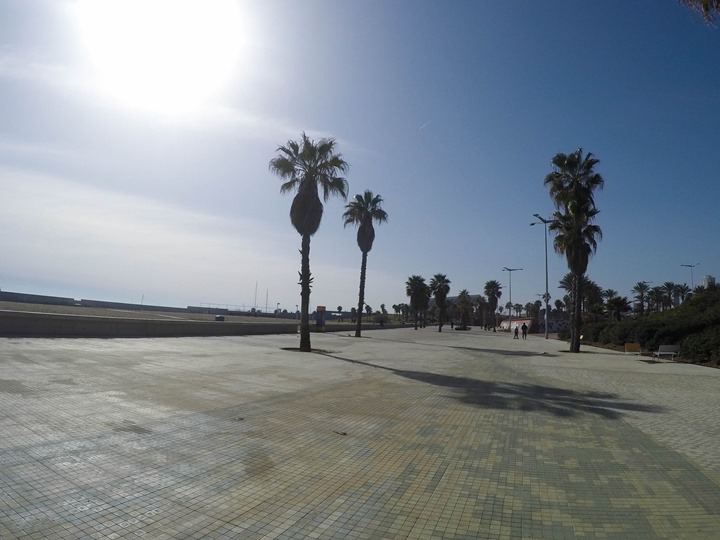 Of course, there are many great routes around Barcelona that I've run on my numerous past trips.  But it's hard to beat the smell of the sea.
4) Running with the Vivoactive HR
With my first and primary run done, I grabbed a quick bite to eat.  But about 2-3 hours later, I was back out again.  This time, grabbing shots of the new Vivoactive HR and heading out for a run with it.  For some strange reason, I thought that a second run of the day would be a good idea.  At least, it seemed like a good idea when I scheduled it earlier in the week.
And it was a nice run.  It's just that it brought my total running mileage of the day up to 19 miles.  Which is a bit longer than any of my recent long runs have been.  So while I wasn't thankfully sore during the run, I was moving a bit slower later that evening.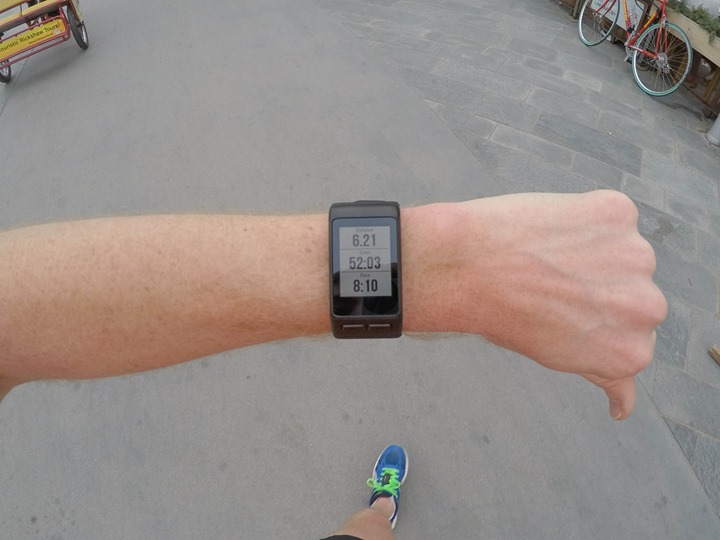 For all the details on that run, swing over to my Vivoactive HR post from yesterday, where I talk through how that worked and how the device handled.
5) Riding around to events!
After my runs, it was off to the Samsung Unpacked event.  That's their massive annual press conference where they announce the latest Samsung Galaxy phones and usually various other devices.  They cram a few thousand media and partner types into a room and get everyone all excited.  Then Zuckerberg showed up and overshadowed whatever it was Samsung was talking about.
While I could have taken a taxi the approximately 3 miles to the conference center, that would have cost money, and taken time (and been lazy).  Lots of time.  Finding taxis around these rush-hour times in the city right now is pretty tough, and usually traffic hoses it all up.  So, I just rode there.
I rented a bike for a few days from a place across the street from the hotel.  It costs $12 for the first day, and then it's just $5 a day after that.  Seems like a steal!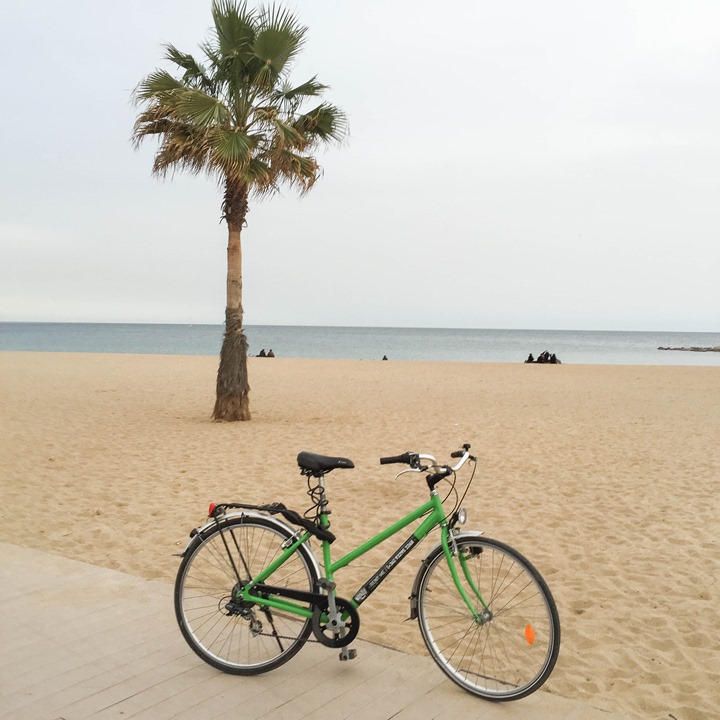 Now Barcelona does have a great looking bike-sharing system.  Unfortunately, the city caved to the 'bike lobby'.  How's that?  Well, they won't allow visitors to use the bike sharing system (as most other cities do).  That's because that would impact the bicycle rental companies adversely.  Seriously.
Oh well, at least the rentals are cheap.  Just wish I had the freedom of doing one-way rides like with a bike share program.  For example, bike somewhere and then take the Metro back (albeit that's partially on strike this week).
In any case, here's my bike again on my ride back to the hotel: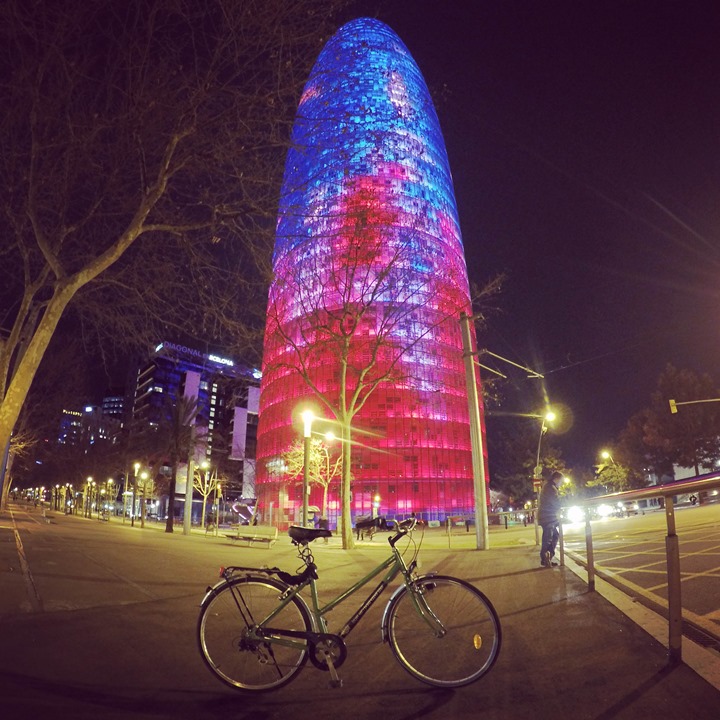 With that – stay tuned for the week ahead, and thanks for reading!