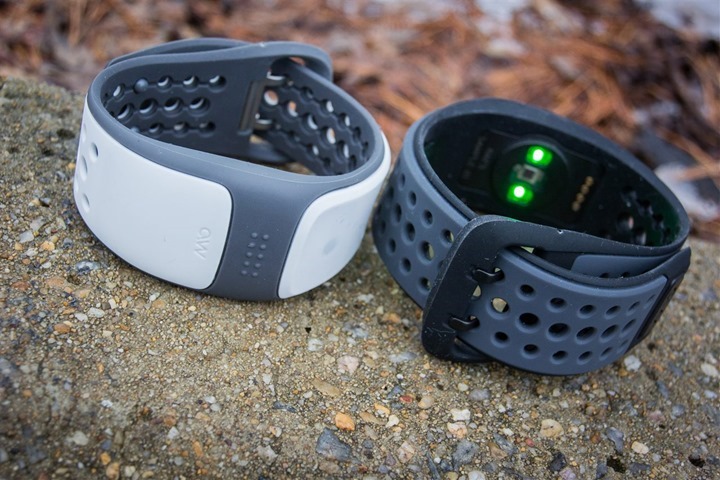 Today, Mio announced their newest product, the dual ANT+/Bluetooth Smart optical heart rate wrist band: Mio Link.  This new product is about half the size of their previous product (the Alpha), and transmits across both protocols.  This is notable as prior to Link the Alpha was Bluetooth Smart only (they did a special ANT+ production run for Kickstarter, but not for full production).  Finally, Mio Link, costs $99US – half the cost of their previous unit which was $199US.
I've been playing with the product now for a few days, and thus can give you a bit of an overview of how it works – though, I can kinda just start off with the simple version:  It rocks.
Why's that?  Well, it's exactly what folks have been asking for since Mio's first generation Alpha: Make it smaller, have it transmit both ANT+ and Bluetooth Smart, and oh, reduce the price.
Understanding Optical HR Monitoring
But first let's start back at the beginning though and explain what exactly an optical heart rate (HR) monitor is.  These are heart rate monitors that use optical light sensors to view down into your capillaries and then read your heart rate, which is typically transmitted to you in beats per minute (BPM).  While the end metric is the same, the measurement technology is different from heart rate straps of the last 30 years, which have been worn around your chest and pickup your heart rate electromagnetically.  In the photo below you can see this green light emitting from inside the band of the watch: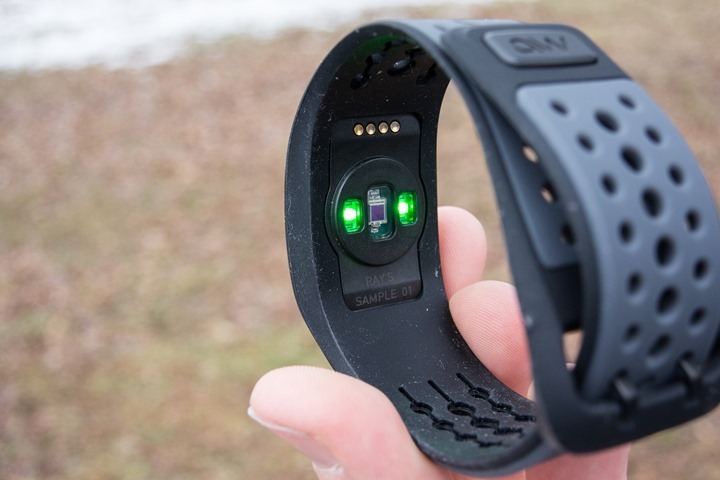 Mio initially introduced this technology about 18 months ago with their Kickstarted funded Mio Alpha unit, which I subsequently reviewed once they produced final units.  During the Kickstarter deal, they offered both an ANT+ version as well as a Bluetooth Smart version.  However, after launch and public availability, they were only able to offer a Bluetooth Smart version to non-Kickstarter folks (Kickstarter people got what they ordered).  As you saw in my review, the unit did exceedingly well for sport use – producing accurate data.
Following Mio's launch, another company – Basis, launched an optical HR device, the Basis B1 watch.  However, that device wasn't aimed at the sports crowd, but rather more at the activity monitor/tracker crowd.  For example, it worked well for the 23 hours of the day you weren't exercising, but didn't measure HR during exercise.  Ultimately, it uses slightly different technology and algorithms on the optical side.
Finally, fast forward to a few months ago, and Adidas launched their Smart Run GPS with the optical HR sensor built in.  That sensor was provided by Mio.  And just like the Alpha, it worked spot-on for me as well in measuring heart rate optically.
Now, we find ourselves looking at Mio's second generation product, the Link.  As you can see below more clearly, they reduced the size by nearly half, where it's about the width of a stick of gum.  The Mio Link is on the left/right, and the older Mio Alpha in the middle: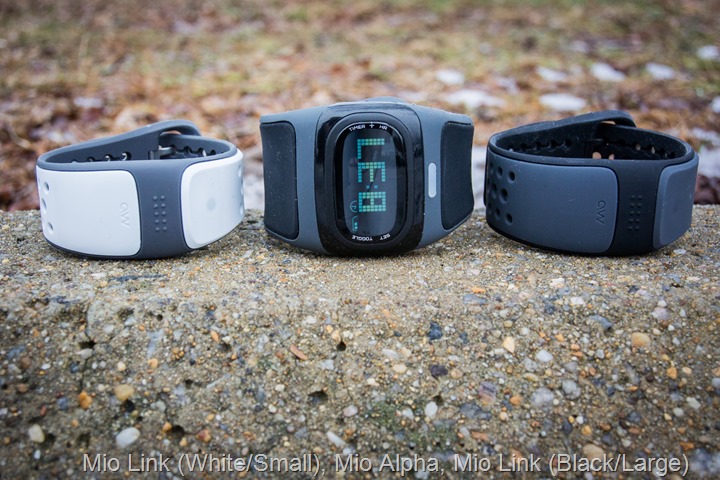 This is an impressive technical feat, because the 'enemy' of accurate optical HR measurement is actually light.  You need to reduce/eliminate ambient daylight from clouding the sensor's view of things from the (green) light it emits.  Thus far, from what I've seen in extremely limited testing over the past few days, they've done that well.
Dual ANT+ & Bluetooth Smart:
Next, and probably the most important change is the addition of both ANT+ and Bluetooth Smart to the unit.  No more choosing between one or the other (or rather, only having one choice).  The unit will concurrently broadcast on both ANT+ and Bluetooth Smart your heart rate.  For example, this means you could pair it to a Garmin cycling computer (via ANT+) at the same time as an iPhone app (via Bluetooth Smart):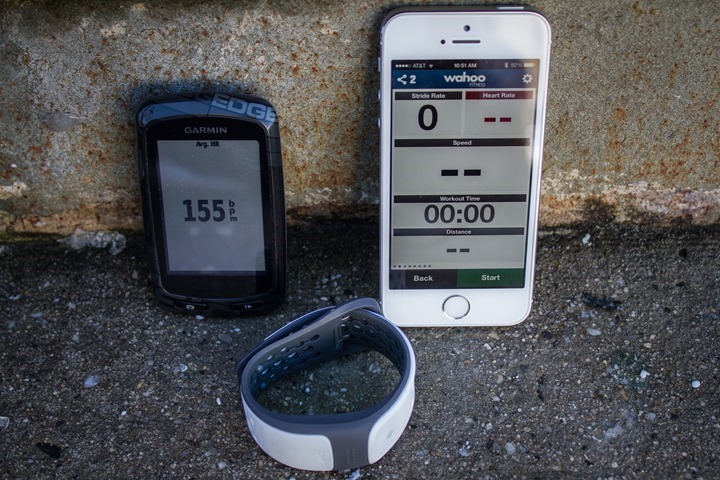 Using ANT+, you can pair it to as many devices as you'd like concurrently.  For example, I did a test run where I paired it to two ANT+ devices (an Edge 810 and a Garmin FR220).  The unit acts just like any other ANT+ heart rate strap.  Which means that basically every ANT+ device ever made on the planet can talk to it (any Garmin/Timex/Magellan/etc… watch/device).  I often hear from cyclists, especially woman, who have been extremely interested in Mio offering the ANT+ variant.  This now solves that problem, and does it in a smaller package than the Alpha.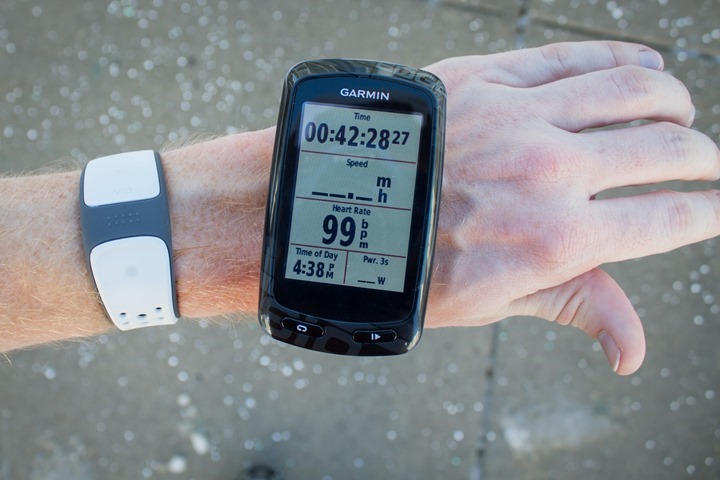 On the Bluetooth Smart front, it can be connected to any device that supports Bluetooth 4.0 and apps that support Bluetooth Smart heart rate profiles.  On iOS, that's the iPhone 4s and higher, as well as the iPad Gen 3 and higher.  On Android, that's any Android 4.3 device and higher, along with an app that supports it.  On Windows Phone, that's WP8 and higher, with an app that supports it (Handy tip: Adidas app on WP8 supports it).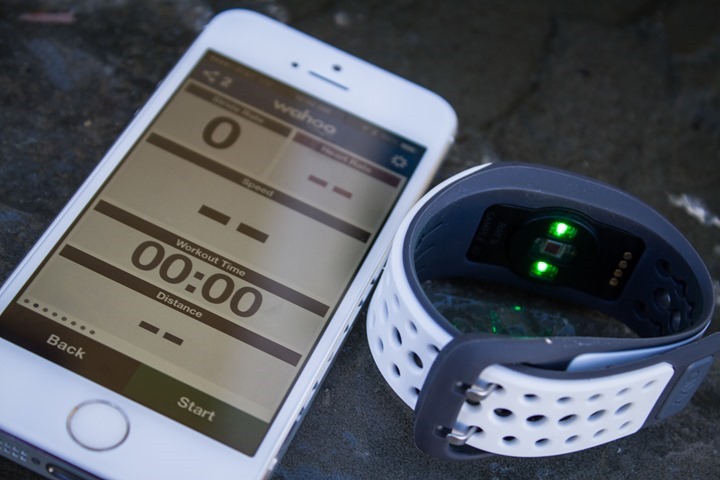 Note that in the case of Bluetooth Smart, like most all Bluetooth Smart devices on the market, you can only connect the Link to a single display device at at time (i.e. a phone, watch, etc…).
Data Accuracy Samples:
I've done a few test runs, along with a number of hours of generic HR monitoring with the device.  First, we'll start with a nice 40 minute run I did.  In this run it was paired concurrently to an Edge 810, Garmin FR220, and an iPhone 4s with the Wahoo Fitness app – all at the same time.  Below, is the HR file from that run: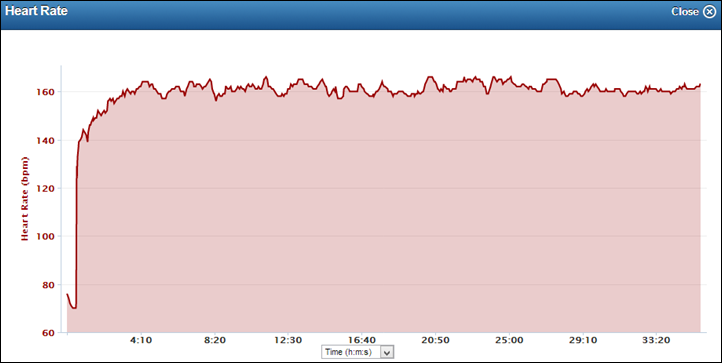 Of course, a HR file by itself isn't terribly useful.  Instead, you need to compare it to a HR strap to see how things performed.  Below, is a HR strap worn at the same time: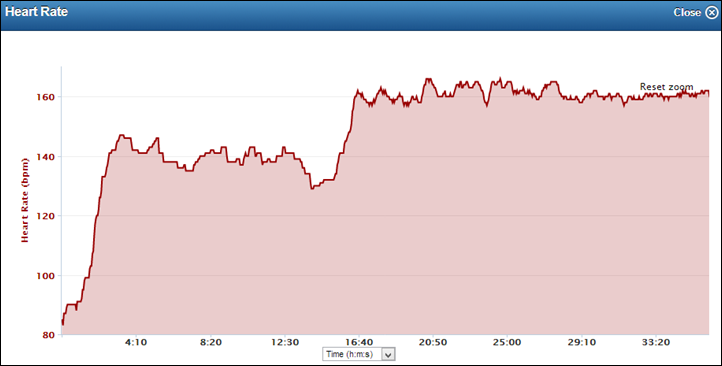 (Note: I've slightly cropped the above, since the battery on my FR220 ran out three minutes early. This makes it easier to compare the two graphs.)
Now, you know what's funny above?  It just happened that this shows exactly why optical HR can be so handy.  In my case, on this run, my legacy chest HR strap was funky for the first portion of it.  It was reading low – about 20bpm low.  I know it was reading low merely because I know my paces and perceived efforts pretty well.  Plus, later when I adjusted the chest strap a little bit, it then immediately matched the Mio Link optical HR: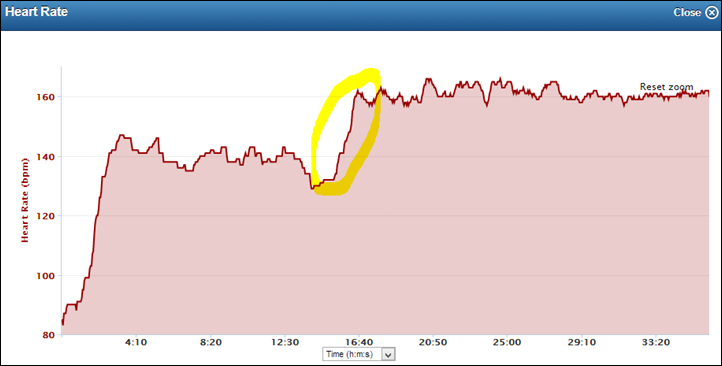 In the above cases, the extreme dryness  of the air, and 17*F (-8C) weather contributed to the legacy fabric chest HR strap being wrong.  I had waited too long after wetting it (since I was taking photos), and on top of that, I wasn't really wearing enough clothes for that weather, so it quickly dried things below my shirt.
Next, we look at a longer run I did the next day.  In this case, I ran for 90 minutes.  I made an effort to quickly get out the door to keep the chest strap on-target to see a better comparison.  However, the @#*$&#@ battery gods struck again, but this time on the Mio Link, dying about 8 minutes into the workout.  Sigh.
For fun, I also wore the HR strap on my wrist for a few hours the previous evening – just sitting around, going to the movies, dinner and other miscellaneous activities (all, non-fitness).  Since I hadn't fully charged it, it didn't last the full duration of the activity file.  In this case, I paired it via Bluetooth Smart to the Wahoo Fitness app. Here's the results from that: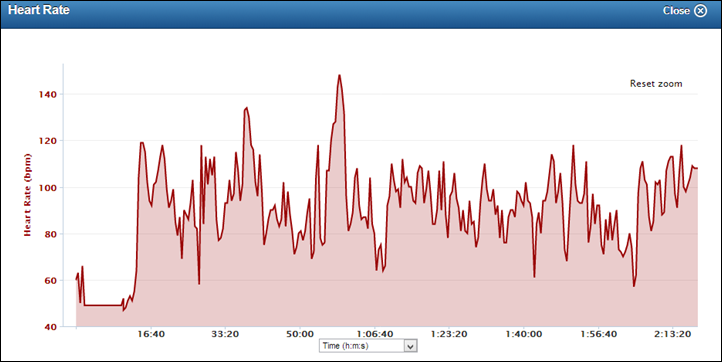 As you can see, almost all of it looks fairly normal, and within 80-120bpm.  There's an initial 'flat-line' section there that doesn't make a lot of sense, but otherwise, being up and moving around you'll get pretty normal variation.  The 145bpm or so spike also seems out of line.  But then again, I don't see unexplained spikes while doing sporting activities – so I'm not terribly concerned yet with it for non-sports activities that the unit doesn't really target.  And of course, we're still 1-2 months away from the unit being on the market.
I'll be doing a ton more running over the next 24-48 hours, so I'll keep updating this section with new comparisons as I do it.  And as I head back home next weekend I'll layer in cycling too.
Other Functionality:
Unlike the original Mio Alpha, this doesn't have a display on it.  Instead, it just has a single status light.  Honestly, I think this is just fine.  The overwhelming feedback I got from folks is that because the original unit, Mio Alpha, didn't actually record anything (only display of current HR), it always was being streamed somewhere else.  Thus, there was more interest in that 'somewhere else' device and using that as the primary display (or audio feedback from a cell phone app).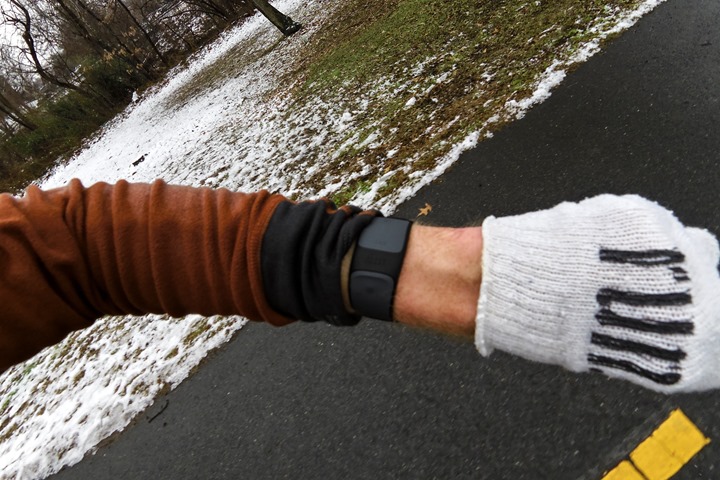 The unit does however allow you to set zones on it.  You can set zones in two different schemes.  The first is a 3-zone scheme, and the second is a 5-zone scheme.  Each scheme will use the LED on the front of the unit to indicate your exact placement within the zone.  The unit does not include any audio or vibration functionality.
Sizing and Fit:
The unit comes in two sizes, a smaller one for wrists 145-187mm in size, and a longer one for wrists 162-216mm in size. The internal pod can be popped out of the rubber casing, thus allowing you to change the band color if you'd like (from white to black, or black to white).  Mio says down the road they may make additional color bands if there's interest there.  The unit is waterproofed to 3ATM, which equates to roughly 30m (90ft).
You can see these two straps on my wife's (small) wrists (she's tiny, 5'2" tall).  In her case, both straps actually did fit her.  Though, the larger strap required it be placed on the absolute very last connection knob, so the smaller/shorter strap was a better fit.  This is notable because the previous Mio Alpha strap was too large for her to use.  Like her, I was able to wear both strap lengths without issue however.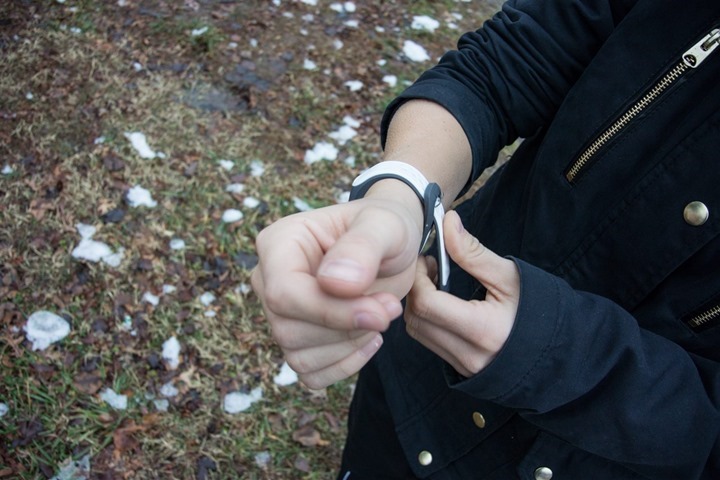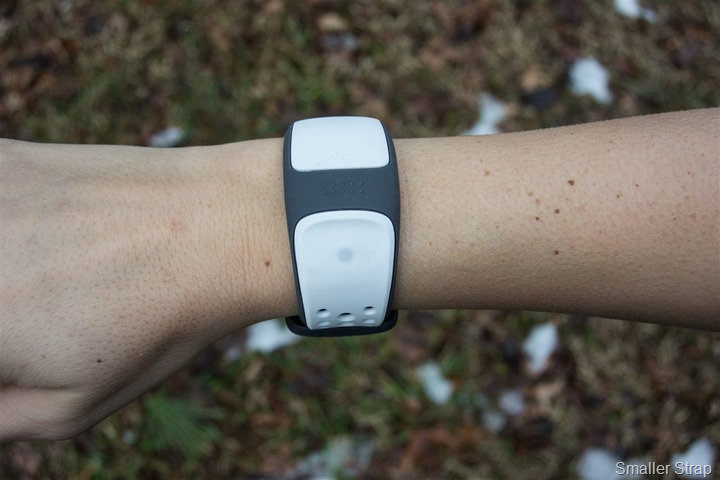 Charging and Battery Life
To charge the unit, you'll use the included USB adapter.  The battery is currently lasting 7 hours in active-on mode (measuring HR), though, can last weeks in a standby mode (hanging out looking pretty) (Update: They've increased it to 10hrs).  You can use any USB port on the planet to charge the device.  The USB adapter in the beta version is about the only area I have complaints on (not quite secure enough), but I'm told that it'll be fixed in the next beta iteration.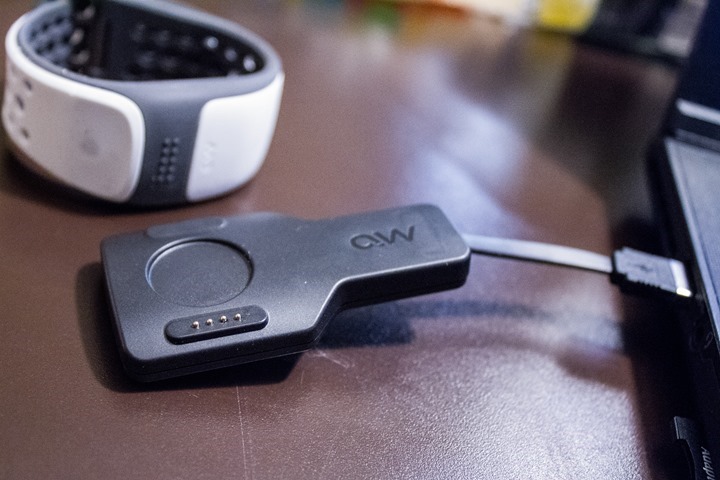 Mio Go Mobile App:
Lastly, Mio will also be releasing an App – Mio Go, to complement the Link.  The app connects to the Link and has various fitness gamification scenarios designed around having you hit your target heart rate to progress through the app:
Since I just got to the app moments ago, I'll be diving into the app more as part of the final in-depth review:
Availability wise, the Link should be available starting March, for $99US.  In Europe, it'll be 99€.  Price-wise, this is fairly impressive, as most other chest-based Bluetooth Smart heart rate straps on the market aren't too much cheaper.  There's only one other strap that does dual transmission at the exact hour I've published this, the 4iiii's Viiiiva.
As usual, once the final unit is available later in February/March I'll be doing a typical full in-depth review then on the final hardware (and any applicable software).  Thus, like any other beta/pre-release product, things could change for better or worse between what I've written now and when the final device is released.
As always, thanks for reading – and feel free to drop any questions below!
Found this review useful? Or just want a good deal? Here's how:
Hopefully you found this review useful. At the end of the day, I'm an athlete just like you looking for the most detail possible on a new purchase – so my review is written from the standpoint of how I used the device. The reviews generally take a lot of hours to put together, so it's a fair bit of work (and labor of love). As you probably noticed by looking below, I also take time to answer all the questions posted in the comments – and there's quite a bit of detail in there as well.
I've partnered with Clever Training to offer all DC Rainmaker readers exclusive benefits on all products purchased. You can read more about the benefits of this partnership here. You can pickup the Mio Link through Clever Training using the link below. By doing so, you not only support the site (and all the work I do here) – but you also get a 10% discount on your cart – just for DC Rainmaker readers with coupon code DCR10BTF . And, since this item is more than $75, you get free US shipping as well.
Mio Link Optical HR sensor (both colors, strap lengths, choose from drop-down)
Thanks for reading! And as always, feel free to post comments or questions in the comments section below, I'll be happy to try and answer them as quickly as possible.