Ahh yes, back in Washington DC.  Though, not permanently.  Just for a few days before I head off to CES on Sunday evening for a crazy-busy packed few days (with a lot of awesomeness in the pipeline).
After arriving into DC New Year's Day, we were up relatively early on Thursday ready to run.  We waited for light though before heading out.  While we could have just run directly from where we are staying (it sits on one of the major DC running paths), we decided to jump in the rental car and head over to the tidal basin since it was only a 10-15 minute drive.
Upon arriving, it was pretty much deserted outside.  Only a couple of other cars along the entire drive, and no peoples around.  Low level fog crept about half-way down the Washington Monument at the start of the run, but it was slowly lifting.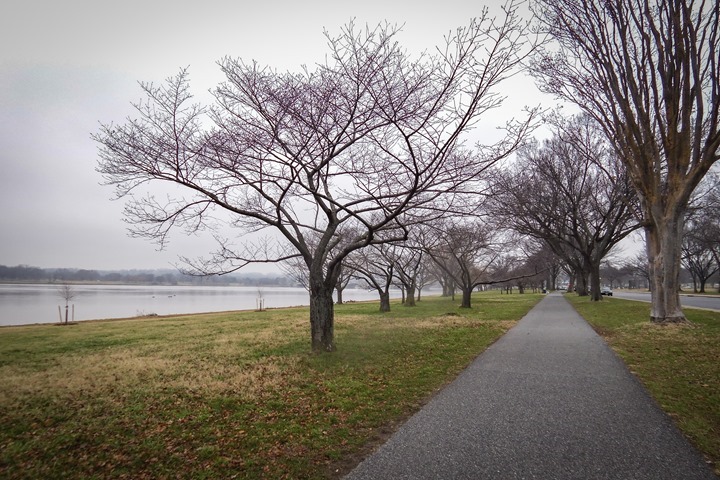 My workout called for 7x800m repeats, which I decided I'd do around the tidal basin itself.  But, I had a 15+ minute warm-up to get done first.  So I headed over to Lincoln, who was just a few hundred meters away: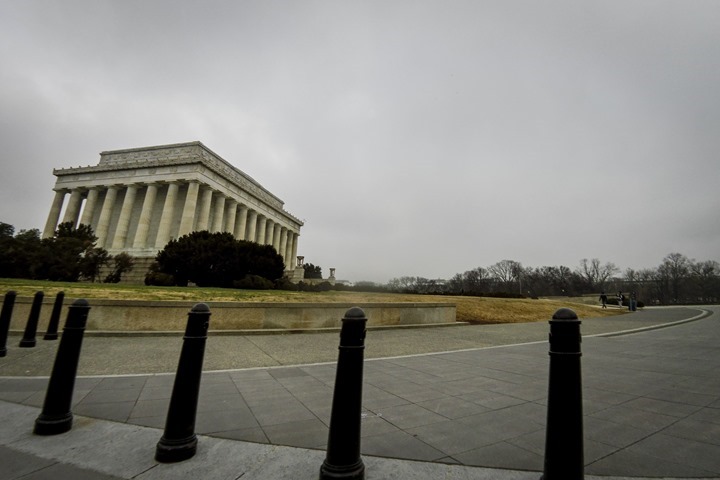 Across from him, it was nice to see that the reflecting pool had been re-filled, which wasn't the case the last time I was in DC – it was under a bunch of construction then.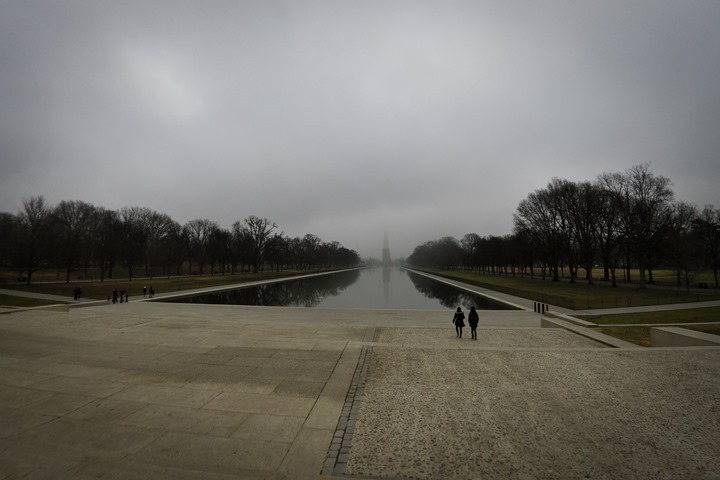 I continued down the side of the pool, where I found exactly nobody: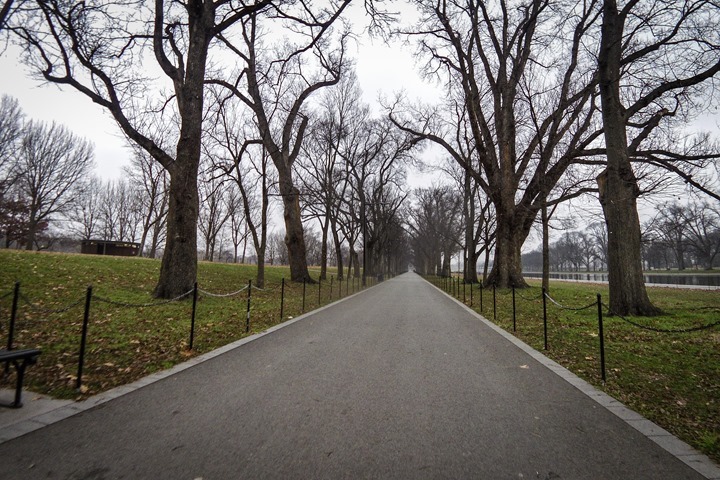 Given I lived in DC for almost 10 years, thus I've run these areas a lot.  Never have I seen it as desolate as it was this morning at this time (around 9AM).  Ever.
I was also testing a wide variety of gear.  One such little item is the Adidas Speed_Cell BLE footpod, attached to some other stuff.  It's identical to the ANT+ variants, but Bluetooth Smart instead.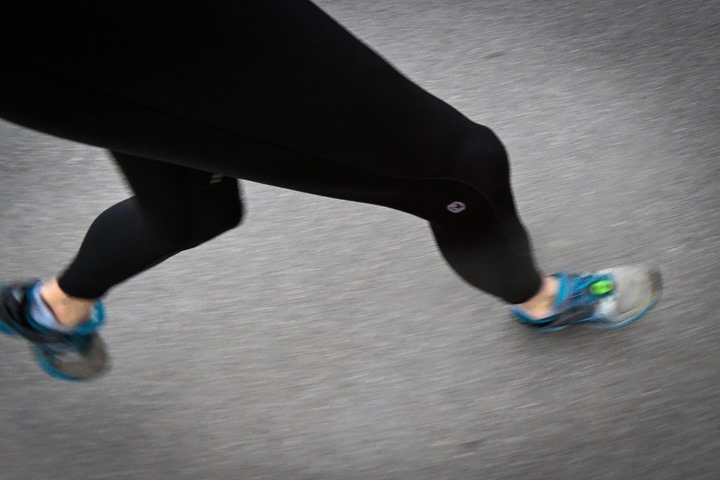 I continued on past the WWII monument.  I remember when that opened.  Still doesn't seem that long ago.  And is still one of my favorite monuments.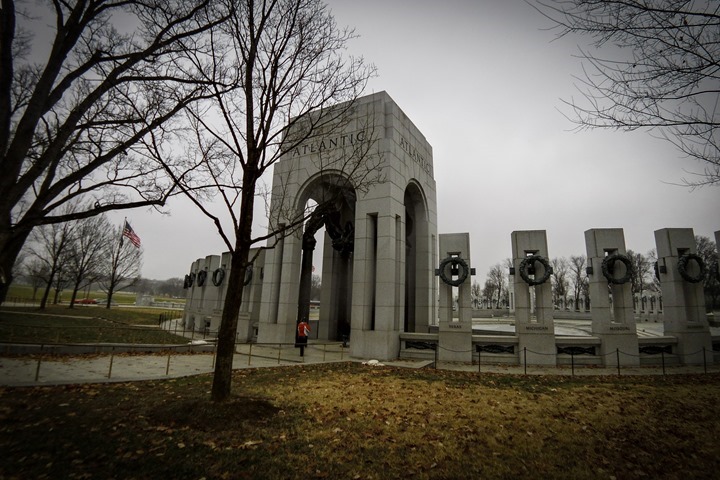 From there I zipped over to the White House.  At least there were a few tourists here: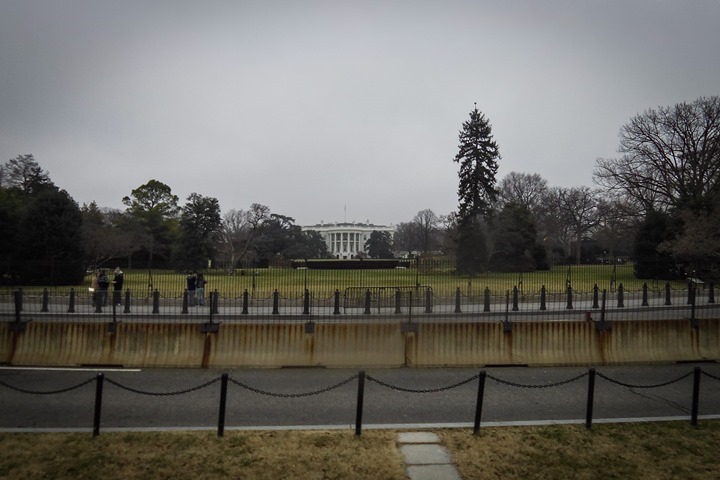 To my right, the White House Christmas Tree, with workers starting to deconstruct it.  And behind it, the Washington Monument shrouded in fog: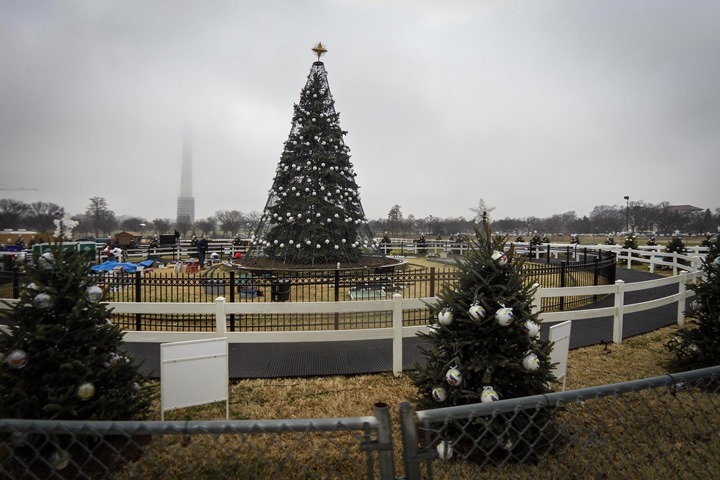 At this point in my run, the Monument was at least fully visible, albeit not from very far away:
Roughly around this point my 15 minute warm-up was completed and I had a 2-minute easy jog/rest break before starting my intervals.  I started my first interval slightly ahead of the actual basin itself, so by time I got down to the water 60 or so seconds into it, I was at full speed.  Ready to begin ducking cherry trees: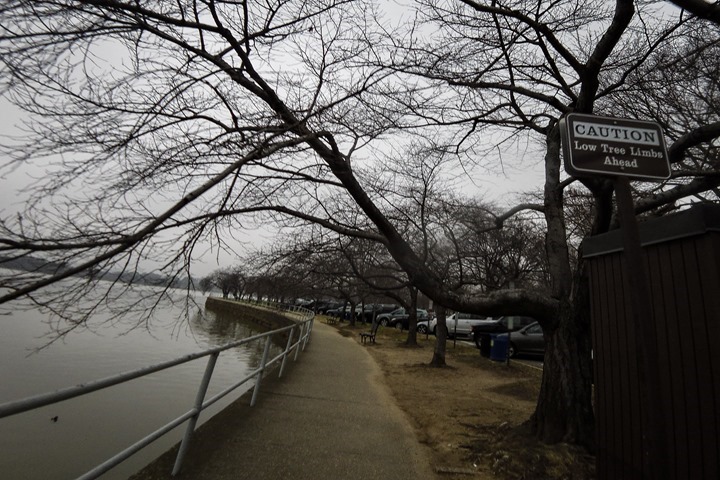 Like everywhere else, there was (almost) nobody there either: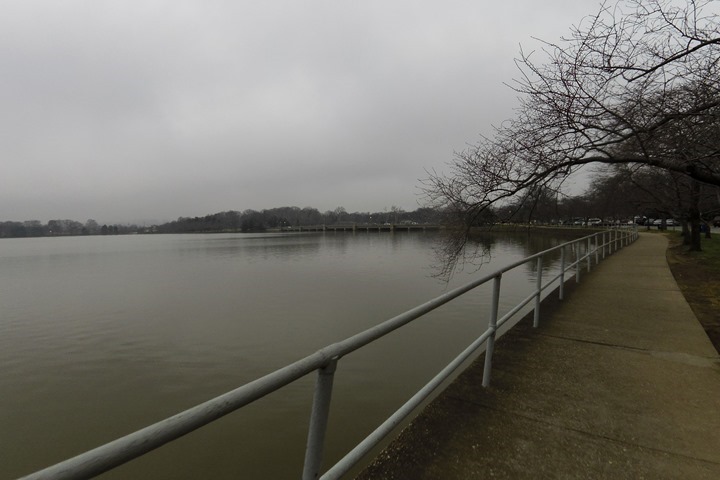 Just a bunch of geese: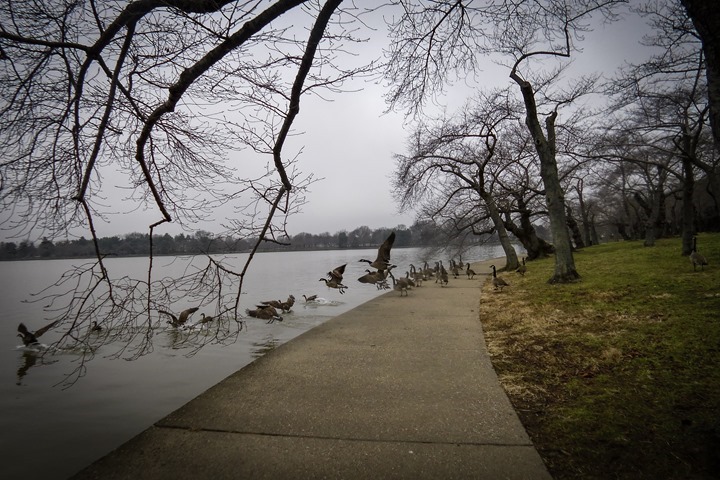 For those curious, my workout called for 7x800m at 2:56/800m, or basically a 5:52/mile pace.  Pretty straight-forward really.
I was mid-way through my second 800m repeat when I passed by Martin Luther King, standing alone overlooking the basin and out towards Jefferson.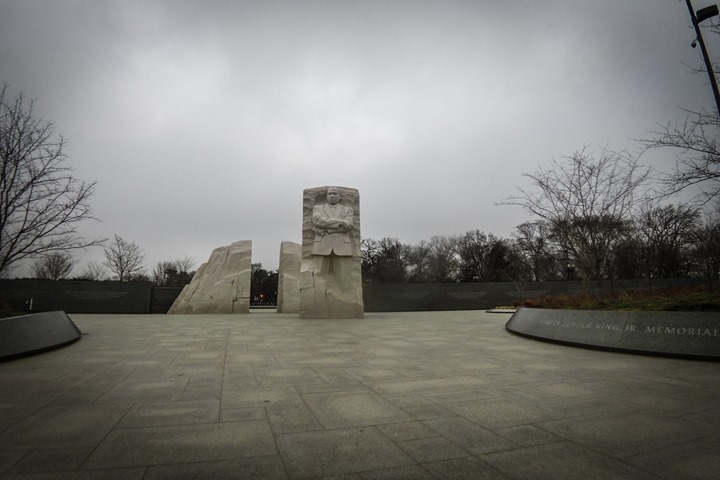 Woah, look!  A runner!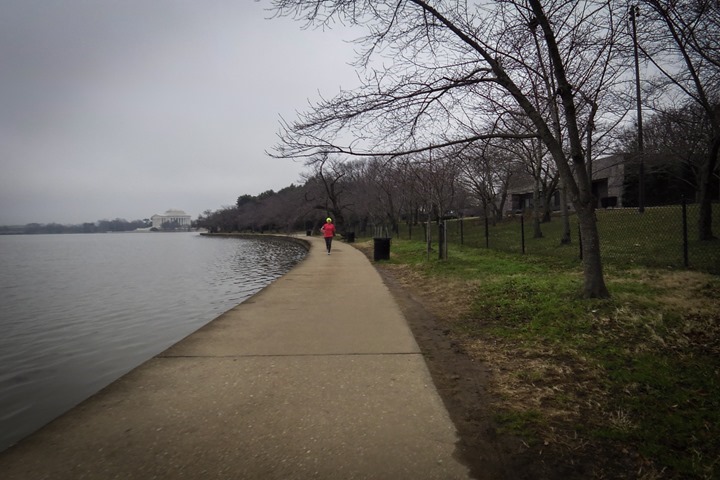 Yes, the only runner.
Meanwhile, behind her we had Jefferson.  I'd visit him about 1.5 intervals later.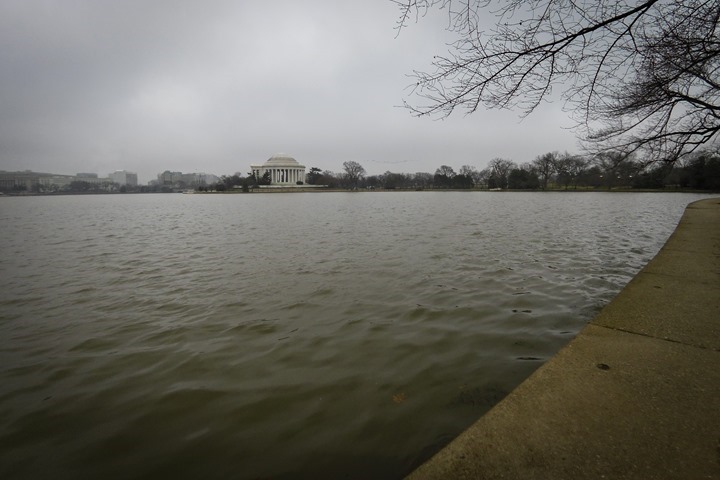 As I'd loop around the end of the basin, he loomed before me.  With the Washington Monument poking out behind him: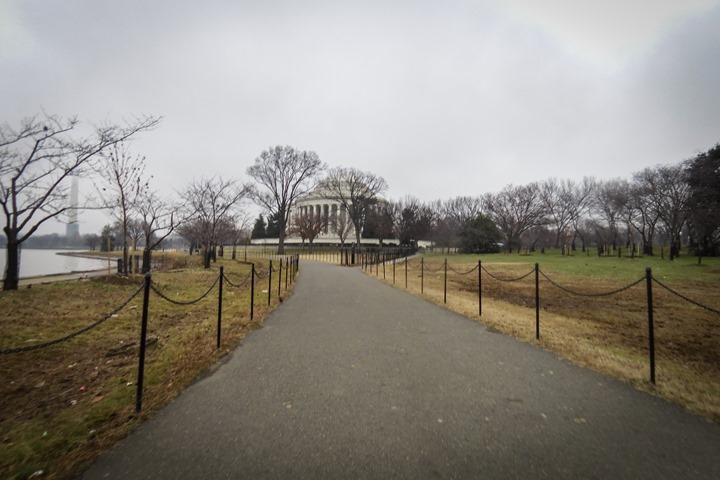 In front, only a lone National Park Ranger strolled across: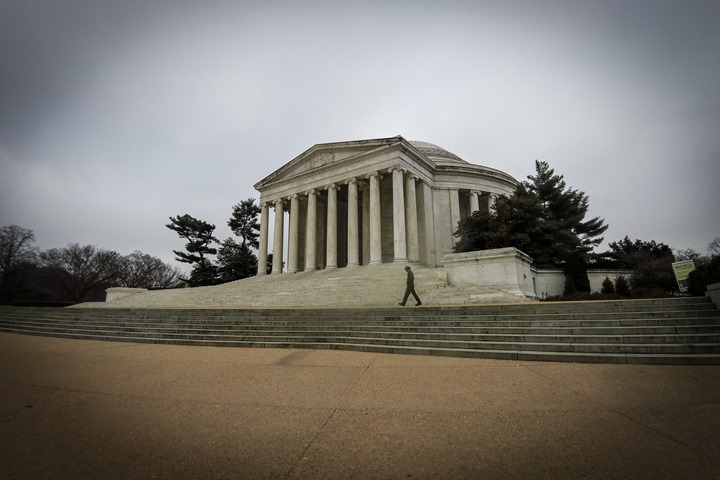 Continuing around further, I had almost completed my first loop.  I was coming up on the docks for where paddle boats are normally rented from.  But on this cold winter day at approximately the freezing temperature, the boats had long been stored for the winter.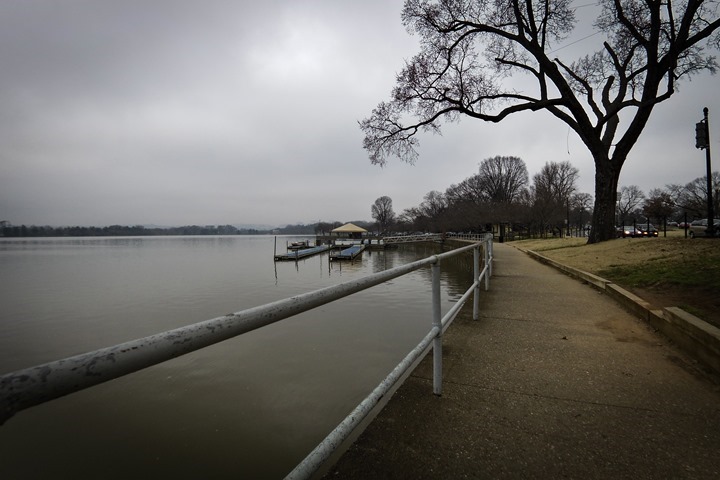 I'd complete two full loops of the basin, plus a bit extra.  The first 4-5 800's went fairly well, but I was a bit slow on the last few.  This was mostly a result of the fact that I hadn't run in a week, and instead substituted skiing.  Thus, you lose a bit of top-end aerobic range there.  No worries though, I've got non-interval runs over the weekend, and then I'll be back in business early next week for hard interval runs again.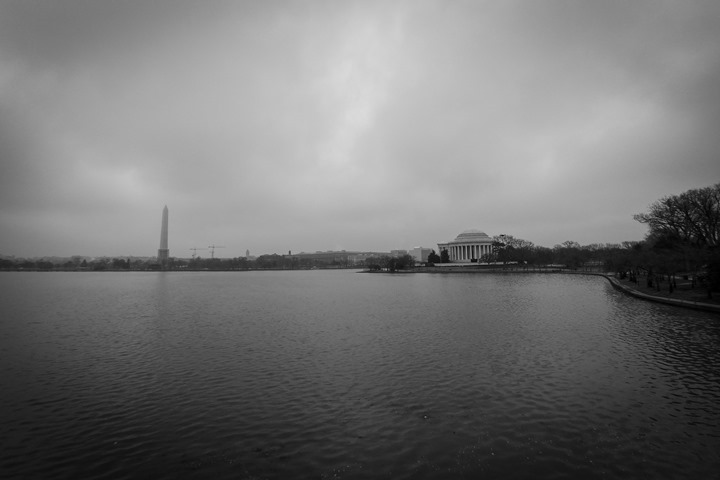 As I completed up the 7×800's, I went into 4x200m sprints. These too were a bit slower than normal (usually I average around 4:45-5:00/mile, but was a bit slower).  From there, I moved into my cooldown.  I had timed it so that my walking cool-down would be through the Franklin D Roosevelt memorial, which is one of the coolest monuments/memorials in DC, though not often visited.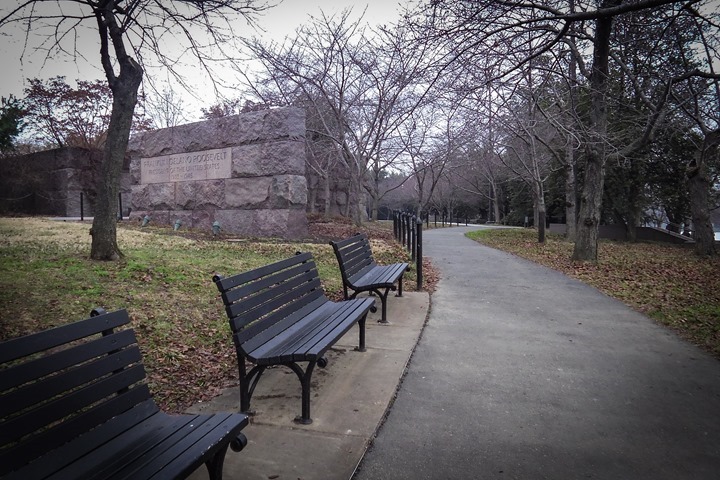 It was especially nice today being the only person in the vast monument, which spans hundreds of meters in length: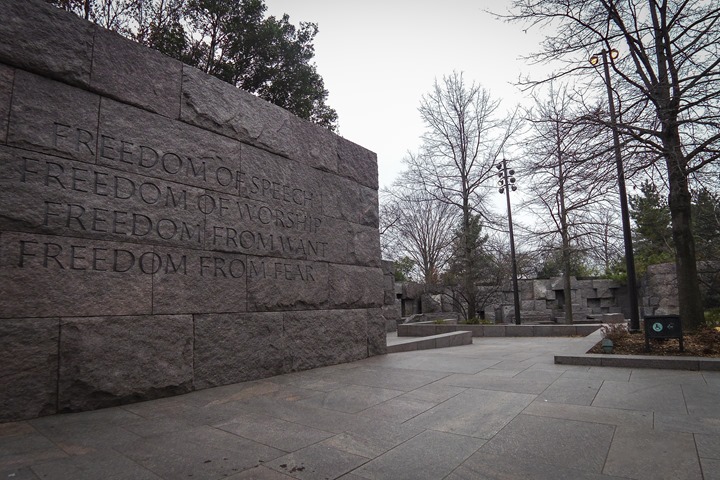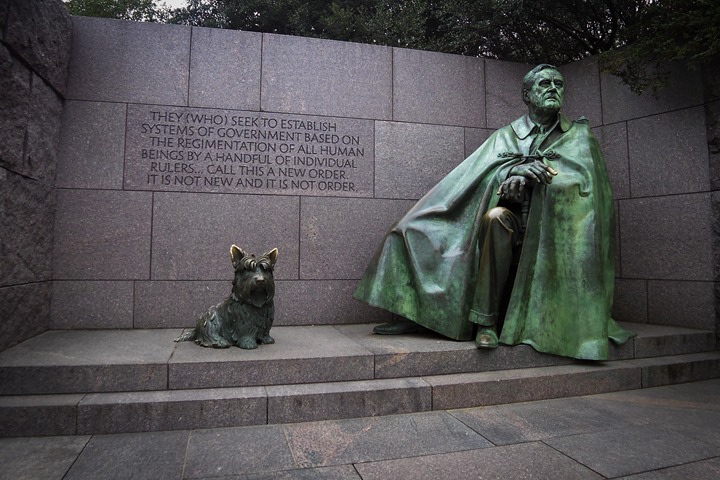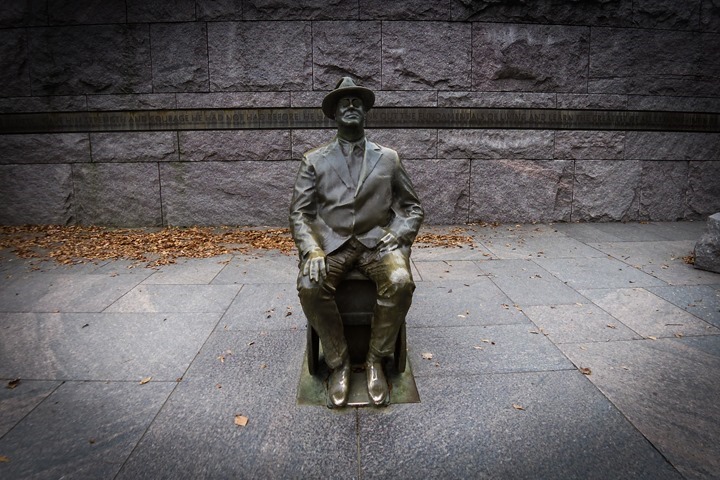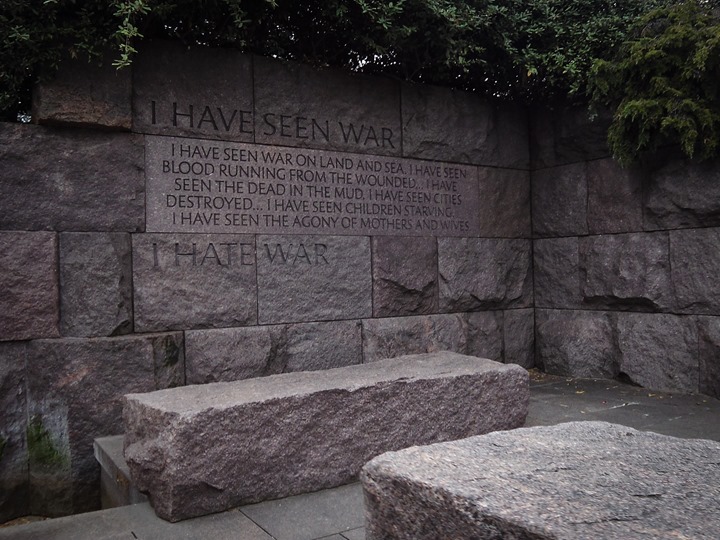 After I exited, I made the light jog for a few minutes back to the car, passing by a lone Capital Bikeshare station along the way.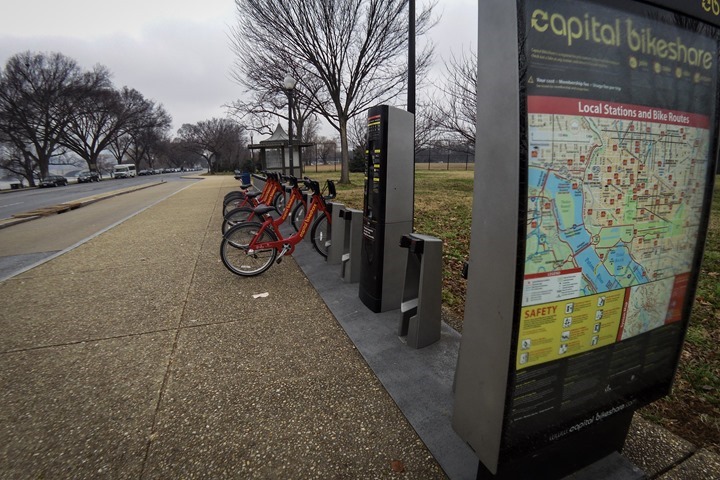 With that, run complete!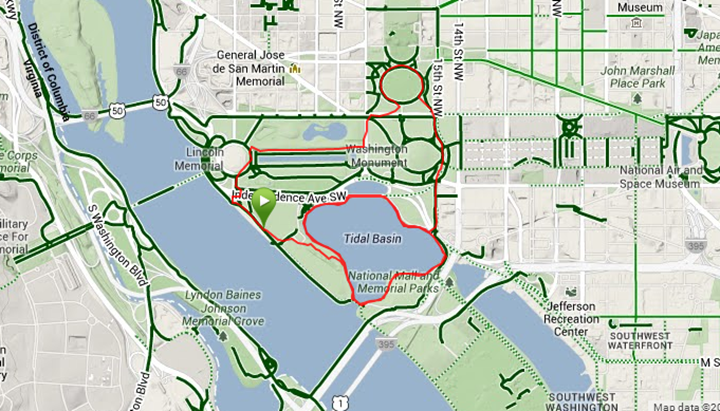 I spent about 20-25 minutes while The Girl finished up her workout (mile repeats, I laugh in her general direction…), getting various product shots done ahead of next week.  With CES 2014 next week, expect to see lots of product announcements starting Monday and continuing into Tuesday.  I'm pretty excited about what's coming – tons of really innovative things on the docket, great stuff.
Stay tuned!  And thanks for reading!