One of the best parts about living in Europe is that there's a heck of a lot of options when it comes to where to go skiing.  The tricky part is choosing which place to go, and then sometimes, how to get there.  For our four day getaway, we wanted somewhere that was more 'cute European vibrant ski village', than just pure extreme skiing.  After consultation with some friends, and a bunch of interweb searching, we decided on Zermatt, in Switzerland.
Getting there rates in the 'medium' category, as it requires a four hour TGV (high speed) train from Paris to Geneva, and then two shorter trains totaling three hours up to Zermatt.  But, it's all quick an easy with most train connections timed at only 10-15 minutes.  So basically, you sit and watch the world go by from a comfy chair – no cars needed.
When you arrive, you find yourself smack in the middle of the main street at Zermatt – a car-free area.  Only small enclosed golf-cart like vehicles take you to your hotel.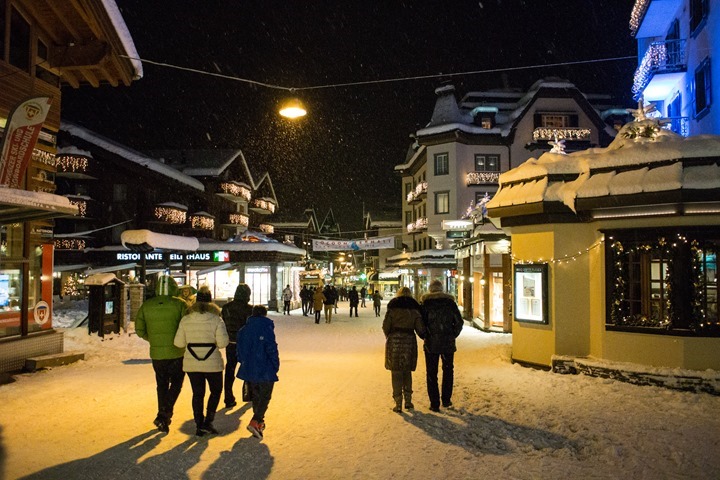 Without a doubt, the town was exactly what we were looking for.  Plenty of great food options (albeit pricey, like just about everything in Switzerland), and places that stayed open later.  One of the challenges I've seen with many other European ski towns is that the smaller ones tend to close up pretty early (7-9PM), and tend to cater more towards people in condos/apartments than hotels (since most Europeans rent for one week at a time, starting on Saturday).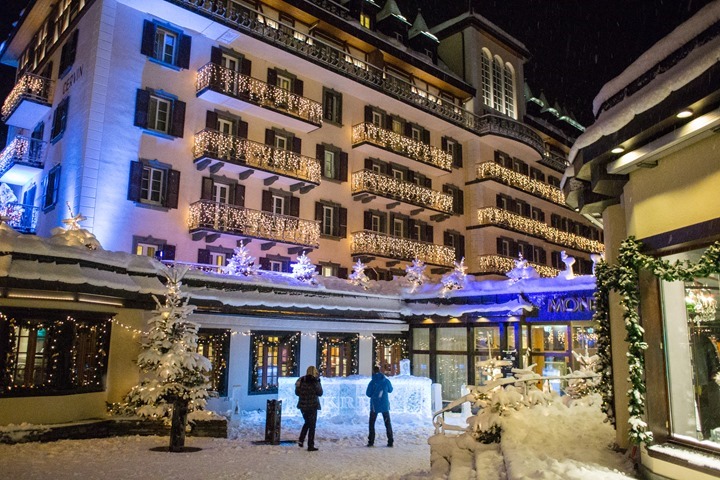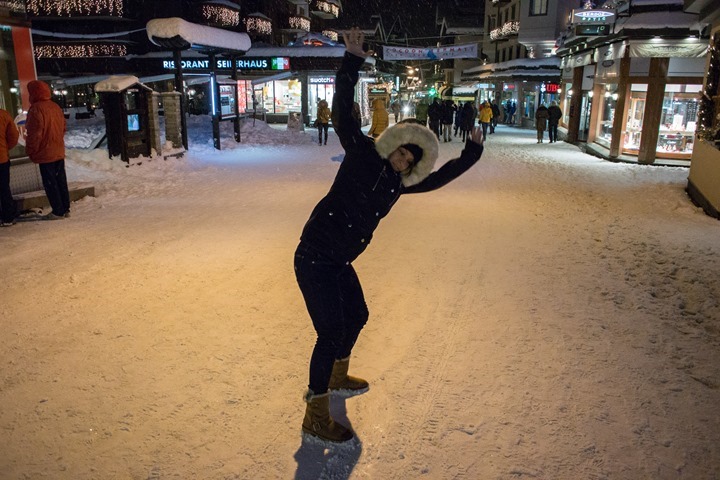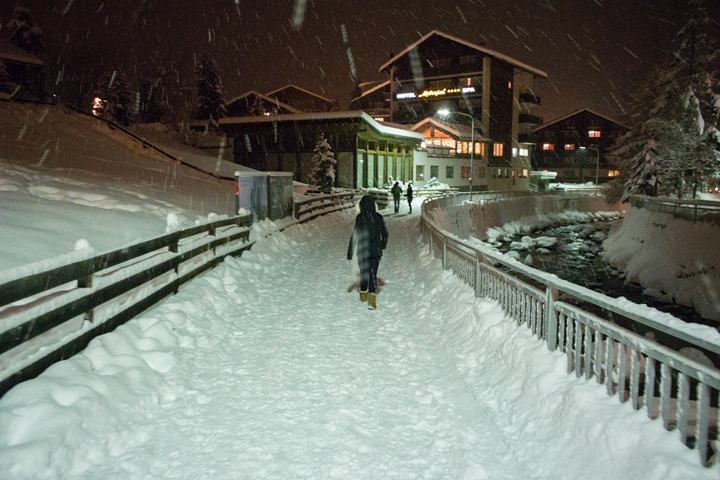 In any event, we were here for skiing – and it did not disappoint!
First up is the awesomeness that we didn't take a chairlift as our first 'lift' of the day.  Instead, we took this crazy secret lair tunnel.  First, you walked a hundred or so meters into the side of the mountain: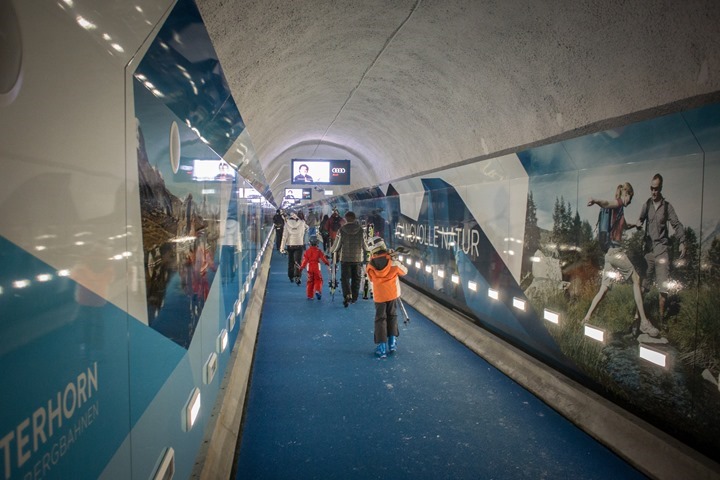 Then, you arrive at a platform.  The platform is on an incline, and up ahead there's a door like on a missile silo, waiting for something to magically shoot out: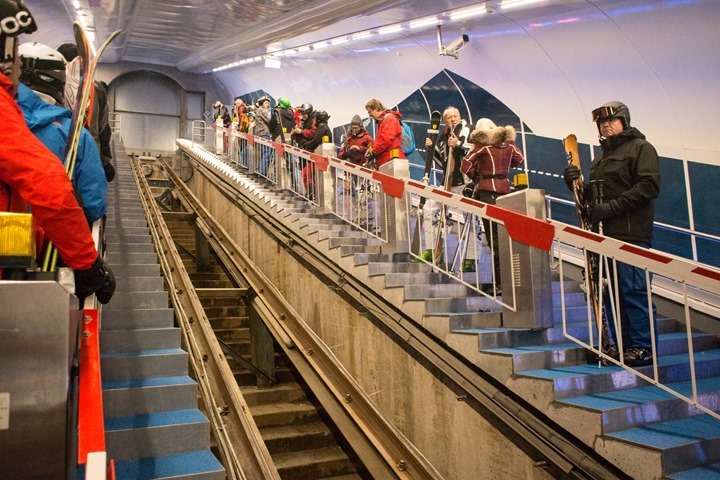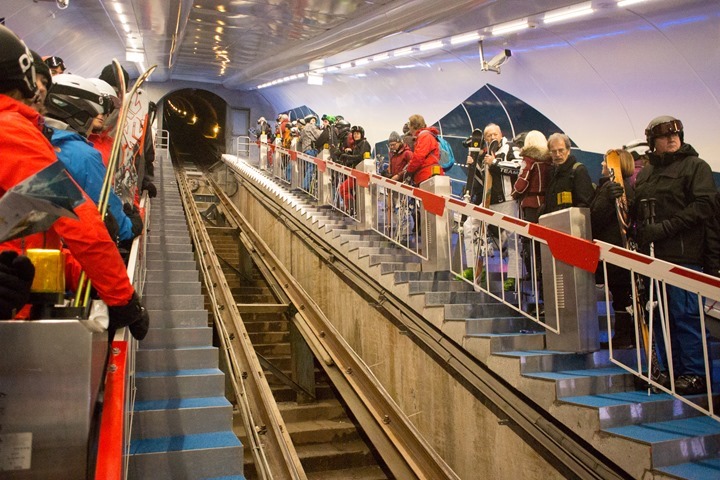 Every 2-3 minutes, the door opens and a tram shoots out.  What's interesting is that unlike a traditional train where the ceiling and floor are parallel to each other, in this case, the tram maintains the exact same steep angle all the way to the top.  So the floors are titled so that they remain level.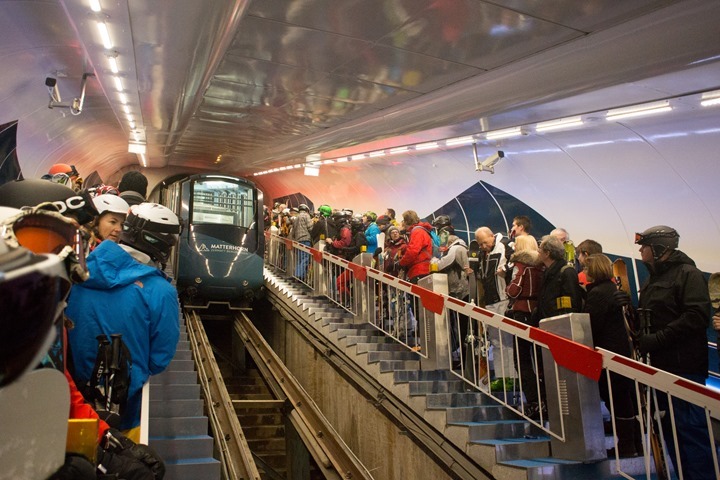 A couple minutes later, you poke out the top:
Well, the top of the tram, which is still 2-3 lifts/gondolas/trams away from the 'real' top.  At this point you're at 2,571m (9,435ft).  While the top you see in the photo above is at 3,103m (10,180ft).  But, that's still quite a ways from the highest skiing point on the mountain, which is at 3,885m (12,746ft).
In addition to the secret-missile-silo-tram, you've also got a train-looking tram that takes you from the village to fairly-high up the mountain (the top of one peak, but not the highest point of the area):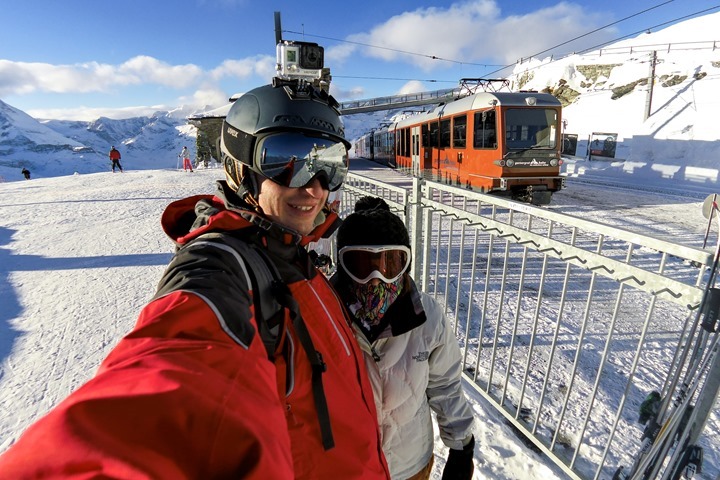 It's fun skiing down next to the train: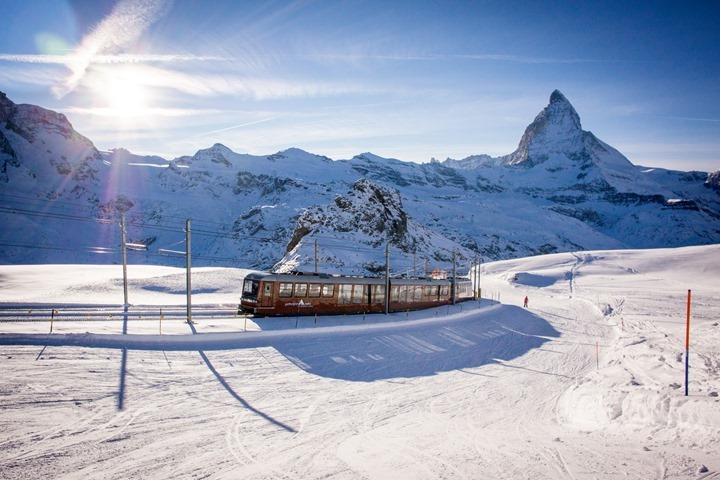 On the flip-side, I'm going to put this particular tram ride in the 'not fun' category.  I took it up to the very tippy top of the resort at 12,746 ft.  The worst part was this section where it dips down and then basically straight up.  Albeit, my picture is less than awesome.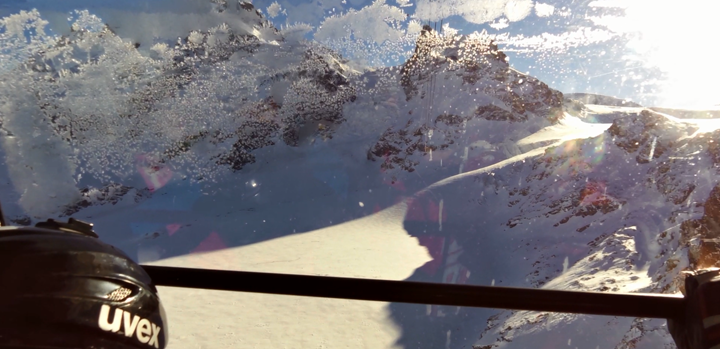 After you get to the top, you walk through another secret-lair style tunnel.  Really, this place is probably the set of every Dr. Evil movie ever.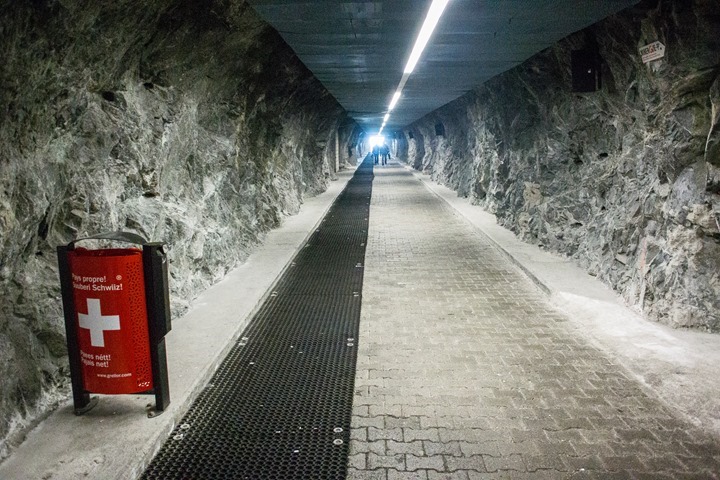 On the bright side, assuming you don't die along the way, you've got a great view of the Matterhorn: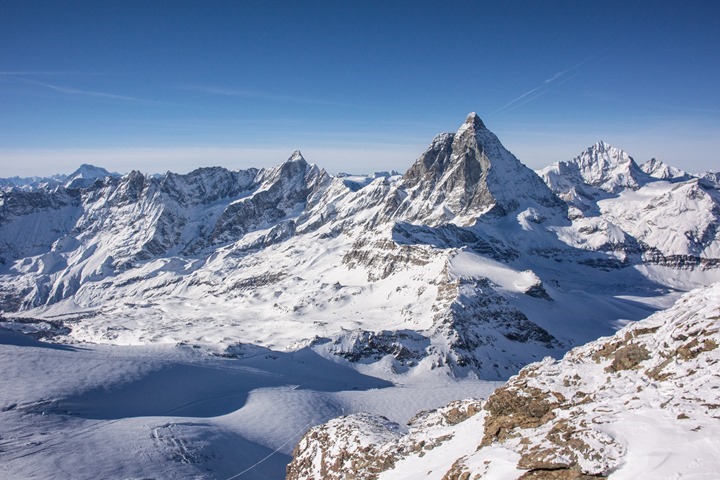 And to the left, a great view of Italy: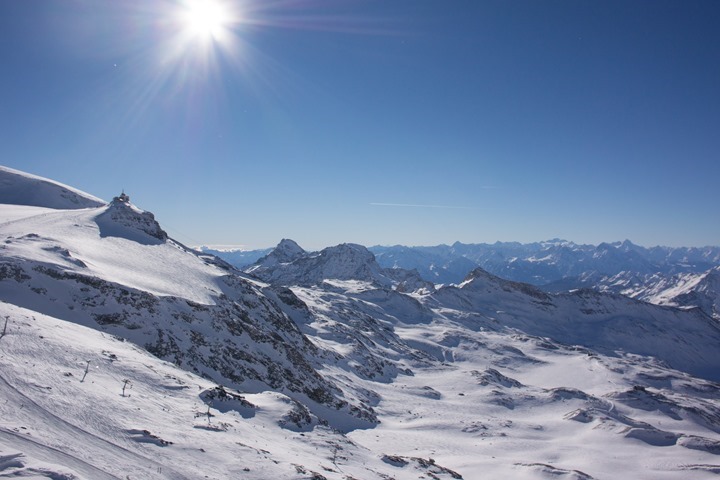 In fact, as you ski down, you cross back and forth between Italy and Switzerland: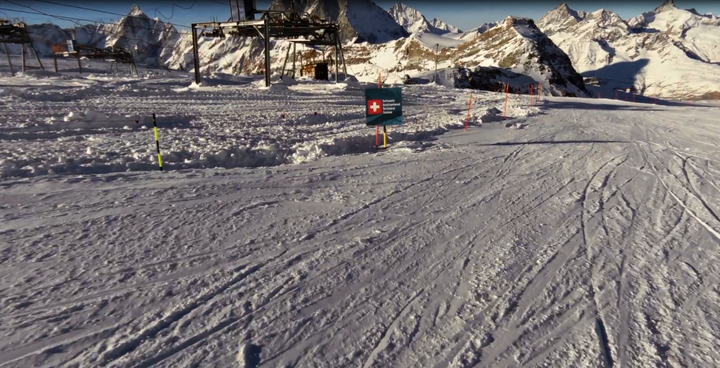 Which, brings up an interesting point: Switzerland's border policies from other EU countries.  For example, if I fly into Switzerland via Zurich from Paris I go through customs with a customs officer.  If I take a train into Geneva (from Paris), I pass through a hallway where people look at me, but no passport is shown nor do I stop.  If I take a train into Zurich (from Paris), nobody cares at all or bothers to check anything.  If I drive across the border (from France), you get stopped and checked.  And finally, if you ski across the border – nobody even knows you went there.
At any rate… I skied down from the top, which is quite a long run, taking about 25-30 minutes.  Albeit, not exactly the most exciting run – much of it was cat tracks.  Sorta like this one, minus the tram: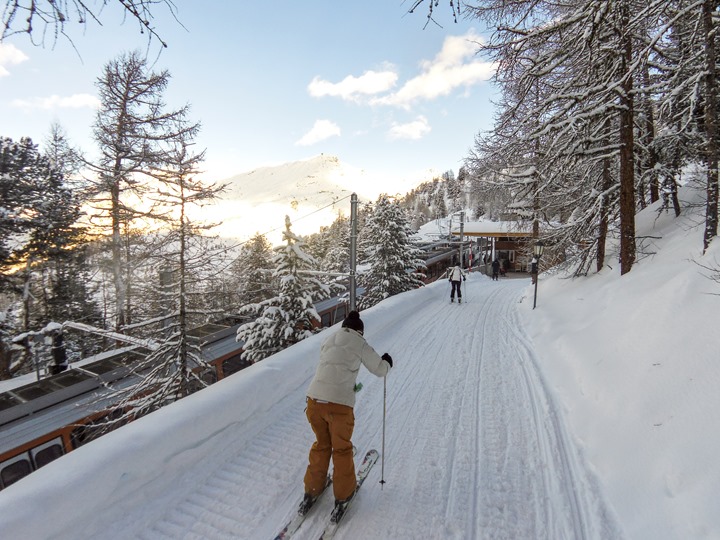 Of course, there's so much mountain that you rarely have to repeat anything.  I only skied perhaps 1/3rd of the entire mountain, and by 'skied', I mean, went down a run in that chunk of the resort.  There's endless ways to ski down.  And, often times, many little ski chalets you can ski around too: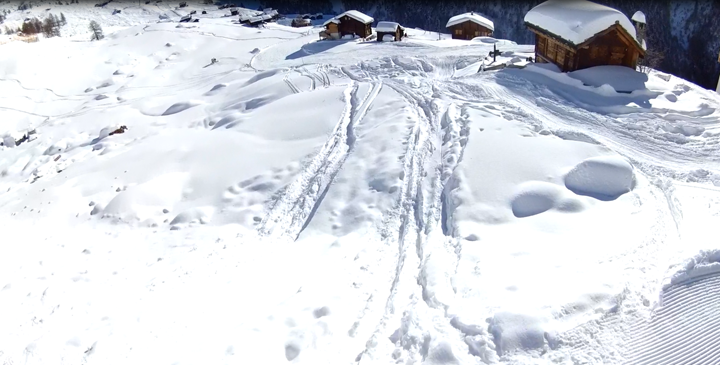 And in the unlikely event skiing isn't your thing, you can simply jump off the top of the mountain (albeit still with skis) and paragliding down as well: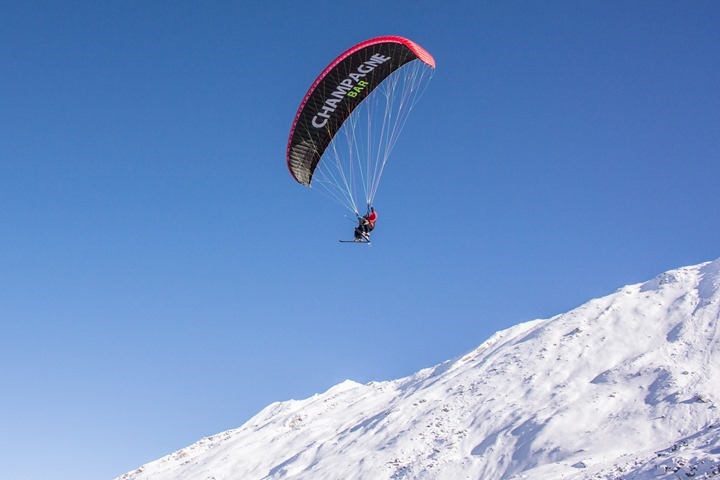 From a sports technology standpoint I was getting lots of footage from about 8 different action cams in my bag, some new, some older.  I'd simply use one until the battery ran out, and then go to the next.  In the colder weather, they don't last as long: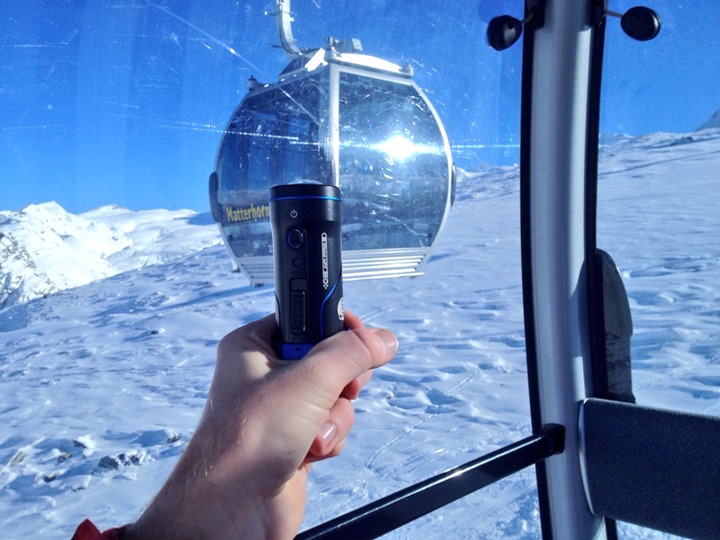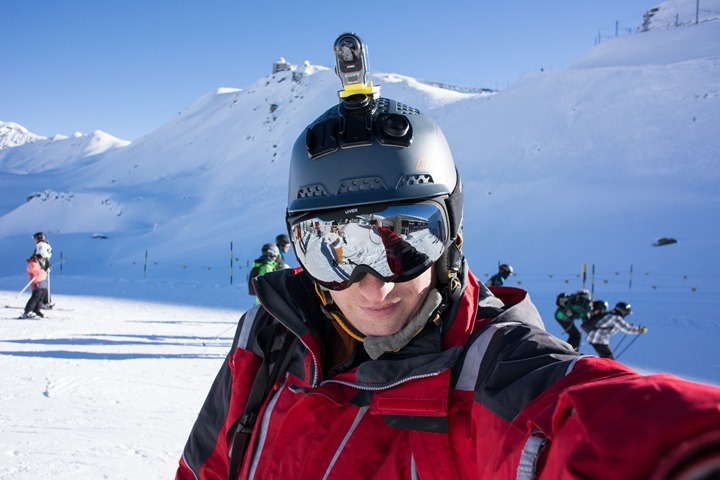 Sometimes, I also did dual-cams, merely for comparing footage later on.
I was also playing around with the Garmin Monterra.  This is more of a handheld device, and my purpose here isn't to write a review of it from a handheld/hiking standpoint, but actually, because it's the first unit they've released that has both ANT+ as well as Bluetooth and WiFi…running on Android.  I think it makes for an interesting possible next generation Edge device down the road (since it can run any Android app).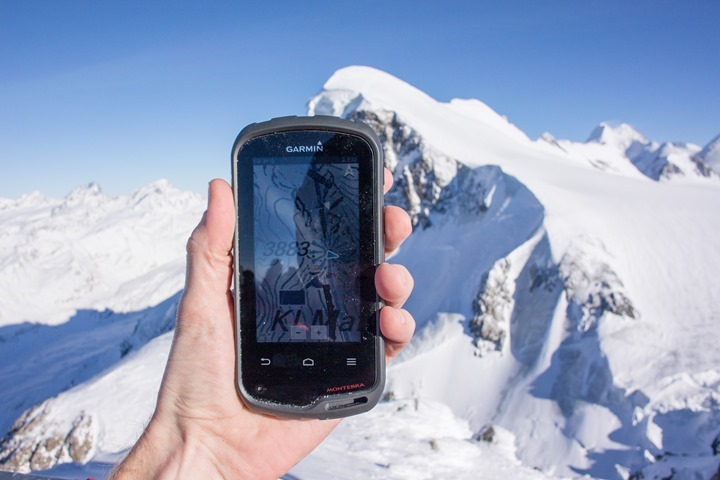 In case you're wondering, that's peach ring sugar on the Monterra.  The bag fell apart in my backpack, and thus, everything was coated in peach ring sugar.  It was pretty much our nutrition while skiing: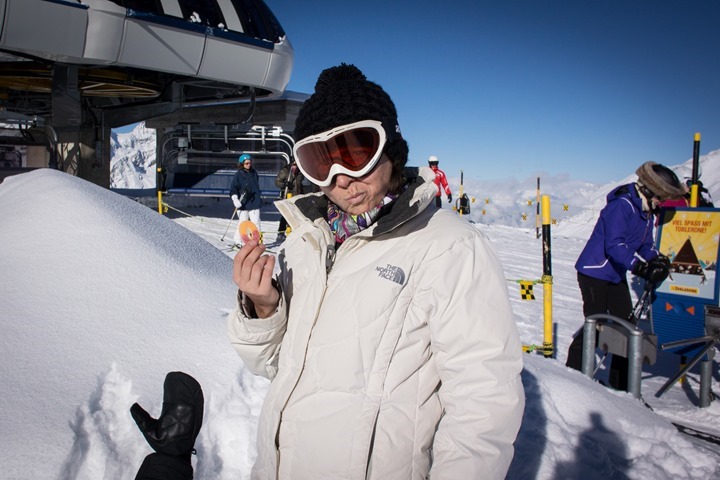 Back down in the village, it's clear that the town revolves around skiing.  For example, even the bikes have ski racks on them: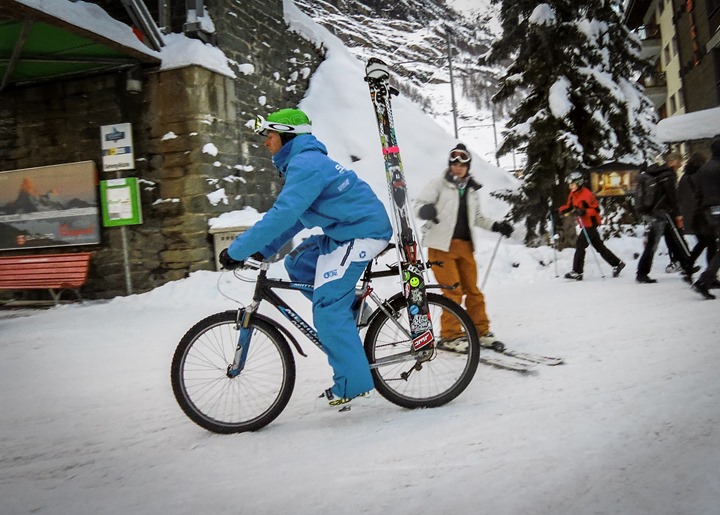 And, when they lack ski racks, they just fling them over their shoulder and bike home anyway: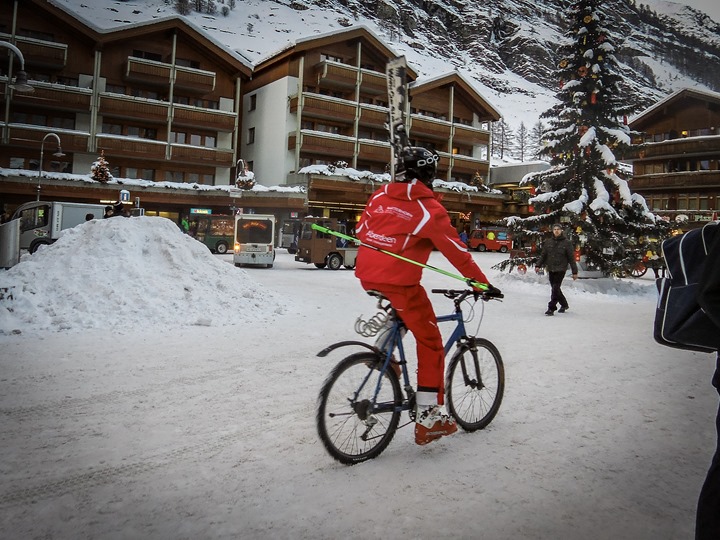 Speaking of home, we headed home last night, starting with the scenic train ride out of the mountains.  We can't wait to get back up to Zermatt though.  I think from a holistic European skiing experience, it's rating about the highest thus far.  It doesn't have quite the number of lifts as Courchevel, nor the the variation of terrain as some other places, but from a complete package standpoint (town + food + easy direct train access + skiing), it's really hard to beat.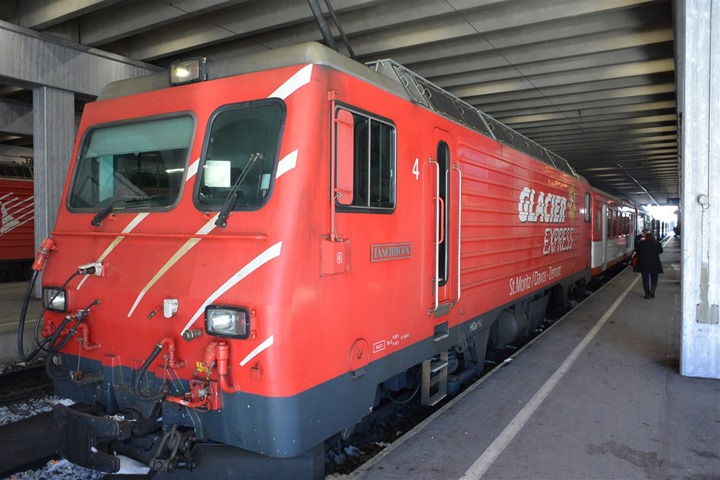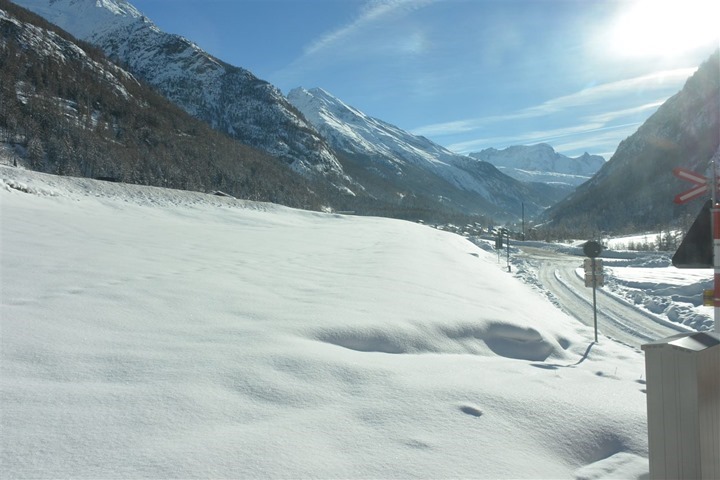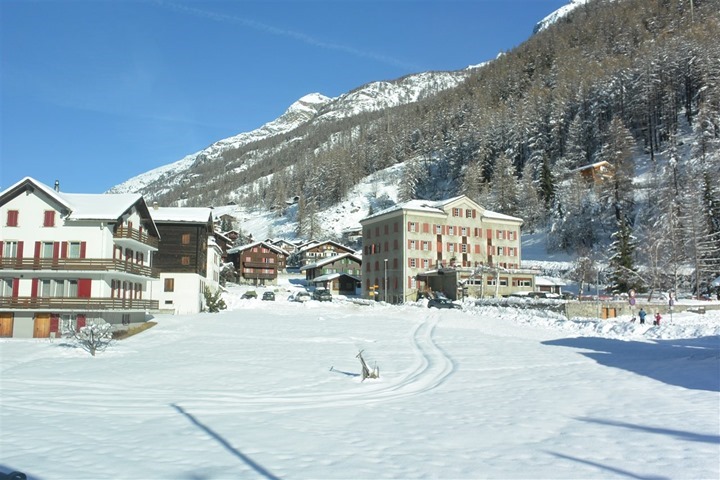 And then into the darkness we slipped on the next train, ultimately getting back home a few short hours before 2014.
With that, Happy New Year, and hope everyone had a great New Year's Eve!
Thanks for reading!