We spent the morning of our second and final day skiing in France on the Courchevel side of the Three Valley's Resort. As I mentioned yesterday, the ski area is really a collection of a number of resorts all seamlessly linked together. This mountain is a little bit more tame than some of the others (there are of course some exceptions) – so most of the time was spent just tooling around and having fun. Moguls, cruisers, and runs spattered with civilians. Here's one of those French civilians on a platter lift. Where did he find those stylish shades?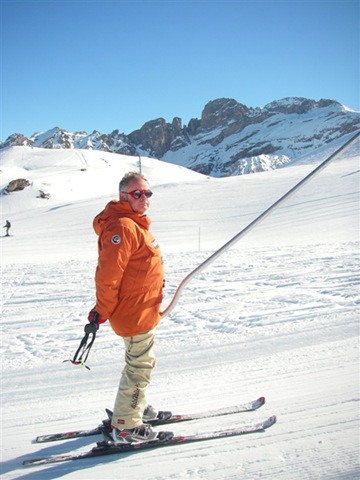 Courchevel itself boasts some interesting features not found elsewhere though. For example, there's an airport at the base of the lift area. Planes fly into this 'one shot' airport near constantly. Courchevel is a playground for European's rich – and flying in on a private plane or helicopter is certainly the way to go. I checked in on some prices before I left – and it's over $2,000 per person for a shuttle from Geneva. I'll take my $30 per day rental car.
Planes land uphill and take off downhill. I'm standing at the end of the very short runway.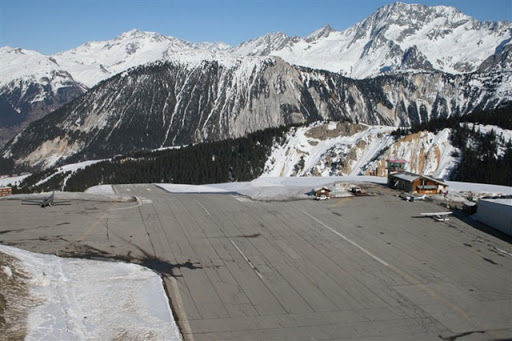 After some wandering around it was time for lunch. Our favorite place for lunch is Restaurant Le Panoramic – which is located at the top of the main tram at Courchevel. Here's the view of it from a few thousand feet away, you can see the tram lines leading up to it.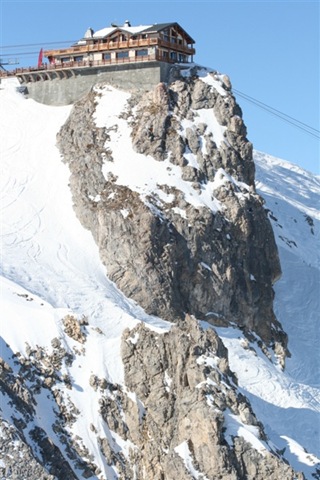 And then here's the view once you're up there: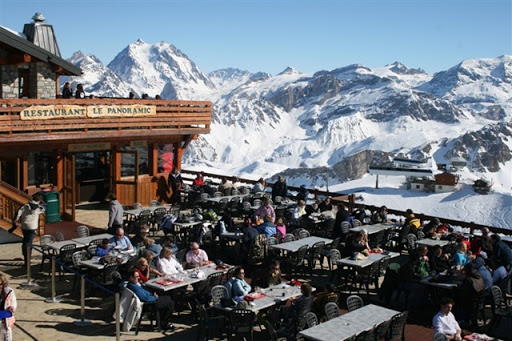 And after you're done chowing down, it's time to relax and take in more of the view: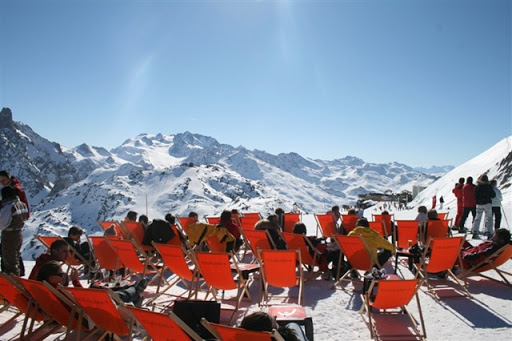 One other interesting sports they do up here is paragliding. They basically ski off the side of the mountain and catch the winds/thermals above the villages and then ski back down to the mountain. Kinda interesting.
Following lunch, we dropped down the other side of the peak to Meribel. We probably enjoy Meribel and Val Thoren the most out of the numerous resorts up in the Valley's. They both offer challenging terrain and long runs. One run being 7 miles long with 5,000 vertical feet of drop.
On our journey down into the Meribel base we made some high speed runs on an empty slope. We couldn't quite get up to full speed today. Many things play into getting up to speed – including civilians around, slope grade and snow temperature. Nonetheless, we had some fun. Here's a short video my brother shot of me as I came around a corner and then accelerated down an empty run. On this one I peaked around 60MPH shortly after passing him. I was wearing a helmet cam, but that video just sucks (too jittery).
After this, we headed up to one of the peaks for some good mogul runs. After completing one, we noted a small house just off a main run. My brother and I are two different types of skiers. He tends to like cliffs and jump acrobatics, I tend to like pure speed. Ironically, he doesn't like heights…and I do. Once we saw the house and inspected it – it was clear what had to be done: It had to be jumped. So I setup and caught a pretty cool series of photos (about 8 in 2 seconds). Here's the best shot of the bunch.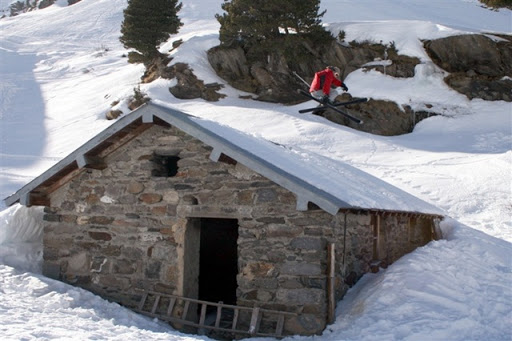 Following house-jumping it was time to head back to Geneva and catch our flight to Frankfurt. One of the first road signs you see upon departing Courchevel is the below. We considered stopping…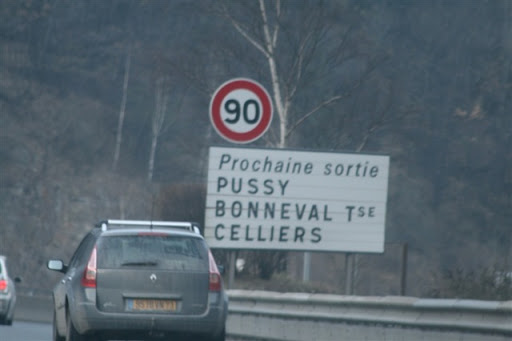 We got into Frankfurt and after a 15 minute trip to the hotel – fell asleep near instantly. This morning I got up early and went for a run along the banks of the Main River in Frankfurt. It was a nice four mile run – aside from my hands nearly freezing off. One thing I found interesting is the lack of other runners on the bike/running path. Only one person out there in my four miles. It wasn't super-cold out, I just forgot to put on gloves. Odd. Anyway's, here's a quick photo I snapped over the river on one of the bridges at my turnaround point.

And with that… it's back to the usual.
[Minor Update: I just pulled the weather information for my run via Sport Tracks…no wonder I thought it was cold. It was 20* out at that time. And I was just wearing shorts and a super-thin shirt. And no gloves. Eek]