Today, I managed to get up to 70.5 MPH on human power alone (and a little help from gravity).    How you say?  A combination of big French mountains and a pair of skies.
What I didn't mention recently is that I'm in the middle of a quick ski trip to France.  I left Thursday night from Seattle and arrived Friday afternoon.  I skied today (Saturday) and tomorrow, and then head back to DC on Monday.  Which…is par for the course for my brother and I on our annual European ski trip, just a quick weekend.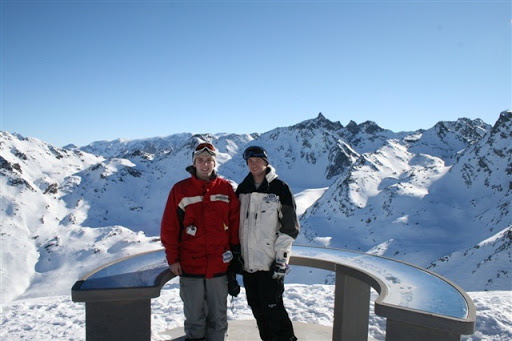 We returned to Courchevel again this year for our exploits.  Courchevel is the largest ski area in the world with over 190 ski lifts, and a gazillion ski-able miles of snow.  Fast…hard…snow.  We both ski raced competitively when we were younger and love to get out and ski fast.  Unlike North American resorts, most European resorts get less 'fluffy' snow, and tend to make the most of the small snow base they get annually.  As a result, grooming is top notch and the runs are very hard packed.
Most of the day we were averaging about 40-60MPH around the mountains.  But there's a special run we call 'Beat the Tram'.  The run starts with the tram dropping you off at 3200 meters – just shy of 10,000 feet.  From there you run off the platform and attempt to beat the tram back to the base station.  This takes roughly 3 minutes and 10 seconds.  The trick?  3,000+ feet of vertical drop and twisty turny runs with many civilians.  Oh…and speeds topping 70 MPH in certain sections.  Here's the view from the base of the tram.  The run that we take zig-zags down the right hand side of the photo and then finishes off at top speed on the straight away in front of the lift.  The start of the run is the very top where the cables end, toward the left  of the picture.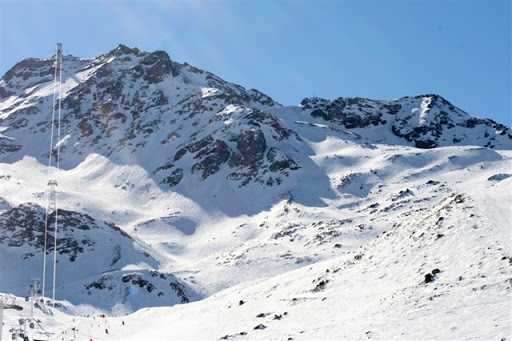 Our first try of the day we topped out at 65MPH, and our second shot at 67.2.  But one more attempt and we broke the 70MPH barrier.  Here's the data recorded from the Garmin:

We actually have a video of it using a boot mounted mini-camera, but we've got some work to do to make it viewable.  Currently the twists and turns would likely make you sick.  Tomorrow our goal is to see if we can hit 75MPH.  I do caution you – please don't try this at home.  You're more than likely to either hit someone…or injure yourself. 😉
We spent the rest of the day tooling around the mountains.  In fact, we did a fair bit of tooling – over 86 miles of skiing/chairlifts today (54 miles of which were skiing).  And we descended 49,454 feet of vertical (elevation corrected).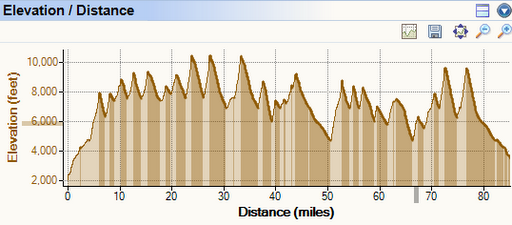 Quite simply, today was epic from a skiing standpoint.  The weather was unbeatable – and not a single lift line anywhere on the mount.  None.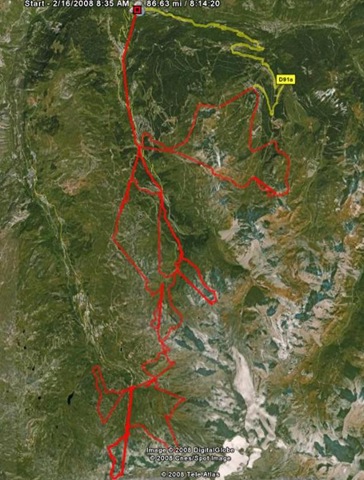 Here's the view from one of more than a dozen 8,000'+ peaks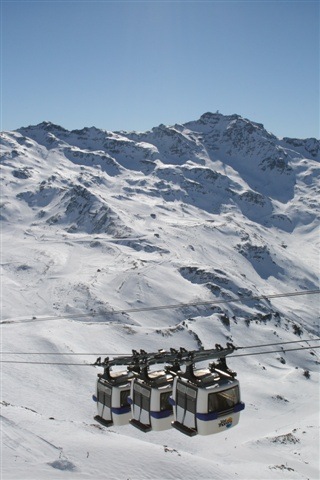 One of the cool things about Courchevel is that there is really about seven ski resorts all clumped together (you can ski seamlessly between all of them on one ticket).  Each of the resorts has little villages as well.  Here's the village of Val Thoren – the home of 'Beat the Tram'.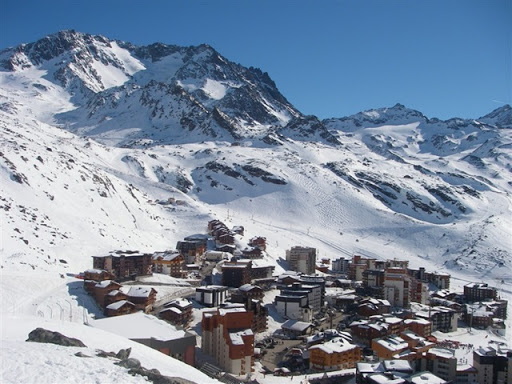 Of course…no trip to France would be complete without mentioning the food.  Both last night and tonight we had great dinners.  But the real treat is the mountain food.  There are dozens (at least 40-50+) places to eat all over the mountain at any altitude.  Here's today's lunch – Lasagna Bolognese, fresh French Baguette, Brie, Raspberry dessert and some local wine. 😉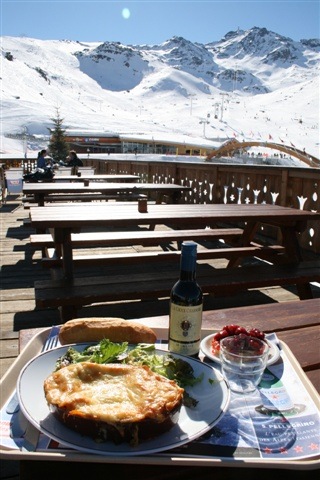 Tomorrow we've got a full day of skiing planned before we zip back down to Geneva (about two hours away) for a short flight to Frankfurt for the night.  Then mid-day Monday we bail back to the US.
Less you think I'm not getting my training in, here's proof I am.  Last night (after 30 hours of traveling) I went out for a 5K run before dinner and falling asleep at 8:30PM.  The only catch to running in the French Alps is the hills.  There is no flat ground.  But it felt refreshing.