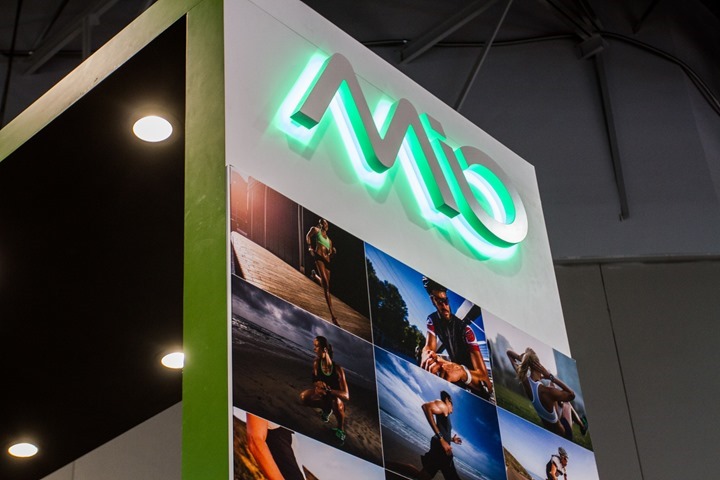 Mio was on-hand at CES showing off both their recently announced devices from this past fall (Mio Fuse and Mio Velo), as well as demoing their just announced device: The Mio Alpha2.
The Mio Alpha2 builds upon the features found within the Mio Alpha (1).   For those looking for a brief history lesson, the original Mio Alpha was arguably the optical heart rate watch that started the whole optical HR trend within sports.  The original Alpha was launched on Kickstarter now over 2.5 years ago (crazy how time has passed?!?).  At the time it was the first sport device to measure optically on the market, whereas prior to that the technology was really only for use in medical settings.  Now of course everyone is doing something in optical HR recognition.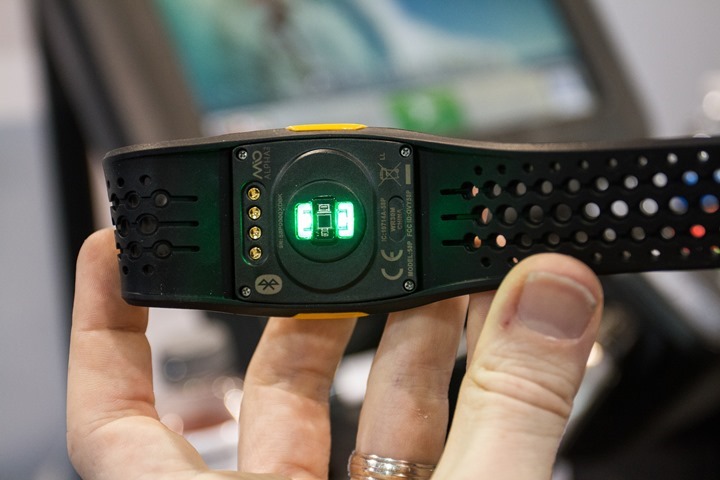 Since then the company released the product and went onto release the Mio Link, as well as then license out their sensor (using technology from Philips) into other devices including the TomTom Cardio series, and the Adidas Smartrun GPS watch and Adidas Fit Smart unit.  When I look at optical HR watches, it's both Mio and Valencell (whose technology is used in the Scosche Rhythm+  and others) that really lead the way in terms of actually being accurate for sport use.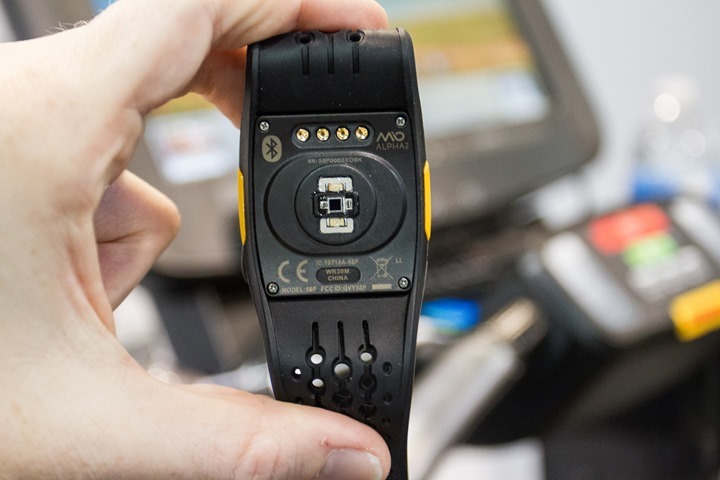 Now with the original Mio Alpha it was basically just a heart rate sensor that had a display that could show essentially your HR, time, calories, and HR zone.  It would broadcast that heart rate signal over Bluetooth Smart, though they briefly offered an ANT+ variant on Kickstarter only.  With the Bluetooth Smart version other phone apps as well as devices (now only recently available) could connect to it to get your HR, just like any other Bluetooth Smart HR strap.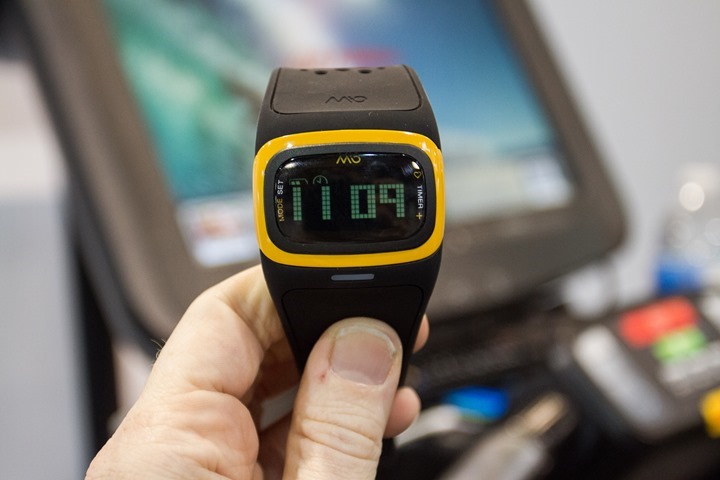 Now we fast forward to the Mio Alpha2.  That extends the Alpha1 with the following functionality:
– Adds workout storage mode
– Adds ability to sync completed workout to your phone
– Adds pace, speed, and distance using an internal accelerometer
– Adds backlight
– Adds timers including countdown, repeat and chrono
Essentially what you are seeing here is the workout functions found on the Mio Fuse arriving within the Mio Alpha2.  What you don't however see is the dual-ANT+/Bluetooth Smart functionality found on both the Mio Fuse and Mio Link.  That's still lacking, just as it was on the Mio Alpha1.  Nor do you see the 24×7 activity tracking (steps/distance) mode found on the Mio Fuse.
Speaking of other Mio products including the Mio Link, here's how it compares to the Mio Link size-wise: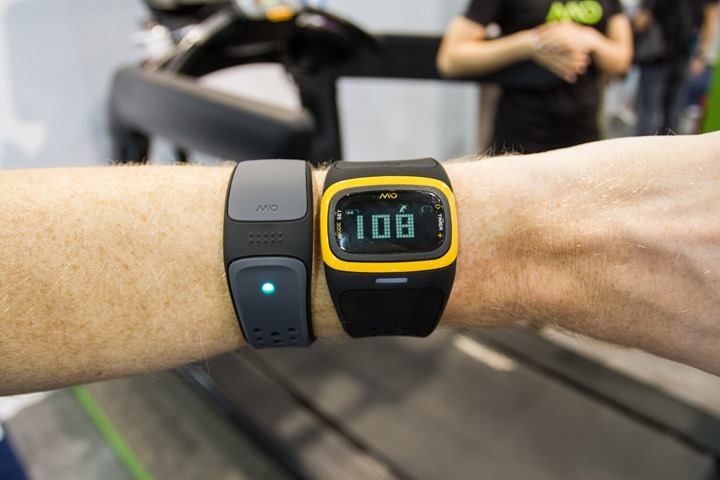 As you'll notice it's about double the width of the Mio Link, this is obviously to accommodate the display that the Mio Link lacks.  From a size perspective in many ways I'd say that if you already have a watch capable of receiving the Bluetooth Smart HR transmission, then it's silly to go with the Mio Alpha2 over the Mio Link.  Since obviously your other watch can display that data just fine as well as record it.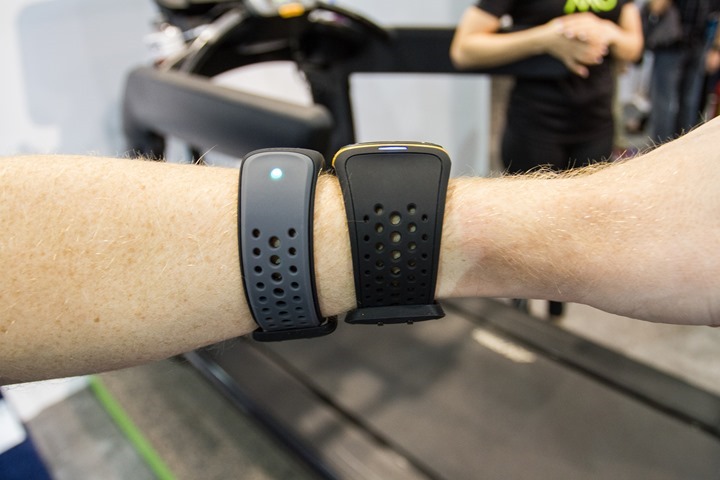 If however you're just looking to display the HR data and have that data be accurate (compared to less accurate products from others on the market), then the Mio Alpah2 makes more sense.
Now as noted up above you do get both the lap functionality as well as the distance/pace functionality within the Alpha2.
And of course this is all tied into the workout modes that now actually save the data (the Alpha1 didn't make that data savable).  So afterwards you'll just use the Mio Go app to download the data (iOS/Android).  You can see my Mio Fuse In-Depth review to look at how the workout data looks there, as it's identical within the Mio Alpha2.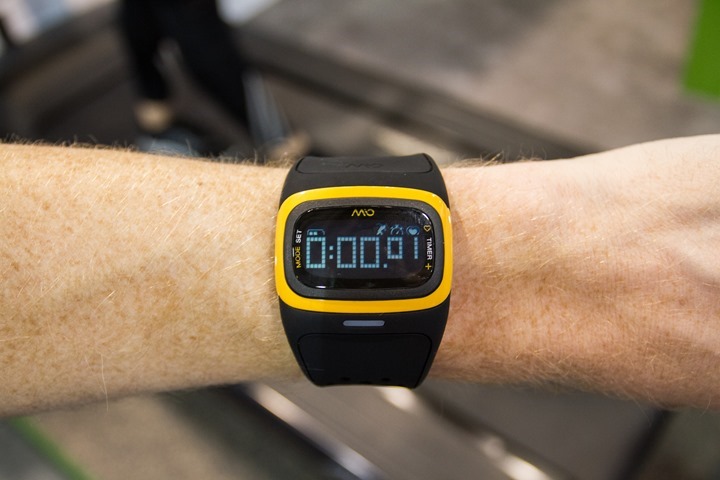 Once that data is saved to the Mio Go app, you'll soon be able to sync it to their online cloud service as well as export it out using the common file formats including .FIT and .CSV – both of which are coming soon.  Additionally you'll be able to sync it out to a few other 3rd party apps they're working with.
This is notable because it's something neither the Fitbit Charge or Fitbit Surge supports today.  Even with their Premium Fitbit service you can't get that GPS/HR data to other services.  There is one semi-geek-intensive tool to get the data out, but it's in a raw format that you need to tweak a bit to display.  Hardly ideal or usable for 95+% of people out there.
While Fitbit has talked about possible upcoming Strava support a little bit in some interviews, they were still holding the line last week that they felt their own service was good enough, when I talked with them at CES.
Still, at $50 cheaper than the Alpha2 at $199, the Fitbit Charge HR is definitely something many are considering – especially since it does day to day step and sleep tracking whereas the Alpha2 does not.  I'll be working on a review shortly there, whereas my Fitbit Surge GPS In-Depth Review will be next up to release early next week.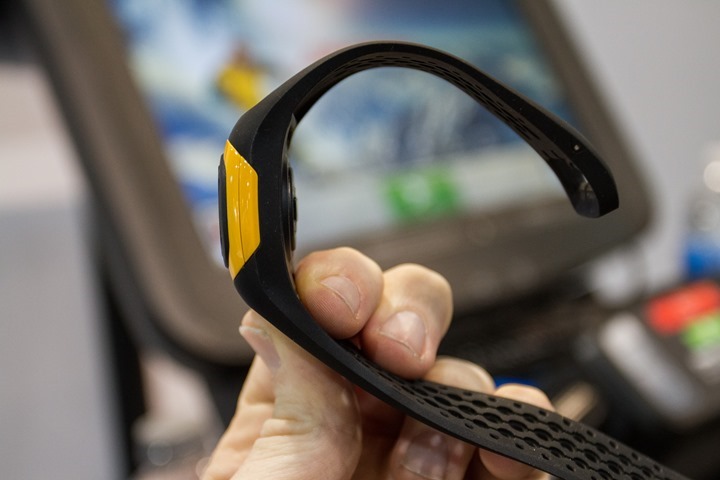 I don't suspect I'll do a Mio Alpha2 In-Depth Review, instead I'll be focusing on getting my next Mio product review out for the Mio Velo, which is the combination of Mio Link and ANT+ to Bluetooth Smart bridging.  Further, given that I've covered the accelerometer related features found in the Alpha2 within my Mio Fuse review, as well as covered the core capabilities display-wise in that review also.  Thus really only leaving the lap timer related functions that are unique to the Alpha2.
Still, for any folks that have questions on the Alpha2, feel free to drop them below and I'd be happy to try and track them down.  Thanks for reading!
–
Welcome to CES 2015 posts! Don't forget to check out all my CES 2015 coverage, as well as a slew of updates that were only seen on Twitter.  It was a crazy busy week!