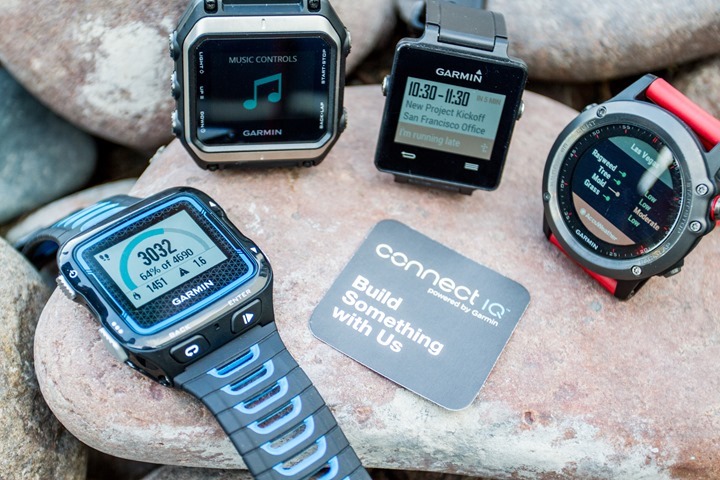 This past week Garmin not only launched a slew of new devices, but perhaps more importantly – launched availability of the first portions for Connect IQ.  Garmin Connect IQ is the application development platform for newer Garmin wearables that enables individuals or companies to develop a number of different application and watch extensions.  These extensions allow folks to significantly extend the features and functionality of your newfangled Garmin device.
While the platform is available immediately on the Vivoactive, Fenix3, Epix, and FR920XT – only the FR920XT is already out in the wild.  So, for practical purposes, this week's announcement is applicable only to owners of the FR920XT multisport unit.  Note that the platform is not available for older units prior to the FR920XT, simply due to them not being designed for it (processing/memory/screen/etc…).
It should be called out that all apps are indeed free, and Garmin says they have no plans to introduce a monetization option, telling me that "Connect IQ apps will always be free in the Connect IQ Store".  However, since Connect IQ apps can communicate with apps on your phone as well as via the internet, there are ways to enable monetization there outside the Garmin servers.
The Connect IQ Basics: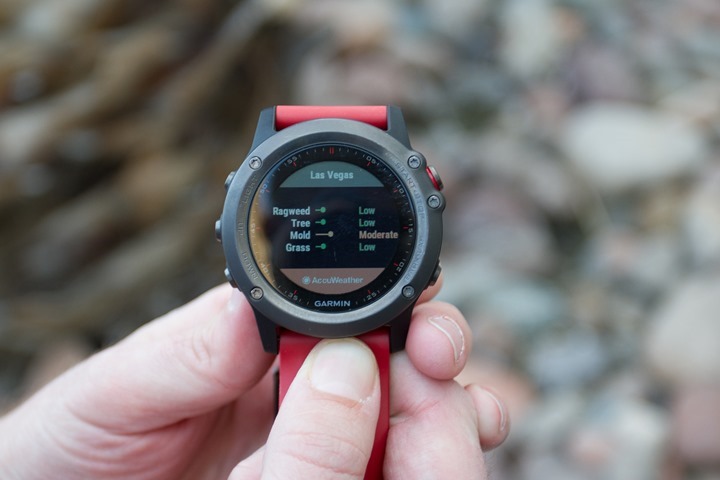 The Connect IQ platform was announced back in September at the ANT+ Symposium.  At the time I provided this basic overview of the four types of extensions within the platform, which are as follows:
Apps: These are fully functional applications running on the watch that can have menus, state (saving data), and can be driven through a number of user interactions.  When you think of an app similar to that of your phone, this is what you're looking at (roughly).

Data Fields: This allows one to create a single data field (or multiple fields) that users can add to their existing data pages on their watch.  For example, you could create a cupcakes earned to eat data field and have it alongside more standard fields like speed, cadence, and distance.  These fields can be different sizes as well, and potentially have more than one piece of information on them.

Watch Faces: These are faces that are available from the default screen of the watch and can include any information you'd like.  They're updated at once per minute and run 24×7 in a low-power mode that doesn't require shutting off (whereas most other smart watches do).

Widgets: These are glanceable pages that are mostly non-interactive (though they can do basic input such as accept/reject) that are included within the main screen loop of your watch.  For example, a widget might be something that has a single page that pulls the local weather forecast from an internet service based on the device location data, or the current leader at the Kona Ironman.  In the photo above, you see an example of a widget from AccuWeather.
As of this past week, they've rolled out two of the four functions: Data Fields and Watch Faces.  Those users with Garmin FR920XT's can update their watches to a beta version of the FR920XT firmware and give these functions a shot (see later section).
The remainder of the features will be available later in Q1 as they fine tune the software development kit (SDK) and allow companies a bit more time to work out the bugs in their apps.  Both apps and widgets are a wee bit more complex than data fields and watch faces as they have far greater access to communication channels.
To illustrate all the different Connect IQ functions I'll go through each of the four main categories on a variety of Garmin Connect IQ capable devices.  Note that most Connect IQ functions are available on all devices, however there will be some apps/widgets/etc that are only available on certain devices.  This could be because the hardware doesn't support a given function, or because the developer simply only wants it available to a given platform.  It's up to the app developer to choose which Garmin devices it'll support.
Understanding Data Fields:
Data fields are pretty much exactly as the name implies – they are data fields that you can add to your training pages in any sport modes.  For example, today you might have a running data page with three metrics on it: Pace, Time, and Distance.  With Connect IQ you could create a new data metric – such as 'Beers Consumed' or 'Animal Speed'.
These new metrics can have calculations behind them that are either simple (like beers consumed, just a basic burned calorie divided by beer calorie calculation).  Or, they could be incredibly complex algorithms that take into account many different factors.  It's totally up to the developer.
The strength of these metrics is that they can be added to any of your existing data pages.  To do so, you'll go into customize one of your existing data pages.  Once there, just as if you were to pick a given metric category like Heart Rate or Power, you can choose Connect IQ: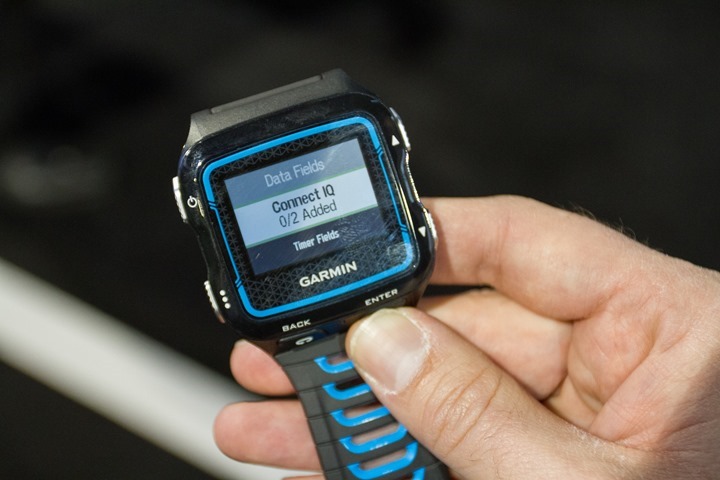 Then from there you'll select the Connect IQ data fields you have transferred to your unit: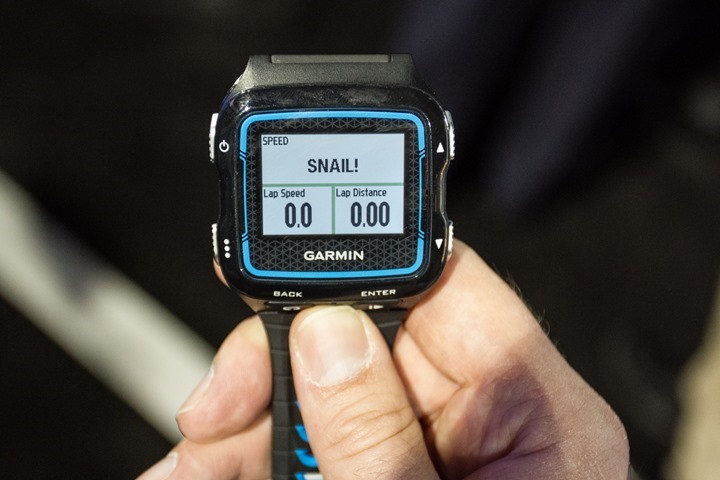 It's all pretty easy and straight forward.  I dive into this a bit more later on in the post.
Like with Suunto when they introduced a similar concept two years ago, I expect it'll take a few months to get some really interesting data fields out there in the App Store.  In the case of Garmin they have a bit deeper level of coding available for developers than Suunto does, so you might get more complex algorithms, and potentially more interesting scenarios.  For example, on Suunto we saw 3rd parties use this function to automatically display power from trainers that don't normally have it – like the Kurt Kinetic Road Machine – by using the speed sensor on your bike.
Understanding Watch Faces:
Next up is Watch Faces, which allow you to replace the default watch face on your Garmin device.  This is very similar to what virtually every smartwatch out there can do.  You can customize the look and feel of the display of time.  Different watch faces will have different display capabilities though, so keep in mind that some watch faces might not display all data available as the Garmin ones might.  But for the basic time and date, most do.
When you transfer over the watch face using Garmin Express, it'll automatically become your default watch face.  However you can easily change it within the System menu of your Garmin device.  Then from there you'll find yourself having a new watch face: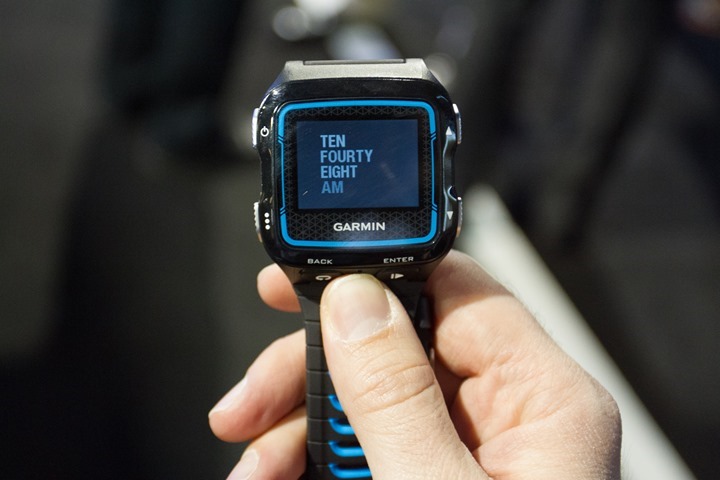 Garmin has already put together a handful of interesting new watch faces to download as part of the Connect IQ launch, but I suspect you'll see others create their own pretty quickly – such as sports team watch faces and the like.
Understanding Widgets:
Next we have Widgets.  Widgets are available from the main screens of the watch in what is otherwise a low-power mode.  These are accessible on most Connect IQ devices by just pressing up down (or swiping if the display is touch screen) – all without having to unlock the device.
These are designed to pull data from the internet via your mobile phone, which can be used as a conduit to access data on other services.  As of today (January 9th), widgets aren't yet available to download, but are planned for Q1.
That said, here's a look at some widgets and how they work.  You'll go ahead and enable them within the main settings area after downloading them to your watch.  You can then enable or disable them in the carousel of screens individually: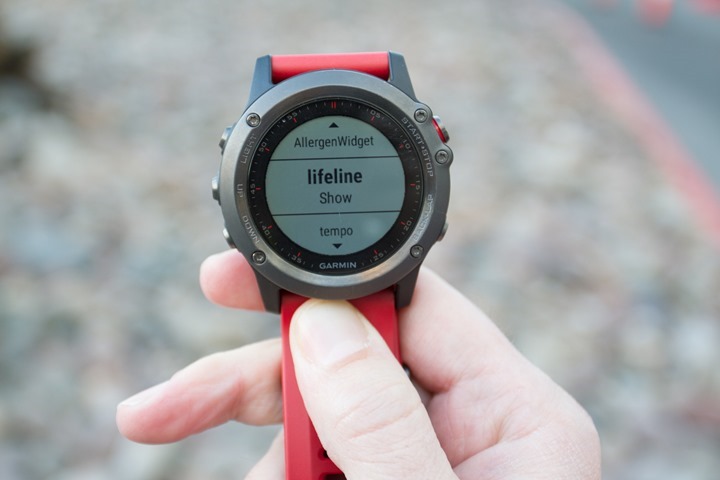 For example, here's the Tempo widget, that shows upcoming meetings from your calendar.  It can also notify participants you're busy eating ice cream and running late.  Tempo also has a full blown app as well.  In many cases a number of the apps I talk about have a widget that goes with them (such as AccuWeather seen earlier in the post).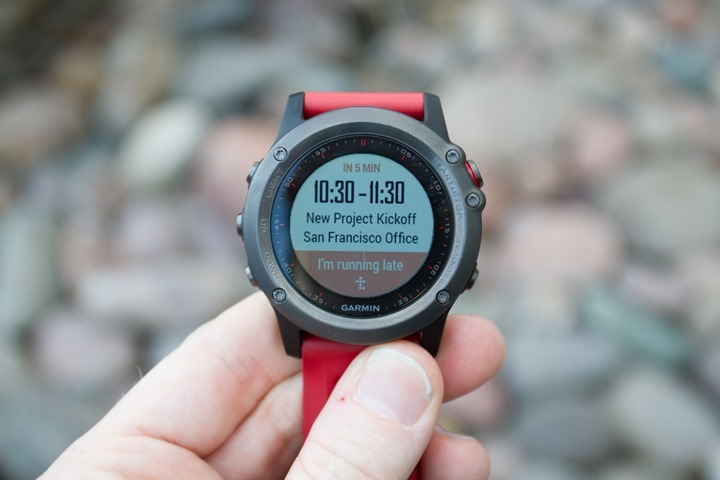 You'll see more and more widgets as a way to quickly display data from 3rd party services.  I expect this is where you could, for example, see a TrainingPeaks widget to quickly display your training load for the week, or perhaps another widget just to show headlines from a news service.
Understanding Apps:
Finally, we've got Apps.  This is the granddaddy of all the options, and is the one that allows the most flexibility.  Like on your phone, these apps can run and operate more or less by themselves.
To understand this a bit, today when you open up your Garmin device, you'd typically start by choosing a sport – i.e. Running or Cycling.  In the Connect IQ world, these are now called 'Apps'.  In fact, on the Fenix3 it actually says 'Apps' instead of sports now.  If you want to start a running session you open up the 'Running' app, not just a running sport mode.
In that same manner, this is where you'll find 3rd party apps.  You can see how at the top of the list is the standard Open Water swim  and Triathlon functions found on all Garmin multisport devices.  Then below it I've got the various Connect IQ apps.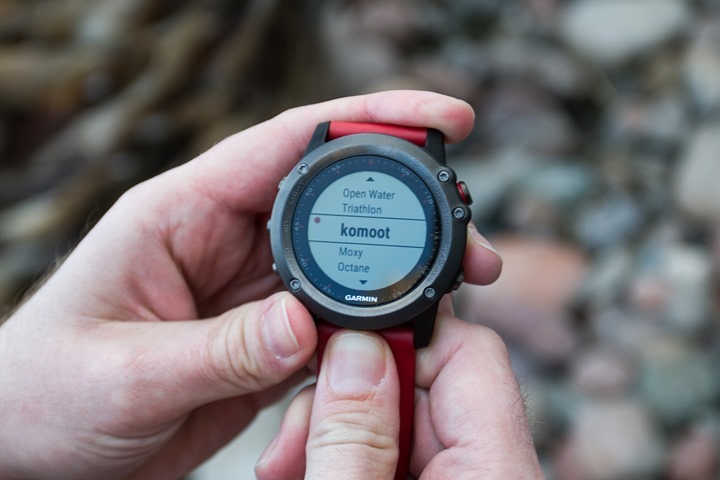 You can download as many apps as your device has space for.  But like the early smartphone days, you can only run one 'App' at a time.  So you can't run both the default Cycling app as well as a downloaded (imaginary) Strava app.  Instead, you'd have to depend on the (imaginary) Strava app to fully cover your cycling needs.
There are a number of apps that Garmin in conjunction with 3rd parties have announced this week.  I preview three of them in the following sections in more detail, but I've also had the chance to go hands-on with a number more.  Ones that I won't go into as much detail on include iSki, which provides ski resort information.  And then Lifeline, which can trigger an SOS-style alert through your phone using the device.  Below are a pile of photos I took showing some of the features of those apps.
Now let's dive into three apps in a bit more detail.
App Examples: Octane Fitness SmartLink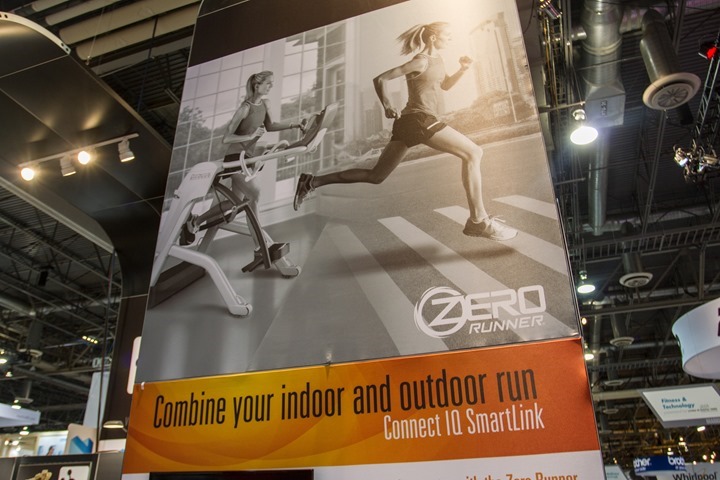 I'll walk through two pretty cool apps.  The first is the Octane Fitness app, SmartLink.  As a company they make some pretty advanced indoor gym equipment, including the Zero Runner (seen below).  The idea behind this machine is that it removes the pounding from your legs during running, and can be key for enabling people that may have some form of injury to still run long distances.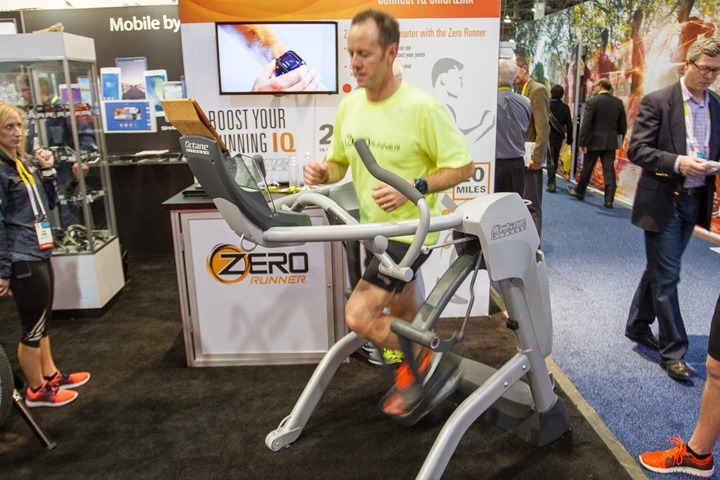 The machines are used not only by those working around an injury, but also in elite runners putting in a lot of miles daily.  They were explaining how one elite running coach/group is having their runners do about 16 miles outdoors, and then coming indoors for the final 4-6 miles.  As most runners know, it's those last handful of miles that do the most damage and prolong the recovery phase.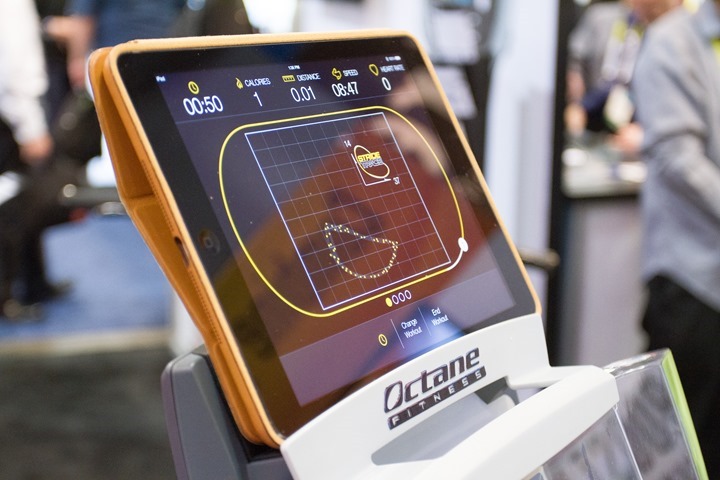 What they've done with their Connect IQ app is to allow you to blend those two workouts together into a single file.  You'll launch the Octane Fitness app and go for your run outdoors: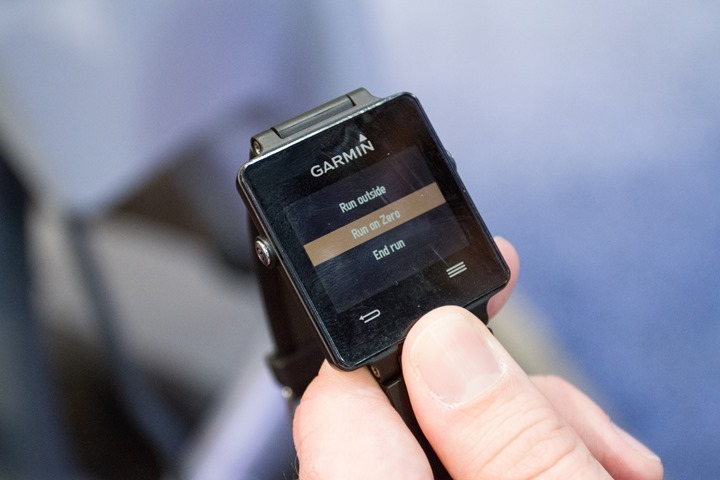 Then using the app it'll transition to an indoor mode where it'll connect to the Zero Runner machine.  The Zero Runner will then transmit the pace, distance, calories, and cadence from the machine itself directly to your Garmin device.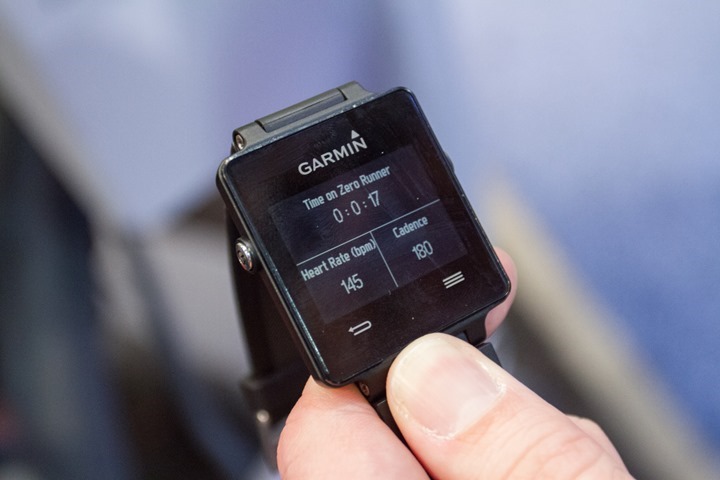 Even more than that, it can actually pass through heart rate data from the machine which is gathered via any number of different heart rate strap types (non-ANT+).  Pretty cool.
You can imagine now extending this same concept to other gym equipment.  So much potential.
App Examples: Moxy Muscle Oxygen Sensor: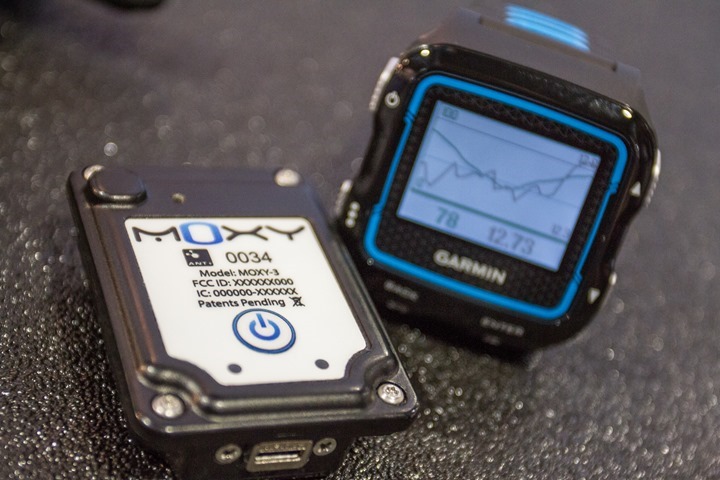 Next up we've got Moxy.  They've been a bit of the poster child for the Connect IQ team in terms of potential capabilities of the platform.  Moxy is the muscle oxygen sensor that allows you to monitor muscle oxygenation and related metrics.  Moxy was a good example for Garmin because while Moxy has the Muscle Oxygen ANT+ device profile, it wasn't a sensor type that Garmin was natively supporting in their fitness devices.  But with Connect IQ, Moxy could relatively easily add support for the Garmin devices to record the information using what's known as a generic ANT channel.  This means that apps can leverage the ANT capabilities to connect to any ANT device/sensor – including ones where no official profile exists (like Shimano Di2).
Because Moxy is running as an app, it replicates a given sport – cycling at the moment.  So they've added in not just the ability to connect to the Moxy ANT+ sensor but also the ANT+ power meter, ANT+ cadence sensor, and ANT+ heart rate sensor: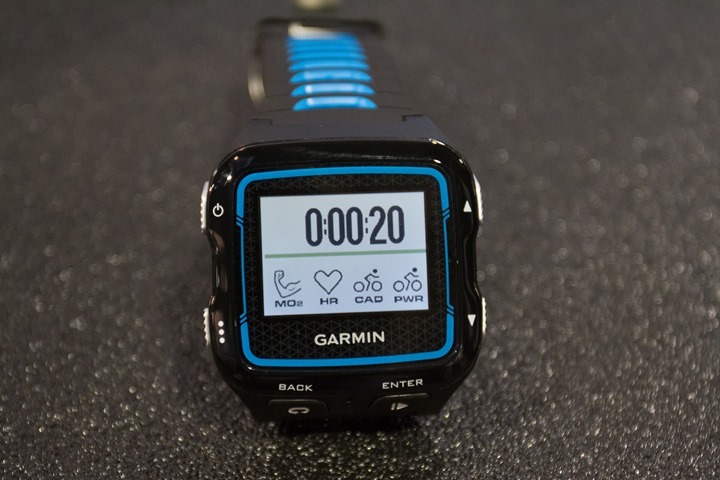 Next while wearing the sensor the data will be streamed in a few different data page formats that they've whipped up: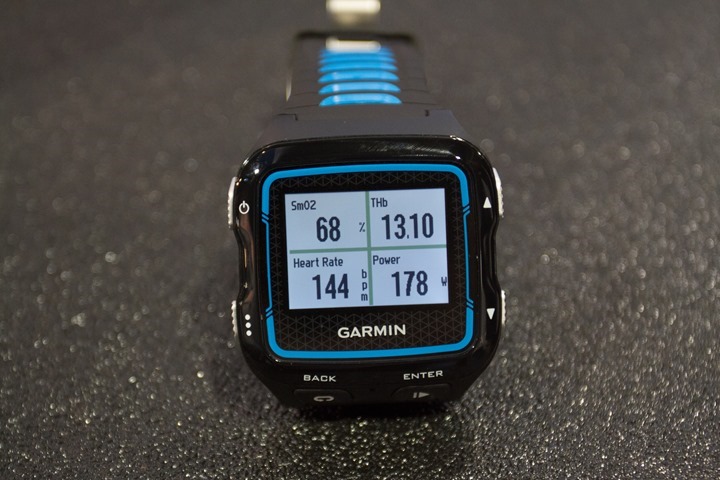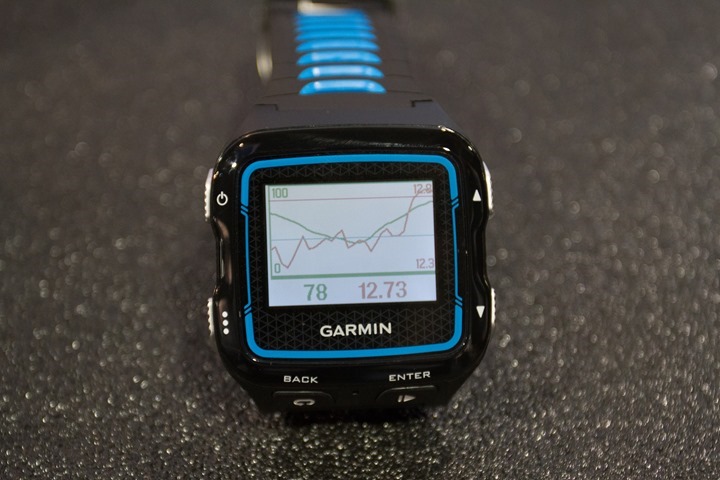 All of this data is then recorded to the .FIT file, so you can open it up later on in a 3rd party site.  Garmin Connect itself won't show the Moxy data, but 3rd parties could support the sensor data saved in the file.  For example, SportTracks could add support for it on their site.
Now, later on in the post I'll talk about some of the challenges that make Moxy's life slightly more difficult, due to the architecture currently in place by Connect IQ.  Still, it's a pretty cool app and really demonstrates how a smaller company like them can get their data onto the much more widespread wrists of many users.
App Examples: Komoot Trail Navigation App: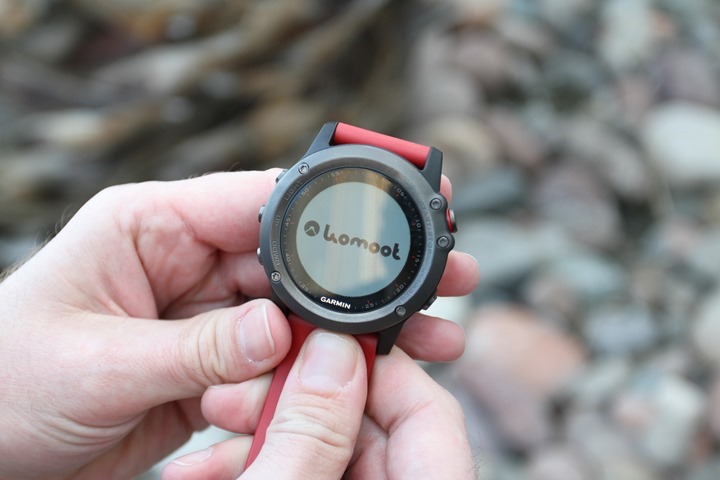 Next we've got something that I suspect will greatly appeal to many FR920XT users that might be feeling a little bit of Fenix envy with all the navigation features found there.  The app is Komoot, which already has a phone app in the market that allows you to download thousands of hiking trails/routes to your device.  You can cache them ahead of time both on the Garmin device itself, as well as on your phone.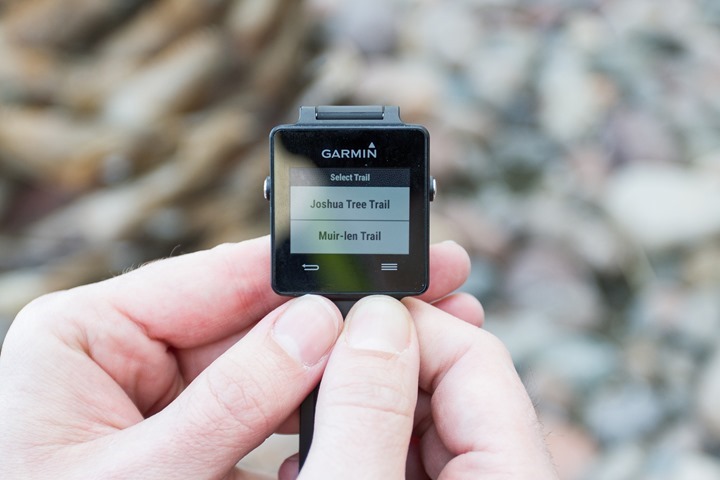 The app will then give you turn by turn navigation on the trail in question, leveraging the GPS within your device: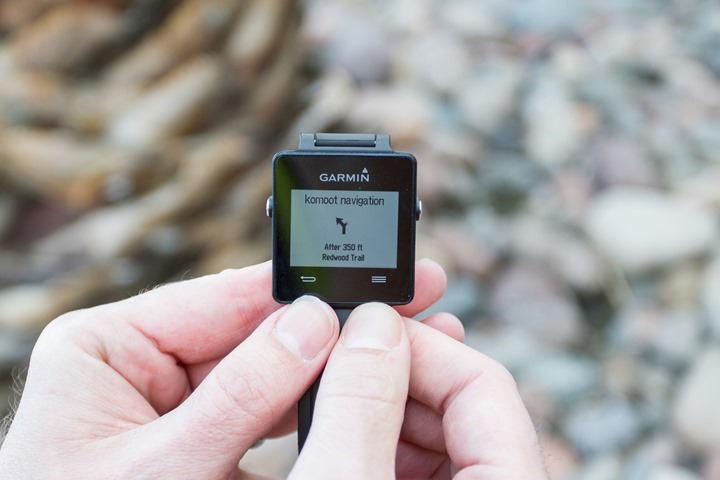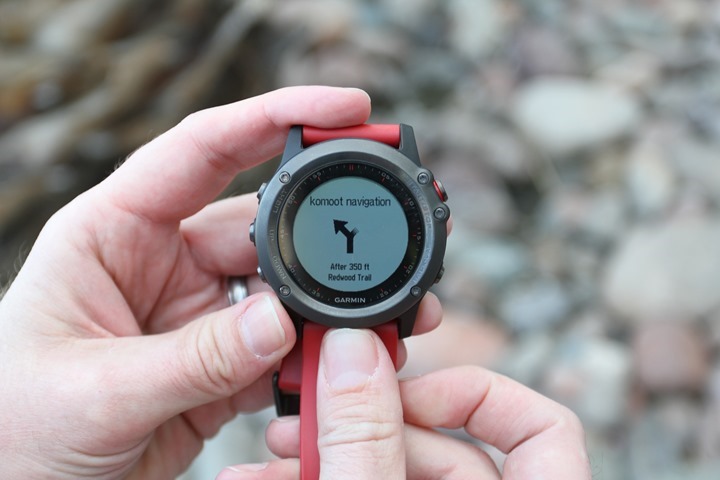 Pretty cool, huh?  As you can see, this is an example where I've included photos from different devices to show you how a given app works across the Connect IQ device lineup.  In this case you can see it working just as well on Garmin's $250 Vivoactive as it does on the $500 Fenix3.
Getting Yourself Setup with Connect IQ:
Ok, you've seen the trailer and now you're ready to try it out yourself?
The first thing you'll need to do is to update your device (the FR920XT).  As of today (Jan 9th), the update that supports Connect IQ is still a beta update.  I suspect it won't be long until it reaches 'production' status.  As with anything beta though, it's still not final – so you might run into some bugs.
To grab the beta update, just head over here to this page and follow the instructions they give inside the file.  Pretty straight forward.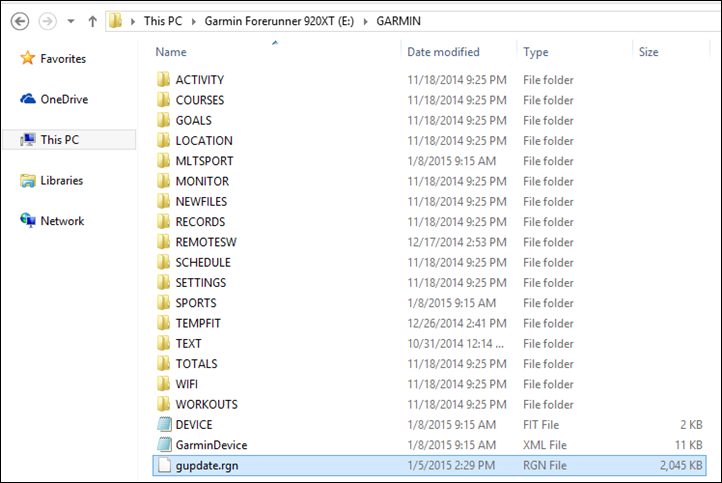 Next, in order to configure the various Connect IQ components you'll need to use either a computer or a phone.  As of today, the updated Garmin Connect Mobile app isn't quite released yet.  So you'll be using a computer for today.  But I do want to make clear that all of this will be fully configurable via just your phone shortly.
Given that, you need to ensure your Garmin Express installation is up to date to see the Connect IQ functionality.  You can access that by clicking the little settings icon at the top, and then clicking "Install Now":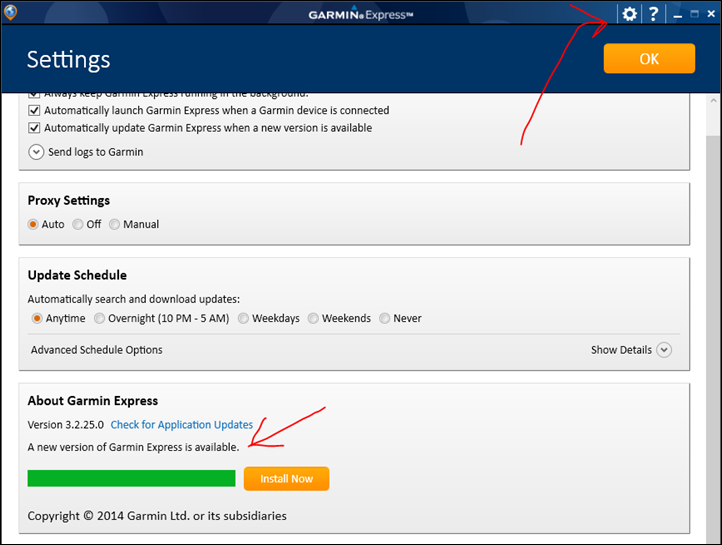 Once you've got that all installed, you'll see you've got a nifty new menu within Garmin Express: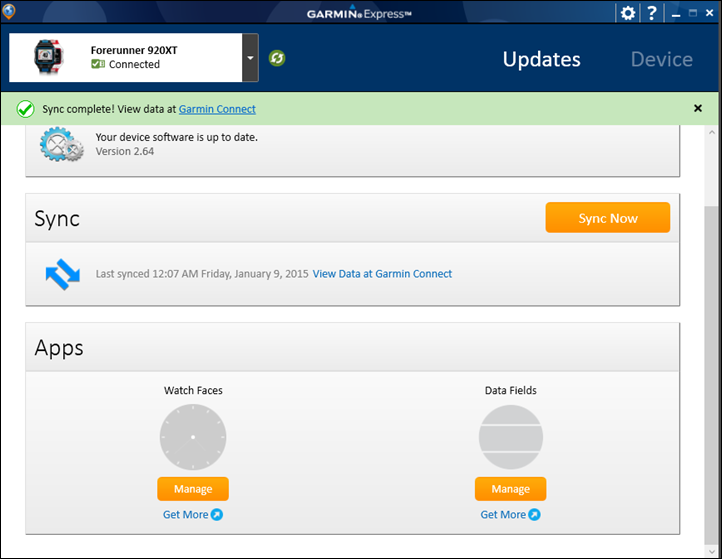 At present, this gives you two options: Watch Faces and Data Fields.  Down the road it'll support the other capabilities, such as 'Apps' and 'Widgets'.
To go ahead and add a new watch face, you'll click 'Manage', which will take you to the list of watch faces you've downloaded.  If you're like me, that'll be approximately none, so it'll look blank.  Along the bottom you'll see the total capacity shown on your device, as well as how much space you've got available.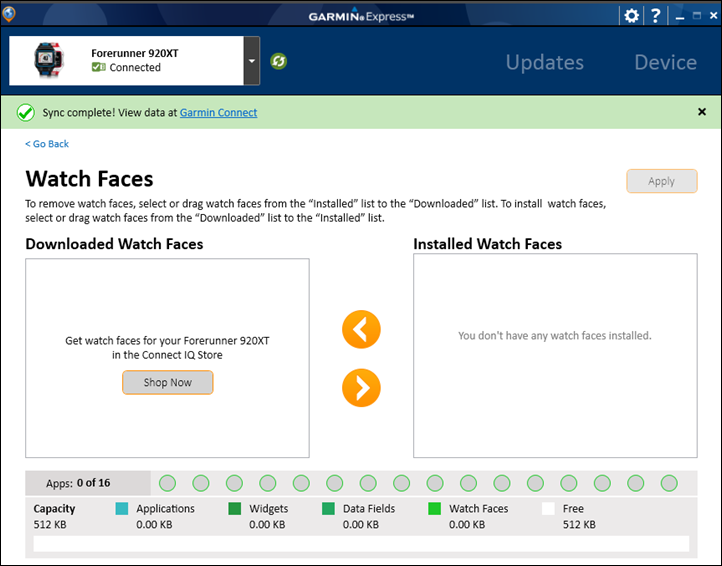 Next, click 'Shop Now'.  This brings you to the Garmin Connect IQ App Store, where you can pick out things to install.  Right now that just includes Data Fields and Watch Faces.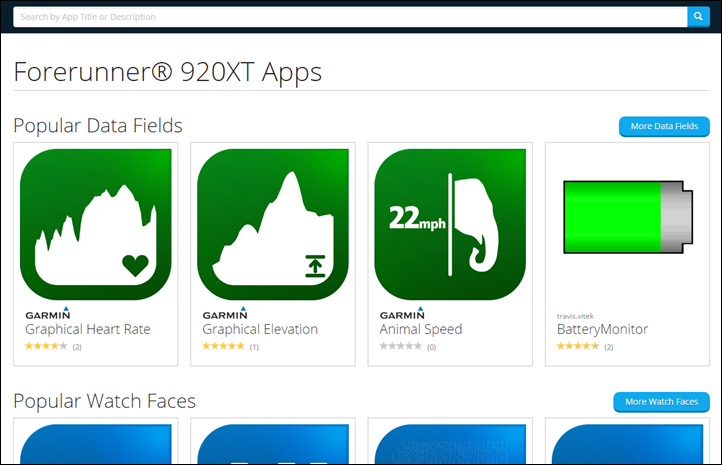 If you click the 'More Watch Faces' or 'More Data Fields' options, it'll go ahead and show you various ones to download.  Some of the options are pretty cool, and some of them are frankly pretty…non-useful.  But, that's the cool part – Garmin doesn't appear to be applying a filter regarding usefulness.
The trick will be for them to ensure they're bubbling up the most relevant and/or interesting creations to users as part of their store.  That's an area that Suunto had some challenges with initially (but later solved).
You can then click on a given watch face and select 'Send to my device'.  You'll notice it'll list which devices it supports.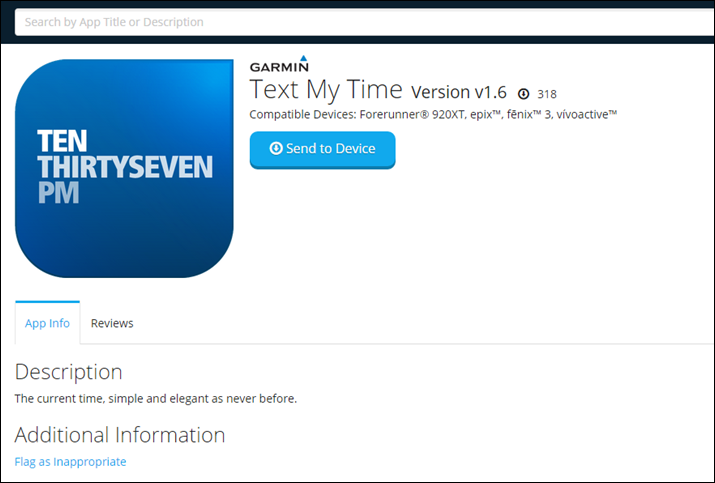 Once you've clicked that it'll send it over to Garmin Express and it'll show up on your device: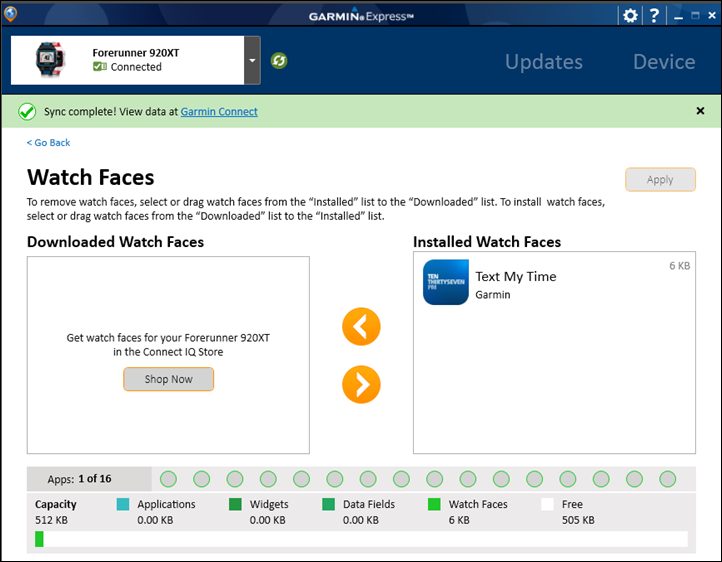 You can then manage these as you need to, taking them on or off the device if you run out of space.  You can see you get 512KB right now (irrespective of how much space you actually have available on your Garmin device), and you can see this one watch face only took up 6KB of that.
And of course, going back to Data Fields, you can do the same thing there as well: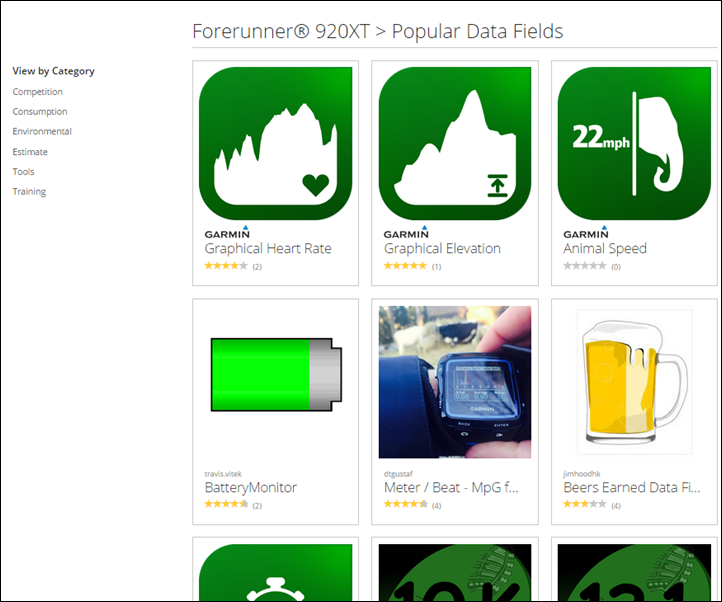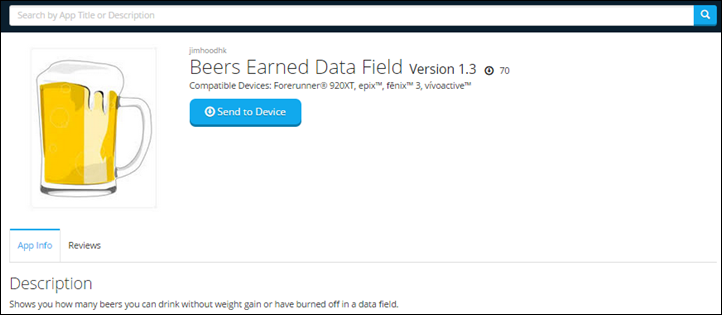 Again, like Watch Faces, the Data Fields don't take up much space – at least the basic ones people have put together thus far.  In the case below just 3KB for the all important 'Beers Earned' Data Field.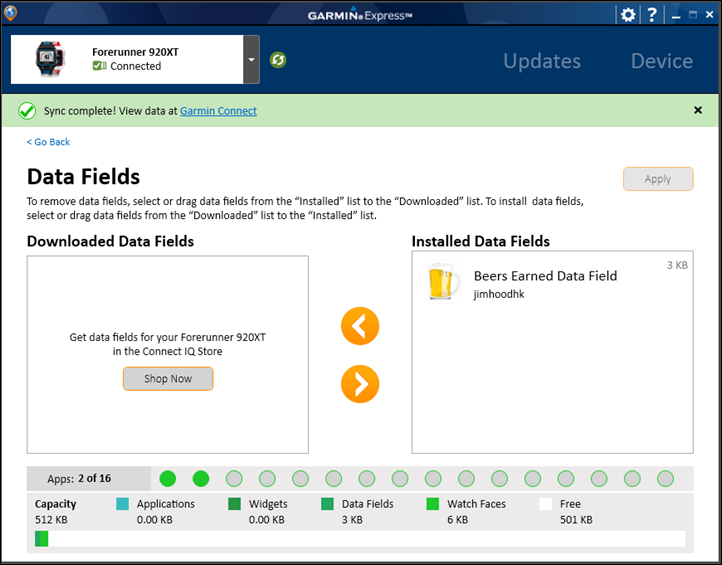 With all that done, you're ready to crack open your device and start using them.  To start you'll notice that your selected watch face is immediately available on the home screen, just as-is: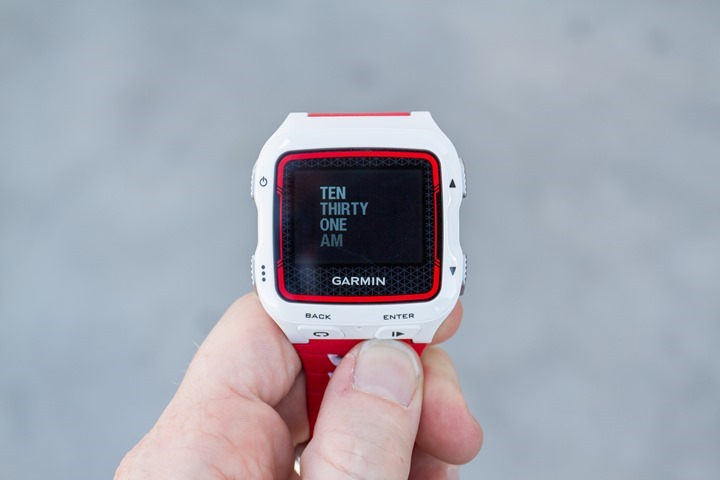 Alternatively, you can change it through the settings options: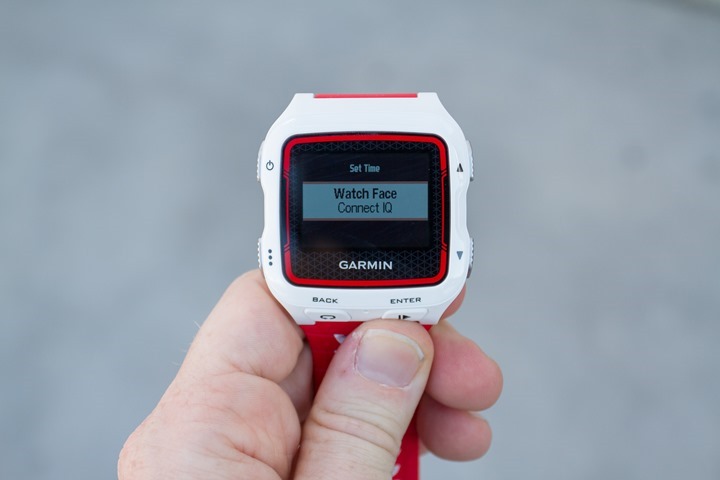 Meanwhile on the data fields, you'll go ahead and select to add the data field just as you would for configuring data fields on any other data page.  So that'd be: Activity Settings > Data Screens > (Screen Name) > (Field Name) > Connect IQ.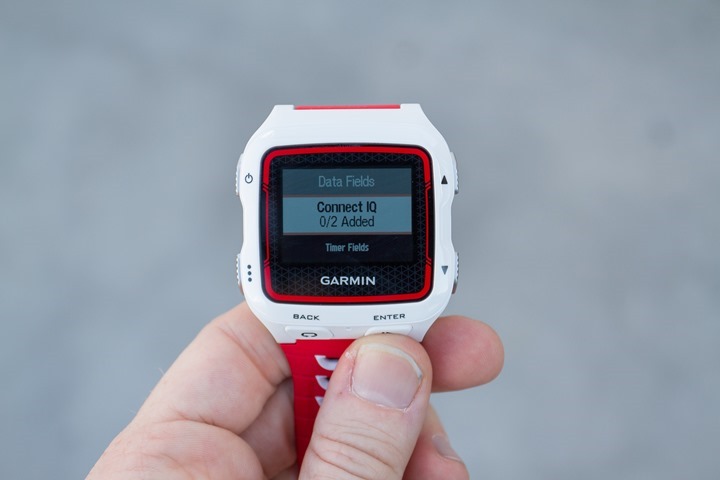 At which point you can select the Connect IQ field in question and add it to your layout: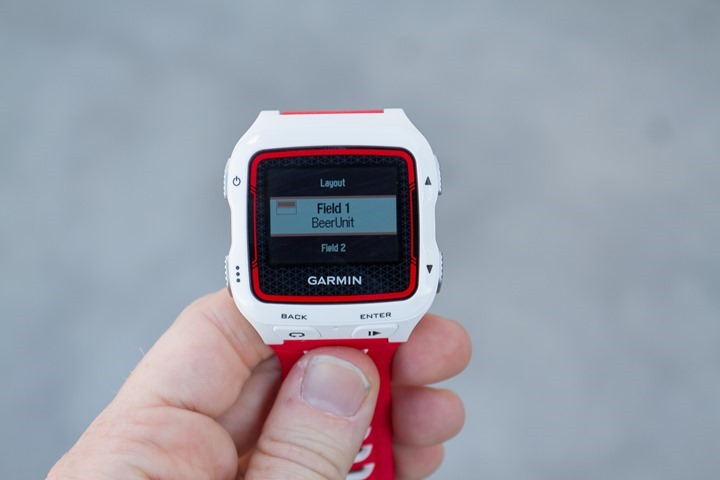 Once selecting the field it's all set and added into your data page.  Simple as that!  Then simply start an activity as normal and just change to the training page that has the newfound data field on it.
A Few Considerations: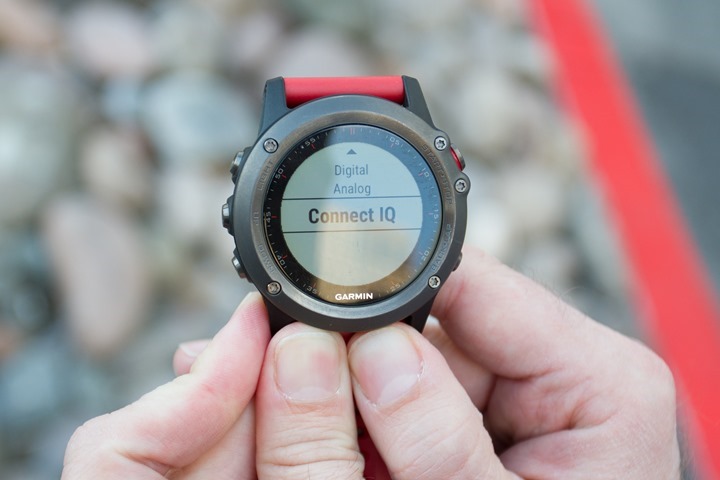 Now, there are some limitations here with Connect IQ that immediately become apparent – or, will soon anyway.  Here's what are really the three biggest ones that I see right now with Connect IQ.  Keep in mind that some of these will be resolved in time, but, they'll still be an impact nonetheless.  And further, Garmin has been making a number of iterations in the platform already based on feedback from developers.  You can see that feedback cycle if you wander over to the Garmin Forums.
1) A data field can't use the generic ANT channel available in Connect IQ
This is applicable for ANT+ devices that aren't natively supported on the FR920XT (or any other Connect IQ device), such as the Moxy oxygen sensor or the Tempe.  In these cases, you can't simply pair to the sensor like you could in a Connect IQ app and have the data show up in the data field.  Instead, a full-on Connect IQ 'App' has to be created to access the data.  This is a bit of a major bummer because it significantly increases the work that ANT+ sensor companies like BSX, Moxy, Stryde, and many others have to do to get their data into the FR920XT (or any other Connect IQ device)
For their part, Garmin says this is on the roadmap, but doesn't have a specific timeframe.  Hopefully they'll re-prioritize this a bit, as the majority of serious data will actually come via this route and making companies develop full apps just to save sensor data is a big waste of time.
2) Apps replace sport modes, they don't supplement it
One of the challenges with the current Connect IQ Apps model is that when you launch an app, you need to think of it as a full sport mode.  So for example, if in the past you went into the 'Swimming' mode, you didn't have access to the cycling power meter function.  That all makes sense of course, because you don't need that functionality in the pool.
The challenge though is that apps are now the training modes.  So when you launch the Moxy app, it's not within the context of cycling or running.  Rather, it's by itself.  All functionality that you get while doing that activity has to be programmed by Moxy.  This has a very practical limitation in that you won't get access to things like structured workouts, intervals, or even auto lap functionality. Any feature that you might have expected to access via the sport settings, Moxy would have had to replicate within their app.
For a company like Moxy, this is a solid pain in the butt (and not something they wanted to really do).  For them, they would have just rather accessed their sensor data via an ANT+ field and written it to the .FIT file.  But Connect IQ isn't structured that way unfortunately.  Thus instead they've got to manually recreate all the work that Garmin has spent years doing to give the end user an equivalent experience.  Most companies won't do that, they'll just give you something minimal.
The end-state of this model is that when you use an app, it's very likely you won't get the full set of features from the Garmin watch that you'd come to expect.
3) Connect IQ apps don't have access to Garmin Connect data
Finally, there still exists a division between Connect IQ and Garmin Connect.  Even if an app records cool data into your activity file, they can't actually access that data afterwards wirelessly unless they pay the Garmin Connect fee ($5,000).  They can access the data if you as the user upload the .FIT file by manually copying it from your PC using the USB cable.  But they can't access the data via any web API or service via 'the cloud' unless they pay the fee.  So all of the connected aspects of Garmin's newest devices fall apart here.  And as a reminder, Garmin is the only mainstream sports technology company to charge other companies to access their user's data.
So if you apply this to someone like BSX or Moxy, if they collect all this cool sensor data via their app, that file upon completion is sent to Garmin Connect.  But these companies can't then easily get that file over to their own websites for analysis to see the extra data unless they pay the $5,000 fee.  The only way the 3rd party site would see the data is if the user (you) manually uploaded, via USB, the .FIT file.
And in that same vein, the user can't see said 'extra' recorded data on Garmin Connect either, as unlike Suunto Movescount, it's not shown there as new data fields on charts or graphs.  I suspect upon launch later in Q1, if Garmin Connect doesn't display this data it'll cause quite a bit of confusion.
My 'Most Wanted' Apps List: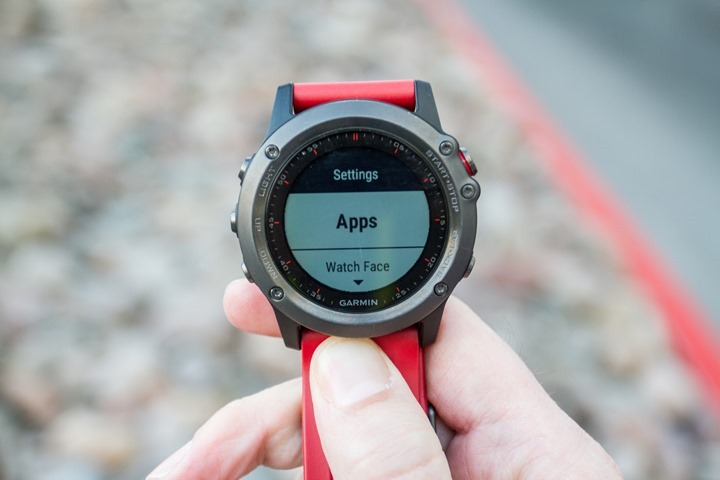 Now that we've covered just about everything, a few people have asked what I'd like to see when it comes to apps developed.  These won't/don't need to come from Garmin, but rather 3rd party developers.  Perhaps you.  So, here's a handful on my 'most wanted' list.
1) ANT+ Weight Scale support: Ok, let me start off by being brutally honest here.  I personally don't care about ANT+ weight scale support, I stopped using ANT+ weight scales years ago (and stopped recommending them, too).  But many of you have them, and still use them – despite Garmin otherwise not supporting them in recent devices.  But my request here is actually still self-serving.  This app would stem the non-stop questions into my inbox on when/why/how/if weight scales are supported.  The Connect IQ team added Weight Scale support as a profile, so this should be pretty straight forward.  Though, it's unclear (to me) how or if someone could actually then get that data to Garmin Connect and show up on the Garmin Connect dashboards like the older Garmin devices did.

2) Tempe support: While I rarely use the Tempe temperature sensor, I know many folks are interested in it – especially on the FR920XT where it doesn't record any temperature data.  This is also supported natively by Connect IQ as a profile, so this would should be pretty easy as well.  I'd have to expect this is a good example app for Garmin to develop (like they did for other Connect IQ pieces), since it only increase sales of their accessory products.

3) Interval Workout Support:  This one would be for the Vivoactive in my mind, which lacks interval workout support.  By creating an interval workout, you effectively bridge that device into being more feature-complete than it is already.

4) ANT+ Gym Equipment Support: This is another feature, like weight scale support, that was dropped from new devices made by Garmin in the last year or so.

5) A power meter recording app: Why do I want to record power meter data?  Well, because the Vivoactive doesn't have such a capability.  By creating a straight forward app that replicated the base cycling functions and common ANT+ sensors, this would bridge the gap for many people who really like the Vivoactive's size.
Now, I actually have two specific 'most wanted' features directed at the Connect IQ team themselves.  These are ones that aside from some of the changes I've suggested in the previous section – that I'd like to see on the Connect IQ platform:
1) Ability to use as many ANT channels as available: A device like the Garmin FR920XT would have a ANT+ capable chipset in it that allows use of up to eight ANT channels.  Each time you connect to a sensor, such as a heart rate monitor, you use up one channel.  For most people, that still leaves plenty of channels, even if you account for speed sensors, power meters, as well as Edge or VIRB remotes.  Today in Connect IQ you're only allowed to utilize a single empty ANT channel, regardless of how many other channels are in use.  I'd like to see that opened up to just any leftover ANT channels.  The reason for this is that I'd like to be able to do power meter comparison testing, and to do that with more than two units I'd need more channels.  And power meter accurate testing with just two units is pretty boring.  Of course, after the Connect IQ team develops this, I'll need someone to develop an app that connects to an unlimited number of ANT+ power meters.  But I'll tackle that problem when we get there.

2) Enablement of Connect IQ on the Edge series of devices: While I think there's tremendous benefits for having it on 'wearable devices', I think there's actually so many better ways it can be leveraged on the Garmin Edge series.  The pure real estate size of the display is reason enough.  This would really catapult the platform, and would likely immediately pull in parties like Strava to develop a Strava app for the Edge series to include live segments directly on the device.  After all, Strava pretty much develops an app (as basic as some of them might be) for any smartwatch that anyone releases.  Plus, if you follow the factually true logic that anytime you use Garmin (Edge) & Strava in the same sentence cyclists go bananas then this is a no brainer (seriously, my biggest page views ever are when those two words are in the same title).
Of course, I recognize that the first request is probably more me-specific, but based on the number of enquiries I get from around the industry, academics, and teams on how to do testing, I think there's probably many multi-sensor scenarios out there under a rock that could be uncovered.
Wrap-up: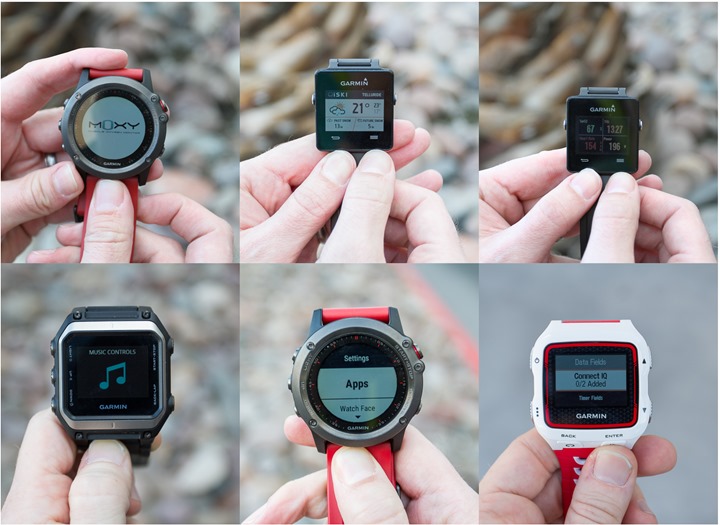 Phew, this post ended up being about 10 times longer than I originally envisioned.  Once we see full blown apps released later in Q1 I'll probably revisit things and take a look at what's come out since then as well as the other apps that companies are working on that aren't yet announced (yes, there are some).  Sound good?  Good.
In the meantime, feel free to drop any questions below.  Note that for development/SDK related questions and support, it's probably better to use Garmin's sub-forum for Connect IQ development support, since they've got a bunch of folks there to answer coding questions and the like.
Thanks for reading!
–
Welcome to CES 2015! Don't forget to check out all my CES 2015 coverage, as well as a slew of updates only seen on Twitter.  It's been a crazy busy week!