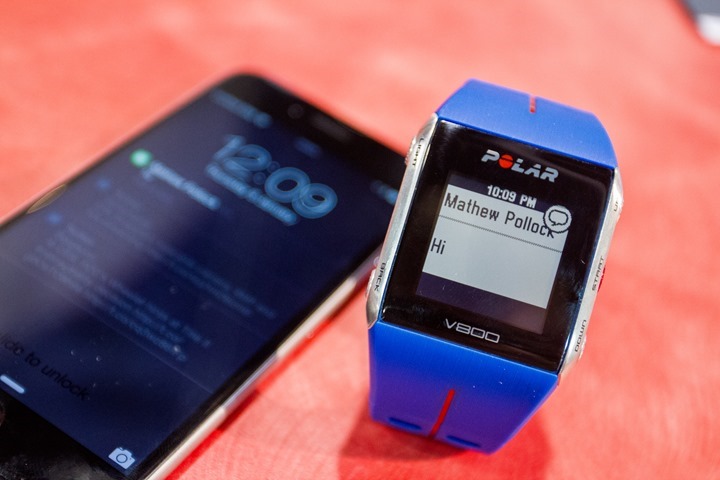 Today at CES Polar has made two fairly solid and notable announcements.  Both of these updates continue to increase the competitiveness of the products included, but especially the M400 – which was already my top pick for a sub-$300 running watch (at $179).  Let's just dive right into things.
Polar M400 Footpod Support: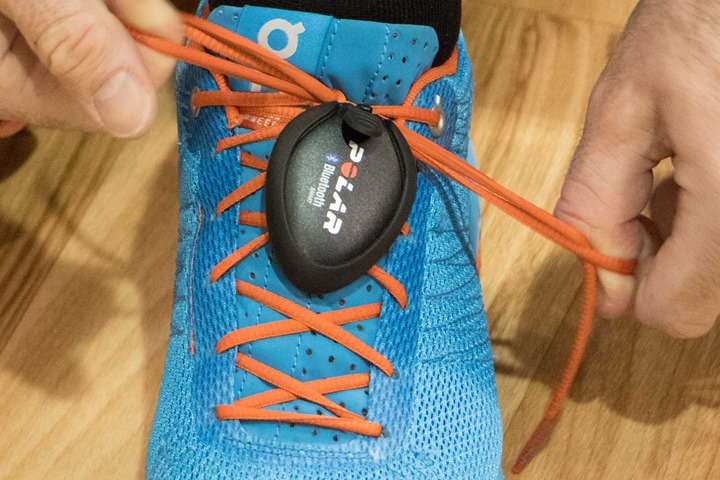 First up is something bound to make a lot of you happy.  Polar is announcing that the company is rolling out support for Bluetooth Smart footpods on the M400 running GPS watch.  This will assist in giving you pace and distance data indoors, such as on a treadmill.  Also, it'll support cadence information via the footpod.
After that they will also be adding in support for wrist-based detection (no footpod required).  Of course, no company in the market today has managed to perfect that, as the pace and thus distance tends to be somewhat variable in my and many other user's testing of other products.  Though, cadence via this method is generally quite good.  Either way, having the option to go footpod-less for those that don't mind is certainly ideal.
The footpod support should be available via a firmware update sometime today mid-February, baring anything having gone wrong in between the time the small army of Polar folks in the US at CES told me this afternoon, and when Polar folks in Finland wake up Friday morning.  (Update: Apparently mis-communication is in the air, now it's mid-Q1, so roughly February).
As you might remember, upon launch of the M400 it was promised that the footpod would be supported eventually.  Unfortunately over the past month things got a bit wishy-washy there with some changes in plans and timelines.  Thankfully after I made some comments in a post about the wishy-washy footpod state, many of you contacted Polar via social media expressing your desire for the footpod, and for it to show up sooner rather than later.
Based on your feedback, Polar has basically ported over the V800 footpod code into the M400 for footpod support. See, companies do listen!
Smartphone Notifications: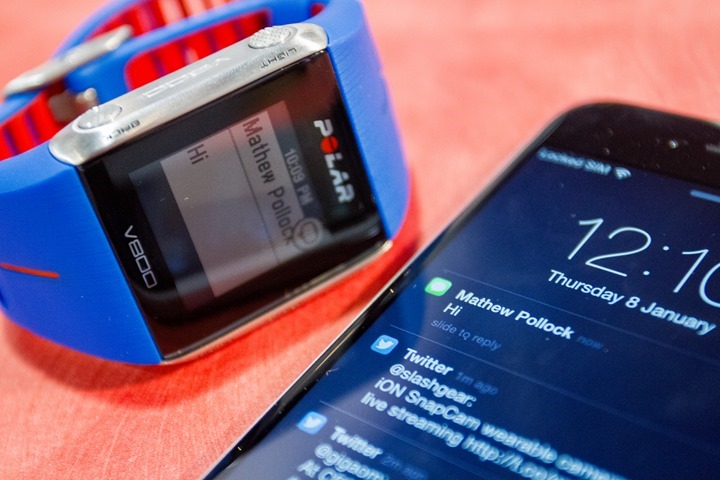 Next up in the pile of presents from Polar today is the addition of smartphone notifications.  This update will allow you to display notifications from your smartphone on your Polar device.  These notifications will be based on the iOS and Android notification centers, so like other devices in the market they'll show whatever you've configured notification wise already on your phone.
This means you can get text notifications, Twitter notifications, or updates from receiving intimate photos with Snapchat.  Whatever keeps you happy.
The notifications will display immediately (if enabled) on your Polar device.  You can scroll through multiple notifications, as well as access older ones.  Again, all notifications will just depend on what you setup on your phone through the standard notification control panels.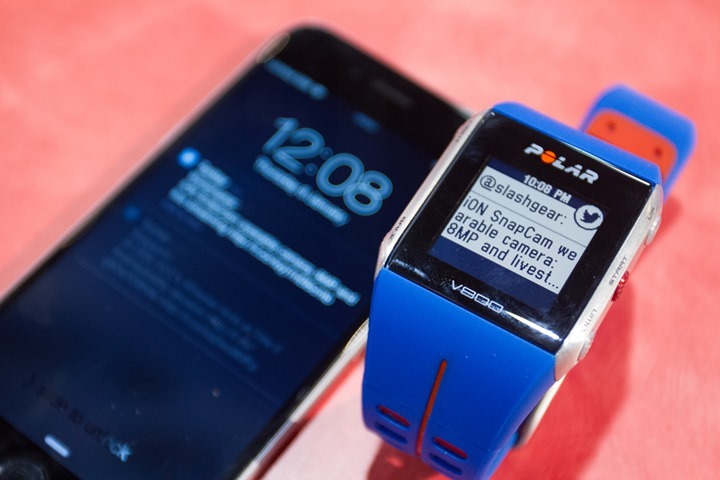 In addition to notifications, Polar is also enabling the ability to answer or decline calls right from your watch.  When you answer a call it'll go ahead and pick it up (best to have a separate Bluetooth headset paired to your phone).  When you decline it, it'll reject that apparently unloved person like normal (no Snapchat photos from them next time!).  To accept the call you'll just press the middle red button on the side of the watch, and to reject you'll press the lower down button.
So which devices are getting updates, and when?  Here's the rundown:
Polar V800/M400 on iOS (Apple): Approximately end of February
Polar V800/M400 on Android: Later in Spring 2015
Polar A300: This will follow implementation on the V800/M400, their priority is on the V800/M400
[Update note April 15, 2015: Bluetooth Smart notifications for the V800 (iOS only) were released today, as well as footpod support for the M400.]
[Update note June 8, 2015: Polar announced Bluetooth Smart notifications for the M400 via firmware update 1.5.  Note that this also applies only to iOS 8, with no firm date on Android support. Citing that the Android platform is more fragmented than iOS in terms of Bluetooth interoperability they assure us that they are working toward expanding notifications to that mobile platform also. ]
In addition to the above, they're also investigating supporting the Polar Loop as well, but no decisions have been made there.  Given how many activity trackers these days have smartphone notifications, it would certainly make that product hold water a bit longer, though the display isn't quite as ideal for it.  Again, they're still sorting that option out – so no promises there.
Finally, at some point in Q2 they'll be adding in music control (of your phone's music) as well.  Good stuff!
Other Polar Items of Note:
Finally, while we're at it, I've got a few updates on other outstanding Polar V800 features that were previously promised.  Items like the Polar Personal Trainer migration to Polar Flow, as well as Training Program support and Breadcrumb trail support.  But…there's a few other leftover items that I'm getting some final dates on – so look for an update early next week when I'll also talk through Polar's new coaching platform.  Like a twofer.
But, I didn't want to hold up this post to get you the footpod and smartphone details.  And at the same time, I didn't want folks thinking I was ignoring those questions on V800 updates either.  Don't worry, I've got your back!
Thanks for reading!
–
Welcome to CES 2015! Don't forget to check out all my CES 2015 coverage, as well as my continual updates throughout the day on Twitter.  It's gonna be a crazy busy week!