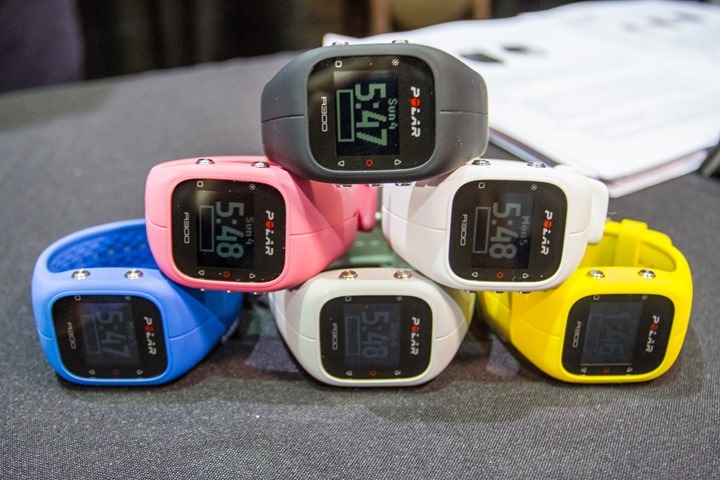 The A300 Overview:
This weekend ahead of CES here in Las Vegas, Polar has announced their latest activity tracking watch, the A300.  This watch aims to take the M400 GPS watch, remove the GPS part, and then call it the A300.  Roughly.
But while that might be roughly the case when you look at the PR material, in actuality there's a number of smaller tweaks (and adds) that differentiate it more than you might think from the M400.  For example, the A300 has removable watch bands, so you can go all colorful and swap to any of the different band colors shown above quickly: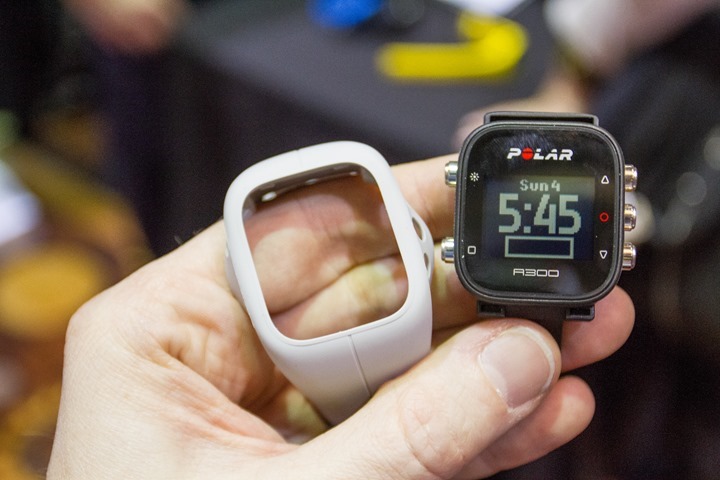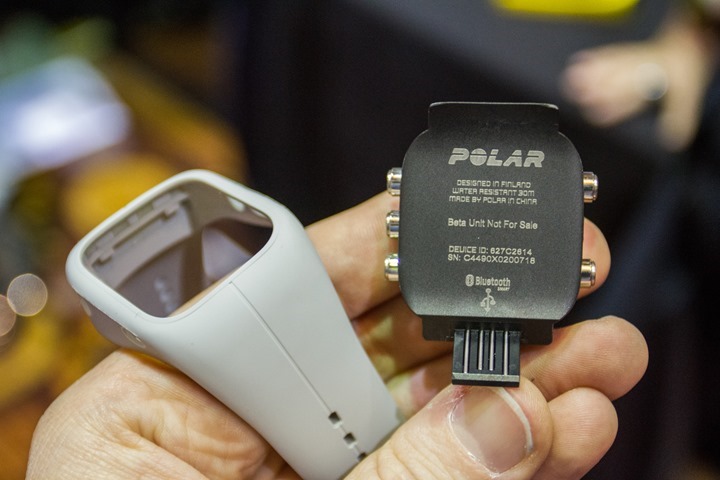 It also contains a USB plug built straight into the device that goes right into your computer with no cables (but still has Bluetooth Smart for transfers wirelessly to phones too):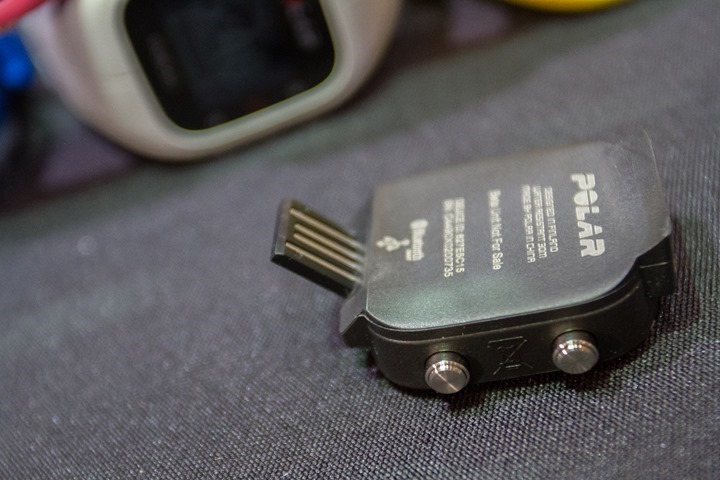 While the V800 and M400 share the same display screen, the A300 gets a reduced resolution screen with a slightly simplified menu.  It actually works well in this form factor (kinda like the Garmin FR15), and does have a cool backlight feature where the data pages will automatically light-up at a reduced level anytime you tap a button, and then you can press the dedicated light button to fully turn on the backlight at a brighter level: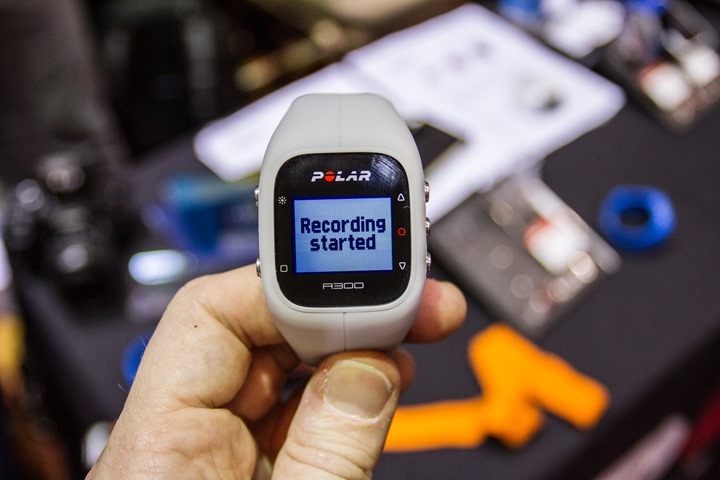 Also unlike the M400, it supports the analog portion of the heart rate strap (in addition to Bluetooth Smart), so with straps such as the Polar H7 it'll actually record and display heart rate while swimming underwater: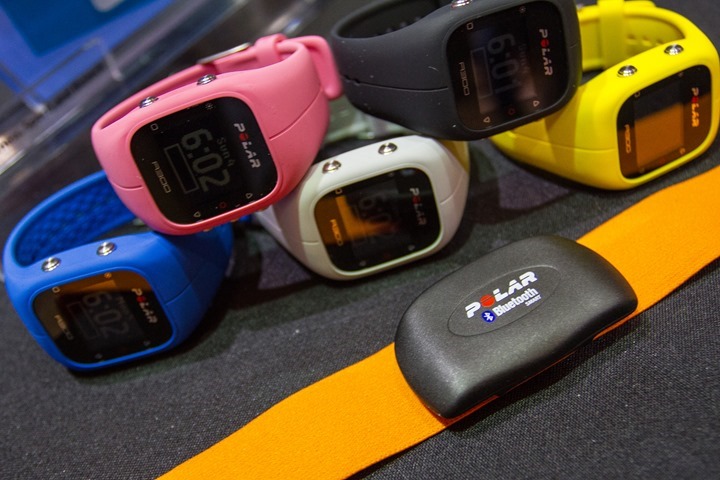 With all these features, the A300 effectively becomes a much more advanced Polar Loop activity tracking device – but in a watch form factor.  Thus from an activity tracking standpoint it does daily activity tracking including steps and distance, as well as sleep tracking.  It'll also beep and buzz at you too – as it does include a vibration function – a feature lacking on the M400 GPS watch.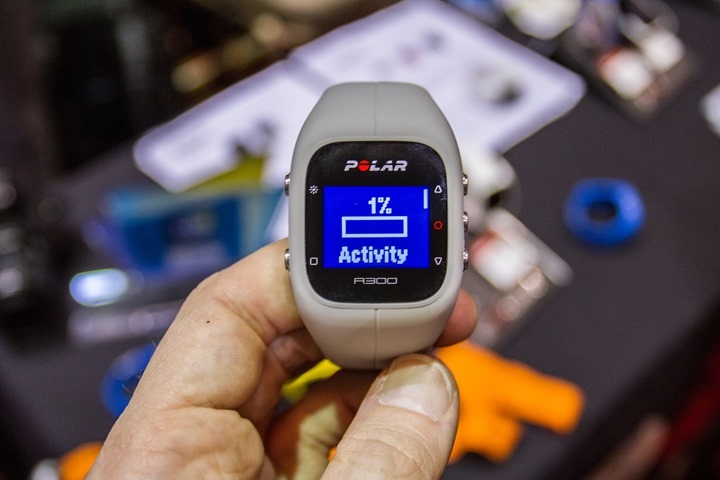 On the workout side of things, the unit is heavily focused on heart rate based workouts.  As noted above it connects to Bluetooth Smart capable heart rate straps, like Polar's H7 and H6 straps, to display your heart rate within activities.  This data is then used to give you detailed calorie burn information with the same fidelity as some of Polar's higher end devices like the V800.  This is notable if only because some other competitive companies put in 'cheaper' calorie burn algorithms in their lower end devices.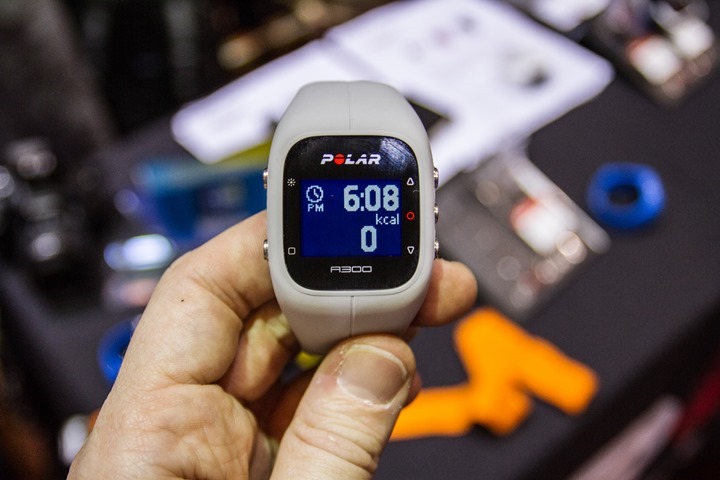 The A300 does allow you to create numerous different activity profiles on the device, like its M400 and V800 siblings.  This helps to slightly refine the calorie burn assumptions for rowing versus running, for example.  Of course, lacking a GPS chip or any other workout distance tracking, some of this starts to become more academic than practical.
These modes can be leveraged in conjunction with Polar's existing Smart Coaching functions – which allow you to build out heart rate based workouts of structure on the Polar Flow website and then download them to the watch.  This functionality also covers guidance around targeted workouts in terms of focusing on a given effort level for a specific workout and understanding the purpose of that workout.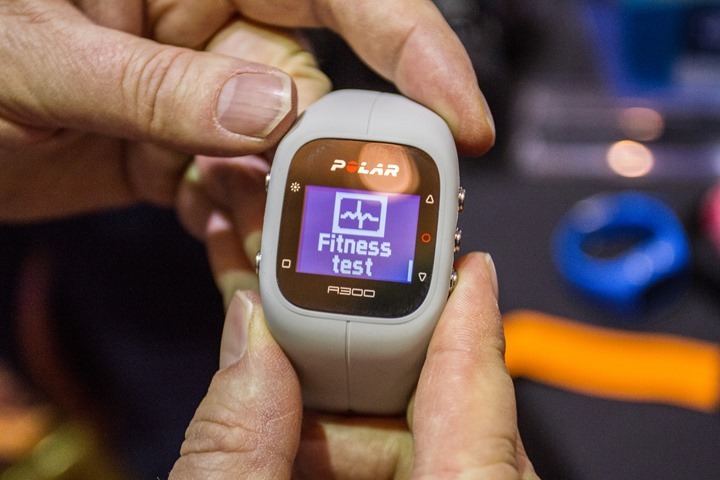 Next up is that the A300 can communicate directly with your iOS or Android smartphone to relay the data to the Polar Flow website and Polar Flow mobile apps.  The mobile apps will show your daily activity tracking details, as well as individual workout details.  Additionally, from the Polar Flow site you can export out your activity data for manual transfer to 3rd party sites like MyFitnessPal.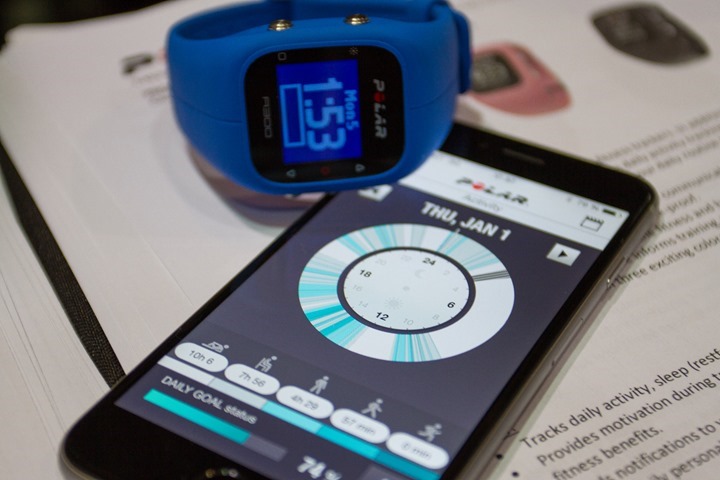 (Note that in order to use smartphone sync, your phone must support Bluetooth 4.0, which is roughly any Android phone on Android OS 4.3 or higher, or iPhone 4s and higher.)
Polar announces MyFitnessPal sync:

In conjunction with the A300 announcement, Polar is also announcing that later this month (January 2015) they'll rollout automatic sync with MyFitnessPal (MFP), which is by far the most popular calorie focused and health tracking app out there.  This will then send from Polar to MFP your step data, as well as your activity/workout data.  This will happen automatically behind the scenes from Polar Flow to MFP.
You'll only need to sync your Polar M400, V800 or A300 to Polar Flow as normal via your mobile phone or computer with the USB port downloading.
Now while MyFitnessPal might not be as appealing to endurance athletes, Polar says it's the first service they're working to support with the background sync service they rolled out this fall.  They are working with a number of the other 'majors' in the endurance segment, but declined to announce the names quite yet.
Product Comparison Tables:
I've gone ahead and added in the Polar A300 into the product comparison database.  This helps you to see how it compares to the M400 GPS watch, as well as Polar's higher end V800 multisport GPS watch.  Note that you can always mix and match products from anything I've reviewed by going to the database itself.
Function/Feature

Polar A300
Polar M400
Polar V800
Copyright DC Rainmaker - Updated September 13th, 2018 @ 1:33 am New Window
Price
$139
$179
$449
Product Announcement Date
Jan 3rd, 2015
Sept 25th, 2014
Jan 6th, 2014
Actual Availability/Shipping Date
January 2015
October 2014
May 2014
GPS Recording Functionality
No
Yes
Yes
Data Transfer
USB, BLUETOOTH SMART
USB, BLUETOOTH SMART
USB, BLUETOOTH SMART
Waterproofing
Yes - 30m
Yes - 30m
Yes - 30m
Battery Life (GPS)
4 Weeks
8 hours
Up to 50 hours
Recording Interval
1-Second
1-second
1s
Alerts
Sound/Visual/Vibrate
Sound/Visual
Vibrate/Sound/Visual
Backlight Greatness
Great
Great
Great
Ability to download custom apps to unit/device
No
No
No
Acts as daily activity monitor (steps, etc...)
Yes
Yes
Yes

Music

Polar A300
Polar M400
Polar V800
Can control phone music
No
No
No
Has music storage and playback
No
No
No
Streaming Services
No

Payments

Polar A300
Polar M400
Polar V800
Contactless-NFC Payments
No

Connectivity

Polar A300
Polar M400
Polar V800
Bluetooth Smart to Phone Uploading
Yes
Yes
Yes
Phone Notifications to unit (i.e. texts/calls/etc...)
Yes (as of May 3rd, 2016)
Yes
Yes
Live Tracking (streaming location to website)
No
No
No
Group tracking
No
No
Emergency/SOS Message Notification (from watch to contacts)
No
No
No
Built-in cellular chip (no phone required)
No
No
No

Cycling

Polar A300
Polar M400
Polar V800
Designed for cycling
No
Yes
Yes
Power Meter Capable
No
No
Yes
Power Meter Configuration/Calibration Options
No
N/A
Yes
Power Meter TSS/NP/IF
No
N/A
NP
Speed/Cadence Sensor Capable
No
No
Yes
Strava segments live on device
No
Yes
Crash detection
No
No

Running

Polar A300
Polar M400
Polar V800
Designed for running
Sorta (no distance)
Yes
Yes
Footpod Capable (For treadmills)
No
Yes
Yes
Running Dynamics (vertical oscillation, ground contact time, etc...)
No
No
No
Running Power
With extra sensor
VO2Max Estimation
No
Sorta
Yes
Race Predictor
No
Can estimate finish time during race
Yes, via Race Pace
Recovery Advisor
No
No (only if you have V800 too)
Yes
Run/Walk Mode
No
No
Yes, via timers

Swimming

Polar A300
Polar M400
Polar V800
Designed for swimming
Yes
No
Yes
Openwater swimming mode
No
No
Yes
Lap/Indoor Distance Tracking
No
N/A
Yes
Record HR underwater
Yes
No
With Certain Polar Straps
Openwater Metrics (Stroke/etc.)
No
N/A
Yes
Indoor Metrics (Stroke/etc.)
No
N/A
Yes
Indoor Drill Mode
NO
N/A
No
Indoor auto-pause feature
No
N/A
Yes
Change pool size
No
N/A
Yes
Indoor Min/Max Pool Lengths
No
N/A
20M/Y to 250 m/y
Ability to customize data fields
No
Yes
Yes
Captures per length data - indoors
No
N/A
Yes
Indoor Alerts
No
N/A
N/A

Triathlon

Polar A300
Polar M400
Polar V800
Designed for triathlon
No
No
Yes
Multisport mode
No
No
Yes

Workouts

Polar A300
Polar M400
Polar V800
Create/Follow custom workouts
Yes
Yes
Yes
On-unit interval Feature
No
Yes
Yes
Training Calendar Functionality
No
Yes
Yes

Functions

Polar A300
Polar M400
Polar V800
Auto Start/Stop
Yes
Yes
Virtual Partner Feature
No
Via Race Estimator
Yes
Virtual Racer Feature
No
No
No
Records PR's - Personal Records (diff than history)
No
Yes
No
Tidal Tables (Tide Information)
No
No
No
Weather Display (live data)
No
No
No

Navigate

Polar A300
Polar M400
Polar V800
Follow GPS Track (Courses/Waypoints)
No
No
Yes
Markers/Waypoint Direction
No
No
Yes
Routable/Visual Maps (like car GPS)
No
No
No
Back to start
NO
Yes
Yes
Impromptu Round Trip Route Creation
No
No
No
Download courses/routes from phone to unit
No
No
Yes

Sensors

Polar A300
Polar M400
Polar V800
Altimeter Type
None
GPS
Barometric
Compass Type
None
GPS
Magnetic
Optical Heart Rate Sensor internally
No
No
Heart Rate Strap Compatible
Yes
Yes
Yes
ANT+ Heart Rate Strap Capable
No
No
No
ANT+ Speed/Cadence Capable
No
No
No
ANT+ Footpod Capable
No
No
No
ANT+ Power Meter Capable
No
No
No
ANT+ Lighting Control
No
No
No
ANT+ Bike Radar Integration
No
No
No
ANT+ Trainer Control (FE-C)
No
nO
No
ANT+ Remote Control
No
No
no (but can control GoPro)
ANT+ eBike Compatibility
No
No
No
ANT+ Gear Shifting (i.e. SRAM ETAP)
No
No
No
Shimano Di2 Shifting
No
No
No
Bluetooth Smart HR Strap Capable
Yes
Yes
Yes
Bluetooth Smart Speed/Cadence Capable
No
No
Yes
Bluetooth Smart Footpod Capable
No
Yes
Yes
Bluetooth Smart Power Meter Capable
No
No
Yes
Temp Recording (internal sensor)
No
No
Yes
Temp Recording (external sensor)
No
No
No

Software

Polar A300
Polar M400
Polar V800
PC Application
Polar Flowsync
Polar Flowsync
Polar Flowsync - Windows/Mac
Web Application
Polar Flow
Polar Flow
Polar Flow
Phone App
iOS/Android
iOS/Android
iOS/Android
Ability to Export Settings
No
No
No

Purchase

Polar A300
Polar M400
Polar V800
Amazon
Link
Link
Link

DCRainmaker

Polar A300
Polar M400
Polar V800
Review Link
Link
Link
Link
Remember again that you can always mix and match any products within the product comparison tool.
My Thoughts on the A300: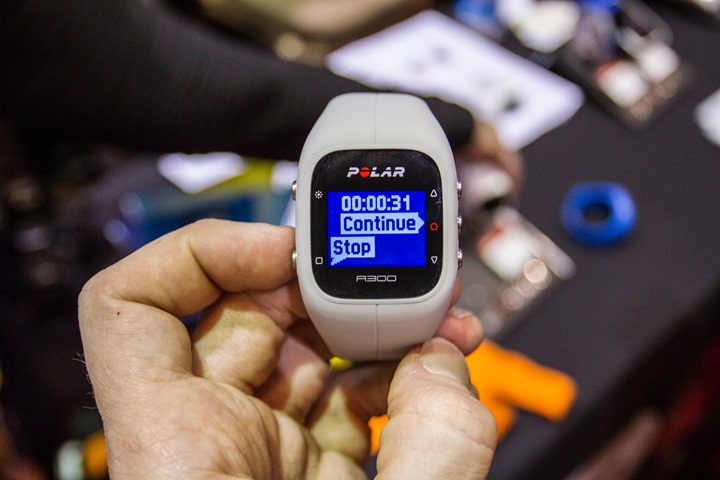 With that bit of background, let's get to the important piece – price.  And this is where things get a bit shaky.  The A300 is priced at $139 without the HR strap.  Which…is a sorta awkward price competitively speaking.  Why's that?  Well, the GPS-capable M400 is only $40 more.  And as I've said before, the M400 is the best mid-range GPS watch these days under $300.  Whereas with the GPS-less A300, you've got kinda an odd duck feature-wise on the price spectrum.
The A300 does however have a handful of features that the M400 doesn't, like vibration alerts, changeable bands, and the ability to use it to record heart rate while swimming.  But those features are somewhat in conflict with the people who would realistically want them (and pay for them) at the M400 price point instead.
I suspect Polar is trying to carve out a modern replacement for their FT series that's long been in their watch stable – and to that end, this actually makes a great replacement for that aging line.  But at the same time – I feel like it's about $20-$30 too expensive for that market.  Had this been been priced at $109-$119US without the HR strap – then it becomes more appealing (and competitive).  But because a HR strap is pretty much 100% required to have this unit be of any value, you're looking at an entry point today closing in at $180…which is again quite a bit compared to other options on the market (or phone apps).
As for an in-depth review, Polar's handing off to me a unit Monday, so I'll likely aim for some form of review later in the month or early February, depending on the load of devices coming out of CES this week (and into my suitcase).
Thanks for reading – and feel free to drop any questions below!
–
Welcome to CES 2015! Don't forget to check out all my CES 2015 coverage, as well as my continual updates throughout the day on Twitter.  It's gonna be a crazy busy week!