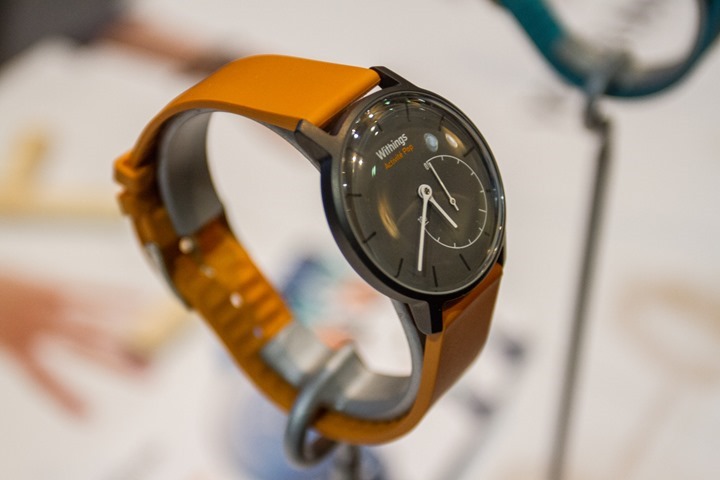 Overview:
Here at CES Withings showed off their latest activity tracker, the Activité Pop.  The Pop is a daily activity and sleep tracker but in a non-obvious form factor.  It's designed to look like a regular watch, but with the internal smartphone connected aspects of a full blown 24×7 activity tracker including the ability to track steps, running and sleep.  And, firmware updates willing – even swimming.
The Pop is perhaps the easiest product to describe thus far at the show in that it's exactly the same product technologically speaking as the Withings Activité…just without being made in Switzerland and without the fancy band and exterior materials.  As such the price has dropped from $450US to $149US – a massive dip.
Here I've placed my regular Withings Activité next to the new Pop (in black):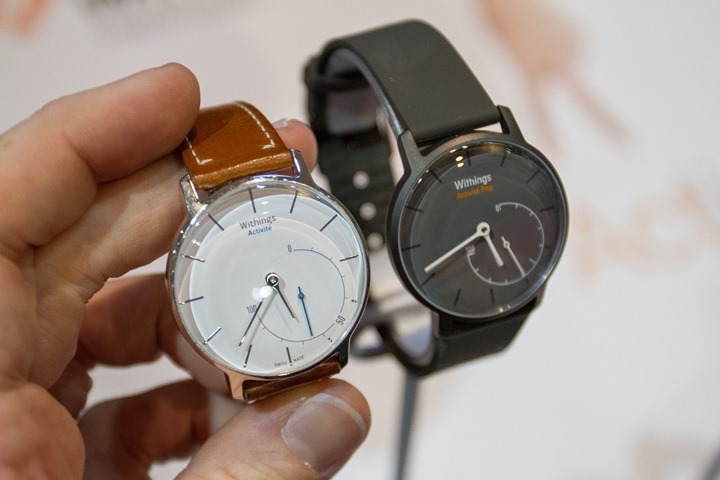 For those not familiar with the inspiration for the Pop, the regular Activité was announced last summer and just recently started shipping about 4-5 weeks ago.  I've just about wrapped up my in-depth review on it, which should publish next week.  For what it is, I love it.  Your steps are shown on the interior dial of the watch, which slowly increments to 100% of your goal over the course of the day.
Technology:
The Activité Pop is identical technologically and also transmits your daily steps and sleep data to the Withings app.  This connectivity is done via Bluetooth Smart within the Activité Pop.  In addition, you can also capture running data using the watch too.  I find the distance to be no more than about 10% off the actual distance of the run, which is pretty common for accelerometer based distance estimates in a wrist watch.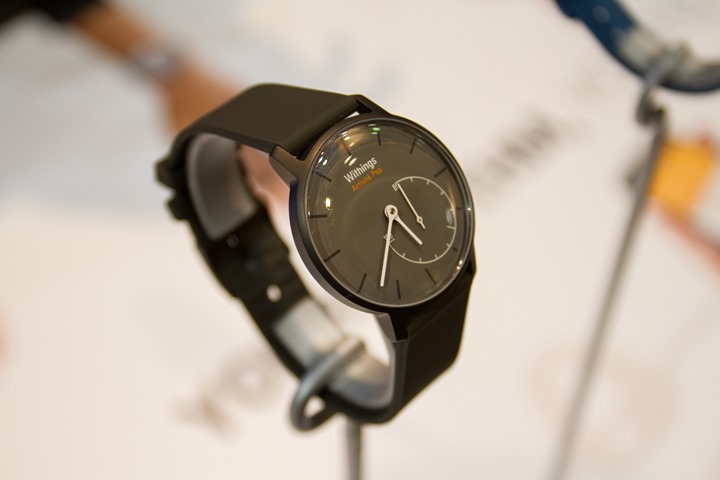 The Pop comes in a bunch of colors and bands, which admittedly look quite nice.  I was a bit concerned that they'd have taken the secondary rubber/plastic sport band that is included within the regular Activité packaging, and stick it with the Activité Pop.  That gray plastic band that's included in the regular Activité is horribly ugly.  But the ones within the Activité Pop are far better.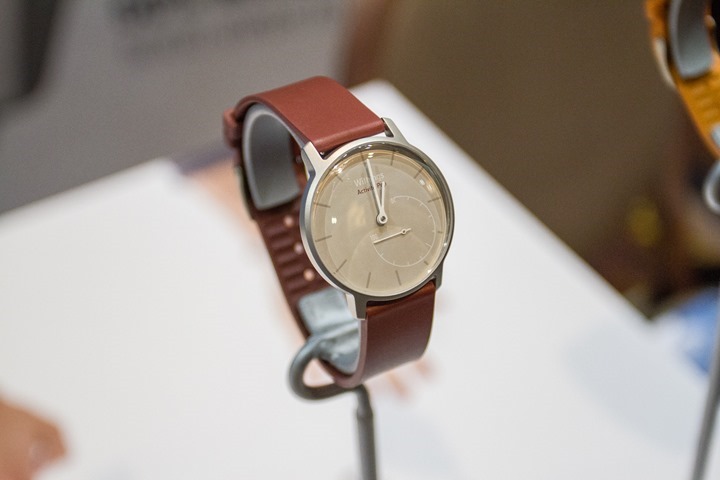 The Future:
Now, the one unknown on both the Activité and Activité Pop is when exactly they're going to add the swimming functionality.  As you see below, it's prominently featured within marketing for the Activité Pop.  Just as it was within the regular Activité.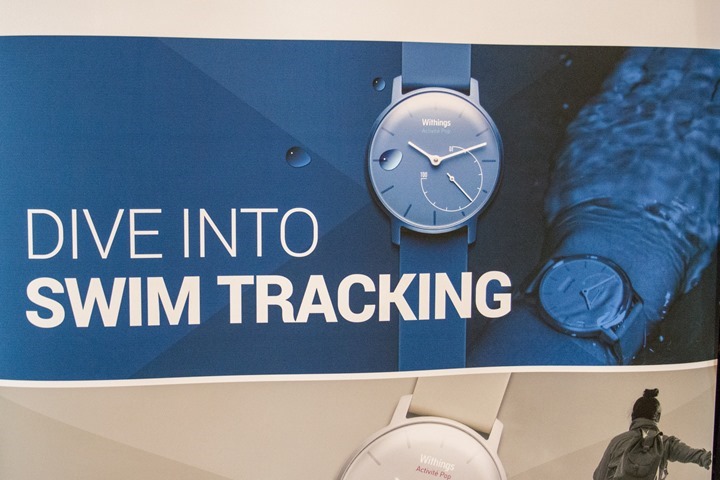 The problem is that Paris-based Withings keeps pushing back the dates on the swimming functionality.  They initially promised it at release (which in theory was early this past fall).  Then it was by the end of December.  Tonight I asked two different people.  The first was a non-Parisian PR person who happily chirped January, while the second (President and co-founder Eric Carreel) who mused it might be a few months. However  It was the attitude and way founder conveyed these timelines that clearly indicated they (or at least he) didn't really give a rip as to when it would be rolled out.
Which, is somewhat the core problem that Withings keeps coming up against.  They continue to announce and then subsequently release products that they don't finish.  One can look at their Withings Aura, which was significantly delayed and then once introduced has been – by their own admission – a complete mess.  They even just sent an apology letter to buyers (including myself) noting:
"Withings Aura is an ambitious product that our teams developed over several months….We acknowledge that it was brought to the market too hastily, and that malfunctions and missing features have been a source of frustration for some of you."
So now once again we have Withings releasing a product that is quite literally almost half-baked (technically speaking Activité Pop only has three features: Steps, Sleep, Swim), without any clear plan on when they'll release that final swim feature.  Or whether or not those features will even work well once released.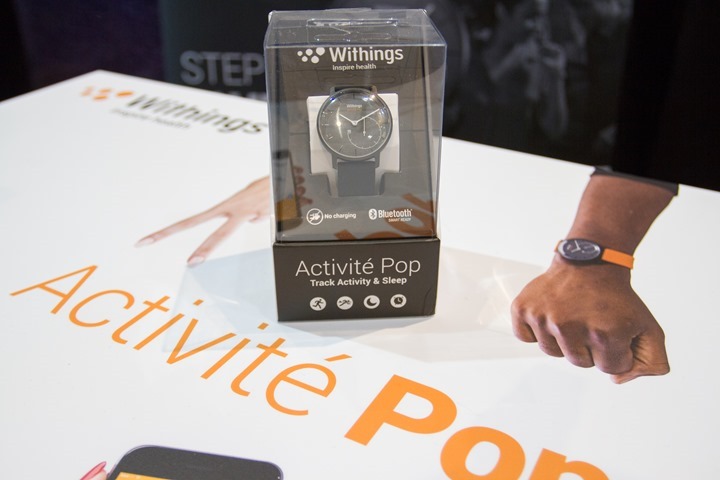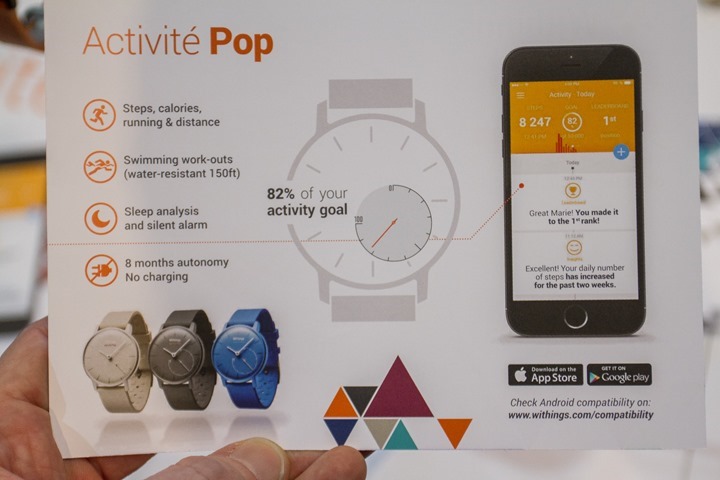 Now if swimming isn't of interest to you – then yes, both the Activité Pop and Activité are very solid little devices that I actually like quite a bit.  I'd have zero problems recommending them as long as you don't have a big wrist (as they won't fit).  And while they do have some odd little quirks (such as alarms that you can't dismiss), they are by and large completely unobtrusive and fully blend in with not looking dorky.
Last but not least, the Activité Pop is shipping in super-limited quantities starting Monday, January 5th (today) at Best Buy online (US), and then more widely available globally in March.
As always, feel free to drop any questions below!
Found this review useful? Support the site:
Welcome to CES 2015! Don't forget to check out all my CES 2015 coverage, as well as my continual updates throughout the day on Twitter.  It's gonna be a crazy busy week!