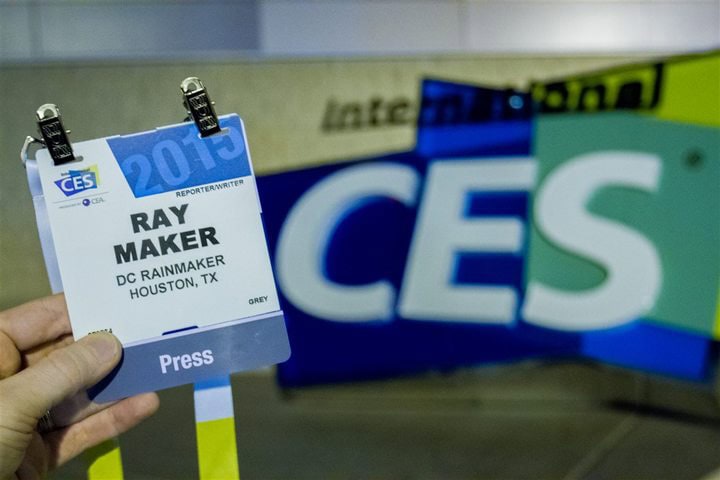 Yup, today kicks off another year at the biggest and most important gadget show on earth – the Consumer Electronics Show – aka CES.  Held in Las Vegas each year the first full week of January, this event has long since been the announcement grounds for TVs and other consumer devices.  But over the past few years that's been shifting to include more and more fitness/sport and health related devices.
This year more than ever we'll see an explosion of wearables from both companies that you know well in this market area, to new ones you've never heard of.
(For those curious why it says Houston, it's just where my US forwarding box is located.)
A Rough Schedule:
The week ahead is looking pretty nuts.  Here's the rough rundown of how the show is structured:
Sunday: Media-only day, various private events not on the show floor, demo's outside of town, wrapping up with CES Unveiled event at the end of the day.
Monday: Another media-focused day, show floor isn't open yet.  Everything is mostly private PR events and a number of media-only bigger events later in the day including a Bluetooth focused event and the PEPCOM event.
Tuesday – Friday: Show floor opens, chaos ensues.  Gazillions of miles walked.
In general, most announcements are made on Monday morning, with a few companies getting a jump start on things Sunday…just because they can.
Trends for the week ahead:
When I look at the week ahead, here's where I expect most of the announcements that I'll care about to be focused on:
Wearables: While this is a broad category, expect to see more wearable devices than ever before.  This will run the gamut from heart rate sensors in crazy ways you've not seen before, to sensing fabrics and then just straight up connected watches and bands.
Smart Watches: Lots more here of course, but don't expect a ton from the major phone companies (i.e. LG/Samsung/etc…).  Those will likely come 6 weeks from now at MWC (Mobile World Congress) in Barcelona, which is heavily Android focused.
Activity Trackers: Everyone and their brother along with their mother will have these this year. I'll be focusing on ones that exhibit a low level of suck.  You'll see a ton of knockoff devices, but only the ones that have a complete/cohesive picture will get my attention.
Running stuffs and related watches: Yup, they'll be some of these, no doubt!  More on that….later.
Action Cams: While you won't see any GoPro announcements here, you'll see many others, including a number lined up for 360° action cam announcements.
Drone use in sports: This is another area with at least 3-4 companies on my agenda for private demos this week of follow-me functionality in aerial imaging devices.  These copters will be your private camera man in the sky during activities like cycling and running – autonomously following you.  While there's still a lot of work to be done in this segment, the framework is being laid.  Expect a full roundup next week with tons of demo video of all the major players from my various meetings with them out in the desert.
Of course, outside of these categories there'll be a few other random items as well that might interest me – such as sleep tracking and anything else that's fitness related.  But what you won't see here is stuff on TV's or the like.  I'm keeping it sport/fitness/health focused.
A bit of assistance!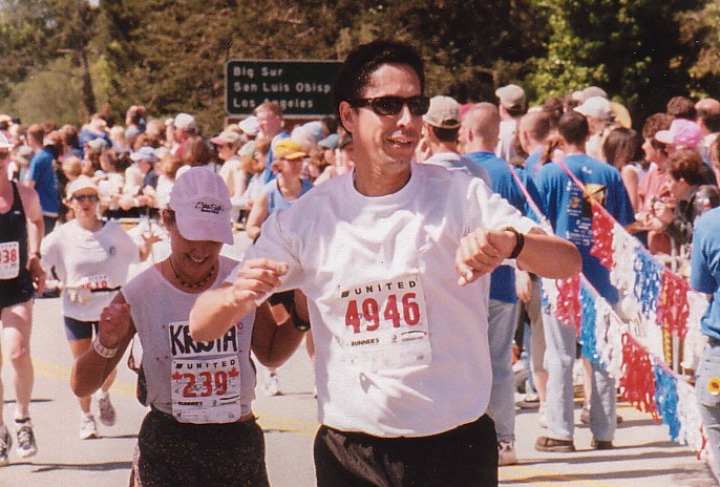 While I was able to keep my head kinda-sorta above water last year at CES, this year there was simply no way I'd be able to cover the massive onslaught of companies announcing new fitness related devices.  So, I got a bit of help.  Let me introduce Randy Cantu to you!
Randy's actually been helping me behind the scenes for about a year and a half now, mostly doing editing of my posts.  He's helped to take my generally unintelligible rambling thoughts and make sure they made sense for you.  Of course, I'm an editor's nightmare in that I often click publish and then ask to have it edited.  Still, he does a bang-up job of getting things all cleaned up, regardless of my timing.
For this week he's also putting in the miles on the show floor tracking down products around the trade show and then photographing and writing up pieces just like me.  The tables will be slightly turned in that I'll edit prior to publishing (and add my thoughts as applicable), but he'll be doing the hard work.  You can always see who wrote what just at the top of each post.  And if I have a 'Ray's take' on things – I'll note that in the post.
Of course, Randy is a longtime triathlete and runner – living in Georgia for most of the year but also spending a lot of time in Boulder.  Randy has done multiple marathons, is an Ironman finisher and in his spare time trains for 70.3's and 1/2 marathons.
With that – let's get ready for a busy week!  If you've got any special requests for companies to check out (or specific questions for companies that aren't support-related), definitely drop a note below and I'll be sure one of us can swing by them.
–
Welcome to CES 2015! Don't forget to check out all my CES 2015 coverage, as well as my continual updates throughout the day on Twitter.  It's gonna be a crazy busy week!