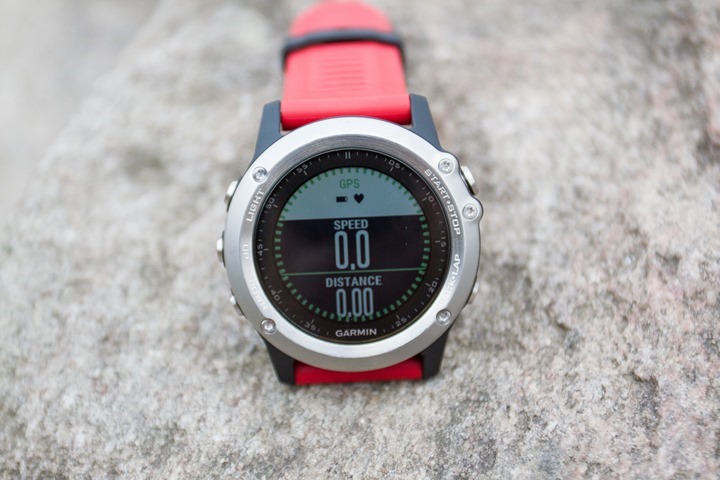 (Note: My Fenix3 In-Depth Review is now published and available here, go forth and enjoy all the details there instead!)
Today, Garmin announced the latest iteration of their Fenix lineup with the Fenix3 multisport GPS watch.  Described at its simplest – the Fenix3 takes the navigation and hiking functionality of Fenix2 and merges it with virtually all of the new functions found on the Garmin FR920XT watch.  Except one difference: It leaves behind the plastic look of the FR920XT and introduces everything from a metal link band to different glass options.
Let's go ahead and dive into it!
(Note: Garmin has also announced other products today including the Garmin Epix GPS watch, the Garmin Vivoactive GPS smartwatch, and the Vivofit2 activity tracker.)
Summary of new features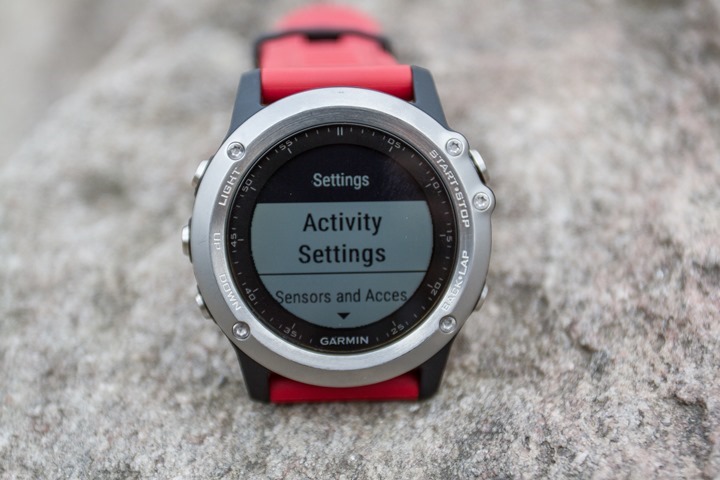 As I noted above, this watch is really about a tribal merge between the functionality found on the FR920XT and the Fenix lineup.  Historically speaking the Fenix lineup has always been aligned more to the Outdoor/Hiking crowd than the runner/cyclist crowd.  While the Fenix2 changed that a fair bit in becoming a multisport watch, there were always little reminders that it wasn't quite of the same bloodline as the Forerunner series.
That all disappears now with the Fenix3.  This watch shares more in common with the Forerunner series than the Fenix series, from the ground up.  However, it doesn't do away with any of the Fenix family features – namely navigation related.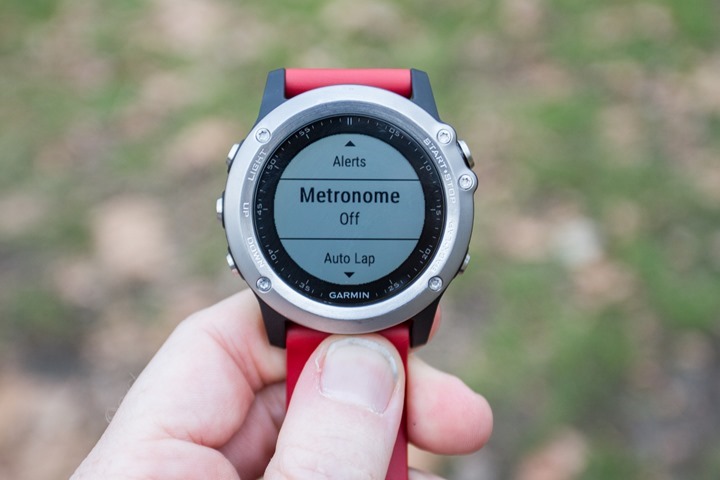 To keep it straight forward and to the point, here's the run-down of all the new functionality found in the Fenix3 that weren't present in the Fenix2:
Added WiFi connectivity: This allows you to upload workouts the moment you walk through your door.
Added concurrent Bluetooth Smart/ANT+: While the Fenix2 had limitations on using one or the other at the same time, that limitation goes away here.
100m waterproofing: This is an increase from 50m waterproofing.
New GPS antenna: The Fenix3 includes a new EXO GPS antenna which includes GLONASS support.
New color screen: This screen and user interface looks virtually identical to the FR920XT, except in the body of the rounded Fenix watch face.  It's not HD-color like some smart watches, but it's better than the FR620 and inline with the FR920XT.
Connect IQ support: This will enable you to download apps, watch faces and other customizations for the Fenix3…starting today for watch faces and data fields, with apps coming shortly.
Daily Activity Tracking: This will track steps, sleep, and how much couch surfing you're really doing during the day.
Virtual Racer: This adds in the capability to race against past performance and downloaded courses.
Metronome: This audible/vibration alert was added on the FR920XT to be used for running cadence drills.
Personal Records (PR's): This will let you know when you've hit your best times against standard distances like 1-mile, 5K, and other common brag-able reference markers.
Cycling Dynamics & Di2 support: These won't be available at launch, but are being looked at for a post-launch update.
Cycling VO2Max: In addition to already supporting running VO2Max, the Fenix3 adds in support for cycling VO2Max for those with a power meter.
Multiple bike sensors: The Fenix2 didn't support multiple bike profiles, the Fenix3 mirrors the FR920XT and allows you to pair to as many sensors as you'd like to save for automatic recognition as you change bikes.
FirstBeat HRV/RR: This data will now be included in recorded files.
Addition of Activity Profiles: Now you can create highly customized activity profiles just like on the FR920XT and Edge 510/810/1000 devices.
Multisport mode supports pool mode: Unlike the Fenix2, the Fenix3 allows you to choose the pool within a multisport event.
Alpine Ski & Snowboard Mode: While this was technically on the Fenix2, I call it out simply because very few people realized it was there.
Auto Climb Feature: This mode will automatically change your display fields when climbing. For example, you can set to show elevation, ascent, and grade fields as you start to run uphill.
Of course, what you see above might be somewhat familiar for Garmin FR920XT users.  It is in effect almost every software feature on the FR920XT coming to the Fenix3 (yup, even that Ski mode recently hit the FR920XT).  The key software differences then between the Fenix3 and the FR920XT becomes the additional more detailed navigation related functions found on the Fenix lineup that aren't on the FR920XT.
The bands and watch materials: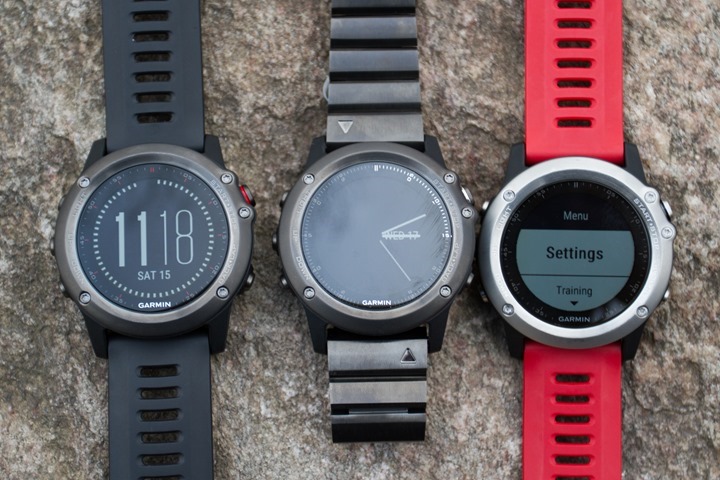 Some of the biggest changes to the Fenix3 isn't actually the software, but the hardware itself.  It simply doesn't look like any previous Garmin device…it actually looks physically attractive.  The Fenix3 comes in three different models, which are:
Fenix3 Gray – $499/$549 with HR bundle (shown above left)
Fenix3 Silver – $499/$549 with HR bundle (shown above right)
Fenix3 Sapphire – $599, no HR included (shown above middle)
The Sapphire edition refers to the glass used on the exterior of the display, which is a harder material.  It's become popular with watch makers of late, as it implies being stronger.  In reality, I've never heard of any recent non-Sapphire Garmin or Suunto high end GPS device actually having their display cracked/broken in regular (or even non-regular use).  But to each their own.
In addition to the three Fenix3 models, there's also a slew of different band options – which allows you to mix and match the different bands seen, including the metal band option seen below normally attached to the Sapphire unit.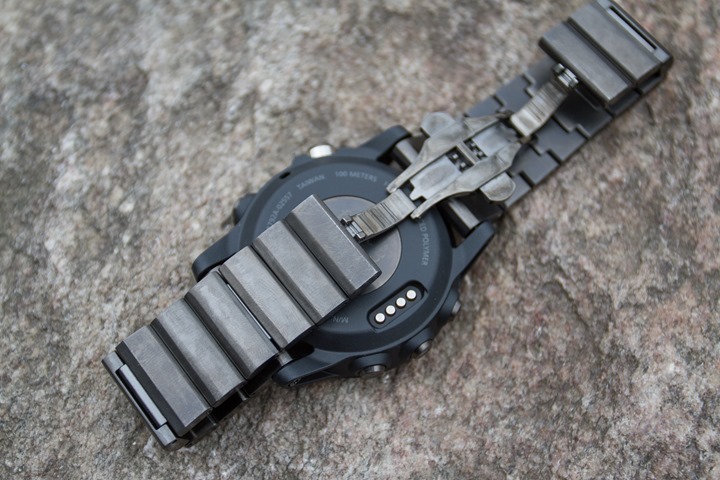 Product Comparison Tool:
Now, it's probably getting a bit confusing with some of these recent models as to how the FR920XT, Fenix3 and Epix all differ.  In many ways, they're basically the same base functionality with the material aspects of the watch and navigation capabilities being the difference.  Here's a nifty little over-simplified visual overview of the differences that I whipped up: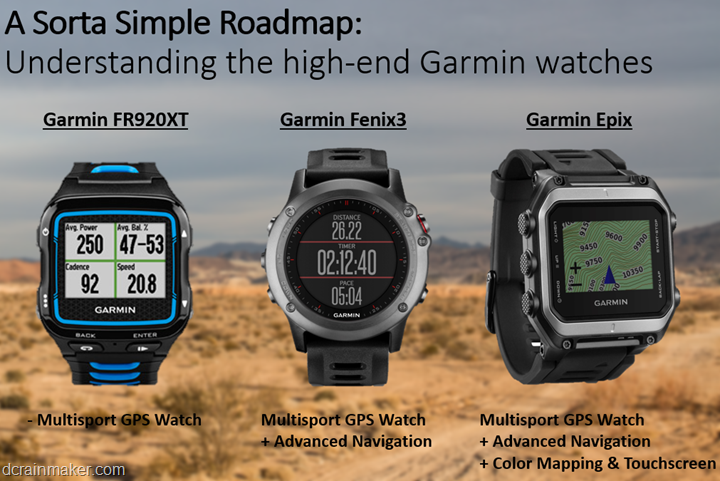 But, for those of you who are more spec oriented, here's the full rundown of specs.  Note that my charts don't fully cover materials yet (like the glass front and band types), so this is more from a technical feature set level.
Function/Feature

Garmin Forerunner 920XT
Garmin Fenix3
Garmin Epix
Copyright DC Rainmaker - Updated November 24th, 2017 @ 1:45 pm New Window
Price
$249
$499
$549
Product Announcement Date
Oct 1st, 2014
January 5th, 2015
January 5th, 2015
Actual Availability/Shipping Date
Early Oct 2014
February 2015
May 2015
GPS Recording Functionality
Yes
Yes
Yes
Data Transfer
USB/Bluetooth Smart/WiFi
USB/Bluetooth Smart/WiFi
USB/Bluetooth Smart
Waterproofing
Yes - 50m
Yes - 100m
Yes - 50m
Battery Life (GPS)
UP TO 40HRS IN GPS
Up to 50hrs in GPS
Up to 50hrs in GPS
Recording Interval
1s or Smart
1S OR SMART
1S OR SMART
Quick Satellite Reception
Great
Great
Great
Alerts
Vibrate/Sound/Visual
Vibrate/Sound/Visual
Vibrate/Sound/Visual
Backlight Greatness
Great
Great
Great
Ability to download custom apps to unit/device
Yes
Yes
Yes
Acts as daily activity monitor (steps, etc...)
Yes
Yes
Yes

Music

Garmin Forerunner 920XT
Garmin Fenix3
Garmin Epix
Can control phone music
No
Yes
Yes
Has music storage and playback
No
No
No

Connectivity

Garmin Forerunner 920XT
Garmin Fenix3
Garmin Epix
Bluetooth Smart to Phone Uploading
Yes
Yes
Yes
Phone Notifications to unit (i.e. texts/calls/etc...)
Yes
Yes
Yes
Live Tracking (streaming location to website)
Yes
Yes
Yes
Emergency/SOS Message Notification (from watch to contacts)
No
No
No
Built-in cellular chip (no phone required)
No
No
No

Cycling

Garmin Forerunner 920XT
Garmin Fenix3
Garmin Epix
Designed for cycling
Yes
Yes
Yes
Power Meter Capable
Yes
Yes
Yes
Power Meter Configuration/Calibration Options
Yes
Yes
YEs
Power Meter TSS/NP/IF
Yes
Yes
YEs
Speed/Cadence Sensor Capable
Yes
Yes
Yes
Strava segments live on device
No
No
No

Running

Garmin Forerunner 920XT
Garmin Fenix3
Garmin Epix
Designed for running
Yes
Yes
Yes
Footpod Capable (For treadmills)
Yes
Yes
Yes
Running Dynamics (vertical oscillation, ground contact time, etc...)
With HRM-TRI or HRM-RUN
With HRM-TRI or HRM-RUN
With HRM-TRI or HRM-RUN (Gen1 only, no Gen2 Running Dynamics)
VO2Max Estimation
Yes
Yes
Yes
Race Predictor
Yes
Yes
Yes
Recovery Advisor
Yes
Yes
YEs
Run/Walk Mode
Yes
Yes
Yes

Swimming

Garmin Forerunner 920XT
Garmin Fenix3
Garmin Epix
Designed for swimming
Yes
Yes
Yes
Openwater swimming mode
Yes
Yes
Yes
Lap/Indoor Distance Tracking
Yes
Yes
Yes
Record HR underwater
With HRM-TRI/HRM-SWIM
WITH HRM-TRI/HRM-SWIM
WITH HRM-TRI/HRM-SWIM
Openwater Metrics (Stroke/etc.)
Yes
Yes
Yes
Indoor Metrics (Stroke/etc.)
Yes
YEs
Yes
Indoor Drill Mode
Yes
Yes
Yes
Indoor auto-pause feature
No
No
No
Change pool size
Yes
Yes
Yes
Indoor Min/Max Pool Lengths
17M/18Y TO 150Y/M
17M/18Y TO 150Y/M
17M/18Y TO 150Y/M
Ability to customize data fields
Yes
Yes
Yes
Can change yards to meters
Yes
Yes
Yes
Captures per length data - indoors
Yes
Yes
Yes
Indoor Alerts
Yes
Yes
Yes

Triathlon

Garmin Forerunner 920XT
Garmin Fenix3
Garmin Epix
Designed for triathlon
Yes
Yes
Yes
Multisport mode
Yes
Yes
YEs

Workouts

Garmin Forerunner 920XT
Garmin Fenix3
Garmin Epix
Create/Follow custom workouts
Yes
Yes
YEs
On-unit interval Feature
Yes
YEs
Yes
Training Calendar Functionality
Yes
Yes
Yes

Functions

Garmin Forerunner 920XT
Garmin Fenix3
Garmin Epix
Auto Start/Stop
Yes
Yes
Yes
Virtual Partner Feature
Yes
Yes
Yes
Virtual Racer Feature
Yes
Yes
Yes
Records PR's - Personal Records (diff than history)
Yes
Yes
Yes
Day to day watch ability
Yes
Yes
Yes
Hunting/Fishing/Ocean Data
No
Yes
Yes
Tidal Tables (Tide Information)
No
No
Only with Garmin Bluechart g2 maps (extra)
Jumpmaster mode (Parachuting)
No
No
No
Geocaching
No
Via GPS coordinates
Yes (but not paperless geocaching)
Weather Display (live data)
Yes
Yes
With Connect IQ

Navigate

Garmin Forerunner 920XT
Garmin Fenix3
Garmin Epix
Follow GPS Track (Courses/Waypoints)
Yes
YEs
Yes
Markers/Waypoint Direction
Yes
Yes
Yes
Routable/Visual Maps (like car GPS)
No
No
Yes
Back to start
Yes
Yes
Yes
Impromptu Round Trip Route Creation
No
No
No
Download courses/routes from phone to unit
Yes
Yes
Yes

Sensors

Garmin Forerunner 920XT
Garmin Fenix3
Garmin Epix
Altimeter Type
Barometric
Barometric
Barometric
Compass Type
Magnetic
Magnetic
Magnetic
Optical Heart Rate Sensor internally
No
No
No
Heart Rate Strap Compatible
Yes
Yes
Yes
ANT+ Heart Rate Strap Capable
Yes
Yes
YEs
ANT+ Speed/Cadence Capable
Yes
Yes
Yes
ANT+ Footpod Capable
Yes
Yes
Yes
ANT+ Power Meter Capable
Yes
Yes
YEs
ANT+ Weight Scale Capable
No
No
No
ANT+ Fitness Equipment (Gym)
No
No
No
ANT+ Lighting Control
No
No
No
ANT+ Bike Radar Integration
No
No
No
ANT+ Trainer Control (FE-C)
No
No
No
ANT+ Remote Control
No (can control VIRB though)
No (can control VIRB though)
No (can control VIRB though)
ANT+ eBike Compatibility
No
No
No
ANT+ Muscle Oxygen (i.e. Moxy/BSX)
No
ANT+ Gear Shifting (i.e. SRAM ETAP)
No
Shimano Di2 Shifting
Yes
Coming in update
No
Bluetooth Smart HR Strap Capable
No
No
No
Bluetooth Smart Speed/Cadence Capable
No
No
No
Bluetooth Smart Footpod Capable
No
No
No
Bluetooth Smart Power Meter Capable
No
No
No
Temp Recording (internal sensor)
No
Yes
Yes
Temp Recording (external sensor)
No
Yes
Yes

Software

Garmin Forerunner 920XT
Garmin Fenix3
Garmin Epix
PC Application
Garmin Express
Garmin Express
Garmin Express
Web Application
Garmin Connect
Garmin Connect
Garmin Connect
Phone App
iOS/Android/Windows Phone
iOS/Android/Windows Phone
iOS/Android/Windows Phone
Ability to Export Settings
No
No
No

Purchase

Garmin Forerunner 920XT
Garmin Fenix3
Garmin Epix
Amazon
Link
Link
Link
Clever Training - Save with the VIP program
Link
Link
Link

DCRainmaker

Garmin Forerunner 920XT
Garmin Fenix3
Garmin Epix
Review Link
Link
Link
Link
If you'd like to compare in other models – like the now older Fenix2, you can do that within the product comparison tool/calculator over here.
A few thoughts: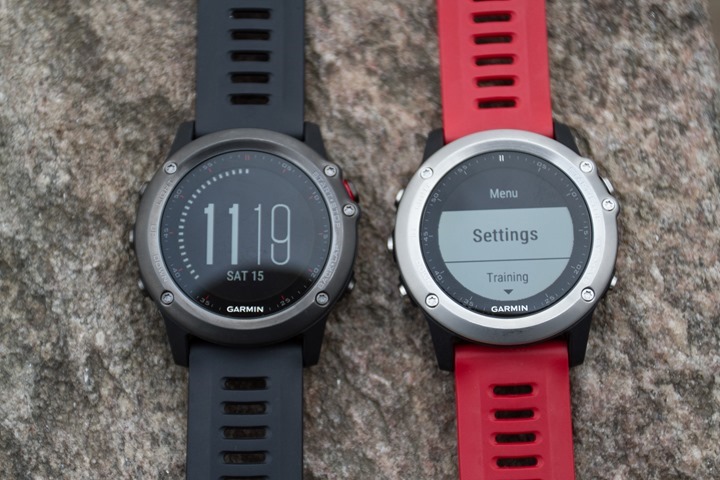 In many ways, I think the Fenix3 is cosmetically speaking what many FR920XT users have been asking for – something that doesn't look like a plastic watch.  And no doubt, with its weight and design, it certainly delivers there.  But would-be consumers also got something they probably didn't want: A $50 price jump over the FR920XT, or a $100 price jump over the Fenix lineup previously.
Garmin argues that the price bump is justified, saying: "Based on the comprehensive feature set and premium materials used, we had to put this at a higher price point. Fenix 3 uses stainless steel, a mineral glass or sapphire lens, and although the 920 is a great watch it's all plastic."
While I'm horrible at picking apart prices, I suspect that Garmin also feels that given semi-competitive offerings on the market are in the same price range, that they can probably charge more.  While I think there's some validity to that line of thought, we're also seeing the floor drop out below connected watch makers as so many new entrants come onboard – be it Apple or other consumer electronic makers.  Time will tell whether or not this works out for Garmin.
Still, the Fenix3 is an impressive watch.  It is basically a FR920XT with advanced navigation features and a very clean external look, and to that end it does its job very well.  While I've spent a bit of time toying with it, I'll be waiting until I have a final production unit to make any final opinions on it.  But, so far, so good.
Garmin is saying that the Fenix3 will ship in Q1 2015 (so by March), though it sounds like that might be quite a bit sooner rather than later.  In any case, once I do have a final hardware and software version – expect about 3-4 weeks later for an in-depth review from me.
First though, here's an 8-minute YouTube video I've put together walking through some features and allowing you to see the display quality and responsiveness a bit.
Fenix3 Video & Photo Galleries:
In addition, here's three different galleries of Fenix3 photos I've shot, along with a video playlist that I'm constantly adding to.  These are all shot on final hardware units.  The videos are show mostly on final software  Thus, there may be minor differences between now and release of the final software/firmware versions.
Video Playlist: This playlist starts with the final Fenix3 unit unboxing, and then moves into how it works, before going into videos on different Fenix3 functions. The little drop-down in the upper left allows you to change the video to other videos in the playlist. Keep checking back for new ones!
First Gallery: A mixed collection of shots
Second Gallery: Comparison Shots with a variety of watches
Third Gallery: Just a lot of photos of the watch screens
This is just a boatload of photos from using the Fenix3, different sport modes, different layouts, different features and functions.
With that – thanks for reading, and feel free to drop any questions below (though to keep things tidy, try and keep this post for Fenix3 questions, and the Epix post for Epix questions).
Pre-Orders:
Note: You can pre-order the Fenix3 through Clever Training today (all three versions and associated bundles), as well as various accessory bands.  The units will ship as soon as Garmin starts shipping, which is currently slated for Q1 2015.
–
Welcome to CES 2015! Don't forget to check out all my CES 2015 coverage, as well as my continual updates throughout the day on Twitter.  It's gonna be a crazy busy week!