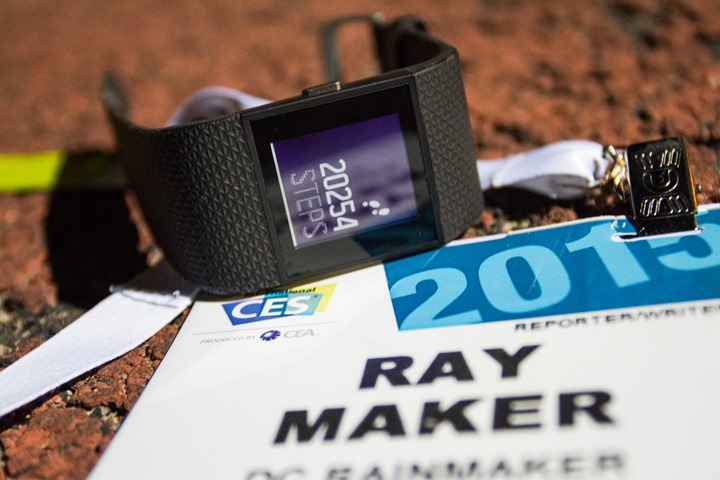 When it comes to walking, I have no week at any point during the year where I tally up a greater number of steps than that of CES.  And this year was definitely no different.  It's been a crazy packed week (with more still to come), and I've done more walking than ever before.
Given all those steps, I figured it might actually make for a fun giveaway.  No, I wouldn't be giving away my steps (I have no idea how I'd do that anyway).  Instead, I'd let you guess my steps.  This would be different from the past giveaways which are always pretty random.  This one instead involves a bit of smarts, a touch of stalking, and then a solid jar of luck.  It's like those jelly bean counting jars.  Except I hated those contests, I never won.
In this case, here's the parameters for your guesstimating:
Time frame: Sunday through Friday – I arrived into Vegas for CES late Saturday night just before midnight, and CES will keep me occupied until mid-day Friday when I leave Vegas.  But, for the purposes of keeping things simple – it'll be the sum total of all days Sunday through Friday.

What we're counting: Steps. Duh.  Not miles, not calories, nor stairs.  Just plain old steps.

The device of record: The data will be whatever my Fitbit Surge says for each day, all added up.
Now, I've left some hints along the way since Sunday.  It's up to you to find them.  Also note that because I wore the Fitbit Surge during all of my running, that's taken into account as well.  I wore it 24×7 minus a few minutes here and there for charging, but I was virtually all seated when that happened.
Those who win will get a $500 credit to CleverTraining.com, my most excellent partner in this giveaway crime.  By supporting the site through Clever Training you also can save 10% on basically anything they sell.  If you win, you can use that credit for anything from the new Garmin Fenix3 to the Mio Fuse to a random pair of socks to the 4iiii's Precision Power Meter.  Whatever floats your boat.
How to enter:
Leave a comment below with BOTH of these two pieces:

1) A short description of what technology or product you're most excited about, and why.

2) Your step # guesstimate.
The reason you need both is that if you don't put a bit of text in there, you'll likely get caught up in my SPAM filters.  And nobody wants to be sandwiched between two pieces of SPAM.  Got all that?
Oh, and yes, for those curious – I'll have an in-depth review on the Surge out shortly.  Currently planned for roughly January 19th-20th.
Thanks for reading!
The giveaway entry period will run through Monday, January 12th, 2015 until 11:59PM US Eastern Time.  Winner will be selected based on either hitting the exact number of steps, or being closest to it.  If more than one person gets it exactly, I'll select randomly between those individuals.  One entry per person.  The product will then be ordered immediately and shipped immediately assuming in stock.
–
Welcome to CES 2015! Don't forget to check out all my CES 2015 coverage, as well as my continual updates throughout the day on Twitter.  It's gonna be a crazy busy week!