While standing around chatting when we briefly crossed paths on the running leg of the first ever Las Vegas 140.6 yesterday, Ray and I noticed the Misfit booth conveniently situated adjacent to the Polar booth.  We flipped a virtual coin, so I got to go over and talk to the very fit Misfit folks.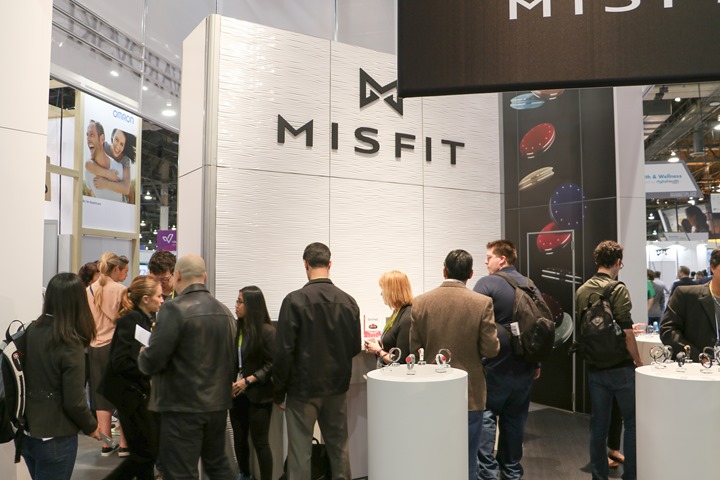 As you may recall back in June Ray introduced us to the flagship product from Misfit, the Shine.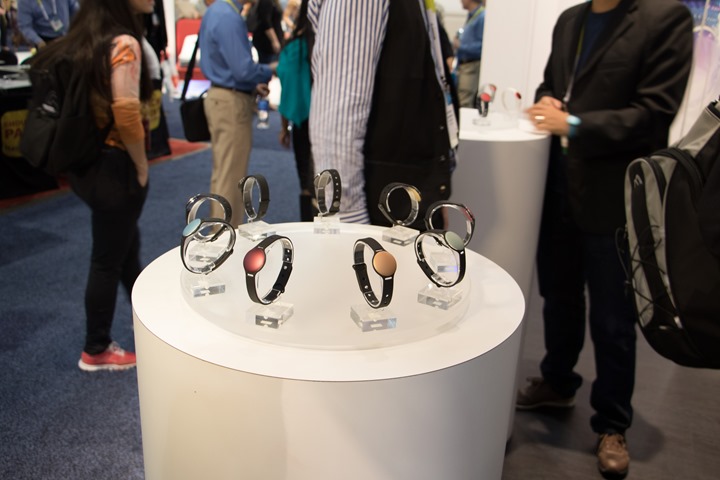 Here at CES 2015, Misfit has stepped up the game by bringing in some new products and some new, and interesting, collaborations.  As you'll recall, the Shine is yet another activity tracker, and trust me…everyone has activity trackers now, this seemed to be the prevailing theme at this year's conference.  But Misfit is doing something a bit different with their offering, and actually, doing it well.
Granted, activity trackers appeal to athletes, but they also appeal to everyone else, hence their explosive popularity.  It's the 'everyone else' market that the new Misfit efforts are targeting here. A quick walk around their impressive booth was like walking into a high end jewelry store.  Bling everywhere you looked.
In addition to a new line of dressy pebbled leather bands, seen above, they have now cleverly partnered with Swarovski to create a really stunning lineup that fits in nicely with the 'other 23-hours' characteristic of activity trackers.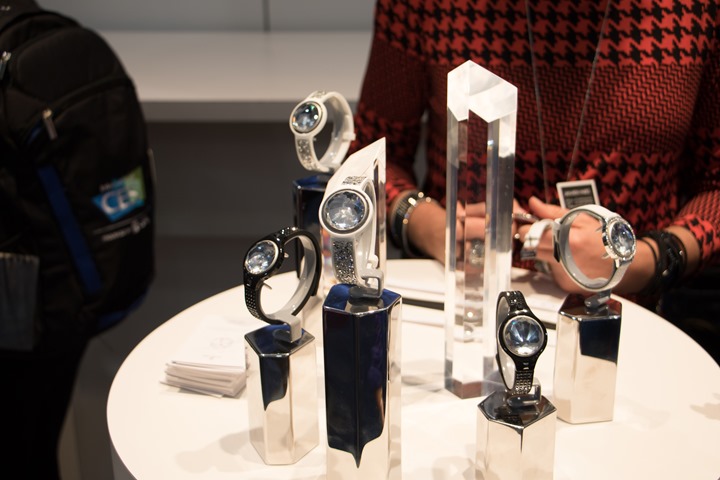 And they've taken the fitness band off the traditional wrist location and made interchangeable pendants, clever.
And pushing the envelope a bit they are leveraging the light gathering qualities of the Swarovski crystals and developing a unit that self-charges from any ambient light it might stumble on from time to time, pretty cool idea.  The below is just a prototype firing off the little demo-only LEDs with that free energy from the little flashlight she is shining on it…no more CR2032's!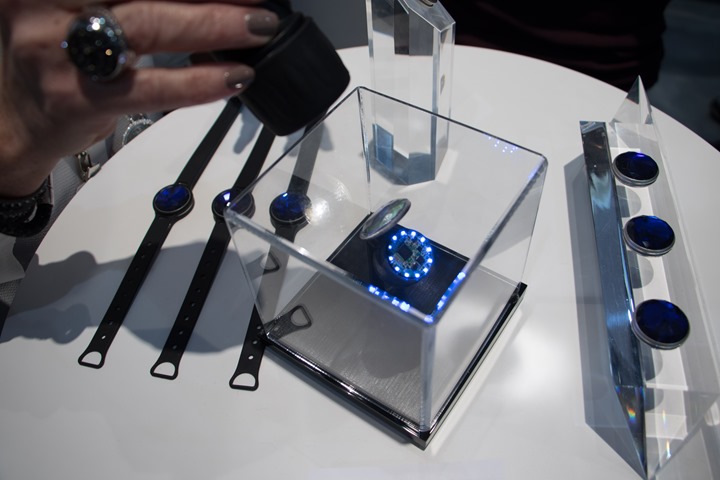 Moving beyond their activity tracker lineup they are also now doing the opposite of that and giving us the ultimate inactivity tracking capability – sleep metrics.  Ray first reported on this product, Beddit, when it was just a small crowd funding effort many months ago. Now they have wisely partnered with Misfit, so yet another crowd-funding resulting in new toys for us all.
Basically a bed sensor strap that you position under your sheets, it tracks your sleep events as well as quality, and interestingly it captures heart rate, respiration, and snoring. Snoring? Yep, snoring; built-in microphone.  I'm not quite sure how they present that as actionable data, but there are a lot of possibilities.  Also, as an extension of that, I assume it records sleep-talking as well. My mind is reeling with possibilities, and pit-falls, of that one. [Update: prompted by a reader's comment below I did a little more research and found that indeed the Beddit does not have a built-in microphone; instead the app uses your phone's mic.  And further, it uses that only for detecting sound levels. It doesn't record any sound.  Sorry for the confusion; a little booth babe misinformation;  and there goes the sleep-talking intrigue.]
(A Note From Ray: I do actually like the Beddit, and used the first generation device a bit this past fall.  That generation unit had some quirks with it, but the latest generation unit they're sending me in the next few days should resolve most of those oddities.  It'll make for an interesting bake-off against the Withings Aura, which I've been using for months now.)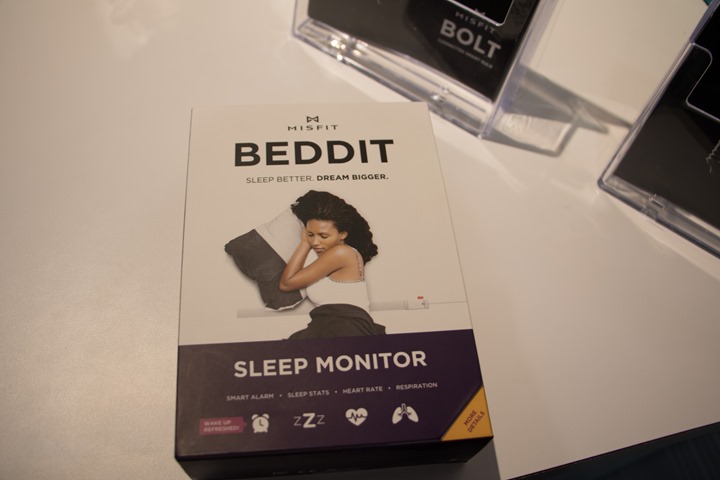 Note that the strap is positioned in the below photo for demo/display purposes only, it normally lives under your bed sheet directly on the mattress.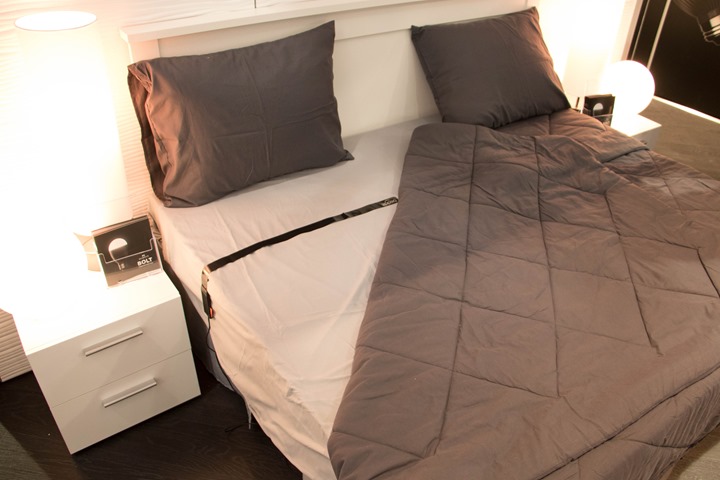 And there, on either side of the bed is another new product, the Bolt Smart Bulb. I'm not sure how I feel about the colorful-light-show features for creating room moods, but it does have some cool go-to-sleep and wake-up features.  Via the Misfit Home app, it can allow for creating customized sunsets and sunrise light and sound shows to lull you to sleep and to gently wake you at the optimum time in your sleep cycles.  The Bolt ships in February and the Misfit Home app is 'coming soon', so we'll have to wait a bit longer to find out how well that all works.
Thanks for reading!
(Note from Ray: I know many of you have asked for a Misfit In-Depth Review. I did use the device quite a bit over the summer, for about three months, but ultimately lost a bit of interest in it – primarily due to the lack of display.  That said, I'll probably give the platform another shot – likely in conjunction with reviewing Beddit, since it feels like a natural pairing.)
–
Welcome to CES 2015! Don't forget to check out all my CES 2015 coverage, as well as my continual updates throughout the day on Twitter.  It's gonna be a crazy busy week!