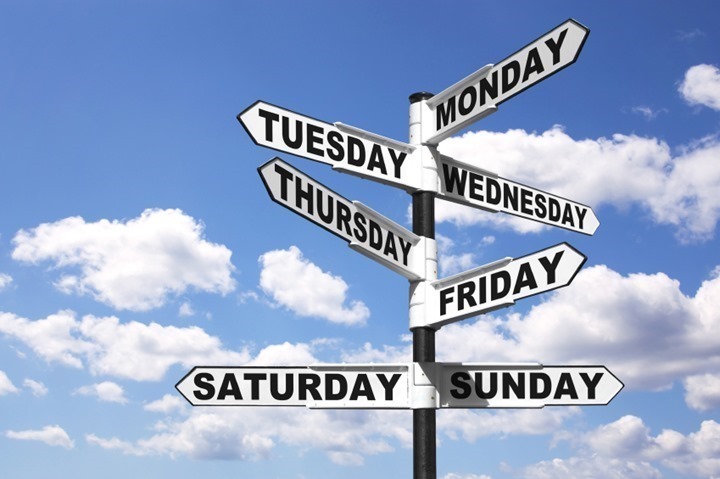 The Week in Review is a collection of both all the goodness I've written during the past week around the internet, as well as a small pile of links I found interesting – generally endurance sports related. I've often wondered what to do with all of the coolness that people write, and while I share a lot of it on Twitter, Facebook, and Google Plus, this is a better forum for sending it on to y'all. Most times these different streams don't overlap, so be on the lookout at all these places for good stuff!
So with that, let's get into the action!
DCRainmaker.com posts this past week:
Here's all the goodness that ended up on the main page of DCRainmaker.com this past week. Dang, 19 posts in all including this one!
Sunday: Week in Review–August 25th, 2013

Monday: A Queen Mary 2 Runaround

Monday: A look at the now available Wahoo Fitness Strava Segments App

Tuesday: My weekend: Stonehenge, a float on the Queen Mary 2, and a day in Hamburg

Wednesday: Eurobike!

– New Bull Trainer iOS app for KICKR Trainer

– Hands on with the newly announced Tacx iPad app, ANT+ changes, Bluetooth Smart trainers

– Update on Polar/Look Keo Pedal Power Meter Bluetooth Smart Plans

– FYI: Added hands-on photos & comparison charts to Garmin VIRB post

– First look at new SRM PC8 head unit with WiFi/GPS/ANT+ & Bluetooth (Note: Significant updates since publishing)

– Eurobike Day 1: The Fun Stuff

Thursday: Eurobike!

– Hands on with the new Garmin Edge Touring GPS bike computer

– Kurt Kinetic shows off updated trainers

– PowerTap's new hubs, Bluetooth Smart Trainers, iPad apps, and more

– Power2Max releases new Type S line, expands compatibility

– Eurobike Power Meter Update Post: Quarq, ROTOR, Pioneer, Brim Brothers & Ciclosport

Friday: Eurobike!

– O-Synce introduces new Bluetooth Smart accessories/displays, other cool functionality in software for power meter users

– Recon Jet: Hands on with the endurance sports heads up display
Stuff that I found interesting around the interwebs:
Here's a not-so-small smattering of all the random things that I stumbled on while doing my civic duty to find the end of the Internet:
1) What you need to know about the UCI Presidency Election (Part 1): And, if you're looking for more fun UCI news, read this rant from SKINS president Jaimie Fuller.
2) Competitor group races immediately cease all Elite athlete support: Effective last night, races like the Rock & Roll marathon won't assist elite/pro athletes financially anymore. It'll be really interesting (saddening actually) if this continues.
3) The Hierarchy of Aero: This is a good post worth reading – especially about half-way down when you get some of the real experts into the discussion.
4) North Korea working on ski resort: Progress not going terribly well.
5) An Open Letter to everyone who's ever asked "How'd your race go?": I think the subject pretty much sums things up.
6) Washington DC prepares to bid on 2024 Summer Olympics: Will be interesting to see this bid mature over the next couple of years.  The 2024 Olympics would be awarded in 2017.
7) Team Sky's Time Trial Warm Ups Explained: This video walks through exactly how they warm-up ahead of time-trials, step by step with instructions.
8) Woman steals back her bike: Pretty awesome story of a woman that met up with the person offering her stolen bike on Craigslist, asked for a test ride…and just kept on riding.
9) Fitbits used to monitor progress after heart surgery: This is pretty fascinating data, really worth the quick read. (sent in from John B)
10) How to do a flip turn: A pretty good piece for those of you looking to spend some time this fall perfecting the flip turn in the pool.
11) How Garmin Vector works and how Resonant String Gauges work: This is definitely for the tech-heads and power meter geeks.
12) The best photo of the week: This clearly goes to this one that I think originated from the Ironman/WTC CEO (from Ironman Canada).  Note the upper section on trail.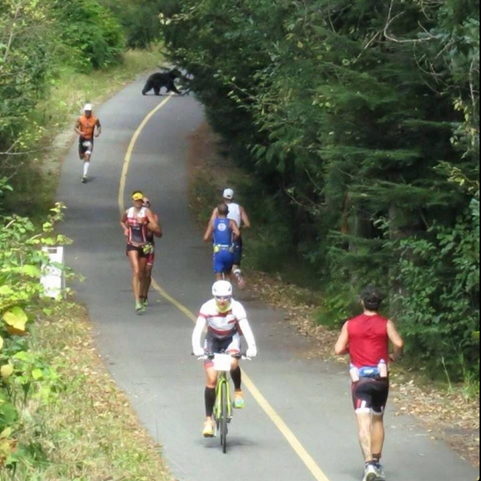 13) Boston Marathon field expanded by 9,000 runners: A portion of this expansion will cover runners unable to complete the race last year. (via EverymanTri)
14) Ironman Brazil 70.3 winner nearly loses it at the finish line: Thus, why you should always look over your shoulder prior to showboating. (Via TriMagJene)
15) Olympians find success at long-course racing: A really good in-depth piece about short-course (Oly distance) folks moving to long course. (via PowerTap)
16) Way Of Life Trailer by Teton Gravity Research: Because it's never too early to start watching ski movie trailers. (via Recon)
Crowd Funded Projects of Athletic Note:
This is a bit of a new section. Most of this content used to be found within the main section, but I figured I'd just call it out up here and make it easy to find. I regularly sift through Kickstarter and Indiegogo (plus a few others on occasion) looking for sports projects. Note that as always with crowd funded projects, assume the project will be late and will under-deliver on features. Thus far, on the numerous products I've helped 'fund' (except a leather bike handle), that's been the case.
Beddit – Automatic sleep and wellness tracker: Turn your bed into a smart bed. (via Eli)
Sports Technology Software/Firmware Updates This Week:
Each week I quickly highlight some of the new firmware, app, software and website service updates that I see go out. If you're a sports technology company and release an update – shoot me a quick note (just one liners is perfect, or Tweet it at me is even better) and I'll make mention of it here. If I don't know about it, I won't be able to post about it. Sound good?
Site/Firmware Updates:
Suunto Ambit2 & 2S: Pretty big update here on the Suunto Ambit 2/2s front, adding in a real trackback feature and bike power slope calibration, as well as fixing a number of other items that users have seen and improving areas like outdoor swimming.

Garmin Vector:  This update addresses an issue that can occur post-calibration.  (via GPSInformation.net)

TomTom: This update fixes a number of issues and fixes some compatibility problems with the 4iiii's Viiiiva

TrainerRoad: If you've got a CompuTrainer, Wahoo KICKR or Kinetic inRide, I'd definitely recommend this update, which addresses a few issues.

ANT+ releases Android Sampler Testing Tool:  This tools allows you to test out every device profile out there, as well as do things like manual ANT+ power meter calibration and display the new PM metrics that are coming from Rotor and Vector.  In fact, it would even work with the new Garmin VIRB (remote control device profile). The App is open-source and available to add to other applications.
iPhone App updates this week: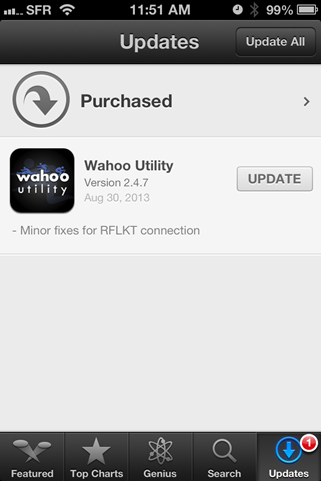 iPad App updates this week: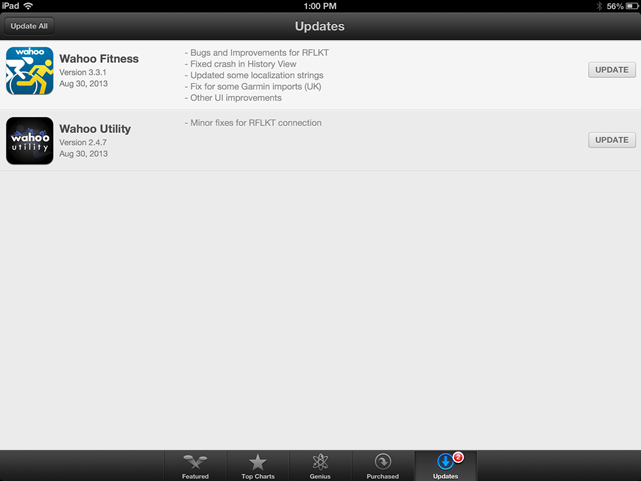 Android App updates this week:
Windows Phone app updates this week: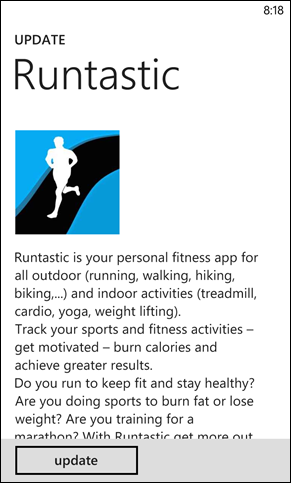 —
Thanks for reading!