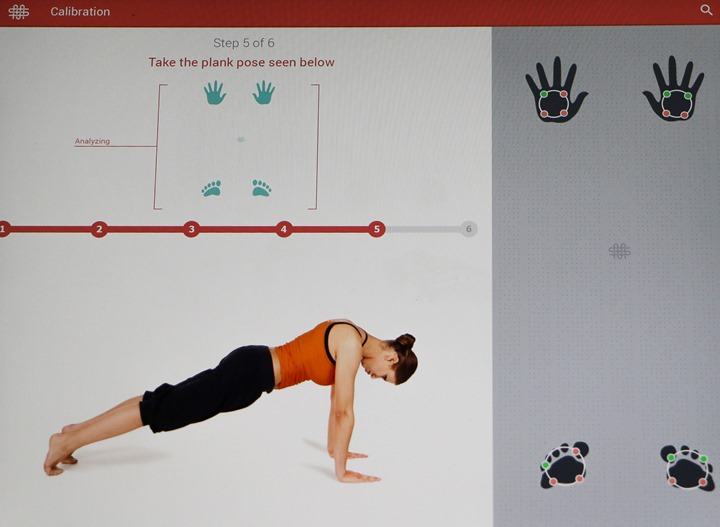 The big catchphrase at CES this year is Internet of Things, and we're now seeing that marketing prophecy manifest itself in all manner of wearable and non-wearable items.  One in particular that caught my eye was this sensor-laden interactive yoga mat.  The built-in sensors not only detect what's going on pose-wise, but it also leverages this input against a known set of values to provide feedback and and a bit of intelligent coaching.
Having recently started incorporating yoga into my daily routine, well – almost daily, I can see the beauty in a product like this.  Due to years of abusing my body in multisport activities my version of certain yoga poses is, shall we say unique.  But despite that bit of awkwardness I am finding that yoga does really help with overall flexibility and range of motion, and doesn't just make me look cool like the cursory before-and-after-a-run token stretching I've been doing all these years.
The problem with my version of down dog and crow is that it has a tendency to disrupt a yoga class, and once the instructor overcomes her giggling fit, I am often way behind the flow of the rest of the class.  So this device allows you to practice whatever level of yoga you call your own in the privacy of your home, thus allowing the group classes to progress along normally.  Though on down the road of product lifecycle they plan to develop a group class version that would allow an instructor to effectively monitor everyone's pose quality and even allow for remote group instruction via internet connectivity.
Once calibrated the SmartMat intelligently detects your position for known poses by monitoring your pressure points for various body parts as they fire off signals through any of the thousands of built-in sensors.  You can see that in the plank pose above where Little Miss Nimble is putting a tad too much pressure on her left big toe.  So with instant feedback through your connected mobile device you can see how this would be a great way to progressively improve your technique and to maintain consistency .
At a pre-show event last night I met the Chief Yogi of SmartMat and had a great discussion, but was unable to see the unit in action.  But today they were doing live demos complete with iPad in the handy built in stand.  What is notable is that even tough she is basically taking position and pose cues from a video, she is also getting real-time feedback based on her her foot position and contact point pressure.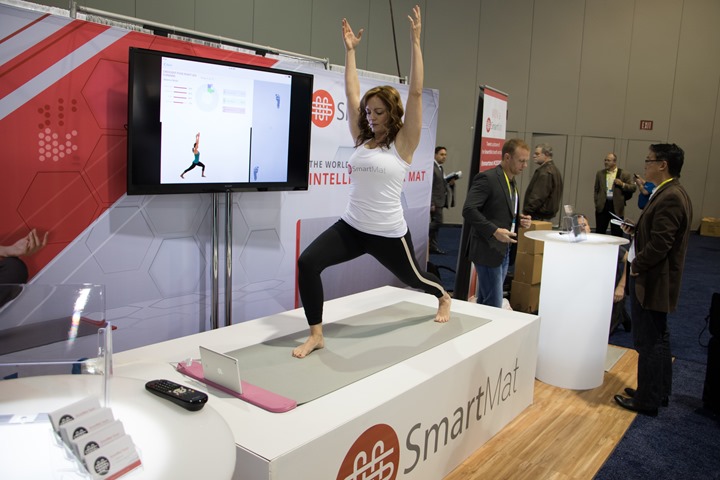 I suspect I speak for all endurance athletes when I say we could all use more stretching and full body strengthening to counteract all that other stuff we do to our bodies.  And really, the gadget-geek factor alone for this thing makes you really want one. Oh, and I know you are wondering if it can withstand the environment in a Hot Yoga class, well it can with its 110 degree temperature rating, though they do caution you to come prepared with a waterproof case for your iPad.
And though it seemed to be a bit buggy here at CES they are still claiming a July release date, at just under $300.
–
Welcome to CES 2015! Don't forget to check out all my CES 2015 coverage, as well as my continual updates throughout the day on Twitter.  It's gonna be a crazy busy week!