Amongst the multitude of vendor booths displaying at CES 2015, I noticed a rather large booth – mainly because they seemed to be swamped by crowds every time I wandered by.  Dipping in for a closer look what really caught my eye was this odd looking device.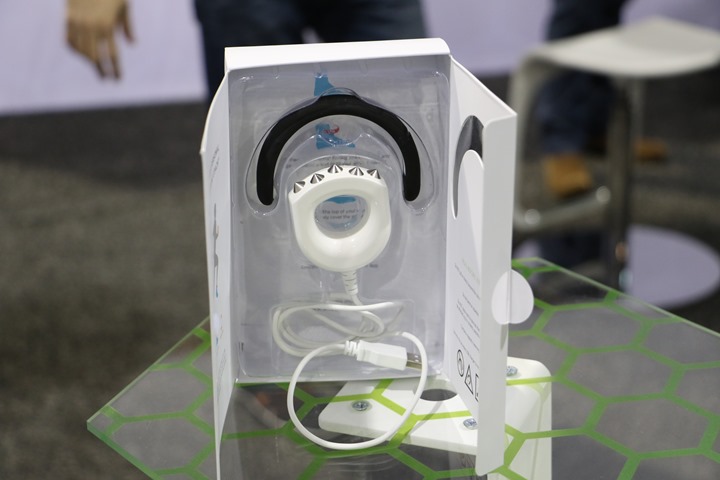 Not quite sure what new wearable technology I was looking at, I had to stop for a chat.  That's what led me to the realization that I was talking to some folks who seemed somewhat familiar.  Familiar, as in I felt like I had read about them in a DC Rainmaker post at some point in the past. Though I probably hold the distinction of being one of the few people who read all of Ray's posts, I really can't remember every product he's written about, though I'm sure he can.  The man's memory skills are amazing.
Anyway, a while back, as in about a year and half ago, Ray ran a post on a personal visit he made to a small Seattle startup seeking crowd-source funding. At the time they were an early player in the field of embedded wearable technology when they came up with their Smart Sock idea.
The sock was designed to measure metrics such as stride length, cadence, foot positioning, pronation and even force exerted while in an activity.  Ray dove into more of the technical details here in his post.
Ray's piece on them was a good behind-the-scenes look into the inner workings of the engineering and manufacturing challenges inherent in bringing a new product to market.  That company, Sensoria, ultimately met and exceeded their funding goal and within the past month or so have started shipping product to their early Indigogo backers, with plans to start retail distribution within the next few months.
It was good to see them at CES with such a success story.  Though their initial startup funding goal was relatively small at just $87,000 they surpassed that by 133% and have even gone on to acquire additional private investment funding.  And considering the cost of having a good portion of your company camp out on a large piece of show floor real estate at CES in Vegas, business must be good.
But most importantly it was interesting to see the improvements in their finished product.  Aside from the scary piece of armament above, they have really refined their sock-based hardware.  As you'll recall from Ray's first post their banana sized anklet was interesting, to say the least.  But their new offering is less fruit-like and more activity tracker like.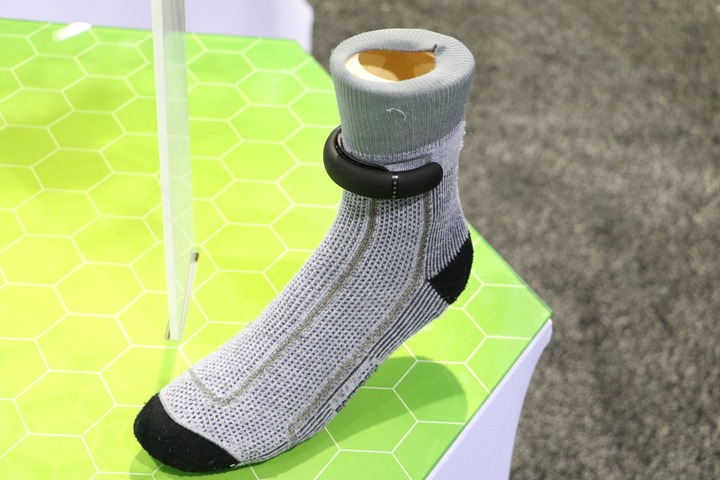 And they have improved their snap-on idea with a more magnet based system.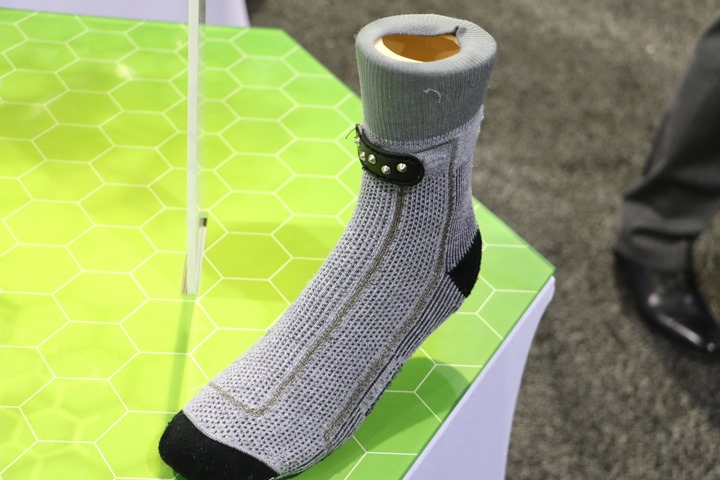 And from that you can see how it relates to the charging base in the first photo above.
Anyway, so far they report good results from their initial shipments with good feedback for app enhancements.  And I see no real complaints in their Indigogo comments section since shipment, which is always a good indicator.  And they even preceded their sock release with a successful release of an HRM-embedded sports bra and a similar man's shirt.
So, overall, it's good to see this kind of progress for a risk-taker in a very competitive world.  Oh, and Sensoria was even honored recently for this year's CES Innovation Awards.  Not too shabby.
–
Welcome to CES 2015! Don't forget to check out all my CES 2015 coverage, as well as my continual updates throughout the day on Twitter.  It's gonna be a crazy busy week!