(Quick Giveaway Extravaganza Note: First, I'm not giving away a Sensoria system, back to normal posts :).  Second, winners will be announced sometime today (Thursday), as I'm working through cleaning up any duplicates and picking the winners.  Thanks for the awesome Extravaganza yesterday – and I'm looking forward to making a bunch of folks happy with new toys!)
Back a month or so ago during a trip to Seattle I got the chance to check out a new sensor system that launched last week on one of the crowdfunding platforms (Kickstarter, Indiegogo, etc…).  While there are many new activity monitors and sensorish systems that launch every week, it just happened that these folks e-mailed me about two days before my trip to Seattle.  So I carved 30 minutes after work one day and swung over to check them out and get some hands-on demo time.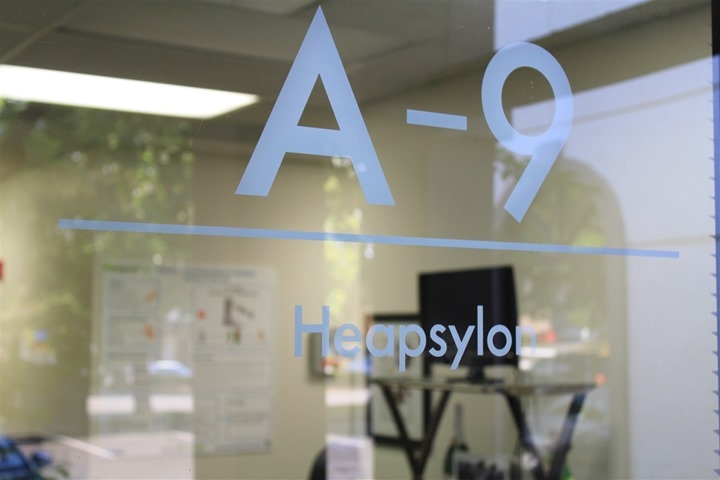 To start, Sensoria is the name of the product, and it's made by a company called Heapsylon.  The product is different than any existing solutions on the market that I'm aware of in that it's actually measuring activity at your feet – well, in particular, on your feet.  Yes, on your socks.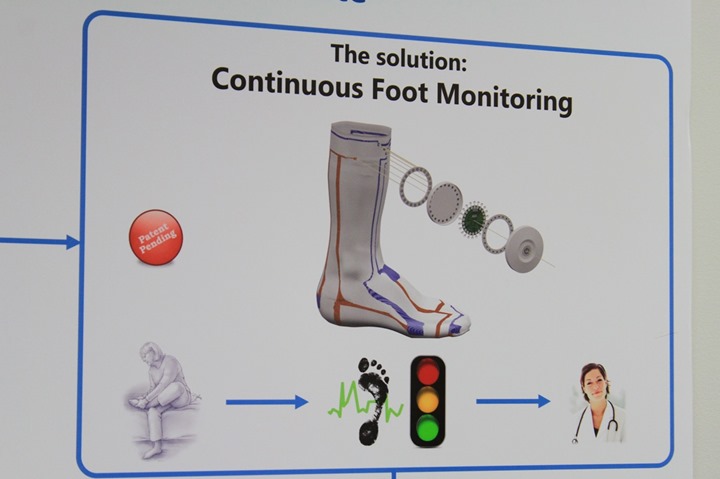 The platform includes two core components.  First, are the socks themselves.  These socks have internal sensor strips within them – effectively e-textile sensors (electronic textiles).  You can see this if you peer inside the socks: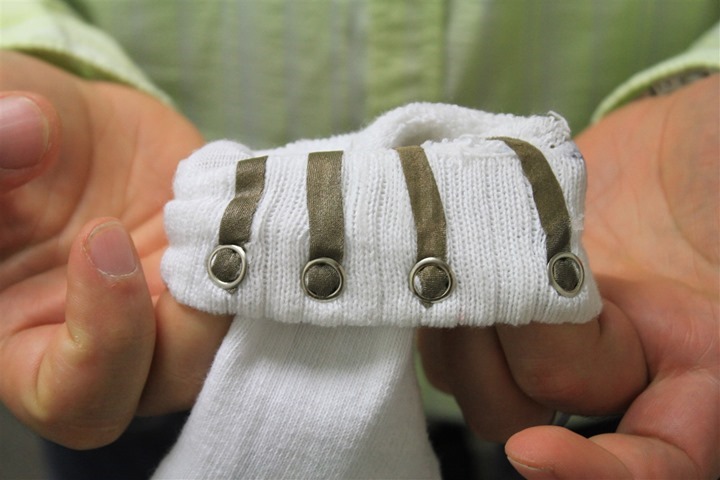 Right now in the prototype phase the socks actually have little snaps, but that'll change down the road as they near final production units.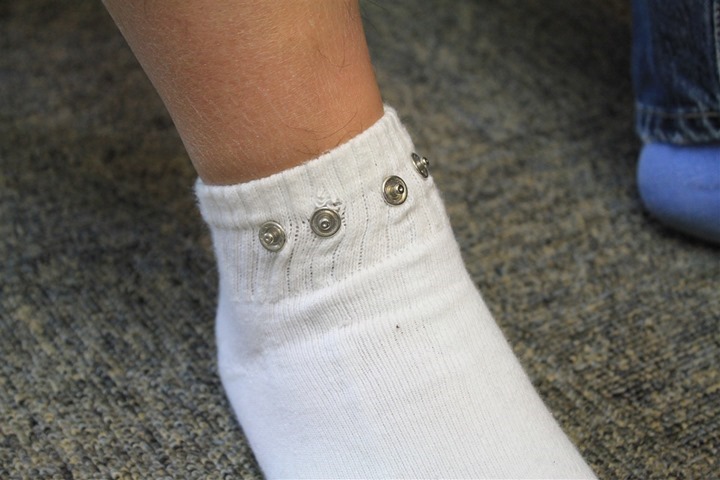 The next piece of the puzzle is the transmitter pod.  Now, I'll warn you up front, everything you see here is the much bulkier prototype transmitter anklet (bracelet + ankle)– not the final unit they aim to ship with.  To the left is the prototype, to the right is the 3D printed object of the final design.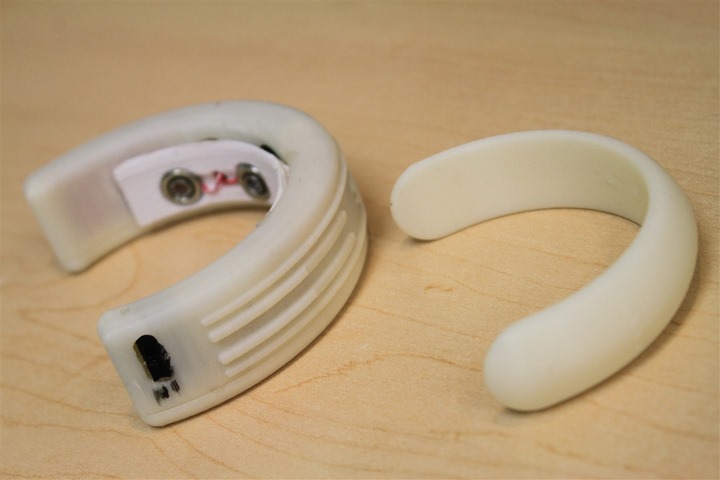 To give context on the size, I found a banana nearby.  Just a normal sized banana.  Not one of those mini-ones, or some gigantic one.  Just a run of the mill banana.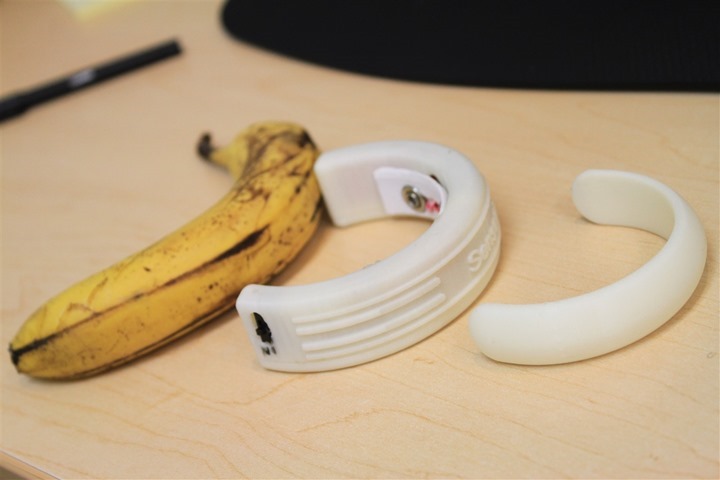 The anklet then communicates with your phone via Bluetooth Smart.  Right now the unit gets 18 days of battery assuming 2 hours of running per day.  The Sensoria is a bit different from regular activity trackers in that it's aimed a bit more at the sports crowd, rather than the general 'track me 24×7' crowd.  Being that they really want to get more complex data around position and force.  But more on that in a moment.
Since I suspect there's plenty of gadget geeks, here's the 3D printer: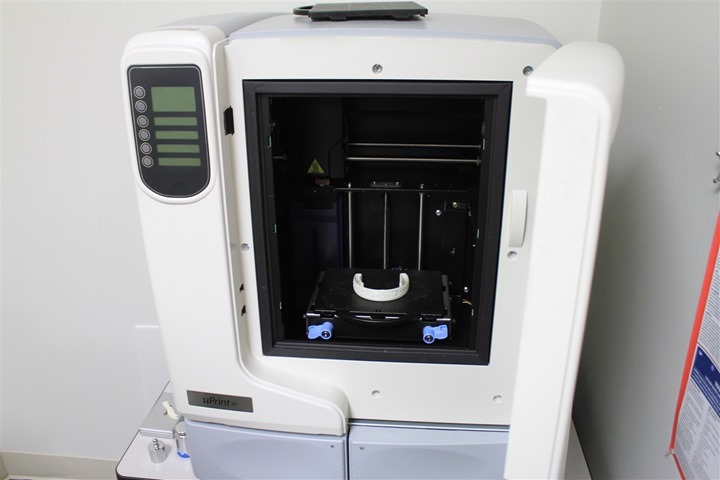 The design of the anklet appears to borrow inspiration from that of the Nike+ Fuelband, though, unlike the Fuelband, it doesn't wrap all the way around your ankle, instead, just halfway.
Below are some sketches of the final design.  You can see on the inside of the anklet where they'll be utilizing strong magnets to hold it in place to the socks.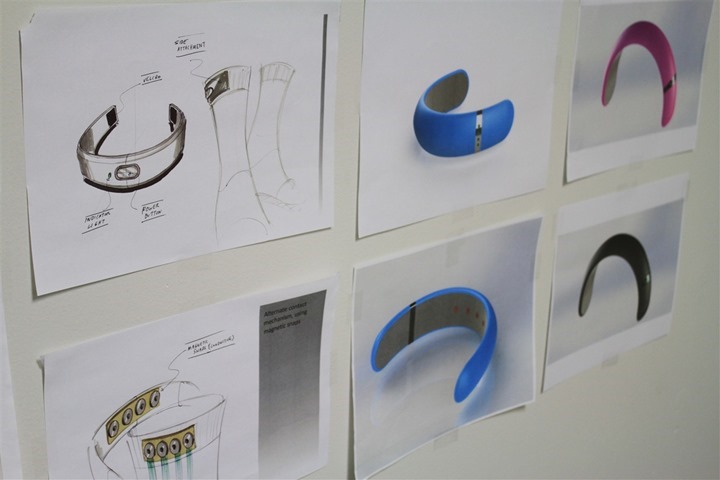 Though, as you can see they've experimented with other mechanisms as well, including clips.  I'm interested to see how the final solution ends up working.  Ultimately snaps tends to be one of the most secure ways you could attach it, but obviously that leaves a bit to be desired from a visual standpoint.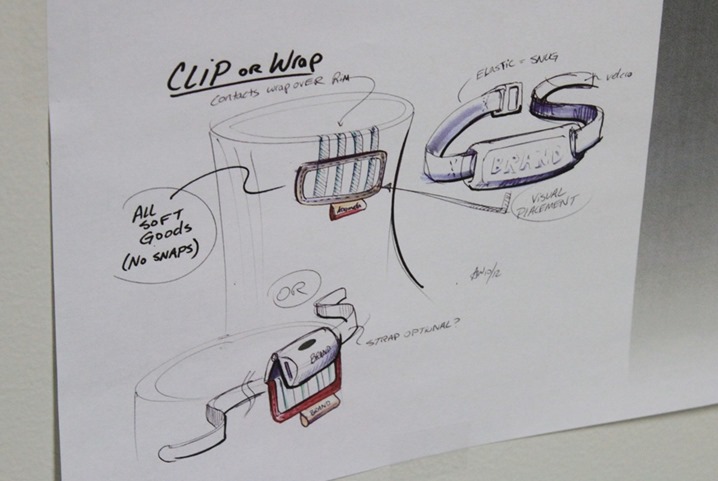 Now that you've got the anklet, you'll attach it to the socks.  Well, one sock that is.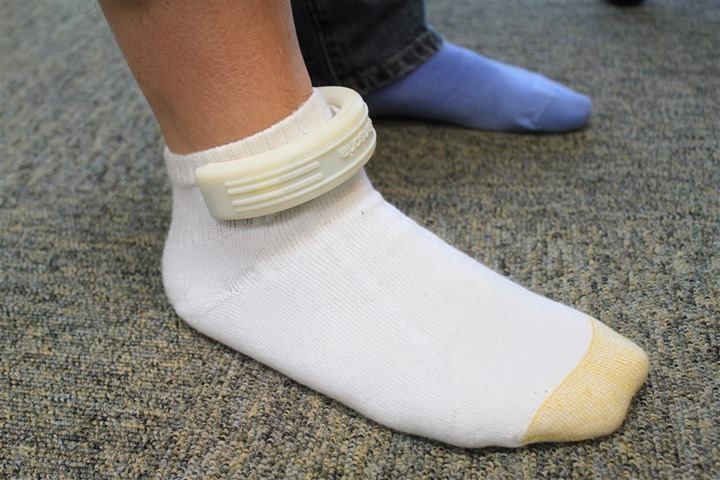 The current plan calls for you to get a pair of socks – both with the internal sensor system, but only one anklet.  This means that you'd only receive data from the connected sock, versus both socks.  Speaking of the socks, they are washing machine friendly, but it sounds like the sensor strips inside may only last about 30 washes.  For a runner, that's really not a lot of washes.  Right now each pair of socks (but not anklet) costs about $20US – though that's the launch price, and typically we see increases later down the road.
Looking at the final anklet design, you can see it's far less obtuse than the current prototype design: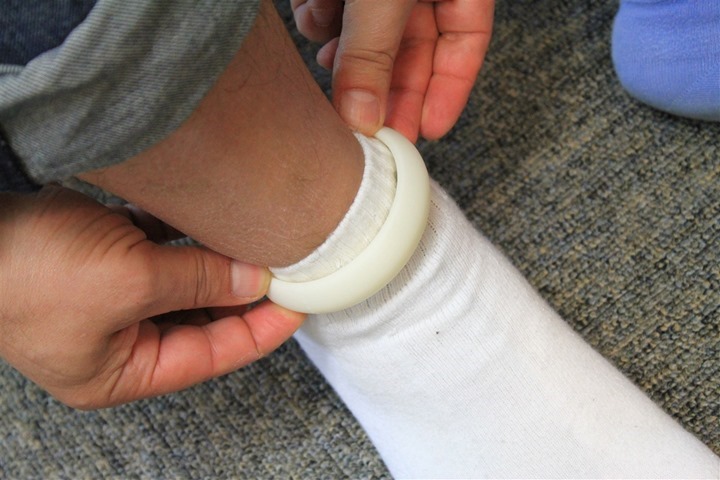 So what do these magical socks get us?  Turns out, quite a bit of information.  They can gather stride length, cadence, foot positioning, pronation and even force.
What you see below is an internal app used to demonstrate the forces being measured within the socks.  As the person changed from walking to running to increasing running cadence, all of that was measured and captured.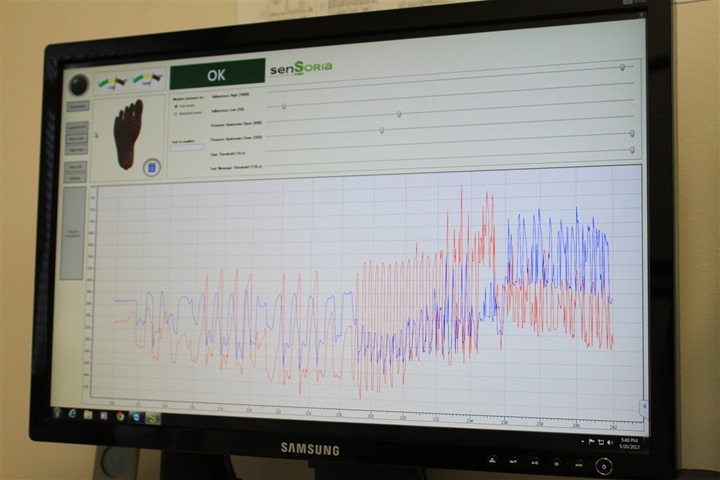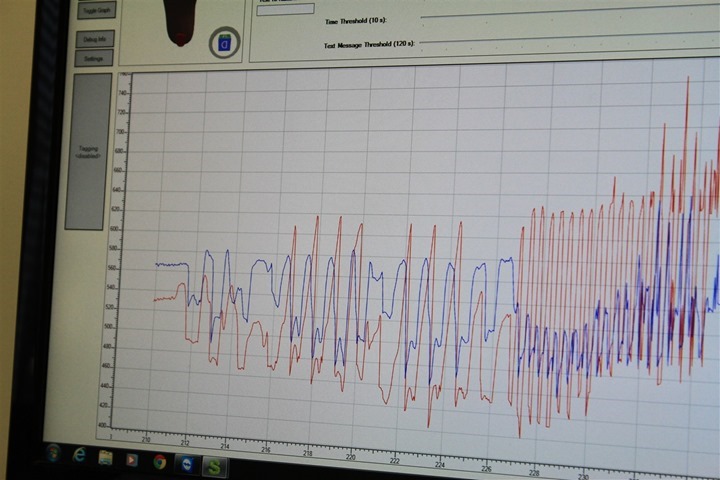 What's interesting is that you don't even need to have your foot on the ground for the sensors to detect position.  Here they demonstrated holding the foot above the ground and rotating around, resulting in changes quite viewable on the graphs: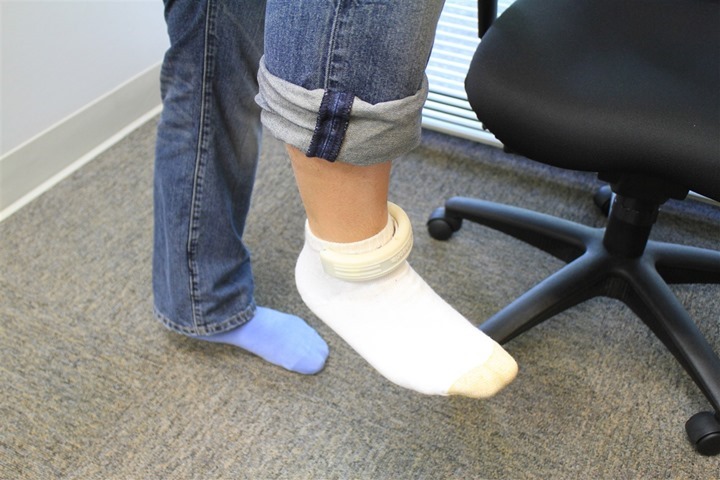 You can see below holding it still (flat section), and then moving it around resulting in a shift in the data.  Pretty cool.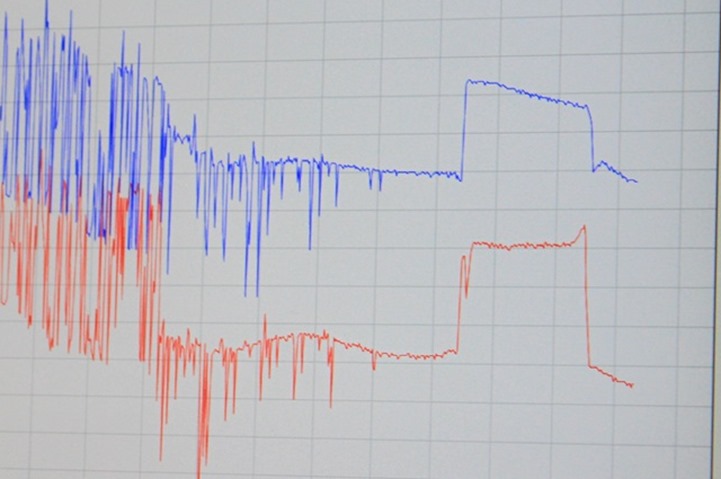 While in the office, I noticed a magazine open to an award that the Mio Alpha team had won.  That's the optical heart rate sensor system that I reviewed a number of months back – also starting out as a crowdfunding project.
It just happened that on the opposite page (the reason why the booklet was there), was the Heapsylon team for an award they won at the Innovation World Cup last year (along with the Mio Alpha folks).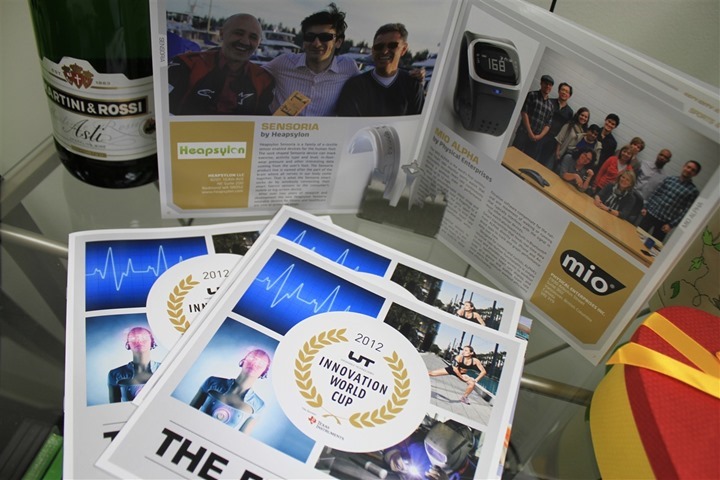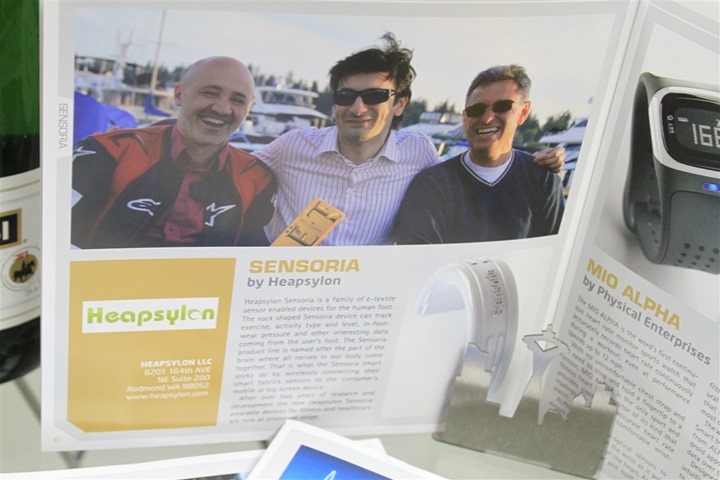 But, an award doesn't mean a successful product.  It just means an 'innovating' idea.
So where do I think things stand with the project and potential success?
Well first is the obvious warning that it's a crowdfunded project.  Which means that I generally take timelines and promises with a solid grain of salt.  Like, apple-fritter sized.  I've yet to have a single Kickstarter or Indiegogo technology project come in on time, or with the promised/implied features.  The good news on that front is that Heapsylon has a 'delivery' date of next spring – March 2014.  Which, I think is appropriate based on what I saw.
From my standpoint I think the sensor/e-textile portion appeared to be pretty well grounded in that it will display data appropriate to the movements of the user.  Moving upstream, the next piece is the transmitter anklet.  It too was demonstrating the base functions, but in a much larger form factor.  As you can see from the banana-photo, the Heapsylon has to get from the prisoner monitoring ankle looking platform down to something a fraction of the size.  And, even more challenging, is re-engineering the clip system to ensure it stays put no matter the activity.
Next, we look at the analysis piece.  They plan to have a phone app to help runners analyze the data (they're focusing on runner initially, but they believe it can be carried through to many different sports from cycling to skiing).  As of my visit, no such app was developed yet (though it was being worked on).  In the world of app-development though, 9 months is pretty much an eternity – so that bodes well.  Plus, there are a million folks who can be hired to write iPhone apps (but not a million folks to engineer electronic socks).
Finally, they'll need to make the data 'useful'.  More specifically – actionable.  Meaning, what do I do with the different positioning or impact aspects?  How can I change my running?  And do I want to change my running?  To be clear, these are questions that the apps themselves have to be able to answer for users – not something someone can answer today in an interview.  Turning physiology theory into practical iPhone applications can be exceedingly difficult.
That said, there's something fascinating about the potential.  For example, could this be extended to effectively create the power meter of running?  Or, perhaps more directly – could it be extended to create sock-based power meters for cycling?  Time will tell there.  In the meantime, it'll be interesting to see the project develop.
Thanks for reading, and as always – feel free to drop questions below!
(Updated note: I'm culling through and cleaning up comments that appear to be confused giveaway attempts – just to keep the post clean.  Thanks!)