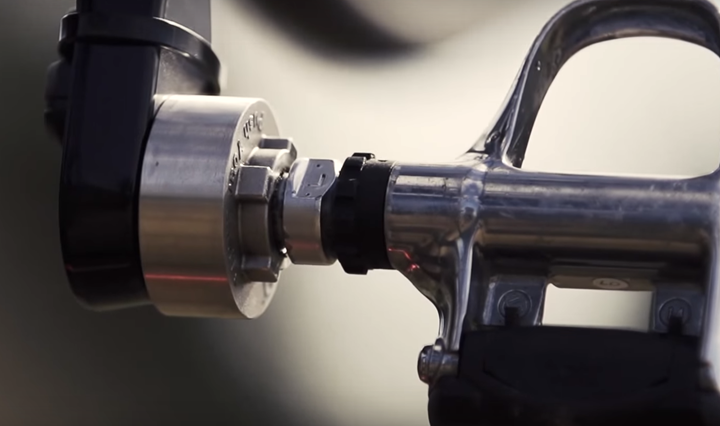 It's been nearly 6 months since the LIMITS power meter jumped onto the scene with a sub-$300 power meter, and plans to have units shipping by the end of the year.  I expressed skepticism early on in the project, primarily due to the company's timelines and lack of experience in the incredibly complex realm of cycling power meters.  To be clear, from a pure technology standpoint what they are attempting to do is quite possible.  But what they are attempting to do in the time period they've specified is not possible.  Much like trying to have a baby in 6 months, versus the regular 9 months.  Yes, you'll end up with a baby – but just not in the timeframe you promised.
Since their announcement I've continued to press the company for further details on where the project really stands.  While buying into a crowd-funded project is always risky, that's even more the case with Indiegogo projects (over Kickstarter).  Indiegogo allows companies to pretty much do whatever the heck they want with zero controls to protect the consumer.  It makes Craigslist look downright regal.  As a general rule of thumb, if a company is on Indiegogo, you should treat it with a much higher risk factor (exponentially).  That's because Kickstarter requires you to show actual prototypes of the unit, and not computer generated mockups or fakes.
Lack of product:
Shortly after my initial post on LIMITS back in April, the company reached out for a phone conference on their status.  I expected them at the time to tell me how wrong I was, but in reality, they actually dug themselves an even deeper hole.  See, everything they showed in the video was ultimately just an illusion – a fake if you will.  At the time they had no power meter, in any form.  They had nothing that transmitted power, nor anything that fit into the sexy little pod they so prominently displayed.  Basically, my dog Lucy and them were equal when it comes to the number of functional power meters they each had: Zero.
So I updated my post accordingly, and went about my business – watching each and every status update.
And to LIMITS' credit, their status updates were frequent and full of all sorts of excitement.  Just like those e-mails from folks claiming that you're the next prince of an African country you've never heard of.  Lots and lots of talk, but actually nothing truly tangible.
See, to someone not familiar with power meter development, you might see an update (such as one from a month ago) that states:
"We are now very pleased to confirm that we have received the form factor PCB for the LIMITS power meter!" (bolding theirs)
Wow, the PCB – can you imagine?  Next step, a FedEx tracking number?
Well, no.  In reality, the PCB (printed circuit board) is something that should have probably been done a year ago.  This is like saying they got the parts to put together just the engine of their car.  Not the rest of the parts for the car, nor that they've even tested the engine.  Just that the parts arrived.  We haven't even got to the point of faking emissions tests yet.

Or you might see another update, such as this one from about six days ago:
"Just a few weeks ago, we've applied for ANT+ membership and today we're delighted to announce that LIMITS power meter technology is now an official ANT+ member."
Woot – updates!  Great news!  Except guess what?  Basically any company that forks over the $1,500 gets in.  The ThisIsANT.com website makes that abundantly clear.  Heck, even if Polar were to apply they'd be welcomed with open arms.  Dynastream wants people in this club – it doesn't want to exclude anyone.  The more the merrier.
Or perhaps this:
"LIMITS team is back from T3 Awards and our key takeaway from the event is that it is an exciting time to be looking at smart ways to revolutionize cycling technology with LIMITS!

During the recent T3 Awards – the celebration of the most innovative tech products that have shone the brightest in the last 12 months, LIMITS was honoured to be among the 9 best tech Indiegogo campaigns. "
So basically, you didn't make any progress at all.  You spent time going to pickup an award for something you haven't yet created.
In fact, a fair chunk of their 57 updates to date are these sort of throwaway updates.  Sure, they might be great little endcaps to a larger more substantial update for most crowd funding projects, but not something that replaces real progress.
But sometimes the insights do provide real and tangible insight into where the company sits, such as this:
"As you may know – it is part of the qualification of the LIMITS power meter that we must compare ourselves with the key players in the field and to this end we have purchased these  nice toys that you can see in the picture below!"
Well, that's kinda funny.  See, they actually can't use Garmin Vector to test their product.  It's a technical impossibility (as I'm sure they've since found out).  That's because the Vector2 pods wouldn't be large enough to fit over the LIMITS pods. The little band piece doesn't go that far with an extra pod in there plus the width of the crank.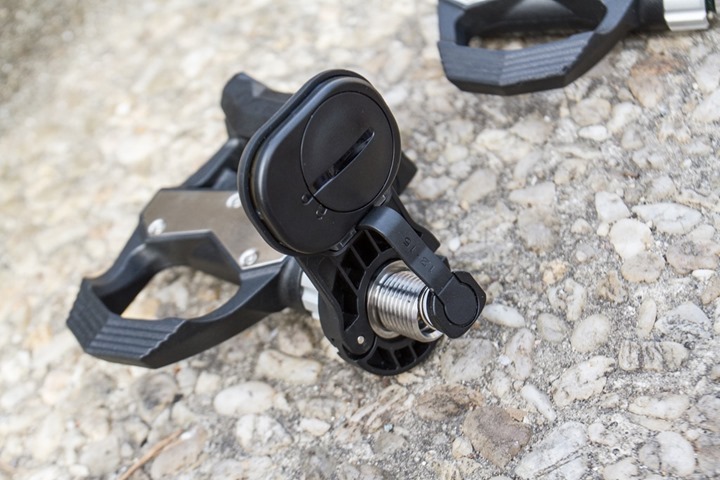 Never mind the fact that it wasn't until July that they decided to buy a bunch of random hardware to finally get around to testing a product that doesn't exist.
But there are other important and clarifying updates, such as these more recently:
"The demand for LIMITS, more than 1500 units sold, is overwhelming but as we move into the Product Introduction Phase of manufacturing we need to set a deadline for purchased product that can be delivered in 2015, so here it is!"
What the hell does the "Product Introduction Phase" even mean?  You've already introduced the product, you did that in April.  Well, actually on second thought – you are correct.  You never did that.  You showed us a fake shell.  So I suppose technically you could introduce the product to us for real now.  Except, you've never done that either.  I even tried Google'ing the term, and it really provided nothing other than a few nebulous references on slide decks from other companies that look like 1996.
But let's assume though that the product introduction phase means we get to see the product and some data from it, right?
I've made repeated requests to them (publicly too, such as here) for any data at all.  Heck – I even gave them the opportunity to cherry pick the most perfect test data they could find.  Give me your best shot.  Show me your most perfect ride out there where it lines up beautifully.  Even if that was the 1 out of a 100 rides where it actually worked, just give me that.
Silence.
Every request until now, nothing but silence.
As a reminder, every other company in the industry has been able to show me (privately or publicly) the status of their power meter projects.  Every. Single. One.  Sometimes they may have limitations in place around what I can and can't show (a company flew engineers in from both Boston and Israel a few weeks ago to demonstrate a new product, parts of which I can show in an upcoming post).
And in those cases – those companies have had timelines far in excess of what LIMITS has had when they got to that point.  For example, Ashton Instruments when I met with them this past spring (at the same time as LIMITS) said about a year out.  Yet Ashton at that time actually had a working prototype that I got on a bike (twice!) and rode.  As for LIMITS? Just an empty/fake shell.
For most companies in this space, it takes 1-2 years from the point they get something on a bike that's ride ready, until they get close to selling their product.  Even then, it can still take more time.  Garmin with Vector (after acquisition from Metrigear) – with the untold millions of dollars in testing/design/implementation/people, and still didn't ship for some two years after the initial acquisition from Metrigear.  There's nobody in the industry that has more resources (bodies, facilities, money, or clout) to throw at bringing a power meter to market than Garmin, and yet they show you just how difficult it is.  PowerTap? About the same – some 2 years before they introduced the PowerTap P1's we discussed which battery they'd end up using.  SRM? They're still working on their rechargeable battery system, again, 2-3 years after they announced it and showed demo units.
I could go on and on with every power meter company in the industry and how long things take.  It seems peculiar to think a company is going to go from their first outdoor ride the last week of October, to delivery in December.
Actual status of project: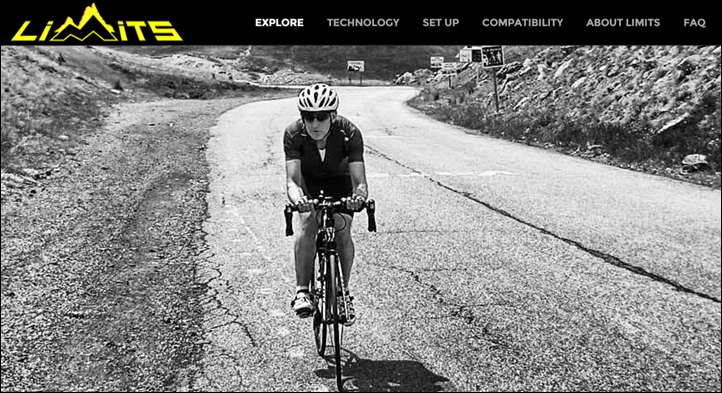 So where do they actually sit?
Well I had hoped to catch up with them at Eurobike.  But alas, they weren't in their booth.  Apparently they went to Eurobike (the biggest and most important bike show each year), but were only there for a short period one day.  Kinda odd to not stay for at least two days (out of the three industry days, plus the one public day).
They also weren't at Interbike (the 2nd biggest bike event of the year), which I suppose is understandable since it's a long way to travel.  Though most other companies do make the trek, even if without a booth – in order to meet with other companies, media, and just be able to scope out competition or partnerships.
So given that the frequent Indiegogo status updates left me as hungry as eating a single raisin, I simply e-mailed the team behind LIMITS to try and get some clarity on things.  I asked the following questions (copy & paste) in a polite little e-mail.  I figured this would be a starting point for future questions:
"Can you clarify a few things?  I figure e-mail is probably easiest:

A) Is LIMITS power meter being ridden on any bikes at this stage indoors?
B) What about outdoors?
C) If so – can you share any comparative test data?
D) Has the implementation of the ANT+ stack with ANT+ power meter profile transmission been completed?
E) Has the implementation of the Bluetooth Smart with Bluetooth Smart power meter profile been completed?
F) If so (to both), which devices has it been tested against – and can you share files?
G) What is the planned start date of production of the units?
H) Will both left-only and left/right units ship in December?
I) Can you share any photos of the current prototype units (with all of the electronics in them)?"
That resulted in a lot of back and forth, with the following reasoning as to why they couldn't give me answers to most of their questions:
"Our marketing strategy is key to the success of the project and ultimately LIMITS so this cannot be jeopardized by all our 'good news' stories being released at once.

So before we answer your questions we need to understand that you will only release the information that we want released so as not to negatively impact our marketing strategy."
Fair enough, I understand that marketing is an important part of your project. Key I'd say to success.  But I'd also caution (as I did to them), then when the winds are shifting you want to throw out carefully manicured marketing messages and throw down some concrete proof you're not a scam.
But of course, you'd know by now that I don't play by such rules of only releasing what's good for a company.  If that was the case people would have stopped reading years ago.  A pony-farting marketing machine this is not.
The only thing we've learned since my questions were sent over was a new status update that they have at least gone outside now and done their first test ride – just 17 days ago
"Up until now our outdoor trials have been short bursts run on prototype hardware. This is the first time we are testing LIMITS outdoors and this is a defining time in its development progress." – Oct 23rd.
That aside, they did respond to my e-mail roughly around the same time. And they did answer my questions…sorta.  In a politicians kinda way – ultimately giving no proof of anything.  Here are the answers (exact quotes):
Question A: Is LIMITS power meter being ridden on any bikes at this stage indoors?

Yes, we have bikes set up with the most popular power meters available on the market today to run comparison tests.

Question B: What about outdoors?

Yes, same as question A. [Since then they have confirmed doing this]

This data is a key milestone in our marketing strategy so will be released in accordance with this strategy via our news stories.

Question D: Has the implementation of the ANT+ stack with ANT+ power meter profile transmission been completed?

Yes.

Question E: Has the implementation of the Bluetooth Smart with Bluetooth Smart power meter profile been completed?

Yes.

We have a whole raft of head units to qualify against but for now the test bikes are fitted with the most popular Garmin products such as the Edge520, 810, 1000 etc. As for file sharing see point C.

Question G: What is the planned start date of production of the units?

The manufacturing planning and preparation for pilot build is already underway with MPIs, MMIs, PVT, PMT planning all in progress. The manufacturing flow and processes and procedures are under review while we run exhaustive trials on fabrication and assembly. We will have all the manufacturing planning data back this week/next week after which we will set a date for the start of manufacturing – this again is a key milestone in our marketing strategy so will be released in accordance with this strategy via our news stories.

Question H: Will both left-only and left/right units ship in December?

The right hand product is a separate development scheduled for 2016.

This data is a key milestone in our marketing strategy so will be released in accordance with this strategy via our news stories, I can say that it will be released very soon. Please note however that this will be heavily pixilated to hide all sensitive data.
So yes, on the surface they answer the questions – but ultimately they didn't provide any proof of any of it.  They continue to provide frequent updates of little tangible consequence.  Providing heavily pixelated images is laughable.  C'mon!  Any competitor has already paid to be a backer (all of them will have done so, as they always do) and will theoretically soon get a unit to tear-down and test.  Right?  So why bother to pixelate when nobody else in the industry does, or ever has on any power meter product.
Going Forward:
Ultimately, I just don't see this story ending well.  At least ending well anytime soon.  I fail to see how they can do something in 1/10th (or less) the timeline of every other company with immense amount of experience in this space (when they appear to have no previous experience in building power meters).  And to be clear, I want them to succeed.  I really want more options in the market that give consumers more choice.  And I genuinely think this area of the bike is brilliant for a power meter (q-factor concerns aside, something folks fail to realize usually changes every time you go from mountain to road bike).
And I have no doubt they'll succeed eventually, but I suspect that in the highly unlikely event they ship consumers something this December, that it won't be accurate or reliable.  But I suspect they won't ship anything this year.  After all, they don't have a start date yet defined themselves – or at least one they can share.  I've actually never seen a crowd-funded project that doesn't include a production timeline.  And if they do ship something in December, I'm going to guess it'll be horribly unreliable and inaccurate.
So why do I care?  Well, I hate when consumers get ripped off.  Right now some $424,199 worth of unsuspecting consumers money (including mine) is being used.  Further, some unknown additional portion of funding is actually subsidized by a grant from the Scottish Government, and thus, by the taxpayers.
Ultimately – my long-standing offer to them (just as any other company) applies – prove to me that you've got something real.  Jump on the roughly 75-minute flight from Scotland to Paris, stick a unit on a bike (I've got plenty) and show me where you really are.  I'm not expecting perfection in a beta product, but there needs to be clarity on actual product state (wherever it may be).  We'll collect data against other products in the market on the same bike, and put that data up for analysis.  And again – as with any beta power meter products, it's OK to have quirks that you're aware of and working on.  And to be clear – it need not be me. There are plenty of very capable and technical journalists out there – the guys and gals from Bike Radar, Velonews, or CyclingTips (as well as others I'm overlooking), are all technically capable of carrying out such tests and posting the raw data.
Rumor around these parts says technical validation by a major outlet is worth far more than any marketing e-mail update.
(Note: Most imagery here is from various LIMITS postings, since they've not shown the unit independently anywhere.)