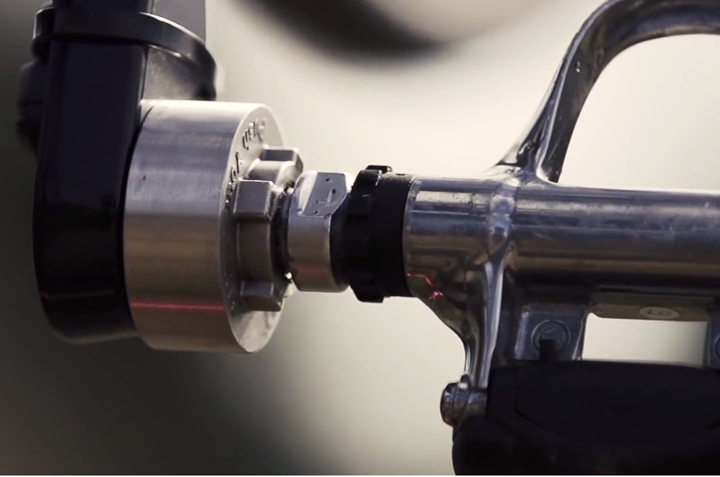 Update – Nov 10th, 2015: I've recently posted quite a bit more details on where LIMITS stands.  I'd highly encourage you to check it out, via this link.
Ok, I wasn't planning on doing a post on the LIMITS power meter until I actually had some first-hand time with the unit.  But given I've been swamped with e-mails/tweets/signal flares about the unit, I'm going to put together the briefest of brief posts.  Well, at least as brief as you'll ever see my posts anyway.
For those not familiar, LIMITS kicked off a round of publicity this past weekend ahead of their crowd-funding launch this past Monday.  Their product is a $250USD power meter that attaches in between the pedal and the crank arm.  This will measure your power on your left side (à la Stages Power), and then double that power.  It will transmit ANT+ initially, and then Bluetooth Smart support down the road.  Also down the road are plans for releasing a dual capable left and right version.
Now, there are lots of thoughts about the unit from a technical standpoint.  For example, how it might impact what's called your 'Q-Factor', which is basically how far apart your left and right pedals are (spacing).  Or, how accurately the product will measure power.  Or has anyone actually ridden it and where is an example data file?  Or, whether or not it'll solve world hunger, or even hunger after a long ride.
I'm actually not as concerned with any of those aspects right now, to be perfectly honest.  There are more pressing matters as far as I'm concerned.  Most notably…their timelines.
At present, these are the timelines as published on Monday within their project on Indiegogo: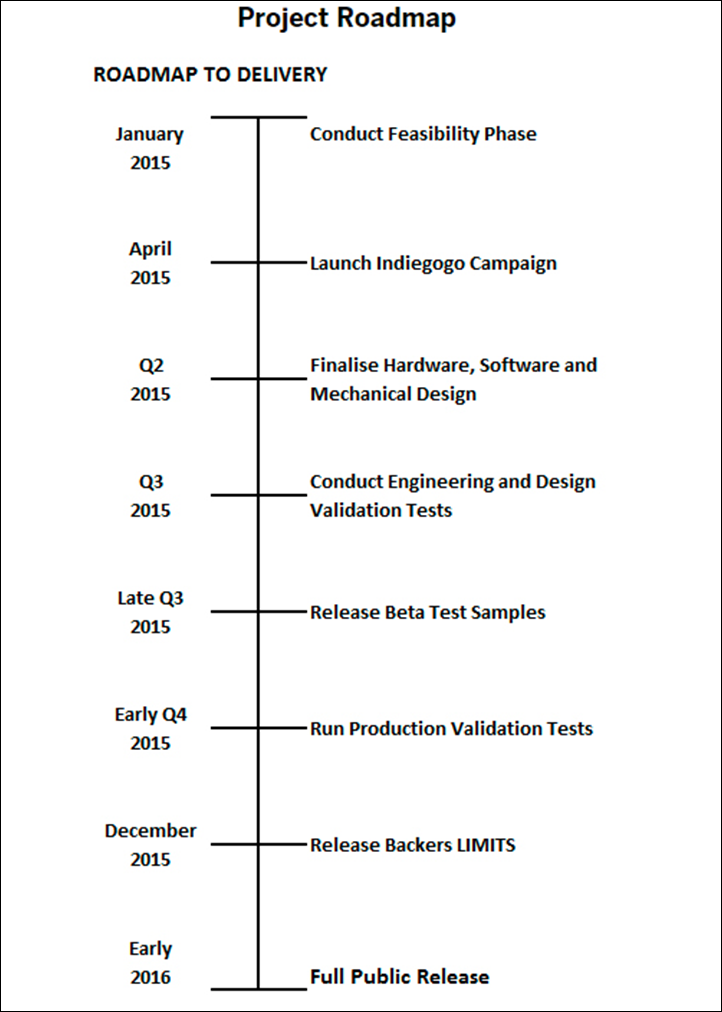 As you can see, that's really darn aggressive.  To put this in perspective – on average, it takes most new power meter companies between 2-3 years to cover the gap that they're looking to do in about 6-7 months.  Roughly.
And, these companies that have taken this amount of time have done so in some cases with enormous resources behind them.  For example there's nobody that has likely thrown more money at power meter development in such a short timespan than Garmin has, preparing their Vector units.  At the other more LIMITS-like company scale, is Brim Brothers with their Zone power meter.  As CEO Barry Redmond from Brim Brothers will openly tell you, getting 95% of the way there on building a power meter is easy.  It's the last 5% that kills you.
In his case, he initially told me that some 2 years ago when he thought he was nearing the finish line.  Now we fast forward two years and they just announced another 6+ month delay a few weeks back.  And that's after they had started their production runs last fall and rolled out to a large external test group (as you'll remember from my test of a unit then).
My point being – making power meters is hard.  Really damn hard.
Remember the PowerTap pedal based and chainring based power meters that were just announced last month?  I first saw early stage units almost two years ago on that.  And again, that's from a company that unequivocally knows what they're doing and have been doing it well for over 15 years.  The details PowerTap showed me then were roughly at the same stage that LIMITS is now illustrating on their site today, for delivery just 7 months from now.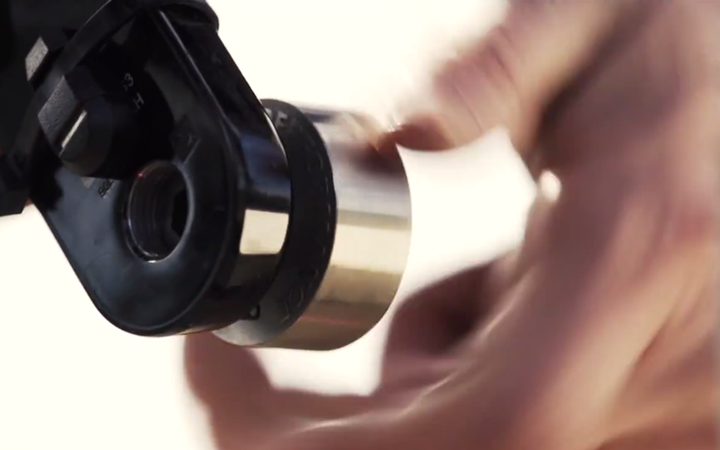 Which again, doesn't take away from LIMITS – but rather sets expectations.  To give them credit, I think it's a cool idea in an interesting location.  And, I really want them to succeed – I want more consumer choice, and I want broader availability of technologies to help people train and race.
I also actually don't think their offering price is a concern.  Their cost of goods for those parts are trivial, just like they are for 4iiii's, Ashton Instruments, and others coming into the game.  Anyone thinking that an accurate power meter must cost $1,000+ or more, is only fooling themselves.  This isn't 2011 or even 2014 anymore.  Prices will continue to plummet.  The future of sub-$300 power meters is hardly more than 12-18 months away.  And kicker is it'll largely be the same players you know and love today, with the same fundamental technologies and even the same products.  Just cheaper.  Fast forward another 12-18 months and you're likely looking at sub-$200 units (probably less actually based on what I'm hearing).  Again, the cost of goods is so cheap on many of these newer units that they aren't too much different than that of a standard running footpod.
Right now the key aspect that's driving up power meter costs is that the market will pay it.  Additionally, in some cases the design of the units require higher levels of manufacturing support (i.e. Garmin Vector, SRM, Quarq, etc…).  But even in many of those products the prices are largely artificial until a cheaper unit proves itself and moves the floor down again – which will likely happen again this fall, just like we saw last week.
As for backing the LIMITS power meter?  I personally have actually backed it – but not because I think I'll get it anytime soon.  But rather mostly out of curiosity.  I'd expect they'll deliver units around Interbike 2016 (Fall 2016), with maybe a sprinkling of units prior to that in the summer of 2016.  Fwiw, my track record on predicting crowd-funding projects timelines is actually pretty strong (that post should be required reading for anybody looking to back this project).  In other words, don't buy it for training next season, but buy it because…well, I don't know why you'd buy something in this industry basically two years out.
With that – my sorta-brief thoughts are complete.  Enjoy!
(PS: Yes, I'm concerned that despite repeated requests they haven't been able to provide any data from the riders/teams that have, in theory, been using it.  And yes, I'm also very concerned that their Indiegogo funding model is using 'Flexible funding', which basically means they get your money regardless of whether or not they reach their funding goal.  But…both those concerns sit far behind my above concerns, which might illustrate just why I'm so concerned about their timelines.)
Note: All imagery in this post from within their YouTube video.
An Update After a Meeting:
Hi All-
I just wanted to provide an update after I spent some time on the phone on Thursday with the LIMITS team, discussing their plans and where they stand.  While it was a very constructive conversation, there wasn't anything that was said that changed my mind on the timeline aspect.  In fact, I'd say it actually went the other way.  For example, I was looking for some element of proof that the company had prototypes with riders on the units and transmitting power wirelessly.  That'd be about where they need to be in order to make any end of year dates.
Unfortunately, they are far from that.  At this point they have no prototype that can transmit wirelessly, nor have any teams or individual riders taken LIMITS for a ride (because it doesn't exist yet).  Their current unit transmits the torque (but not yet cadence).  This is done via wired transmission though, and not yet via ANT+ (no ANT+ chipset has been selected).  Most importantly though, they have not compared that figure to any existing power meter on the market – at this point.
I discussed my concerns with them regarding their timelines.  They were extremely hesitant to give any additional details on when a 'beta' unit would be available to either their team or other individuals could put it on a bike and start gathering data (be it the company themselves or a 3rd party).  After much discussion around the topic they stated likely by the end of June such a unit might be available.
I had hopes that they'd be further along, such as actually having a working prototype as was implied in their crowd funding video.  Unfortunately, everything shown in the video was merely mockup.
Once they do get to production, they're planning for most of the metal/machined parts to be done in Asia, with the PCB (electronics) also done in Asia.  However, assembly may take place closer to home (Scotland), but that's still to be finalized.  Right now they're looking at using SR44 coin cell batteries (the same as the Verve Infocrank power meter uses).  The LIMITS power meter will also contain temperature sensors for temperature compensation.
As for funding, like most entities that launch on crowd funded sites these days they have the funding they already need – some from private equity investors and a fair chunk from the Scottish government via incubator funding.  Also like most other entities they saw Indiegogo as primarily a marketing engine to draw attention (which obviously worked quite well).  I asked why Indiegogo over Kickstarter and they answered that had they done it all over again they'd probably have selected Kickstarter, mainly due to the wider appeal/popularity of Kickstarter over Indiegogo (and that they would have likely seen more attention).
We noted that we'd catch up again once they had some form of prototype unit that perhaps was demonstrable.  Until that point, it's largely in the realm of theory.