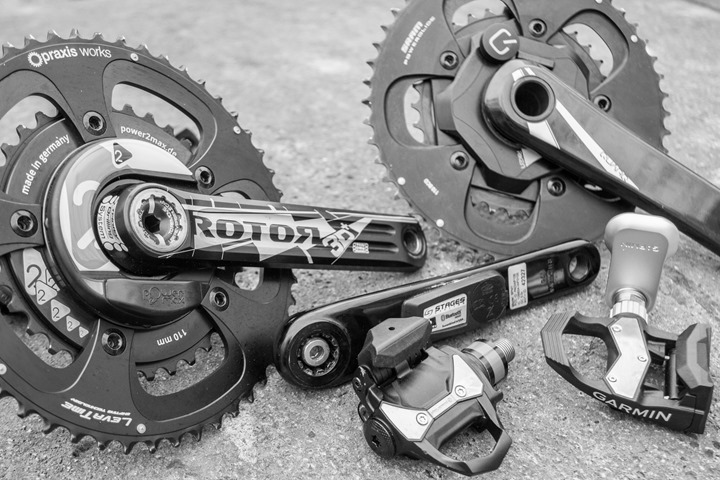 The Winds are a Shifting:
Over the past few weeks there have been a number of notable price drops by power meter companies.  While some of these price drops may seem reactionary to news from PowerTap's new products, or that 4iiii is now shipping Precision units – the reality is that most of these were planned months ago.  Still, like when some gives you a candy bar – it's best not to focus on the reason, but focus on the gift.  And in this case, it's savings.  To start off, here's a quick summary of what's recently dropped:
Quarq pricing by about 20%, with prices now from $1,099 (previously $1,200-$1,600)
Quarq then releasing a new aluminum RIKEN AL model, with units from $799.
Pioneer power meter by $300, with the least expensive model now at $999 (previously $1,299)
Power2Max by 20%, with the least expensive model at $599 (from $749)
ROTOR Power price reduction by 35% (quietly last month), from $2400 to $1559, and for LT from $1,490 to $1,079
Of course, price drops aren't the only power meter news hitting the interwebs these days.  If you look at what's happened in the last 30-45 days, there's plenty of reasons for companies to begin jockeying around for consumers' money this spring:
PowerTap announces new $699 chainring power meter, $1,199 pedal based power meter
ROTOR INpower starting at $779, with their crank spindle based power meter
4iiii starts shipping their $399 Precision Power unit (left side units now, dual in June)
SRM announces imminent shipping of their PC8 head unit within the month
PowerBeat announces they'll ship media test units in May, for their $499 dual sided power meter
And of course, add to that things that are always swirling in the industry nightclub that may not yet be announced.  Oh, and it's only early April.  We've still got events like the larger cycling-focused Sea Otter going on this week.  And, that also doesn't even begin to touch on all these companies that have touted pending products:
Xpedo Thrust E power meter
Brim Brothers Zone power meter
Ashton Instruments bottom bracket unit
Luck Cycling shoe based power meter
Power Pedals unit
+ others working quietly away behind the curtain
As you can see…it's a busy market.
I should note that not everything is decided on price of course.  But, in the power meter market these days – troublesome accuracy is becoming less and less of a concern than it was 3-5 years ago.  Quite simply companies are putting more effort and technology into ensuring units operate properly in all conditions by time they get to market.
A Historical Perspective: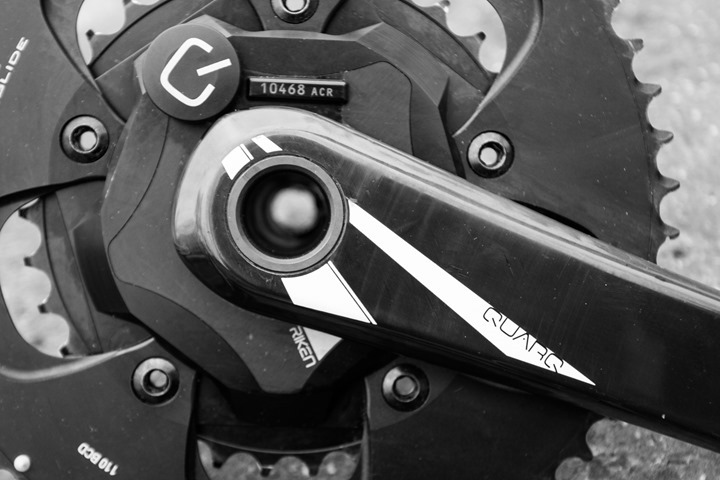 With all these price drops, I thought it would be fun to start plotting the major players on some graphs.  Of course, doing that required actually knowing prices for all these products over the last 5 or so years.  Which in turn became a never-ending data search quest.  And a bit of a definition issue.
Thus, in order to keep things simple, I put down some ground rules on pricing (I had to draw lines somewhere):
1) Non-sale prices: The lowest non-sale price for the unit within that calendar year.  I didn't want Black Friday sales and the like hosing it up.
2) Only list/retail prices:  Some bike shops may offer discounts (i.e. the DCR Clever Training 10% deal), which would make it difficult to track all units equally.  So I excluded those.
3) Whatever model is cheapest: Finding the least expensive unit offering they have.  Most power companies have a myriad of variants available.  I just went with the cheapest unit they sold in a given category, with no accessory options.
4) US Dollars: Products are priced at all sorts of levels globally.  I just went with USD, because quite frankly I can't keep track of hundreds of currencies and product prices in those currencies.
5) Shipping: While I do show both shipping and announced (not yet shipping) units in the first few charts, I only focus on shipping after that.
Also note that some units include things like crank arms or chainrings, while other companies don't give options.  I realize that might make for an uneven playing field…but I kinda put that in the category of 'you lie in the bed you make'.  Those companies certainly must understand limitations of packaged offerings and price points.
To find the prices I scoured through most of my posts where companies announced products or price drops. Then, failing that I went off to Google to find press releases where the same information was written.  Finally, I validated most of the prices with the companies directly – especially for those more than a year or so old.
I should point out however that SRM didn't really want to 'play' in this exercise (despite numerous official and unofficial requests).  And while a few awesome non-SRM folks have tried to help me piece this together, I felt like the data was too unsure to include it.  Rather be safe than sorry.  So right now I'm only going with a single SRM 2015 data point.  If I can get historical base-unit USD price list data that I absolutely trust (without the head unit or accessories), then I'll add it in.
As you might guess, I wouldn't say I have a flawless method, but I think it's reasonably solid.  Going forward I have the baseline to track these more easily.  The raw data starts here:
Power Meter Historical Pricing
| Product | Category/Region | 2011 | 2012 | 2013 | 2014 | 2015 |
| --- | --- | --- | --- | --- | --- | --- |
| 4iiii Precision (Left) | Left-only | - | - | - | $349 | $399 |
| PowerTap Hub series | Wheel Hub | $899 | $899 | $789 | $789 | $789 |
| Garmin Vector/Vector2 | Pedal | - | - | $1,699 | $1,499 | $1,499 |
| Garmin Vector S/2S | Left-only | - | - | - | $899 | $899 |
| Pioneer Power | Crank arms | - | $3,100 | $2,000 | $1,299 | $999 |
| Polar/Look KEO Power | Pedal | - | $2,200 | $2,200 | $1,999 | $1,999 |
| Polar/Look Power Essentials | Left-only | - | - | - | $1,159 | $1,159 |
| Power2Max | Crank spider | $999 | $999 | $879 | $729 | $599 |
| Quarq | Crank spider | $1,495 | $1,495 | $1,595 | $1,200 | $799 |
| ROTOR Power | Crank arms | - | $2,400 | $2,400 | $2,400 | $1,559 |
| ROTOR LT/INpower | Left-only | - | - | - | $1,490 | $779 |
| SRM | Crank spider | | | | | $1,804 |
| Stages Power | Left-only | - | $699 | $699 | $699 | $699 |
| Verve Infocrank | Crank arms | - | - | - | $1,995 | $1,995 |
Again, if/when I get accurate SRM data – I'm happy to add that in there. Obviously, it's well known that SRM has previously been the most expensive option (though, they now have a unit priced below the Verve Infocrank).
Finally, for fun here's some of the upcoming still-to-ship units from a pricing standpoint:
Power Meters Not Yet Shipping Pricing
| Product | Category/Region | 2011 | 2012 | 2013 | 2014 | 2015 |
| --- | --- | --- | --- | --- | --- | --- |
| Brim Brothers Zone | Pedal | - | - | - | - | $999 |
| PowerTap P1 Pedal | Pedal | - | - | - | - | $1,199 |
| PowerTap C1 Chainring | Chainring | - | - | - | - | $699 |
| 4iiii Precision (Dual) | Crank arms | - | - | - | - | $749 |
| Ashton Intruments | Crank Spindle | - | - | - | - | $500 (2016) |
| Xpedo Thrust E | Pedal | - | - | - | - | $1,100 |
| Watteam PowerBeat | Crank arms | - | - | - | - | $499 |
Ok, with the raw data out of the way, let's get graphical!
A Whole Lotta Charts:
First up is everything announced (shipping or otherwise) on one chart: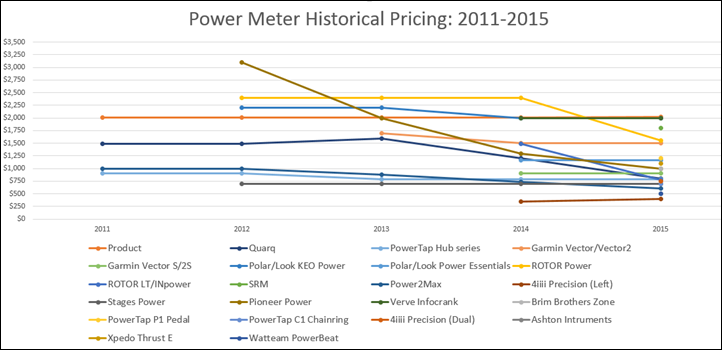 Now let's look at just things currently shipping: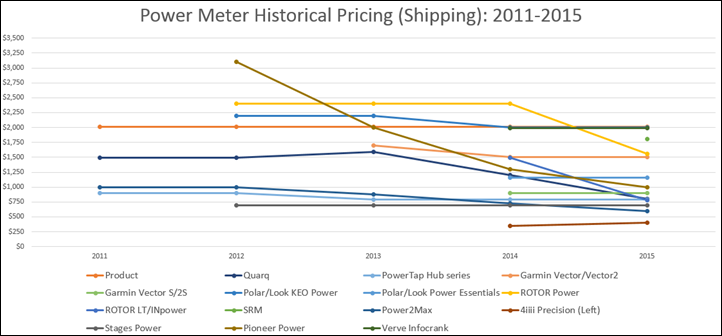 Ok, that's just a mess.  Instead, let's break them out into crank region ones first (anything involving the crank spider, but not including the pedals).  It's perhaps a bit arbitrary, but eventually you have to draw the line somewhere.  Oh, and actually shipping only from here on out.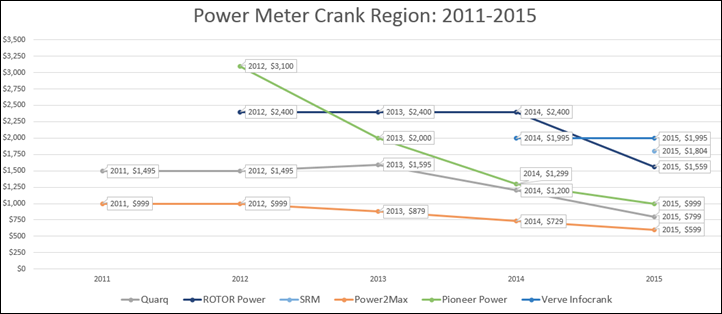 Then looking at the various left only solutions.  In this case you see the massive drop for ROTOR, but that's a bit complex because they introduced a new offering (though they did drop the other one by about 40% too).  Either way, their left-only offering dropped a crapton.
Also of note is that 4iiii's technically increased their price $50.  It wasn't really announced, but you could have bought the non-calibration kit version for $349US before (and shared a kit with a friend), but that's no longer an option and starts at $399US.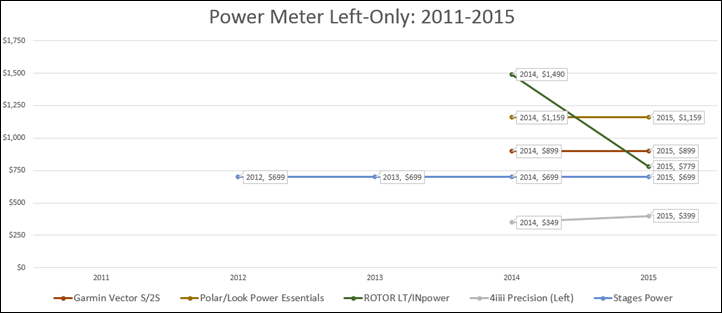 And finally, by itself, the PowerTap wheel hub – because there's nothing else in that bike component region on the market.  Interestingly, this has basically stayed fairly flat – but they just keep upgrading the model that stays at that base price.
Ultimately, you can see a clear downward price trend in all of these. No doubt about it.  While there have been nice 10-20% drops each year over the past few years, I think the introduction of dual-sided power meters at the ~$500-$700 level, and other full capture units (i.e PowerTap C1) helped drive prices further downward.
New Buyers Guide: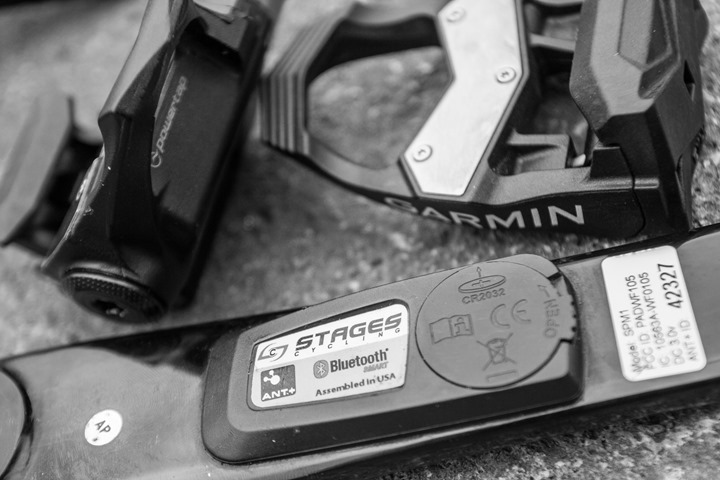 Finally, some of you have asked for an update to my Fall 2014 Power Meter Buyers Guide.  Which, is fair.  Up until this point I've said there's technically been no change – since I place very little value on company promises of pending products in this space (they're always late). Instead I have a heavy emphasis on getting a product in my hands to test.
With last week's 4iiii shipping, that changes that picture a bit, especially since they're one of the two lowest cost solutions.  Of course, I'd like to finish my first phase of testing over the next few weeks before I declare suitability – after all, it must prove it doesn't suck.  Yet, the challenge I have is where do I draw the line on waiting after that?  Do I wait for Watteam's now scheduled media event a mere two weeks later (with units)?  Or what about PowerTap's new units in the same timeframe?  You can somewhat begin to see my pickle.
Not the least of which is the reality that many of you are trying to pick a unit to use during the season.  And as numerous folks will correctly point out, time spent pondering upcoming units is time spent lost using one to better your training today.
Nonetheless, I think I'm going to aim for early-mid May.  It'll be about 10 days shy of the PowerBeat event, but ultimately if I wait for that then I'm realistically looking at June.  By going with early-mid May, I can include 4iiii, PowerTap's new offerings, and anything else that might pop up.  Once I have a chance to test PowerBeat I can back port a section into that Buyers Guide.  And of course, I expect a new guide in the fall.
With that, thanks for reading!