Here's what I was up to over the last few days.
1) Friday Afternoons at The Studio
TGIF takes on a slightly different tack at the Cake Studio than most other days.  As is often the case for companies aligned to weddings and parties, the weekends are the busiest times.  In our case that's usually preparing for custom cake orders for Saturday.  Depending on the delivery/pick-up time, those start Friday (or Saturday morning if it's a later pickup on Saturday).
That means both The Girl and another of our awesome bakers is busy creating cakes all afternoon and into the early evening (I assume 10PM is considered early evening, no?).
Here you can see her next set of cakes to ice getting lined up: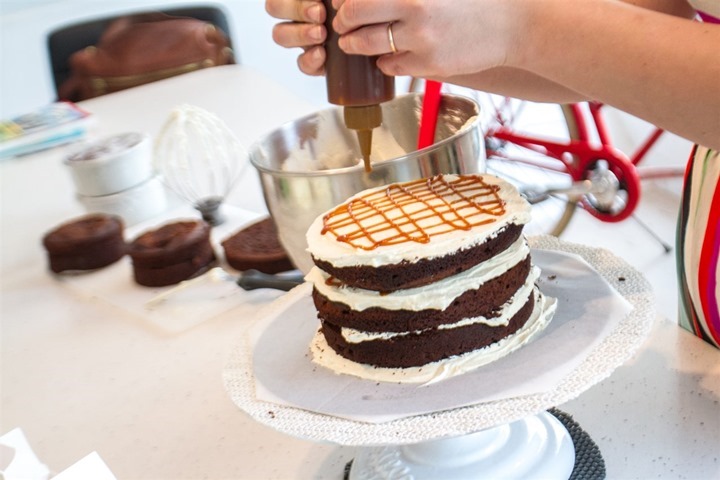 These will then be covered, and ultimately look something like this:
But one can't just have a Friday without kicking it up.  So for that we've started creating a bit of a weekly tradition of chocolate bread from a nearby shop.  If timed correctly, it's straight out of the oven and actually still steaming (as was the case this Friday).  Oh, and we add wine.  Because…it's France?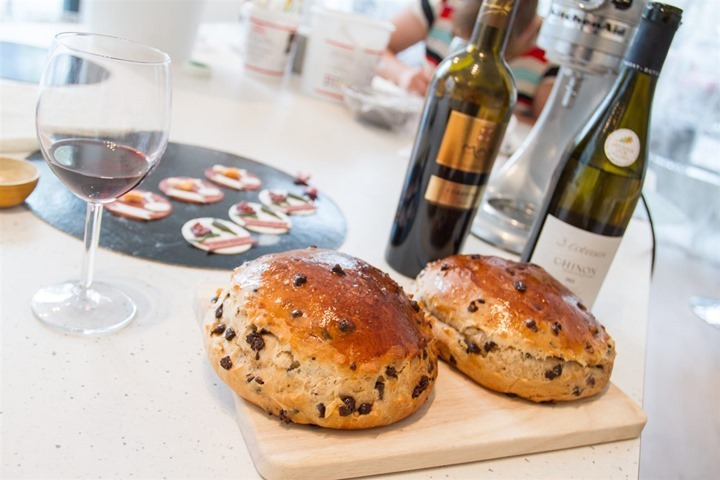 And yes, those would be small handmade cupcake toppers that you see in the background there, oddly enough, of wine bottles and grapes I believe.  Lots of things in motion of course…but just another Friday.
2) A Saturday Brunch Picnic
As regular readers will surmise, there's very little 'free' time in our lives currently.  Or, more accurately, very little free time whereby both The Girl and I are free at the same time.  No more true than on weekends, given its high time for cake orders and gadget testing alike (one of the reasons we recently advertised for a ' Weekend Baker' position).
However this Saturday was one of those days where the stars of free time actually aligned.  So we headed over Saturday morning to the market to start with some fresh fruit: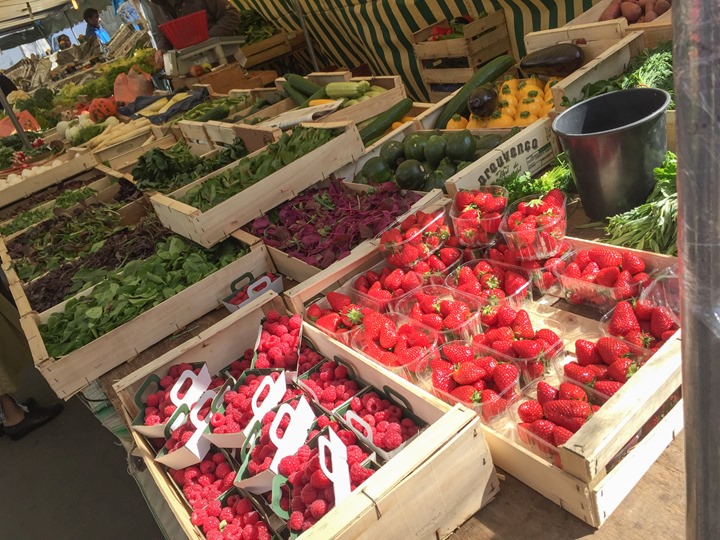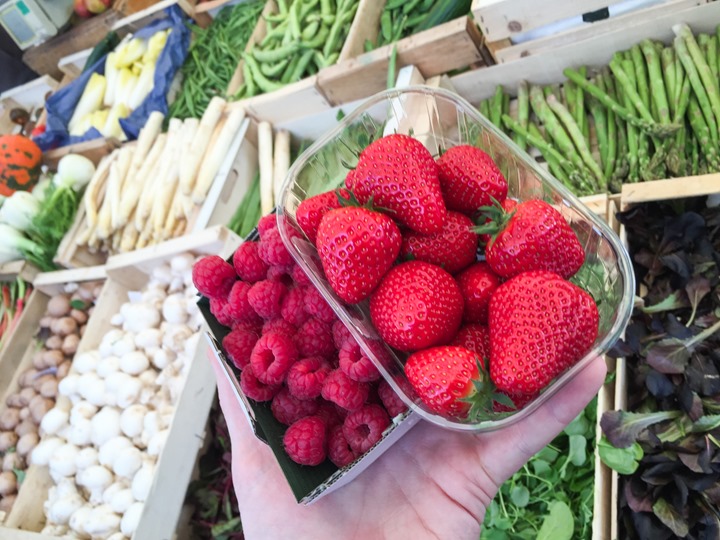 Then across the street to the boulangerie to create a mini-picnic.  Albeit, a picnic constructed entirely out of dessert items.  No matter.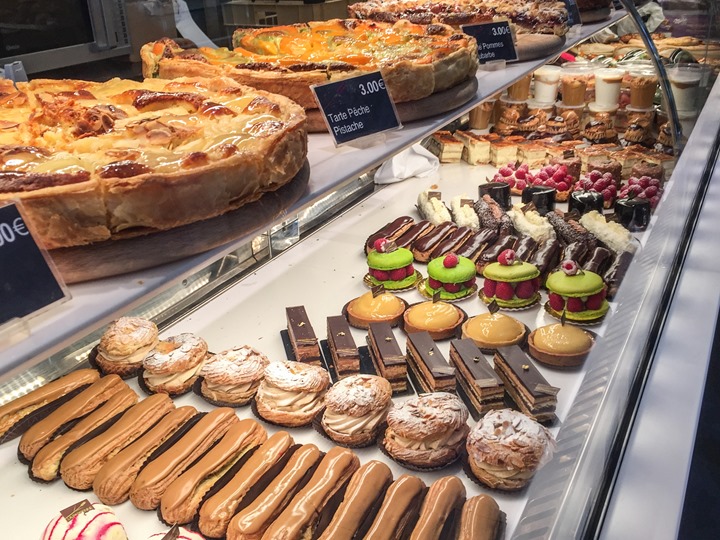 Lucy patiently waited with us: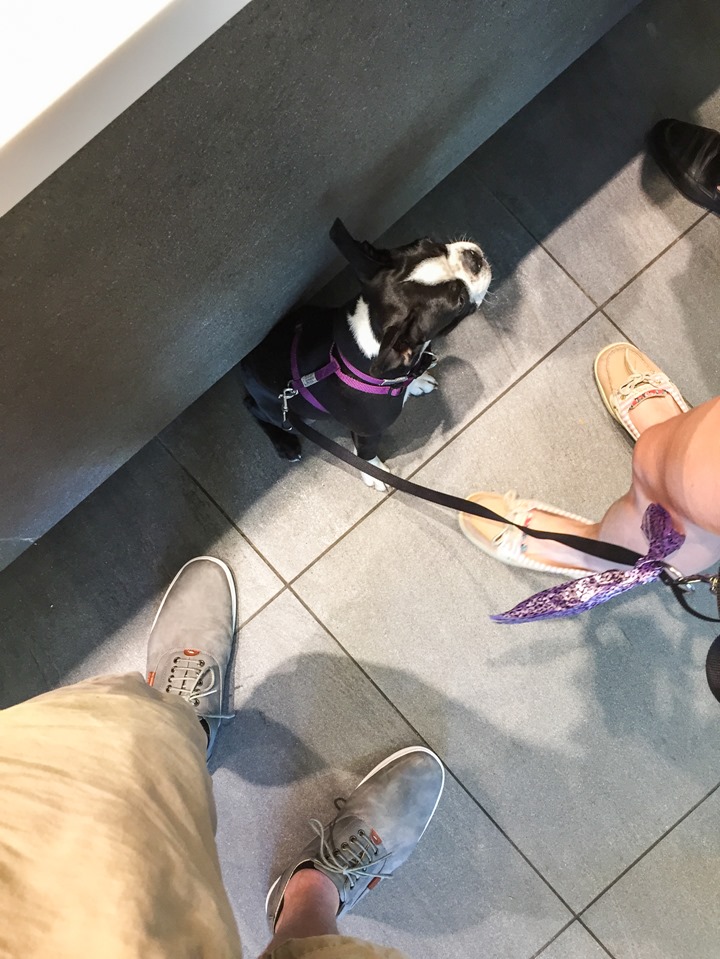 From there we (inclusive of Lucy) walked down to a long skinny riverside park nearby us.  We'd toss her little mini-tennis ball endlessly across this protected (and empty) stretch off the side.  It never got old for her.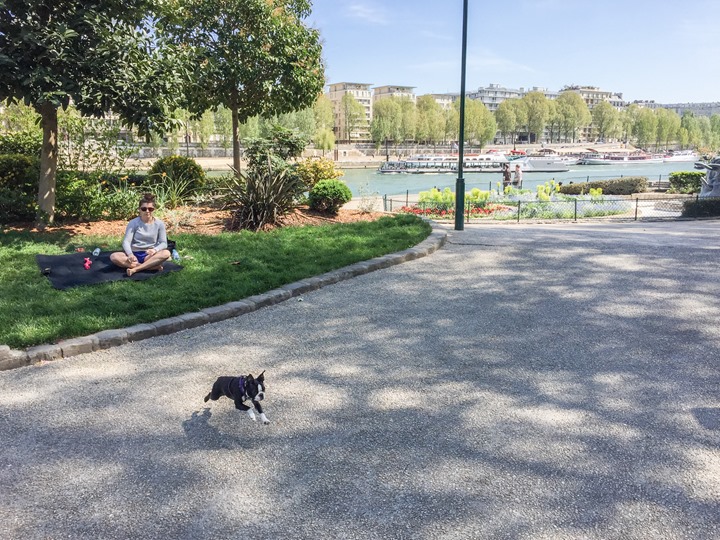 While it was a wee bit windy Saturday morning, it was still great to be able to hang out for a few hours and just enjoy the sun.
The good news is that every once in a while it's not just limited to only a morning of coordinated free time.  We've got a legit weeklong no-work, just-us, vacation coming – complete with posts set to autopublish (for y'all) and everything!  Woot!
3) The 10K Race That Didn't Happen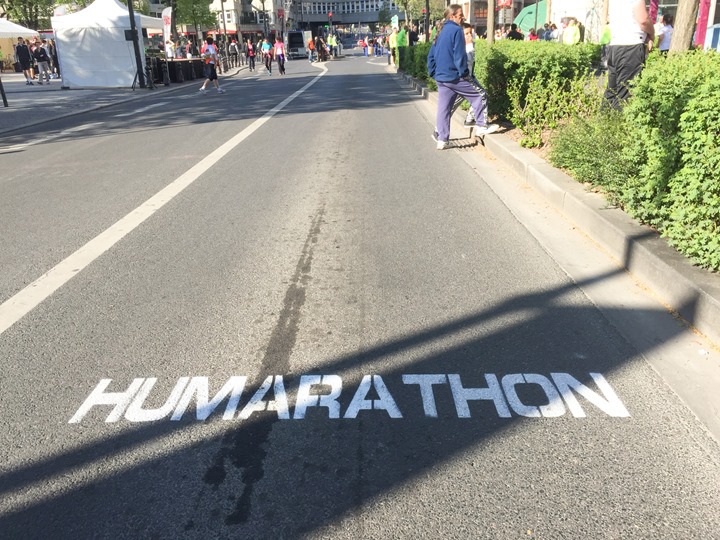 You know that dream that almost every runner/triathlete/endurance athlete has whereby they are rushing to the start of the race and somehow all these illogical things keep blocking them from getting there?
That would be my Sunday morning. But in real life…while getting to the start of a local 10K race.
Because the RER-C (commuter train of sorts) wasn't running to the starting area, I decided driving the Autolib would be the best bet.  They had clearly identified the parking lot on the pre-race info, so it seemed straightforward enough.
What wasn't straightforward was all the blockages due to the race itself, basically creating a multi-mile-moat around the course that I could not penetrate – whereby I easily burned 30 minutes in this effort.
So I went for a backup plan and parked at a different station, figuring I'd take the race shuttle bus from there.  That seemed quite logical.  At this point I'd lost some time, but still had a half an hour for the bus to get me 1.4 miles.  Plenty of time.
Except…the bus didn't come.  Well, not for nearly another half an hour.  And then picked up folks in the wrong spot (burning more time).  I wasn't alone at least.  There were plenty of other runners (some for the 10K race with me, and others for a later race).  All of us arriving at the start at 9:32AM, 2 minutes after the 10K race departed.
In and of itself that wouldn't have been a huge issue – except I still needed my bib, and a place to stash items like my clothes/bag.  Meanwhile, they deflated the starting banner: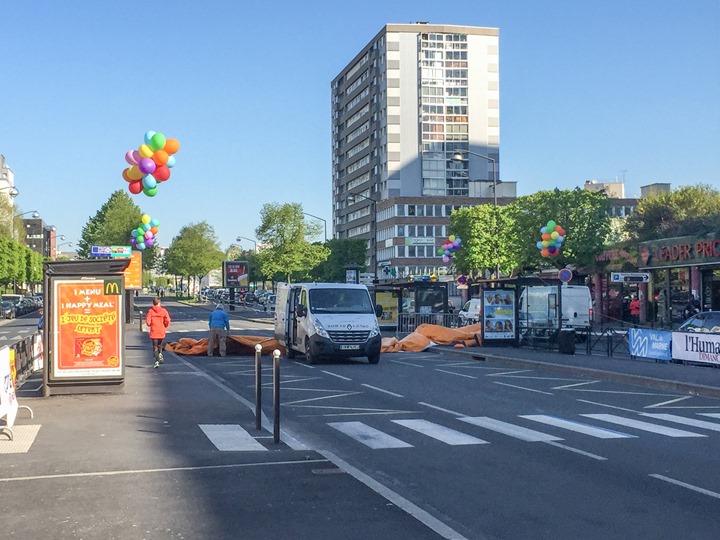 Sigh. My 10K clearly wasn't going to happen.
So I instead resigned myself to eating pastries at the local boulangerie.  The below being a pain suisse, one of my favorites.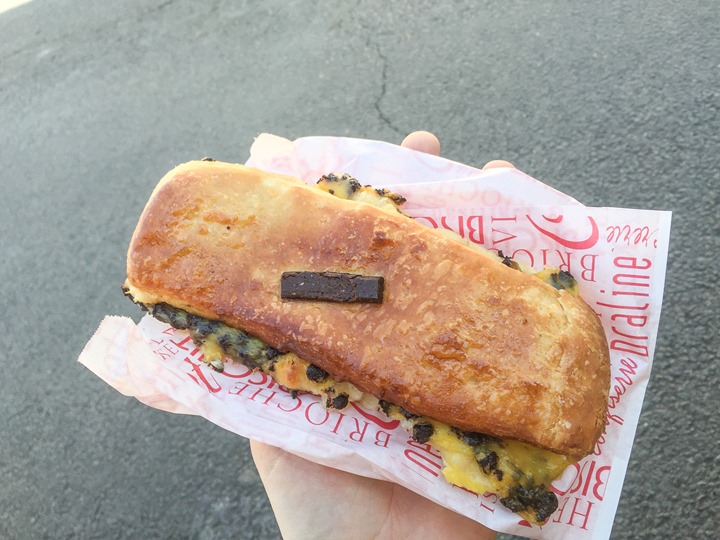 4) An Incredibly Sunny Bike Ride
With my failed 10K attempt, I decided running clearly wasn't on the docket for the day (though I had run nearly 4 miles trying to get to/from the course already).  So instead I went outside and rode.  It seemed a better day for riding anyway.
It happened to be the Paris Color Run (you'll remember that craziness from last year), and as I headed out, it was clearly in full force: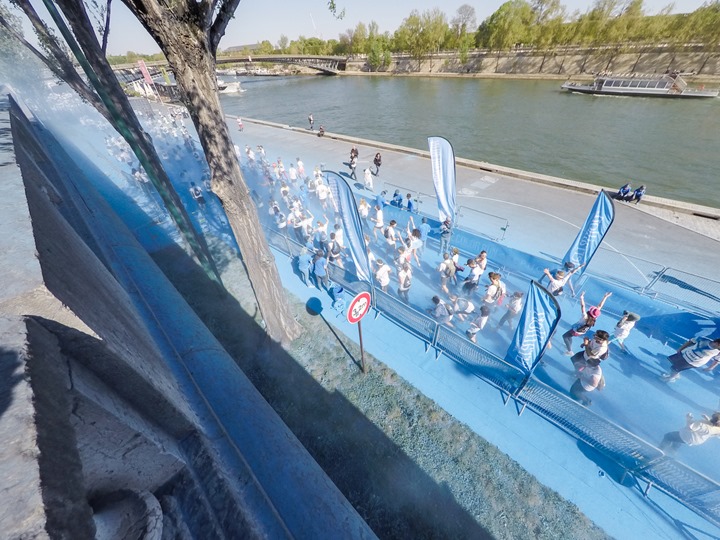 In fact, here's what the road looked like up above it, from the paint drifting up due to the winds: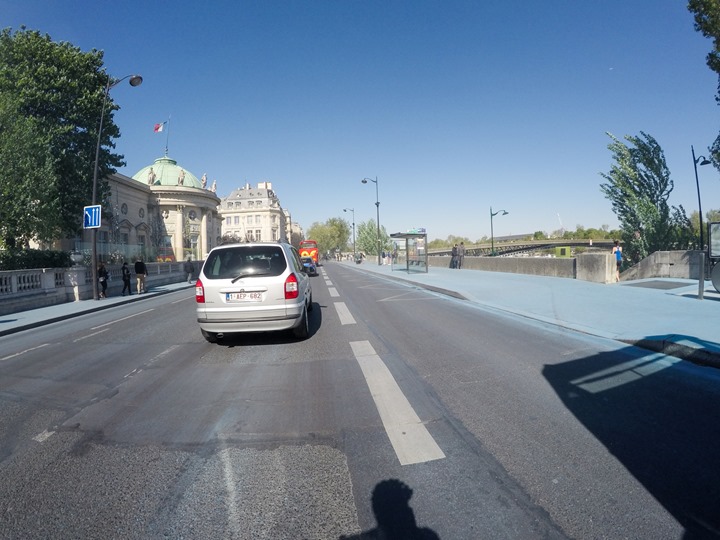 I headed over to Longchamp, where I joined hundreds of other riders doing some loops.  Always good times there, but given the warmth it was fun just to throw down a bit.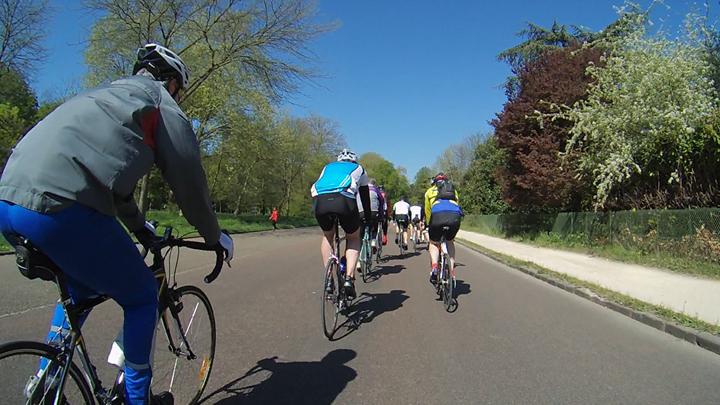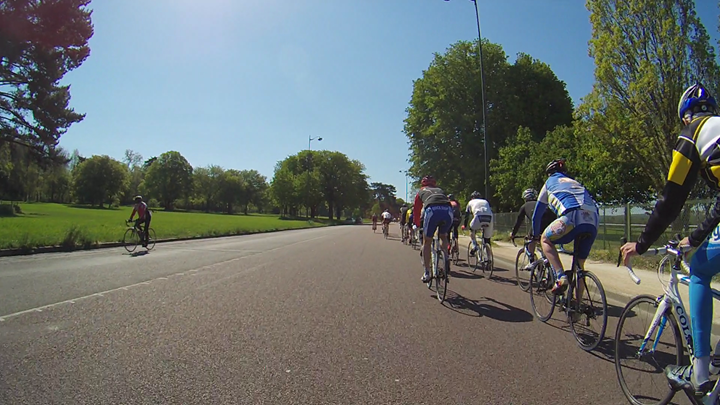 On the way back I got caught up a bit near the Eiffel Tower in the Color Run finish area, trying to get around it.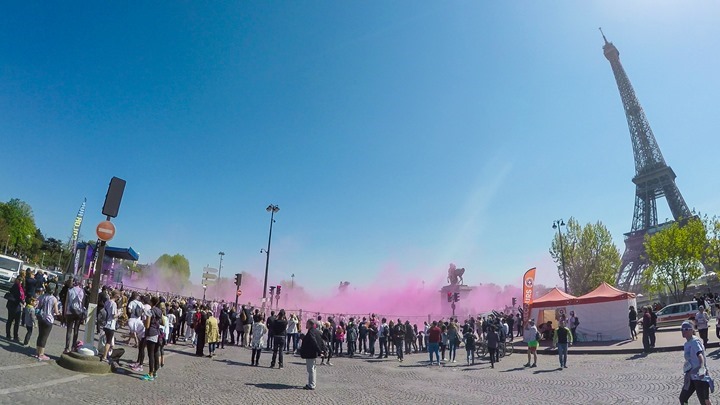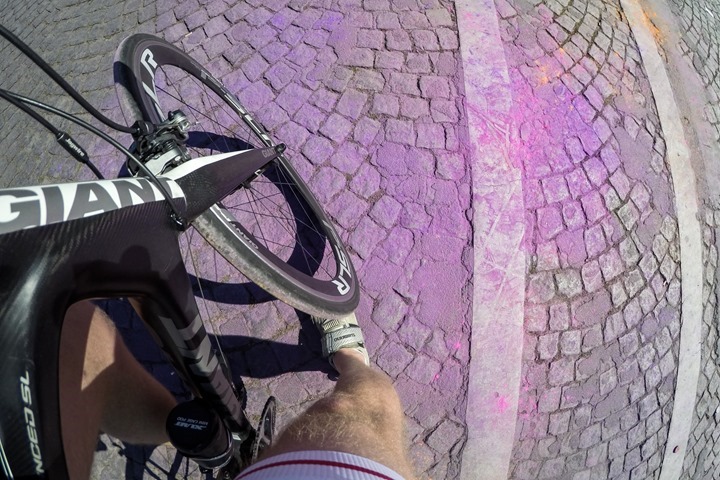 And then again near the Louvre, with more blockages.  But, at least it made for a pretty picture (you can see the blue paint in the background).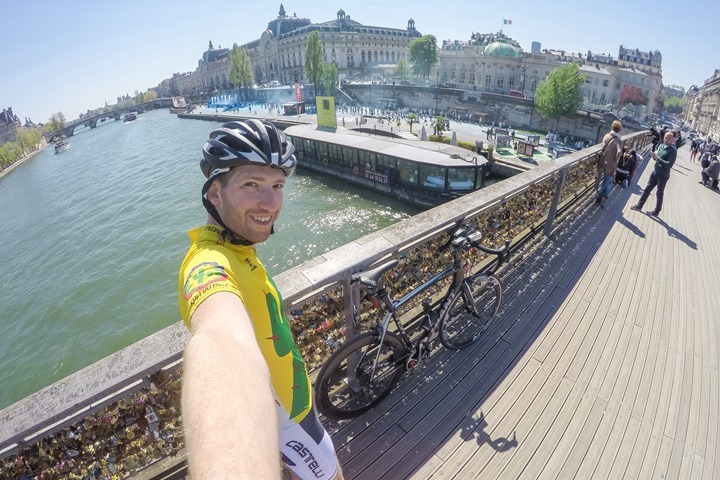 Definitely not a bad day for riding!
5) Went to the Paris Super Barquette
Finally, Sunday afternoon we took the Velibs about a mile or so down to the Paris Super Barquette, which is a food festival in its second year.  Sorta like a 'bite' in the US.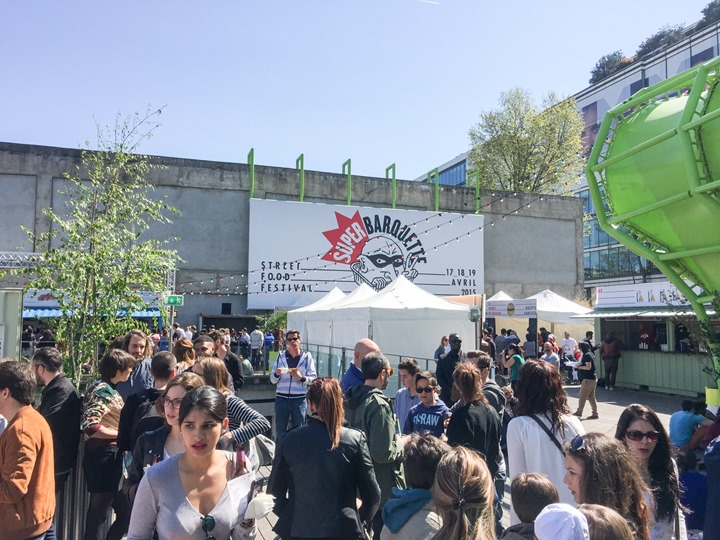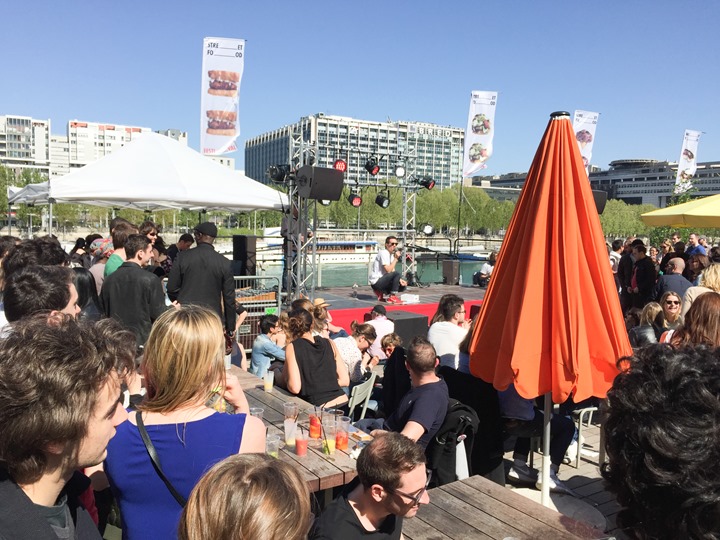 They've got a bunch of different small restaurants from around Paris, each with various time/day slots over the weekend.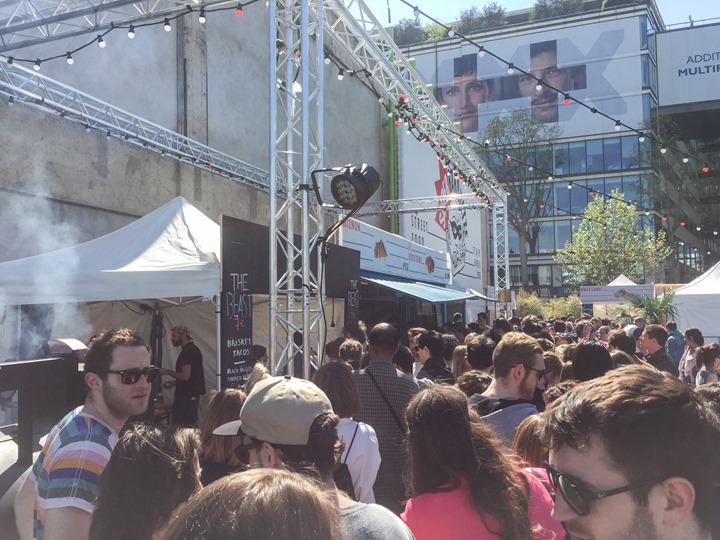 We started with The Beast, which is a BBQ spot.  While the lines took some time (about 15-20 minutes), it was definitely worth it.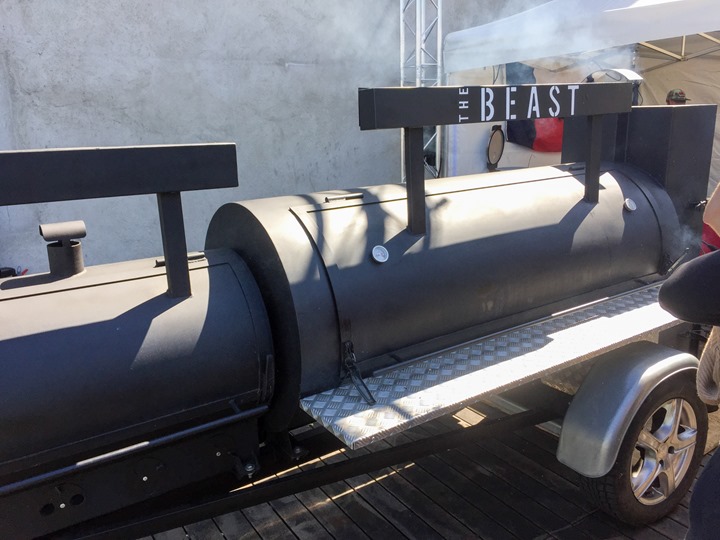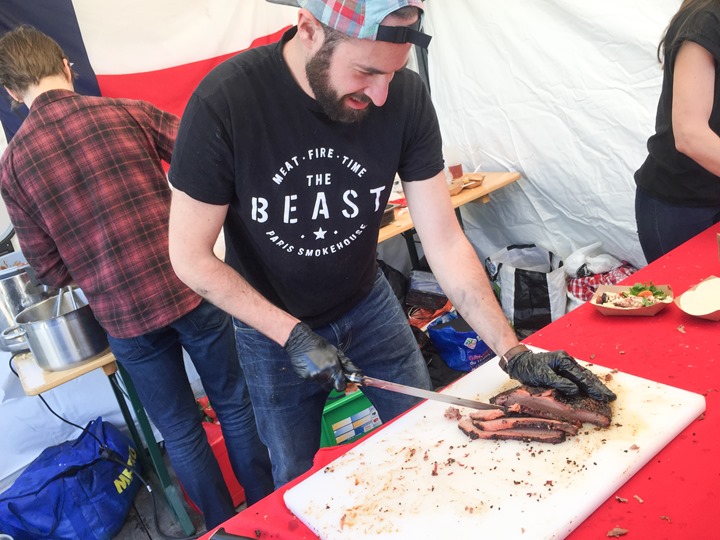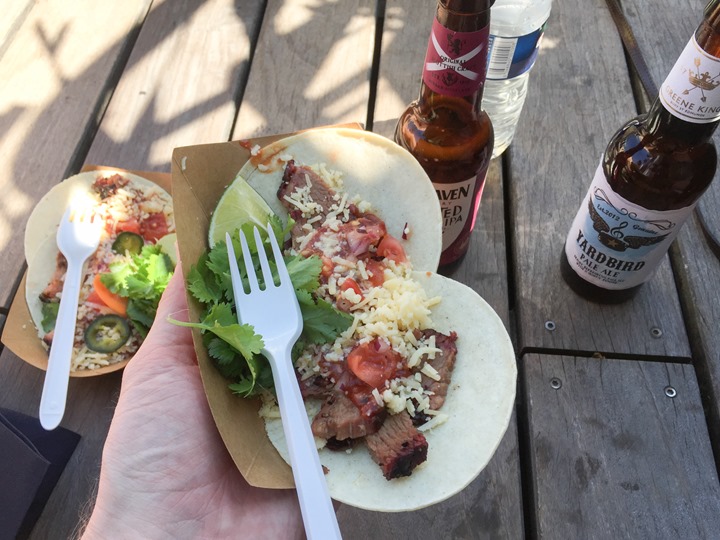 We also hit up a few other places around the festival.  Though, I think for next year they'll really need a bigger spot (this was their second year), as it was pretty cramped.  But I suppose growth is always a good problem to have!
Afterwards, on the short ride back, we saw the police boat fishing a car out of the river. So…if you've lost a small white car recently and still have the rear hatch, you may want to check with them for the rest of the car.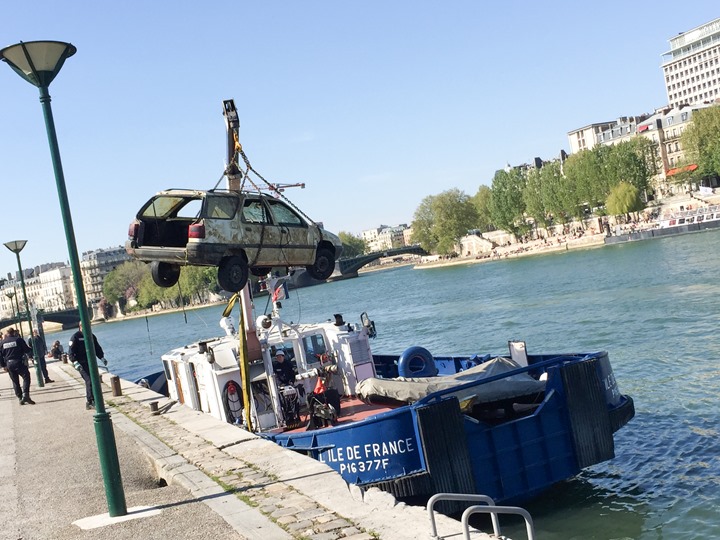 With that – thanks for reading, and have a great week ahead!