As many of you know, we don't own a car here in Paris.  When we moved over here – we sold off our two cars (to friends and family), and figured we'd figure it out as we went along.  Given we're just a block or so from a Metro (subway) station, and have bicycles – it would be pretty easy to go without a car, save for a few random times.
When we got here this summer, we started seeing these little electric cars parked all over Paris – you literally couldn't go more than a couple blocks without seeing a station of 3-5 cars parked and hooked up.  We started investigating it, and found out it's actually a pretty good deal.  It works sorta similar to Zipcar in the US (though, I'm not super-familiar with that program).  We pay an annual fee – a little over 100-Euros, and then we pay by the half-hour.  The rates vary from 4-7 Euros per half-hour.  There are no fees for how far you drive.  There are some limitations – you're only allowed to drive so far outside the city before some voice in the sky pops up on your dashboard and tells you to turn around.  Like the GM Onstar, but…Autolib instead.
For us, we pretty much only use the little car to go get supplies for the CupCakery at the restaurant supply store.  So on average, about once a week.  There are a few random trips too– such our trip to the u-pick farm to go vegetable/fruit picking.  These are places where the Metro doesn't really go, nor would be practical (i.e. carrying back 100 pounds of flower/sugar/etc…).  And usually, it's far cheaper and faster than a taxi.
Every time we go to pickup a car, tourists stop to watch how it all works (and even take photos of us).  So I figure if every person that visits Paris is interested in how it works – you might be as well.
First up, finding the cars.  There's an app for that!  It tells me what's nearest to me, and if there are open cars/spots.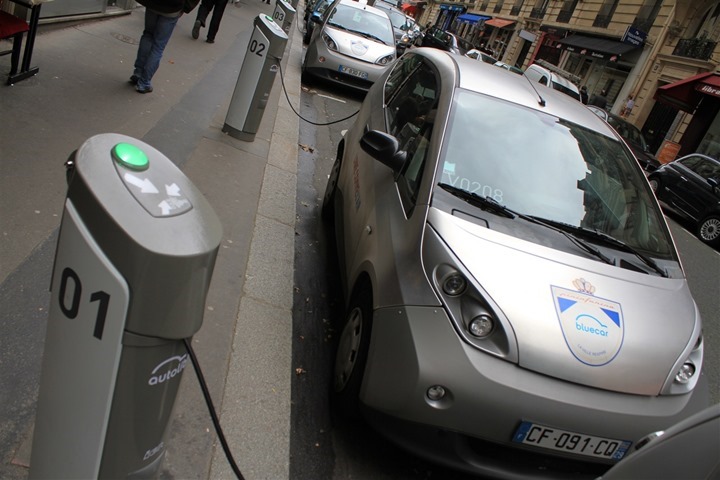 From there, I grab my Autolib yellow card: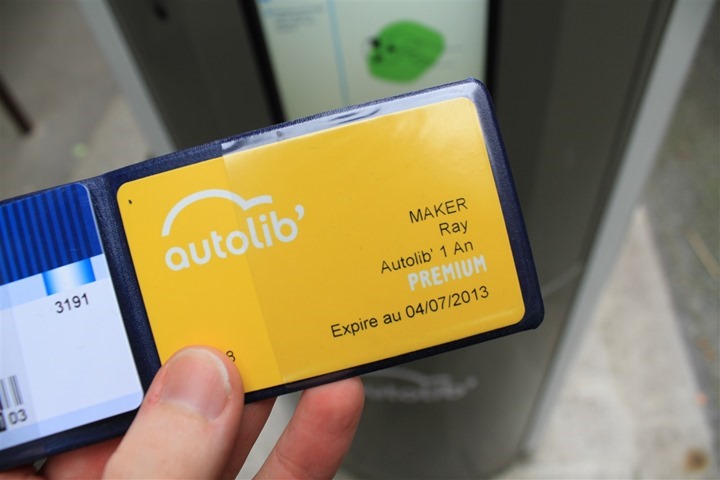 I'll go up to the small machine that's on the curb, or at the end of cars.  You can't just randomly pick a car, you gotta take to the ATM machine of sorts.  I just swipe my card where those arrows are at the bottom.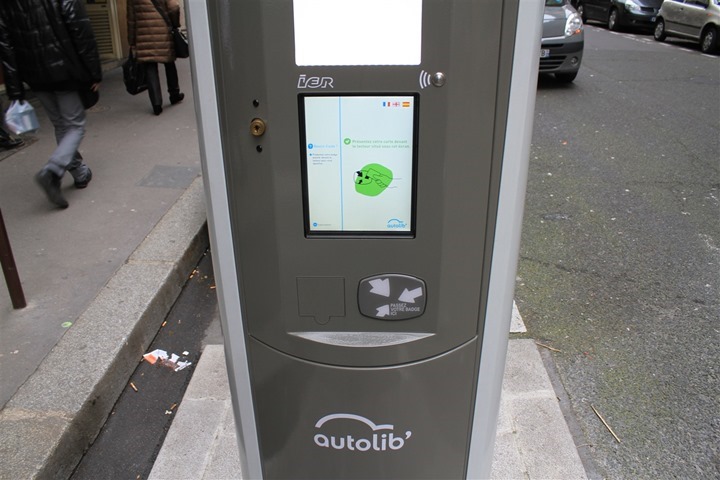 It then tells me that there are indeed vehicles available, and I simply tap the button to go ahead and begin.  Now interestingly, the company behind Autolib is actually a British company, which means that I can display everything in English.  Additionally, if I connect to a human and ask for help – it's a very friendly Brit.  Perfect!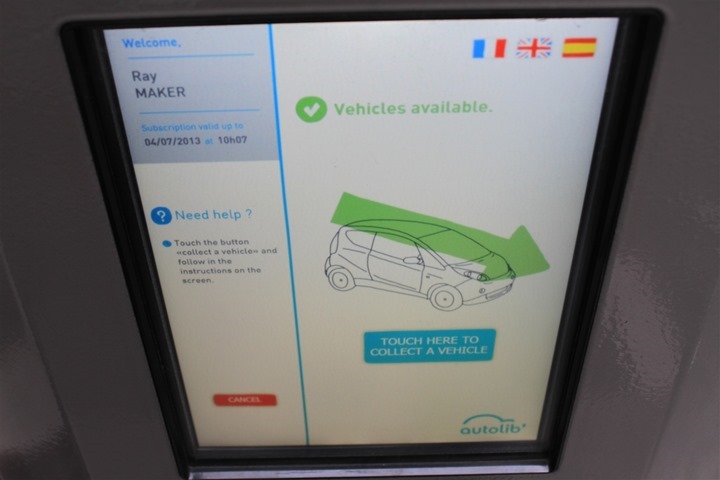 Next, it asks me three questions – Monty Python style!  In my case, my license is tied to a valid US drivers license – which Autolib holds a copy of.  Beyond that, it ensures I'm not drinking, nor taking any performance enhancing drugs.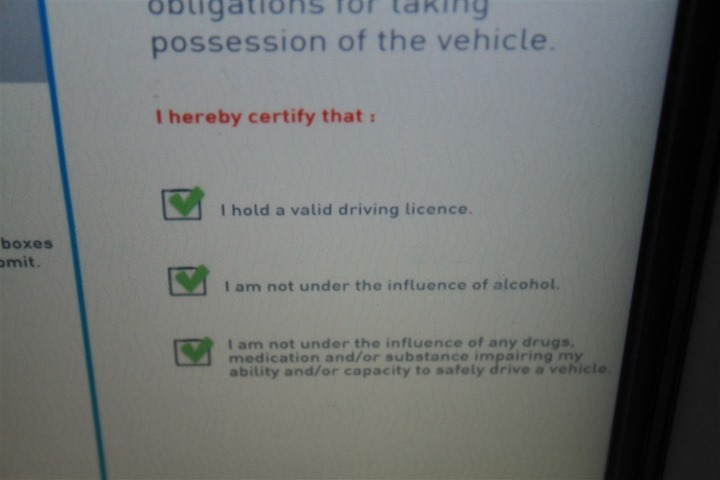 Once I do that, it then tells me which car I'll get.  In this case, it's car #2.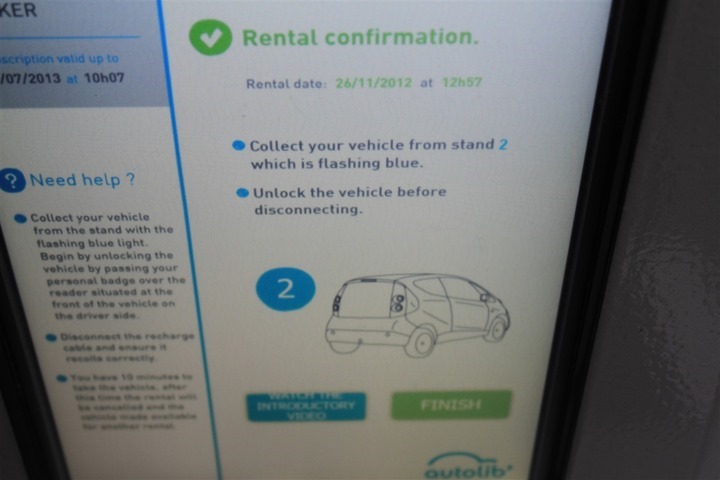 Looks like there were two cars to choose from that day.  It seems based on what I've seen that all things charge-wise being equal, it'll actually give you whichever car is easiest to get out (from a parking standpoint).  Kinda nice!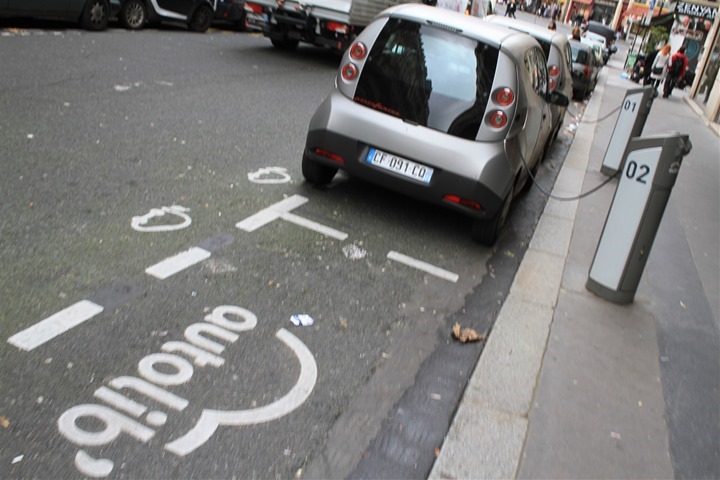 Next, I'll go to the car and swipe my cardkey on the badge reader.  It's just like at work, except, inside the window.  There are no keys for door entry – the card is my key.  If I want to park and leave the vehicle somewhere, I just swipe to lock it.  I can keep the car for quite a long time.  Not sure exactly, but we had it for 2-3 hours one day out at the farm.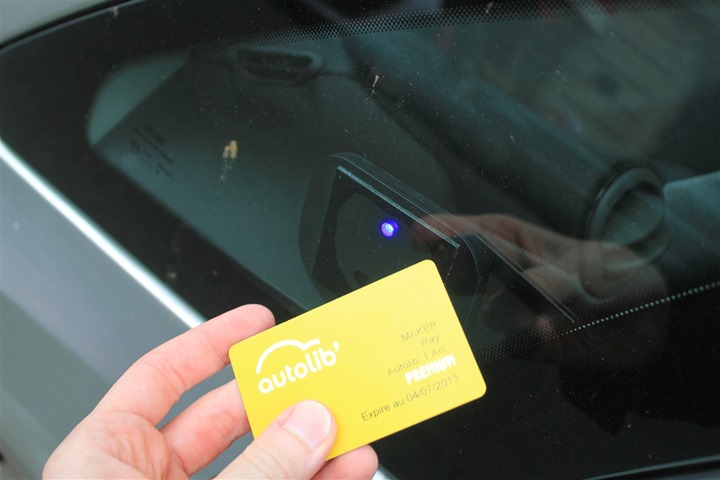 Then, I go up to the little tower next to the car.  The tower contains the plug to charge the car.  In this case, it's connected to the car.  The top lifts up when you unlock it from either the unit, or the ATM machine thing.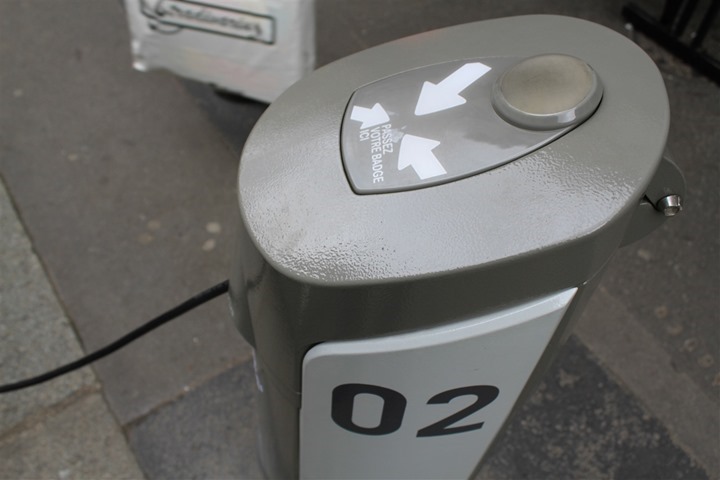 Here's the cable in the car (charging)…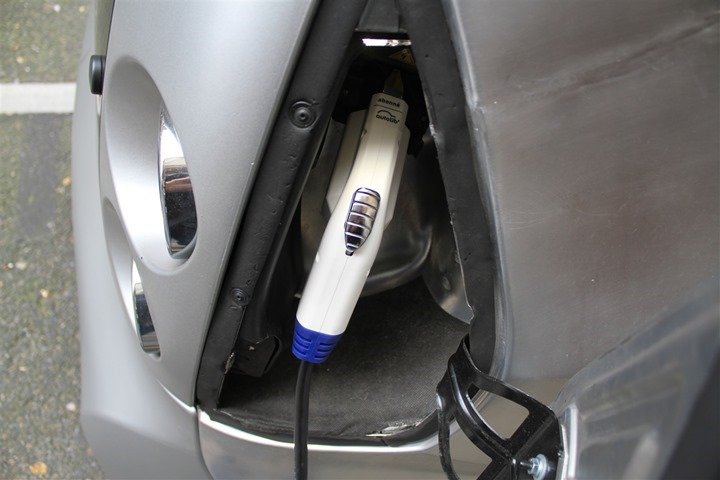 And here's the cable unplugged.  It's pretty much impossible to put in the wrong way.  Not sure how you'd do it the wrong way even if you wanted to.  But in this case, we're taking it out.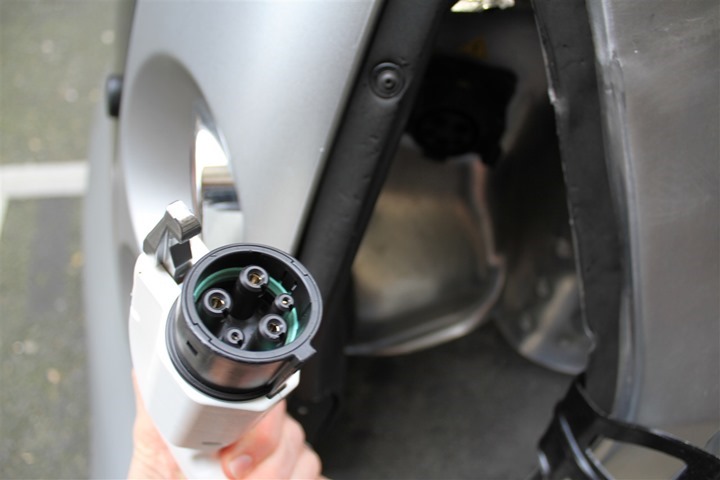 We just stash it inside the little car-side tower, and then close it up.  It'll lock automatically.
After getting inside the car, it welcomes us.  In theory it remembers settings like radio stations and the like – but, we don't really use that piece.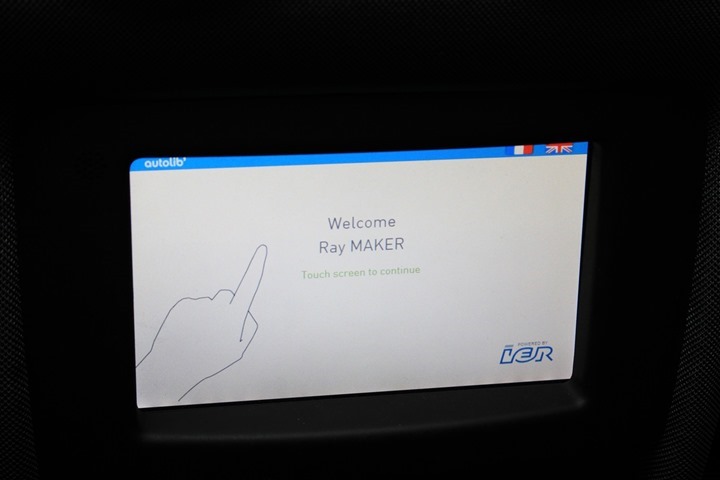 In the dashboard I can see how far I've gone on that trip, as well as the battery level.  In this case, it seems like the trip indicator is a bit off (since I just got in the car).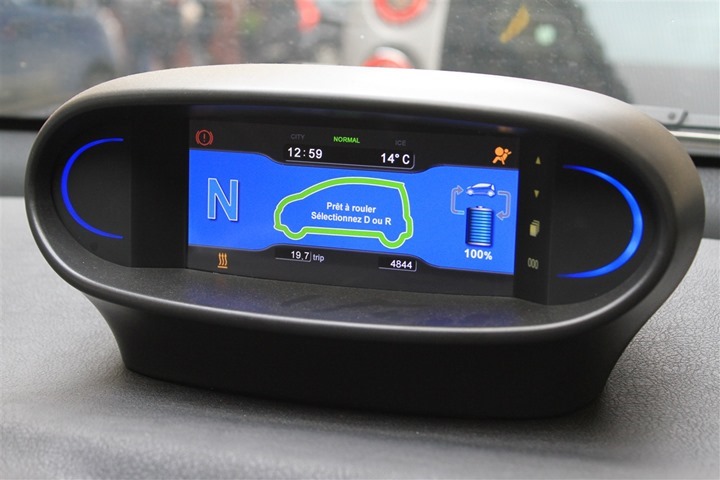 With that, we're off and driving.  As you can see, it's not a terribly big car, so I don't fit super-well.
The dashboard has a GPS built into it, so I can program an address as well as see where parking spots are.  If you look at the below, those blue numbers indicate open parking spots at Autolib stations.  When I want to navigate back (I can go to any station), I just type in the station name nearest me.  Makes it easy to get around parts of the city I'm not good at yet.  Though these days, I don't need the GPS unless we're going on the fringe of the city somewhere I haven't been (for a cake/cupcake delivery).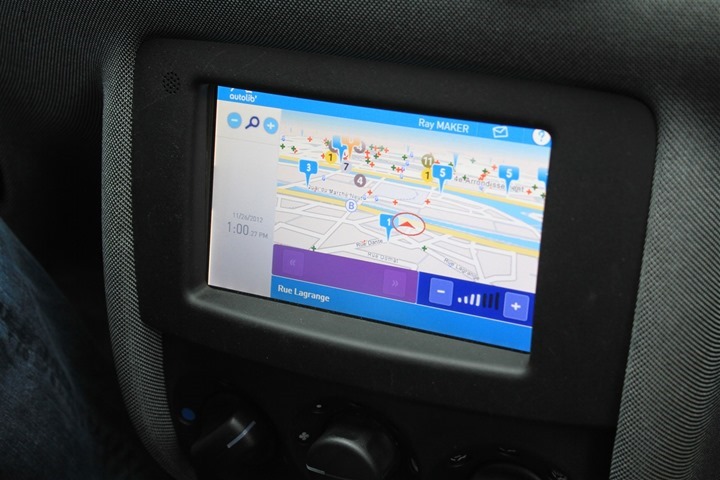 If you notice the below, as I brake it'll transfer that energy back into charging the battery.  You can kinda see it on the right side with the green arrow illuminated.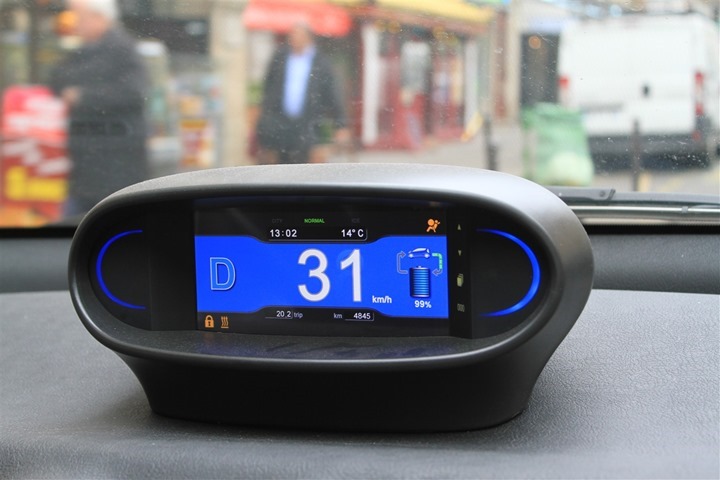 Conversely, if I'm 'burning electricity', you'll see the arrow go from the battery to the car.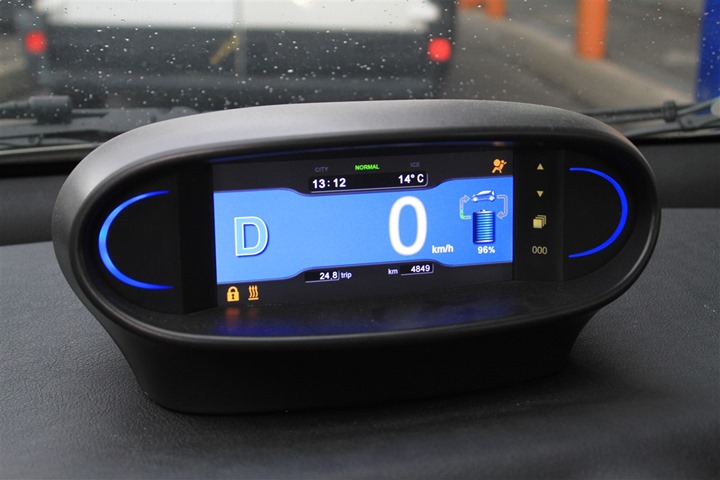 Otherwise, I just drive.  Yup, that's me.  The Girl is taking the photos.
I don't mind driving here.  I've driven enough in dozens of other countries that it doesn't phase me.  And just for clarification – we drive on the right here – just like in the US.  In fact, I've found it easier to switch to driving on the left when I travel to countries that are left-sided.  I think it's because I only drive once a week, so some of the habits wear off a bit.  Some coworkers were recently amazed at how fluid things were when I drove in the UK – despite being on the 'wrong side of the road'.
The Girl isn't as much a fan of driving here, mostly due to the city aspect (though she still does occasionally).  Driving here isn't nearly as crazy as some countries I've been to (i.e. Thailand), but, it's definitely a bit more 'free' than in the US or Canada.  Lanes are merely 'suggestions', and you must make a extra partial lane out of your lane for mopeds and motorcycles.  So getting used to the 'extra lane' concept can be a bit odd.  Of course, I've long since learned about extra lanes (again, in Asia).  Where a standard two-lane road (one in each direction) is actually a five lane road: The breakdown lanes are considered valid travel lanes (2), then the two regular lanes (2), and then the center-line is considered a lane (1).  Like 5 for the price of 2!
Here, more like 4 for 2.  No centerline lane.  At any rate…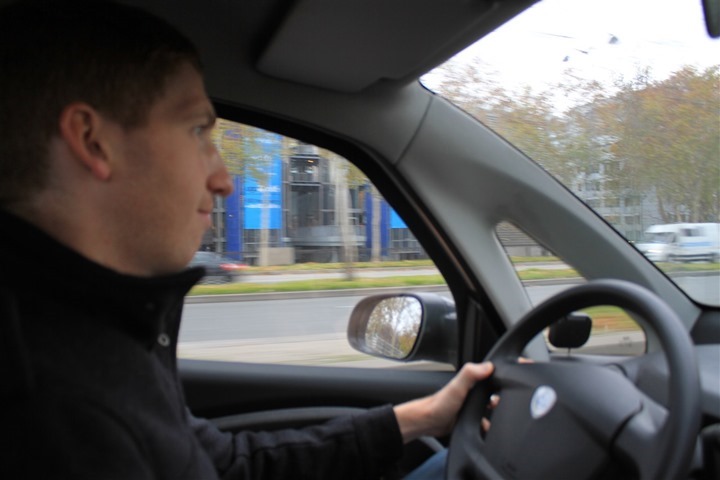 Of course, our real talent here is packing in the goods!  We'll go to the store and fit in a mind-bogglingly large amount of stuff into that little car.  This is one of the earlier trips we did back in October for supplies.  P.S. – That's a LOT of chocolate….and butter.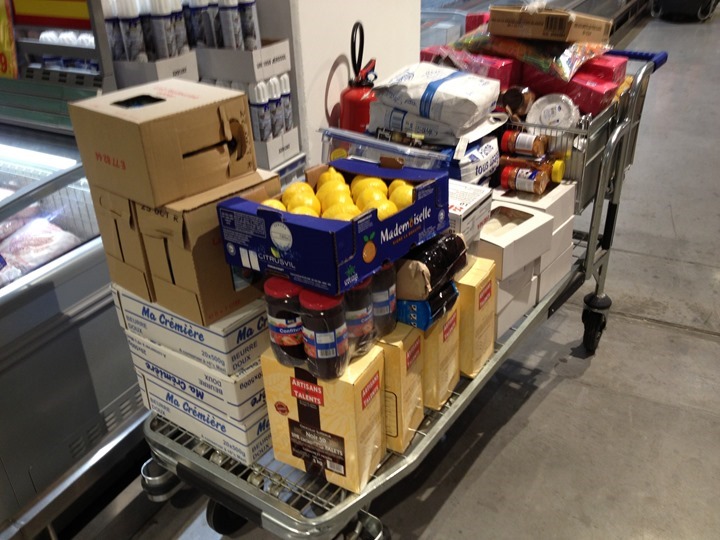 And, same goes for our trip out to the farm: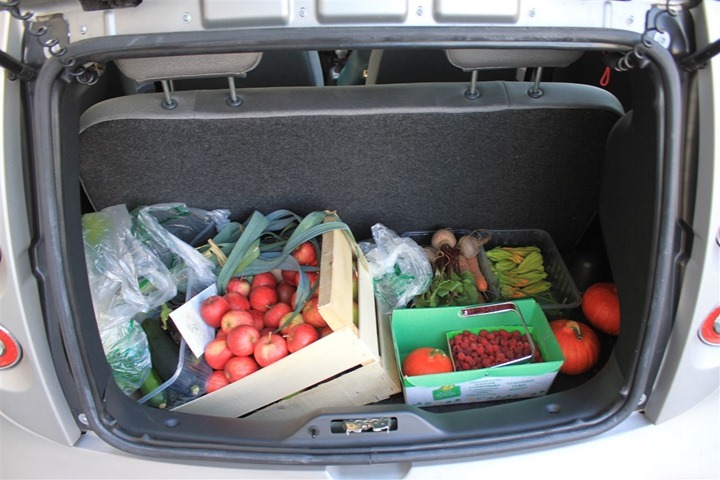 The only bummer about the car is that the backseat is bolted upright.  So you can't put it down.  This makes it slightly tricky to use for holding two bikes.  We can fit them in, but we have to take off both wheels to do so (on both bikes).  It's also a bit expensive if you were going on a long-ride somewhere, but it's not too bad if you pick a station outside the city – pay the 30 minute fee to get there ($4-$7), and then pick up a car again for the way home.  To date, we've just simply ridden our way out instead.
Finally, when we're all done, we simply find an open parking spot at an Autolib station, and park the car.  All we need to do is tap the little tower with our card and then it opens up the charging cable to reconnect it.  Then we just lock the car and walk away!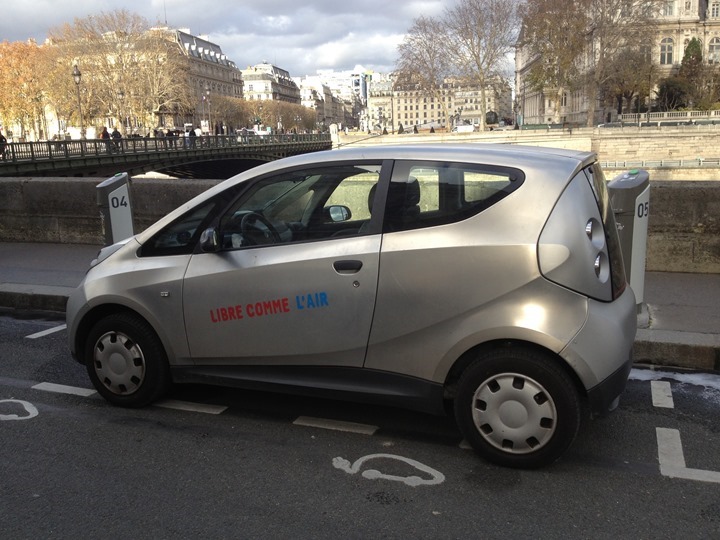 For us, we tend to pickup the car nearest our house, and then drop it off nearest the bakery.  Of course, those two are pretty much only a few hundred yards away – but via car, they end up being about 5-8 minutes drive due to one-way streets.
Hope ya found it interesting.  Thanks for reading!