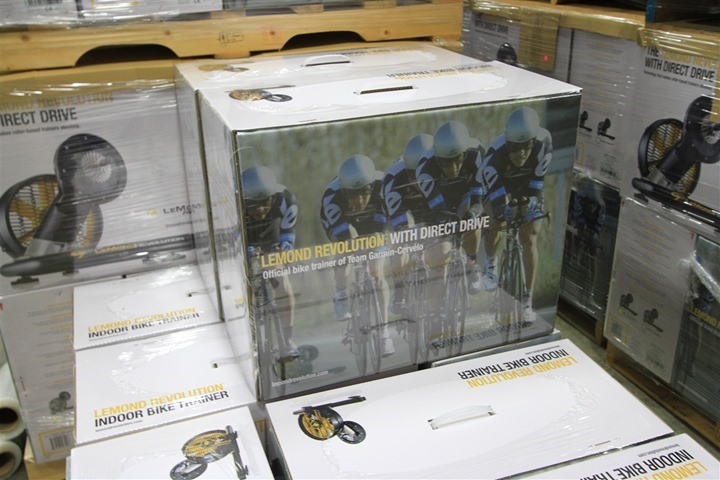 Just a quick post, as I'm heads down in a bunch of other items at the moment (including procrastinating going out running 90 minutes in some rather chilly weather).
To catch those of you back up – last fall LeMond Fitness sold virtually all of their assets to Hoist Fitness.  In doing so, they closed down their Seattle-area headquarters that I visited about a year ago, laid everyone at the company off, and transferred responsibility of LeMond products to Hoist Fitness.  This included mostly gym products, like spin bikes and the sort.
Except one product wasn't entirely included in the transaction: The LeMond Revolution Trainer.
Nope, it wasn't part of the deal and thus stayed in a bit of limbo land.  Now technically Hoist did purchase it along with everything else, but then they immediately sold it back to Greg LeMond.  But Greg obviously couldn't answer every support/marketing/sales call on his cell phone himself.
So in the interim the Hoist folks would take calls on it, but didn't have any inventory to sell units.  Further, their support was largely limited to offering you condolences.  As such, it's one of the main reasons I recommended against it on my November Trainer lineup.  I'm not a big fan of buying into products with no future.  It's like buying a car from a manufacturer that's already gone out of business.  I knew that it was possible and likely that the LeMond Trainer would surface again – possibly even under a different branding.  But nobody knew when.  It could be next week, next month, or 5 years from now.  Or never.
So fast forward to earlier this week when I noticed a tweet from Hoist Fitness, about LeMond Trainer.  I flagged it for follow-up later, but didn't have a chance to look at it until early yesterday morning.  It was then that I poked around and noticed a new website had been spun up, as well as an ordering system.  And Facebook.  And Twitter.  Nice!
Then just a few hours later, I'd receive an e-mail from the guys behind the newly formed company that's selling the LeMond Revolution.  Which, is a very small group of folks – including Greg LeMond himself.
So where does it stand now?
Well, here's the skinny – in simple bulleted form:
1) Location: The new LeMond Fitness Revolution company is based out of Minneapolis, Minnesota.  Given the weather there, I could see how it would make for a logical place for a trainer company to re-launch from.

2) Availability: As of today, they have a couple hundred units on hand available for purchase direct from consumer.  About half of those however are headed out to international dealers that had previous orders placed.

3) PowerPilot: Their first order of business is focusing on the PowerPilot.  Today, they're looking to get out from under the small tidal wave of complaints around the head-unit and bugs.  The head unit is required to get power data from the Revolution.  Their goal is to quickly get a new firmware release out to address those issues, and then look to make longer term next steps beyond that.

4) Jet Engine: I asked about plans for the fan noise (which I've recorded as high as 101db!).  For their v1 unit (what's on the market today), they are looking at some potential cowling options to reduce noise.  These include options that might redirect that fan back up to the rider for cooling.

5) Technology Next Steps: Longer term, they're looking to see how they can revamp the product and make it more relevant to the price point and target market, through technology such as Bluetooth 4.0 and potentially still ANT+.  I noted that the chief complaint about the PowerPilot (or Revolution itself, aside from noise) as the lack of transmission over standard ANT+ to a users already existing bike computer (i.e. Garmin Edge 500).  I think (as I've told every company that asks), that for the next 12-18 months, going with a 'both' approach makes the most sense.  It allows users connectivity to existing devices, while also allowing connecting to smartphones.  It's very clear that companies that don't follow that guidance see pretty significant user backlash (see: Edge 510/Edge 810).

6) Production: They are currently producing more units, so the couple hundred isn't it.  Their factories in Asia are able to produce more units on demand, as that portion of the operation was never closed up.  Like other trainer companies, the units are then loaded on a shipping container and sent over.
Note, if you're in the US/Canada, then buying one directly on the site is straight forward.  If you're outside the US/Canada, the geolocation functionality of the website will automatically assign you a set cost of $1,500 for shipping.  I asked about this since I realized it would be cheaper to fly to them to pick it up, than have UPS do so (not that I have a high desire to freeze my butt off in Minnesota this time of year).  They noted this is primarily because they don't quite have the logic in the site yet to do international shipping costs.  And further, they'd prefer folks go through their local dealers for them (which are being shipped units). They said though that in the event you can't navigate that channel without running into an iceberg, simply contact them and they'll work something out.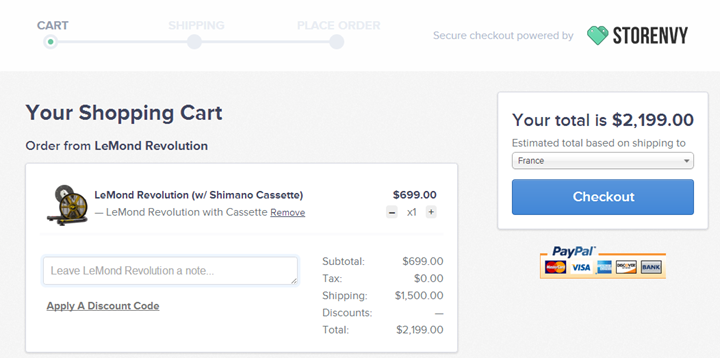 [Updated pricing from Lemond]: Finally, as to the question of whether or not to purchase one.  As I've said previously, that's a tough call at present.  At $699 and with the PowerPilot an additional $179 $399– you're looking at $1,100 for the unit.  That puts it $200ish above something like the Tacx Bushido unit.  And about $100 above the cost of the Wahoo KICKR.  Or, a any hundreds of dollars above the cost of the Kinetic Road Machine + inRide Combo.  Of course, the vast majority of folks picking up the Revolution are buying it for the 'road-feel' – which no doubt it definitely has.
Thus one has to balance technology versus feel.  Price versus functionality.  Resistance control versus not.  And, most of all – sound.
For some, you'll find the road feel more valuable than the technology integration.  And for others – you'll find value at the technology in other units at higher or lower prices.
Personally, for me if I was to pay $1,100 for this trainer package, I'd probably want more open connectivity.  I'd like to see it transmit that power stream out via ANT+ so I can record it directly on the device of my choice.  Resistance control is also something that your probably looking at in that price range – and it's not there.  But yet on the whole, the Revolution available today, and does feel pretty close to the road.  So it's a tough call.
As always, thanks for reading!