The Tacx Bushido Trainer has been on many of your minds over the past year.  It represents the first significant and major competitor to the RacerMate CompuTrainer – which has long held the king of the hill position in the computerized trainer market.  Thus, Tacx would not only have to match the CompuTrainer functionality, but also surpass it in other areas to have folks consider it. So how does the Tacx Bushido unit stand up to the more expensive CompuTrainer when you consider all the factors involved in such a high priced investment?  Well, stick around to find out.
Like all my reviews, they tend to be pretty in depth (perhaps overly so) – but that's just my trademark DC Rainmaker way of doing things.  Think of them more like reference guides than quick and easy summaries.  I try and cover every conceivable thing you might do with the device and then poke at it a bit more.  My goal is to leave no stone unturned – both the good and the bad.
Because I want to be transparent about my reviews – QBP (Quality Bike Products, a distributor for bike products to Local Bike Shops) sent me a Tacx Bushido unit to try out.  The effort was the culmination of working with the Tacx folks in Europe to get a trial unit shipped over the US, so I'm thankful QBP was able to make it happen.  Once I'm done with the unit, it'll get sent back to QBP.  Simple as that.  Sorta like hiking in wilderness trails – leave only footprints.  If you find my review useful, you can use any of the Amazon links from this page to help support future reviews.
Lastly, at the end of the day keep in mind I'm just like any other regular athlete out there.  I write these reviews because I'm inherently a curious person with a technology background, and thus I try and be as complete as I can.  But, if I've missed something or if you spot something that doesn't quite jive – just let me know and I'll be happy to get it all sorted out.  Also, because the technology world constantly changes, I try and go back and update these reviews as new features and functionality are added – or if bugs are fixed.
So – with that intro, let's get into things.
Unboxing and setup:
The box containing the Bushido is a fair bit smaller than I expected.  Nice and tidy, all in a single unit.  As you can see however, the fine folks at UPS did assist in the durability testing a bit though.
Once I opened up the box and took off the external shell, I was left with a whole bunch of neatly arranged parts inside foam.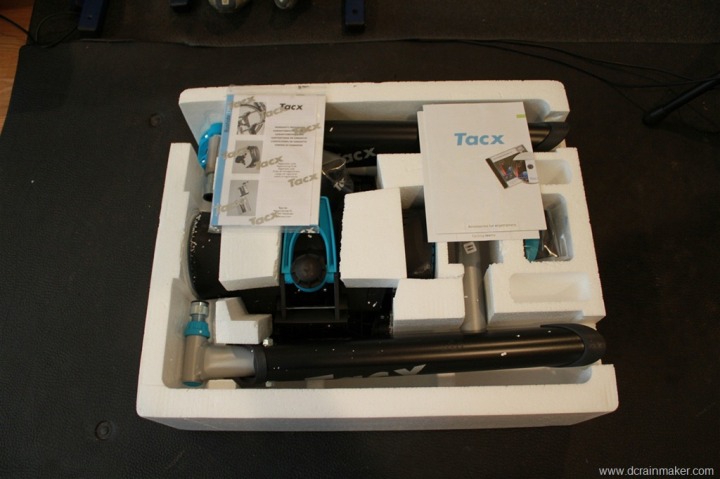 The only complaint I have here is that the trainer wasn't wrapped inside some sort of plastic bag.  Now normally I make fun of companies for extra plastic baggage.  But in this case, because UPS assisted with durability testing, the foam had crumbled a fair bit, leaving me to vacuum out tiny Nerds Candy sized bits of foam from everywhere.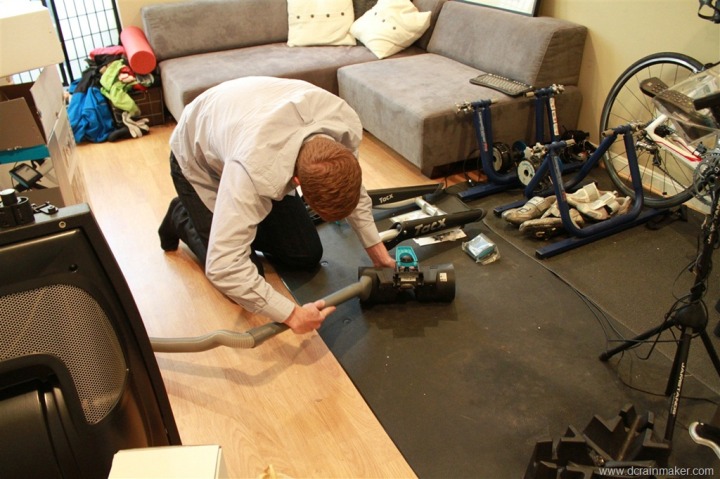 With my vacuuming checked off for the week, I got to work putting it together.  Though first, here's all the pieces laid out: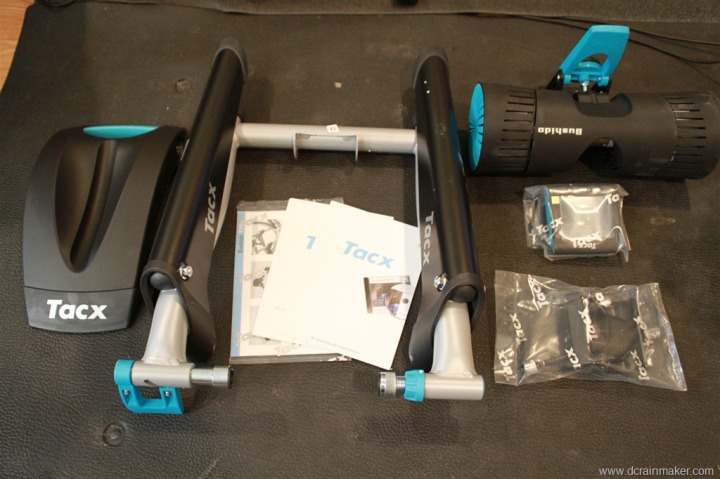 On the left side you've got the wheel holder/block.  Then in the middle is the trainer with some paperwork stuff.  On the upper right side is the load generator/brake, the Bushido head unit in the middle-right, and finally at the very bottom right a few pieces to attach the load generator to the trainer stand, as well as a trainer skewer and a wrench to tighten everything together.
Speaking of that wrench, let's get to work attaching these two pieces together:
After about three minutes of tightening bolts, we're pretty much done:
The front wheel stand will end up going under the front wheel.  This is probably one of the thinner ones I've seen.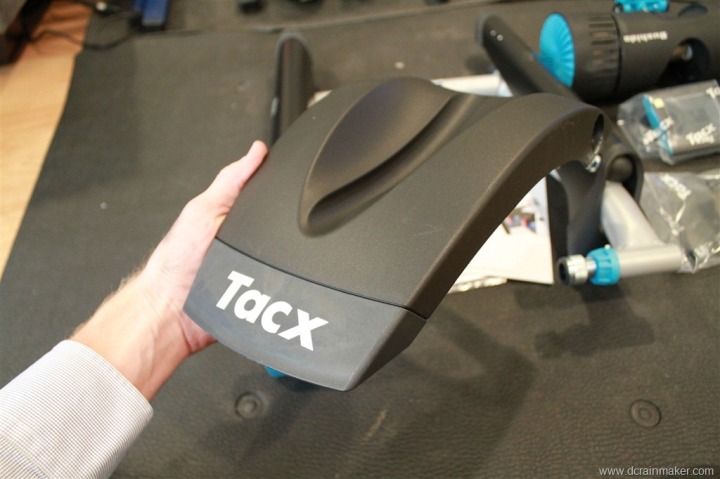 Next up we'll get the head unit all connected up and the basics configured.  After selecting language, we'll add in the details rider information – in many ways very similar to how you'd typically configure a sports watch with weight/age/preferences information.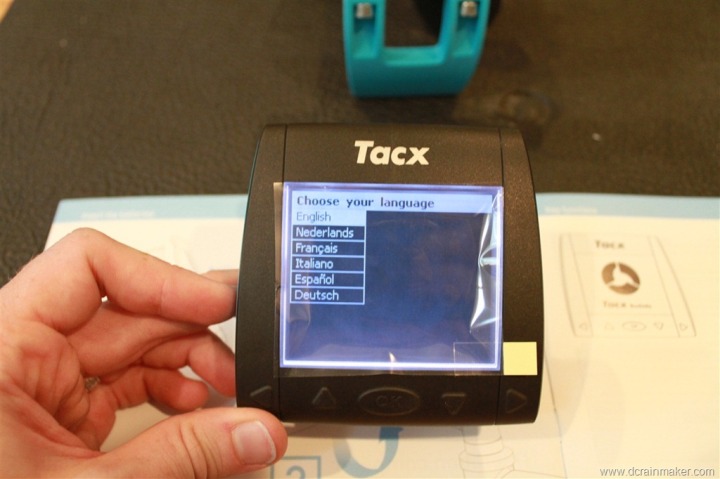 The last step is getting the Tacx head unit connected to the brake unit (the trainer part).  That only takes a second though, but does require you to get on the unit and make the Christmas lights illuminate.  We'll talk about why in the next section.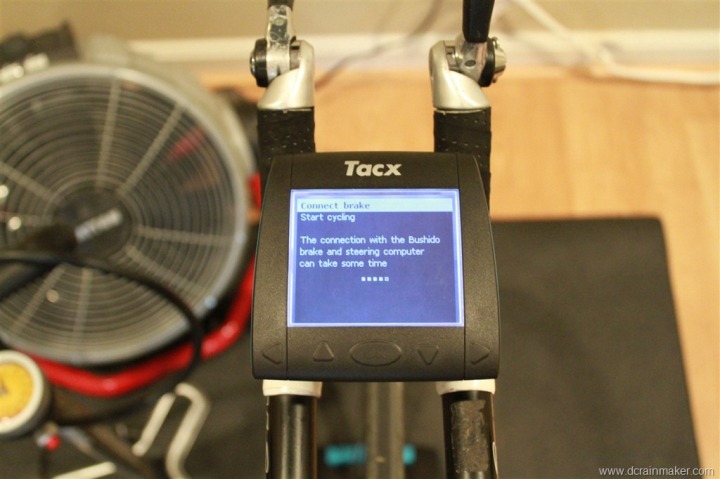 One last item I wanted to mention was the locking system on the trainer when you mount it.  It's awesome.  The bottom resistance unit flops down via a blue lever, and the quick release skewer mount opens/closes via a lever.  It takes just a couple seconds to mount – perfectly, and every time.  The only trick (as you can see later on in my sound video), is remembering to lower the resistance unit.  Old habits die hard…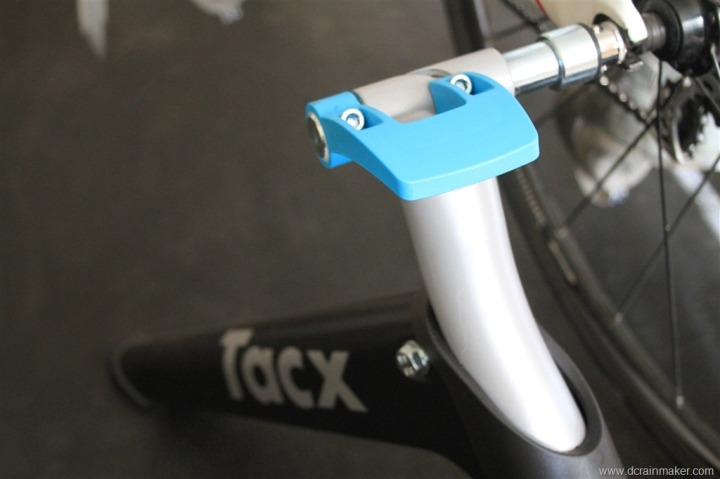 So with everything set, we're ready to ride!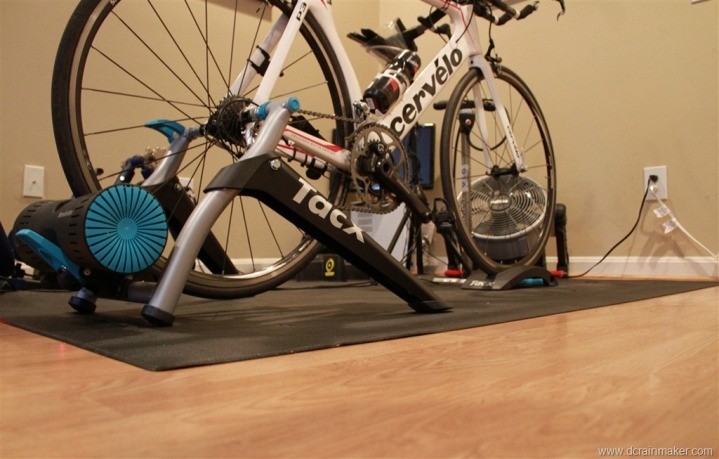 How the hardware works:
As you may have noticed, the Bushido trainer lacks wiring of any sort.  There's not even a power cable to plug in, nor any wires for the head unit to transmit to the brake unit (trainer itself).  Instead, the power required for the trainer to operate is done via your cycling.  Once the unit is up to speed, green lights will illuminate, and the unit will automatically start transmitting information.  As my wife described it, the unit is effectively a self-gerbil.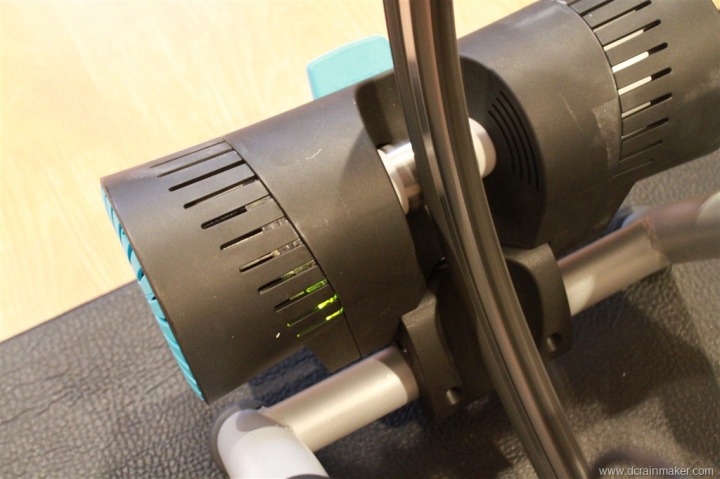 The unit transmits information via ANT+ to the head unit.  Note that at present, the unit isn't transmitting that information 'in the open' though, which means that it's all internal communication only between the two components.  Thus, you can't just connect a Garmin or like device and read power from the trainer directly.  Down the road this might occur, but not yet today.  Nonetheless, it is wireless, and that's awesome.
The head unit (controller of sorts) being wireless does require two AA batteries.  It's got auto-shutoff logic built in though to save batteries, and in the few months I've been using it, I haven't had to replace the batteries yet.  But if you do the rear door just pops up and it's quick and easy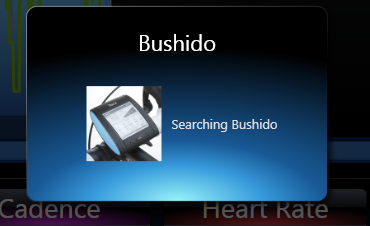 The head unit is backlit to make it easy to see what's being displayed.  Additionally, there are five buttons on it.  Two sets of buttons that select left/right, two sets of buttons that select up/down, and one OK button.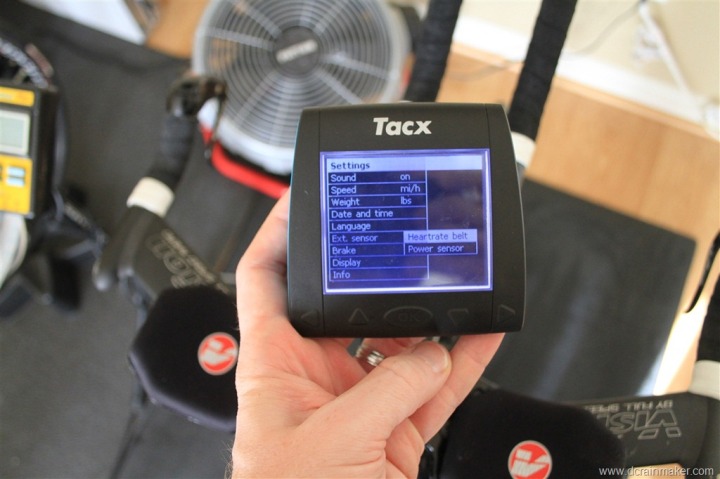 This is a good time to point out that while the head unit is great for (most) road bikes, it's not terribly function for triathlon/time trial bikes.  This is because the unit is designed to wrap (via those rubber looking arms) around your handlebar – and do so in only one direction.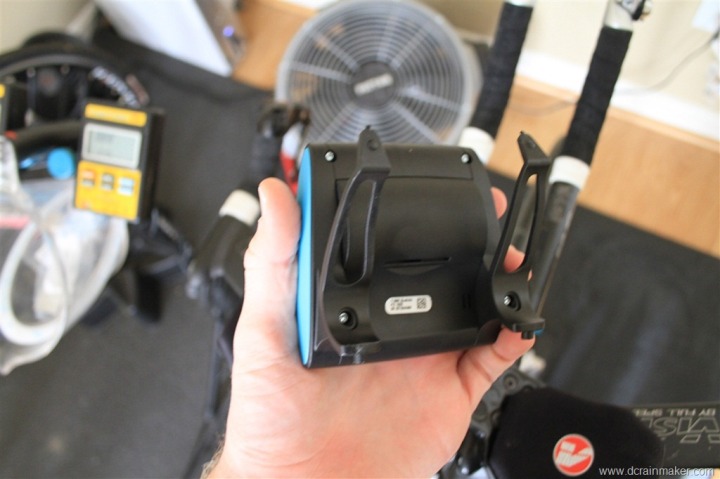 In the case of aerobars, it would be 90* offset.  So my solution is using the CompuTrainer stand with a 4-Cup Oxo measuring cup.  Works perfectly.  And the measuring cup can also fit right over your aerobars as well, using that as a stand.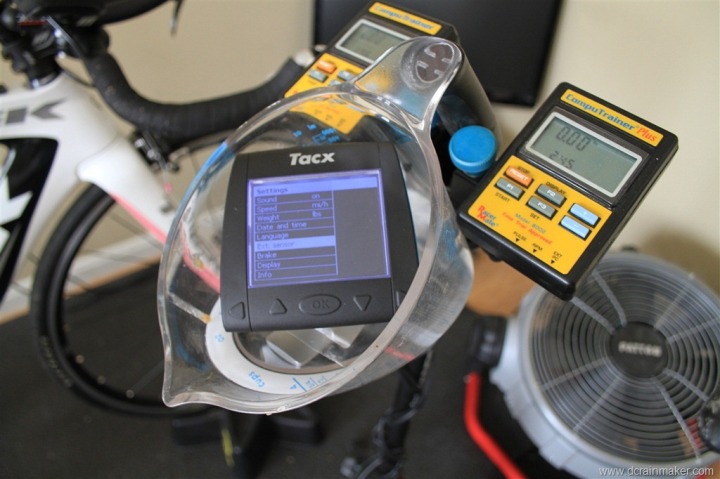 The head unit can be used directly with the trainer or without a computer, just like a CompuTrainer can be ridden without a computer.  You can specify training routines and simply ride.  However, once you turn on your computer with the Tacx Training Software on it, the unit will automatically connect to both the head unit and the brake unit and take control of them.  In fact, once this occurs, you'll see that the head unit displays a different screen – and all further display is controlled via the computer.  Only once you get into a training session (via the computer) will the head unit start displaying information relevant to the ride and allow you basic control (i.e. increase power, change views, display, etc…).  It works pretty well this way though.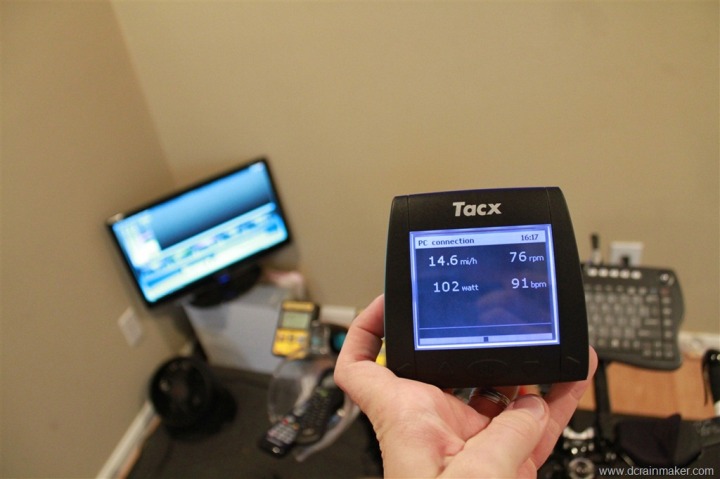 It should be noted that both the trainer (aka brake) and the head unit have firmware that can be  frequently updated.  I participated briefly in a beta program for firmware for both units, prior to it being released over the past few weeks.  Tacx does frequently update both the firmware and the software, introducing new features and fixing bugs.
Finally, also note that the unit can connect to your existing ANT+ heart rate strap.  After initial pairing, this will automatically happen every time you use the trainer.  In the future, you'll also be able to connect to your ANT+ power meter, though it didn't quite make the cut for the most recent software release.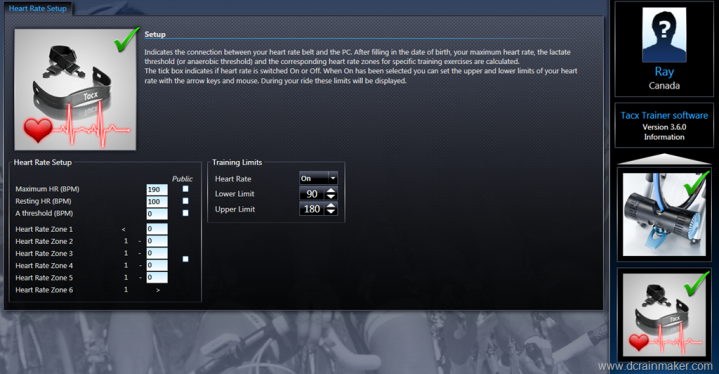 One of the cool things here with the Tacx software is the continual adding of new features – something that you don't really see with RacerMate.
Look ma, wireless training outdoors!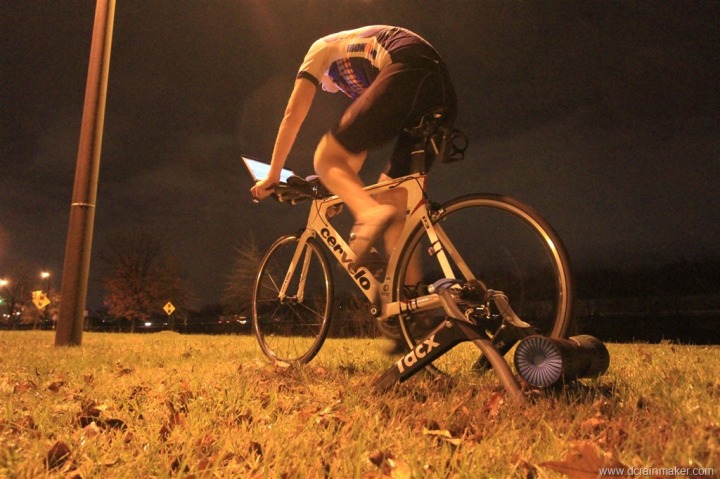 If you see any of the photos in the literature around the Tacx Bushido trainer, it largely focuses on a rider either out on their deck, out on the road, or some other odd place – on their trainer.  And while that may sound strange, it's not as unusual as you might think.  If you go to any cycling event, you'll likely see folks warming up on trainers, the same for some shorter distance triathlons.
But how practical is it with the Tacx?  For most other computerized trainers, they require power – but with the Bushido, it doesn't – thus the ability to roam where you'd like is there.
First, the trainer/stand easily folds up.  Then you've just got the head unit, which is about the size of a CD case in width/length (and about 2" thick), and finally, the front wheel holder (not entirely required).  So really, 2.5 objects.  Easily transportable, no wires to undo.  And remember, a computer is optional in this case.  Here's it hanging out at my front door.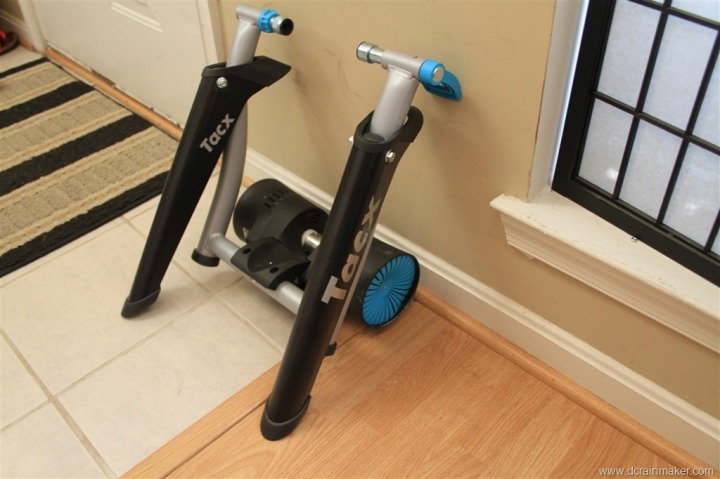 For fun, I decided to go out into the street in front of my house.  But since this wasn't a staged marketing event, cars weren't going to stop for me.  So instead of getting flattened by a semi truck, I decided to occupy the median.  Sorta my own edition of 'Occupy The Median' – aka OTM.  Oh, and why's it night? Because this time of year, it's dark by 4PM, and after I'm done with work…that's the time I have.  Albeit, this was shot far later at night than 4PM…
So with teaser pics, here's a cool little video of me, cycling on the Tacx Bushido trainer in the middle of the street in the middle of the night, with a laptop hanging out next to me displaying the data.  I don't have a fancy laptop stand for my trainer, so it's just on the aerobars.  Additionally, you can see the information on the head unit/controller as well.  Enjoy!
Tacx Bushido Wireless Trainer in the middle of the road
Had I had one of those fancy camera slider systems and a bunch of royalty free music I could have probably made the video rather dramatic…but…I lack such items.  Instead, I've got my wife and the sound of cars out in the distance.  And further, I didn't get hit by a car (which have previously gone flying across that very median and taken out one of the trees).
Sound and Noise Levels:
I added this section per the request of your comments, to understand what the sound/noise levels looks like.  In general I find it 'normal', at least compared to the CompuTrainer (which also seems normal).  I can carryout a conversation without raising my voice, while on it, or standing next to it.  As you can see/hear in the video, the sound levels aren't terribly different – and are pretty much the same.  In this case I set it for 100w, and then put it on almost my biggest gear combination, thus it would be the fastest (and thereby the noisiest).
Tacx Noise Level Comparisons
(Never mind my inability to remember to release the resistance unit lever, as you can see – once I did that, the unit popped on very quickly.)
TTS Software Introduction:
So with the overview of the hardware complete, let's get into the software modes.  Unlike the current CompuTrainer software, all portions of the Tacx software fall into a single suite known as the Tacx Training Software 3 (TTS3 for short).  This single program is responsible for all computer driven training that you'll do with the Tacx application.  It also communicates with the trainer and head unit, as well as the Internet.
I'm going to go ahead and go through each of the different modes available, to give you an overview of how it all works.
First up though is a quick note that your user account is saved online.  This is pretty cool in that all your settings are stored magically up on their servers, so in case your computer dies, you can re-download it all again.
TTS Software Modes: Catalyst (coaching/graph)
The Catalyst mode is the mode with the least amount of graphical and/or entertainment distraction.  It simply gives you a real-time graph of your effort, along with data fields along the bottom.  While this may sound odd, for me, this is the mode I actually use the most.
This mode starts off with allowing you to select a training route, either from the library, or from one of your past rides.  Additionally, you can select to just start off at a base wattage, slope, or heart rate – for either a set time or distance.
Additionally, you can create your own program, which the trainer will execute on.  Using the same goals as before, you can easily (though not quickly) create training sessions: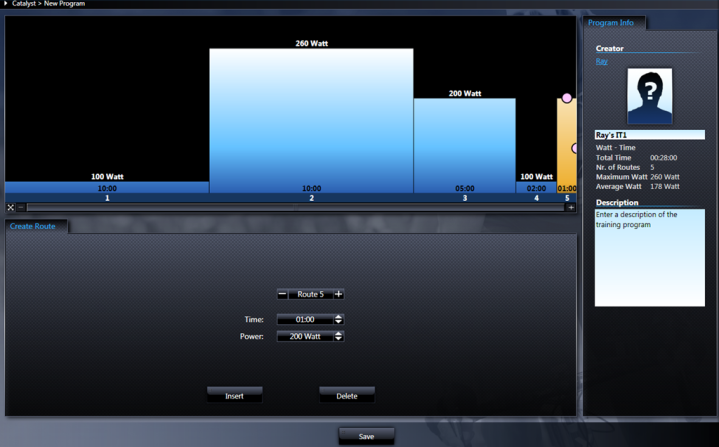 And you can even create notifications as well, such as instructions on what to do for each step.  If you look in the lower right corner, you can see I added a notification at the beginning noting that it's the warm-up.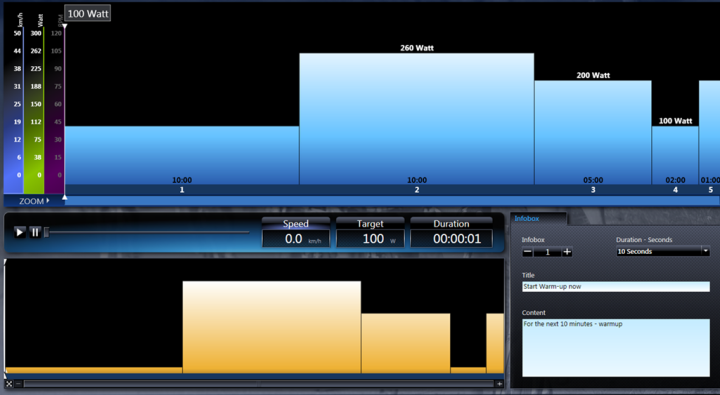 Once you've started the program, the unit will display your metrics along the button, with a moving graph up top.
The graphics here are super clean and easy to read – even from far away.  For example, in the below shot you can still pretty much make out what's going on.  Though, only true Mythbusters fans will also be able to explain what happens next to that little RV on the big screen.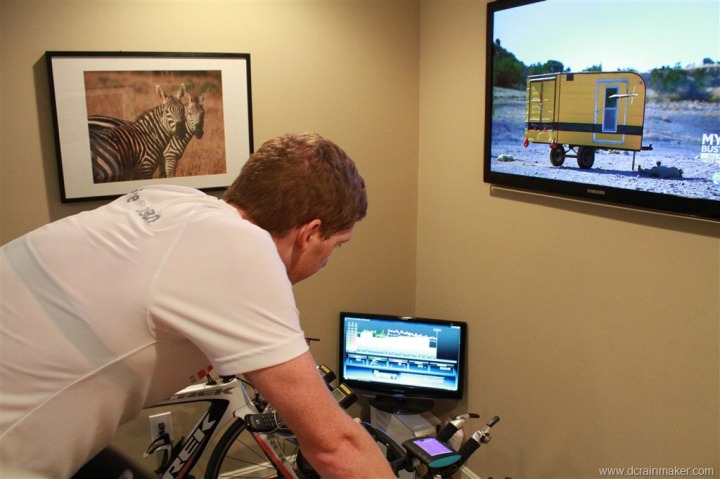 The same information about your current stats (speed, wattage, cadence, heart rate) is displayed right in front of you on the head unit.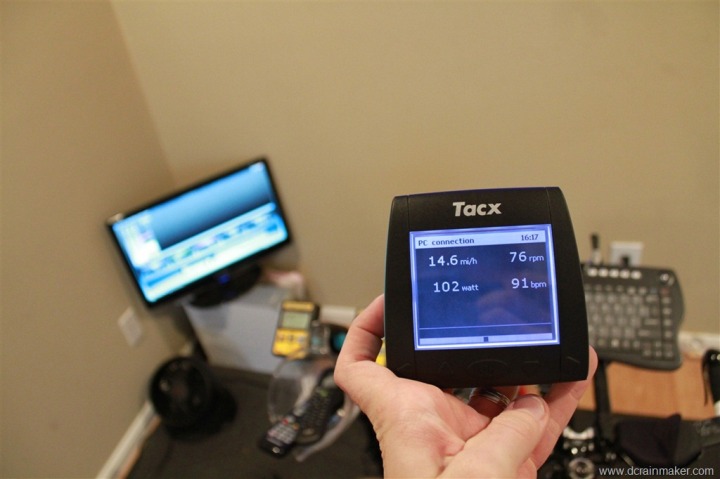 Once you're done, the unit will ask if you if you want to save the training.  You can name the training as you'd like, and all of the information is automatically saved with it for later retrieval.
Speaking of later retrieval, let's talk about the Analyzer function.  This is common to all modes, but we'll talk about it here briefly.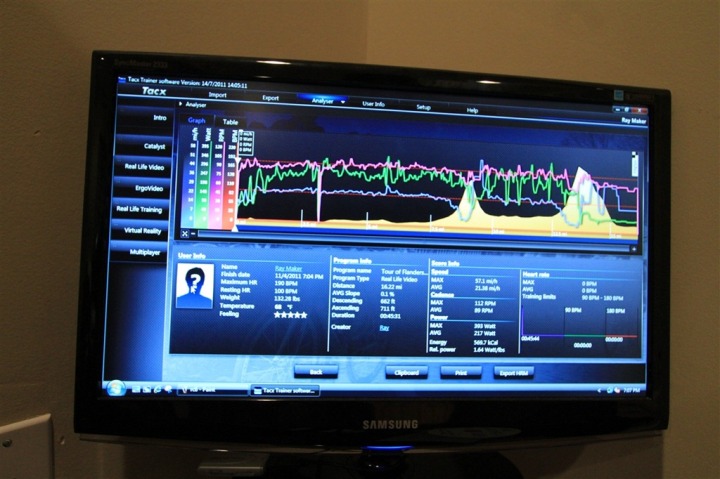 In the Analyzer mode, you can dive into any rides and slice and dice the data: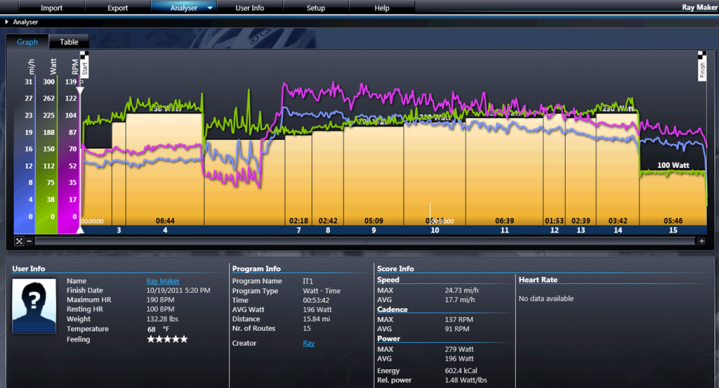 For example, the above ride you can see all of the detailed statistics along the bottom, with the graph of the different pieces over the course of the ride.

Each one of the yellow chunks represents a separate lap – which mirrored the exact workout I was doing at the time.

You can drag the selection line along to see details for that given point, though you can't highlight a chunk to see the averages for that piece.
Within table view, you can see the average metrics in 1, 2, 5, 10 and 30 second increments.  Personally, I would have preferred to see the averages of my intervals/laps here instead.

In addition to logging in, you can also export out your data.  This is all handled via the Export menu, which is the central place to get things out of TTS3.  The export menu allows you to select all rides you've completed, though sometimes I found it seemed to have rides missing.  Nonetheless, once you export the files they end up as TTS files.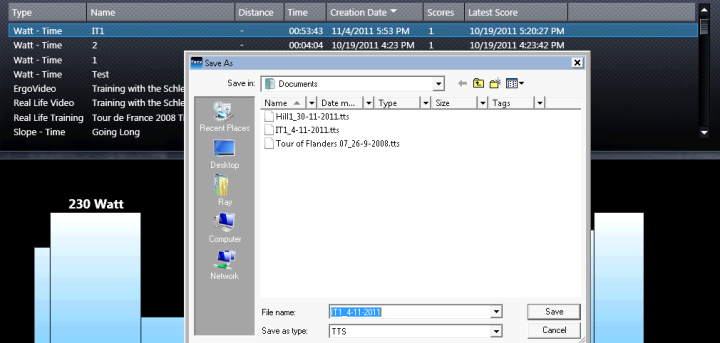 The problem with TTS files is that they're essentially useless outside of TTS.  So instead, you'll want to select the 'Export HRM' button, within Analyzer.

Once you've got it exported that way, it'll end up with .HRM files – which are far more portable and acceptable.  These work in applications like Sport Tracks, TrainingPeaks, and WKO+.  Here's an example after exporting the file to TrainingPeaks: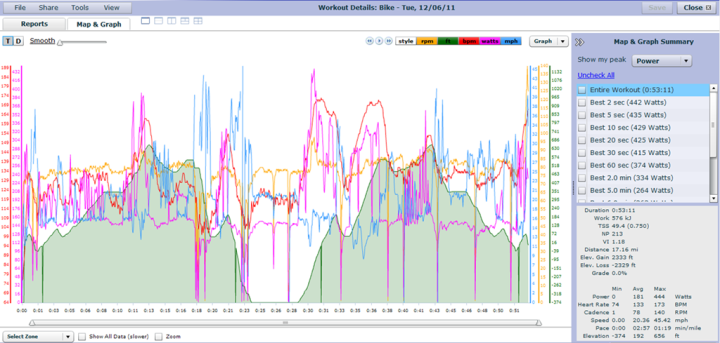 Perfect, can't really ask for anything easier.
TTS Software Modes: Real Life Video
Real Life Video mode allows you to train watching integrated videos taken in real locations, with the trainer adjusting the resistance based on the terrain you see in the video.  The videos are generally recorded in conjunction with major cycling races, so they attempt to replicate the feel of being at the lead of the pack.
In my case, they sent me out a pack of five of them to try out, sorta a best hits album.
The length of the courses varies based on the event, but in almost every case the amount of time it would have taken you to complete the course would have been into the hours (stages, etc…).  Which is good – because the general goal of these sorts of training aides tends to be to distract you from an otherwise long boring ride indoors on the trainer.
In Real Life Video mode, the ride video display speed is linked to your speed – though there's a bit of flex there.  Meaning that I found that while it would say I was going a given speed, I was barely pedaling and somehow moving along on flats to uphills at 10-12MPH (see the ErgoVideo section for more details on how both of these work, complete with a short video I put together).  This differs a bit from ErgoVideo mode, which I'll talk about in the next section.  In Real Life Video mode, if you reduce your effort, the video will slow, and eventually stop.  Whereas in ErgoVideo mode, the video continues – whether or not you can keep up with it.  The unit adjusts the required wattage based on the terrain – which is the same in both modes.
But back to Real Life Video, I've included a few screenshots I took along the way during different rides:
Yes…that's The King, below.  No, I don't know why he's there.  Rarely do we understand why people dress up the way they do while attending professional cycling events.  Thankfully, they continue to do so regardless of our understanding.
I found that for the most part the virtual terrain matched what I saw on the screen.  Sometimes the two weren't quite in sync, where there would either be a delay, or pre-mature initiation of the slope.  Usually though it was within a second or two.
The one oddity I found was around speeds, especially in corners.  When I would hit a corner where the car/motorcycle doing the video had to slow down, it doesn't seem to take into account my speed.  So I'll do the corner at say 20-30MPH, but the car clearly slowed down to 5-10MPH.  The video doesn't attempt to compensate, but rather just keeps going.
As you can see along the bottom of the screen you have metrics around your current data.  You can also adjust the display of the screen using the controller (head unit) to display additional information such as the virtual elevation graph of the ride, or your current location: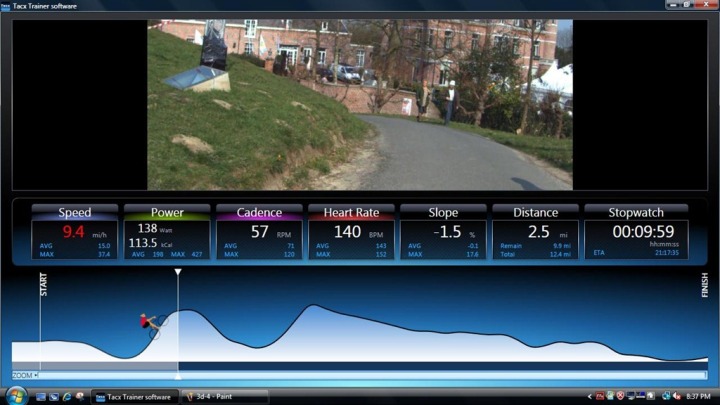 The nice part is this can be quickly toggled on/off by a press of the button on the controller unit.
And finally, once you're done with the ride (either because you finished the whole course, or because you ended early), you can always save the results.  Also as a related note, you can start anywhere you'd like to on the course – though they break it up logically if you want to, in sections – most of which are the same locations that primes are within the actual races.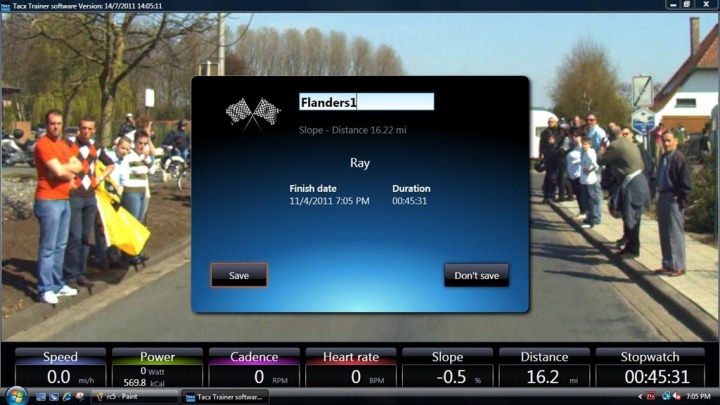 Overall I found the Real Life Video mode entertaining, and a good distraction – but I also kept wishing I was in the action a bit more.  That's one thing I like about some of the RacerMate Ironman event videos they've done, where you are literally coming through the entire field as if you were a racer near the back.  It makes you definitely feel like you're part of the event, versus this you were clearly just ahead of the racers with the lead police cars.  But again, it's certainly a welcome distraction.  Additionally, they have some new videos coming out soon, and they just announced earlier this week that they'll be doing their first US video out in the Southwest shortly.
TTS Software Modes: ErgoVideo
ErgoVideo mode is essentially like Real Life Video mode, except with either speed or power set at a constant.  These videos tend to be with famous riders, or other individuals, and you ride along at their speed or power effort.  This is much like a group ride where you'll have to adjust other parameters (gearing or effort) to stay on and not get dropped.
You can see in the sample video below (I just had a 6 minute one), that the average wattage required to maintain that ride is 242w.  I suppose that's what you get for jumping on the bandwagon with the Schleck brothers.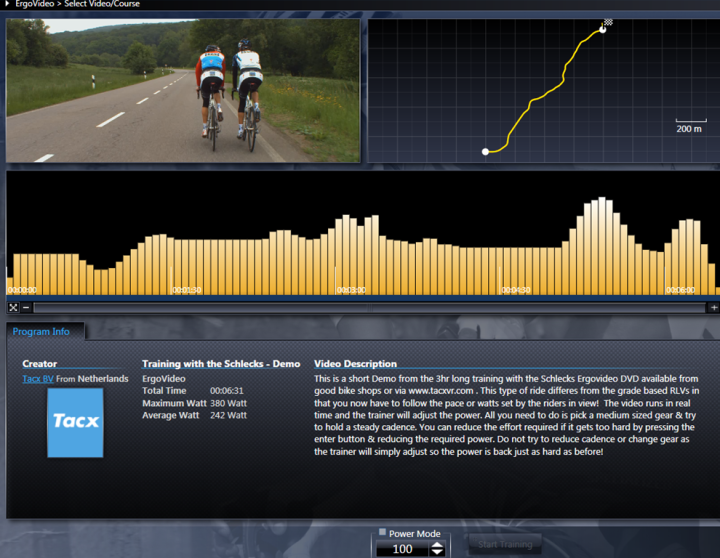 It's actually fairly motivating and somewhat impressive to try and hold on in these rides – allows you to somewhat throw caution to the wind and just ride.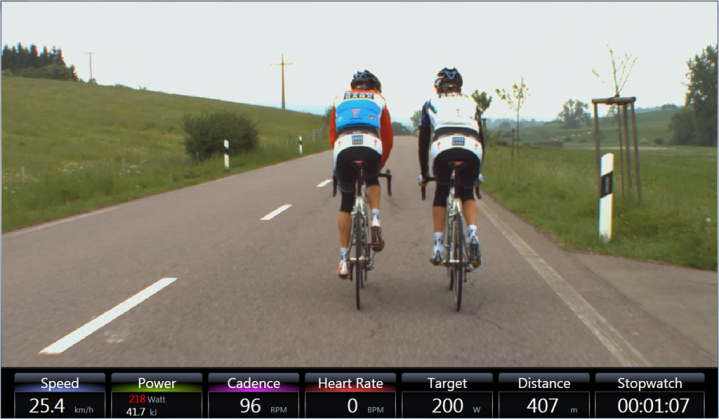 You can see above where the target is set for 200w, and since I'm slightly over target, my power number is in red, the same goes if I was below target.  But, keep note that no matter what I do pace/speed/pedaling wise – the video will continue at the same rate.
To put this and the Real Life Video mode into perspective a bit, I've gone ahead and created the following short video clip – which shows me working in both modes, and the differences.  Enjoy!
Real Life Video vs ErgoVideo Mode
TTS Software Modes: Real Life Training (GPS file import)
Real Life Training mode allows you to recreate a course at will.  In most cases, this is going to mean that you're going to import in a GPS file (technically a .GPX file).  GPX files are easily found through a ton of different services – but probably the quickest and most pervasive for finding ride files is the Garmin Connect site.  It's got just about every ride ever rode.  Just use the Explorer function to find a route you like, and then click Export to download the file.
In my case, I decided to simply load up the Philly Half-Marathon course.  I know, why a running course you ask?  Because it was the first GPX file I found, and it's in a city – so I was curious to see how things looked there.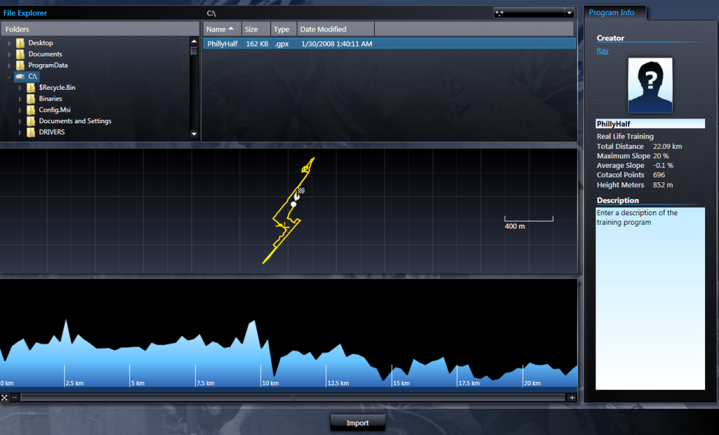 Once imported into the program, I can start the training program at any time.  I simply select it, just like I would any other training session.
With that complete, it was time to ride.  My course is outlined in white.
This mode leverages the free downloadable Google Earth, where all of the data is streamed in real-time to your computer – including buildings and satellite imagery.  Because it's leveraging that data store, the data tends to be better in more urban locations – or places where the community has spent time recreating the area.  For example, on a random road in France, it looks pretty barren: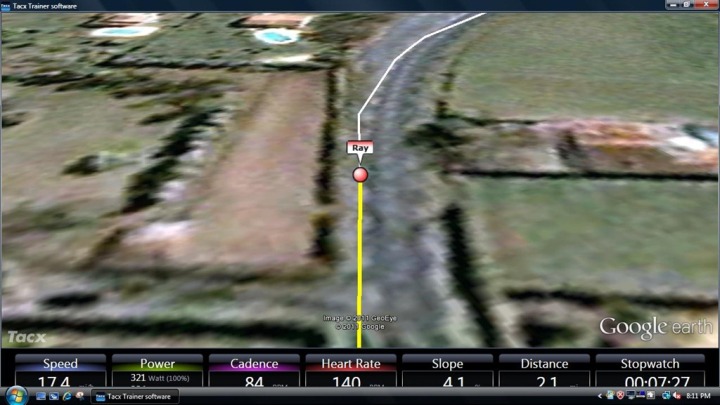 But in the downtown core of Philadelphia in front of the steps that Rocky once climbed, it's rather robust, and quite frankly – downright impressive.  Yup, everything down to flags and even some streetlights is being regenerated here by computer.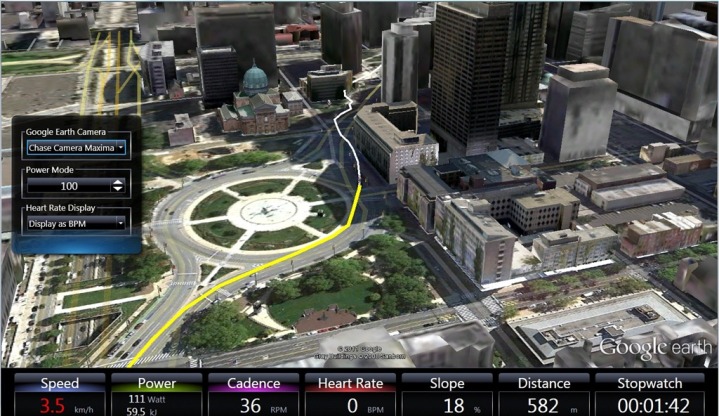 Above you can see where I can toggle the different views to make the screen show a wider view, or a tighter view.  In the case of below, I've gone ahead and pulled the camera in a bit more.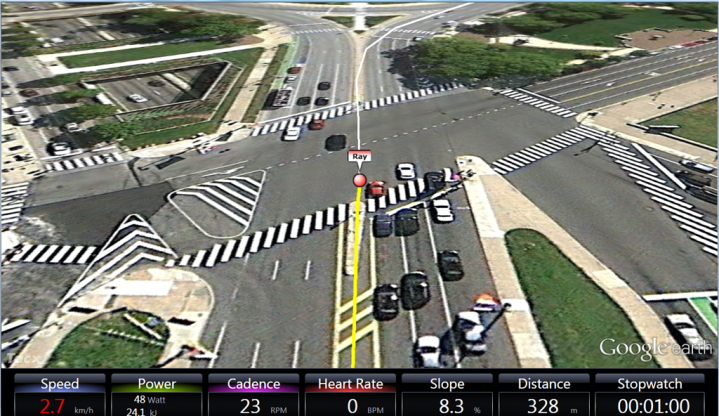 You can adjust the level of detail, based on what you think your computer can handle.  The above screenshots were taken with a middle of the pack two year old laptop with an integrated graphics card.  In other words, most modern computers can easily handle it.
TTS Software Modes: Virtual Reality
Virtual Reality mode recreates a fake environment complete with landscaping, cheering (and audible) people, and other moving objects in the environment.  For those of you familiar with the CompuTrainer, this is akin to the 3D mode, which creates a game-like environment – except far more impressive.  Within the default program there are a few dozen different courses to choose from.  But again, for the most part I think you'll probably gravitate towards the Real Life Training options instead, since it can generate 3D scenery via Google Earth.
Nonetheless, you start off by selecting which course to choose: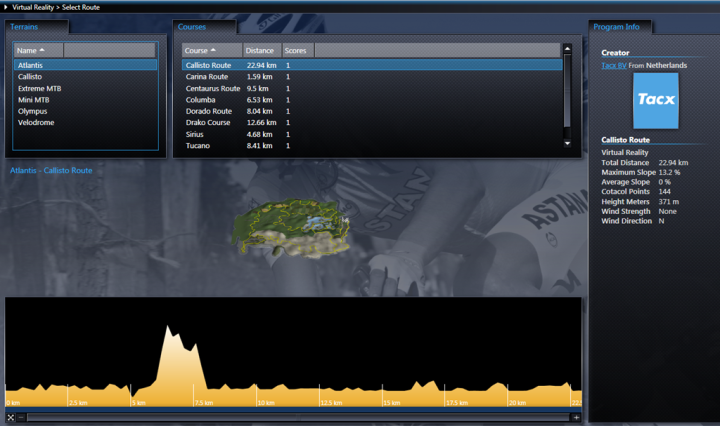 Within each of the different terrain types, there's a slew of different courses of varying lengths.  Once you've selected your route, you can go ahead and choose up to five computerized opponents, as well as modify the weather and wind.  Yup, you can regenerate the fog and wind of San Francisco right in your very own home.  Or you can just buy a fog machine and a cheap fan from Target and do the same thing.  I know which one sounds more fun to me…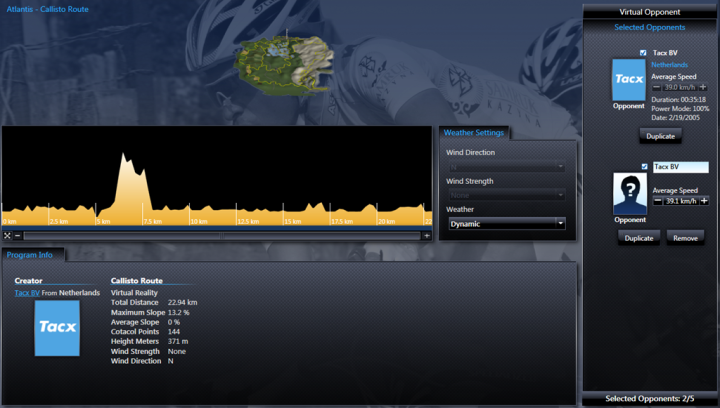 After configuring your settings, it's off to the races…quite literally.  Though, before you get there the system has to load.  This step will take a bit of time, about 1-2 minutes with higher level details turned on.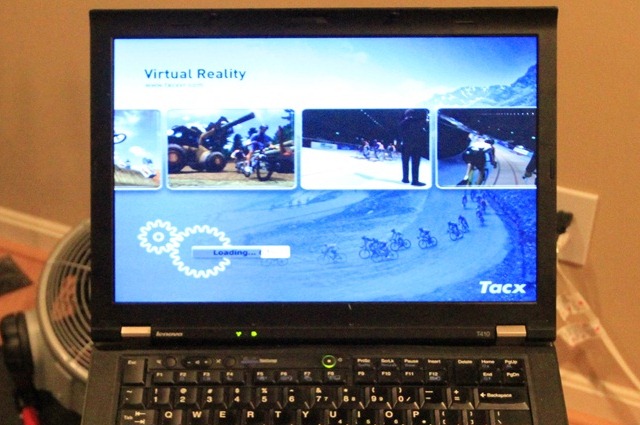 And that tremendous amount of detail literally blows away the RacerMate One suite from a graphics standpoint.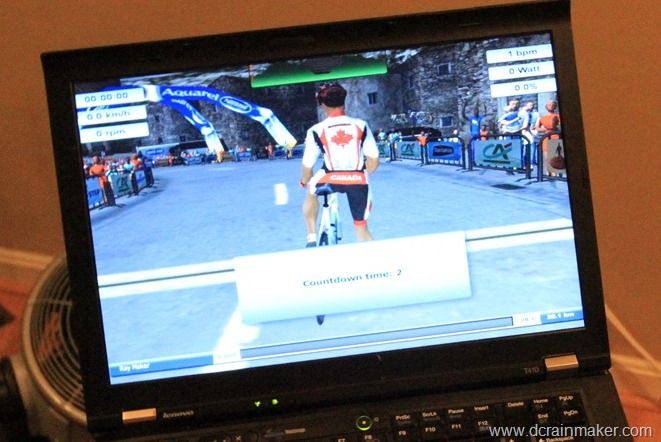 I decided to use the above photo I took when I was gathering photos as an illustration of some of the buginess of the software (I couldn't screenshot in this mode, due to the way it handles the graphics engine).  In this case, it couldn't seem to find my HR strap – even though it just had worked mere minutes prior.  While restarting the software typically fixes the problem, it does tend to happen more often than I'd prefer.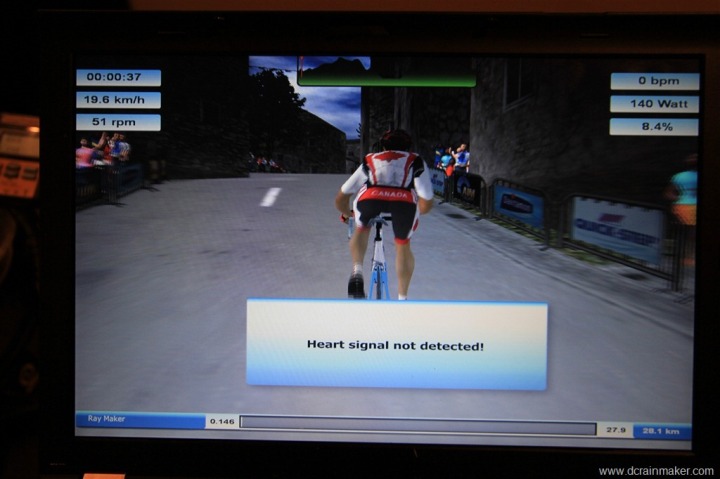 When the mode is working however, it's pretty cool – and far more engaging than some of the other offerings out on the market today.
TTS Software Modes: Multiplayer
The latest editions of the TTS software include the ability to ride with other users, via the Internet.  Unfortunately, I didn't have a chance to try and coordinate a ride with someone else, within my schedule.  But hopefully I'll be able to do so shortly – perhaps a DCRainmaker online group ride is a possibility!
But, as a brief overview, the multiplayer function requires the purchase of an extra package, though not terribly expensive at under $50.  This then allows you to connect to their systems, or engage directly with other users.
When you start multiplayer mode, you've got essentially three choices.  The first is to just start riding on one of the half a dozen courses that are always on.  Think of these as open games that you can just join in on.

Next, we can organize a race as well.  This is ideal for the scenario where you have a planned event – such as a 'DCRainmaker Tacx-a-thon!'.  Or the like.  You can do any type of course, as well as create your own and race it.  Additionally, you can specify maximum bikers and entry passwords.  Very clean, and very much like most multiplayer computer game systems.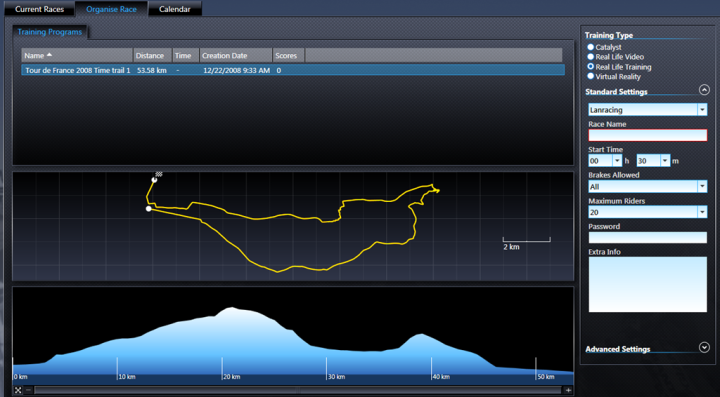 Lastly, we've got the ability to join some pre-set calendared events.  Things are just sorta like your Tuesday night rides with a local group.  And in fact, if you knew enough folks – that's a really good way of looking at it.  The only catch is that the ones that showed up there were largely focused on what I suspect were riders in Europe, since they were largely in the middle of the day East Coast time.  But, as Tacx expands more into the states, I suspect you'll see more events at US-times.  Other times, it's just empty:

Again, I think there's huge potential here – even more so beyond what they have today.  With social integration there remains a massive opportunity to integrate into Facebook, Twitter and the like to announce, schedule and initiate rides.  So much potential.
Tacx Bushido vs. RacerMate CompuTrainer Comparison:
There's no doubt that many of you are trying to decide between different computerized trainers. The two units that I have experience with today is the CompuTrainer by Racermate, and now the Tacx Bushido – so those will be the only two I'll detail below for now.  Once I get some more hands on time with the CycleOps PowerBeam Pro and their upcoming VR software suite, I'll add that in.  But with that suite not shipping until Interbike 2012 now, everything will be in preview mode until then (though I will say it's pretty cool).  The LeMond Revolution Trainer will show up any day, but that's not really a computer controlled trainer.  TrainerRoad's software may also be a good option, but today it too doesn't yet control the trainer directly, but rather records data.  Down the road things may change, but again, I've gotta focus on the here and now.
So, onto the big question – which unit to buy (between the two)?  I've poked at this a few times in different posts, including my recent 2011 recommendations post.  It's a tough question.
From the geek inside me, I'd go the route of the Tacx Bushido over the CompuTrainer.  The Tacx software is far cooler, even cooler than the upcoming but now largely stuck in legal limbo RacerMate One Suite.  The TTS3 software does more, is more flexible and definitely takes advantage of the graphical capabilities of todays computers.  Now, that's not to say it's perfect.  In fact, far from it.  There are numerous little bugs that I frequently run into, most don't impact my ride – just little annoyances that pop up like squirrels darting across the road on a hot summer ride.  Another itty bitty annoyance is that you can tell it's not written by a native English speaker.  While I slaughter English here on a daily basis, I'm also not retailing a high end cycling product – and there are small linguistically interesting phrases that pop-up in the software.  I can always understand what they mean, but sometimes it throws you for a loop due to translation funny business.
Next we look at the hardware side.  The CompuTrainer is legendary for being 'a rock'.  I'm reasonably certain I could let it tumble down all the stairs of my townhouse, and it'd still be functioning at the bottom.  For the most part, the Tacx hardware is pretty sturdy – not throw down the stairs sturdy, but sturdy.  But it does have a plastic outer shell that protects the load generator, one that had actually popped off during shipping to me (and I popped back in place).  Not a big deal, but it does bring into question long term durability.  That said it's been just fine for me to date.  But when we look at functionality, that's where the tables turn.  The Tacx hardware is functionally more advanced than the CompuTrainer.  It's fully wireless and can integrate with existing ANT+ accessories, it's also fully end-user updatable (the CompuTrainer isn't).  With the firmware updates comes new features, and functionality.  Even outside of that, just the simple act of not having to connect any wires is huge.  While I've heard the arguments of SpinScan on the CompuTrainer, you rarely see or hear of folks actually using it (productively anyway).  Thus, that's the only hardware technology area that they have an advantage in.
Next is support and stability.  And this is where things get tricky.  Having had a CompuTrainer for a number of years (two actually, both of which I bought myself) – I can say that their support is top notch.  They have a very well defined process that seamlessly gets peoples issues resolved in a well stated and timely manner.  They also spend a fair bit of time on software QA (Quality Assurance) – some might say perhaps a bit too much, but nonetheless, their software is stable.  It can of course be frustrating to setup initially, though that's gotten much better in recent years – but once you get it up and running correctly (and don't touch it), it works rock solid.  On the Tacx front, my experience with their support team has been nothing but positive.  The issues I did have (all confined to some beta firmware), were jumped on by their support team immediately.  But I also fully understand the frustration I've heard from so many of you around lack of support (both hardware and software).  Obviously, I can't get an accurate read on that from my position, but I think it's worthwhile pointing out.  From a stability standpoint, the TTS3 software leaves a bit to be desired.  Most of the times it works on the first shot, but sometimes getting the computer to connect to the trainer and/or head unit is problematic.  It got much better with the recently released 3.6.0 software update, but not yet 100%.  For me, I budget/schedule my trainer rides (and my day on the whole) like a military mission, so when I lose 5-7 minutes troubleshooting it, that often hoses me elsewhere in my day – especially if I'm headed to work immediately afterwards, or trying to squeeze in a ride before a conference call that starts at a specific time.
Finally, price.  The CompuTrainer with their base software (which would include RacerMate One if/when it releases) retails for $1,650.  The Tacx Bushido costs about $900, and the TTS3 software costs about $170.  All in you're looking at $1,650 for the CompuTrainer, or about $1,070 for the Tacx unit.  Outside of that, both RacerMate and Tacx sell 'outdoor videos' of sorts.  In the case of Racermate these are called Realvideos, and sell for $100 a pop, whereas in the case of Tacx they're called Real Life Training, and sell for about $50 each.
Summary:
Without question, the Tacx Bushido raises the bar for computerized trainers.  It does so in both software and hardware, from a functionality and features standpoint.  Its wireless system is really amazing from a setup and portability standpoint, and rather easy to use.  And even the size of the trainer lends itself to movement quickly – such as taking it on the road, or bringing it to a friends house.
However, there are still issues with cleanliness of the software, resulting in occasional bugs.  I feel that the company could take advantage of the legal issues Racermate is having with their new software suite – if they can address some of the technical issues with their own suite.  If I were in charge, I'd probably put a hold on any new software development features and merely go into bug bashing mode for 4-6 months.  But, that's just me.
In the meantime, it does represent a solid computer trainer option – and one that can very much combine entertainment with trainer rides (no easy task).  But even for the hardcore cyclist, it can still be used without the computer to merely drive the resistance unit and control wattage, something that I admittedly find myself doing more often than not, given most of my training plans are wattage driven.
As always, if you have questions on the unit – feel free to drop them below, I'm happy to help try and answer them.  And thanks for reading!
Found this review useful?  Here's how you can help support future reviews with just a single click!  Read on…
Hopefully you found this review useful.  At the end of the day, I'm an athlete just like you looking for the most detail possible on a new purchase – so my review is written from the standpoint of how I used the device.  The reviews generally take a lot of hours to put together, so it's a fair bit of work (and labor of love).  As you probably noticed by looking below, I also take time to answer all the questions posted in the comments – and there's quite a bit of detail in there as well.
I've partnered with Clever Training to offer all DC Rainmaker readers an exclusive 10% discount across the board on all products (except clearance items).  You can pickup the Tacx Bushido from Clever Training. Then receive 10% off of everything in your cart by adding code DCR10BTF at checkout.  By doing so, you not only support the site (and all the work I do here) – but you also get a sweet discount.  And, since this item is more than $75, you get free US shipping as well.
Additionally, you can also use Amazon to purchase the unit or accessories (though, no discount on either from Amazon).  Or, anything else you pickup on Amazon helps support the site as well (socks, laundry detergent, cowbells).  If you're outside the US, I've got links to all of the major individual country Amazon stores on the sidebar towards the top.  Though, Clever Training also ships most places too and you get the 10% discount.
Thanks for reading!  And as always, feel free to post comments or questions in the comments section below, I'll be happy to try and answer them as quickly as possible.  And lastly, if you felt this review was useful – I always appreciate feedback in the comments below.  Thanks!
Finally, I've written up a ton of helpful guides around using most of the major fitness devices, which you may find useful in getting started with the devices.  These guides are all listed on this page here.