About a month ago I was contacted by the folks from InsideTracker to do a run through of their newly unveiled nutrition testing service.  The goal of this service was to allow athletes and non-athletes alike the ability to quickly and easily get blood work done around various markers, and then have useful and actionable information given back to them about what their results mean.
Unlike going to a doctors office, everything from a results standpoint would be done online.  Your only task would be to go to one of their affiliate labs to get the blood work done, which takes about 2 minutes.  After that the results are returned online to you, with suggestions and the ability to discuss with one of their doctors or nutritional experts as well.
The whole concept was somewhat intriguing to me.  For the most part, I'd classify myself as someone who does a fair bit of physical activity as part of training (read: something every day), and for the most part I eat fairly healthy.  I'm not one to turn away a cheeseburger in the right circumstances, but I'm also not eating fries every week either.  I try to simply strike a balance in what I eat.  You know, like only one ice cream sundae per night.
So I decided I was game for the test and they gave me a code to go ahead and have a test done like any other normal person.  Let's dig into what they do, and whether or not I found the service useful.
Sign-up and Setting up the appointment:
The first step is to create an account online and select which service you'd like.  They offer two levels, which basically bubble down to whether or not you want the Vitamin D testing done.  This testing is significantly more expensive, but that's primarily due to the additional machines required to do that test.
In my case, they opted to include the Vitamin D testing – which would later turn out to perhaps be the most interesting part of the test result I received.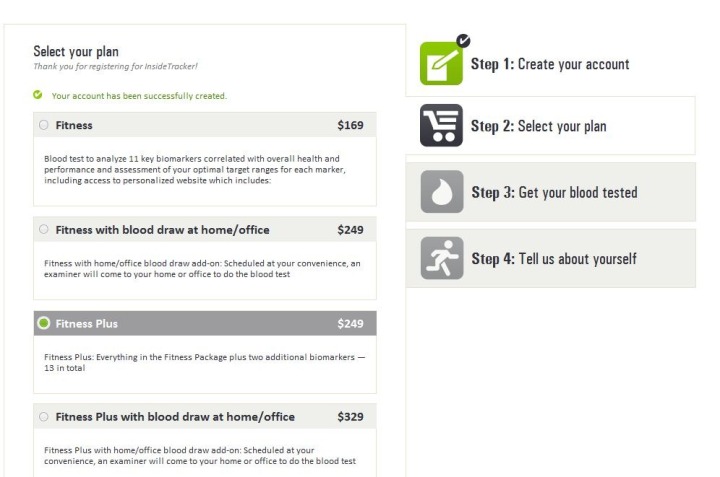 Additionally, if you live in the Boston area, you can also have someone come to your pad for an extra $80.  Since I don't live in the Boston area, this wasn't really an option.
The next step after creating the initial account is to select a testing center and a timeslot.  InsideTracker partners with a company called Labcorp, which in turn has 1,500 lab offices across the country.  So it's sorta like finding the nearest Subway Sandwich shop…pretty easy.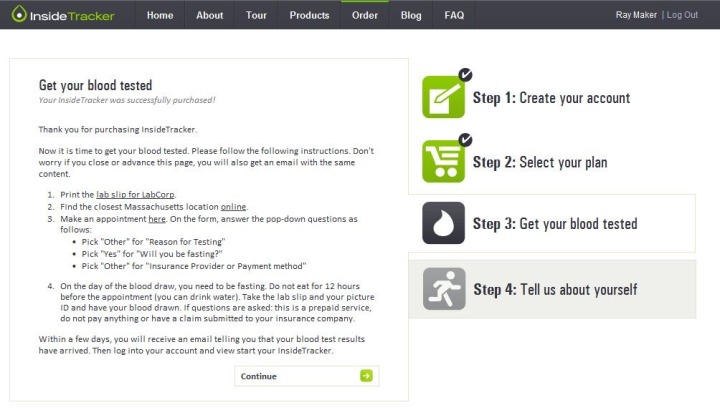 In my case, I was able to find an office all of a mile from my place.  It would actually take me longer to drive there than bike or even walk there (due to some railroad tracks in the way of cars).  Perfect!
The instructions above then walk you through filling out LabCorp's steps below.  This takes between 8 and 12 seconds…perhaps 15 if you haven't had caffeine yet.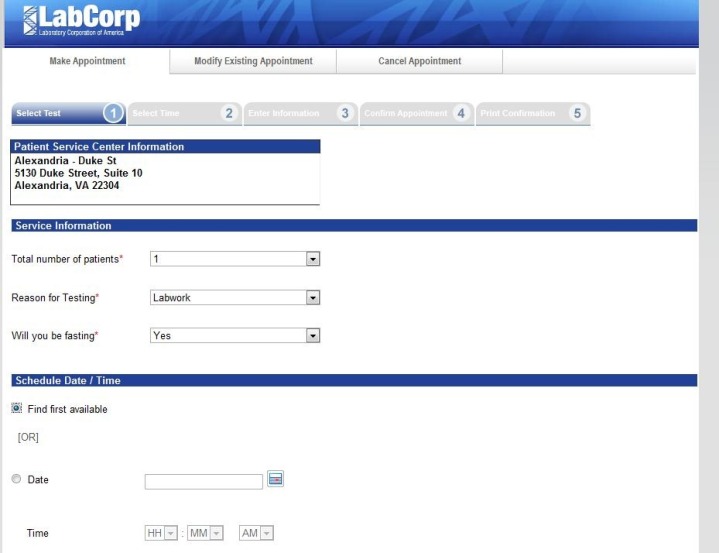 Once I selected the nearest office and told them why I'm coming, I was able to choose from a scheduled appointment time.  Now, as I found out – I actually could have just walked in, but that would have caused more confusion.  So this way, it was a bit easier for the office and may.  Given the schedule was wide open for the following day and days after that…it was pretty easy.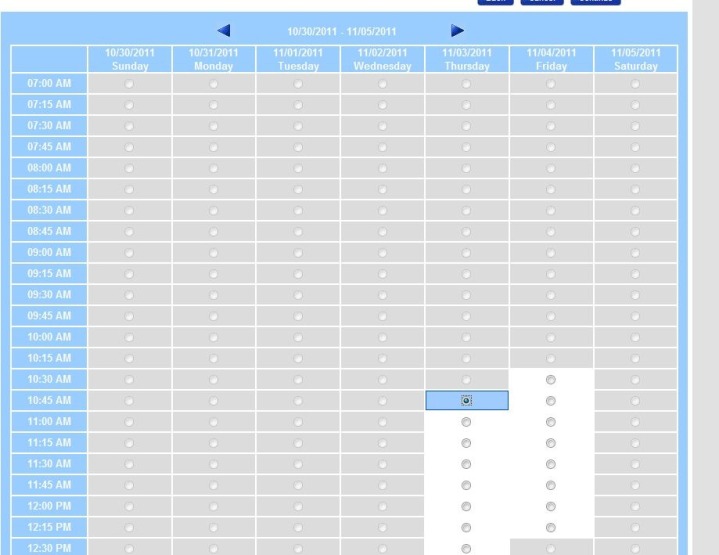 Finally, after selecting the timeslot, I was good to go.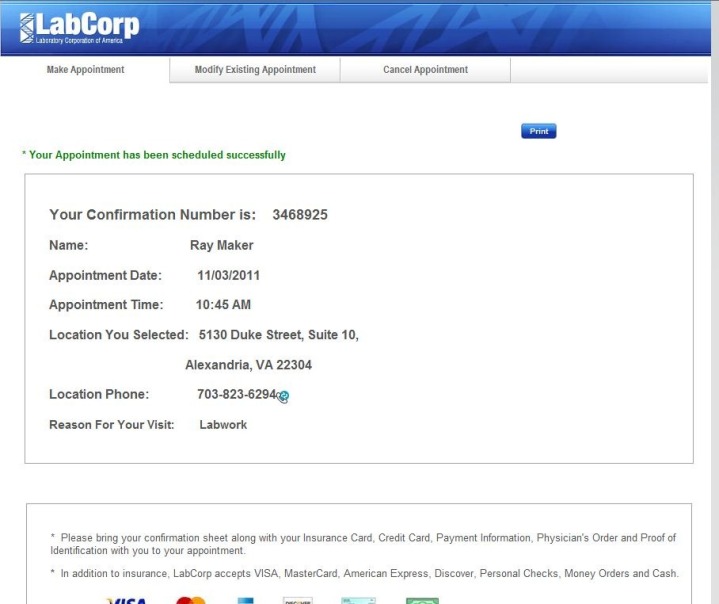 They'll e-mail you some instructions which have you in turn print out a lab slip.  This lap slip basically tells the lab what tests to do, and how to charge InsideTracker.

Additionally, it'll tell you to fast for 12 hours beforehand.  Which means no eating.  Drinking water is OK.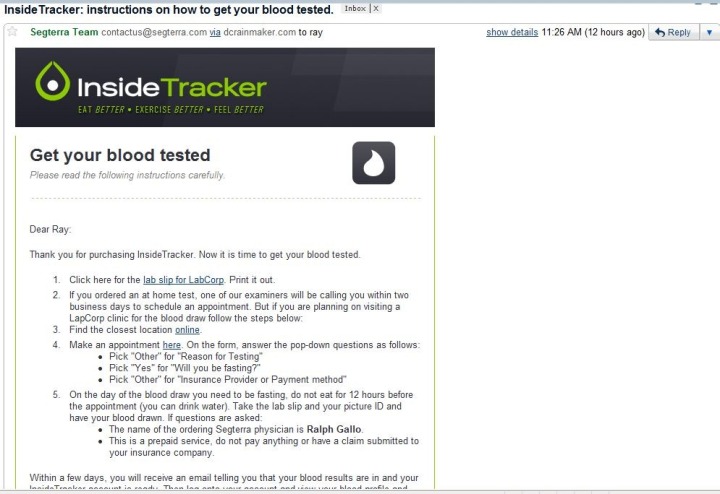 The only other item I completed ahead of time was the form with my individual information, which allows them to ultimately customize the results for me.  In many ways, this is the most important part of the service – because they take into account your profile.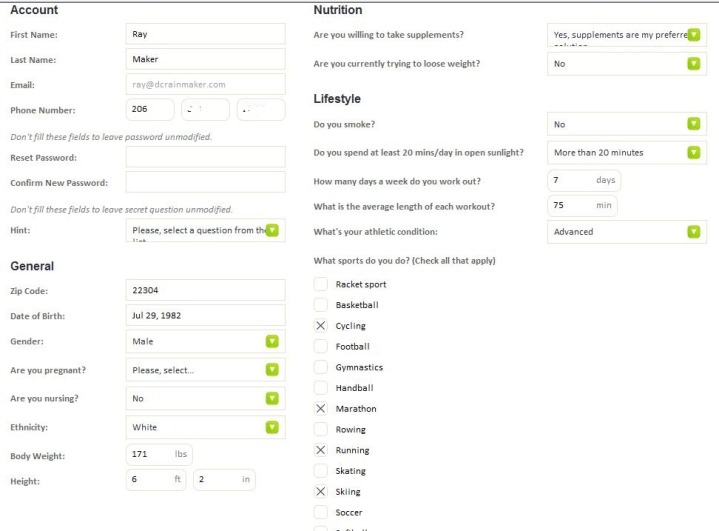 So with that complete, onto the test I go!
Onsite:
Because some conference calls ran late, I in turn ran late.  Thus I missed my appointment time.  But, no worries at all, they fit me in about 10 minutes later.  There was some initial confusion on how to locate the test profile in their system – but once they sorted that out without my assistance or interference, we were good to go.
The waiting room was packed.  Labcorp does testing of a wide range, from blood samples for services like this, to drug testing.  But, since the place was about 1 mile from my house it made it super convenient.
Once they were ready for me the lab worker took me into a small room and then cleaned the area where he'd draw blood, which was a vein on the inside of my arm near my elbow.
Since I had actually had blood drawn just a week prior, I knew that I was pretty good for strong and freely flowing blood.  Though, this time…not so much.  Last week I had filled about 8-9 vials easily.  This time, it took a wee bit more time to get through the three vials needed.
No worries, only one needle need be inserted, and within a few minutes I was all set and headed out the door.  He kept my vials of course: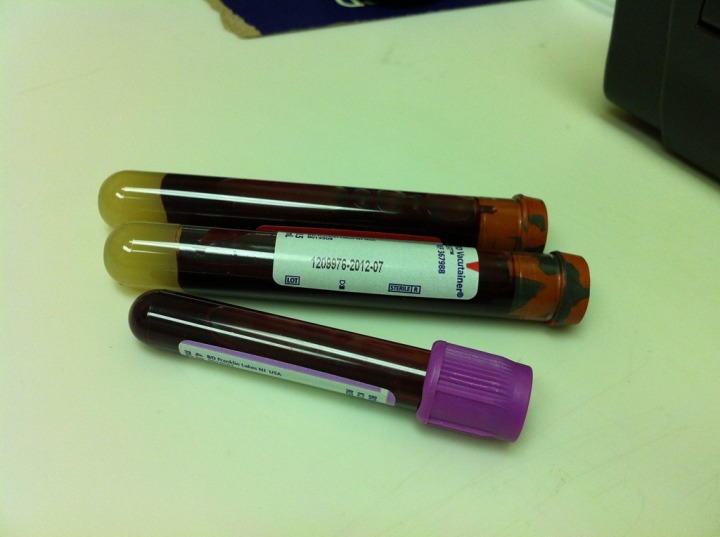 With my part complete, I needed only wait for the results.  InsideTracker advertises a 3 business day turnaround.
Once you leave, the vials are centrifuged locally for a couple minutes before being shipped that night to Labcorp's facility in Raritan, NJ.  They units are then processed by machine and the computerized results are sent to Segterra, which is behind InsideTracker.  After that, the results magically show up online.  They're looking to see how over the next 6 months they can streamline that process a bit further from the current 3 days, though I'd say it works pretty well today.
Results:
They delivered on the three business day turnaround, and by Wednesday morning the results were live.  Because my three-days fell over a weekend, it seemed like much longer of course.  Once I logged in I found an overall list of all the metrics they took:

Though, once you glanced below that – they list each and every metric as well as recommendations for each one.  Here's the first chunk: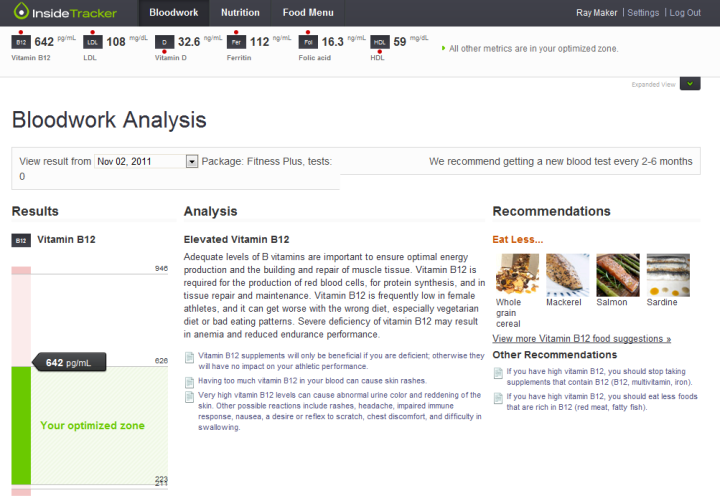 Now, you'll see a few different colors here on the chart on the left hand side.  First up, you've got the green section.  This is the section that's customized based on your individual profile – so it accounts for how much you train, your age, etc… This is – as they put it – 'your optimized zone'.  Next we have the light pink section.  This is the zone that's considered 'normal'.  Essentially, if you went to any regular doctor, they would say you were 'Good to go!' based on being within that range.  Then finally, you have the darker pink ranges, which is considered 'less than ideal'.  In other words, not good.
Taking a look at my Vitamin B12 one, you can see I'm just barely above my optimized zone, but still within the overall general population recommendations.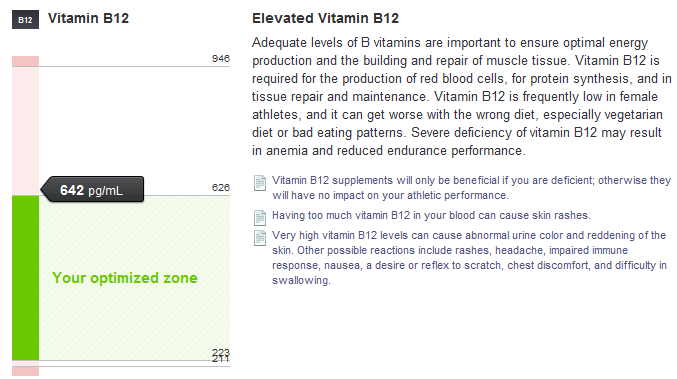 So how do I fix this?  Or what can I do to change things?  Well next to each test there are an assortment of food category suggestions.  Again looking at the Vitamin B12 one, since I'm high, it recommends I 'Eat Less' of a given set of foods, as you can see below.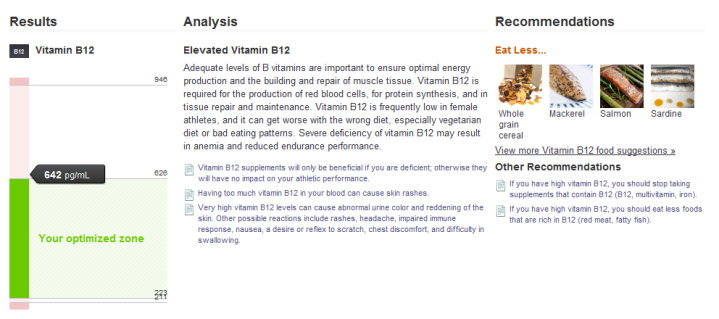 The problem here is that these foods aren't terribly useful.  I can't remember the last time I had mackerel, and I don't even like sardines.  I do enjoy my Special-K cereal though.  In talking with them about it, this is one area where they're looking to overhaul the food categories quite a bit to make it more practical and realistic.  That should happen pretty shortly here.  In fact, since November, I'm already seeing some changes (regrettably, one of them was to remove the 'Eat More Poptarts' recommendation).
If you click on 'View More Vitamin B12 food suggestions", it takes you to a page with essentially more recommendations: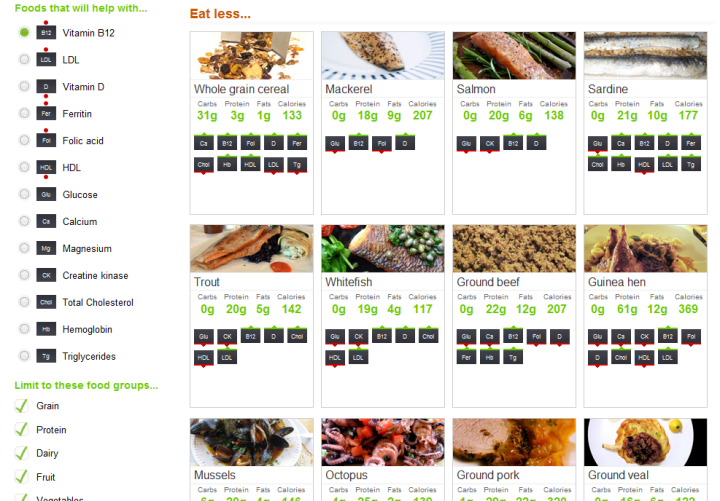 Like the first page, these aren't as useful, but they're also getting changed.
When you choose your test you're given the choice of whether or not to get a Vitamin D testing or not.  In my case, they went ahead and sprung for the extra test.  This one costs a fair bit more because it requires a separate machine to process, and they said that its their most expensive test on the panel today. Here's how my results landed.  As you can see, I was just .6 above into the 'safe' general zone.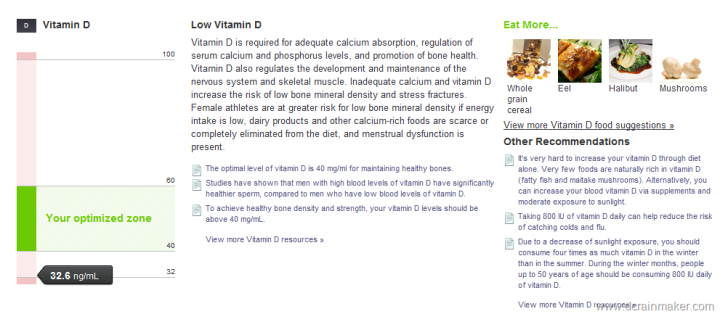 But I'm a bit low on Vitamin D – which, wasn't actually surprising to them.  They found that about 40% of the people in the pilot program were outside of the preferred Vitamin D range – which is inline with many folks in the Northern Hemisphere who don't spend as much time outdoors since sunshine is really the major driver of Vitamin D, and my outside daylight time is someone low.  The fixes for Vitamin D deficiencies (aside from just spending more time outdoors) as per recommendation of the tool, would be to eat more fish and mushrooms.  But there's some issues there.  When I talked with them on the phone, they noted that "To fix it with food is tricky, essentially just fish and mushrooms can increase Vitamin D counts – but with the fish, you get the fats.  Mushrooms…you have to eat a lot of them!".
This is really the one area where they would actually recommend a supplement.  Their overall goal is to change the way you eat, and not to load you up on supplements.  They believe that simple changes in diet can make a big impact.  But in the case of Vitamin D, it would take a massive amount of mushrooms to get you anywhere near where you want to be.
Last but not least, they have some menu planning tools.  These are aimed at taking in all the recommendations based on your test results, and helping you choose foods across the spectrum of your day in different food groups – aimed and getting you closer to the optimized zone (click to zoom):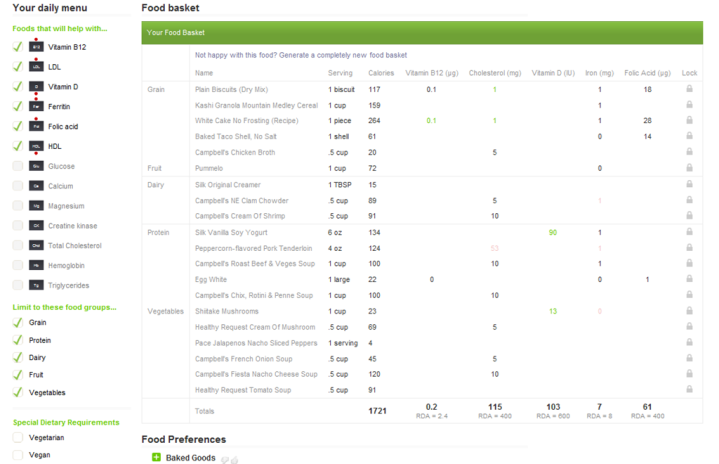 While I found the options interesting, it's a bit hard to try and fit all the recommendations into my day to day life, without unknowingly bonking something else out of alignment.  This is an area where they're going to do some work on as well.
Summary:
All in all, I think this is a pretty interesting service.  For me, I had no idea what my test would look like.  I eat relatively healthy, but I'm also not restricting myself to any particular diet.  I don't have cheeseburgers everyday, but I also don't just eat salads and chicken breasts either.  I eat what appeals to me, when it appeals to me.
As you can see, I can make some minor changes – but in general, I'm not doing too badly.  Most things are pretty close.  I've started taking some Vitamin D supplements (just off the shelf stuff), and might give the test another shot again in a few months to see how things shift.  They recommend doing the tests a few times a year, though some of the markers will change more rapidly than others.
Perhaps if my tests had come back with me being completely out of alignment, I'd be more able to make significant shifts to try and address issues.  But in my case, I'm either just barely above or below the optimized zone, so it's a fine balance to ensure that changing one aspect of my diet to fix one thing – doesn't knock something else out of whack.  Nonetheless, knowledge is power, so I love to know what's going on.
As always, if you've got any questions – feel free to post them below.  Either I can try and answer them, or I'll get answers from the folks at InsideTracker.
Thanks for reading!