Last week I had the chance to sit down (well, actually, stand around) and talk with the guys behind the up and coming TrainerRoad application.  Many of you are familiar with the CompuTrainer and the ability to gather real-time data from it – including power metrics.  But at $1,500 – it's rather expensive proposition for the majority of folks.  Sure, there are other entrants into the market – including companies like TACX, Elite and CycleOps – each with great products…but similarly high prices.
But how is TrainerRoad different?  Well, first off – you use your existing trainer.  Add your existing ANT+ accessories such as heart rate straps and speed/cadence sensors.  Then you grab that handy dandy ANT+ USB stick you probably have too (or can pickup for $20), and get busy with your trainer.
TrainerRoad works by pairing to those ANT+ devices and then plotting and recording the data in real-time on a computer screen.  But that's not terribly exciting by itself since your regular bike computer already does that.  What differentiates TrainerRoad is the ability to do what they call VirtualPower by using known power resistance curves of certain trainers like the Kurt Kinetic fluid trainers.  See, resistance curves allow one to determine the almost-exact wattage levels on certain trainers at known speeds.  In fact – the incredibly popular LeMond Revolution Trainer works on this same concept – allowing them to predict power quite accurately.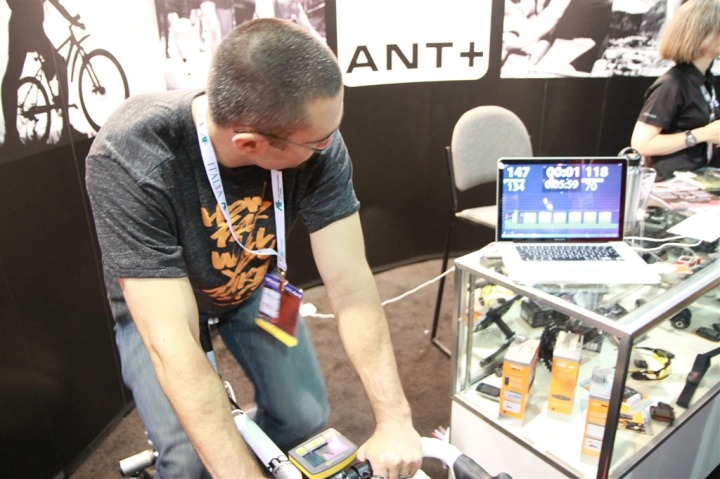 Once they've established your VirtualPower (which I'll just call power from here on out), then they'll combine the rest of that information and display it on the workout screen.  The remainder of your information comes via the ANT+ sensors on your bike.  And in the event you already have a regular ANT+ power meter, you can use that instead of VirtualPower.  You'd simply pair that just like you'd pair it to your bike computer.
Note that unlike the CompuTrainer – TrainerRoad can't control resistance today on your trainer, you'll have to do that just like normal.  It's possible that down the road some trainer companies will open up the application/hardware interfaces to do so – and the TrainerRoad guys have said they'll be all over that like white on rice.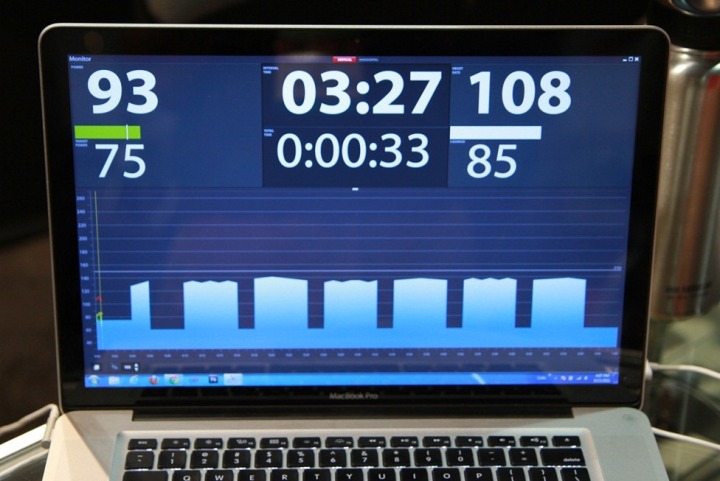 But TrainerRoad isn't just about displaying what you do, because as I noted earlier, a number of folks can do that.  What further differentiates them is that they have an online site integrated into the  application.  This allows you to upload your data immediately upon completion.  You can see below a completed workout, which included multiple intervals – with the data displayed in more detail below it.
Also note that they shortly plan on adding connections to other services so your data/history isn't land-locked.  For example, first up is TrainingPeaks – which will enable you to easily upload straight to TP.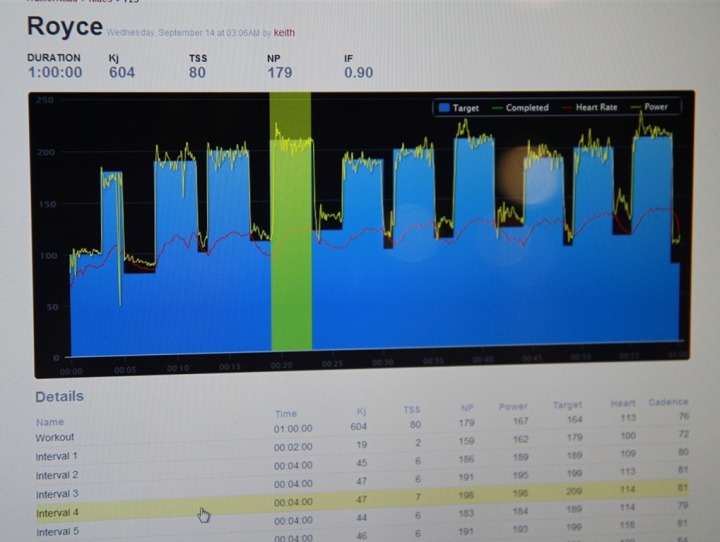 In addition to just riding following your own plans, you can download and select pre-made workouts.  The application will then guide you through the workouts and provide on-screen instructions if your slackin' or not doing it correctly.  Sorta like having a coach in your living room.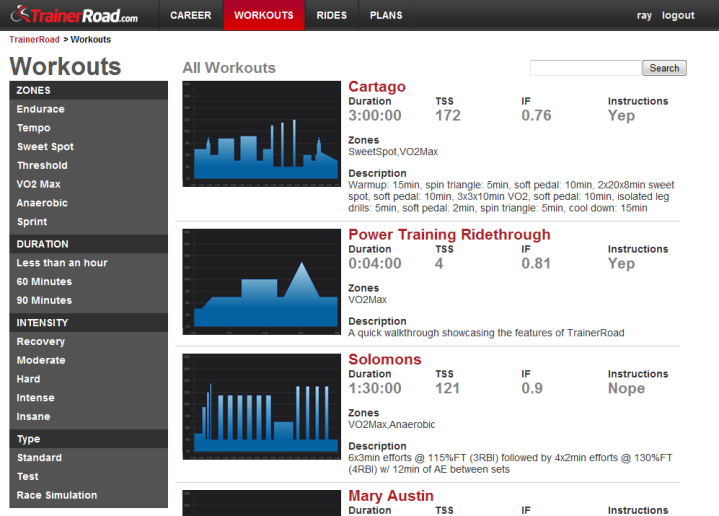 TrainerRoad can also put together a training schedule/plan for you, based on doing an FTP test – which the software will guide you through as well.  An FTP test is essentially a way to test your power threshold, which enables them to give you specific workouts that help you improve over time.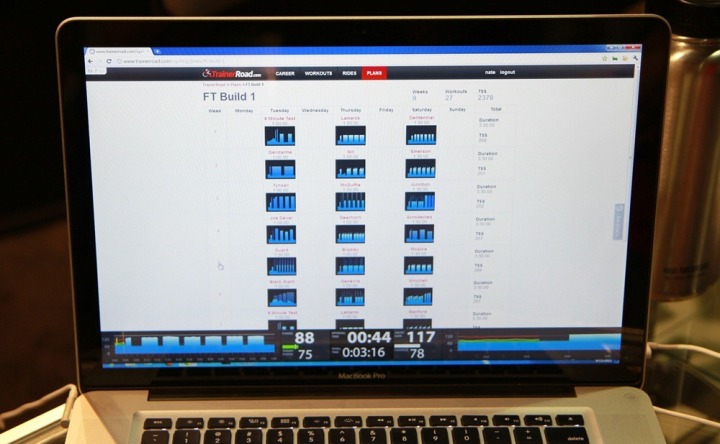 From a technical standpoint, the application is written on the multi-platform AIR application – which means that it's both PC and Mac compatible.  Though they are getting the PC beta version kicked out the door first.  This means that the Mac version is on their list, but today they only have the PC version in beta and available.  I know this is a bit confusing because you see a Mac above – but it's actually a Mac running Windows 7.  Fear not Mac folks – Mac compatibility is super-high on their priority list.
The other thing I love is that they are super-clear with the pairing of devices and your ANT+ stick – allowing you to save devices and show exactly which device ID you have paired (so if you have two folks in the room you can easily differentiate who is who).  And btw – how totally kickass is it that they actually keep track of battery usage when available?  Check out the HR monitor status below.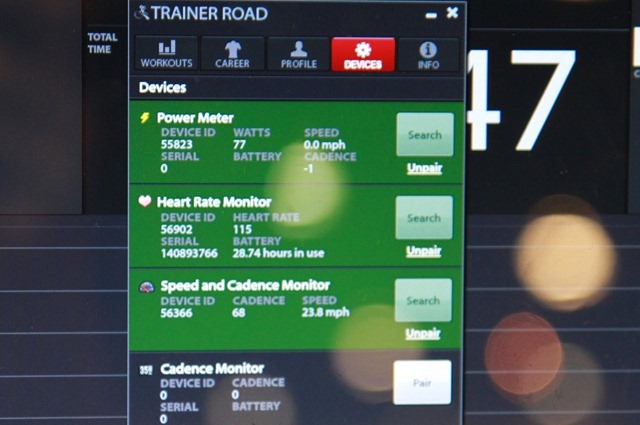 (Sorry for the giant light reflections…the Vegas show floor is a cruel photography place)
Of course, for many trainer time is about keeping on distracted on a TV or watching Hulu. So the guys have given a bit of a nod to the reality that many folks are constrained to their trainer in small dorms or apartments with only a single laptop.  And for many that laptop has one singular priority: Watching TV or a Movie.
Thus, they've enabled you to simply dock the TrainerRoad data panel to the bottom and display anything you'd like behind it – from Hulu to Netflix to the Magic School Bus application if you so choose.
By this point, you're probably wondering how much and when.  TrainerRoad currently is in beta for another month or two – but they're cooking along pretty quickly and constantly adding new features.  Once it releases, it'll be kinda like the paid version of Strava and other premium services and you'll pay a monthly fee of $10 to use it.
But until release – it's free if you'd like to sign-up for the beta and give it a whirl.  Like all betas, there may be bugs – but I'm reasonably certain that they won't cause you to crash your bike.
So give it a whirl and let me know what you think – and as it releases you can expect I'll circle back around with them and give you a more detailed review.  Given all the trainer-related goodness heading my way over the next few weeks, I'll have plenty of time to try everything out – just in time for the winter 'season'.
—
For all my Interbike coverage here on the blog you can use this tag to see all the Interbike 2011 posts. Thanks for reading!