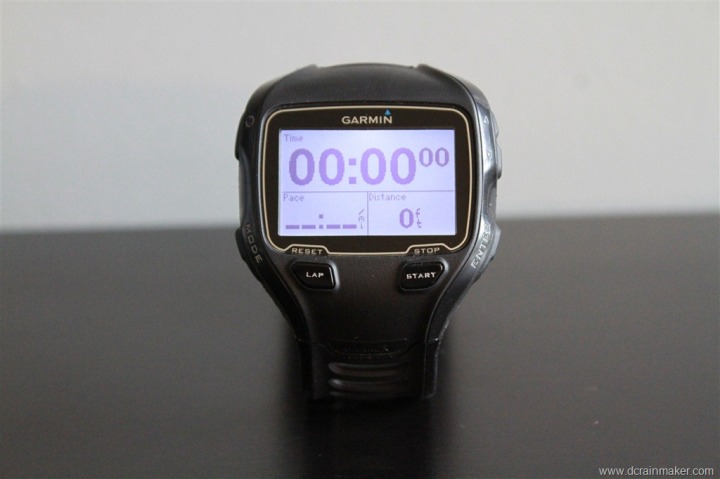 After quite a bit of public wrangling on dates over the past few weeks, the public availability of the Garmin FR910XT has been delayed temporarily.  While there has been significant discussion by many retailers and distributors regarding the FR910XT's date, most of which was merely speculation – the date has now officially been moved by Garmin.
The decision actually just occurred in the past day, and was not actually the result of the product not being ready from a design or functional standpoint.  In fact, the firmware was completed (RTM) about 10 days ago – and has been working great on my development unit.  This was the first non-beta firmware.  And the hardware specifications have been finalized and locked for sometime.
Additionally, it was not the result of Garmin Connect not being ready either.  Those changes supporting the new Swim modes were implemented this past Friday (12/2/2011) – and are looking great and functioning rather well.
The official statement from Garmin is as follows as of 8AM EST on 12/8/2011:
"Thank you all for the overwhelming interest in the Forerunner 910XT. Unfortunately, production delays have pushed back availability until after the holidays. We apologize for this inconvenience, and we assure you that the rigorous testing and diligent attention to detail will result in a reliable and robust product upon shipment. We will communicate additional information once the 910XT begins shipping."
The cause of the delay is solely focused on supplier availability of a specific component within the unit.  In fact, it's sorta like the recent American Airlines/Alec Baldwin fiasco – the plane was boarded, ready for takeoff with the doors closed up – and the one little thing had to go and hose it up for everyone.  It was Garmin's hope that they would be able to resolve the availability issue prior to the holidays, but that's not the case.  In fact, it was expected/hoped that units would start going out this week to customers.
Because I get a lot of questions on the FR910XT, and how shipping will work, I wanted to go through it.  As I've previously noted in a few other posts, the future fulfillment of FR910XT orders is in part influenced by when you ordered, as well as by who you ordered with.  But there isn't actually any preferential treatment when it comes to the retailer you selected.  All of the retailers are treated in equally in that sense.  This means that while big retailers like Trisports, REI or Amazon may have hundreds or thousands of units on backorder, and your local running shop in the middle of North Dakota may only have three units – they're treated equally in the giant Tetris game of shipping fulfillment.  The same goes for Garmin.com orders.  While those orders will be fulfilled in the order they were received, they are on equal footing with distributors and retailers.
Because Garmin has no visibility into the allocation details of orders placed by its retailers or distributors (other than a total quantity and date), it's quite possible that if you ordered from a store that hasn't sold the quantity that it ordered early on – you may in fact get your unit ahead of another retailer, even if you ordered a month later.  And the inverse is true as well.  Again – a giant game of Tetris.  And none of this is unique to Garmin, nor to any other company that uses retailers or distributors.
Finally, if you haven't had a chance to wander over to the FR910XT In Depth Review I wrote, I continue to add little snippets in there on a pretty frequent basis, as well as answer all the detailed questions in the post.  I've also got the detailed swimming comparison between the FR910XT and the Swimsense basically done in waiting (for a separate post).  I had been waiting though to publish that until public availability, mostly because I didn't want to upset the apple cart.  But, if that's something of interest now for folks trying to decide, I can look to go ahead and have it publish early next week.
Also, as a random side note, this does not impact the Garmin Vector power meter release date, and that remains on target for March 2012 availability.
Thanks for reading!