For a Friday, I figure a couple of fun and random things are in order.
Head Honcho Sightings:
First up was a presidential sighting.  Well, not ours.  But rather another countries.  So technically, it was a Prime Minister sighting.
Thursday afternoon while driving out of the city in already near-stopped traffic I saw a slew of police lights in the distance behind me.  Living here I always kinda get excited and hope to see the Presidential Motorcade – but for me, that happens fairly rarely.  Nonetheless, it was big enough that I knew it had to be someone of importance.  So I grabbed my camera after we had pulled over to let it pass.  When it passed it was probably 3-4 motorcycles, a bunch of other support police cars, a few fancy limo's, and then the giveaway – a diplomatic plated mini-van.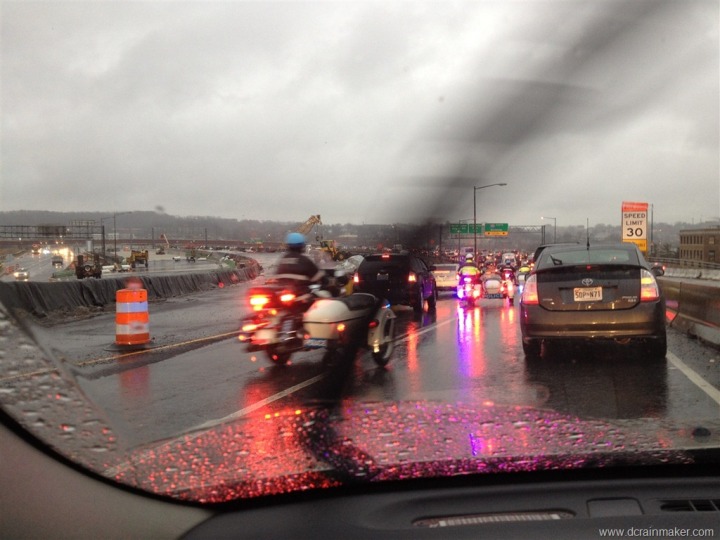 If you live in the DC Metro area you're used to seeing diplomatic plates.  And until a few years ago, it was really easy to figure out which country they were from.  The first few characters of the license plates from each Embassy/Consulate corresponded with countries, in a semi-logical pattern.  But then they changed it all up, so that the two characters used for each country were essentially random letters.  But, they were at least still consistent – meaning each country used the same two characters on all vehicles.  Thus, you could look it up later.  So I remembered the country's code – TG – and figured I find out later (the first letter of the license plate is the type of diplomatic plate – i.e. staff or diplomatic plate, then the two letter country code).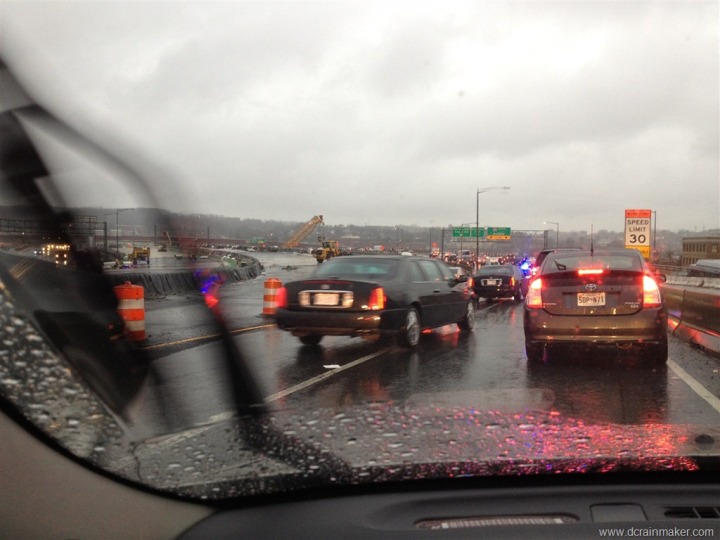 Turns out, TG stands for Canada.  From there I did a quick Google News search to see if the Canadian Prime Minister was around – and sure enough, he was in town, meeting with President Obama.  Sweet!  Based on the route he was going, he was likely headed to Andrews Air Force Base, probably headed home.
Most of the time when you see diplomatic plates it's not nearly exciting.  Usually just someone like a regular staffer from Morocco in front of you in the drive through line, or perhaps another country cutting you off without a blinker (not pointing any fingers or anything…).  Anyway, just a little snippet of life in DC.
Olympics…
Yesterday, individual 2012 Summer Olympic tickets opened up for US residents to purchase.  For those not familiar, all ticket sales to US residents, Canadians and a slew of other unfortunate countries are handled via a US company called 'CoSport'.  CoSport is my arch nemesis when it comes to Olympic tickets.
Essentially the IOC (International Olympic Committee) decided that instead of centrally selling tickets, they'll divide up ticket allocations to individual countries, and then designate a single seller within each nation.  That designated seller is then free to charge additional fees, as well as create bundles (including overpriced accommodations).  In and of itself, the annoyance of additional fees isn't the issue.  Instead, it's the sales they allow.  See, they allow up to 48 tickets for a single event per 'person'.  Which means other companies by massive chunks of tickets from that allocation hoping to make a sale to you at an inflated price.  And that's separate from all the tickets corporate sponsors get/buy, etc…
Having played this game for three previous Olympics – 2002 (Salt Lake City), 2006 (Torino), 2010 (Vancouver) – I know that it's typically a losing proposition.  You rarely get the tickets you want upfront, and if you do, you'll usually end up having to pay the higher category price.
Nonetheless, I was optimistic that nobody would want the tickets for the categories we wanted – which were mostly endurance sports, and not the touch ones like Gymnastics or the 100m sprint.  I'm very much realistic when it comes to the reality that triathlon isn't the most popular sport on earth, and the same goes for the Marathon.  Thus, I thought my odds were good.
Apparently though, I was wrong.
Unfortunately I was in meetings when ticket sales opened up at 12PM – so I didn't have a chance to hit up the system until later that afternoon.  Once I logged in, there wasn't much left over.  Though, Table Tennis was available.  I didn't even know that Ping-Pong was an Olympic game!

However, at over a $100 per ticket per person for Ping-Pong, I think I'll save my money.
Now, having gone to three Olympics, I've long since learned that you can pretty much always get tickets either outside the gates of that venue (people trying to offload), or at ticket booths.  And usually at good prices, sometimes like $20 a ticket.  The reality is that for the vast majority of events, there remains a surplus of tickets (primarily due to companies buying up tickets to try and mark up).  My goal events are Triathlon, Marathon, perhaps one splurge to watch a night at the track and field, and then some other different 'cheaper' ones – like Badminton.  I've found that sometimes those unique events are the coolest ones to watch.  A pair of cheap tickets at the Vancouver 2010 Olympics for Skeleton was probably the coolest event I saw there.
We'll see…still gotta figure this one out.  And, if you want to read my past postings from the Olympics, you can start here – tons of awesome photos. (While reading that I just came upon my Nutcase Chart/Diagram…forgot about that, funny stuff).
Gadgets:
I continue to be impressed with the $90 Soleus GPS 1.0 watch.  I've run with it now on about half a dozen runs, and it just works flawlessly – and accurately.  And I still haven't had to charge it either.
I'm thinking a mid-week review sometime next week.  It's a relatively simple and straightforward product, so it doesn't take as long to write-up in comparison to something like a Forerunner watch which has more features and functionality.  But I think it's a perfect watch for a lot of people.  Accuracy wise it's always .03 away from the FR910XT.  Always, no matter if I run 3 miles or 9 miles.  I'm not sure which one is truly correct, but either way, .03 over 9.06 miles is pretty solid.  I usually can't get two identical Forerunners to agree like that, let alone two watches from different companies.
Speaking of workouts, I've been doing mostly just running the last few weeks since the Philly Marathon.  I'm still mixing in cycling, but it's mostly been shorter and less intense stuff – about 45-60 minutes, and almost all on the trainer.  I'm mostly on the trainer as I've been focused on getting trainer time for trainer reviews.  With the Tacx review done, I'll be switching over to using the PowerBeam Pro for a while (which I got all setup and working this past weekend).  Then the LeMond Revolution trainer.  Then some TrainerRoad action.
But, as far as running goes – it's been nice just to get lots of cool weather fast running in.  Tonight was a tempo run, 20 minutes at Z2 HR, then 20m at Z3, then 10m at Z4A, and then 10m at Z4B.  All in all, that put me down into the low 6's by the end, or an overall average of about 6:40/mile for the entire run.  Good times.
Speaking of gadget running stuff, last night TrainingPeaks added a crapton of cool features.  The most interesting to me are elevation correction (woot!) and Motorola Motoactv support.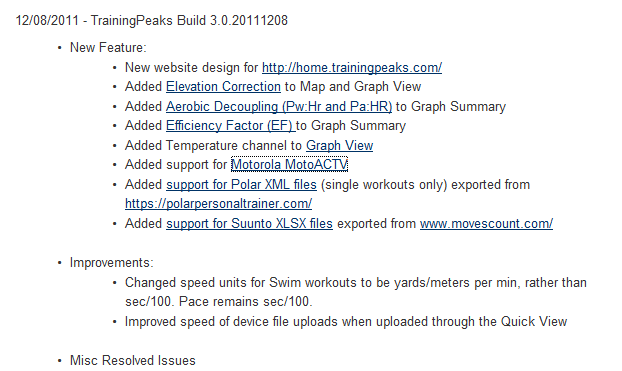 Here's my Philly Marathon FR610 run with elevation correction turned on – a pretty big difference!  Remember that elevation correction uses known elevation data sets, which is useful for correcting GPS based elevation data (barometric based data like that found on the Edge series tends to be better).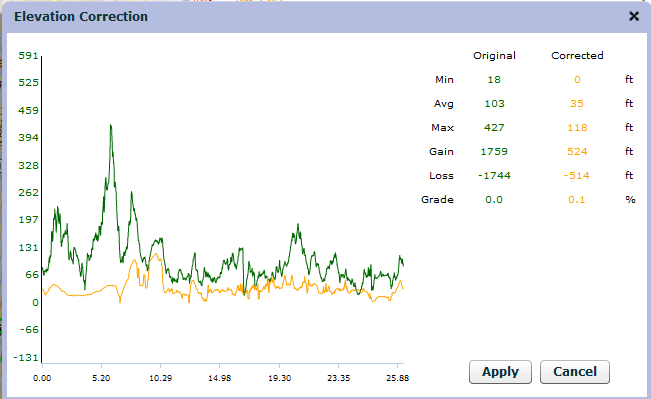 In fact, looking at tonight's run with the 910XT which has a barometric altimeter, you see the end resultant is quite close.  Much better than the FR610 and its GPS based altitude.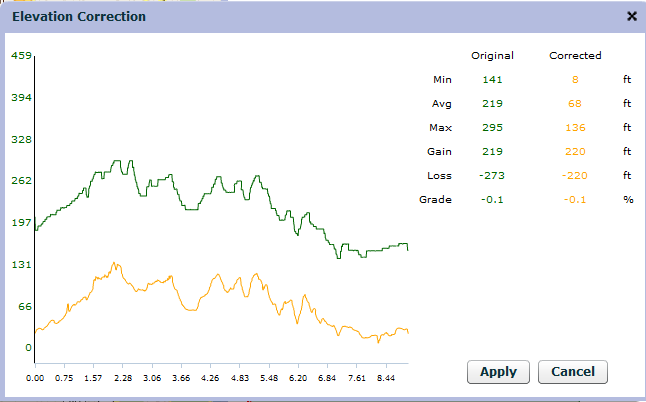 So with that, here's me. Post-run.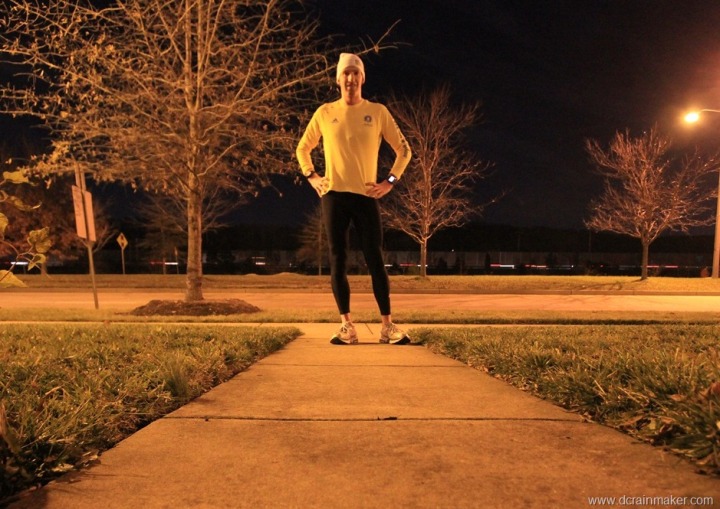 That's all I've got for now.
Have a great weekend all, and thanks for reading!