(Please Note: This product has been discontinued by Motorola Mobility, which is now owned by Google.)
As I noted two days ago, the Motorola Motoactv has completely and totally changed the face of sports watches…literally overnight.  Upon its initial release it has managed to offer an immense suite of features and functionality, as well as offering new sensor types and connection methods.  But with a first generation product also comes growing pains.  Does the Motoactv have these pains?  And how does it stand up to an endurance athlete?  Well, I set out to find out.
Like all my reviews, they tend to be pretty in depth (perhaps overly so) – but that's just my trademark DC Rainmaker way of doing things.  Think of them more like reference guides than quick and easy summaries.  I try and cover every conceivable thing you might do with the device and then poke at it a bit more.  My goal is to leave no stone unturned – both the good and the bad.
Because I want to be transparent about my reviews – Motorola sent me a trial unit to experiment with.  However, at the same time I also went out and just bought my own at the store.  So at the moment I actually have two units.  Ultimately the unit Motorola sent me to try out will go back to them. Simple as that.  Sorta like hiking in wilderness trails – leave only footprints.  If you find my review useful, you can use any of the Amazon links from this page to help support future reviews.
Lastly, at the end of the day keep in mind I'm just like any other regular athlete out there.  I write these reviews because I'm inherently a curious person with a technology background, and thus I try and be as complete as I can.  But, if I've missed something or if you spot something that doesn't quite jive – just let me know and I'll be happy to get it all sorted out.  Also, because the technology world constantly changes, I try and go back and update these reviews as new features and functionality are added – or if bugs are fixed.
So – with that intro, let's get into things!
Unboxing:
The Motoactv comes in a relatively small box – with the contents perfectly organized.
(Oh, and before I forget, if you happen to go to Best Buy to find the unit, the store may not realize where the actual units are located – despite the giant display.  You can assist the folks in letting them know that the boxes are stored in the locked cabinet slightly behind and below the display.  Sounds silly, I know, but they just aren't familiar with where they are.  Also, if you call to ask about availability – it's in the 'Mobile' department (where cell phones are), not with the rest of the sport watches.)
Anyway…the box:
Once you crack it open, the Motoactv will be staring you in the face: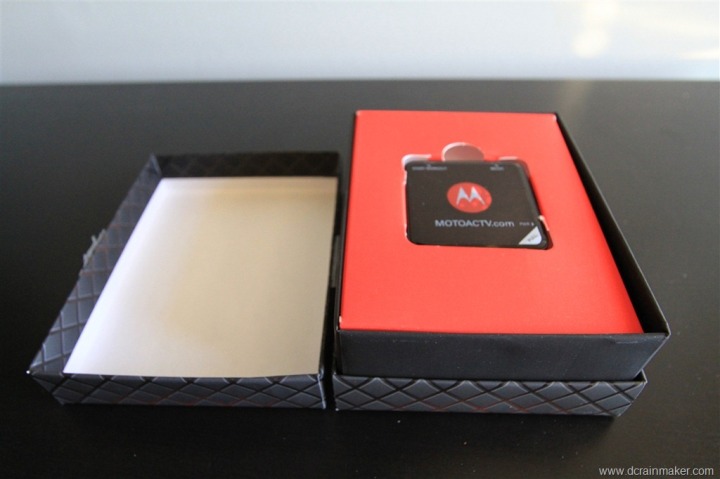 Move him out of the way and you'll find all his accessory friends below him: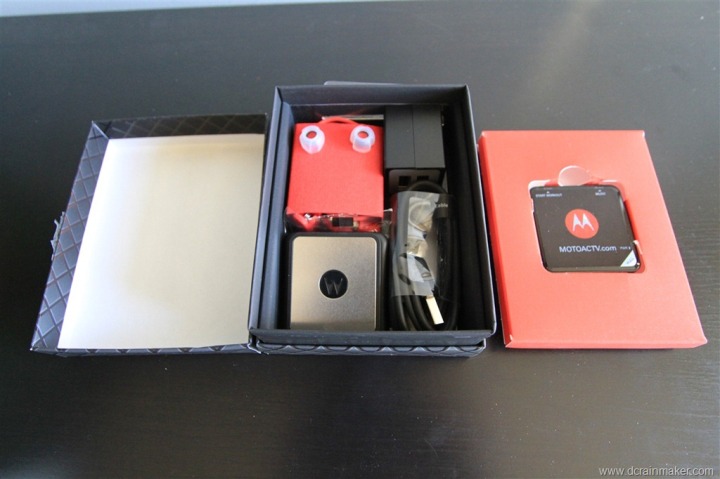 Take them all out of the pool and here's what they look like: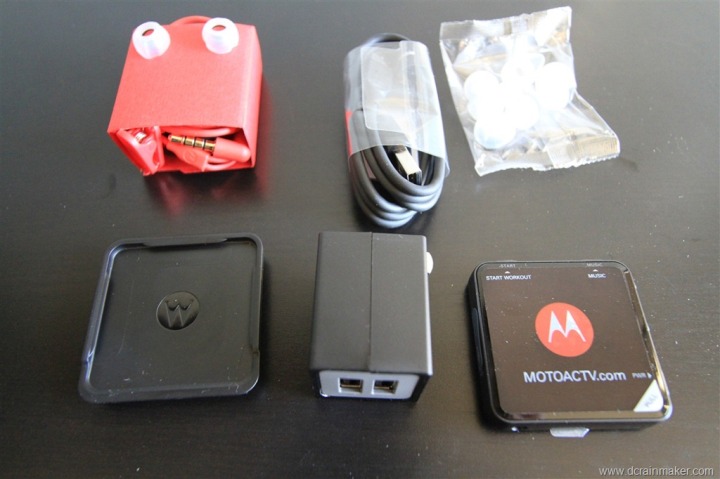 First up is the unit itself:
Then we've got the little metal/plastic clip that you can attach to…well…just about anything you'd like.  Probably your shorts though.
Then we've got the charging block, which, is probably the coolest USB charging block I've seen – it includes TWO ports!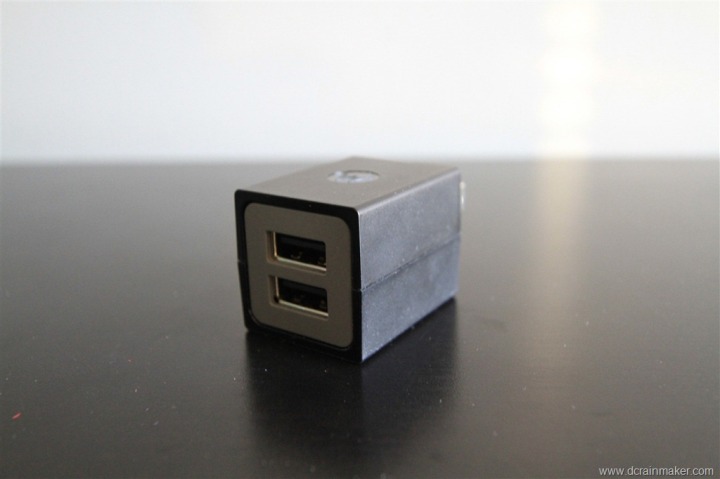 They've then included a micro-USB charging cable – just like what you use to charge most non-Apple phones these days: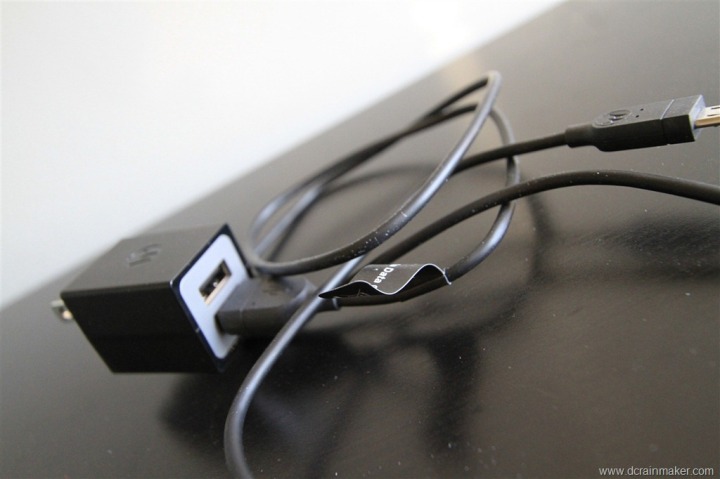 You can charge the Motoactv from either the wall or your PC.
Then we've got the headphones with microphone:
They come with a second set of earbuds as well: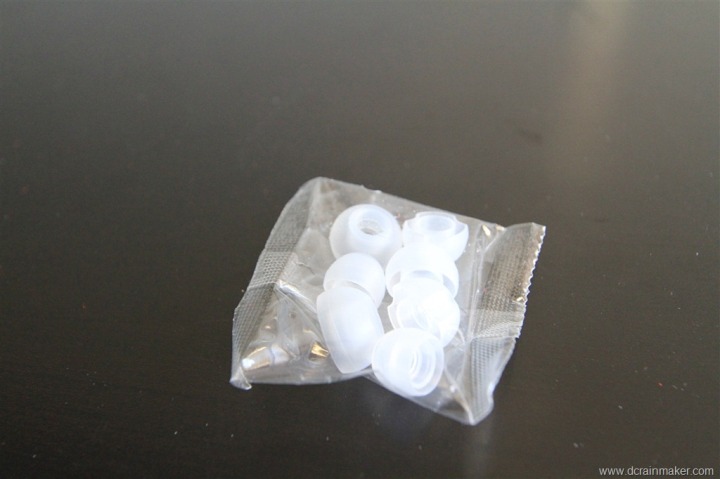 And finally, the user manual: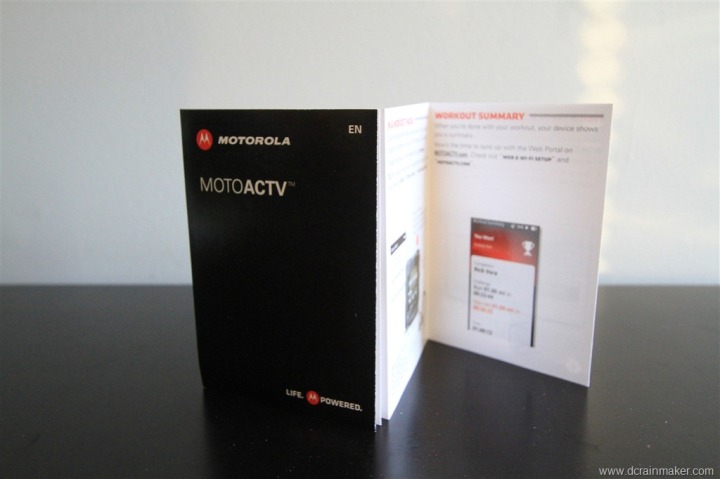 After you've first powered it on, it'll walk you through some quick configuration steps – mostly around your age & weight – which helps is to better track calorie usage.  It also asks you some basic location and preference questions so that it can give you the information you expect in the format you want: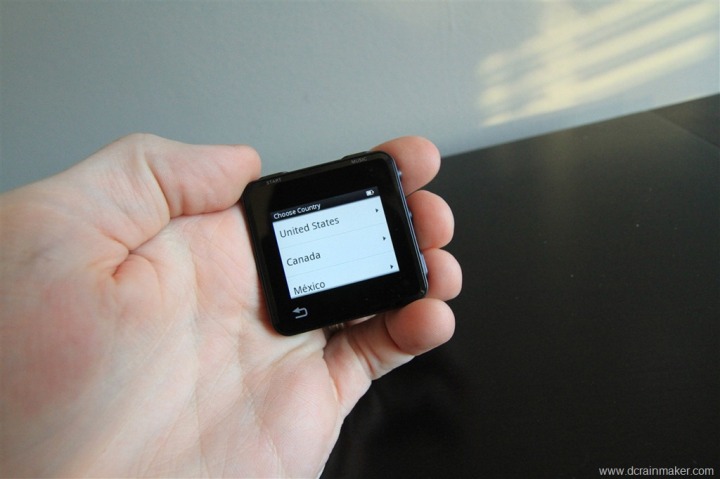 After that, you'll be almost ready to start using it.  While you'll be able to record activities and use the watch day to day, in order to upload it to the site you'll need to install the desktop software, which will create a pairing between the Motoactv web service, and your Motoactv watch.  I'll talk about that later.
Comparison Shots:
As is always the case, I find the kitchen roller is a really good place to compare different watch sizes – since it puts all of them on equal footing.  So, here's a few different rounds of the kitchen roller: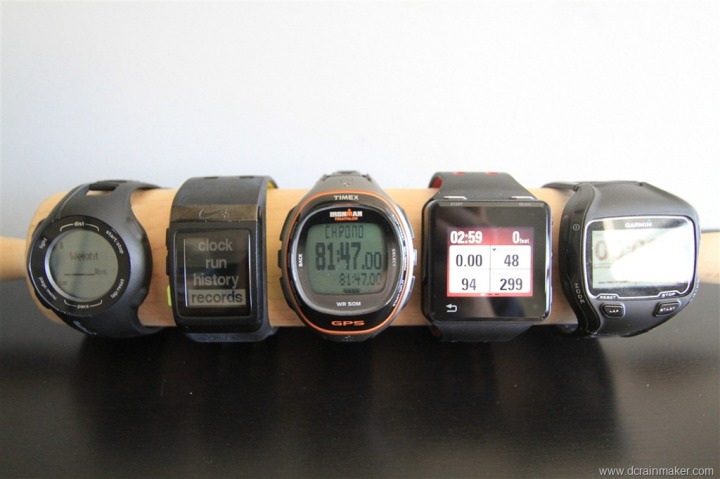 (Left to right: Garmin Forerunner 210, Nike+ GPS Sportwatch, Timex Run Trainer, Motorola Motoactv, Garmin FR910XT)
Given the comparisons to the iPod Nano, I decided to do a bit of a quick double-shot between the two of them.  The iPod Nano is attached to this wrist strap, so it looks almost identical to the Motoactv – well, unless you compare sizes anyway:
Obviously, the two units have dramatically different capabilities when it comes to fitness – with the Motoactv making the iPod Nano look like a kids hot wheels car in comparison.  But, we'll get into that later.
Running/Walking:
There's no doubt that amongst the different sports the Motoactv supports, its best fit is probably running.  In addition to both the optional arm band for running, you can also use either the included clip, or the optional wrist strap.  For myself, I opted for the wrist strap – since that's most like a normal running watch.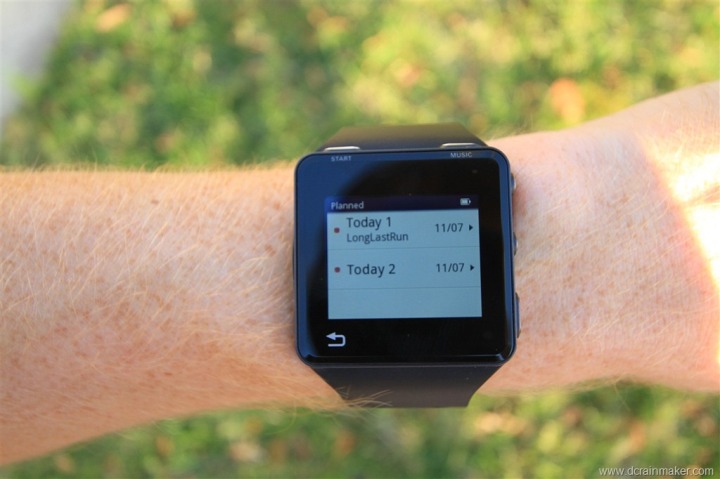 You've got a slew of configuration options that you can set, either for a given run, or across all runs you do.  This includes everything from auto lap to auto pause.  I talk about all of the unit's common features later on in the configuration settings area.
During my runs, I found the display super easy and clear to read while illuminated.  Very similar to if you were reading the screen on an iPhone/iPod…except a quarter the size.  No matter how hard I was running there were no problems glancing down to see it.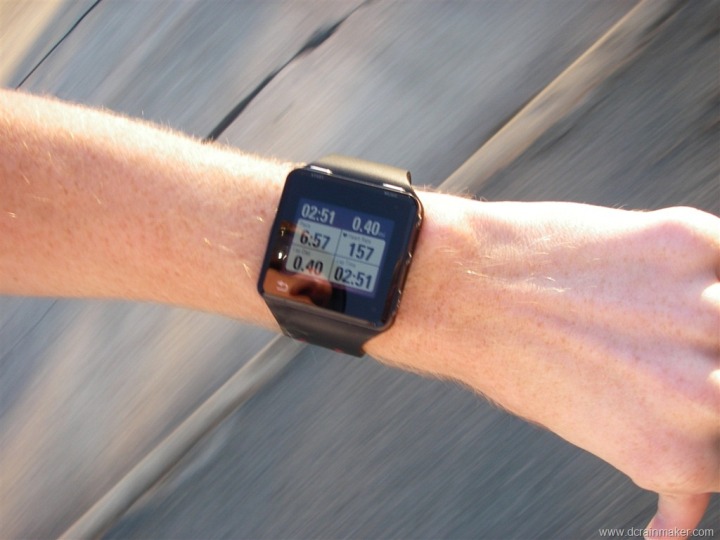 At night is where the display really shines though – quite literally.  Brilliant color and readability.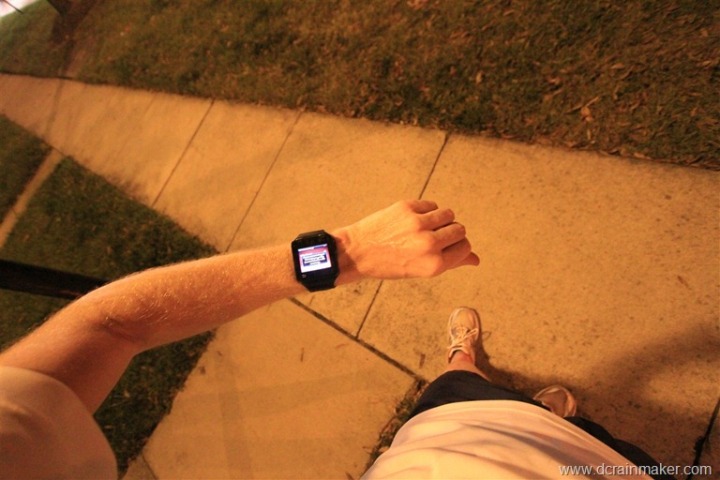 Note that while running you can always tap a given portion of the display screen to see that particular metric in full screen.  For example, see below the four-item quadrant, and then I tap one of the items to display that in full screen.
While running (or any other sport), you can pause a workout by tapping the upper Start left button.  You're then given the choice to either end the workout, or just re-tap the button to resume: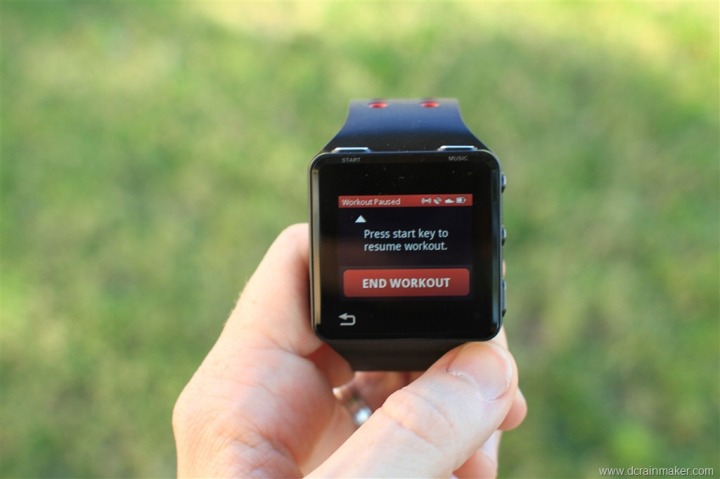 Just be careful not to swipe the unit against yourself if you pause at a stoplight or bathroom break.  I did that during my long run Monday night and inadvertently ended the workout, thus I had to start a new one.  The data was saved of course, it's just broken into two workouts instead.  Both workouts uploaded just fine to the online site.
In addition to running outside, you can also run inside just as easily.  The watch supports both an inside and outside mode.  Inside the watch can use either an ANT+ footpod, or it can use the units internal accelerometer to estimate distance.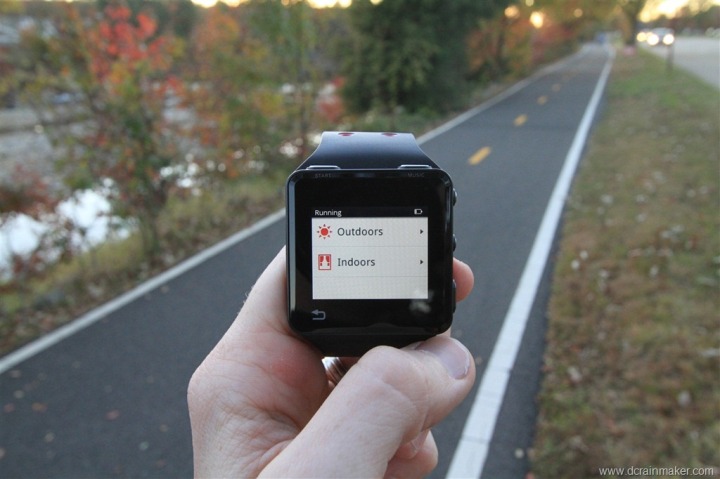 In other words, using the internal accelerometer you can just jump on a treadmill without any additional accessories and get speed and distance.  Note that you'll want to calibrate beforehand for the most accurate paces.  This only takes a few minutes though and is super easy.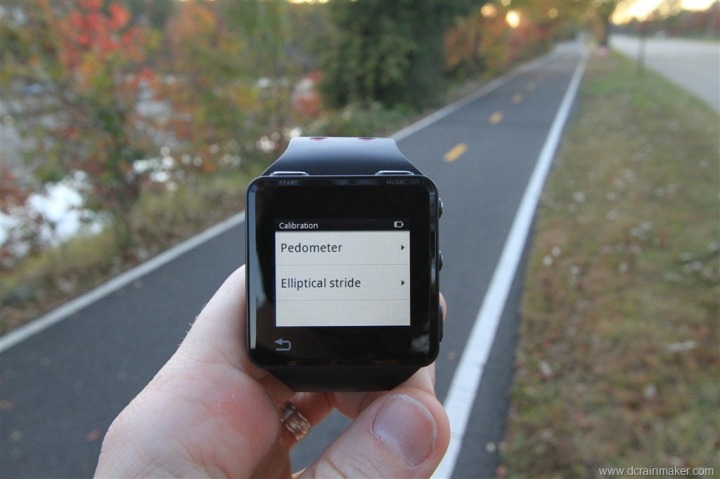 Or, even cooler is that if you're in a rush you can actually do the calibration after your run.  Yup, it asks you to enter in the final treadmill distance afterwards, allowing it to do all the math for you and adjust the calibration settings.  This is a feature I'd love to see other watches do, with respect to footpod calibration.  On the Motoactv, this portion only refers to the accellerometer piece.  Really cool.
For fun, here's a quick tour around the user interface using the touch screen UI:
Touch Screen Overview
Cycling:
The Motoactv works equally as well for cycling as running.  This is in part assisted by the handy little bike mount that you can buy.  Perhaps my favorite part of this mount is that there's no wrong way to mount it.  That my sound silly, but if you've ever mounted some of the zip tie mounts only to realize it's on backwards – you have to start all over.  But with the Motoactv mount, it's merely a industrial strength rubber band system that pulls it tight.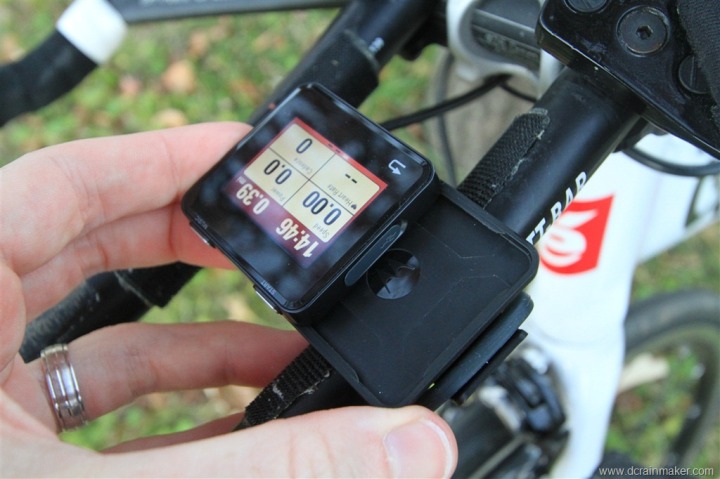 Once on there, you can mount the unit any of the four directions – meaning that should your bike require mount placement in a certain area you don't have to mount it sideways:
As for cycling from a software standpoint, the unit offers a dedicated cycling mode.  The cycling mode tailors the data fields to be specific to cycling, thus the inclusion of fields like power – supporting power meters.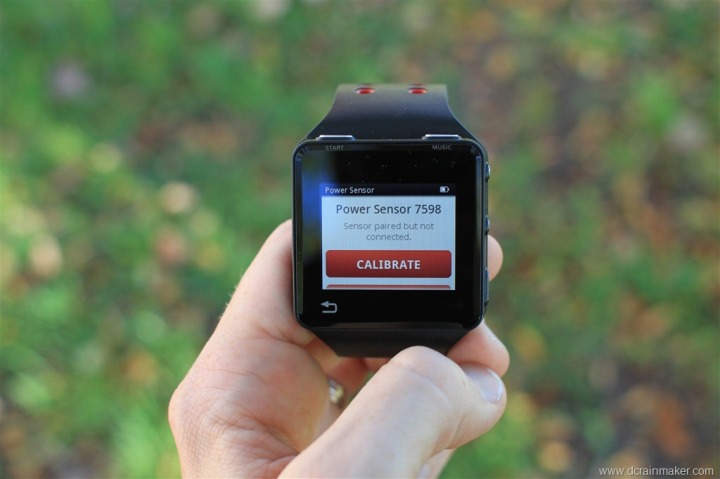 Once in cycling mode you'll have access to essentially all the same data pages as if you were running or doing any other sport.  I list all the exact data parameters you can select later on in the review.  While cycling, the display is incredibly easy to see – crystal clear visibility: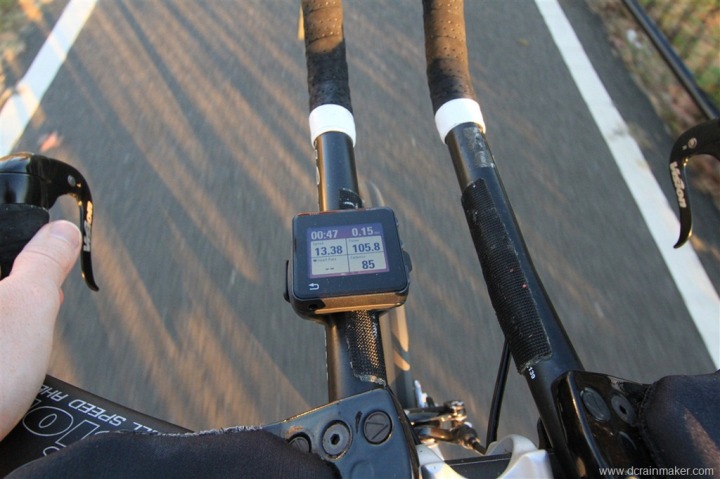 And should you want to change fields you can easily swipe.
Though, as I found out – it doesn't appear to work with gloves. I went into my winter bucket to grab a handful (no pun intended) of different gloves.  Unfortunately, none of them worked with the Motoactv.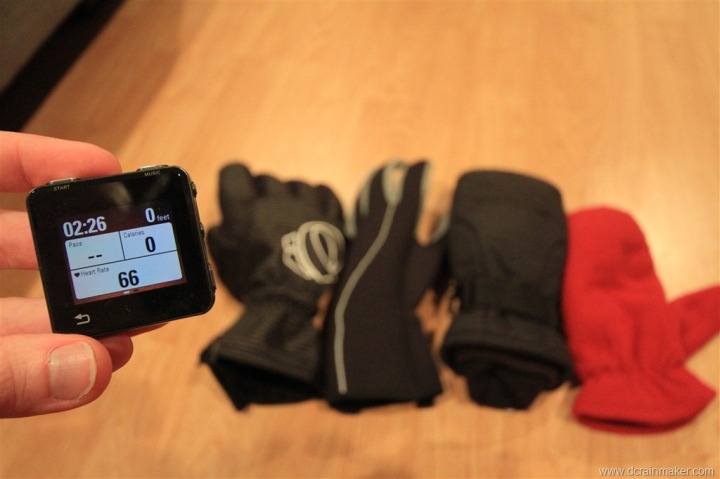 On the bright side, since using the touch display is really only needed for changing the view (buttons control functions) – you can use the auto scroll setting instead.  Not ideal – but at least worth noting.
When you want to trigger a lap change, you can merely tap the unit to start the next lap.  Laps can be used to differentiate parts of the workout – such as warm-up or cool-down.
Finally, note that just like running inside – you can also bike inside too on a trainer.  In this case, the GPS is turned off and the unit will use the ANT+ sensors on your bike to gather speed/distance data, as well as any power meter or heart rate data you have.
Bike Profiles:
The Motoactv allows you to setup multiple bike profiles tied to different bikes.  While the configuration options are slim here, you can specify both a wheel size as well as a weight.  The names of the bikes are not customizable, but you can select from some generic names – such as triathlon, road, hybrid, mountain, etc… I'm hoping in the future you'll be able to rename the bikes, though Motorola has told me they don't have any plans to do so.
It should be noted that you can't associate ANT+ sensors with a given bike profile, but at the same time – the need to is diminished.  This is because when you go to bike, it'll actually just scan through all ANT+ sensors that you've previously paired, and re-connects to those that are now active.  This is good in one sense in that you don't have to have different profiles, but it's less ideal if you're with a riding partner where their sensors may be previously paired.
Power Meters and Data Recording Rates:
As noted above, the Motoactv supports ANT+ power meters.  The recording rate interval for the Motoactv is fixed at 1s intervals. For the exact listing of all data fields displayed when a power meter is connected, see the 'Data Fields' section a bit later in the review.
Finally, you can indeed calibrate a power meter – either via auto zero or manual zero: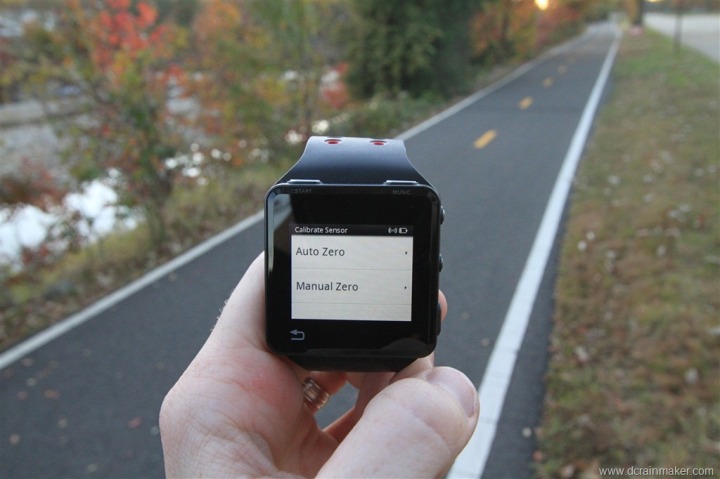 Pretty nice to include that, a clear understanding of the power meter market.
Other Sports (Elliptical, Step Machine, etc…):
In addition to running, cycling and walking – the unit actually features to other unique modes: Elliptical and Step Machine.  Using the units internal accelerometer it's able to track your activities on these two known machine types, from distance to time to steps (or strides).
In fact, if you look later on at the data field section below, you'll see that each of these sports has different data field values that you can configure.  This is another area where the Motoactv has set itself apart from the typical GPS running watch crowd – by catering to those who may not just be running or cyclists, but rather folks looking to keep healthy and may prefer the gym in the winter, and select to mix up the machines a bit.
Common Workout Features:
The Motoactv includes all the features that you'd expect from a GPS sports watch.  Instead of placing the below features within either the running or cycling sections of this review, I've gone ahead and just grouped them together below – since they are applicable across all sports.  Here's the run down:
Auto-Lap: Auto lap enables you to configure the unit to automatically create a lap (split) after a preset period of time or distance.  You can define how long that is, via the settings screen: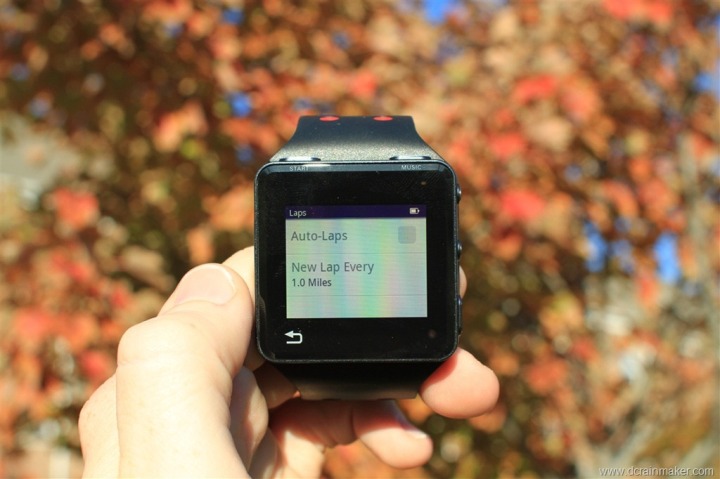 Auto-Run: If the unit detects that you're running (and outdoors), it'll automatically start a workout under the run functions.
Auto Display: This mode will automatically scroll through the different display fields as you workout. This includes any of the custom display fields as well as the map, HR/Pace zones and lap fields: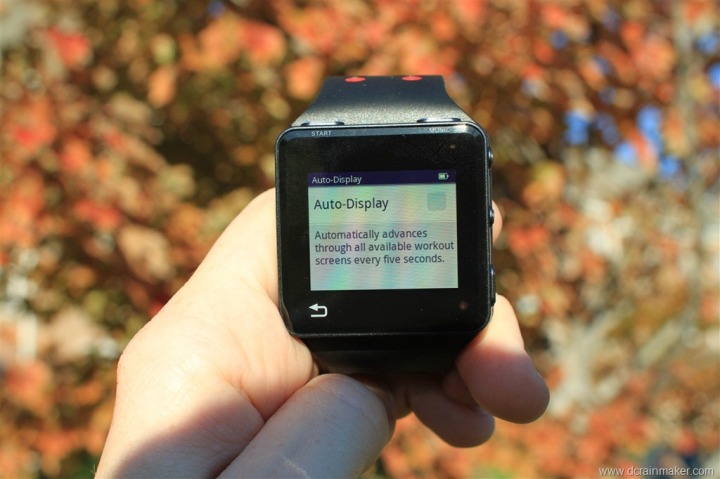 Auto Interval: If you setup intervals, this setting basically says to automatically iterate forward to the next step in the interval.  In other words, the unit won't wait for you to finish dying on the side of the track after that hard 400m set.  Instead, it'll simply keep on cooking with the programmed workout…whether you like it or not…just the way track intervals should be:
Auto Pause: Auto run is what is more commonly known as Auto Pause, or Auto Start/Stop – which essentially means that when you run, the unit will automatically start.  And when you stop, it'll do the same.  This is particularly useful for inner city running where you're constantly hitting stoplights and want a fully hands free experience.  Note that you're unable to configure the threshold for this however.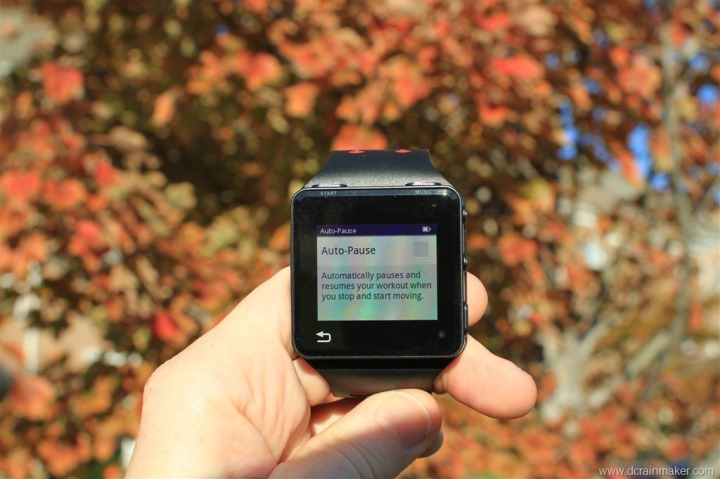 Coaching and Alerts: This setting is essentially audible alerts that will read out to you via headphones metrics around changes in zones – including power, pace or heart rate.  You can set this to do it on demand, or automatically on every lap.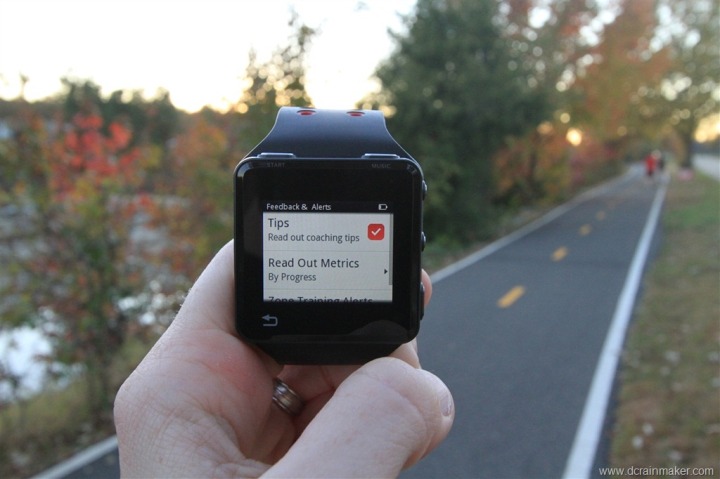 Device Tap: This setting allows you to configure what happens when you tap your device.  You can select to read out information – or you can have the unit demark a lap.  I prefer the lap option since that's the only way to actually set a lap if auto lap is turned off.
Racing Yourself: This is similar to the Virtual Partner/Virtual Racer features found on Garmin watches.  It allows you to select an existing run that you've completed – and then race against it.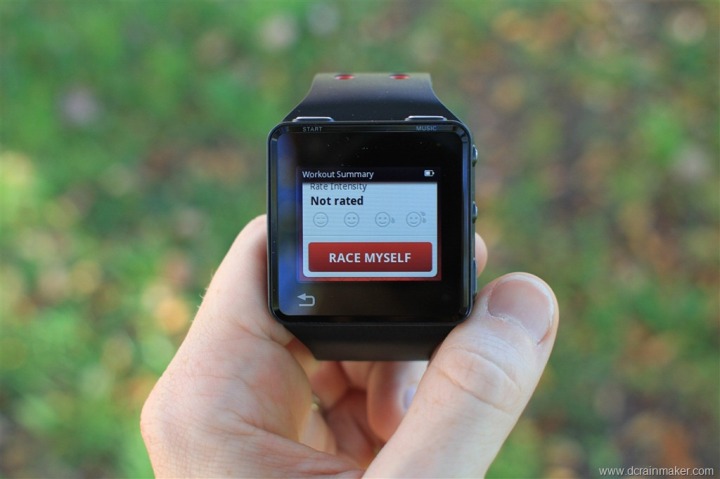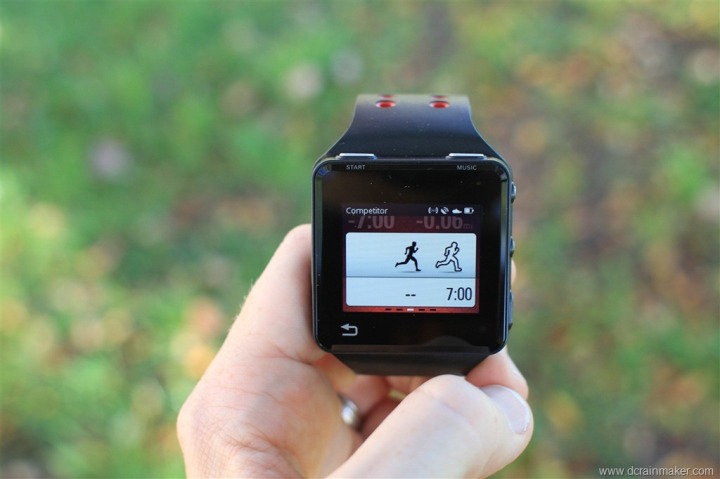 This is cool in that you not only see how far ahead/behind you are from your virtual friend – but you also can see exactly where they'd be on the specific course via the map: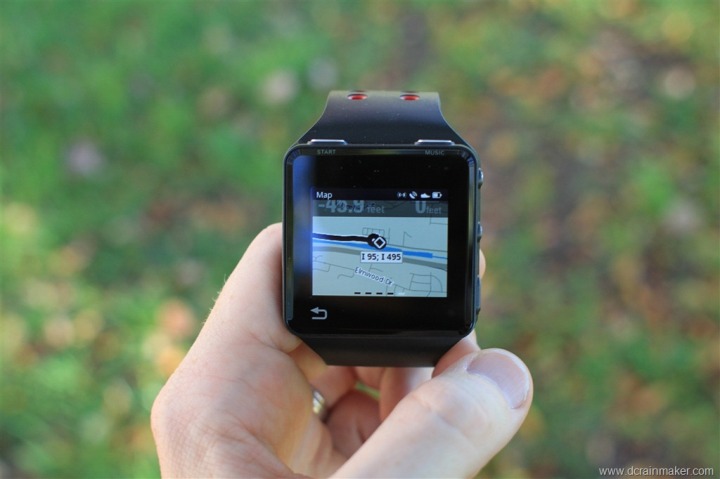 This takes the virtual partner feature to a whole new level.  Really cool stuff.
Data View Customization:
The Motoactv includes a significant amount of data field customization.  Each sport includes the ability to configure different data fields.  Within each sport you can have one fully configured data page with up to four data fields, such as below: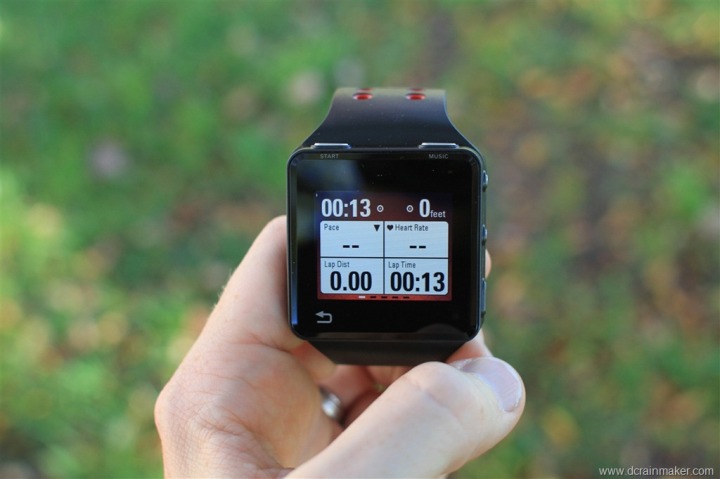 In addition, you've also got a separate screen you can enable per sport for: Laps, Competitor (like a Virtual Racer), Pace Zones, HR Zones and the Map.  Each of these are accessed by swiping left or right.  You can see the little dots along the bottom, they represent a different screen.
So for now, it looks like you can only add/configure four data fields.  I'd like to see more than that, to be more competitive with other watches.
I've gone ahead and listed out each and every data field offered and/or configurable by sport, which are in the below tables.  Because firmware updates can bring new fields, note that this is current as of 11/9/2011.
Running Data fields:

Cycling Data Fields:

Walking Data Fields:

Elliptical Data Fields:

Stair/Step Machine Data Fields:
Again, these are in addition to the other lap/HR zone type data screens, as well as the map screen.  The map screen is not applicable though on either elliptical or step machines.  If you need the map on either of those exercise machines, I suggest you validate you're on the correct machine.  It shouldn't go anywhere.
Mapping:
Perhaps the biggest item of note is the inclusion of a fully detailed map in a watch form-factor device.  That's right, the Motoactv actually has a map of where you're going…and where you've gone. The map displays a little line on the route that you've taken thus far.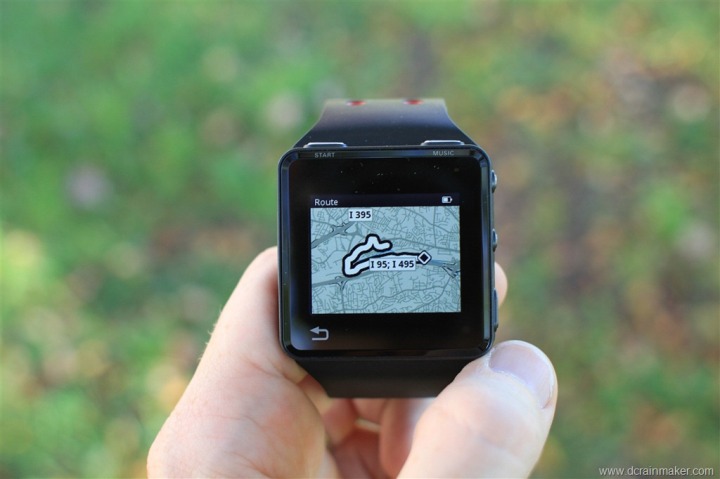 You have three levels of zoom that you can control by tapping the screen, from most to least detail: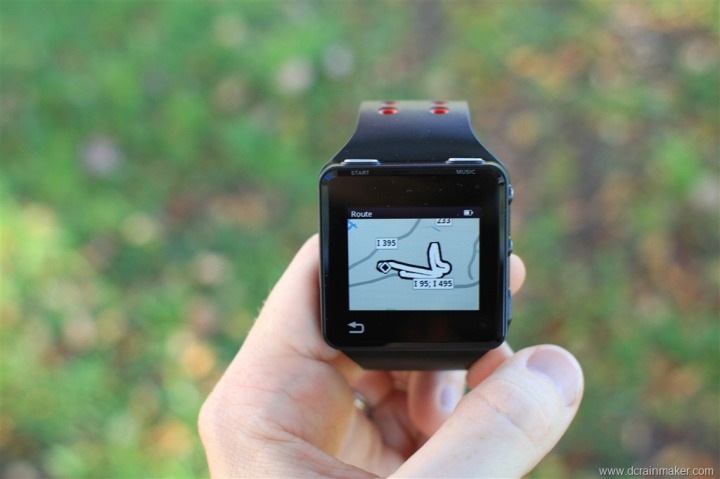 Maps are provided by default for all of North America, Central America, portions of South America, and all of Europe.  The unit by default has 1.6GB of maps loaded on it, but you can also download additional free maps directly on the Motoactv.com site.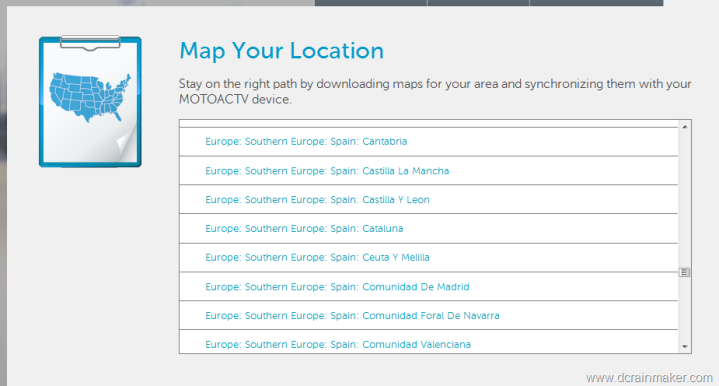 Battery Life:
While I love 95% of the things on the Motoactv, the one area I am concerned about is battery life.  I've been doing a few tests in this area – and none are too great.
The unit claims a battery life between 5 and 20 hours, depending on a variety of factors from sensors used to music playing.  This is logical, since depending on what you're using, you'll influence battery life.
In my case, I'm a simple user – so I just want to run or ride.  So I decided to go with some tests that involved a standard run with an ANT+ heart rate strap and GPS enabled, as well as a separate simulated ride with ANT+ sensors including a power meter, heart rate strap, and speed/cadence sensor.
In the case of the run, I went out with a fully charged battery, and came back two hours later with a a a battery at less than 10% availability, similar to this warning message.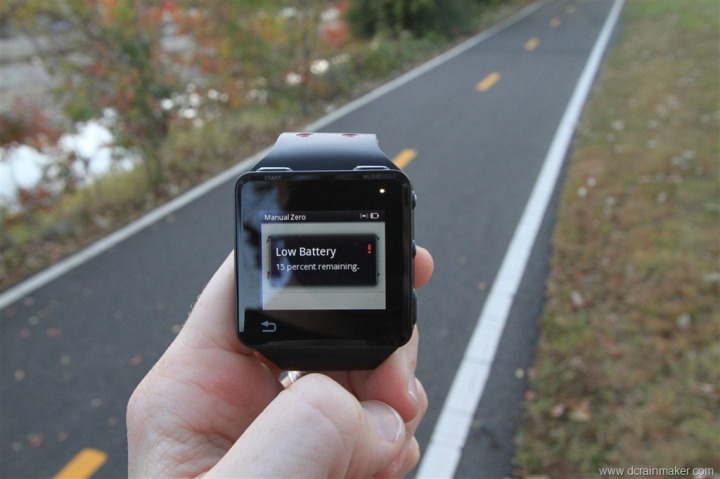 I asked the Motorola team about this and they are investigating what's going on with my unit(s).
While I understand the display being on impacts battery life, I'd argue that really the point of a watch.  When I'm running – be it night or day – I want to be able to glance down and instantly see information.  This is especially pertinent if I'm doing a hard track workout where the last thing I want to deal with is turning the display on.
The same applies to cycling, where I certainly don't want to have to tap the display button to turn back on the unit.  Especially if I'm on a triathlon/TT bike and down in aero position.
That said – the cycling test was a bit more positive, likely due to slightly different display parameters.  In that case, even though I had more ANT+ sensors, I was able to get up to 3 hrs and 34 minutes worth of battery life.
I'm optimistic we'll see some battery life improvements here.  I think a 'fair' number would be between 6-8 hrs of battery life, given the display.  This would put it in the comparable range of the Garmin Forerunners at 8hrs.  Which would be enough to cover most runners, and most cyclists.  For triathletes doing an Ironman, you're going to need 5-8 hours for the bike (depending on speed) and 3-8 hours for the run (again, depending on speed).  So realistically you'll need 8-16 hours of battery life, of which only three watches today support that – the Timex Global Trainer and the Garmin FR310XT and 910XT.
I'm hoping we'll see software updates that can improve this.  I use the Swimsense folks as an example of massive software updates that turned it from an 8 hour battery life to about a 7 day battery life.  Obviously different display characteristics, but if the Motoactv team can get a 20-40% improvement that will cover most folks activities.
Waterproofing:
This is the second area I'm concerned about with the Motoactv.  This because the device is rated for IP55 with the USB grommet in place.  In addition, the headset jack is fully sealed.  Which means it can handle a stray splash and light rain, but not full immersion.
The problem I see is that the unit's micro-USB port is covered by a small rubber stopper.  A stopper that is easily dislodged (in fact, on one of my two units, it won't stay closed).  So my concern is that since this portion is not waterproofed I can see how on a long run in the rain water could get in there – ultimately killing the unit.
I think ultimately the choice to not go with a higher waterproof rating – such as IPX7 may have been a significant mistake.  Though time will tell if folks start seeing unit returns.
Data Sensors Supported (ANT+ and Bluetooth Low Energy aka Bluetooth Smart):
The Motoactv support both ANT+, Bluetooth and Bluetooth Low Energy (Bluetooth Smart) sensors.  This means that any ANT+ sensors you may have, such as those from a Garmin Heart Rate Strap, or power meter – are fully compliant.
In fact, it supports the following ANT+ sensor types: Heart Rate (HRM), Speed/Cadence (SPD/CAD), Power Meter (PWR), Speed-Only (SPD), Cadence-Only (CAD), Stride/Footpod.
The sensor pairing menu is hands down the coolest one I've seen to date.  You first select what type of device you're about to pair: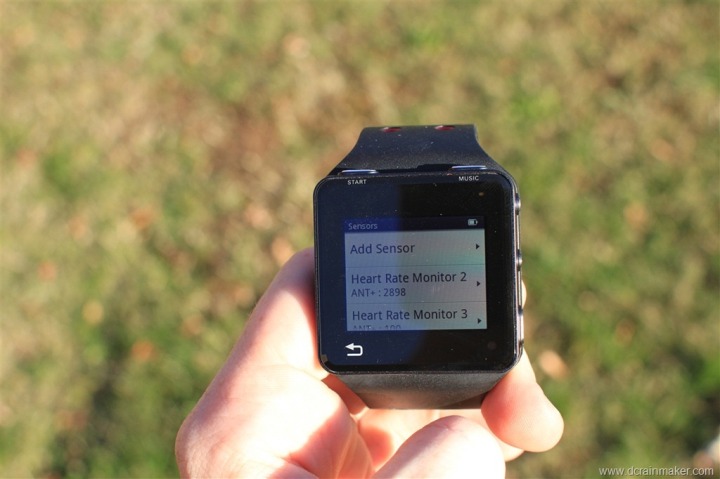 Then it'll go out and start searching for devices found with that device profile.  At which point it'll display all sensors found of that device type: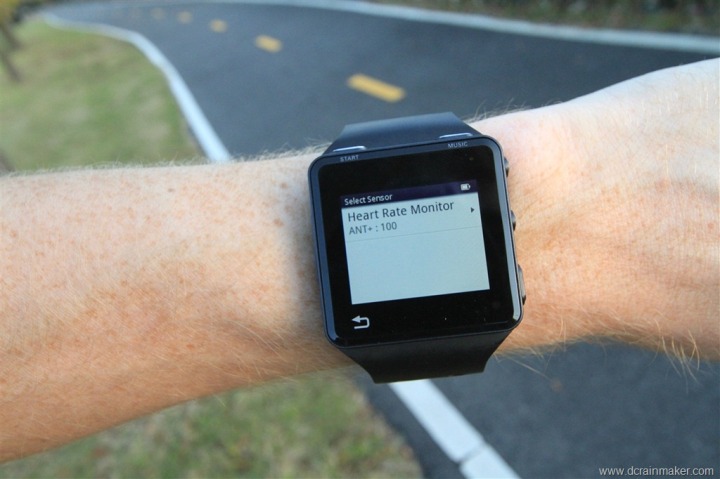 Of particular note is that it displays the device ID – which allows you to select which sensor is the appropriate one.
Now, it would be slightly more useful if it also displayed the value the sensor is transmitting – i.e. the HR value or power value, as this allows you to quickly spin a crank and figure out which is which.  Again, really only relevant for those scenarios where you need to re-pair something and others are around.  But in those situations – it's incredibly useful.
You can pair just about as many sensors as you'd like, it simply adds them into a saved setting.  That way later on you just go to run/ride and all the sensors magically connect.  Each sensor that connects will simply show a 'checkbox' that it's good to go.
For those that routinely have to pair device to sensors, the changes here are really nice. And with a couple minor tweaks, they'd transition from 'really nice' to 'awesome'.  I'd also like to see naming of sensors, in the same way that the CycleOps Joule supports, the ability to say 'P3C Cinqo' or 'Mtn SPD-Cad'.
In addition to ANT+ sensors, it also pairs with Motorola's own Bluetooth Low Energy Headphone/Heart Rate Monitor sensor.  However, at this time that unit isn't quite released yet so I can't comment on the full pairing process – nor how well it works.  As soon as I have a unit in hand, I'll update this and the accessory section.
Using as a regular watch: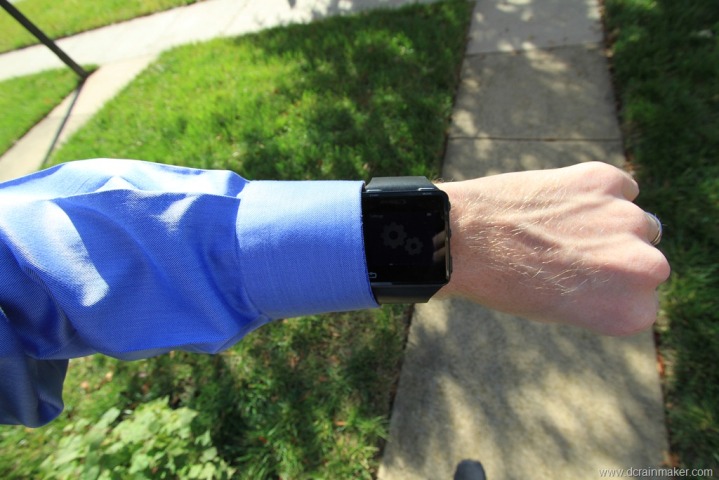 The Motoactv works great as a regular watch – though depending on exactly how you have the display configured, your battery life may be limited.  Assuming you've got it set to timeout after about 30 seconds, it'll easily last all day.  You can configure the Motoactv do have a few different style clocks, including the following:
You'll notice on the clock that it also displays calories burned as well as steps taken.  The steps taken is done via the internal accelerometer, and I found it surprisingly accurate as I went about my day.  Occasionally I'd count my steps between given activities and see if they lined up. Usually about right.
You can change not only the watch face and the color schemes, but also how the time is displayed – such as via the 12hr or 24hr variants.  As well as how the date is displayed.
As of this writing, you cannot however configure any alarms.  This is likely due to the fact that the unit has neither a vibration motor – nor any beeping system to alert you.  So while it could blink and probably even play a video of a rooster…it's unlikely you'd notice it.
Music:
The biggest departure from a typical sports watch is the units ability to play music – both files stored on it, as well as from FM radio.  The unit will synchronize your library using the Motocast software that you install on your PC.  You can select which files and/or folders to watch and it'll take care of the rest. Additionally, you can also just tell it to sync your entire iTunes library, and/or selected playlists.
Once on the device, the user interface is pretty clean and easy to navigate: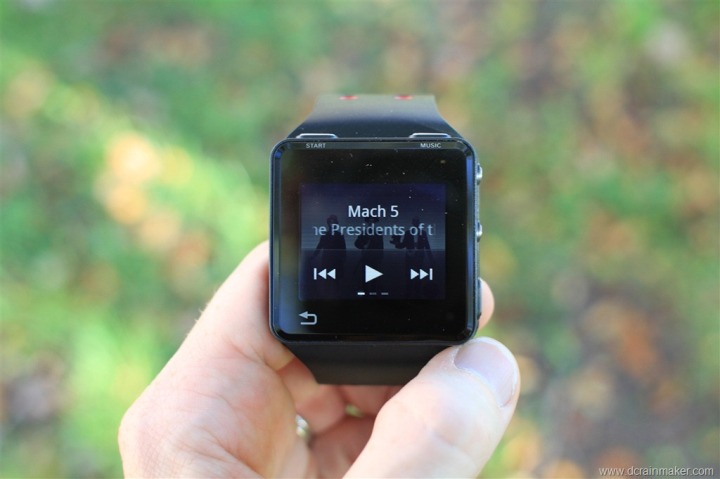 You can also tie songs and/or playlists to the start of a workout, as well as define songs which will play at various intensities. In order to show you the seamlessness nature of the music piece tied in with workouts, I've gone ahead and paired it via Bluetooth to the Tunebug Shake (I talk about that more later on).  From there I've put together this quick little video demonstration showing starting the song, and then working through the menu's to start a workout.  You'll also hear the voice prompts along the way.
Music Overview
I'm not typically one to run or ride with music, but the unit does offer a lot of flexibility there.  And you don't have to be within a workout to listen to music either – you can just sit back and relax.  And as I note later, you can pair any Bluetooth stereo headset to it as well.
Uploading/Downloading Workouts via WiFi:
One of the coolest features of the Motoactv is the ability to sync workouts via WiFi.  Once I complete a workout and step within range of my homes WiFi access point, it automatically will sync my workout with Motoactv.com.  Additionally, it'll also download any new planned workouts from Motoactv.com.
You'll actually configure your WiFi networks not on the device, but rather from your PC.  This is somewhat nice in that you don't have to futz with any settings, but by the same token it limits you to selecting preconfigured networks.  So you can't just upload to any old network you find.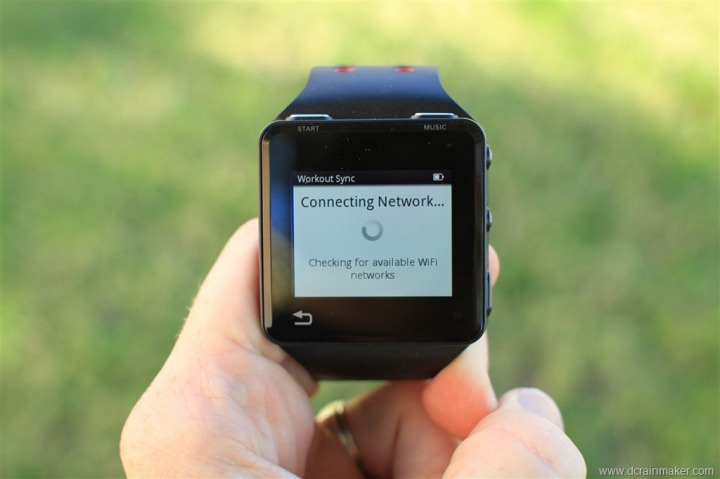 In my experience it takes about 30-60 seconds for the upload process to complete.  But there's nothing you need to do.  If you want a workout to upload sooner than it's automated uploader does it, you can set to manually sync as well: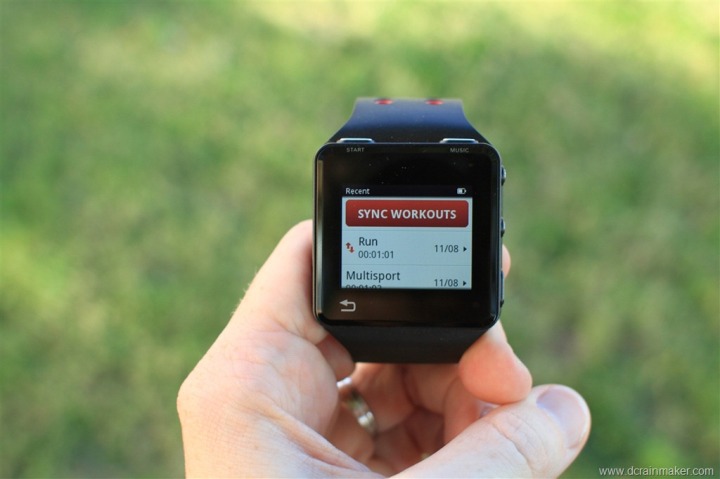 There's no question that this should be the direction of sports watches going forward.  This is essentially just like the way the Withings WiFi scale works in that it does it automatically as soon as I step off the scale.  If other companies are introducing devices next spring and beyond and don't have this capability, I'd say they're already one step behind.
Fitness Tracking/Management Site: Motoactv.com
Motoactv.com is Motorola's new fitness site – built from the ground up by their own team.  This isn't simply another service under the covers.
For a first attempt, it's not too bad.  They've actually included more functionality than I would have expected.  They've got the majority of the basics, though there's still room for improvement, as I'll talk about in each section.
Remember that your workout gets automatically sync'd via WiFi (or via the desktop software) – so by time you take off your shoes in the house, it's likely that the workout is already there and visible online.  Note that in order to create an online account, you have to have a device.  It's actually done using the desktop software.
Viewing Workouts:
Once you login to the Motoactv site, you'll see all your current workouts displayed in the dashboard: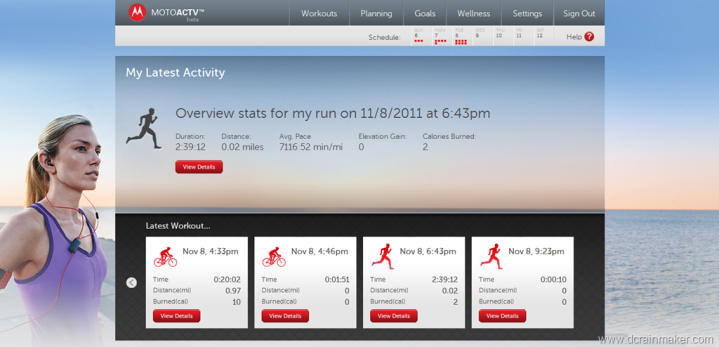 We'll go ahead and dive into my run from last night – since that's the one activity with the most valid data.  The rest were various test activities I had going.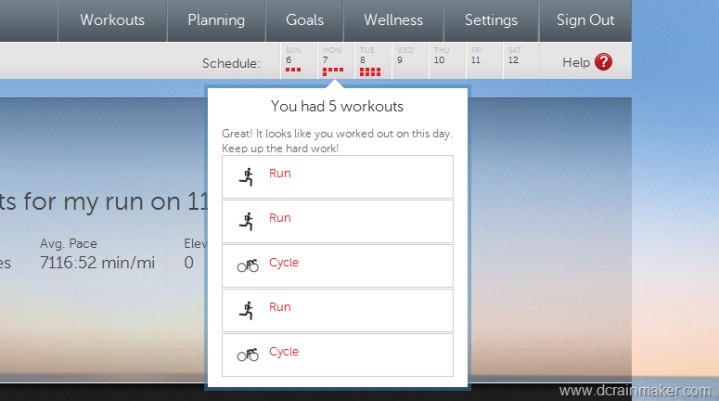 Once we do that, we'll click on the first Run.
Workout Details:
This will show the last 90 minutes of my run.  Due to a minor mess-up on my part I ended up accidentally splitting my workout in two by stopping the recording when I was swinging by a bathroom.  So the first 30 minutes were on a separate file (also uploaded).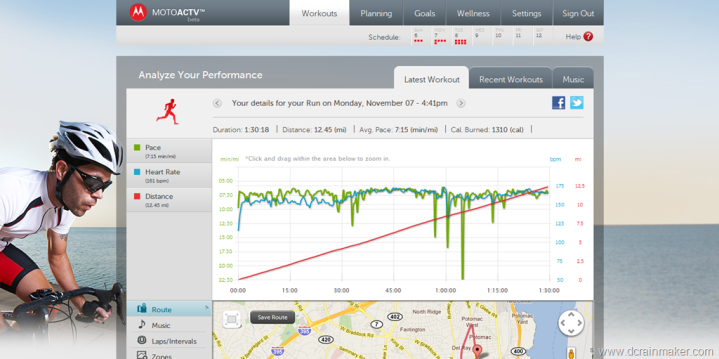 As you can see, I can display some of the different metrics listed on the left hand side.  I can change that, based on what I'd like to see.  For example, if this were a cycling workout, I could add power – see example below: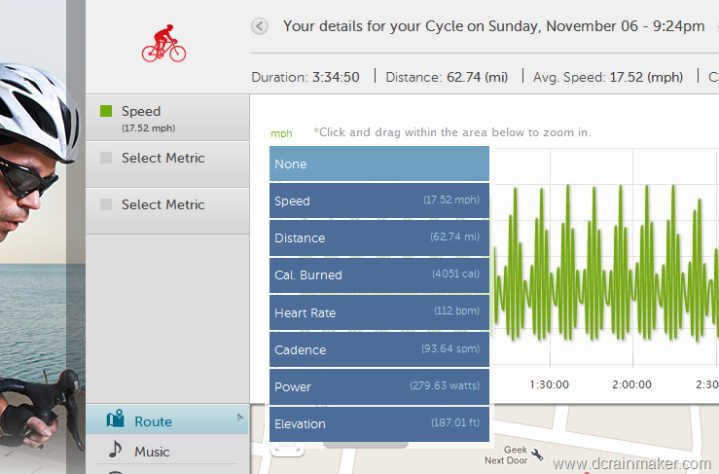 Which would then show up on the chart: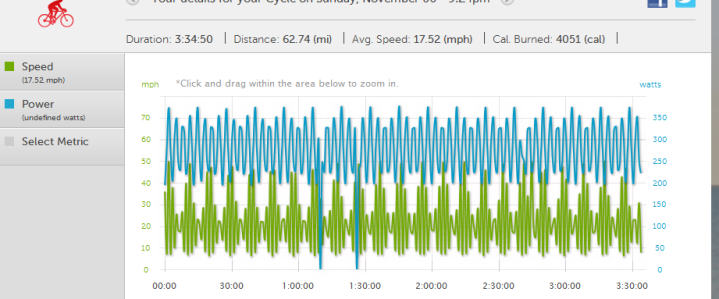 If I had selected any laps – they'd show up down below in the Laps/Splits area:
It's in this same region that I can configure HR zones as well:

And interestingly enough, it will also record all of the songs you listed to during the activity.  Which…in my case, was none:

Finally, last but not least, it'll give you a workout summary of information.  This is where you get to export out the data as well: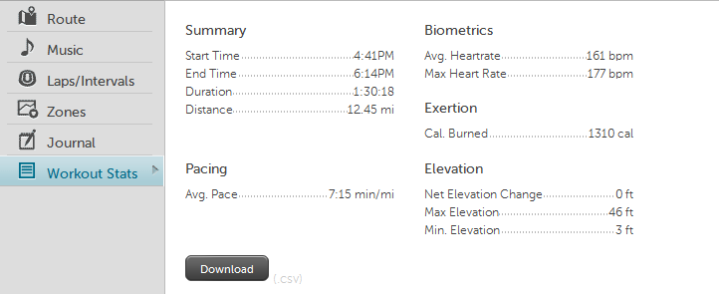 Social Network Sharing:
You can also Tweet or Facebook any given activity, which makes a public URL for that activity.  This is pretty quick and painless.  And you can use the same Twitter button to also just create a public URL for a given activity as well – in case you want to e-mail it to someone: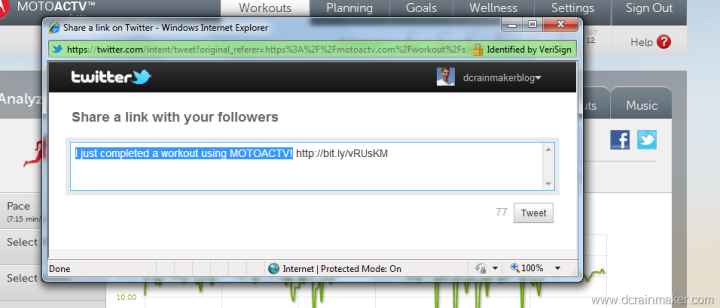 Once you're done, they can merely click on the link to see the public page.  Here's an example you can check out of my run.
Creating workouts to download to device:
While there's also a calendar function for planning workouts, perhaps the more interesting feature is the workout creator.  This function allows you to create workouts with targeted zones and paces: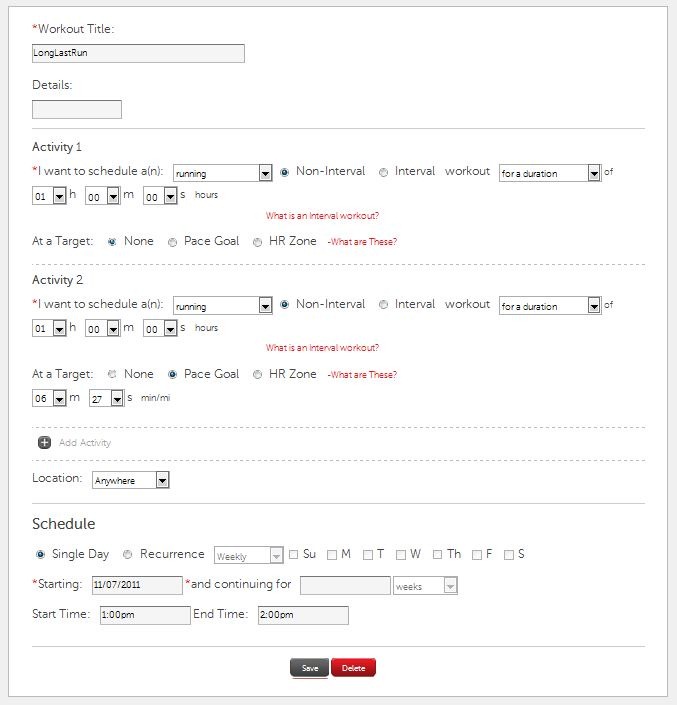 It's here that you can setup intervals as well: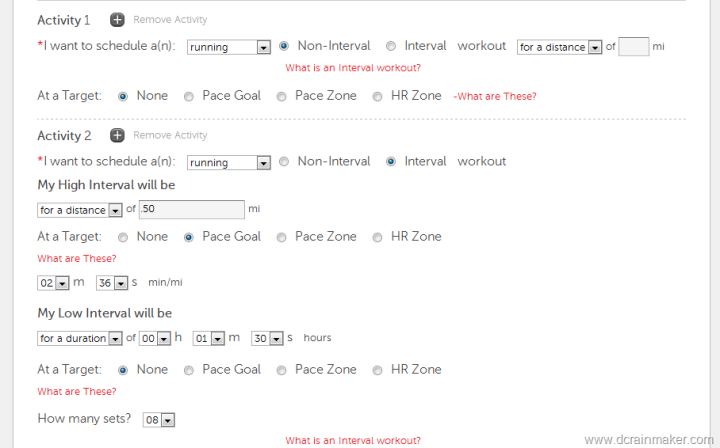 Once on the watch, these will show up on the scheduled date/time for you to execute.  And remember – everything gets synchronized wirelessly.  So before you can say 'magic', it's automatically on your watch.  Really cool.
3rd Party Site Compatibility (i.e. TrainingPeaks)
As of this writing, there's nobody that's compatible with the Motoactv unit, aside from the Motoactv site.  But the good news is that the Motorola folks aren't islanding your data.  Meaning, you can export out your data to a simple CSV file – for any workout.

I suspect we'll start to see the Motoactv supported pretty quickly by some of the bigger running/cycling sites such as Strava and Runkeeper.
In the meantime, TrainingPeaks has committed to having support for it by early December.  I've already supplied them a pile of example workout files and they're hard at work on it.
Accessories:
The Motoactv comes with a slew of accessories that you can buy.  For runners, I'd suggest the Wrist Strap, and for cyclists the Arm Band.  Ideally they should have included the wrist strap in my opinion, but I suppose that's why I write about sports technology stuff instead of selling it.  Note that if you're using wired headphones, you'd probably use the Arm Band instead – though since the unit includes a clip, you can probably get away with just clipping it to your shorts/pants and running the wire that way.  Personal preference.
They are as follows:
Wrist Strap:
If you're a runner, this is the one accessory I recommend you buy.  I couldn't imagine using the device and running without it, but then, I prefer wrist watches over arm bands.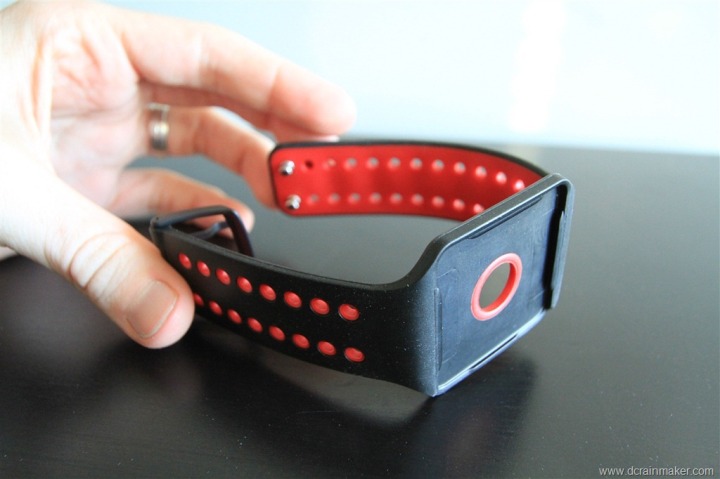 The wrist strap is $30.
Bike Mount:
If you're going to be riding frequently with the Motoactv, I'd highly recommend the bike mount.  The mount will easily attach to either a road bike or a triathlon bike, as well as just about any other road/hybrid/mountain/etc bike you can find.
The bike mount is $30.
Arm Band:
If you run with headphones, you may prefer the arm band instead, since the headphone cords will be closer to your head, and less in the way: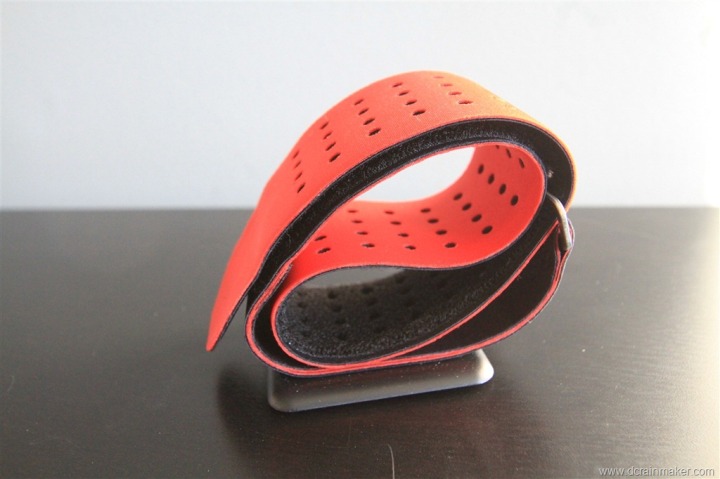 The arm band is a bit pricier than the standard clip though, at $30.
Additional Clip (one comes with unit):
Your Motoactv will come with a single clip, but if you need an additional one – you can always pick one up. That way you're fully fault tolerant: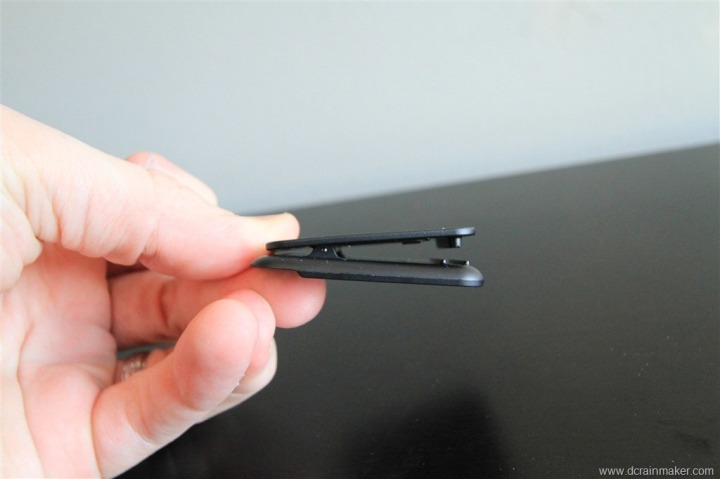 The additional clip will cost you though, $20.  I suppose nobody ever said having redundancy in your sports stockpile was cheap.
SF500 and SF700 Headphones
I haven't had the opportunity to test either the SF500 or SF700 headphones out – simply because they aren't available yet.  But these are actually kinda interesting looking for two reasons.  First, they have integrated heart rate sensors on them – so they'll actually be taking your heart rate via the earbuds.  Additionally, they're wireless – via Bluetooth 4.0 using Bluetooth low energy.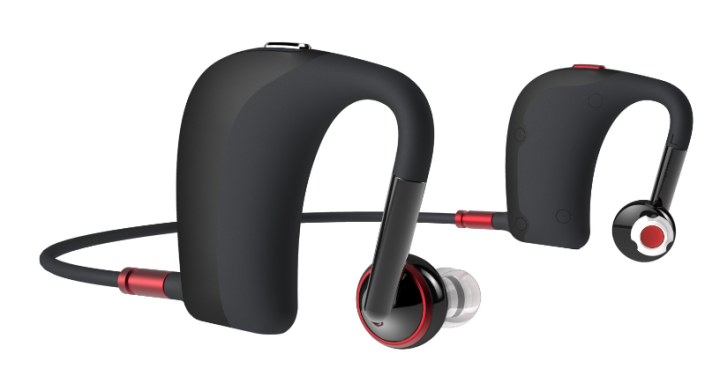 Once the order I put in arrives, I'll let ya know how they work out.  But until then, I don't typically review stuff until I've had a chance to actually try it.  Note there are to variants – the SF500 and the SF700.  The SF700 runs $150 and the SF500 runs $100.  The primary difference is that only the SF700 is fully wireless.  Whereas the SF500 is only using Bluetooth to send the heart data, and not your music – so it's still got wires.
ANT+ Accessories:
In addition to all of the Motorola Branded accessories, they also support the following ANT+ accessories:
ANT+ Heart Rate Strap(s):
There are a slew of companies out there that offer ANT+ heart rate straps, but the reality is the cheapest one you're going to find is any of the Garmin variations.  And at the end of the day, virtually all of these straps are made by the same company anyway.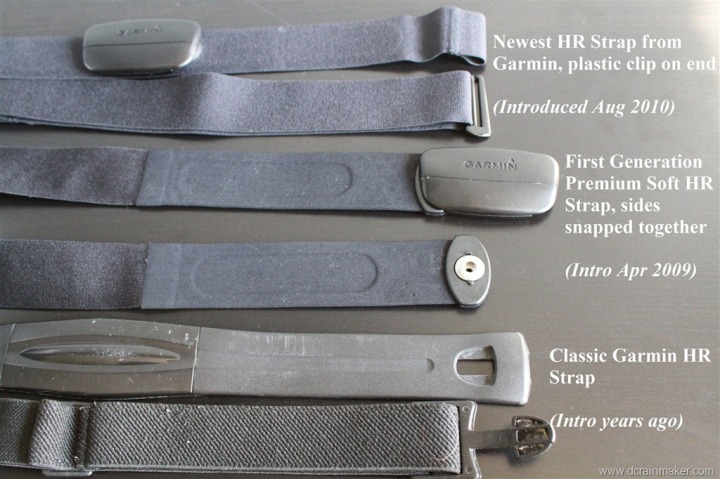 Note that the newest HR strap from Garmin resolves virtually all of the spiking/dropping issues that some folks see, based on my day to day use of it over the past year.  Of course, if you've got an older strap and have some HR related issues, start here.
Speed/Cadence Sensors:
This sensor allows you to use the Motoactv indoors on a trainer, as well as record cadence information outdoors.  Additionally, you can sometimes increase your speed accuracy a hair if you use the speed sensor outdoors (automatically occurs actually).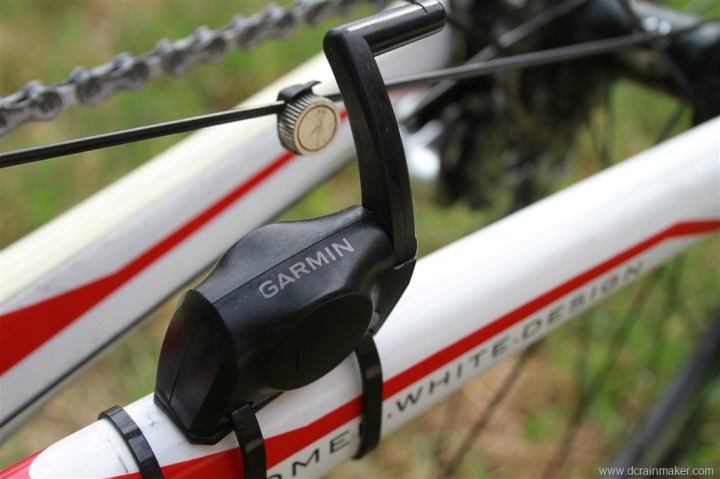 Like the HR straps, a slew of folks offer these, but realistically the cheapest will always be the trusty GSC-10 Speed/Cadence combo sensor from Garmin, it's usually about $30.
If you need a speed-only or cadence-only sensor, the Motoactv supports those as well.  Some folks use these if they have a unique bike configuration (like a recumbent) which requires the sensors be placed in different locations.  In general though, the GSC-10 works for just about everyone.
Power Meters:
The Motoactv supports ANT+ enabled power meters, such as those made by CycleOps (the PowerTap), SRAM/Quarq (the Cinqo), SRM, Power2Max and more.  I own a Quarq Cinqo and the unit is easily paired to the power meter by going into the sensor settings and selecting to add a ANT+ power meter.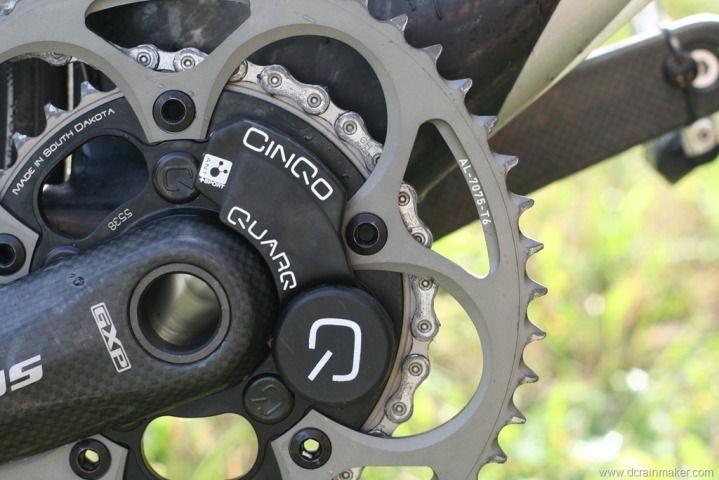 It should be noted that the Motoactv is NOT compatible with any of the Polar power meters, including the new Look/Keo Power System, pedal based power meter.  This is because that system is reliant on Polar's W.I.N.D. protocol, and not ANT+.
ANT+ capable power meters start at $700 from CycleOps (PowerTap), go through $1,500 (Quarq Cinqo and Garmin Vector) and top out at over $2,000 (SRM).
Running Footpod
The footpod allows you to gather pace, distance and cadence data while both indoors or outdoors.  For example, if you're running on a treadmill this would be required as GPS won't show you moving.  Outdoors it's useful if your route takes you through a tunnel where you'd lose GPS reception.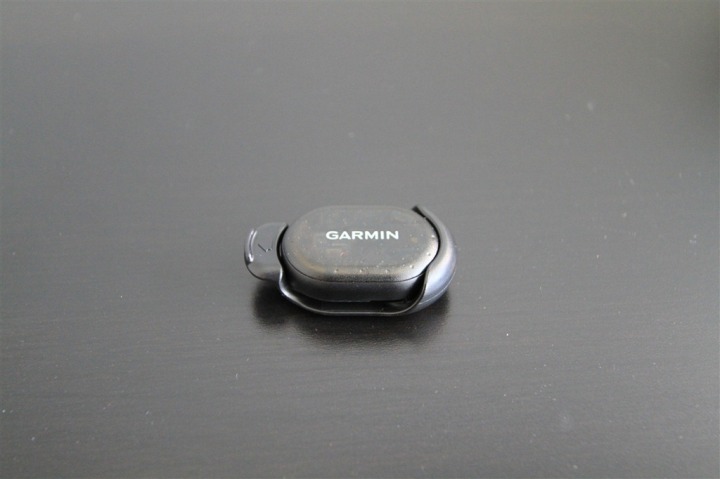 The foot pod easily snaps right onto your shoelaces in a matter of a few seconds.  As of today, the Motoactv does not yet have a calibration option, which means the accuracy can be off depending on many factors including stride. You may want to consider the internal accellerometer instead, unless you need cadence as well.
You can pickup the footpod for about $50.  If you're interested in learning more about the footpod, check out my 'More than you ever wanted to know about the footpod post'.
Note that on the Motoactv, if the footpod is used outdoors it'll override GPS for both speed and distance – so be sure you've got it configured correctly ahead of time.
ANT+ Weight Scale:
At this time the Motoactv does not support any of the ANT+ scales.  I asked if there were plans to do so in the future, and Motorola commented that they don't see significant demand at this time.
Bluetooth Accessories:
At this time, neither the Polar Bluetooth HR strap, nor the Zephyr Bluetooth HR strap would pair with the Motoactv.  It's unclear if in the future either these straps, or any additional regular Bluetooth or Bluetooth Smart (Bluetooth Low Energy) straps or devices will pair with the unit.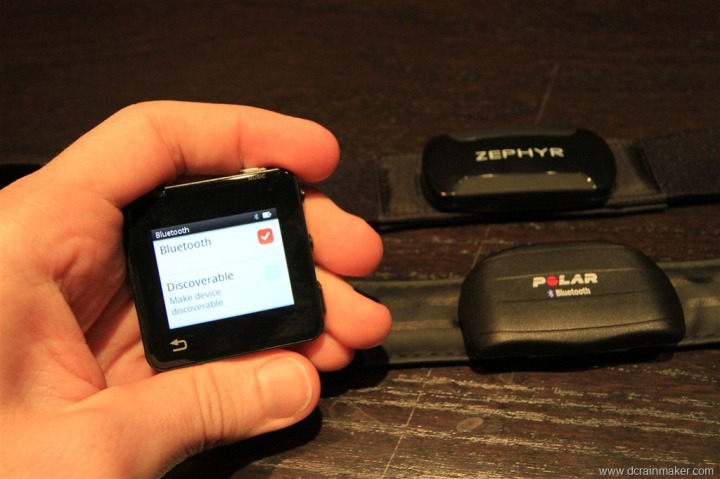 You can also pair any regular Blueooth stereo headset as well.  I lacked any small ones – but I did have the Tunebug Shake handy, which is a Bluetooth powered speaker aimed at cyclists. And that paired and played just fine:
I did find it interesting however that I can have the device be discoverable, but I haven't actually found a reason to do that yet.  I suspect that it's tied into the Motorola phones (like the Motoactv App), but that's not offered yet for other devices.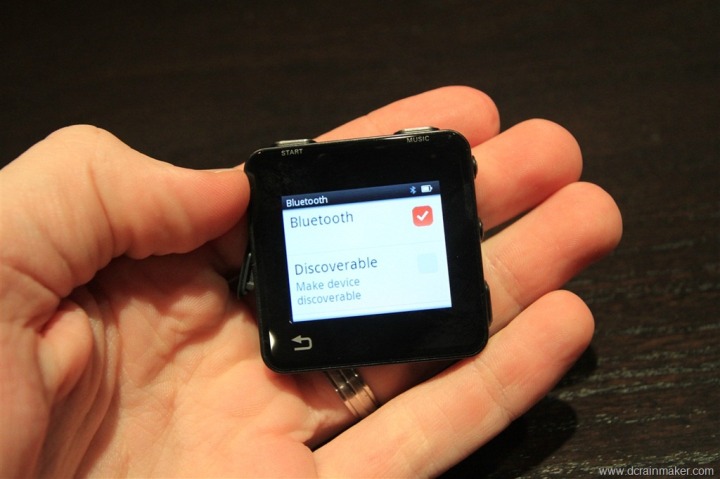 I do expect that over time, Motorola will open likely this connection interface a bit more.  Which, is one of the coolest things about the device – the ability to not only have Bluetooth – but more importantly, Bluetooth 4.0 on there.  This will eventually bring with it all the new low energy sensors only found on Bluetooth 4.0.
Summary:
As I noted at the beginning, the Motorola Motoactv has completely changed the landscape of what a connected sports technology device should be.  The graphics are clean, crisp and quick.  The data is flowing freely via numerous sensor types, and the feature set is impressive.  And the best part is, they let the consumer device what devices they want to connect to it – via ANT+, Bluetooth, or otherwise.  It's all there.
There are however some issues.  The lesser waterproofing may be an issue, as well as the lack of audible alerts without headphones.  The battery life is also a concern.
Of course, the Motoactv isn't necessarily for everyone, as I believe it's important to identify your rough category of watch needs and find a product that fits.  So looking at watch recommendations, you've got a few different basic categories:
1) The Triathlete: Unfortunately, with the lesser waterproofing, this device isn't for you.  You'd likely kill it during the swim warm-up.  But if you're looking for a bike/run device, it's not a bad fit at all, especially if you're doing shorter to medium distance triathlons.

2) The Casual Runner: This is perfect for you, and at $250 – it offers more functionality across the board than any other GPS watch out there.

3) The Advanced Runner: I think that like the casual runner, you'll be happy with this too.  I've got some pretty complex workouts I do, and at fairly quick paces – and I'm really not seeing any issues.  The only challenge I would have had though was the three-hour run.  This week happened to be a 2:00 run, but if it was two weeks ago it would have been 3 hours (single run) – and the battery likely would have died.

4) The Pure Cyclist: If you're out there for up to 2-3 hours, this is a good bet.  But if you're going for century rides, this isn't your best option – since the battery will die before then.
The Motoactv comes in a few flavors – based purely on storage size.  The 8GB model is $250, while the 16GB model is $300.
Comparison Chart:
Function/Feature

Motorola Motoactv
Polar Ignite 3
Garmin Forerunner 55
Polar Ignite 2
Polar Unite
Copyright DC Rainmaker - Updated November 20th, 2022 @ 3:24 pm New Window
Price
$150 / DISCONTINUED
$329
$199
$229
$149
Product Announcement Date
OCT 18, 2011
Nov 8th, 2022
June 2nd, 2021
Mar 24th, 2021
June 30th, 2020
Actual Availability/Shipping Date
OCT 2011
Nov 8th, 2022
June 2nd, 2021
Mar 2021
July 2020
GPS Recording Functionality
Yes
Yes
Yes
Yes
Only via Phone Connected GPS
Data Transfer
USB/WIFI
USB, BLUETOOTH SMART
USB, Bluetooth Smart
USB, BLUETOOTH SMART
USB, BLUETOOTH SMART
Waterproofing
Horrible
Yes - 30m
50 meters
Yes - 30m
Yes - 30m
Dive/Snorkel Feature
No
Battery Life (GPS)
8 hours
Up to 30 hours
20 hours
Up to 20 hours
Up to 50hrs with phone GPS (4 days standby)
Solar Charging
No
Recording Interval
1-second
1s
1s/Smart
1s
1s
Dual-Frequency GNSS
Yes
Alerts
Audio/Visual
Vibrate/Visual
Sound/Visual/Vibrate
Vibrate/Visual
Vibrate/Visual
Display Type
AMOLED
Backlight Greatness
Great
Great
Great
Great
Great
Ability to download custom apps to unit/device
No
No
Yes (all Connect IQ Apps)
No
No
Acts as daily activity monitor (steps, etc...)
Yes
Yes
Yes
Yes

Voice Integration

Motorola Motoactv
Polar Ignite 3
Garmin Forerunner 55
Polar Ignite 2
Polar Unite
Has Mic/Speaker
No
Can make/receive calls
No
Voice Assistant
No

Music

Motorola Motoactv
Polar Ignite 3
Garmin Forerunner 55
Polar Ignite 2
Polar Unite
Can control phone music
Yes
Yes
Yes
No
Has music storage and playback
No
No
No
No
Streaming Services
No
No
No
No

Payments

Motorola Motoactv
Polar Ignite 3
Garmin Forerunner 55
Polar Ignite 2
Polar Unite
Contactless-NFC Payments
No
No
No
No

Connectivity

Motorola Motoactv
Polar Ignite 3
Garmin Forerunner 55
Polar Ignite 2
Polar Unite
Bluetooth Smart to Phone Uploading
No
Yes
Yes
Yes
Yes
Phone Notifications to unit (i.e. texts/calls/etc...)
Yes
Yes
Yes
Yes
Live Tracking (streaming location to website)
No
No
Yes
No
No
Group tracking
No
No
No
No
Emergency/SOS Message Notification (from watch to contacts)
No
Yes (via phone)
No
No
Built-in cellular chip (no phone required)
No
No
No
No

Cycling

Motorola Motoactv
Polar Ignite 3
Garmin Forerunner 55
Polar Ignite 2
Polar Unite
Designed for cycling
Yes
Yes
Yes
Yes
Yes
Power Meter Capable
Yes
No
No
No
No
Power Meter Configuration/Calibration Options
Yes
N/A
N/A
N/A
N/A
Power Meter TSS/NP/IF
No
N/A
N/A
N/A
N/A
Speed/Cadence Sensor Capable
Yes
No
Yes
No
No
Strava segments live on device
No
No
No
No
Crash detection
No
Yes
No
No

Running

Motorola Motoactv
Polar Ignite 3
Garmin Forerunner 55
Polar Ignite 2
Polar Unite
Designed for running
Yes
Yes
Yes
Yes
Yes
Footpod Capable (For treadmills)
Yes
No
YES (ALSO HAS INTERNAL ACCELEROMETER)
No
No (but has accelerometer for indoor running)
Running Dynamics (vertical oscillation, ground contact time, etc...)
No
No
No
No
No
Running Power
No
No
No
No
VO2Max Estimation
No
Yes
Yes
Yes
Yes
Race Predictor
No
No
Yes
No
No
Recovery Advisor
No
No
Yes
No
No
Run/Walk Mode
No
No
Yes
No
No
Track Recognition Mode
No
Yes
No

Swimming

Motorola Motoactv
Polar Ignite 3
Garmin Forerunner 55
Polar Ignite 2
Polar Unite
Designed for swimming
No
Yes
Yes
Yes
Sorta (waterproof but HR only tracking)
Openwater swimming mode
N/A
Yes
N/A
Yes
No
Lap/Indoor Distance Tracking
N/A
Yes
Yes
Yes
No
Record HR underwater
No
Yes
Yes
Yes
Yes
Openwater Metrics (Stroke/etc.)
N/A
Yes
N/A
Yes
No
Indoor Metrics (Stroke/etc.)
N/A
Yes
Yes
Yes
No
Indoor Drill Mode
N/A
No
No
No
Indoor auto-pause feature
N/A
Yes
Yes
No
Change pool size
N/A
Yes
Yes
Yes
No
Indoor Min/Max Pool Lengths
N/A
20M/Y to 250 m/y
20M/Y to 250 m/y
N/A
Ability to customize data fields
N/A
Yes
Yes
Yes
Yes
Captures per length data - indoors
N/A
Yes
Yes
Yes
No

Triathlon

Motorola Motoactv
Polar Ignite 3
Garmin Forerunner 55
Polar Ignite 2
Polar Unite
Designed for triathlon
No
No
No
No
No
Multisport mode
N/A
No
No
No
No

Workouts

Motorola Motoactv
Polar Ignite 3
Garmin Forerunner 55
Polar Ignite 2
Polar Unite
Create/Follow custom workouts
Yes
Yes
Yes
Yes
Yes
On-unit interval Feature
Yes
Sorta (offers structured workouts)
Yes
Sorta (offers structured workouts)
Sorta (offers structured workouts)
Training Calendar Functionality
No
Has daily suggested workouts
Yes
Has daily suggested workouts
Sorta (offers daily workouts)

Functions

Motorola Motoactv
Polar Ignite 3
Garmin Forerunner 55
Polar Ignite 2
Polar Unite
Auto Start/Stop
Yes
No
Yes
Virtual Partner Feature
Yes
No (but can give out of zone information)
Virtual Pacer
No (but can give out of zone information)
No (but can give out of zone information)
Virtual Racer Feature
Yes
Yes (Race Pace)
No
No
No
Records PR's - Personal Records (diff than history)
No
No
Yes
No
No
Tidal Tables (Tide Information)
No
No
No
No
Weather Display (live data)
No
Yes
Yes
Yes
No

Navigate

Motorola Motoactv
Polar Ignite 3
Garmin Forerunner 55
Polar Ignite 2
Polar Unite
Follow GPS Track (Courses/Waypoints)
Yes
No
No
No
No
Markers/Waypoint Direction
No
No
No
No
No
Routable/Visual Maps (like car GPS)
Yes
No
No
No
No
Back to start
Yes
No
No
No
No
Impromptu Round Trip Route Creation
No
No
No
No
No
Download courses/routes from phone to unit
No
No
No
No
No

Sensors

Motorola Motoactv
Polar Ignite 3
Garmin Forerunner 55
Polar Ignite 2
Polar Unite
Altimeter Type
GPS
GPS
No
GPS
None
Compass Type
GPS
N/A
None
N/A
N/A
Optical Heart Rate Sensor internally
Yes
Yes
Yes
Yes
SpO2 (aka Pulse Oximetry)
No
No
No
No
ECG Functionality
NO
No
NO
Heart Rate Strap Compatible
Yes
Yes
Yes
Yes
Yes
ANT+ Heart Rate Strap Capable
Yes
No
Yes
No
No
ANT+ Speed/Cadence Capable
Yes
No
Yes
No
No
ANT+ Footpod Capable
Yes
No
Yes
No
No
ANT+ Power Meter Capable
Yes
No
No
No
No
ANT+ Lighting Control
No
No
No
No
ANT+ Bike Radar Integration
No
No
No
No
ANT+ Trainer Control (FE-C)
No
No
No
No
ANT+ Remote Control
No
No
No
No
No
ANT+ eBike Compatibility
No
No
No
No
No
ANT+ Gear Shifting (i.e. SRAM ETAP)
No
No
No
No
Shimano Di2 Shifting
No
No
No
No
Bluetooth Smart HR Strap Capable
Yes
Yes
No
Yes
Yes
Bluetooth Smart Speed/Cadence Capable
No
No
No
No
No
Bluetooth Smart Footpod Capable
No
No
No
No
No
Bluetooth Smart Power Meter Capable
No
No
No
No
No
Temp Recording (internal sensor)
No
No
No
No
No
Temp Recording (external sensor)
No
No
No
No
No

Software

Motorola Motoactv
Polar Ignite 3
Garmin Forerunner 55
Polar Ignite 2
Polar Unite
PC Application
MotoSync
Polar Flowsync - Windows/Mac
Garmin Express (PC/Mac)
Polar Flowsync - Windows/Mac
Polar Flowsync - Windows/Mac
Web Application
Motoactv.com
Polar Flow
Garmin Connect
Polar Flow
Polar Flow
Phone App
No
iOS/Android
iOS/Android
iOS/Android
iOS/Android
Ability to Export Settings
No
No
No
No
No

Purchase

Motorola Motoactv
Polar Ignite 3
Garmin Forerunner 55
Polar Ignite 2
Polar Unite
Amazon
Link
Link
Link
Link
Link
Backcountry.com
Link
REI
Link
Wiggle
Link
Link

DCRainmaker

Motorola Motoactv
Polar Ignite 3
Garmin Forerunner 55
Polar Ignite 2
Polar Unite
Review Link
Link
Link
Link
Link
Link
Pro's and Con's:
Finally, no review would be complete without the infamous pros and cons section.
Pros:
– Amazingly clean user interface
– Easily records your runs, bikes, walks, other gym equipment
– Supports ANT+, Bluetooth Low Energy, Bluetooth sensors
– Supports Bluetooth headphones wirelessly
– Allows data export to CSV
– Connects via Wifi to automatically upload workouts
Cons:
– Waterproofing is of questionable integrity
– No audible alerts without headphones
– No vibration engine for vibration alerts
– Battery level seems lower than it should be
As always, thanks for reading, I appreciate it.  If you have any questions – feel free to post them below, I try to answer as often as possible.  Thanks!
Found this review useful?  Here's the super easy no-pain way you can help support future reviews!  Read on…
Hopefully you found this review useful.  At the end of the day, I'm an athlete just like you looking for the most detail possible on a new purchase – so my review is written from the standpoint of how I used the device.
The reviews generally take a lot of hours to put together, so it's a fair bit of work (and labor of love).  As you probably noticed by looking below, I also take time to answer all the questions posted in the comments – and there's quite a bit of detail in there as well.  If you found this review helpful in your purchasing decision, you can support future reviews like this by using any of the Amazon links (unit or accessories above).  If you're overseas, I've got links to all of the major individual country Amazon stores on the sidebar towards the top.
Thanks for reading!  And as always, feel free to post comments or questions in the comments section below, I'll be happy to try and answer them as quickly as possible.  Further, you can always e-mail me at the address on the sidebar.  And lastly, if you felt this review was useful – I always appreciate feedback in the comments below.  Thanks!
Finally, I've written up a ton of helpful guides around using most of the major fitness devices, which you may find useful.  These guides are all listed on this page here.