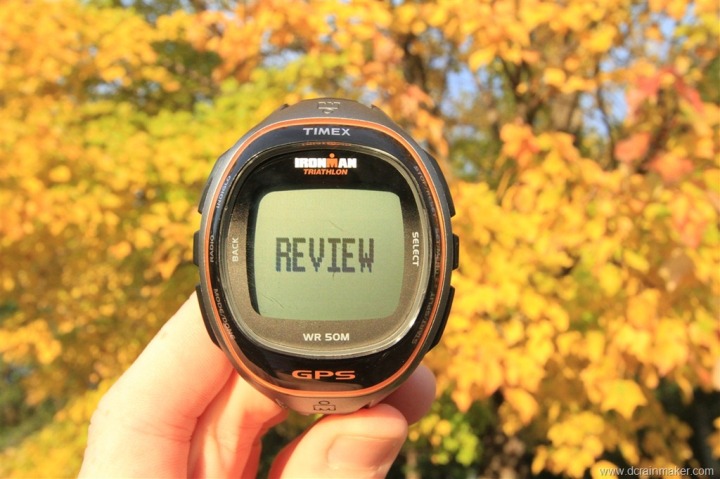 Update Note: Consider looking at the just released Timex Run Trainer GPS 2.0 edition instead, if you're looking at this watch. Comparisons between the two units are available in that review.
With the market for sub-$200 GPS running watches becoming increasingly competitive I was pretty excited to see Timex announce a new product back in August.  Based on the specifications released at the time, the Timex Run Trainer clearly went above and beyond every other sub-$200 running watch out there.
But until I got my hands on one questions would linger about reliability and functionality – how seamlessly integrated were all these new features, and could it compete with the likes of the Nike+ GPS watch and the Garmin Forerunner 210?  Well, I set out to find out.  I received a watch to test back in early October and have been taking it along on runs, bike rides and even swims since.
Like all my reviews, they tend to be pretty in depth (perhaps overly so) – but that's just my trademark DC Rainmaker way of doing things.  Think of them more like reference guides than quick and easy summaries.  I try and cover every conceivable thing you might do with the device and then poke at it a bit more.  My goal is to leave no stone unturned – both the good and the bad.
Because I want to be transparent about my reviews, as I mentioned when I first got the device – Timex sent me the Timex Run Trainer for a period of 60 days as a trial unit.  Once that period has elapsed, I send the whole beaten box back to the folks in Middlebury, CT.  Simple as that.  Sorta like hiking in wilderness trails – leave only footprints.  If you find my review useful, you can use any of the Amazon links from the bottom of this page to help support future reviews.
Lastly, at the end of the day keep in mind I'm just like any other regular triathlete out there.  I write these reviews because I'm inherently a curious person with a technology background (my day job), and thus I try and be as complete as I can.  But, if I've missed something or if you spot something that doesn't quite jive – just let me know and I'll be happy to get it all sorted out.  Also, because the technology world constantly changes, I try and go back and update these reviews as new features and functionality are added – or if bugs are fixed.
Unboxing:
The Timex Run Trainer features refreshing simplicity in its packaging – primarily through avoiding the 'must put everything in a separate little plastic wrapper' syndrome.  But before you get to that stage, you start off with it looking at it through the plastic window: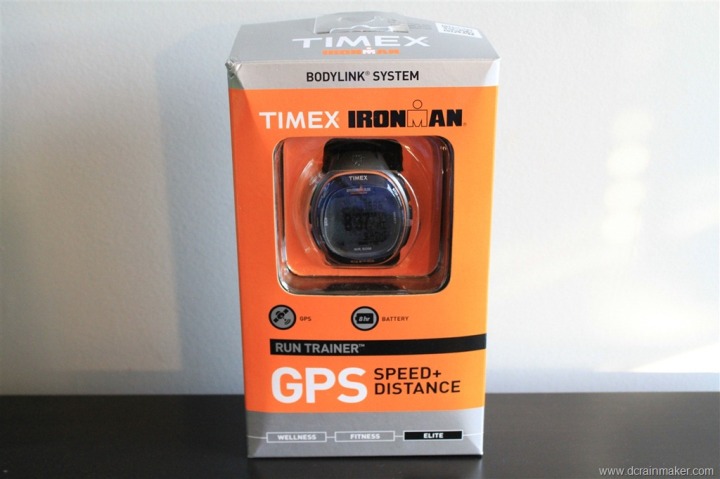 From there you'll crack it open to find the major components snapped into the (friendly) plastic – no TSA prohibited items needed here to get inside:
Depending on which version you bought it'll also include the Timex branded ANT+ compatible heart rate strap.  We'll go ahead and remove all the items from the box – leaving us with the following pile of goods (note, the ANT+ footpod sorta came along for the ride, he isn't in the retail box):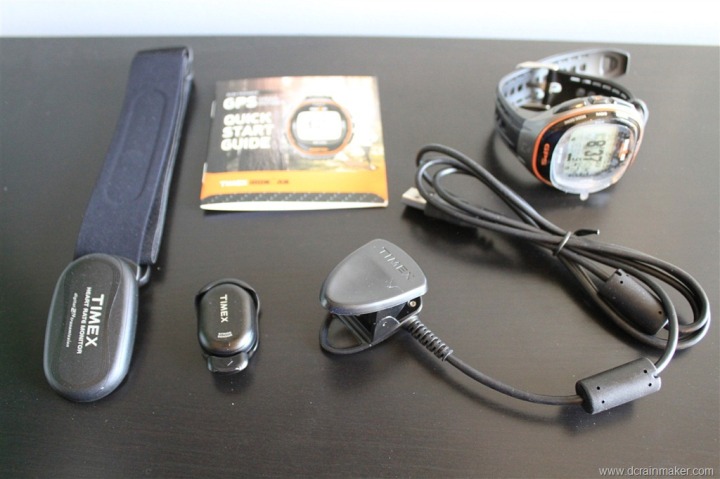 First up – the most important item, the watch itself:
Then we've got the second most important item – the USB charging/downloading clip.  As I've noted a few times in random comments, this thing is hands down the best charging clip for a sports watch I've seen yet.  It clips in super-secure and doesn't fall off:
Once I find someone nearby with a ceiling fan I'm going to tie one end to that and turn on the fan – I'm reasonably confident it'll hold.  I tried it like a windmill in the house the other day…held just fine.  Don't worry, I'll video this event at some point.  It'll be sorta like the CatFan YouTube video.  Wait, you have seen that, right?
After the USB charging clip you'll find (depending on the package you bought) – the ANT+ enabled heart rate strap:
Then we've got the ANT+ footpod.  It doesn't come in either of the two packages – but it got mixed in there for fun: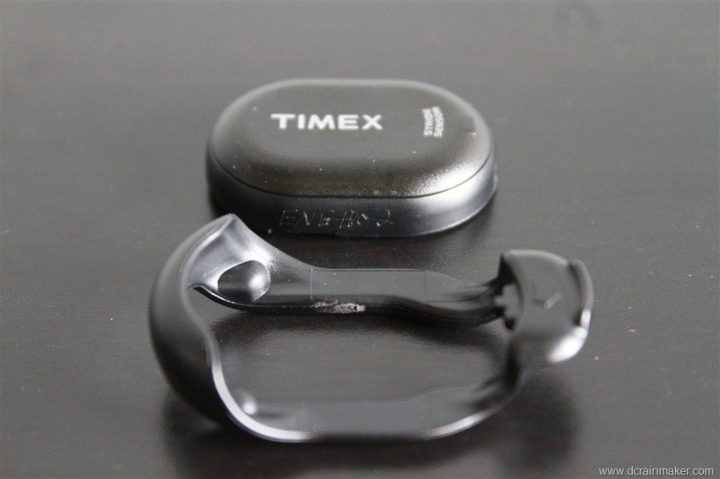 And finally… the always exciting quick-start guide: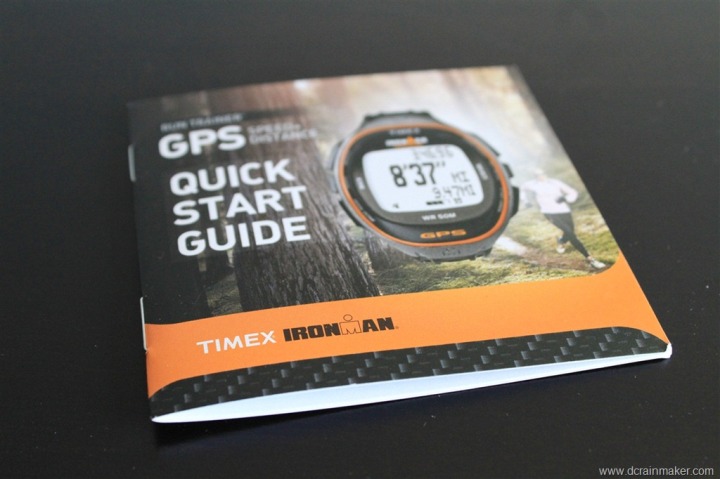 With the unboxing complete, let's get into some comparison shots…
Size Comparison Shots:
It used to be that GPS running watches were big and bulky – but now that's mostly a thing of the past, with today's watches getting slimmer and slimmer each year.  And in that area, the Timex Run Trainer has made significant progress over last year's entrant – the Timex Global Trainer.
I've gone ahead and placed all the watches on my friendly rolling pin – in order to allow you to easily compare them side by side.  I selected some of the most common competitors to the Timex Run Trainer: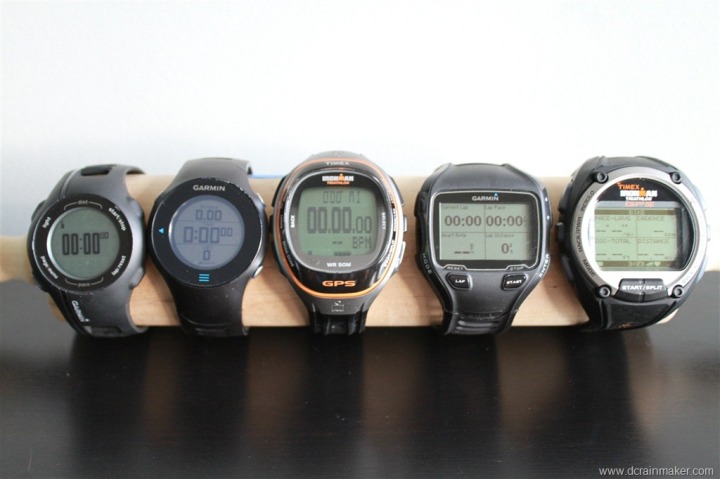 (Left to right: Garmin FR210, Garmin FR610, Timex Run Trainer, Garmin FR910XT, Timex Global Trainer)
As you can see above, the Timex Run Trainer is one of the larger running-only watches, however it's still smaller than both the FR910XT and the Timex Global Trainer.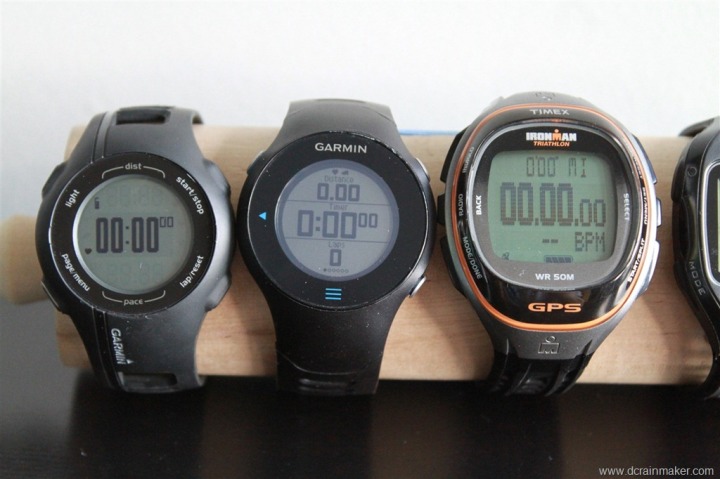 And in some ways, that thickness might also equate to a bit of a more rugged watch.  For example, the slimmer Garmin FR610 feels more 'breakable' than the Timex Run Trainer (though I've yet to break it).  And – if you were to add water to both, only the Timex Run Trainer is fully waterproofed for swimming.  The FR610 only has temporary immersion protection, and not against lap swimming either.
But, the most important size to take into account is how it looks on your wrist.  So here's a couple shots on my wrist:
As you can see, it looks pretty normal on my wrist.  And as I'll talk about later, it can easily be worn as a standalone wrist watch as well.  Now, let's get onto running!
Running Features:
Given 'run' is built into the Timex Run Trainer name, it stands to reason that its specialty is running.  And in that arena it easily beats all of its competitors at the sub-$200 price point.  It does this primarily through sheer quantity of features.  While other watches like the FR110 and FR210 removed features from their higher end watches to deliver a lower price point, the Timex Run Trainer simply just lowered the price point without removing features.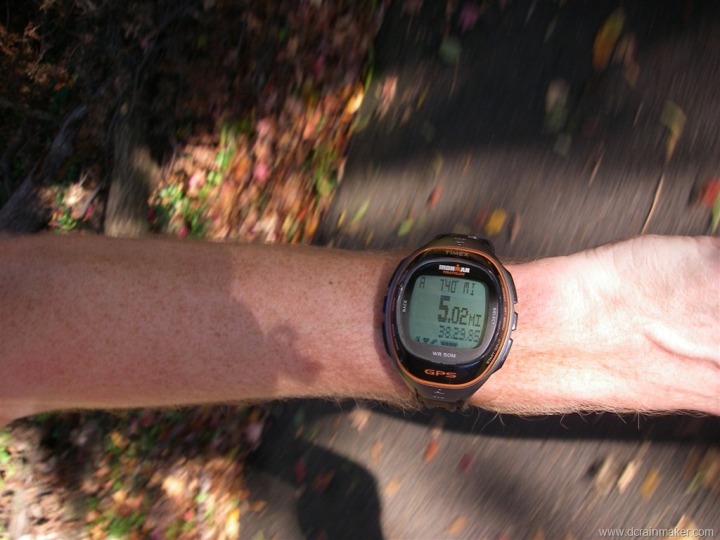 When you use the Timex Run Trainer you'll find a few different modes.  This can be admittedly a bit confusing at first – but you quickly get used to it.  The main mode that you'll be hanging out in during training or racing is the "CHRONO" mode, which is essentially just the blanket activity mode for anything not specialized such as Intervals.
To get into CHRONO mode, or to switch modes, you merely tap the lower left hand button.
Within the CHRONO mode you can customize up to three display pages, with each page having either three or four lines of information (there are other pages in other modes as well that you can customize).
You can configure these on the watch (as per above), or within the Timex Device Agent software, which is then automatically downloaded to your watch: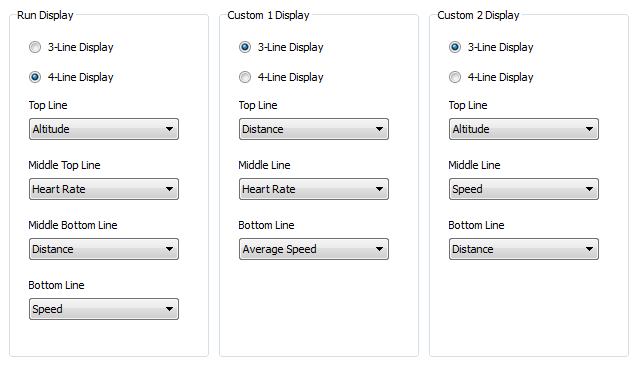 If you select three lines, the middle line is double the height: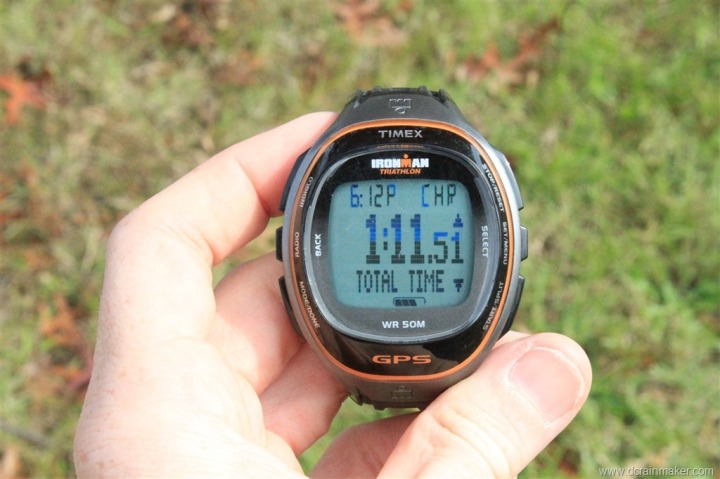 This is probably the biggest area of differentiation between the sub-$200 running watch options.  When you compare the Nike+ GPS or FR210 with the Timex Run Trainer (TRT), the TRT is fully customizable from a data field standpoint.  Whereas in the Nike+ GPS and FR210 you can only change a small handful of data fields which are preselected for you.
In the case of the Timex Run Trainer, you've got the following data fields to choose from:
Altitude
Calories
Cadence
Average Cadence
Distance
Heart Rate
Average Heart Rate
Odometer
Pace
Average Pace
Speed
Average Speed
Time of Day
Lap Number
Lap Time
Split Time

(Note, in Interval mode you gain a few other data fields related to Intervals)
As you can see, tons of options there.  Also, the different modes also have different display options configurable.  This means that as you can configure interval mode display pages differently from regular workout mode.
Interval Mode:
Speaking of which – let's talk about INTERVAL mode, the second mode on the Timex Run Trainer.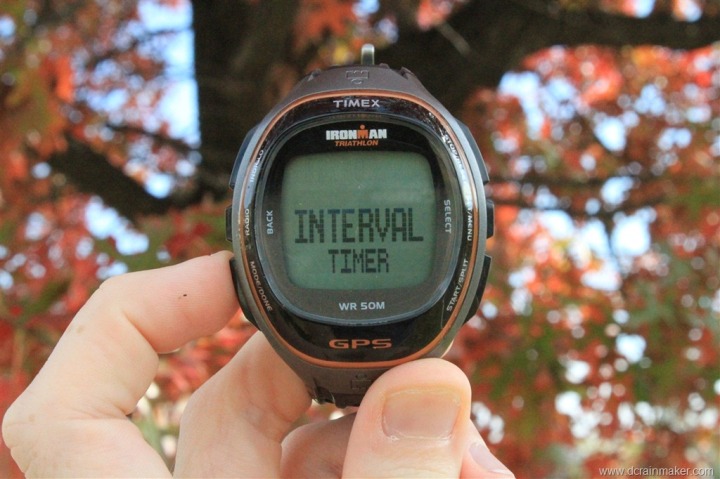 Interval mode is where you can setup an interval workout to follow.  Interval workouts in the world of sport can span from simple to complex.  A simple one would include a basic 'Warm-up, Main Set, Cool-down' style workout, where the Main Set is typically a number of 'Work intervals' (the hard part) followed by an equal number of 'Rest intervals' (recovery).  Most watches can support this simple concept.
But, the Timex Run Trainer actually allows a bit more customization than that.  You can support up to five different main sets, each with their own parameters.  This is pretty cool.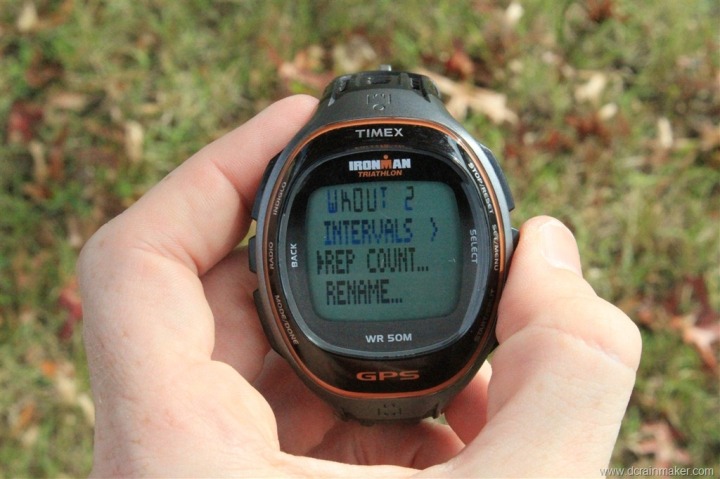 You can specify a warm-up and cool-down time (separately):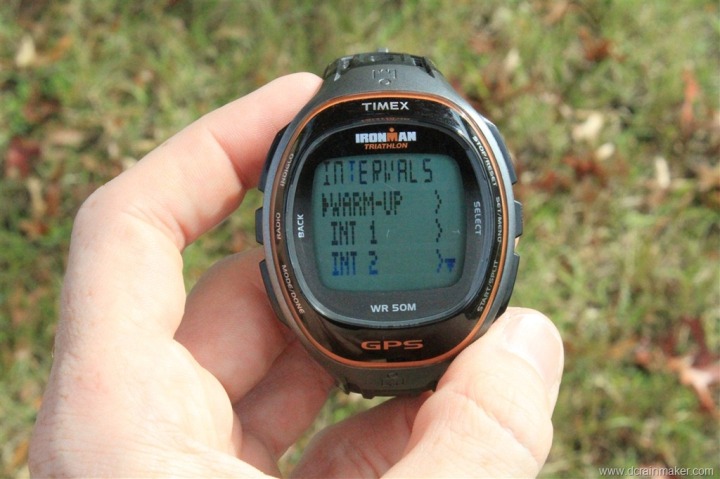 And then for the Interval and Repeats portion you can specify a gazillion different goals – whether that be by time, mileage or altitude.  Meaning, you can specify that each work interval is defined by running for example, one mile.  Or gaining 200 feet in elevation.  In order to show the massive breadth of customization here, it's actually easier to use the software to show you all the data pages and fields: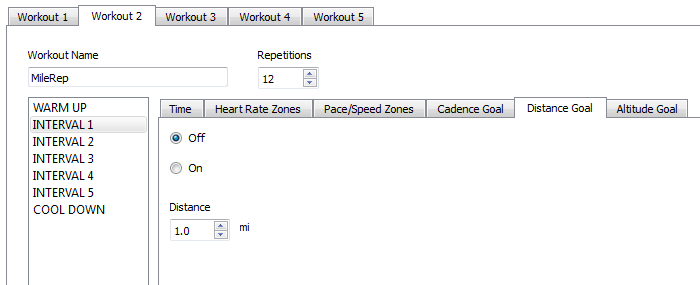 On the left hand side you have that piece of the interval – but the reps are actually controlled above.  This allows you to set each interval as a work or rest piece independently and based on potentially different factors.
Really cool.
You can configure of this on either the watch or the software.  For quick setups, the watch is easy enough – but if you've got something more complex – go with the software.
Note in Interval mode you gain the following additional display fields that you can configure to your display pages:
Interval Number
Repeat Number
Interval Time
Interval Reset
Interval Name
…in addition to all the fields I noted earlier.
You can save up to five different workouts in the software and on the watch, each with their own name.  Note that this is substantially different than the interval mode on the sub-$200 Garmin Forerunner 110 and 210 watches in that you aren't able to customize beyond a simple work/rest interval and not able to save them either.  Additionally, you can't specify any of the interval-specific goals like you can on the Timex Run Trainer.
Timer Mode:
Timer mode is pretty much just like it sounds – a simple timer.  In this mode you can specify a number of minutes and seconds and use it to…well…count down.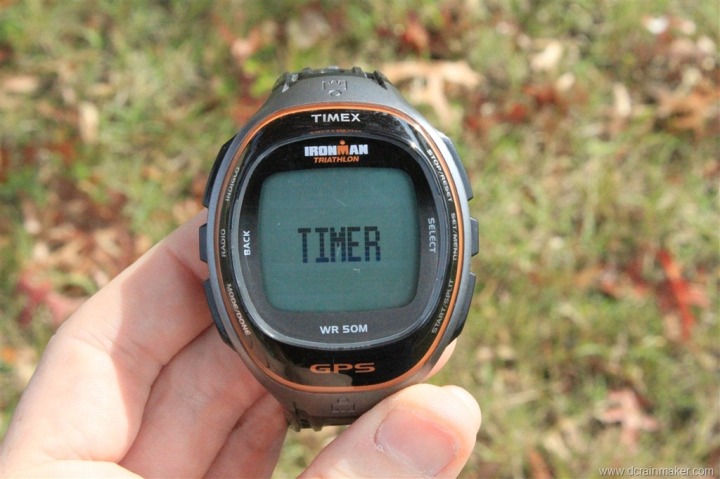 In my mind this is one of those features that is rarely used by most, but there is a small portion of the population that really wants it…thus…it was included.  And this is where you see some of the product differentiation between what Timex and Garmin has done, where Timex is adding some of the smaller requested features to go after as much of the market as possible.
After you specify the countdown timer's total time, it'll simply start counting down.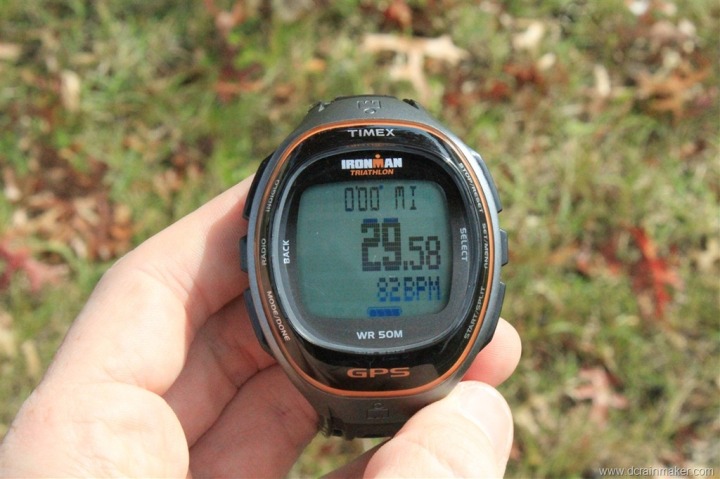 At the end of which, it can be configured to either repeat – or simply switch to CHRONO mode.
Additionally, you can also configure it to remind you half-way through.  I plan to use this next time I'm cooking steaks on the BBQ.
Recovery Mode:
Recovery mode is a funny little mode.  The sole goal of this mode is to simply monitor your heart rate and recovery from an activity.  That's it.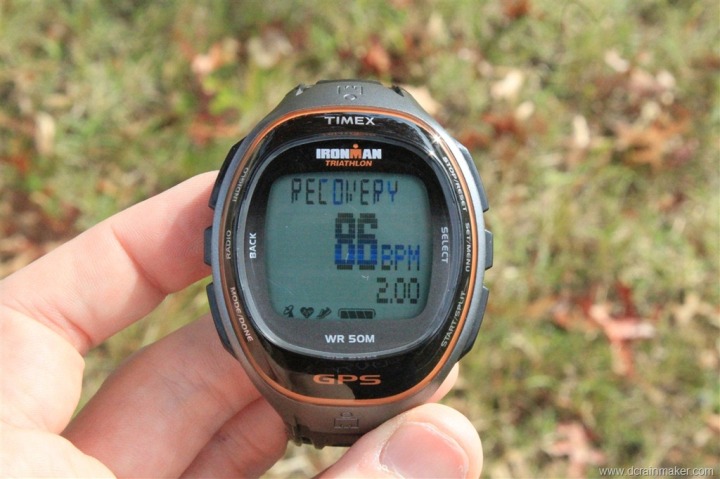 But, ironically, this is great for gathering resting heart rate data.  You can simply just set a total time to stay in the mode (such as five minutes) and once the HR strap is connected it'll just keep and eye on and record your heart rate.
Simple…yet effective.
Review Mode:
Review Mode is where you go to review all of your past runs (or bikes).  In this mode you can drill down into any given workout and view total information as well as detailed laps and split information.
As you can see, you can get the average or total information for virtually any data field captured – from cadence (steps per minute) to altitude ascent to average pace.  It's all there.
While Review Mode won't show you weekly or monthly totals, it will give you the details about a given activity.  For overall totals, you're best bet is to use the online software (TrainingPeaks) instead.
Configuration Mode:
Configuration Mode (technically called CONFIG mode) is where you configure anything general across the watch.  This is separate from the individual configuration options presented in all the aforementioned modes.  Like virtually every setting in the watch, you can configure it both on the unit as well as the software.  This continues to be one of my favorite features of the Timex lineup – in that I can also save these settings and export them off to a little file for safekeeping.  Here's stuff that you can configure across the board.
Zones: You can configure zones based on Heart Rate, Speed, and Cadence.  I'll talk more about this in the Zones section.
Goals: Goals are simply like alerts, but for a given objective.  In this case, you can configure goals for distance and altitude (total).
Units: This is where you can play flip-flop with wanting to be British or American…all day long.  The Global setting does it all in one shot (Metric or Imperial) – but you can also just individually choose which settings are which.  In the case of heart rate, it's asking whether or not you want it in BPM or % of max.  There is no different British/American standard for heart rate.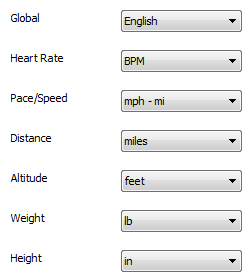 User: This is where you set information about yourself – primarily used for caloric calculations: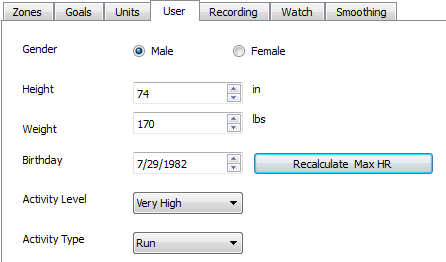 Recording: This enables you to change recording rate interval.  You can set it to record at a 1, 2, 4, or 8 seconds.
Watch: This is effectively the 'leftover' bin for settings that didn't fit anywhere else.  This includes a total odometer, configuration options for hourly chimes and button beeping, zone audible or visual alarms, and whether or not to synchronize time from GPS.
Smoothing: Last but not least is the smoothing options, which aims to reduce some of the GPS jumpiness that some folks see when they use a GPS device.  Essentially, this makes the paces a bit more smooth as opposed to jumping around.  You can specify to enable altitude, pace and speed smoothing, individually.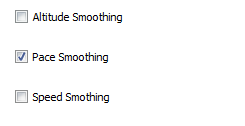 With that, I want to talk about a few more unique features on the Timex Run trainer, so let's dive into them.
Hands Free Start-Stop and Splits:
If you run in the city a lot, you may find yourself stopping and starting at stoplights waiting for traffic.  In some of those cases you may neglect to resume your watch once you start running again – leaving a data gap in your recorded activity until you realize your mistake and resume again.
Hands Free Start-Stop solves that problem by automatically pausing and resuming your activity when you go above/below certain threshold speeds, which are configurable.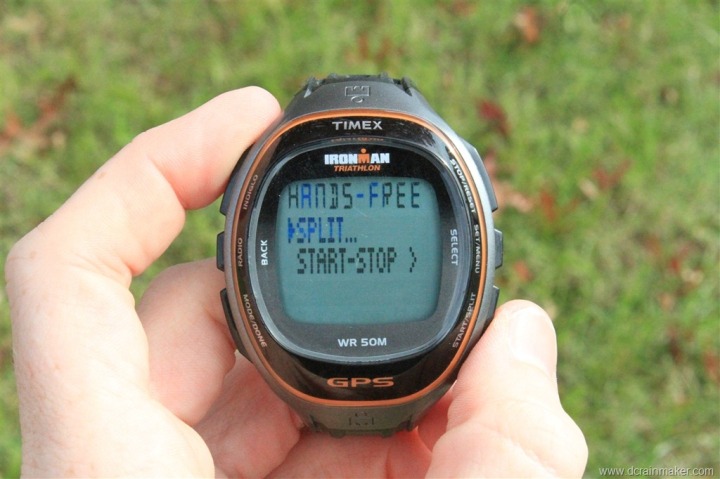 This enables you to set a high/low speed where if you slow to a stop, it'll simply trigger the watch to pause.  Then, when you start running again, it'll go back and resume.
Hands Free Split on the other hand will automatically create laps on a predetermined time or distance parameter.  So you can configure it to automatically create a lap/split every 1 mile, or every 10 minutes – fully customizable.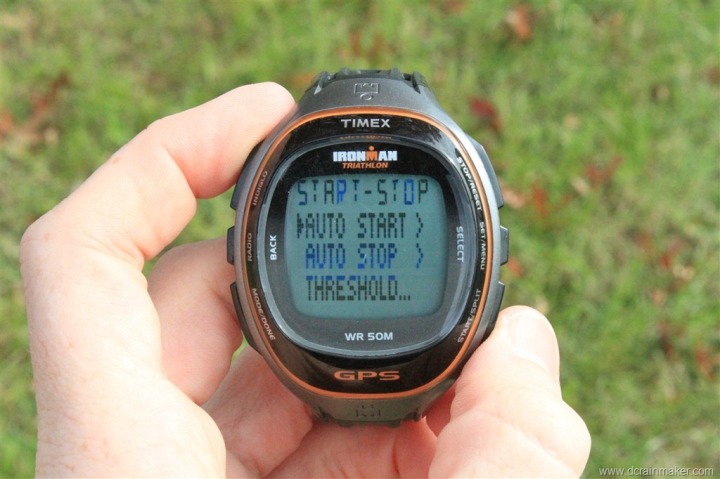 I tend not to use the Hands Free modes as I'm pretty good with remembering to start my watch.  Of course, the irony in saying that is that just yesterday I hit a stoplight and didn't resume on the Timex Run Trainer – not because I forgot, but simply because with running with multiple watches I ended up pressing the wrong button and not realizing it.  Doh!
Zones & Alarms:
The Timex Run Trainer allows you to customize zones eight ways to Sunday.  These zones can then be applied to the different watch modes.
Within the main configuration mode you can configure zones for Heart Rate, Pace, Speed and Cadence.
Here's the Heart Rate Zones configuration, which allows you to baseline up to five distinct zones with either custom values, or those based on Max HR.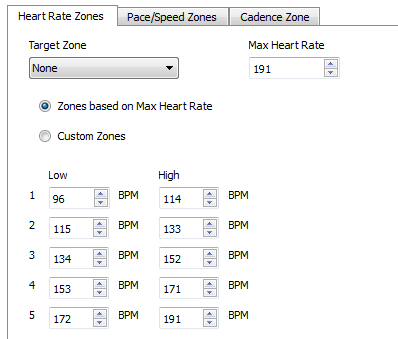 Then we've got speed and pace zones: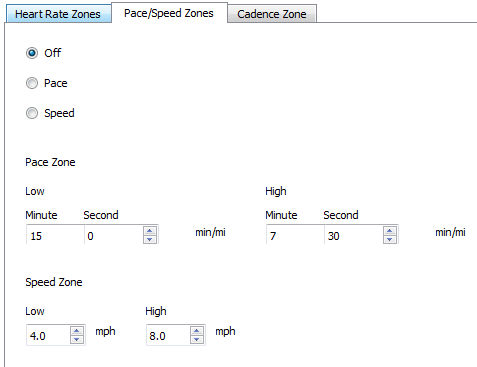 And finally, cadence zones: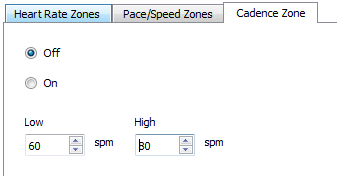 As noted above, these zones can then be configured within an activity to alert you if you stray outside of a given zone.  For example, if I was using INTERVAL mode, I could specify that in the Warm Up phase I want to base it on my Zone 2 heart rate: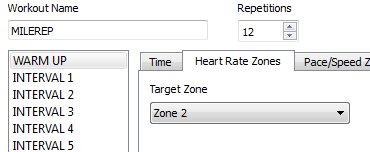 Pretty cool stuff, clean and easy integration all around.
Eat and Drink Alarms/Reminders:
Perhaps my favorite new feature of the Timex Run Trainer is the Eat and Drink reminders.  As one who constantly forgets to eat or drink (especially during longer races) – this is a great way to have the watch do the reminding for you.  We've previously seen this on a handful of Polar devices, but this is the first time it has made its way onto an ANT+ enabled watch.
You can setup a repeating Drink alarm, and a repeating Eat alarm – both based on time (minutes) and both operating independently of each other.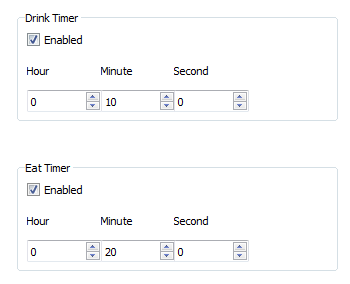 I've loved having this on my long runs lately – as it makes it easy to remember whether I was supposed to be eating or drinking.  When you're out there three hours, sometimes things get a bit fuzzy.  This makes it dead simple:
On the watch, the unit will beep and blink the appropriate thing to do, for about 3-5 seconds: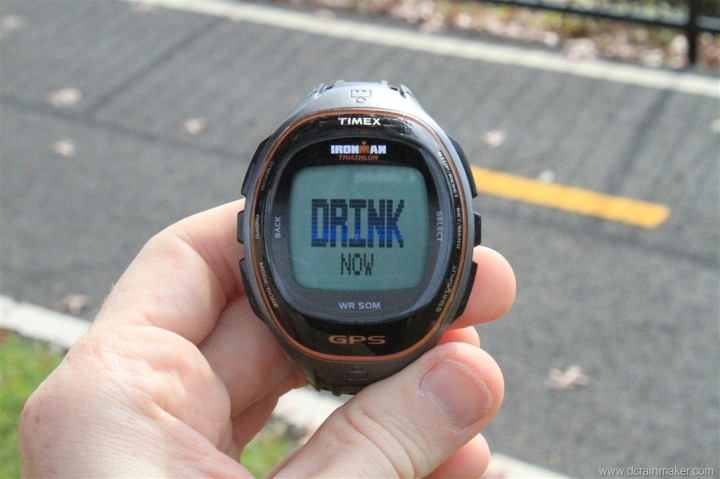 Then it'll simply go back into normal timing mode.  Love it!
GPS Accuracy: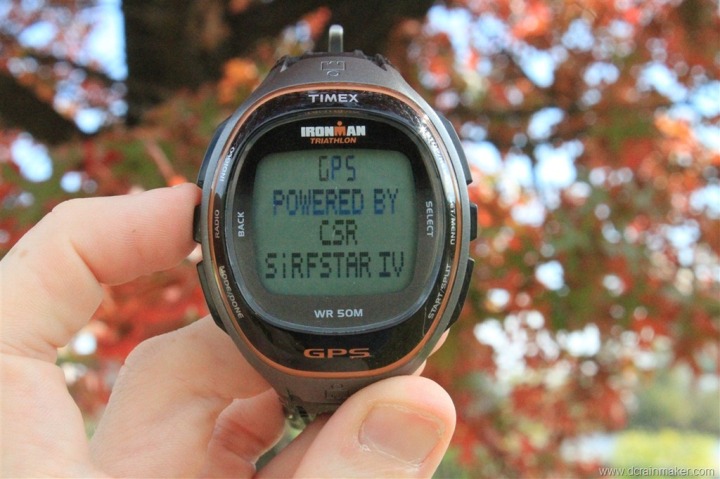 When I talked with the Timex crew back at the ANT+ Symposium one of the biggest points they made was around GPS accuracy and the Timex Run Trainer.  They had learned many of the lessons from the initial Timex Global Trainer accuracy problems, and were fully committed to really nailing satellite accuracy.  In fact, it was noted that they'd be happy to go up against the FR210 any day on satellite accuracy.
And – I believe them.  In my runs I found the GPS tracks nearly spot on with the FR910XT that I often wore.  To the point where I couldn't realistically determine which one was the most correct, but that either could have been.
For example, on a 15 mile interval run I did, the two units came with .07 miles in total – well within the GPS accuracy range of each other, especially considering I was doing constant loops (lots of curves).  At .07 difference on 15.25 miles they were within 99.47% of each other.  Pretty solid.
In every run I've run thus far, the GPS tracks are nearly identical between the Timex Run Trainer and a Garmin watch.
That said, once I get a couple more watches that are scheduled to come in, I'll do an abbreviated version of the usual accuracy tests that I do.  Though, based on what I'm seeing in runs thus far – I'm not expecting a problem.
There is one important item to note (only because I found this out the hard way).  The Timex Run Trainer will utilize a paired ANT+ footpod over GPS data for speed and distance.  This is important because if you're (like me) and have an ANT+ footpod there primarily for cadence, then it's likely that it's not correctly configured.  In such a case, it may produce incorrect (fast or slow) speeds.  This is through no fault of the Timex Run Trainer – but merely something to ensure that you've got it correctly configured if you plan to use an ANT+ footpod.
Night Light:
If there's one thing I can complain about with the Timex Run Trainer…it's the backlight.  I don't like it for two reasons.  One, I can't customize how long it stays on – and two, it's just not that great.
For me, when I'm running at night (which is basically at least a few times a week in the summer, and every run during the winter) – I want a clean and easy to see backlight that I can see from…oh…the other side of the road.  Unfortunately, the Timex Run Trainer uses their Indiglo backlight, which is painfully not bright.  I realize it may have been cutting edge in 1992, but not today…19 years later.

On the bight side (no pun intended) – with a long exposure setting on a camera it does show up pretty bright: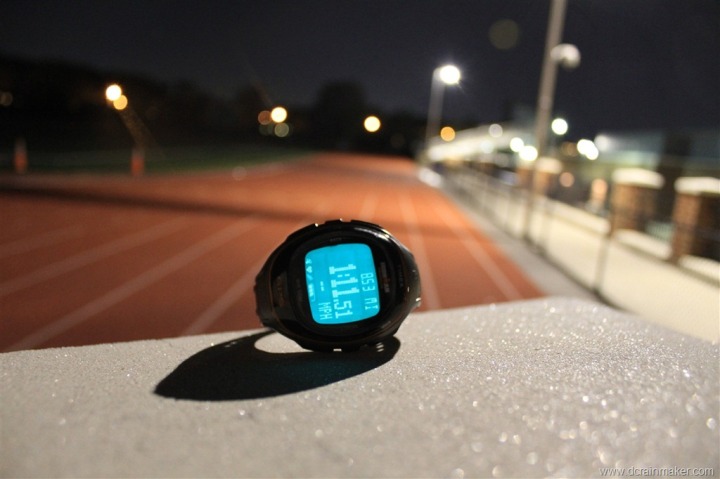 If they were to add a firmware option to keep the backlight on for a configurable amount of time (instead of four seconds) – I'd be a bit happier.  I prefer the more typical option of 'stays on'.
Using it as day to day (normal) watch:
The Timex Run Trainer can easily be used as a day to day watch.  Although the watch is a touch bit bigger than a standard wrist watch, it's not too terribly big – so it won't stand out.
Within regular watch mode it displays the Month-Day on the top line, the time with seconds and AP/PM in the middle line (or in 24:00 mode), and then the day of the week on the bottom line: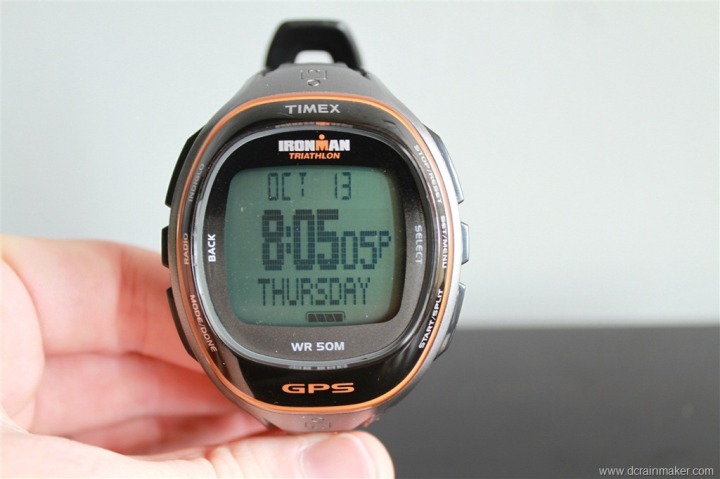 Additionally, you can configure a bucket-load of different alarms in a lot of different ways.  Be it daily, day-specific or otherwise – this has you covered: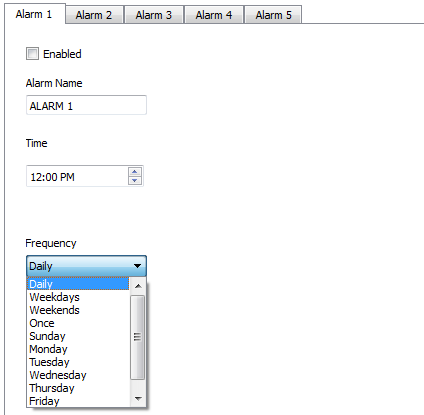 In regular watch mode, you'll get about 10 weeks (yes, weeks) of battery life before you have to go for the gold and find the charger again.  Outside of that, if using it for sport, you'll get about 10 hours.  So realistically you'll probably need to charge it about once a week depending on how much running you do.
Cycling:
While the watch wasn't designed for cycling, it works just fine and dandy.  It's able to work well for cycling because it can switch between showing Pace (running norm) and Speed (cycling norm).  In fact, you can pretty much customize the entire watch to just be a cycling watch if you wanted to.
The only catch is that the Timex Run Trainer doesn't connect to either ANT+ Speed/Cadence bike sensors, nor ANT+ Power Meters.  So, if you want to use it indoors on a trainer – you're probably better opting for a different device.  But outside, it's a great device if you just dabble in the bike but are mostly a runner.  And, even while cycling it'll connect to an ANT+ heart rate strap without issue.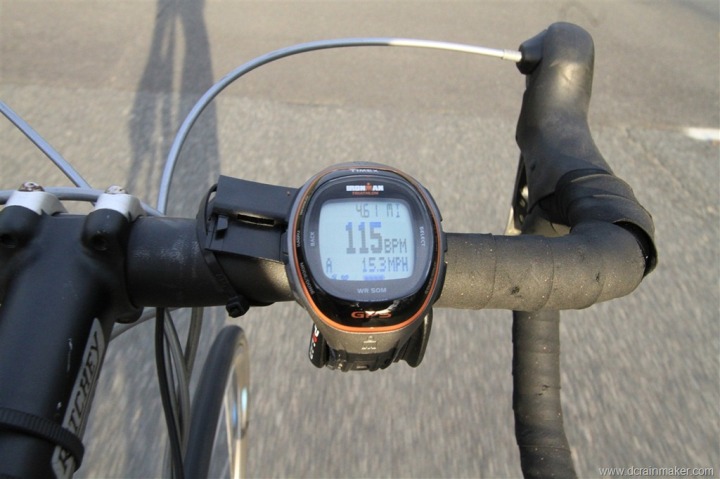 While cycling the unit can be worn on your wrist, or you can pickup one of the many different handlebar bike mounts out there.  Timex makes one for their Timex Global Trainer, that's a simple rubber mount that wraps around your handlebar and then the watch wraps around it: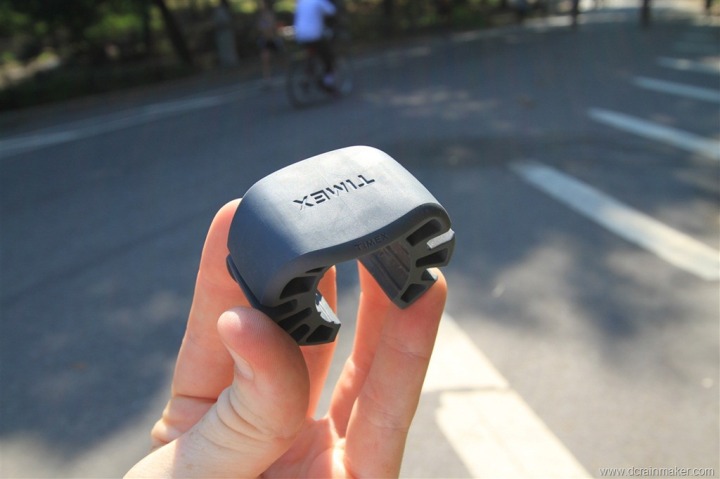 Alternatively, if you can't find that – just about every running or cycling shopping will probably carry the generic Garmin or Polar bike mounts, which work fine.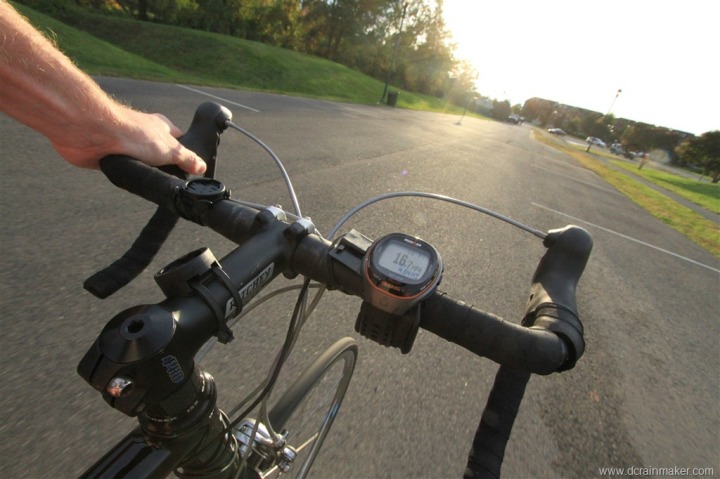 Note for triathletes that in order to switch between running and cycling you will need to stop the current activity (i.e. cycling) and then start a new activity (i.e. running).  This only takes about 4-5 seconds, but it's worth noting primarily in the context that there is no multisport mode like the Timex Global Trainer – which is aimed a triathlon.
As I noted before – if you're primarily a runner but dabble occasionally on the bike, this is perfect.  But if you're primarily a cyclist and occasionally dabble in running – then you probably want a different cycling-specific device.
Underwater:
One of the really cool features of the Timex Run Trainer is that it's fully waterproofed to 50 meters – or about 150 feet.  See, it's written right on the front of it: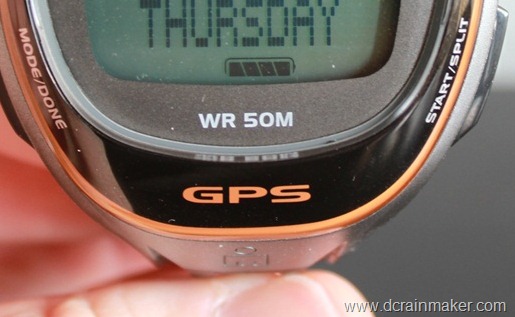 Now, if you find yourself at 150ft deep you've probably got other problems – but for those wanting to swim with it, it's perfect.  This is because most of the other competitive watches (FR110/FR210) are not waterproof for lap swimming and will break (been there, done that).  I easily swam my regular workout a few different nights with the Timex Run Trainer, without any problems:
Note that while underwater the Timex Run trainer not ANT+ heart rate record data, simply because the ANT+ signal can't transmit more than about 2" underwater.  But the time and alarm functions work just fine – as does the repeating TIMER mode.  So if you wanted to use for doing say 50's on 50s, you could.
Also note that openwater swimming with the unit on your wrist doesn't work from a GPS track standpoint.  But it does work just fine at gathering distance in your swim cap (did that recently).  No issues there.
Software: Timex Device Agent:
In order to get your data off the watch, you'll need to install the Timex Device Agent – which is essentially a rebranded version of the TrainingPeaks Device Agent.  This software is available for both PC's and Mac's – and works fine on either platform.
Before using it, you'll plug the USB charging clip into your computer, and then clip the other end onto the watch:
Once that's done, the Timex Run Trainer will become visible to the Device Agent.  You may note that unlike the Timex Global Trainer, you no longer have to select a PC mode – as long as the watch is plugged in it'll automatically connect to the PC.
If you have other devices that you want to use aside from the Timex Run Trainer or Timex Global Trainer, then you'll want to download the full TrainingPeaks device agent as opposed to just the Timex Device Agent.  Both are free of course.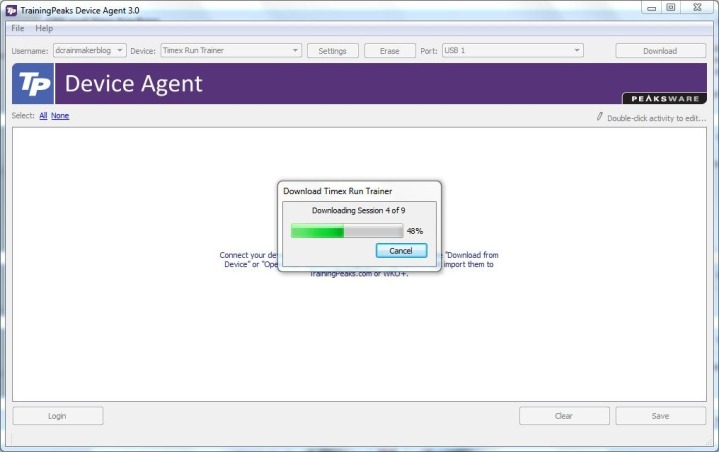 In addition to downloading your workouts, the TrainingPeaks (TP) or Timex device agent will also allow you to configure every setting on the Timex Trainer Trainer.  Pretty cool.  It'll also allow you to export out your settings and configuration to a file on your hard drive:
And finally, it should be noted that this is where you can update the Timex Run Trainer firmware as new versions come out (note, because you can backup settings, no settings are really lost):

So, now that you've downloaded your workouts to the TrainingPeaks agent and clicked upload – it's time to head online and checkout the details there.
Software: TrainingPeaks
Instead of developing its own platform, Timex selected to leverage the TrainingPeaks web based training platform instead.  In general, I think this is a good move – as I don't believe there's a need for yet another web site that does more or less the same thing: log our activities.  By folks focusing efforts and resources on a few sites we tend (as consumers) to see better integration and more features.  And TrainingPeaks is a great example of that.  My Withings WiFi scale automatically transmits data there, as does my FINIS Swimsense watch and every other sports technology gadget I have.  A one stop shop.
As for myself, I use Training Peaks every day.  For me, it's the one logbook that every single workout I have is in – correctly.  It's 'pure' from the standpoint that all my training data is there, searchable for the last four years.
But let's start with the basics.  First off, when you upload a run you'll see the general dashboard: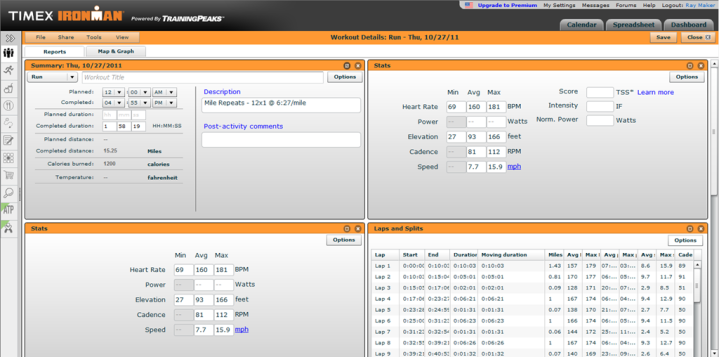 On the right-hand side you've got splits that you can dive into, and on the other pods you've got more general information.  All of these 'pods' are customizable though, so you can see and change it however you'd like.  For example, the case of below, I've expanded the Laps and Splits:
In addition to the basic summary information, you can dive into the Map and Graph mode, which shows you were exactly you went, and a graph of your workout: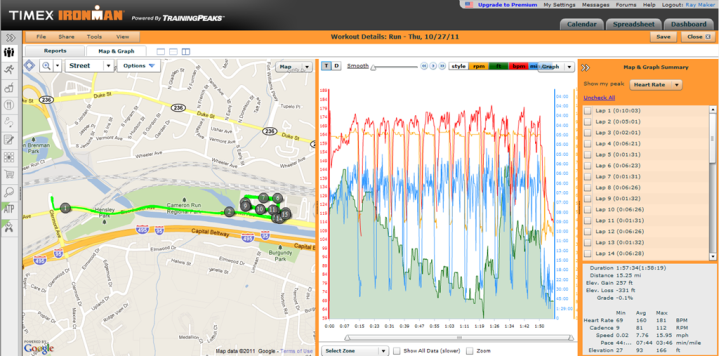 You can choose to minimize or expand either the graph or map to make them more clear: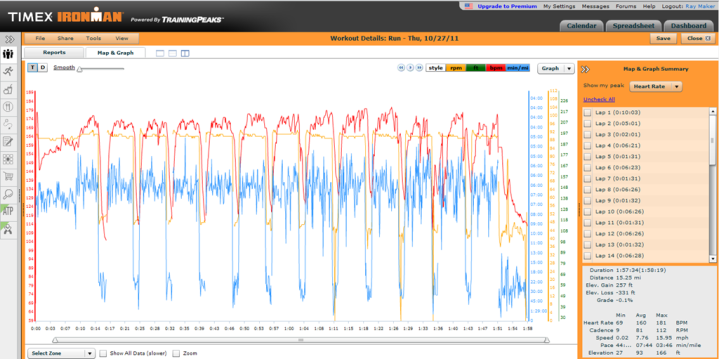 On the right hand side, you've also got total (bottom section of pane) and lap data available (mid-section of pane).  And, if you highlight information, you'll get that displayed along the graph and on the top of the graph: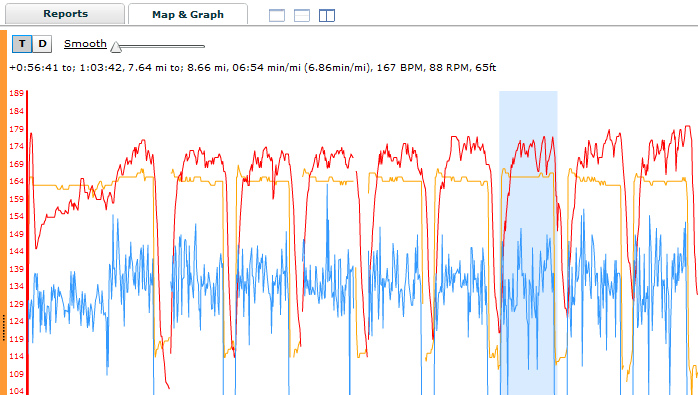 One of my favorite features in TrainingPeaks continues to be the 'Peak Speeds/Paces' functionality, which allows me to see my top speeds/paces (or other sensor data) over a given span of time: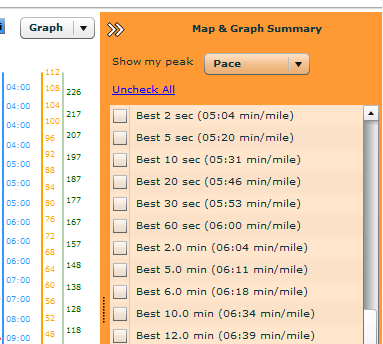 In addition to data displayed about a given workout, I can also display metrics like sleep, weight and even food logging.  I can do all of this from within the calendar view.
As a platform, TrainingPeaks offers endless customization and pretty much anything the advanced athlete could ask for.
Finally, as for third party integration – it's somewhat limited.  The Timex/TrainingPeaks Device Agent creates a PWX (XML based) file that any 3rd party service (such as Sport Tracks) can pickup, so nothing is fully proprietary.  But unfortunately few services accept such files at this time.  As a general statement – if the 3rd party service supports the Timex Global Trainer watch, then it'll likely also work with the Timex Run Trainer.
Accessories:
The Timex Run Trainer supports two ANT+ accessories that you can pickup.  They are as follows:
ANT+ Heart Rate Strap:
The first accessory is the Timex ANT+ Heart Rate Strap, which will display and record your heart rate.  This strap is softer than previous classic edition ones – which makes it a bit more comfortable:
You can either buy this as an accessory, or just directly in the Timex Run Trainer package.  Note that any ANT+ strap will work, so if you already have a strap from a previous Timex or Garmin unit (or CycleOps or other), it'll all work as long as there's an ANT+ logo on the back of the unit.  The one exception being Suunto straps, merely because they do their own thing with ANT, that's not ANT+.  Also, Polar straps are not compatible in any way, shape, or form.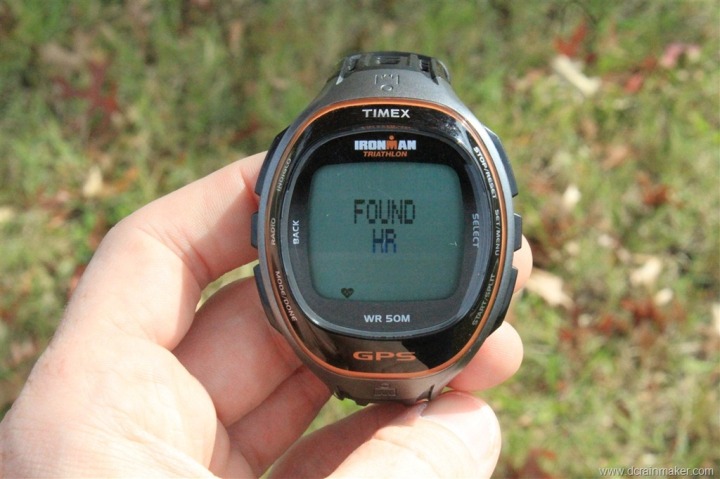 In the unit you'll go into the pairing menu to pair the given HR strap, which only takes a second.  From then on it'll automatically remember your paired strap for future activities.
ANT+ Footpod (for speed/distance/cadence):
The second supported accessory is the Timex ANT+ Footpod, which enables you to track your speed and distance while indoors on a treadmill – or if you want to turn off the GPS.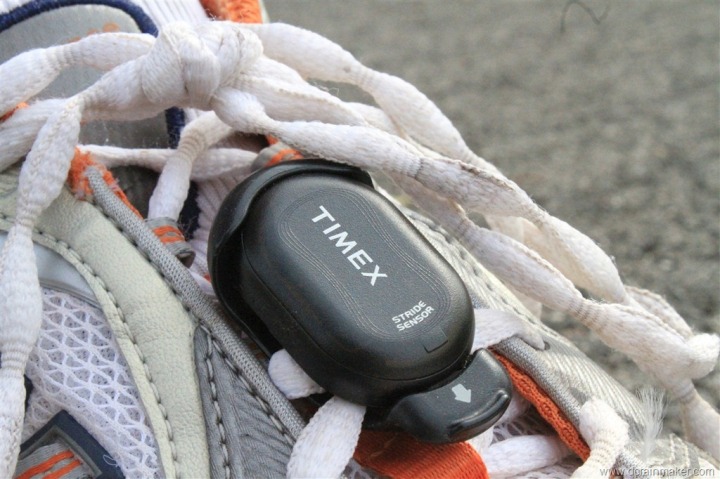 The footpod is based on the common ANT+ SDM-4 footpod, and is the smallest unit currently available.  The battery life on the footpod exceeds one-year, and can be easily swapped out with a CR2032 coin cell battery.
The footpod will record running steps per minute (cadence) in addition to speed/distance.  During a run, it'll also also take precedence on the Timex Run Trainer for both speed and distance.  This is important to note because if not properly configured it'll overrule your GPS speed.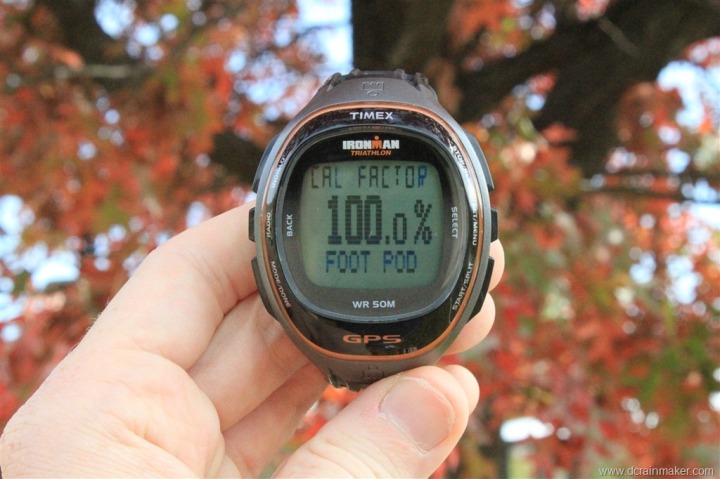 The footpod can be configured via the watch menu system, or if you already know your footpod calibration value – you can enter that manually via the software:

It should be noted that if you have an ANT+ footpod already, it'll work just fine with the Timex Run Trainer.  However note that like the heart rate strap situation – it MUST have the ANT+ logo on it.  A Nike+ footpod will not work.
Finally, just for clarity – the following ANT+ accessories are not supported: ANT+ Speed/Cadence Sensor, ANT+ Power Meter, ANT+ Weight Scale, ANT+ Blood Glucose Meter.
Summary:
The Timex Run Trainer as a product has really surprised me with the sheer quantity of features packed in.  The watch includes both features aimed to keep it competitive, as well as new features that it's competitors largely don't have (i.e. Eat/Drink alerts).
From a runners standpoint the unit has basically everything one could ask for.  It's got complex workout support as well as simple run recording.  It's got alarms and time/clock functions for those that want to use it as a day watch (with ample 10 week battery life).  And finally, for those needing a countdown timer in your kitchen…it's got that too.
The only area where it lags slightly behind some of its competitors is the backlight.  And from a menu system, they could be slightly more polished – but it's leaps and bounds above the Timex Global Trainer.  So significant progress was made in that area.
At $189 for the Timex Run Trainer (with another $50 rebate from Nov 3rd till end of year!) – it's a pretty good deal.  When I look at the Pro's and Con's of the device, I see the following:
Pros and Cons
Pros:
– Tons of features for the money
– Easily and accurately tracks via GPS
– Supports ANT+ Heart Rate Straps and Footpods
– Fully waterproofed to 50 meters, no issues in pool
– Drink/Eat (Hydration/Nutrition) alerts are downright awesome
– Workout creator/manager gives tons of options
– Complete and total customization of data fields
Cons
– Backlight is too dim
– Unit storage could be more (about 10h at 1s recording)
– User interface is much improved, but could use a bit more polish
For those still deciding between the FR210 and the Timex Run Trainer, I offer the following chart:
Feature Comparison Chart:
Finally…the below chart pairs up the three most commonly compared watches in this category – the Garmin FR210, the Timex Run Trainer and the Nike+ GPS Sportwatch.  At some point in the future once I have hands on time with the Motorola Motoactv I'll include that as well.
Function/Feature

Timex Run Trainer GPS 1.0
Garmin Venu 3
Garmin Forerunner 265
Apple Watch SE (2022)
COROS APEX 2 (Base)
Copyright DC Rainmaker - Updated September 18th, 2023 @ 6:13 pm New Window
Price
$150.00
$449
$449
$249/$299 (cellular)
$399
Product Announcement Date
AUG 16, 2011
August 30th, 2023
Mar 2nd, 2023
Sept 7th, 2022
Nov 3rd, 2022
Actual Availability/Shipping Date
SEP 2011/Discontinued
August 30th, 2023
Mar 2nd, 2023
Sept 16th, 2022
Nov 3rd, 2022
GPS Recording Functionality
Yes
Yes
Yes
Yes
Yes
Data Transfer
USB
USB, BLUETOOTH SMART, WiFi
USB, Bluetooth Smart, WiFi
Bluetooth Smart
Bluetooth Smart (smartphone)
Waterproofing
50 Meters
50 meters
50 Meters
50m
50m
Dive/Snorkel Feature
No
No
No
Battery Life (GPS)
GPS: 8hrs, Non-GPS 100+ hrs
26 hrs (just GPS), up to 11hrs GPS+Music
Up to 20 hours (FR265), and 24 hours (FR265S)
12 hours GPS
Up to 45 hours
Solar Charging
No
No
No
No
Recording Interval
Configurable: 1s, 2s, 4s, 8s
1s or Smart Recording
1-second, Smart, UltraTrac
Varies
1-second
Dual-Frequency GNSS
No
Yes
No
No
Alerts
Sound/Visual
Vibrate/Visual/Speaker
VIBRATE/SOUND/VISUAL
Vibration/Audio/Visual
Audio/Visual/Vibration
Display Type
AMOLED
AMOLED
AMOLED
MIPS
Backlight Greatness
Good
Great
Great
Great
Great
Ability to download custom apps to unit/device
No
Yes
Yes
Yes
No
Acts as daily activity monitor (steps, etc...)
No
Yes
Yes
Yes
Yes

Voice Integration

Timex Run Trainer GPS 1.0
Garmin Venu 3
Garmin Forerunner 265
Apple Watch SE (2022)
COROS APEX 2 (Base)
Has Mic/Speaker
Yes
No
Yes
No
Can make/receive calls
With phone's cellular
No
Non-cellular editions with phone/Cellular Editions without phone
No
Voice Assistant
Apple Siri, Google Assistant, Samsung Bixby
No
Apple Siri
No

Music

Timex Run Trainer GPS 1.0
Garmin Venu 3
Garmin Forerunner 265
Apple Watch SE (2022)
COROS APEX 2 (Base)
Can control phone music
Yes
Yes
Yes
No
Has music storage and playback
Yes
Yes
Yes
Yes
Streaming Services
Spotify, Amazon Music, Deezer
Spotify, Amazon Music, Deezer
Apple Music
No (MP3 files only)

Payments

Timex Run Trainer GPS 1.0
Garmin Venu 3
Garmin Forerunner 265
Apple Watch SE (2022)
COROS APEX 2 (Base)
Contactless-NFC Payments
Yes
Yes
Yes
No

Connectivity

Timex Run Trainer GPS 1.0
Garmin Venu 3
Garmin Forerunner 265
Apple Watch SE (2022)
COROS APEX 2 (Base)
Bluetooth Smart to Phone Uploading
No
Yes
Yes
Yes
Yes
Phone Notifications to unit (i.e. texts/calls/etc...)
No
Yes
Yes (with connected phone)
Yes
Yes
Live Tracking (streaming location to website)
No
Yes
Yes (with connected phone)
With 3rd party apps
No
Group tracking
No
Yes (with connected phone)
No
No
Emergency/SOS Message Notification (from watch to contacts)
No
Yes
Yes (with connected phone)
Yes
No
Built-in cellular chip (no phone required)
No
No
No
Yes (with cellular version)
No

Cycling

Timex Run Trainer GPS 1.0
Garmin Venu 3
Garmin Forerunner 265
Apple Watch SE (2022)
COROS APEX 2 (Base)
Designed for cycling
No
Yes
Yes
Yes
Yes
Power Meter Capable
No
Yes
Yes
With 3rd party apps
Yes
Power Meter Configuration/Calibration Options
N/A
Yes
Yes
N/A
No
Power Meter TSS/NP/IF
N/A
No
Yes
N/A
NP only
Speed/Cadence Sensor Capable
No
Yes
Yes
No
Yes
Strava segments live on device
No
No
No
No
Crash detection
Yes
Yes
Yes
No

Running

Timex Run Trainer GPS 1.0
Garmin Venu 3
Garmin Forerunner 265
Apple Watch SE (2022)
COROS APEX 2 (Base)
Designed for running
Yes
Yes
Yes
Yes
Yes
Footpod Capable (For treadmills)
Yes
Yes
YES (Also has INTERNAL ACCELEROMETER)
With 3rd party apps
Yes
Running Dynamics (vertical oscillation, ground contact time, etc...)
No
No
Yes
Yes
Yes
Running Power
WITH 3RD PARTY APPS
Yes
Yes
Yes (Built-in)
VO2Max Estimation
No
Yes
Yes
Yes
Yes
Race Predictor
No
No
Yes
No
Yes
Recovery Advisor
No
Yes
Yes
No
Yes
Run/Walk Mode
Sorta
Yes
Yes
With 3rd party apps
No
Track Recognition Mode
No
Yes
Coming Dec 2022
Yes

Swimming

Timex Run Trainer GPS 1.0
Garmin Venu 3
Garmin Forerunner 265
Apple Watch SE (2022)
COROS APEX 2 (Base)
Designed for swimming
No
Yes
Yes
Yes
Yes
Openwater swimming mode
N/A
Yes
Yes
YEs
Yes
Lap/Indoor Distance Tracking
N/A
Yes
Yes
Yes
Yes
Record HR underwater
N/A
Yes
Yes
Yes
Yes
Openwater Metrics (Stroke/etc.)
N/A
Yes
Yes
Basic stroke type only
Yes
Indoor Metrics (Stroke/etc.)
N/A
Yes
Yes
Basic stroke type only
Yes
Indoor Drill Mode
N/A
No
Yes
No
No
Indoor auto-pause feature
N/A
No
No
Yes
-
Change pool size
N/A
Yes
Yes
Yes
Yes
Indoor Min/Max Pool Lengths
N/A
13M/15Y TO 150Y/M
14M/15Y TO 150Y/M
1y/m to 1,500y/m+
15y/m-300y/m
Ability to customize data fields
N/A
Yes
Yes
Yes
Yes
Captures per length data - indoors
N/A
Yes
Yes
Yes
Indoor Alerts
N/A
Yes
Yes
Yes (goals)
Yes

Triathlon

Timex Run Trainer GPS 1.0
Garmin Venu 3
Garmin Forerunner 265
Apple Watch SE (2022)
COROS APEX 2 (Base)
Designed for triathlon
No
No
Yes
Not really
Yes
Multisport mode
N/A
No
Yes
Yes
Yes

Workouts

Timex Run Trainer GPS 1.0
Garmin Venu 3
Garmin Forerunner 265
Apple Watch SE (2022)
COROS APEX 2 (Base)
Create/Follow custom workouts
Yes
Yes
Yes
Yes
Yes
On-unit interval Feature
Yes
Yes
Yes
Yes
Yes
Training Calendar Functionality
No
Yes
Yes
With 3rd party apps
Yes

Functions

Timex Run Trainer GPS 1.0
Garmin Venu 3
Garmin Forerunner 265
Apple Watch SE (2022)
COROS APEX 2 (Base)
Auto Start/Stop
Yes
Yes
Yes
Yes
Yes
Virtual Partner Feature
Yes
No
Yes
Yes
No
Virtual Racer Feature
No
No
Yes
Coming Dec 2022
No
Records PR's - Personal Records (diff than history)
No
Yes
Yes
No
No
Tidal Tables (Tide Information)
No
No
No
No
No
Weather Display (live data)
No
Yes
YEs
Yes
No

Navigate

Timex Run Trainer GPS 1.0
Garmin Venu 3
Garmin Forerunner 265
Apple Watch SE (2022)
COROS APEX 2 (Base)
Follow GPS Track (Courses/Waypoints)
No
No (but some 3rd party apps can)
Yes
With 3rd party apps
Yes
Markers/Waypoint Direction
No
No
Yes (Up Ahead support)
Yes (Backtrack)
Yes
Routable/Visual Maps (like car GPS)
No
No
No
With 3rd party apps
Maps but not routable
Back to start
No
Yes
Yes
Yes (Backtrack)
Reverse course
Impromptu Round Trip Route Creation
No
No
No
With 3rd party apps
No
Download courses/routes from phone to unit
No
No
Yes
With 3rd party apps
Yes

Sensors

Timex Run Trainer GPS 1.0
Garmin Venu 3
Garmin Forerunner 265
Apple Watch SE (2022)
COROS APEX 2 (Base)
Altimeter Type
GPS
Barometric
Barometric
Barometric with real-time watch face
Barometric
Compass Type
N/A
Magnetic
Magnetic
Magnetic
Magnetic
Optical Heart Rate Sensor internally
Yes
YEs
Yes
Yes
SpO2 (aka Pulse Oximetry)
Yes
Yes
Yes
Yes
ECG Functionality
Yes
No
No
No
HRV Recording
Yes
Yes (nightly and on-demand)
Yes
Yes (Manual)
Heart Rate Strap Compatible
Yes
Yes
Yes
Yes
Yes
ANT+ Heart Rate Strap Capable
Yes
YEs
Yes
No
No
ANT+ Speed/Cadence Capable
No
Yes
Yes
no
No
ANT+ Footpod Capable
Yes
Yes
Yes
No
No
ANT+ Power Meter Capable
No
Yes
Yes
No
No
ANT+ Lighting Control
Yes
Yes
No
No
ANT+ Bike Radar Integration
Yes
Yes
No
No
ANT+ Trainer Control (FE-C)
Yes
Yes
No
FTMS (Bluetooth) only
ANT+ Remote Control
No
No
No
No
No
ANT+ eBike Compatibility
No
Yes
Yes
No
No
ANT+ Gear Shifting (i.e. SRAM ETAP)
No
No
No
No
Shimano Di2 Shifting
No
No
No
No
Bluetooth Smart HR Strap Capable
No
YEs
Yes
Yes
Yes
Bluetooth Smart Speed/Cadence Capable
No
Yes
Yes
No
Yes
Bluetooth Smart Footpod Capable
No
Yes
Yes
No
Yes
Bluetooth Smart Power Meter Capable
No
Yes
Yes
No
Yes
Temp Recording (internal sensor)
No
No
Yes
No
Yes
Temp Recording (external sensor)
No
Yes
YES (TEMPE)
No
No

Software

Timex Run Trainer GPS 1.0
Garmin Venu 3
Garmin Forerunner 265
Apple Watch SE (2022)
COROS APEX 2 (Base)
PC Application
Training Peaks Agent
Garmin Express
Garmin Express
None
No
Web Application
Training Peaks
Garmin Connect
Garmin Connect
None
No
Phone App
Training Peaks
iOS/Android/Windows
iOS/Android
iOS only
iOS/Android
Ability to Export Settings
Yes
No
No
No
No

Purchase

Timex Run Trainer GPS 1.0
Garmin Venu 3
Garmin Forerunner 265
Apple Watch SE (2022)
COROS APEX 2 (Base)
Amazon
Discontinued
Link
Link
Link
Link
Backcountry.com
Link
REI
Link
Link
TPC
Link
Wiggle
Link
Link

DCRainmaker

Timex Run Trainer GPS 1.0
Garmin Venu 3
Garmin Forerunner 265
Apple Watch SE (2022)
COROS APEX 2 (Base)
Review Link
Link
Link
Link
Link
Link
Found this review useful?  Here's how you can help support future reviews with just a single click!  Read on…
Hopefully you found this review useful.  At the end of the day, I'm an athlete just like you looking for the most detail possible on a new purchase – so my review is written from the standpoint of how I used the device.  The reviews generally take a lot of hours to put together, so it's a fair bit of work (and labor of love).  As you probably noticed by looking below, I also take time to answer all the questions posted in the comments – and there's quite a bit of detail in there as well.
I've partnered with Clever Training to offer all DC Rainmaker readers an exclusive 10% discount across the board on all products (except clearance items).  You can pickup the Timex Run Trainer 1.0 GPS below. Then receive 10% off of everything in your cart by adding code DCR10BTF at checkout.  By doing so, you not only support the site (and all the work I do here) – but you also get a sweet discount.  And if you happen to spend more than $75, you get free US shipping as well.
Timex Run Trainer 1.0 GPS with HR Strap
Timex Run Trainer 1.0 GPS Women's Pink/Purple with HR Strap
Additionally, you can also use Amazon to purchase the unit (though, no discount).  Or, anything else you pickup on Amazon helps support the site as well (socks, laundry detergent, cowbells).  If you're outside the US, I've got links to all of the major individual country Amazon stores on the sidebar towards the top.  Though, Clever Training also ships there too and you get the 10% discount.
As you've seen throughout the review there are numerous compatible accessories for the unit. I've consolidated them all into the below chart, with additional information (full posts) available on some of the accessories to the far right. Also, everything here is verified by me – so if it's on the list, you'll know it'll work. And as you can see, I mix and match accessories based on compatibility – so if a compatible accessory is available at a lower price below, you can grab that instead.
Thanks for reading!  And as always, feel free to post comments or questions in the comments section below, I'll be happy to try and answer them as quickly as possible.  And lastly, if you felt this review was useful – I always appreciate feedback in the comments below.  Thanks!
Finally, I've written up a ton of helpful guides around using most of the major fitness devices, which you may find useful in getting started with the devices.  These guides are all listed on this page here.