Today Wahoo Fitness gave  a sneak peak at the first Bluetooth Smart heart rate strap – BlueHR.  What's Bluetooth Smart you ask?  Well, it's basically Bluetooth Low Energy renamed, which used to be known as both BTLE and BLE.  Bluetooth Smart is only offered on Bluetooth 4.0 devices – which is still relatively new (last few months).
So what is Bluetooth Smart?  Well, it's actually a lot like ANT+, a low energy technology that allows Bluetooth devices to run off of limited battery requirements.  This is ideal for your typical sports technology sensor like a heart rate strap or footpod, where you want the battery to last a year of normal use.  Again – just like an ANT+ sensor today.  This differs from traditional Bluetooth devices that you may have, such as in a wireless headset, primarily because those devices aren't designed to last long periods of time on a single battery.  They tend to only last a few hours.
The challenge was up until a few weeks ago, there were really no Bluetooth 4.0 devices that were widely available.  But with the introduction of the iPhone 4s, that door has been sprung open.  And thus in the course of just a few weeks the install base of Bluetooth 4.0 compliant devices has gone from zero to…well…millions.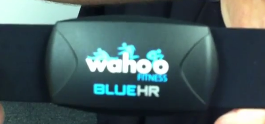 So what's so important about the new Wahoo Fitness Bluetooth Smart strap?  Well, it's important in a number of ways.  The most obvious is that it's the first Bluetooth Smart sensor device out there.  Sorta like 'early bird catches the worm', the first Bluetooth Smart device will undoubtedly be used by a larger number of folks (at least initially), simply because it's the only choice.
In a lot of ways, this now signals the start of a sensor battle between ANT+ and Bluetooth Smart.  And while there's little disagreement that Bluetooth Smart will quickly have a larger cell phone install base than ANT+ enabled cell phones, ANT+ already has a pre-existing install base of tens of millions of ANT+ chips out there today in devices that you're using – like Garmin watches.
Now, there are some things about Bluetooth Smart that make it slightly more…problematic…than ANT+ from a sport sensor standpoint.  See, today on ANT+ when you grab a cadence sensor – they all know how to talk on the ANT+ cadence sensor (CAD) Device Profile, which is effectively a structure for exactly how any ANT+ cadence sensor works.  This is why you can take a Timex, Garmin, CycleOps, Wahoo, or any other branded ANT+ sensor and it'll work with any other ANT+ head unit or watch.  Same goes for any apps that use ANT+, as long as the app can support the baseline ANT+ protocol they need only add a given device profile (i.e. Cadence or Power Meter), and it'll instantly support  all ANT+ devices out there.
But in the case of Bluetooth Smart devices – that device profile/protocol roadmap doesn't exist with the exception of just the heart rate profile/protocol.  This means that there's no device profile standard on how a cadence sensor unit should or would communicate to a device and/or phone.  This means that Wahoo could implement it one way, Polar a different way, and Timex another way.  Thus, ultimately making your life more difficult.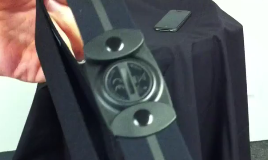 And the same applies to other sensor types down the road.  Yes, it'll open up the door to sensor types to be rapidly created – in fact, it creates a bit of a wild west of possibilities.  But there will undoubtedly be some compatibility problems and consumer confusion.
But, while there may be confusion – there'll be an astounding array of devices that are compliant with it.  For example, today it's just basically the iPhone 4s…but soon (next week) – you'll have the new Motorola MOTOACTV sports watch.  And just around the corner you'll see Bluetooth 4.0 as standard on phones too.  I would be surprised if you're finding new phones next year that don't have BT 4.0 on them.  And the same goes for computers and laptops.  Today only the MacBook Air and Mini have it –but going forward, it'll become standard on the computing front as well.
So what does this all look like to you, the end consumer?  Honestly, not much different.
And to prove that – here's a quick video that the Wahoo guys shot yesterday showing you that from your perspective with pairing a heart rate strap with an iPhone 4s.  There's nothing more to do than you do today on your Garmin ANT+ strap:
New Wahoo Fitness strap demo
The strap should be available before the end of the year, for about $80.
And finally – where does ANT+ sit in all this?  Well today they dominate the sports technology arena – and customers and companies using ANT+ are largely happy.  It's an interoperable system that's completely plug and play.  I don't see that changing anytime soon.  What I do see changing is that devices will simply be multi-mode.  They'll support both ANT+ and Bluetooth.  There are dual-mode chips out there today that allow them to do just this, and we're seeing that already.  This enables a company – like what Motorola is doing with the MOTOACTV – to bridge across any devices you have, from ANT+ to Bluetooth.  It's really the best of both worlds.
And as for Wahoo – they're most certainly not going away from ANT+ products.  They noted that they continue to be "a huge proponent of ANT+ and will continue to develop new ANT+ products".  So fear not – lots of cool innovation coming there.
I'm looking forward to trying out the new Wahoo strap here very shortly, I've been told I'm just about at the top of the list to get one.  And, as Wahoo said themselves – "This is just the beginning of their new Bluetooth Smart product offerings…" – and having seen what's coming…it's pretty darn cool.
Really cool.
Thanks for reading!