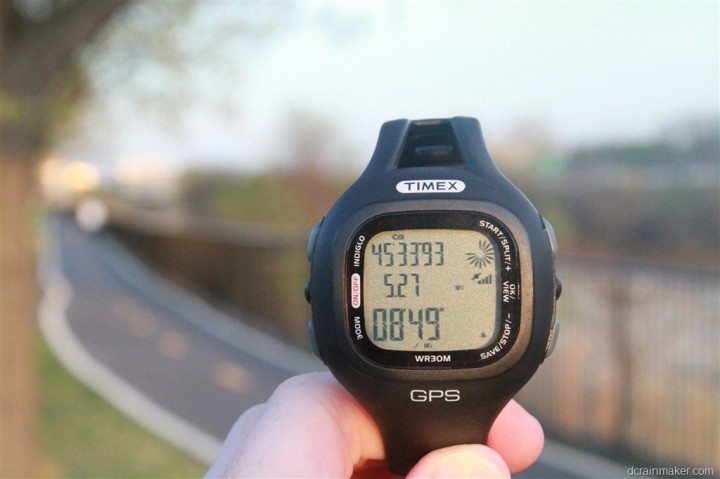 The Timex Marathon GPS unit is the second mainstream sub-$100 GPS watch to hit market in the last few months.  As such, it continues the trend set by Soleus with their GPS 1.0 watch back in the fall.  These watches aren't marketed at having downloadable workouts, but can instead keep track of your given run including pace, distance, calories and laps.  Afterwards, they also have a basic history function.
At first glance – you may think that Timex has developed an all new product.  But, have they?  Or have they done something else a bit more…interesting?  Well, you're gonna have to stick around to find out.  I think the answer might just throw you for a loop.  Further, some of the things I found once I started really poking around will also surprise the heck out of ya (at least, it did me).
So, with that introduction, let me put up the usual notes about my review:
Like all my reviews, they tend to be pretty in depth (perhaps overly so) – but that's just my trademark DC Rainmaker way of doing things. Think of them more like reference guides than quick and easy summaries. I try and cover every conceivable thing you might do with the device and then poke at it a bit more (especially so in the Timex Marathon GPS unit's case). My goal is to leave no stone unturned – both the good and the bad.
Lastly, at the end of the day keep in mind I'm just like any other regular triathlete out there. I write these reviews because I'm inherently a curious person with a technology background (my day job), and thus I try and be as complete as I can. But, if I've missed something or if you spot something that doesn't quite jive – just let me know and I'll be happy to get it all sorted out. Also, because the technology world constantly changes, I try and go back and update these reviews as new features and functionality are added – or if bugs are fixed.
Unboxing:
There are two color variants of the Timex Marathon GPS – an all-black variant, and one with blue highlights on it.  They cost them same $99 though.
Once you've removed the outer shell, you'll find the watch hanging out suspended inside, like an astronaut in their tied to the wall sleeping bag.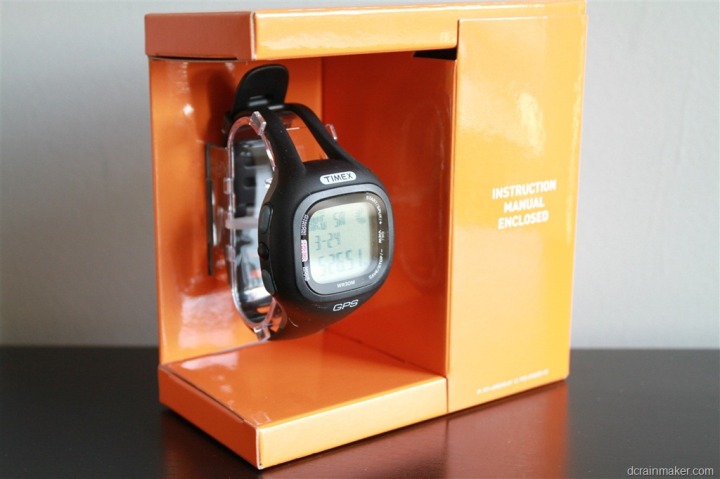 Below the box fold is a small pamphlet manual, and the USB charging cable.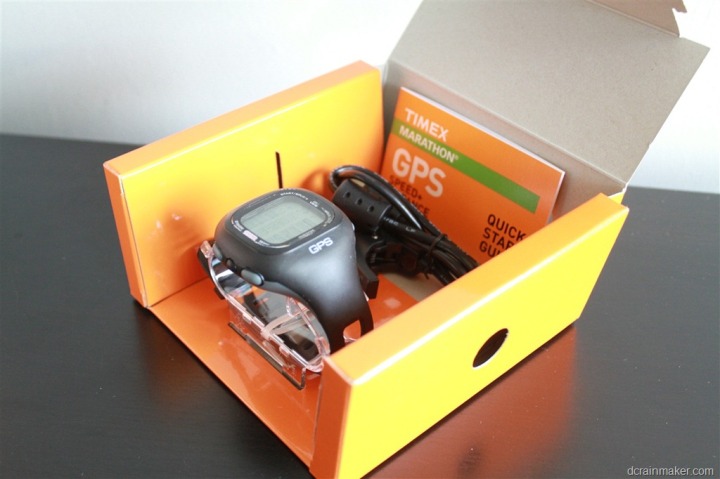 Getting the watch out of the box does require a pair of scissors or other sharp cutting object (bold cutters, Christmas tree axe, javelin, etc…).  For reasons entirely unclear to me, they zip tied the unit to the little stand.  I suppose it makes for a prettier display – but it's a pain in the butt to remove.
Once freed, here's the sum total of the three parts: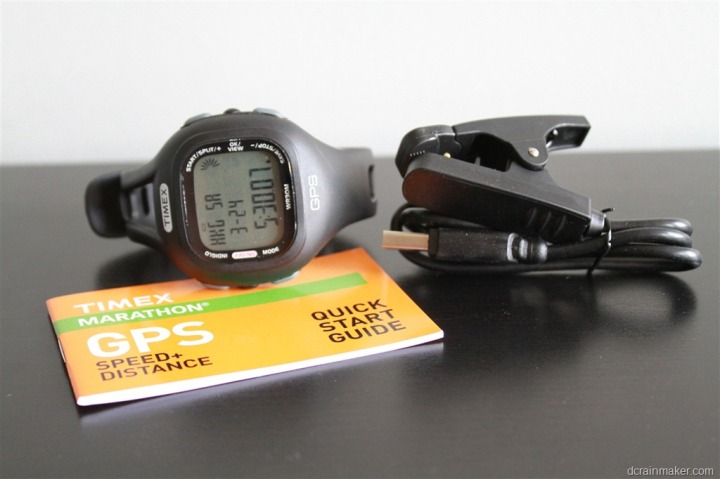 First up is the charging cable.  This particular USB-based charging cable has two prongs, which supply electrical current.  I again note that it has two prongs with an odd space in between, which is something you should keep in in the back of your mind for a moment…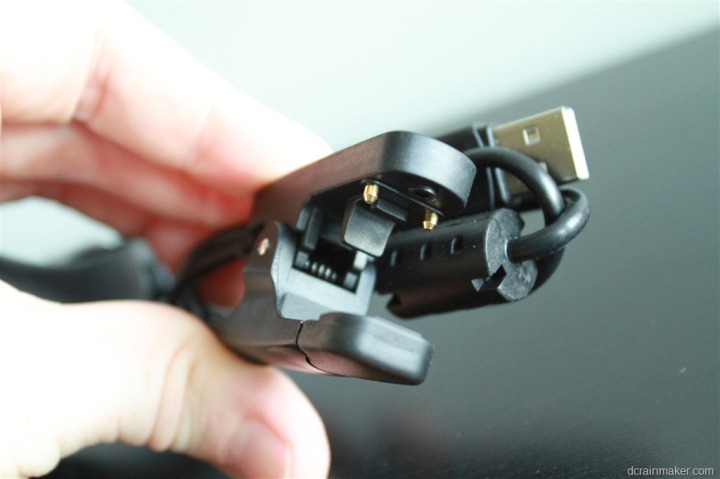 Next up is the ever-thrilling manual.  This essentially tells you to press the start button if you want to start, and the stop button if you want to stop.  Like most sport watch manuals, it's not terribly exciting or informative.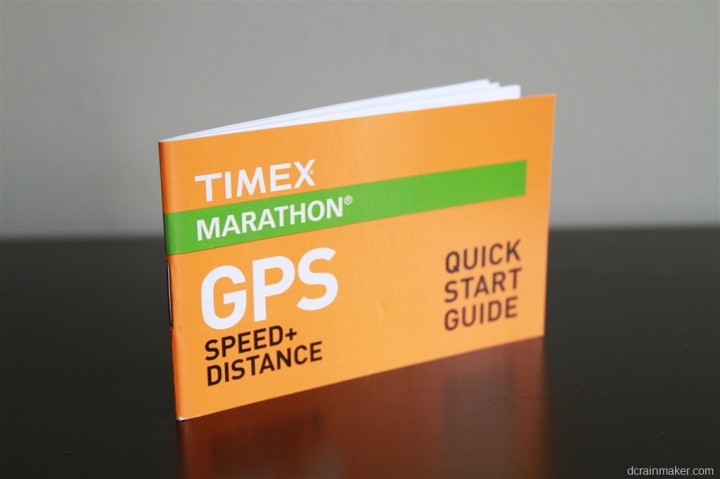 And finally, here's the watch itself.  In this case, sitting on its side: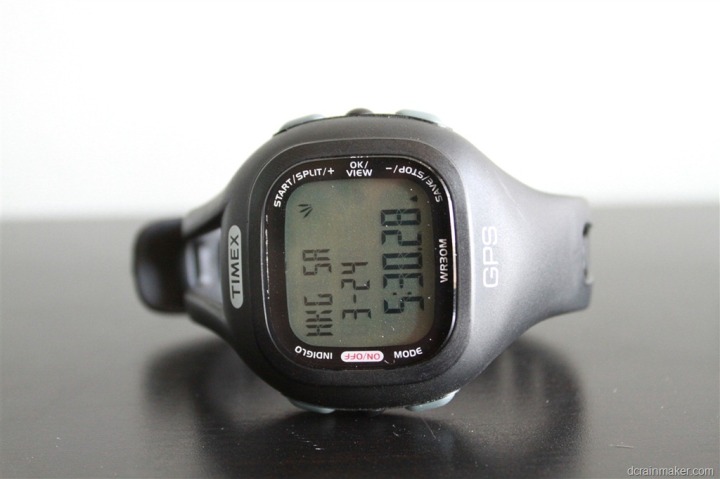 And a side profile shot: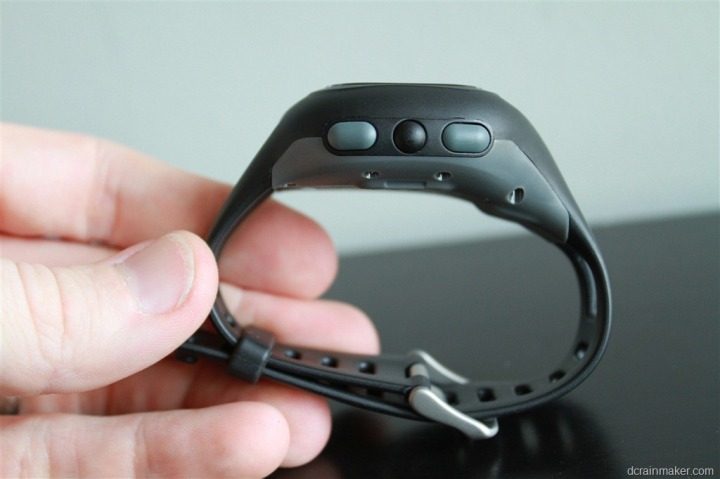 And finally – the back.  Now, remember what I said a moment ago about the charging clip having two prongs, versus the back of the unit very clearly having four connectors.  Again, something to keep in mind for a wee bit later on in the review.  Yes, I get to tease you.  And no, don't pretend ya don't like it, cause I know ya do.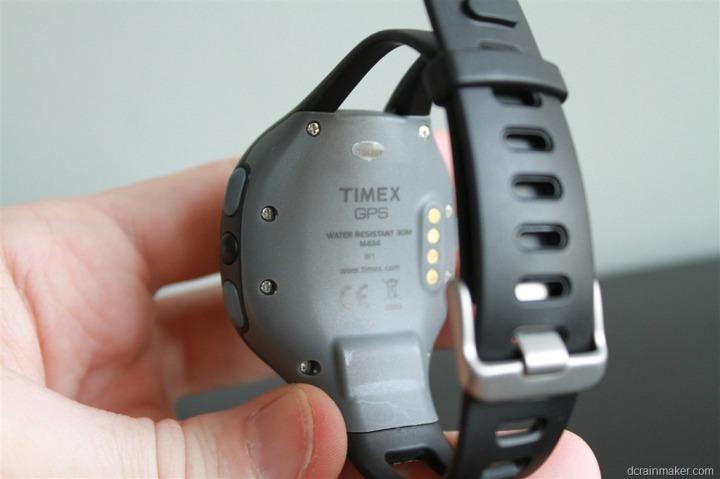 Unboxing complete!  Onto how it compares size wise.
Size Comparisons:
In order to give you a quick comparison between a few other sub-$150 running watches that measure distance, I went ahead and took out the trusty rolling pin and got them all lined up.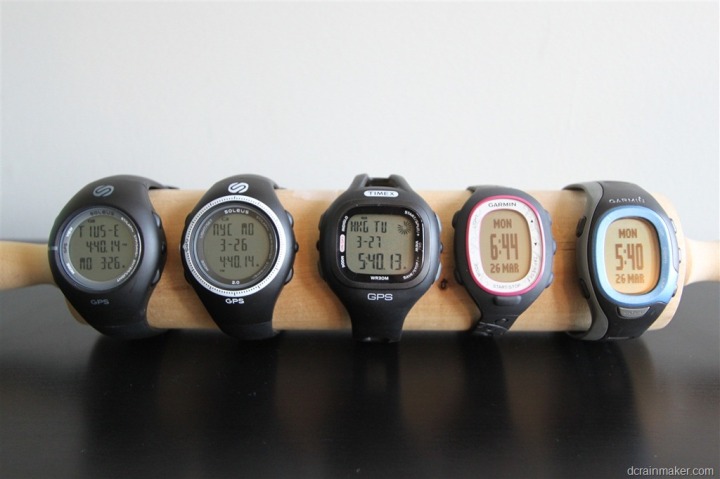 On the pin this time we have (from left to right) the Soleus 1.0 GPS, Soleus 2.0 GPS, Timex Marathon GPS, Garmin FR70, and Garmin FR60.  Here's the side profile view.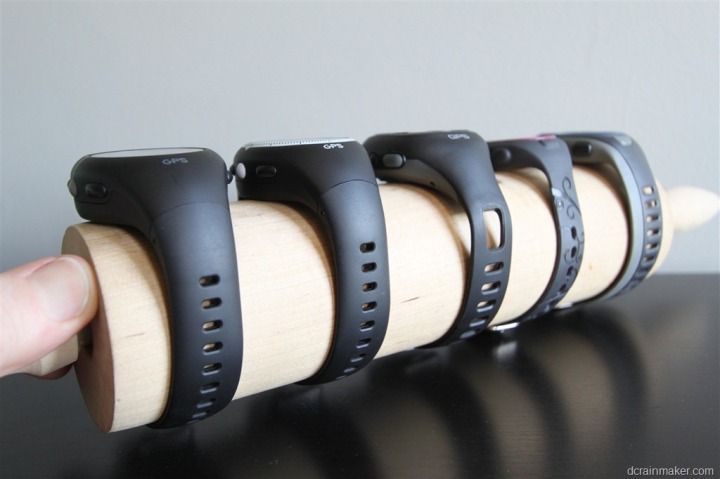 As you can see, the Timex Marathon GPS tapers a bit more than the Soleus units (less blocky), but it is a bit wider.  It's a fair bit bigger than the FR60/FR70, but neither of those watches have GPS in them – nor a rechargeable battery.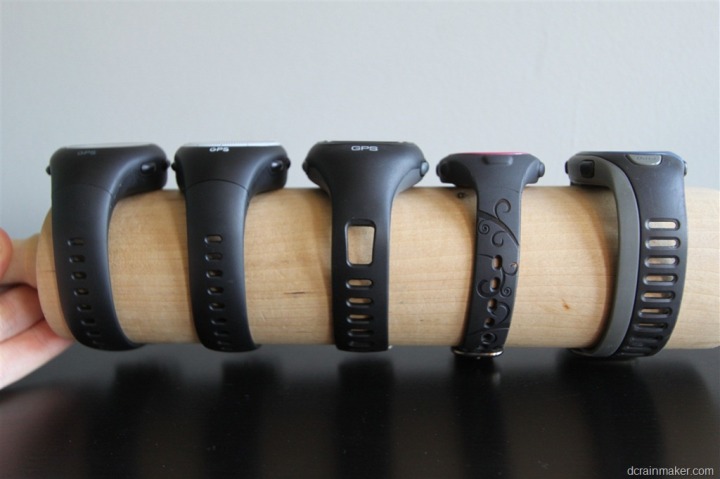 Since the Soleus watches are pretty much the only GPS competition in this space – heres it next to the Soleus 2.0 unit.  Note that the only visual differences between the 1.0 and 2.0 units is the inner bezel is white, instead of black.  There's no dimensional differences.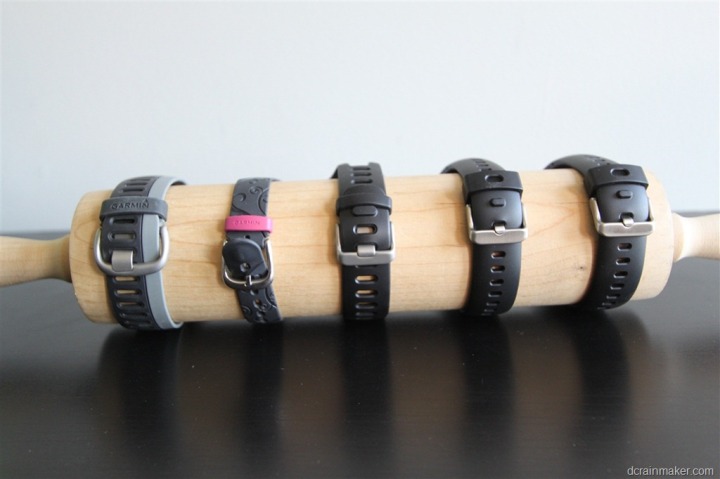 With that – let's get out of the kitchen and onto the road!
Running:
When you first turn the unit on for the first time, it'll take about 30-90 seconds to find satellites in your area.  Though, it'll remember satellite locations in the future and pick them up quicker the next time.  In my case, the unit had somehow been turned on at a nearby United States Postal Office, and thus, had already managed a GPS lock in the area (and recorded a nifty track) – so it was pretty quick.
Since then, I've find that it will usually grab satellites in about 30 seconds, just outside my door.
Once you've got satellites locked, you're pretty much ready to run.  However, in order to ensure that you get correct calorie information, you'll probably want to configure your user settings.  Like all calorie calculations done without heart rate information – they tend to be pretty rudimentary.  This is simply mass (weight) x distance (miles/kilometers) with a small offset to compensate for age/gender/height.  So first up, is setting gender.  You do this via the mode button on the bottom left:
Then from there you'll set age, followed by weight and height:
You can only set one user profile per watch, but it's only used for calorie calculations.  So if you want to share the watch amongst family and you care about calories – simply change the user profile before each run.  Else, just go out and run.
Once you're ready to start running, you'll go ahead and press the start button.  It's the one…well…labeled start.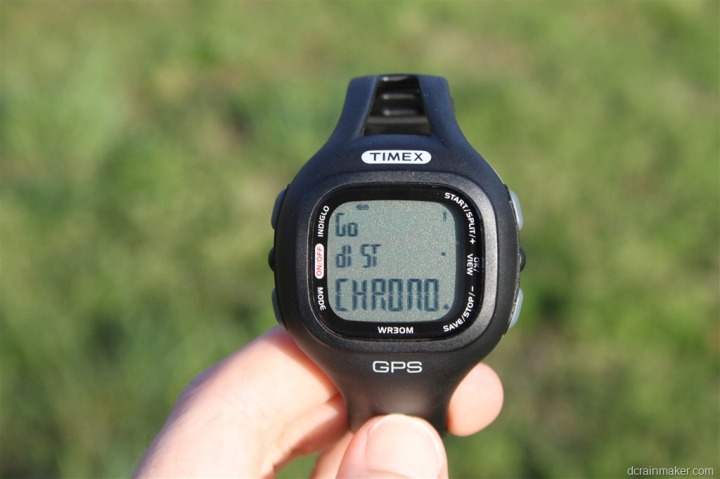 This will begin the unit tracking distance and time.  If you need to pause along the way, simply press the stop button (lower right), which is considered pause as well.  An example being if you wait at a stoplight or pause for ice cream during your run (what, you don't?).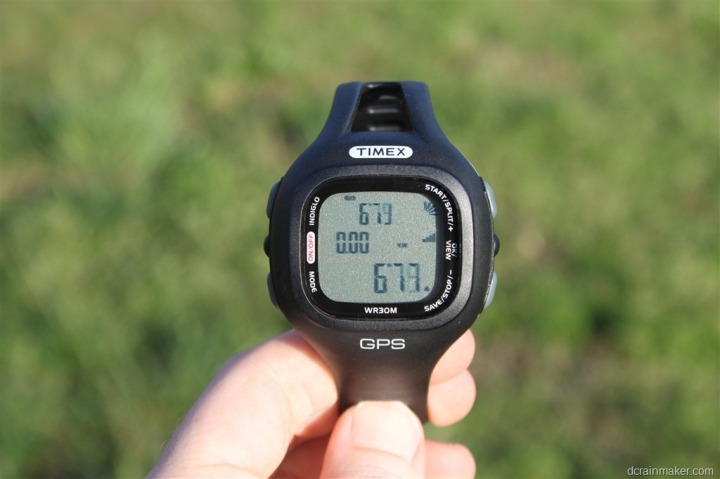 Once ready to resume, simply press start again and it'll keep counting from where you left off.
If you'd like to create a lap/interval/split, you'll press the lap button (same button as start), which will then demark a lap.  At which point it'll display the current lap time and total time.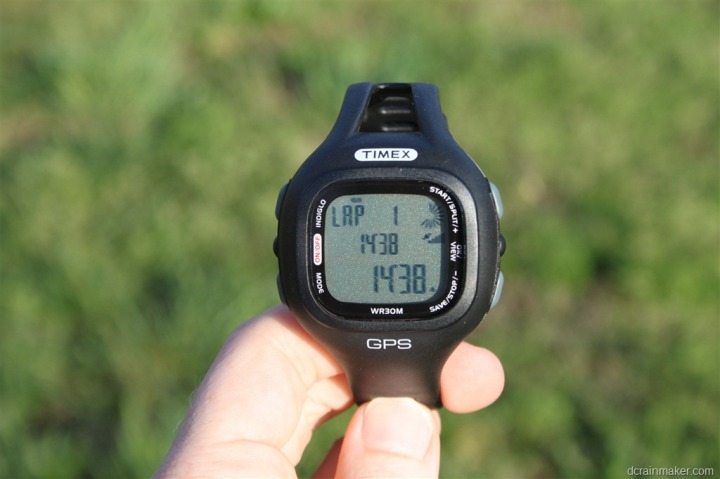 You can also configure the unit to 'auto lap'.  This will automatically create a lap when you've reached a given distance.  The watch is configurable for 1, 2, 3, 4,  and 5-mile auto-lap markers, as well as a bizarre 0.4 mile option (and simply  'off').   If you're using kilometers, the options are the same  – inclusive of the bizarre 0.4 kilometer option. (Note: As pointed out by a commentor, the .4 kilometer option = 400m, which is a standard loop on a track. Nice!)
I tend to use auto-lap when I'm doing longer runs at a steady pace.  But I don't usually use it when I'm doing manual interval work.  Instead, for that I just press the button myself since some interval distances may be longer than a mile and I don't want it incorrectly resetting my lap.
While you're running, the unit will display your current pace in either minutes/mile, or in minutes/kilometer.  You can configure this within the settings option, which will change all units from miles to kilometers – or vice versa:
As you run, you'll essentially have three fields: Time (of activity), distance, and current pace.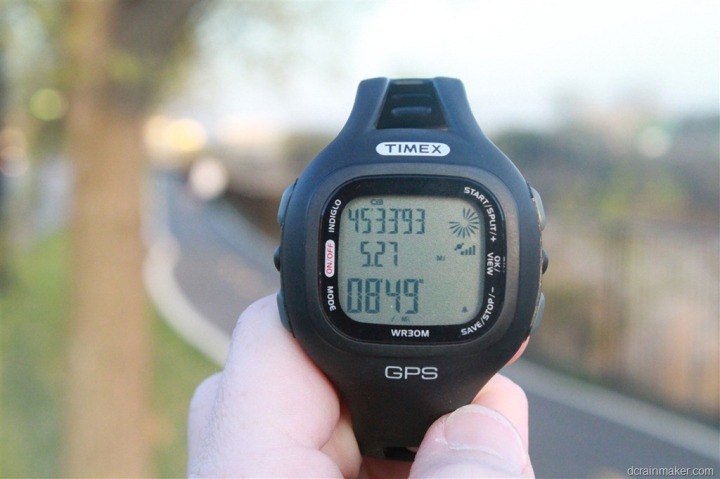 It isn't many options – but then again, watches in this price category tend to be about the core fundamentals: How far, how fast, and how long.
The pace is instantaneous pace, and it's slightly smoothed to remove the typical GPS jumpiness.  You cannot display average pace while running – though, it is an option later on in history.
Speaking of history, let's go ahead and conclude our activity.  To do so, we'll simply hit 'Stop' (bottom right button).  Then, we'll hold stop for a few seconds.  After a couple seconds it'll flash that your file has been saved.
While doing so, it'll give you an activity file number.  This is incremented from zero, and acts as a simple log book reference point.
To get to the history mode, simply press the mode button a couple times and it'll show 'Run Data':
In here, you'll be able to iterate through all past runs to find details about your specific activity.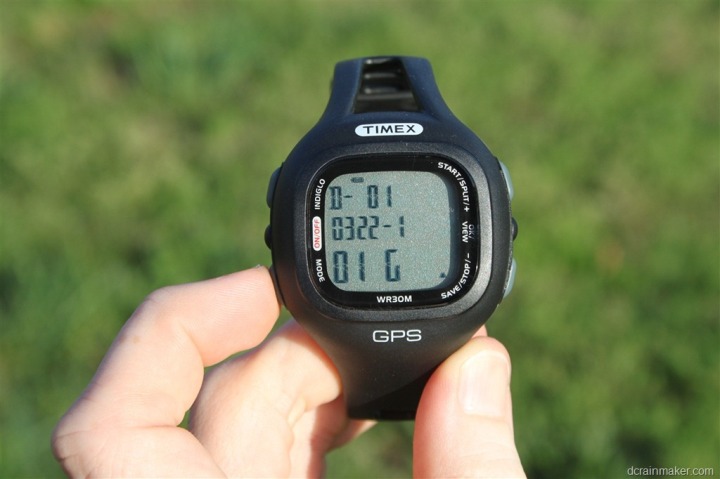 Once there, you'll be able to display the same time/distance/avg pace information about a given activity that you could before.  Except now you'll also get additional information such as calories (assuming you entered your profile information correctly), as well lap information for all laps recorded: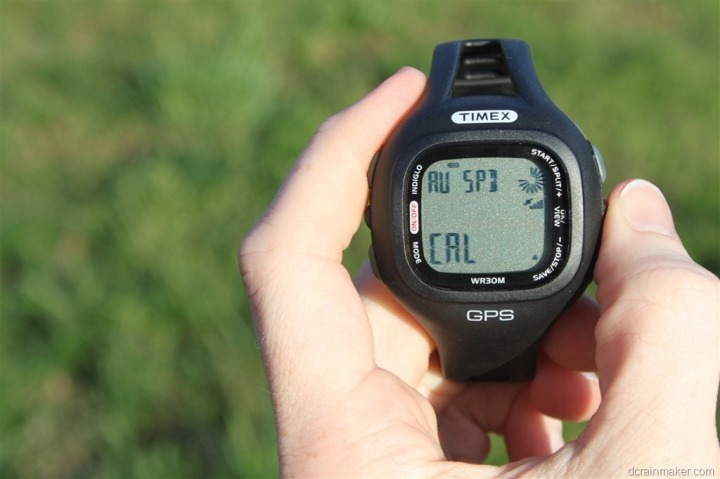 As for battery and memory – the unit will display how full the battery is each time you press the 'On/Off' button and start a GPS search.  Additionally, it will display how many hours of storage it has left.  You're looking at roughly 30 hours of total activity storage time before it overwrites older files  (or you manually delete them).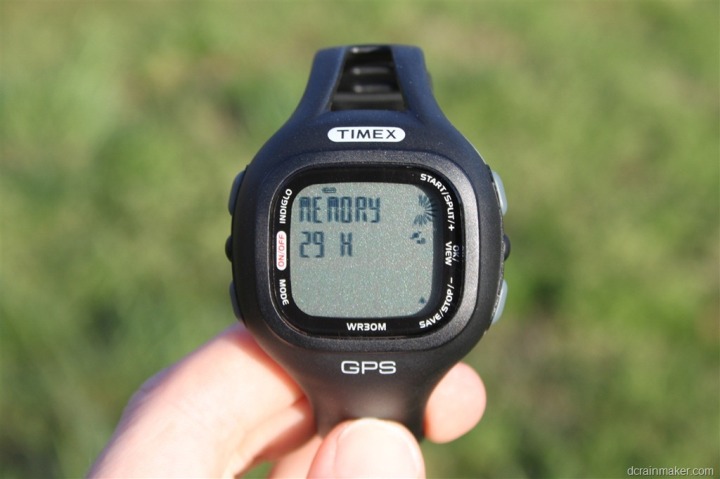 Note that there is also a simple Chrono mode, for indoor usage.  This is basically just like your normal sport watch, with GPS turned off.  You can store laps/splits in this mode as well – and all of this is accessible via history.  With the GPS off, the unit will last a heck of a lot longer.  I recorded a 28 hour activity the other unit without issue.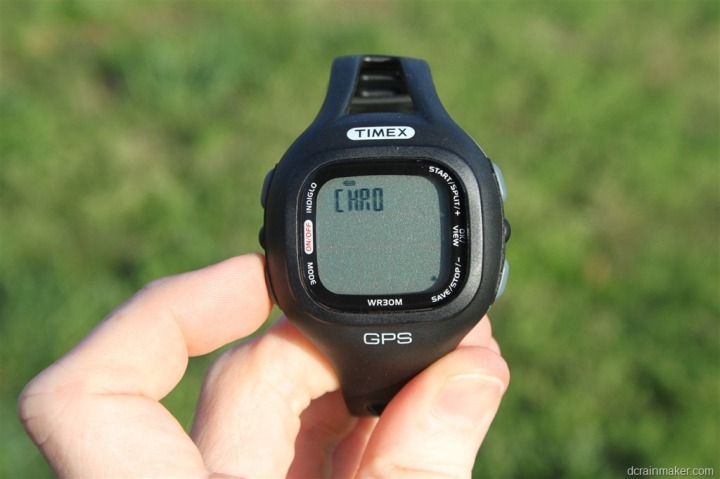 Also note that the unit DOES NOT connect to any sensor accessories, such as a heart rate straps or footpods for indoor use.  Though, interestingly, if you look at the display on an angle, you can clearly see the unit is designed for compatibility with those down the road (see the little heart icon on the right side) – should a firmware update occur: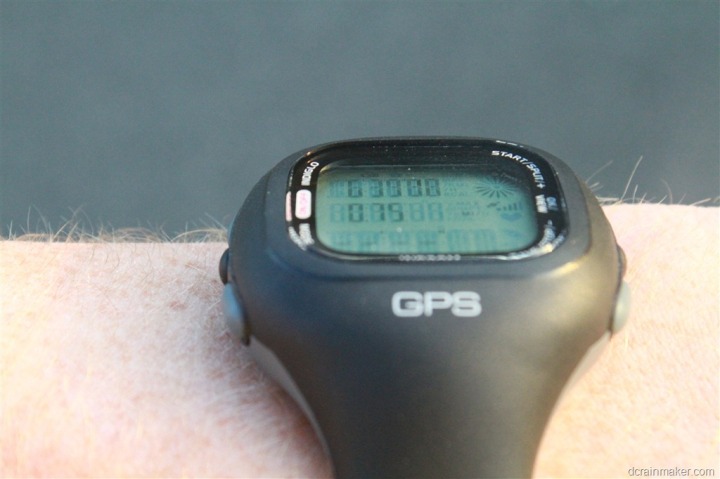 To my knowledge, there's no plans to introduce a firmware update here though from Timex – since it would pretty much kill of Timex's more expensive devices.
Cycling: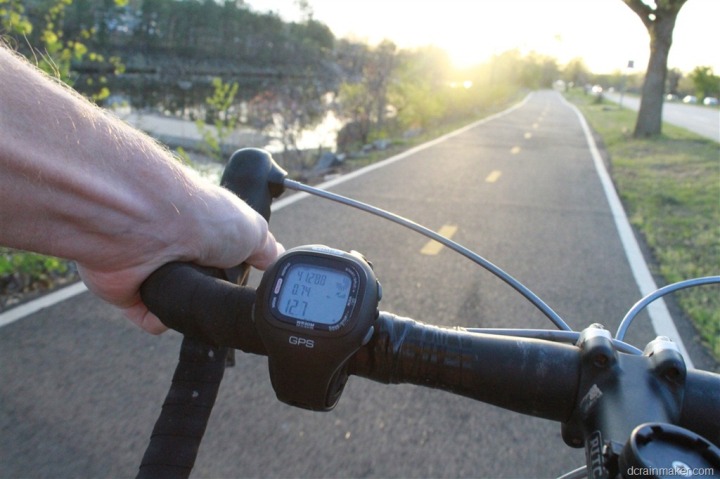 All of the same settings that are available for running, are also available for cycling.  And in fact, there isn't actually a separate cycling mode.  Rather, you simply press the middle right button and it'll swap from displaying minutes/mile to MPH (or from minutes/kilometer to KPH).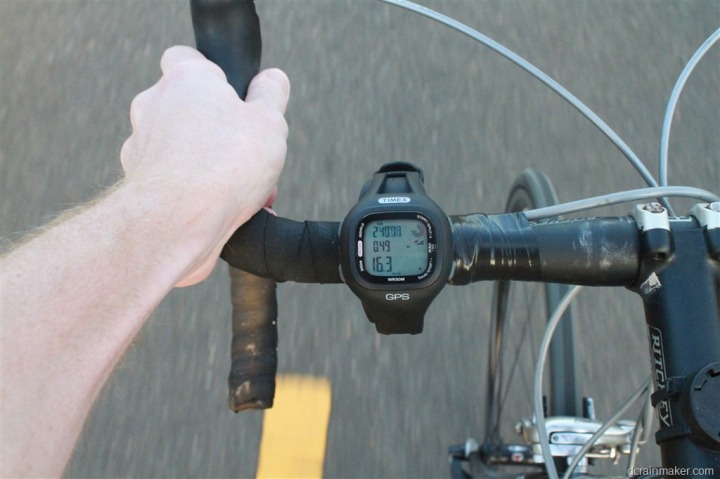 Once in this mode, everything will magically feel appropriate to cycling.
Note that the unit doesn't come with a bike mount, but I find that any of the generic watch bike mounts work fine, including the default $7 Timex bike mount.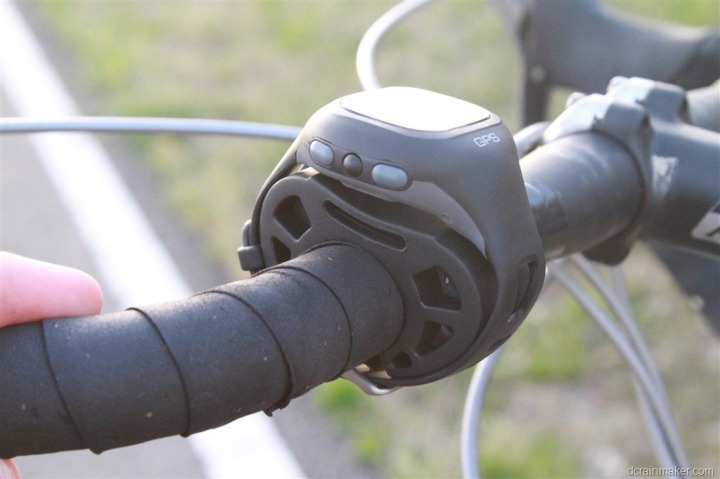 As a regular watch:
I'm often asked how well sport devices work as regular watches.  And while this isn't exactly the most stylish watch we've seen lately on the GPS fashion runway, it does work just fine as a regular watch.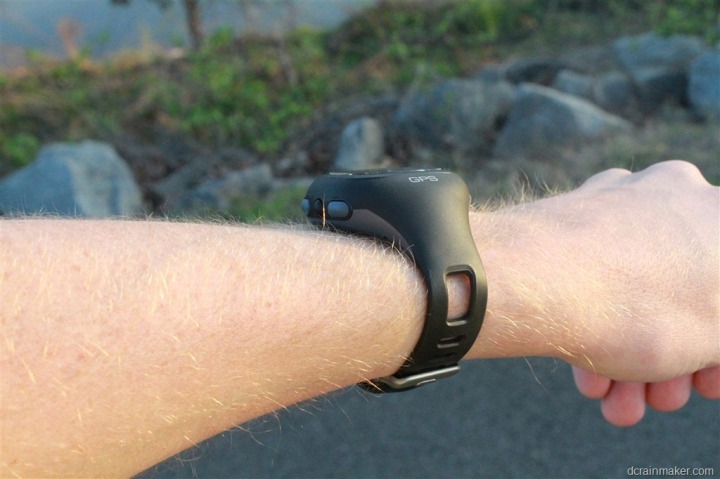 The unit allows you to set up to five alarms.  In fact, it's kinda funny – I had set one of the alarms for midnight, since that's the default setting if you just enable one without configuring it.  Subsequently forgetting about it – the darn thing has beeped every night at midnight.  It beeps fairly loudly for about 20 seconds, before shutting off.
The unit itself is listed for 8 hours of active GPS battery life.  But no specific battery life is listed for standby watch.  I will however note that with the Soleus 1.0 unit (same fundamental watch), the unit on a single charge managed to last sitting on my desk for roughly 3 months (a touch over actually).  It was pretty faint by the end – but that's still really darn impressive.  So if you find yourself shipwrecked on a tropical island, you're good for at least a season.
Backlight/Nightlight:
The unit features a simple glowing backlight.  The light can be triggered by pressing the 'Indiglo' button on the upper left side.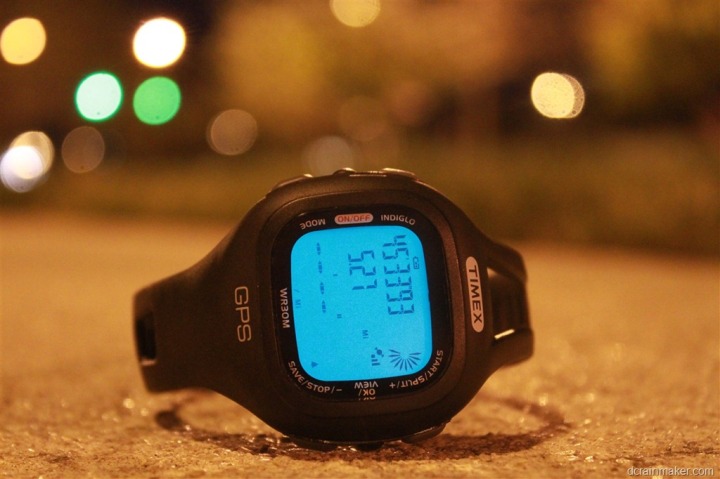 Once illuminated, the light will stay on for 10 seconds before turning off.  The light is not configurable.  Though, contrast on the display is actually configurable through the menu.  Interestingly, Timex selected to brand the backlight as 'Indiglo', like all their other Timex units, but in reality, it's just a generic backlight – since it shares the same backlight as the Soleus 2.0 unit, which is unbranded.
Waterproofing:
Unlike the Soleus units however, the Timex Marathon GPS is fully waterproofed to 30 meters.  I've swam with it in the pool now twice, without any issues, though somehow along the way I forgot to actually take photos of it.  Nonetheless, you can easily see the waterproofing specification on the back.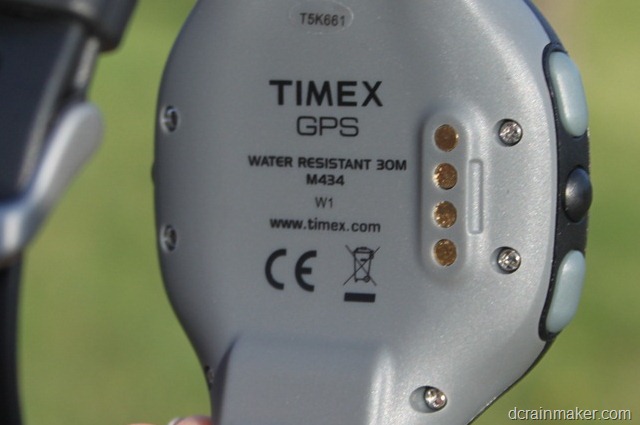 Interestingly, this is a very specific design decision that Timex would have selected over the generic case – and seems to go along with the rest of the Timex sport GPS units being fully waterproofed.  A standard I wish other companies would follow.  It also differentiates itself from the Soleus – which actually makes it the singular difference between the two units, beyond case branding.
Charging and Battery Life:
To charge the unit, you'll simply clip the little charging clip onto it – and then plug the other side into a spare USB port in your abode.  If you can't find a USB port in your housing facility, consider stealing whatever computer you're reading this on – and utilizing those USB ports.  If you're reading this on a phone, then you'd likely have a USB charging block to use.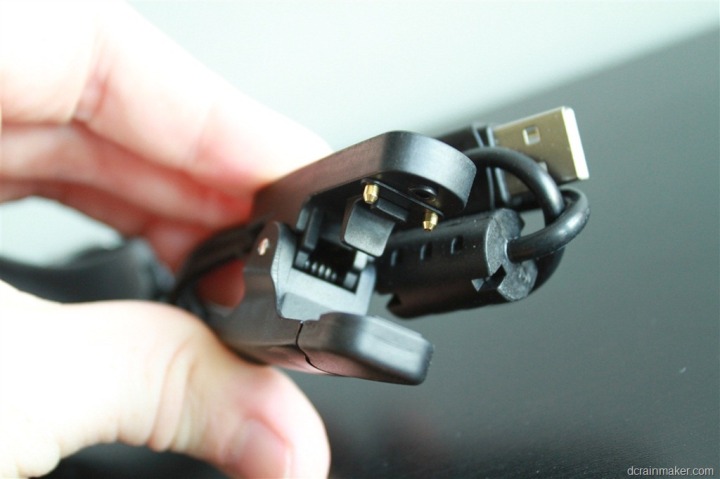 It charges surprisingly fast, and lasts about 8hrs of active activities with GPS enabled.  Otherwise, as I noted above, the unit will last forever.  With the definition of forever being about 2-3 months before you finally need to charge it again.
Software/Downloading and lots of geeky antics:
Officially, this unit is completely non-downloadable.  Period.
But while I was doing the unboxing I noticed that the charging cable looked suspiciously like the Soleus GPS 2.0's charging cable.  And in fact, very much also like the Soleus GPS 1.0's cable.  The only difference is that on the 2.0's cable, the cable has four prongs, whereas the 1.0 cable has two prongs.  Oh, and the Soleus 2.0 is downloadable, whereas the 1.0 is not.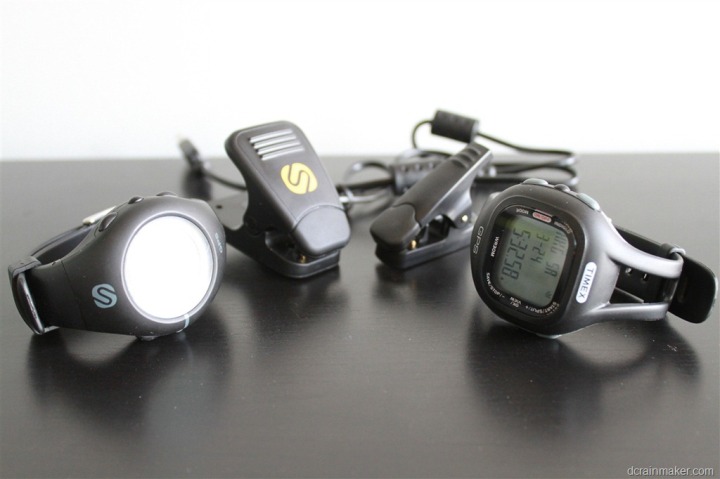 For fun, I decided to see what would happen if I took the Soleus 2.0's four-prong cable and attached it to Timex Marathon GPS's four-connectors (instead of the included 2-prong cable).
Bingo – it charges!
It turns out, the outer prongs on the Soleus 2.0's charging cable are used to deliver power, whereas the inner prongs are used to deliver data.  Deciding to take this a step further, I went ahead and connected the watch to my computer, and cracked open the free downloadable Soleus software.
Now, as I've alluded to in the past – the Soleus desktop software is without question the worst piece of sports history/log software ever written in the history of the entire universe.  Ideally, it would be taken, put in a box, and given to James Cameron for his next trip to the bottom of the ocean at 35,576 feet.  At which point it should be left there, and eaten by whatever mysterious luminescent creatures exist there – ideally to ensure that the software never sees the light of day again.
But, in the meantime, we'll actually make use of it.  I decided to press the magic download button on the Soleus software while connected to the Timex watch and see what happens.
Sure enough, magic happens!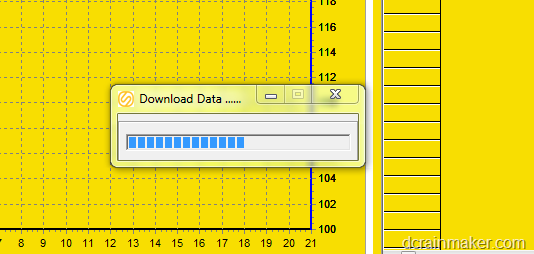 In fact, it happily downloads each and every one of my workouts.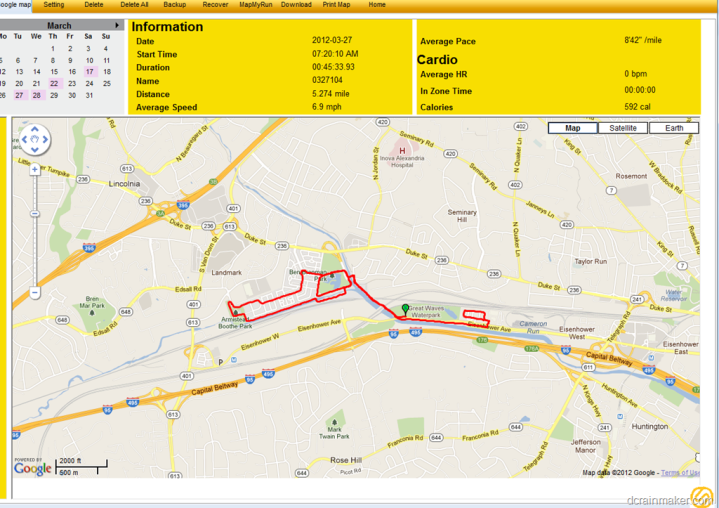 As noted, because the software is so hideous, it's not terribly useful.  But it does have a simple export option – and within that option exists the ability to export out a TCX file that only MapMyRun and Golden Cheetah seems to be able to read (I've tried Garmin Connect, TrainingPeaks, Sport Tracks, and more – no love).  But, once you've uploaded it there, you're good to go. (Note: It also exports a GPX file as well).
Here's the final product after I manually uploaded it to MapMyRun: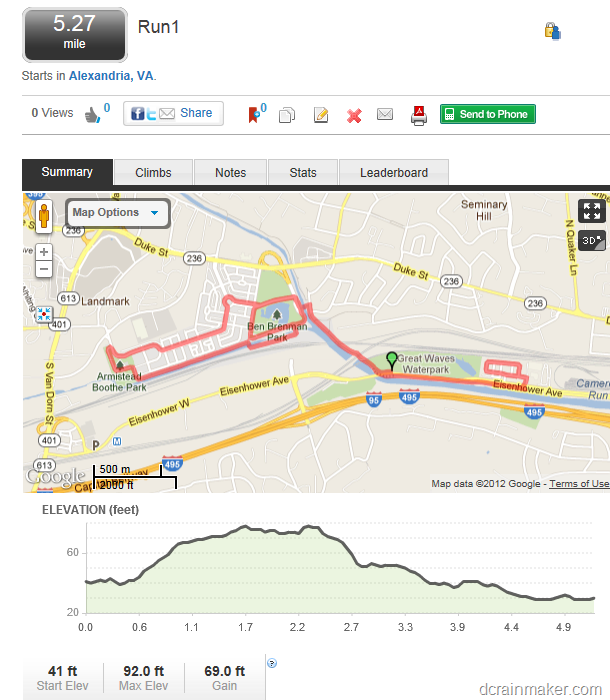 And here's the same thing on Golden Cheetah (free cycling software):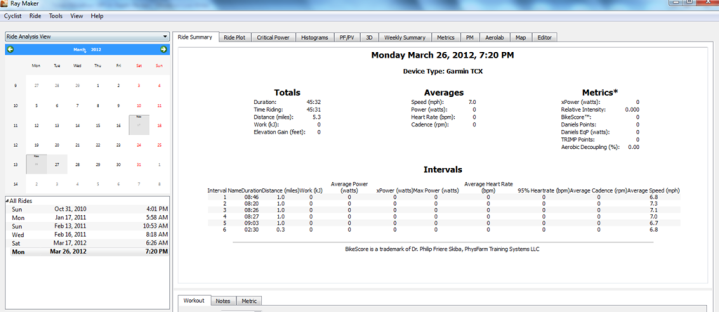 Of course, it remains to be seen whether Timex will offer a download cable for their unit.  At one point, Soleus had said it would offer a cable for a reasonable price – though, I suspect they won't do that since it would undercut their $150 unit (Soleus 2.0).  Additionally, Timex introducing a cable would also undercut some of their other watches as well.  Though, with the Timex Global Trainer at $130 these days, we're only talking $30 difference anyway.
Nonetheless, it does work – and works quite well.  Soleus will be in a bit of a tricky position in that at some point they'll have to offer USB charging cables to their customers for replacement, and that cable easily download from both the Timex Marathon GPS as well as their $95 Soleus 1.0 unit (I tested that too).  Interesting times ahead.
Comparison Chart:
At this point, if it wasn't becoming clear – the Soleus 1.0, Soleus 2.0 and Timex Marathon GPS units are all the same watches.  Exact same watches.
Well, technically, the Soleus 1.0 has different button positions than the 2.0 unit – but the software and firmware behind them is identical.  See, both companies went to a Chinese watch manufacture and sourced the same reference GPS unit.  Both companies had slightly different outer 'clothing' put on the units, but ultimately – they're the same units.  It's like customizing your car with a paint job.
If I were to hold up both units side by side and walk through the menu's and you wouldn't be able to tell the difference.  The Soleus software I noted has a number of places that show it's generic software made by a 3rd party software company, likely out of Asia as well, designed to be rebranded as appropriate for various companies.  And while it was never marketed for the Timex watch – it's awesome in that it works with it.

This rebranding/OEM'ing of products is of course extremely common within the watch industry – but this is the first time it's really as obvious as it is.
But, there is one critical difference that Timex made when they selected the outer shell.  Unlike Soleus, Timex selected a fully waterproof casing – up to 30 meters.
And it is for that reason alone, that I'd recommend the Time Marathon GPS over the Soleus 1.0 GPS.  If you're comparing it against the 2.0 GPS – at present, there isn't way to get the magical cable other than having a 2.0 unit, so it's not really a fair comparison.
Nonetheless, here's a quick comparison chart of the main sub-$200 GPS options in the market today:
Function/Feature

Timex Marathon GPS
Garmin Forerunner 55
Polar Ignite 2
Polar Unite
Timex R300 GPS
Copyright DC Rainmaker - Updated May 21st, 2022 @ 4:13 am New Window
Price
$90.00
$199
$229
$149
$129
Product Announcement Date
Mar 18, 2012
June 2nd, 2021
Mar 24th, 2021
June 30th, 2020
Feb 2019
Actual Availability/Shipping Date
Apr 2012
June 2nd, 2021
Mar 2021
July 2020
Apr 2019
GPS Recording Functionality
Yes
Yes
Yes
Only via Phone Connected GPS
Yes
Data Transfer
No, but yes
USB, Bluetooth Smart
USB, BLUETOOTH SMART
USB, BLUETOOTH SMART
Bluetooth Smart
Waterproofing
30 Meters
50 meters
Yes - 30m
Yes - 30m
50m
Battery Life (GPS)
20 hours
20 hours
Up to 20 hours
Up to 50hrs with phone GPS (4 days standby)
20 hours GPS (and 28 days standby)
Recording Interval
Preset
1s/Smart
1s
1s
Variable (every few seconds)
Alerts
Sound/Visual
Sound/Visual/Vibrate
Vibrate/Visual
Vibrate/Visual
Audible/Visual
Backlight Greatness
OK
Great
Great
Great
Good
Ability to download custom apps to unit/device
No
Yes (all Connect IQ Apps)
No
No
No
Acts as daily activity monitor (steps, etc...)
No
Yes
Yes
Yes
Yes

Music

Timex Marathon GPS
Garmin Forerunner 55
Polar Ignite 2
Polar Unite
Timex R300 GPS
Can control phone music
Yes
Yes
No
Yes
Has music storage and playback
No
No
No
No
Streaming Services
No
No
No
No

Payments

Timex Marathon GPS
Garmin Forerunner 55
Polar Ignite 2
Polar Unite
Timex R300 GPS
Contactless-NFC Payments
No
No
No
No

Connectivity

Timex Marathon GPS
Garmin Forerunner 55
Polar Ignite 2
Polar Unite
Timex R300 GPS
Bluetooth Smart to Phone Uploading
No
Yes
Yes
Yes
Yes
Phone Notifications to unit (i.e. texts/calls/etc...)
No
Yes
Yes
Yes
Yes
Live Tracking (streaming location to website)
No
Yes
No
No
No
Group tracking
No
No
No
No
Emergency/SOS Message Notification (from watch to contacts)
No
Yes (via phone)
No
No
No
Built-in cellular chip (no phone required)
no
No
No
No
No

Cycling

Timex Marathon GPS
Garmin Forerunner 55
Polar Ignite 2
Polar Unite
Timex R300 GPS
Designed for cycling
Barely
Yes
Yes
Yes
Yes
Power Meter Capable
No
No
No
No
No
Speed/Cadence Sensor Capable
No
Yes
No
No
No
Strava segments live on device
No
No
No
No
Crash detection
Yes
No
No
No

Running

Timex Marathon GPS
Garmin Forerunner 55
Polar Ignite 2
Polar Unite
Timex R300 GPS
Designed for running
No
Yes
Yes
Yes
Yes
Footpod Capable (For treadmills)
No
YES (ALSO HAS INTERNAL ACCELEROMETER)
No
No (but has accelerometer for indoor running)
No (but can track indoor run)
Running Dynamics (vertical oscillation, ground contact time, etc...)
No
No
No
No
No
Running Power
No
No
No
No
VO2Max Estimation
No
Yes
Yes
Yes
No
Race Predictor
No
Yes
No
No
No
Recovery Advisor
No
Yes
No
No
No
Run/Walk Mode
No
Yes
No
No
Yes
Track Recognition Mode
Yes
No

Swimming

Timex Marathon GPS
Garmin Forerunner 55
Polar Ignite 2
Polar Unite
Timex R300 GPS
Designed for swimming
No
Yes
Yes
Sorta (waterproof but HR only tracking)
No (but is waterproof)
Openwater swimming mode
N/A
N/A
Yes
No
No
Lap/Indoor Distance Tracking
N/A
Yes
Yes
No
N/A
Record HR underwater
N/A
Yes
Yes
Yes
N/A
Openwater Metrics (Stroke/etc.)
N/A
N/A
Yes
No
N/A
Indoor Metrics (Stroke/etc.)
N/A
Yes
Yes
No
N/A
Indoor Drill Mode
N/A
No
No
N/A
Indoor auto-pause feature
N/A
Yes
No
N/A
Change pool size
N/A
Yes
Yes
No
N/A
Indoor Min/Max Pool Lengths
N/A
20M/Y to 250 m/y
N/A
N/A
Ability to customize data fields
N/A
Yes
Yes
Yes
N/A
Captures per length data - indoors
N/A
Yes
Yes
No
N/A

Triathlon

Timex Marathon GPS
Garmin Forerunner 55
Polar Ignite 2
Polar Unite
Timex R300 GPS
Designed for triathlon
No
No
No
No
No
Multisport mode
N/A
No
No
No
No

Workouts

Timex Marathon GPS
Garmin Forerunner 55
Polar Ignite 2
Polar Unite
Timex R300 GPS
Create/Follow custom workouts
No
Yes
Yes
Yes
Sorta (Yes but not with GPS)
On-unit interval Feature
No
Yes
Sorta (offers structured workouts)
Sorta (offers structured workouts)
Sorta (race mode, but not intervals per se)
Training Calendar Functionality
No
Yes
Has daily suggested workouts
Sorta (offers daily workouts)
No

Functions

Timex Marathon GPS
Garmin Forerunner 55
Polar Ignite 2
Polar Unite
Timex R300 GPS
Auto Start/Stop
No
Yes
Yes
Virtual Partner Feature
No
Virtual Pacer
No (but can give out of zone information)
No (but can give out of zone information)
Yes (past efforts only)
Virtual Racer Feature
No
No
No
No
Yes (specified distances)
Records PR's - Personal Records (diff than history)
No
Yes
No
No
Via app
Tidal Tables (Tide Information)
No
No
No
No
No
Weather Display (live data)
No
Yes
Yes
No
Yes

Navigate

Timex Marathon GPS
Garmin Forerunner 55
Polar Ignite 2
Polar Unite
Timex R300 GPS
Follow GPS Track (Courses/Waypoints)
No
No
No
No
No
Markers/Waypoint Direction
No
No
No
No
No
Routable/Visual Maps (like car GPS)
No
No
No
No
No
Back to start
No
No
No
No
No
Impromptu Round Trip Route Creation
No
No
No
No
No
Download courses/routes from phone to unit
No
No
No
No
No

Sensors

Timex Marathon GPS
Garmin Forerunner 55
Polar Ignite 2
Polar Unite
Timex R300 GPS
Altimeter Type
None
No
GPS
None
GPS
Compass Type
None
None
N/A
N/A
N/A
Optical Heart Rate Sensor internally
Yes
Yes
Yes
Yes
SpO2 (aka Pulse Oximetry)
No
No
No
No
ECG Functionality
No
NO
Heart Rate Strap Compatible
No
Yes
Yes
Yes
No
ANT+ Heart Rate Strap Capable
No
Yes
No
No
No
ANT+ Speed/Cadence Capable
No
Yes
No
No
No
ANT+ Footpod Capable
No
Yes
No
No
No
ANT+ Power Meter Capable
No
No
No
No
No
ANT+ Lighting Control
No
No
No
No
ANT+ Bike Radar Integration
No
No
No
No
ANT+ Trainer Control (FE-C)
No
No
No
No
ANT+ Remote Control
No
No
No
No
No
ANT+ eBike Compatibility
No
No
No
No
No
ANT+ Gear Shifting (i.e. SRAM ETAP)
No
No
No
No
Shimano Di2 Shifting
No
No
No
No
Bluetooth Smart HR Strap Capable
No
No
Yes
Yes
No
Bluetooth Smart Speed/Cadence Capable
No
No
No
No
No
Bluetooth Smart Footpod Capable
No
No
No
No
No
Bluetooth Smart Power Meter Capable
No
No
No
No
No
Temp Recording (internal sensor)
No
No
No
No
No
Temp Recording (external sensor)
No
No
No
No
No

Software

Timex Marathon GPS
Garmin Forerunner 55
Polar Ignite 2
Polar Unite
Timex R300 GPS
PC Application
N/A
Garmin Express (PC/Mac)
Polar Flowsync - Windows/Mac
Polar Flowsync - Windows/Mac
N/A
Web Application
N/A
Garmin Connect
Polar Flow
Polar Flow
N/A
Phone App
No
iOS/Android
iOS/Android
iOS/Android
iOS/Android
Ability to Export Settings
No
No
No
No
No

Purchase

Timex Marathon GPS
Garmin Forerunner 55
Polar Ignite 2
Polar Unite
Timex R300 GPS
Amazon
Link
Link
Link
Link
Link
Backcountry.com
Link
REI
Link
Link
Wiggle
Link
Link
Link

DCRainmaker

Timex Marathon GPS
Garmin Forerunner 55
Polar Ignite 2
Polar Unite
Timex R300 GPS
Review Link
Link
Link
Link
Link
Link
Summary:
This watches target audience is those who don't want to spend a ton of cash, but still want a dedicated non-phone device for tracking their runs or bikes.  Within that category, it's a great little watch.  It keeps track of pace, distance and time easily.
As noted above, in many ways – it is indeed the exact same watch as the identically priced Soleus 1.0 watch.  Except, one key key difference: It's fully waterproofed.  Having killed a number of watches over the years, many of you know that I'm constantly badgering GPS companies to spend the couple extra dollars and put a full waterproofing case on these expensive units.  I'm happy to see Timex do that.  And for that reason alone, I'd recommend it over the Soleus.  Beyond that though, they're the same watch.
I'm really interested in seeing where this category goes over the remainder of the year.  I've gotta believe that both Garmin and Polar are looking at the sub-$100 GPS market and seeing how they can get into it.  I suspect Timex is also looking at the success of this watch to see how they could do basic data integration, like the Soleus 2.0 watch – especially since it's just a matter of offering a cable for sale. Though, since they sublet data display to TrainingPeaks for their GPS units, they'd likely have to work out an arrangement there.
From an accuracy standpoint, I found the unit spot on with both a FR910XT and a Suunto Ambit unit, in my testing – all within .02-.03 miles over the course of runs up to 7 miles.
Finally, the watch costs $99, and is available in two flavors:
Timex Marathon GPS: The blue flavor: $99
Timex Marathon GPS: The pink flavor: $79
Timex Marathon GPS: The black flavor: $99
Also, as noted above in the cycling section – if you intend to stick it on a bike, just pickup the $7 bike mount and your life will be much easier.  That's it, thanks for reading!
Found this review useful? Here's the super easy no-pain way you can help support future reviews! Read on…
Hopefully you found this review useful. At the end of the day, I'm an athlete just like you looking for the most detail possible on a new purchase – so my review is written from the standpoint of how I used the device. The reviews generally take a lot of hours to put together, so it's a fair bit of work (and labor of love). As you probably noticed by looking below, I also take time to answer all the questions posted in the comments – and there's quite a bit of detail in there as well.
If you use Clever Training (at left) to pickup the Timex Marathon GPS you'll save 10% off your cart, and you'll get free shipping if in the US – just use coupon code DCR10BTF.  Most of all though, you'll support the site in a big way.
As you've seen throughout the review there is only really one accessory available for the unit – a handlebar mount. I've consolidated the few different companies that make it into the below chart, with additional information (full posts) available on some of the accessories to the far right. Also, everything here is verified by me – so if it's on the list, you'll know it'll work. And as you can see, I mix and match accessories based on compatibility – so if a compatible accessory is available at a lower price below, you can grab that instead.
Street Price

Amazon

Garmin Bike Mount Kit (for mounting any watch onto handlebars)
$10.00
$10.00
Amazon
Suunto Bike Mount Kit (for mounting any watch onto handlebars)
$10.00
$10.00
Amazon
Timex Bike Mount Kit (for mounting any watch onto handlebars)
$9.00
$9.00
Amazon
Thanks for reading! And as always, feel free to post comments or questions in the comments section below, I'll be happy to try and answer them as quickly as possible. Further, you can always e-mail me at the address on the sidebar. And lastly, if you felt this review was useful – I always appreciate feedback in the comments below. Thanks!
Finally, I've written up a ton of helpful guides around using most of the major fitness devices, which you may find useful. These guides are all listed on this page here.