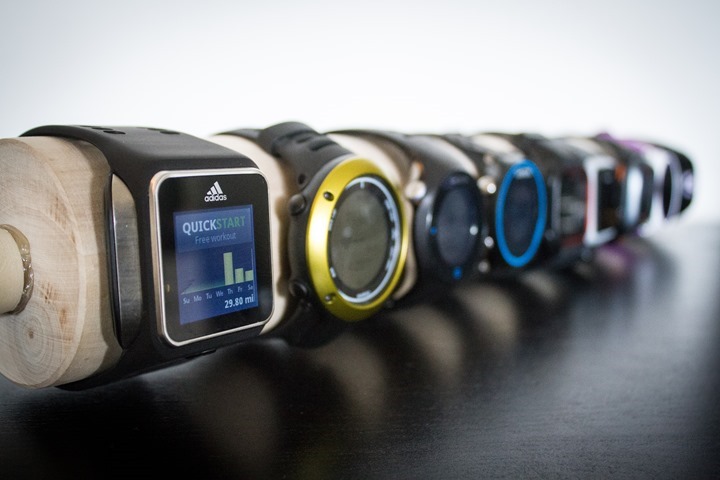 (Update: My Summer 2014 Recommendations are now available!  Go check that out instead!)
Each year around this time I put together my recommendations on sports gadgets.  Some consider this a bit of a holiday pick-list, and others just use it the remainder of the winter for determining their sports gadget purchases.  I know many of you have also used my '2013 Gear I Use' list (as well as The Girl's list) too.
Like previous years, I try and divide up the categories to be as specific as possible.  Ultimately however, there's always going to be some overlap in features and functionality between the categories.  Additionally, it's possible you may have a certain edge case that crosses categories – in most cases I address the 'who is this good for' aspect towards the end of the review, or in the comments of each review.  So those are great places to get additional clarification answers.
Finally, if you use either the Amazon or Clever Training links, you help support the site.  I've partnered with Clever Training to offer all DC Rainmaker readers exclusive benefits on all products purchased. You can read more about the benefits of this partnership here. You can pickup most devices below through Clever Training using the links in the tables. By doing so, you not only support the site (and all the work I do here) – but you also get to enjoy the significant partnership benefits that are just for DC Rainmaker readers. And, since this item is more than $75, you get free US shipping as well.
With that, let's dive into it!
Triathlon GPS Watches:

This category is for what the industry calls 'multisport' watches, but, that typically just translates to triathlon watches.  They track your time/distance/etc… within the three sports – swim/bike/run.  From a non-triathlon multisport aspect, these watches are often used by everyone from wind surfers to roller bladers, mostly because of their versatility and flexibility in configuration and display customization.
Overall Best in Class: Garmin FR910XT
This should come as no surprise, but for the triathlete looking for the single best sport-focused device, the FR910XT still remains on top.  It covers both in-pool and outdoor swimming, as well as cycling (with all the advanced power meter metrics) and running.  While Suunto has done great work with the Ambit 2/2s, and they come in a close second place there, the lack of proper 3rd party compatibility as well as the lack of structured workout functionality is what pulls it back a bit (and lack of advanced power meter metrics).  Now, note the FR910XT is getting a bit long in the tooth, and historical timelines put it on the board to likely be replaced next season – so do keep that in mind when it comes to whether you need a watch now, or a watch next season.
Budget Options: Garmin FR310XT and Magellan Switch/Switch Up
Let me be clear: From a price to functionality ratio, there's no better deal on the market today than the FR310XT.  It hovers around $170US, and has the vast majority of the FR910XT functionality.  The core areas that both it and the Magellan Switch lack though are indoor swim tracking, as well as stroke metrics for outdoor swimming.  The FR310XT has a variant of openwater swim mode to be used on the wrist, while the Switch does not.  If you're just getting into triathlon and aren't quite sure what your plans are – I'd really recommend the FR310XT over the higher end watches.
Running GPS Watches:

Road Running – Best in Class: Garmin FR620
It used to be that I used the Garmin FR610 for all my running adventures, but since the FR620 came out earlier this fall, I've been using it instead – and it works great.  Garmin listened when it came to waterproofing, connectivity via Bluetooth to your phone, and customization.  It's pretty much my perfect running watch (though, I still wish it had some basic cycling and navigation features).  There's simply nothing else in the same ballpark anymore from a functionality standpoint by other companies.
Trail/Ultra Running – Best in Class: Suunto Ambit 2
This category covers units with barometric altimeters as well as longer battery life.  Both of the options I note below contain a 'long battery life' mode, which reduces the number of GPS points recorded (through a variety of means).
This is a tough category, in part because the options are so similar here – and at the same time, there are so few options.  Really, you've got two and a half options: The Suunto Ambit 2 or the Garmin Fenix/Tactix.  You could toss in the Ambit 1 in there, but I wouldn't buy it at this point for a variety of reasons (no further updates, over-priced at anything more than ~$250US, and so on).
So why the Ambit 2 over the Fenix?  Well, for running-focused features neither watch has as much capability as the FR620 (or the FR910XT), but they counter-balance that with a barometric altimeter and more hiking/navigational features.  Meanwhile, the Ambit 2 specifically has more additional sport functionality than the Fenix does (it can swim indoor/outdoor and full bike sensor support as well).  Whereas, if I was recommending a unit more for hiking and navigation (as opposed to running specifically), I'd focus more on the Garmin Fenix (or Tactix).
Running – Moderate/Mid-Range: Garmin FR220
Up until about two months ago when people asked this question my answer was more diverse.  I said that the Timex Run Trainer 2.0, the Polar RC3, or the Garmin FR210 were all in the same camp.  And, depending on the person's needs, the TomTom Runner was also a very viable option as well.
But, the reality is that time moves on, and so do new product choices.  The previous four units were all quite good, but ultimately the FR220 is better.  Primarily because it has more functionality in it than any of those (by a wide margin), and also has connectivity for live tracking and phone uploads (none of those do).  Size-wise it's pretty much the lightest and smallest of the bunch as well – an important requirement, especially for smaller-wrist women.  If I weren't for the FR620, I'd easily run with just the FR220 (and did, much of this fall).
Running – Budget Range: Garmin FR10
Last but definitely not least is the Garmin FR10.  If you're looking for a budget watch, I'd recommend starting here.  It's got all the basics (how far, how fast, etc…), but lacks connectivity to heart rate straps or a treadmill mode.  Now, there are other options about $30 cheaper in the $90-$100 range, but I find that those options lack the polish of the FR10.  And, put another way, out of the 500+ comments on the FR10 review, I think there's virtually no complaints about the unit (unheard of, btw).  The same can't be said about the other units (which, while decent, are almost all the exact same physical unit just with different brandings: Soleus, Timex Marathon GPS, New Balance, etc…).
Cycling GPS Units:

As I've noted previously, anytime someone in the cycling/sports technology industry starts a conversation about bike computers, it always starts with "it's like the Edge 500".  Well, there's reason for that.  Given the Edge 500's new price at $200, it's an even better deal than before.  If you don't care about maps and turn by turn navigation, you won't find a better unit out there. Sure, there's the Edge 510 with Bluetooth tracking and uploads, but it won't get you natively to Strava (requires 3rd party sites), and it's a lot bulkier than the sleek Edge 500.
Meanwhile, CycleOps has the Joule GPS, which…'is sorta like the Edge 500', except from CycleOps.  Importantly though, it does more around historical power metrics (like showing your 5min power max, weekly and monthly maxes, etc…).  Many folks like it just as much as the Edge 500.
Finally, the O-Synce Navi2Coach is very solid, and I'd have no problems using it day to day either.  The company continues to innovate with new functionality based on user requests via firmware updates.  About my only complaint there is the mount.
If you want turn by turn navigation (like a car GPS), there's really only two units in town: The Edge 800 or Edge 810.  Now, technically there's also the lower cost Edge Touring as well.  I've played with it a bit, but haven't done a full review on it yet.  So I may update this section down the road.  And, before anyone nitpicks, yes, I've tried other options like the Mio navigation units (the size of a t-bone steak on your handlebars), and others, many having a clunky interface.
At the moment though, the Edge 800 isn't all that much more expensive than the Edge Touring.  And the Edge 800 has far more functionality than the Edge Touring does, except in the area of round-trip routing (whereby you tell the unit you want a 50-mile ride and it goes and creates a random route).  The Edge 810 lacks that as well.  Meanwhile, the Touring lacks 80%-90% of what either the 800 or 810 has.
At any rate, why the Edge 800 over the 810?  Well, much like my 500 over the 510 above, I just don't see the 810 as worth the extra cash depending on the price (basically just adding Bluetooth connectivity and a new user interface).  Despite the fact that the Edge 800 is generally beyond the period we'd expect new feature enhancements, it actually got Garmin VIRB connectivity last week, as well as even further extended Garmin Vector support.  Again though, don't expect anything new feature-wise there.  Just focus on it being the good deal it is.
Budget GPS Option: Garmin Edge 200
If you're looking for a budget option that records your route, your first and best bet is actually your phone with a free app like Strava, MapMyRide, Wahoo Fitness, or similar.  If however you want more of a small handlebar unit, then the Edge 200 is where it's at.  While I've been playing with some other options, ultimately, at $129 it comes down to the Edge 200 being the cleanest interface and the easiest to upload to Garmin Connect (or any other site you'd like, they all support it).
Product

Amazon

CycleOps Joule GPS
$220
Amazon
Garmin Edge 200
$129
Amazon
Garmin Edge 500
$199
Amazon
Garmin Edge 800
$320
Amazon
Garmin Edge 810
$399
Amazon
O-Synce Navi2Coach
$249
Amazon
Cycling Power Meters:

Choosing a power meter is a tough decision matrix.  Anyone who answers the question "Which power meter should I choose?" and instantly names a specific brand name/model upfront , is full of crap.  The correct answer is "Tell me more about your usage plans?".
There are so many variables that go into that decision beyond just price.  For example: How many bikes?  What type of bike? What type of pedals? Do you want to move it around a lot? Race wheels or not? What do you want to measure?  And on and on.
The good news is that I cover these in-depth in my 2013 Power Meter Buyers Guide that I wrote just over two months ago.  No worries, nothing has changed since then, nor will it change anytime in the near future.
Now, I will note that the best bang for the buck continues to be the PowerTap hubs.  Previous to August, it was really the Stages Power Meter at $699.  But with the PowerTap price reductions down to $799, that's sorta the best of both worlds there (for all the reasons I note in my buyers guide).  But again, there's places where the PowerTap wheel isn't the best option – so you'll want to understand those in the guide.
Cycling Trainers (Resistance Controlled):

It's only been a few weeks since I published my 2013 Trainers Guide, so again like power meters, I'd go over and and check out that post for all my recommendations (a massive list on a slew of categories).  That said, here's my recommendations on resistance controlled trainers (those that automatically control resistance of the trainer).  Again, way more options in the 2013 Trainers Guide.
Best in class options: Wahoo KICKR and PowerBeam Pro
When it comes to the best overall trainer, the Wahoo KICKR currently takes that title – primarily due to the ability to broadcast and receive commands on both ANT+ and Bluetooth Smart.  No other single trainer does that today, the rest require picking one or the other.  Plus, the open API for the Wahoo KICKR means that companies are able to quickly build apps for it.
At the same, the with the CycleOps making the API available for the PowerBeam Pro to anyone who asks (both Bluetooth and ANT+), it means that the open-platform aspect is becoming less of a differentiator between the two.  And with the price a fair bit lower for the PowerBeam, it makes it much more viable than it would have been a year ago.  Thus, I'd encourage you to read my trainer guide post above to see which makes the most sense.
Best Budget Resistance Controlled option: BKOOL Trainer
This is a bit of a newer category this year, primarily due to BKOOL's lower price.  The BKOOL trainer is available these days just about everywhere globally, and their upcoming firmware update for full-on ANT+ support really opens the platform to using any software suite you want.  Plus, they're available everywhere these days.  Previously the closest thing I'd recommend was the Tacx Bushido trainer, but based on the bugginess of the software as of late I've shied away from that lately.
Swimming:

MP3 Players: FINIS Neptune + See MP3 Player post
There's a lot of options in this category. Some are good options by reputable companies.  Some…are crap knockoffs.  I'd really encourage you to read my Swimming MP3 Player Shootout post to get all the details on many of the units out there.
The one new unit to the market though that I've reviewed since is the FINIS Neptune MP3 player.  I did this back this past summer and really liked the unit.  Any many of you as readers who have picked it up have said the same.  Thus, like I concluded in my post, if I were looking at an MP3 player these days, I'd be sticking with the Neptune.
Again though, read both the Neptune review and the MP3 Player Shootout post.
Watches: Garmin Swim
There are a handful of options in this category, but I don't think there's any real discussion that the best isn't the Garmin Swim.  While the FINIS Swimsense was a good option at one point, it's sorta beyond it's prime.  You've also got the Poolmate Pro and HR, which, are a bit more clunky than the Garmin Swim.  The Poolmate HR does do heart rate, but for the life of me I can't get that strap to stay put during flip turns on my chest (and no, I'm not going to wear a shirt over it at the pool).
Thus, the Garmin Swim.  The unit measures your laps and distance, and can be configured for drill mode as well.  Afterwards it uploads the data to Garmin Connect, and a variety of 3rd party sites support it as well.  Note that it won't measure outdoor swims, just indoor – as it depends on an internal accelerometer to figure out each time you hit the wall of the pool.
Sensors and Mounts:

If you're getting any of the units listed above, you may be in the market for accessories.  Obviously, some bundles include accessories, while others do not.  Here's what I recommend based on having entire buckets worth of accessories to test with.
ANT+ Heart Rate: Garmin HRM-Run & Garmin HRM3 (post-July 2013)
When it comes to measuring heart rate and transmitting it via ANT+, the best option today on the market is the Garmin HRM-Run (if you've got the Garmin FR620), or the Garmin HRM3 if you have any other ANT+ device on the planet.  The HRM-Run addressed a ton of issues with dropouts and spikes, and the data by and large looks great for not only me but everyone else that's been using it.
Meanwhile, the Garmin HRM3 got the same software changes for all units produced after July 2013.  So software-wise it's identical to the HRM-Run except it doesn't have the Running Dynamics pieces for the FR620.
ANT+ Speed/Cadence: Bontrager Quick Release ANT+ Sensor
I love this sensor.  It quickly snaps on and off bikes with an industrial rubber band, and I've never had a problem with it.  Pure awesome.
If however, you're looking for a cheaper option, just simply pickup the Garmin GSC-10 – which usually hovers around $30-$35.
ANT+ Footpods: The Timex, Suunto, and Garmin mini-footpods (whatever is cheapest that day)
As long as you pickup any of those three above they all work the exact same way and all function with any ANT+ device.  In other words, just pickup whatever is cheapest that day.  Ensure that you aren't picking up the giganto footpods of yesterday year.
If/when in doubt, check out my post on 'All you ever wanted to know about the ANT+ footpod'.
Bluetooth Smart HR Strap: 4iiii's Viiiiva Bluetooth Smart & ANT+ Heart Rate Strap
If you're looking for a Bluetooth Smart HR strap, I'd definitely go this route.  Not only is it generally only a few dollars more than generic Bluetooth Smart HR straps, but it also is firmware upgradeable and – even more importantly, it bridges between ANT+ devices and Bluetooth Smart on your phone.  No other HR strap does that.
Bluetooth Smart Speed/Cadence Sensor: Wahoo Blue SC
The Wahoo Blue SC was the first Bluetooth Smart Speed/Cadence Sensor, and remains the best option out there for getting speed/cadence data into your smart phone or other Bluetooth Smart enabled device (like the TomTom Multisport watch).  I've tried a few others – like the Panobike Bluetooth Smart one, but wasn't impressed with either the unit's attachment (zip ties), nor the company's support team when I received a dead on arrival unit after purchase.
Bluetooth Smart Footpod: Adidas miCoach Bluetooth Smart Footpod
This was just released in the last few weeks, but it's pretty solid.  I picked one up recently to test with the Adidas MiCoach SmartRun GPS, and it works well there.  But, more importantly, it also works with the Wahoo Fitness app and any other app that supports the Bluetooth Smart footpod specification.  This way you can finally get pace and distance data indoors on a treadmill into your phone apps without the need for additional adapters.  I'll likely be writing up a longer post on it in the future, but this should help folks who need it today.
Mounts – Garmin quarter-turn Edge (and Forerunner 310XT/910XT) cycling mount: Barfly TT and Road Mounts
I love my Barfly, specifically for triathlon, the TT/Aero Barfly.  I reviewed it back here, but it just works perfectly.  While K-Edge does make some great (and really darn sturdy) mounts for Garmin units, I simply don't think your Garmin unit needs that much mount durability.
Action Cam Mounts: K-Edge Action Cam Mounts
Now, while I prefer the Barfly for my Garmin Edge, I really prefer the K-Edge mounts for my action cams.  In doing all my testing lately I've come to love the sturdyness of the K-Edge mounts.  It's hard to explain to someone how incredibly rock-solid these mounts are until you attach a camera to them and don't even get a sliver of a millimeter of sway on them (unlike a stock mount).  Incredible.  I just bought a bunch more to use with all sorts of cameras.  You can literally hang a full blown DSLR on most of things.
Weight Scales (Connected):

Best Options: FitBit Aria or Withings WS-30 & WS-50
I've been including little snippets of these scales in my recent FitBit Zip and Withings Pulse reviews.  Overall, either scale is a solid option and really just depends on if you're aligned to either of those platforms already (FitBit or Withings).  If not, poke at the slight differences with 3rd party partners, and see if either of those partnerships matters.  Failing that…flip a coin.
Seriously – they're near identical scales (exempting the more advanced WS-50 with pulse and air monitoring).  Any only relevant differences are partnerships or platforms.  And, again, they're both great scales.
Now, what about ANT+ scales?  At this point I wouldn't recommend them.  Garmin (being the only company that ever enabled uploads to devices from them), has pretty much killed off support for them in new devices going forward.  Thus buying one of these scales at this point would be kinda silly.  Plus, with the exception of the low-end ones, I've felt for a while now that the high-end units are a wee bit overpriced.  And lastly, as for the Wahoo Balance scale – the lack of data upload partnerships there compared to FitBit and Withings make it a bit of a non-starter.
Activity Trackers:

To say I've tried a lot of activity trackers would be an understatement.  I have all of them.  Really, pretty much every one released to the market from every FitBit variant to both Nike variants to everything in between – including plenty I've never bothered to post on here.  Here's where I stand on things.
Activity Tracker – Athlete: Polar Loop
My Polar Loop review is forthcoming in the days ahead, but in the meantime, I think it's that the combination of enabling heart rate monitoring for calorie during exercise burn via Bluetooth Smart heart rate straps is brilliant. And, for the time being, unique to Polar.  Everyone else just takes a complete and total guess when it comes to accounting for calories in activity.  Plus, beyond that it still makes for a great and normal activity tracker just like the Nike Fuelband (except with more).
Activity Tracker – Data Geek: Basis B1
There is no activity tracker on this planet that tracks more things than the Basis B1.  Especially once you account for all the new metrics they added a few weeks ago.  It measures everything from skin temperature to sleep to optical heart rate monitoring.  And, then displays it in one of the most well laid out displays out there today.  The only downside is that the optical sensor used in the Basis doesn't work terribly well during exercise, resulting in spikes/drops.  But…the other 23 hours of the day, it's there.
Activity Tracker – Mid-Range: Withings Pulse
I really like the Withings Pulse, especially at the price that it sits at ($100).  It does all the usual activity monitoring things (steps/distance/calories/time), but, also does resting heart rate via a little optical heart rate sensor.  Thus in my mind, if you're going to get a unit that's clip-on, this one really makes the most sense from a price vs functionality standpoint.
Activity Tracker – Budget: FitBit Zip
Finally, when it comes to the budget selection – the $59 FitBit Zip is awesome.  It gets some 6-8 months of battery life and then uploads via Bluetooth Smart in the background to your phone.  I wear it near-constantly and just don't have to think about it.  It just works…perfectly.
Action Cameras:

I'm working through a ton of action camera review posts at the moment, all likely to hit in the coming weeks as I finalize them.  This includes everything from the Garmin VIRB's to the Sony AS-30V to JVC and Pyle's most recent entrants, and a few more as well.  In the meantime, here's the top contenders based on taking more action cameras through airport security checkpoints on recent trips, than the airport security checkpoints have themselves.
Action Cams – General: GoPro Hero3 (White)
If you're looking at the best overall option, I'd say go with the GoPro Hero today, specifically the entry level white model.  No doubt the higher end models are great, but realistically they're un-necessary for most users unless you're planning to get really into high speed videography and/or more advanced post-production use.  In the event you're looking at the need for more flexibility in post-production, then jump up to the GoPro Hero3+ Black.
The significant numbers of 3rd party add-ons on the mount side for the GoPro make it fairly appealing, plus the wide availability of spare parts in most sport shops around the world should you need it.
Action Cams – Cyclists or those wanting GPS/ANT+ data: Garmin VIRB Elite
I'm really liking this action cam.  I've been using it constantly for all sorts of things over the past few weeks and am really impressed by it in scenarios where I want to show what I was doing from a GPS map standpoint and/or ANT+ data sensors (for example, my cadence, heart rate, etc…).  The VIRB Edit software is also surprisingly good, and Garmin has been publishing software updates nearly every week with new functionality for it.  Yes, the camera is slightly more oblong than the GoPro, but it's also waterproof out of the box, and the record button is easier to use when mounted in strange places.  Plus, the ANT+ remote control option via your Garmin Edge unit is really damn cool (to start/stop recording of video directly from your Edge).
All that said, I wouldn't generally recommend spending the extra money for the VIRB unless you're getting the VIRB Elite, or, if you plan to merge data later on between the VIRB (Elite or Regular) and your Garmin Edge to produce map + sensor videos.
That's all folks!  But don't forget the comparison tool!
Ok, lots of recommendations.  If there's a category I've missed (entirely plausible) – just drop a note in the comments and I'll try and come up with a recommendation and add it above.
More importantly though, you can mix and match just about everything I've talked about above, with in-depth comparison tables over at the product comparison calculator, which today supports: Action Cameras, Watches/Bike Computers, Power Meters, Activity Monitors, and Trainers.
Select product use/budget for a comparison from the drop down menus:
Select product use:

Select price range:

Note: While many running watches have a basic bike mode, only running units that are multi-sport focused are also included in the bike-only results (in addition to bike-specific units). Hiking units are those that include a Barometric Altimeter, Magnetic Compass and navigational functions.
Or select products for comparison by clicking the product boxes below:
Apple Watch Series 2 & Nike+ Edition
Bryton Cardio 60 Multisport Watch
CycleOps Joule 2.0 (Original)
Garmin Edge Touring (Normal)
Garmin Edge Touring (Plus)
Garmin Fenix 5 Plus (5/5S/5X)
Garmin Fenix 6 Pro Solar Series
Garmin Fenix 6S Pro Solar
Garmin Forerunner 255 Music
Garmin Forerunner 645/645 Music
Garmin Forerunner 945 LTE
Garmin Forerunner 955 Solar
Garmin Vivoactive 3 Music
Magellan Switch & Switch Up
Mio Alpha Optical HR Monitor
Suunto Spartan Sport Wrist HR
Suunto Spartan Trainer Wrist HR
Timex Cycle Trainer 2.0 GPS
Timex Run Trainer GPS 1.0
Timex Run Trainer GPS 2.0
Wahoo ELEMNT BOLT V2/2021
Wahoo ELEMNT ROAM V2/2022
Finally I'll be looping back tomorrow with some Black Friday deals as well for a small number of these items (plus, other goodness).
As always, thanks for reading – and supporting the site!