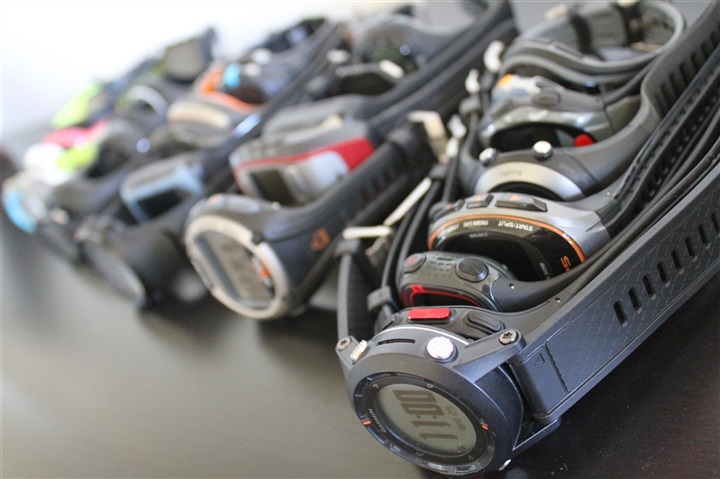 (Update! My Summer 2014 Sports Gadget Recommendations post is now available here! Go check it out for all the latest gadgets!)
Each year around this time I put together my recommendations on sports gadgets.  Some consider this a bit of a holiday pick-list, and others just use it the remainder of the winter for determining their spots gadget purchases.  I know many of you have also used my '2012 Gear I Use' list (as well as The Girl's list) too.
Like previous years, I try and divide up the categories to be as specific as possible.  Ultimately however, there's always going to be some overlap in features and functionality between the categories.  Additionally, it's possible you may have a certain edge case that crosses categories – in most cases I address the 'who is this good for' aspect towards the end of the review, or in the comments of each review.  So those are great places to get additional clarification answers.
Finally, if you use either the Amazon or Clever Training links, you help support the site (and the fancy new overhaul and functionality you'll see in the next 24 hours).  And, with Clever Training you get 10% off your cart for non-clearance items, as well as free US shipping over $75!  They have just about everything I recommend below, so you'll get some solid cash back there especially on big ticket items like trainers and high-end watches.  And stay tuned later in the week for some Black Friday sales coming up on some products as well.
And check back later today for a new product comparison calculator here that should help you too (coming later today!).
With that, let's dive into it!
Triathlon Watch (Overall):
Garmin FR910XT:  While there have been some new entrants into this category this year (such as the Magellan Switch), the FR910XT still easily keeps this category as the best overall triathlon unit.  Between the indoor and outdoor swimming metrics, and the up to par with bike-only cycling computers functionality (especially power meter support), there really is no other unit in the same league.
This unit generally costs about $400 and is available from both Amazon and Clever Training.
Triathlon Watch (Budget):
Timex Global Trainer: The Timex Global Trainer has slowly added little features here and there since launch, and at less than half the price of the Garmin FR910XT – it makes for a great alternative.  While the FR310XT is cheaper these days (sometimes as low as $250), I think that for the money, you can't beat the Timex Global Trainer.
This unit generally costs about $150-160 from Amazon.
With Reservations: Magellan Switch/Switch Up – This is a fantastic budget triathlon watch with a massive amount of customization and flexibility (far more than other watches).  However, it does suffer from one flaw – which some might say (correctly) is huge.  Running instant pace sucks.  Badly.  And despite being out for over four months, it's still not fixed. But beyond that (and especially as a cycling unit) – it's awesome.  It's also got unique features that no other watch has, like a secondary battery pack you can snap on.  Deciding between the TGT and Switch?  Hmm, that's really tough.  I'd probably give the nudge to the Switch and live with the instant-pace fluctuations – purely for the customization options.
This unit generally costs about $165-$250 and is available from both Amazon and Clever Training.
Running (Budget):
Garmin FR10: The competition has been heating up over the last 12 months for the sub-$100 watch category.  And while the FR10 costs $29 more than sub-$100, I believe it's $29 well worth it – primarily due to the Garmin Connect platform and downloadable data that the sub-$100 watches don't have.  The unit has arguably more features than the Garmin FR210 that's twice its price.  And with two sizes (for normal and small wrists) and three colors, it's the perfect gateway drug into running GPS watches.
This unit generally costs about $129 and is available from both Amazon and Clever Training.
Running (Mid-Range):
Polar RC3 or Garmin FR210: Both of these watches are really solid.  Previously I've said that I think for 95% of the runners out there, the FR210 works great (primarily for the footpod support for indoor running, as well as basic interval support).  However, the RC3 matches most of that and adds more around heart rate training and coaching that the FR210 doesn't have.
The Garmin FR210 costs about $200 and available from both Amazon and Clever Training.
The Polar RC3 costs about $270 and available from both Amazon and Clever Training.
Note that the Timex Run Trainer is in this same range, and I do recommend it.  However, there still continues to be some bugs that cause some people problems there – whereas the above two are generally less buggy.  And for those curious about the Motoactv, it's a solid contender, but the company has more or less pulled out of the market – so it's hard for me to recommend products from companies they don't plan long-term support or new features.
Running (High End):
Garmin FR610: If I had to pick just one running watch to use forever, it would probably be the FR610.  It just works, and I can use it as a day to day watch as well (unlike many of the triathlon watches).  The wireless downloading via ANT+ means the data is there before I get to my computer, and the touch screen actually works (unlike the older FR405/FR410 touch bezels, which I despise).  Additionally, the falling apart band issues with some of the initial units have been resolved, so that's no longer of concern.
The Garmin FR610 costs about $350 and is available from both Amazon and Clever Training.
Swimming (Pool):
Garmin Swim: This unit just came out back in June, but easily eclipsed its competition by offering a cleaner package with a drill mode – making it easy to account for drills that the accelerometer based watches like this can't detect.  If you do pick up this unit, be sure to read my 'How to get accurate swim data' section within the FR910XT post – which utilizes similar technology.  It'll help you get spotless swim distances (for stroke types…well, I can't help ya there as my other stroke types generally look unrecognizable).
The Garmin Swim generally costs about $150 and is available from both Amazon and Clever Training.
For those curious about openwater swimming: If you want stroke-data while openwater your only choice today is the FR910XT.  Otherwise, if you don't care about stroke metrics, pick up any GPS watch (like the Garmin FR10 above), and slap it in your swim cap (like this).  Donezo!  As for the FINIS Hydrotracker, while it's a good product, its fatal flaw is a nearly impossible to understand and see LED system – leading you to always question whether or not its actually recording.
For swimming MP3 players, see my recommendations here in my swimming MP3 player shootout post!
Cycling Computers (GPS):
Garmin Edge 500: This is the golden standard of GPS bike computers these days.  Every other GPS bike computer company on the market will start off a conversation with "Well, it's like the Edge 500, except…" – except, they never are.  Now, there are some newcomers starting to slip into the market with units that have new functional areas – but they tend to be much bigger and lack some of the race and training detail that the Edge 500 has.
The Garmin Edge 500 generally costs about $250 and from both Amazon and Clever Training.
CycleOps Joule GPS: The Joule GPS is only recently on the market in the last few months, and you may have seen my review of it two weeks ago.  It's a great unit, and while it lacks some of the online integration and 3rd party flexibility that the Edge 500 has, it makes up for it in the on-unit history and stat side of things.  If you don't have a power meter, I'd recommend the Edge 500.  But if you have a power meter, the Joule GPS is definitely worth looking into.  Note, ensure that you're getting the Joule GPS, and not the Joule 2.0 or regular Joule.  Both of those are overpriced, whereas the Joule GPS is right-priced.
The Joule GPS generally costs about $250 and is available from both Amazon and Clever Training.
For those curious about the Timex Cycle Trainer – it's a solid product, but the lack of power meter calibration and TSS/NP/IF metrics put it slightly in the shadows compared to the above two units.
Cycling Computer (Budget GPS):
Garmin Edge 200: This $130 unit doesn't include ANT+, but does include just about everything else you need to record your location and ride info.  For the same price, it's like the identical twin to the running Garmin FR10 – and works just as well.  It looks pretty much the same as Edge 500 from the outside in size (except is black), and does upload to Garmin Connect and other platforms after your ride.  Remember though, no ANT+ functionality (like heart rate, cadence, or speed distance indoors).
The Garmin Edge 200 is about $130 and is available from both Amazon and Clever Training.
Honorable Mention: Magellan Switch/Switch Up: As noted above, this gets a 'with reservations' due to instant pace issues while running.  But cycling it's a rock-star and has just as many features as the Edge 500 does – like ANT+ support and power meter support.  It's roughly the same size as the the Edge computers, but just gray or blue instead.  Given the holiday price drop down to $160 – it's a steal.  Note that the 'Up' variant has the barometric altimeter (the Edge 200 has a GPS), whereas the regular Switch just has a GPS altimeter.
This units generally cost about $165-$250 and is available from both Amazon and Clever Training.
Cycling Power Meters:
This is an interesting category, with a lot of flux in new units coming onboard over the next few months.  But ultimately, those units aren't here today – and I'm not getting terribly great vibes things are really on time there for really anyone.  Now, if you can afford to wait until the spring – by all means, I'd recommend that.  But, if you want something to use before then, then go out and pickup one of these units.
CycleOps PowerTap: While the PowerTap pricing has climbed a bit in the last 12 months, it makes for a good stable product that 'just works'.  True, it does limit your wheel choice – but with some of their race wheels that can also be used for training, many athletes can use it for both.
The PowerTap hubs start at about $900 for a wireless ANT+ unit.  Available from Amazon and Clever Training.
SRAM Quarq Cinqo: Like the PowerTap, the Cinqo pricing has climbed as well – and in my opinion, has nearly reached the point of the SRM power meters, which make it less attractive price-wise.  That said, as the owner of two Cinqo's, both The Girl and I love them and their customer service team.  If you have multiple wheel sets, you can't go wrong here.  Note that I don't see a reason to buy the SRAM RED variant.  Just get the cheaper one.
The Quarq Cinqo starts at about $1,500 – but climbs quickly with cranks. Available from Quarq.us.
CycleOps PowerCal (budget only, with reservations): I reviewed this last week, and for certain scenarios – the PowerCal is a good introduction to power meter concepts.  It's not perfect – but it does allow you to start establishing trends if you don't have $1,000+ to drop on a bike gadget.  Again, gateway drug to power meters.
The PowerCal costs about $99 and is available from both Amazon and Clever Training.
Cycling Trainers:
First, before you make any trainer decisions – read up on my trainer recommendations post.  Everything still stands there for all released products.  And for those products not yet on the market, my same cautions and optimism stands there as well (trust, but verify).  Also note that I offer lower-priced options in the recommendations post.  But most folks know me for my computerized trainer recommendations, which I've listed below.
If you can wait till a few days after Christmas: Wahoo KICKR: As I said before, this product is fundamentally changing the market – and I believe buying any high-end trainer between now and then would be silly if you didn't just wait to see how the KICKR performs in real life.  It's possible it could be a flop – but you'd know that from reading my review before you purchased – so no worries on waiting to see how things shape up.  The unit will be available for pre-order 30 days from when they arrive in the US for distribution.  Current expectation is for pre-orders to start in the next couple weeks.
The Wahoo KICKR will cost $999 and be available from a variety of Wahoo Fitness distributors shortly.
Need a trainer now: Tacx Bushido: If you need to pickup that high-end trainer today, then I'd go with the Bushido.  It's not perfect when it comes to the software, but for the price, it's a solid deal.  Plus, they're making advances in the software, which is something I can't say about other computerized trainers.
The Tacx Bushido Trainer costs about $920 and is available from both Amazon and Clever Training.
Hiking/Trails/Ultra Runners:
The hiking watch category is an interesting duck these days.  In many ways, I feel both of these watches are overpriced.  However both are improving with frequent firmware updates.  The Garmin Fenix team has been releasing updates and solid new features about every two or so weeks since the product came out.  And the Suunto Ambit team has been doing so about every quarter, with the next update scheduled for November 29th.  I'll be updating my Ambit review after that.  My Fenix review contains the most up-to-date information on my thoughts about both watches (see end comparison section in that review).
At present, both products are generally good, but I'm really looking forward to seeing where things stand on November 29th.  If it were me, I'd wait a couple weeks and see what shakes out.
The Garmin Fenix costs $400 and is available from both Amazon and Clever Training.
The Suunto Ambit costs $500 and is available from both Amazon and Clever Training.
Tracking:
While a phone app works great in many circumstances (I like the easy to use Garmin FIT app and Runkeeper Pro personally), it doesn't work great when you need battery life to last dozens of hours or even weeks.  Both of the below units have the battery power to go the distance – and you see me using them all the time in events (occasionally publishing to my tracking Twitter feed – @TrackDCR).
Garmin GTU10 (within cell range): If you're tracking needs lie largely within cell range – go with the Garmin GTU10 (both US and Euro models offered).  It's waterproofed (can go under your wetsuit) as well as has a battery life of up to 30 days, depending on tracking configuration.  If only they'd add ANT+ capability to it and a better sharing webpage it'd be the perfect endurance sports tracking product and I think would sell like gangbusters.
The Garmin GTU10 costs $160 and is available from Amazon.
Spot GPS (outside of cell range): If you're going outside of cell coverage, then the Spot trackers are the way to go.  These are low-earth orbit satellite based and work in the vast majority of the world (they have a coverage map, but basically just about everywhere on earth you'd want to be).  While I have the different Spot versions (Original, Spot 2 and Spot Connect), I actually think the Spot 2 is the most stable product and the one I'd recommend.  It just works.  And for a life-saving device, you need it to 'just work'.
The Spot 2 GPS tracker costs $100 and is available from Amazon.
Bluetooth Smart & Phone Products:
Bluetooth Smart Heart Rate Strap: Wahoo Blue HR or Polar H7.  Both of these straps rock, and both work well.  The Blue HR has a ton of extra logic in it to reduce HR spikes and dropouts.  While the Polar H7 has backwards compatibility with gym treadmills/equipment.  Both work great for Bluetooth Smart (BT4.0) compatibility phones and devices (for example, iPhone 4s and iPhone 5).
The Polar H7 costs about $60-80 and is available from both Amazon and Clever Training.
The Wahoo Fitness Blue HR costs $70-80 and is available from both Amazon and Clever Training.
ANT+ data on your iPhone/iPad/iPod: Wahoo Fitness iPhone Key: There's over 150 apps out there these days that support ANT+ data.  But your Apple device doesn't have ANT+ natively, so this little handy key allows you to use any of those 150 apps with your existing ANT+ accessories (like heart rate straps, speed/cadence sensors and power meters).  Note that I specifically don't recommend the Garmin iPhone adapter, since it doesn't work with any app besides the highly limited Garmin app.  Bummer.
The Wahoo Fitness iPhone Adapter costs $60 and is available from both Amazon and Clever Training.
Weight Scales (integrated):
Looking at scales these days, cheaper is better.  Ironically enough, the cheaper you get, the more features and technology advancement you seem to offer.  I've previously recommend the Withings WiFi scale – and that scale still stands in the recommendations pile.
However, I've also been using the FitBit Aria scale lately as well as I prepare my review.  It's a bit cheaper, though they do have slightly fewer partnerships in the endurance sports log arena (though they like Withings have an easy API for developers to access).  Both track weight well, and both track body fat poorly (remember my scale testing?).
The Withings WiFi Scale is generally about $160 and available from both Amazon and Clever Training.
The FitBit Aria scale is about $130 and available from both Amazon and Clever Training.
Finally, for those looking for an ANT+ scale that connects to your various Garmin ANT+ watches and downloads the data straight into Garmin Connect, I recommend the A&D Lifesource ANT+ scale.  It's cheap, works just as well as those costing 2-10 times as much, and gets the job done…with an LCD display.  And, it's down to $60 these days, that's nuts!
The Lifesource UC-324ANT scale is available from Amazon from $60 to $110.
General Health and Fitness:
Here's a few gadgets that don't fall into the above categories, but that I get asked about a lot.  For activity monitors – like the FitBit – I recommend either the Nike+ Fuelband or the FitBit (any of the three versions).  I've long used the FitBit Ultra, but the new FitBit Zip is working out quite well.  Plus, the newly added Bluetooth Smart upload support is sweet.
The Nike+ Fuelband is much the same, though without as many partnerships with other platforms, so you're a bit more limited there.  On the bright side, the Fuelband is less likely to fall off your waist strap and into the toilet – so that's a pro.
The Nike+ Fuelband costs about $150 and is available from Nike or Apple.
The FitBit One (latest) and FitBit Zip (budget) are available from both Amazon and Clever Training.
For tracking sleep, I've previously recommended and reviewed the Zeo unit to track sleep.  However, the newer and smaller mobile version makes more sense these days.  I use it from time to time while travelling (actually have it with me right now).  It does hold you fairly accountable and its pretty fascinating to start seeing trends with your sleep and athletic performance.  As for the regular bedside edition – it still works great, it's just that the mobile one is so much smaller.
The Zeo Mobile costs about $100 and is available from both Amazon and Clever Training.
Odds and Ends:
Here's a few little things that might make good stocking stuffers that I like:
Barfly 1.1 and TT Mount: I just reviewed this Garmin and Forerunner mount, and since it's compatible with both (without any tools required to change orientation) – it's great for triathletes.
The mounts cost $40 and are available from both Amazon and Clever Training.
Suunto ANT+ adapter: Have a Garmin Forerunner watch with the gigantic ANT+ USB stick?  Feel like you're always going to break it off?  Problem, meet solution.  This tiny little ANT+ USB adapter works perfectly with your Garmin (and any other ANT+ device or Mac/PC app – like TrainerRoad).  It's my go-to stick these days.
The tiny little USB adapter is available from Amazon for about $30.
Bluetooth Smart USB Adapter (BTLE): There aren't too many apps out there yet using these, but TrainerRoad is one of them – in particular if you have an older Mac that doesn't have Bluetooth 4.0 built into it.  This Bluetooth 4.0 adapter works great.  Note that the drivers are a bit of a mess still on Windows, so I'd hold off on that for now if you're looking at a Windows box.
The tiny little USB adapter is available from Amazon for about $12.
Sports Photo Gear:
Photo: This is easy.  Virtually ALL of the shots you see here that are action shots (swim/bike/run) are taken with my trusty little Panasonic Lumix DMC-TS3 waterproof camera.  The TS4 is the most current version.  It's got built-in GPS tagging and is completely waterproof.  You may remember my really popular Alcatraz swim shot taken during the race, it was taken with the Lumix.
The Panasonic Lumix DMC-TS4 costs about $220 and is available from Amazon.
Video: On the video side, I've got both a pile of GoPro's, as well as a ContourHD GPS and a few other brands.  Without question, the GoPro's are my favorite.  They just work, they've got tons of mount options, and finding pieces and parts for them is easy no matter where in the world you're at.  The HD3 just came out a few weeks ago.  If you're looking to save a bit of cash, grab the HD2 instead.  Otherwise if you want some of the newer functionality (like WiFi), pickup the HD3.
The GoPro cameras start at $199 and are available from both Amazon and Clever Training.
——————–
Phew!
Ok, lots of recommendations.  If there's a category I've missed (entirely plausible) – just drop a note in the comments and I'll try and come up with a recommendation and add it above.
I'll be looping back on Wednesday with some Black Friday deals as well for a small number of these items.
As always, thanks for reading – and supporting the site!
——————–
You can find all of these products on a single page from Clever Training here.  And if you use the DCR10BTF coupon code, you'll get 10% off your entire cart, plus free shipping in the US for over $75.  Note that some of the crazy-low Black Friday deals don't get you an additional 10% – but they do still support the site.