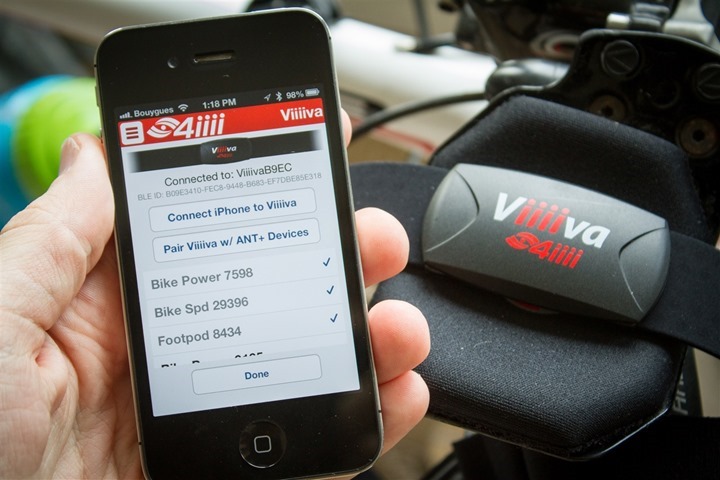 A bit under a year ago 4iiii's announced the first device on the market to bridge the gap between ANT+ accessories and Bluetooth Smart enabled phones.  In doing so, they potentially opened up the door to saving users from having to re-purchase expensive accessories simply to use them with apps on their phones.  But the question is: Is this device the saving grace folks have been looking for?
I've been using the device for months now, testing every possible combination.  Because I want to be transparent about my reviews, once my evaluation period with the Viiiiva has elapsed, I send it back to 4iiii's in Calgary.  Simple as that.  Sorta like hiking in wilderness trails – leave only footprints.  If you find my review useful, you can use any of the Amazon or Clever Training links from this page to help support future reviews.
Lastly, at the end of the day keep in mind I'm just like any other regular triathlete out there.  I write these reviews because I'm inherently a curious person with a technology background (my day job), and thus I try and be as complete as I can.  But, if I've missed something or if you spot something that doesn't quite jive – just let me know and I'll be happy to get it all sorted out.  Also, because the technology world constantly changes, I try and go back and update these reviews as new features and functionality are added – or if bugs are fixed.
Unboxing:
Let's get this baby unboxed.  Don't worry, this won't take long.  First, is the box: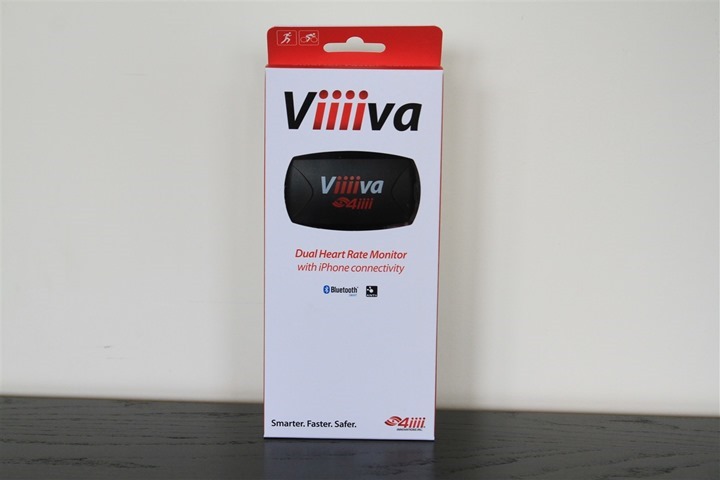 On the back is a diagram that explains how it all works and a fraction of the apps it works with.  But I'll talk about what the different compatibility levels are later.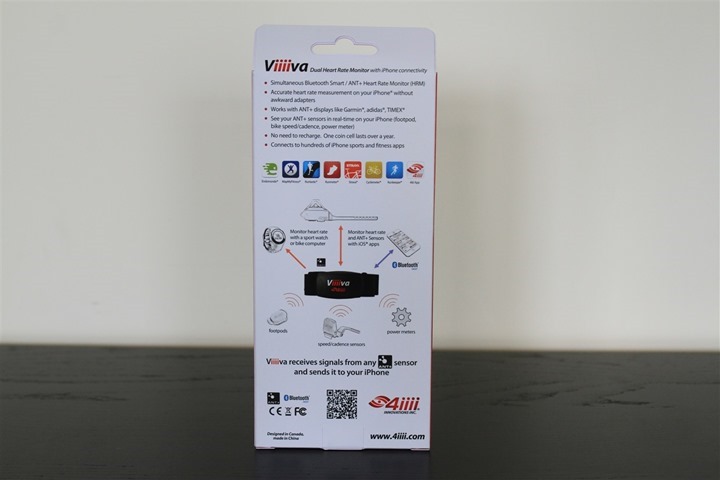 Pulling out the guts of the box, we find a plastic shell with the heart rate strap and transmitter pod, along with a quickstart guide.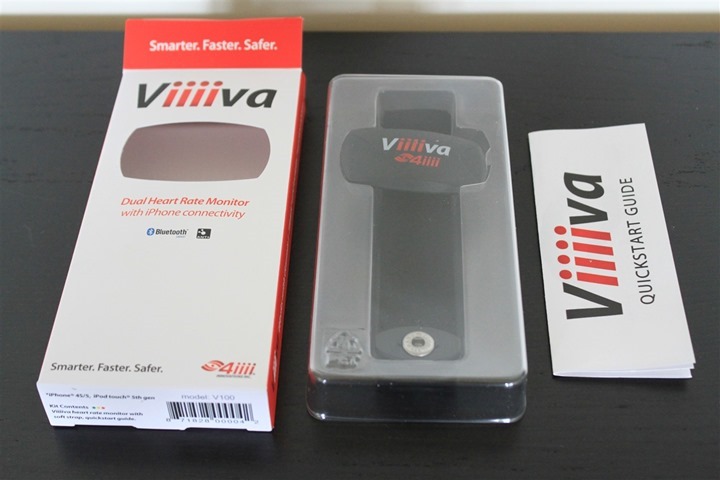 Here's the two items in the box hanging out together like BFF's: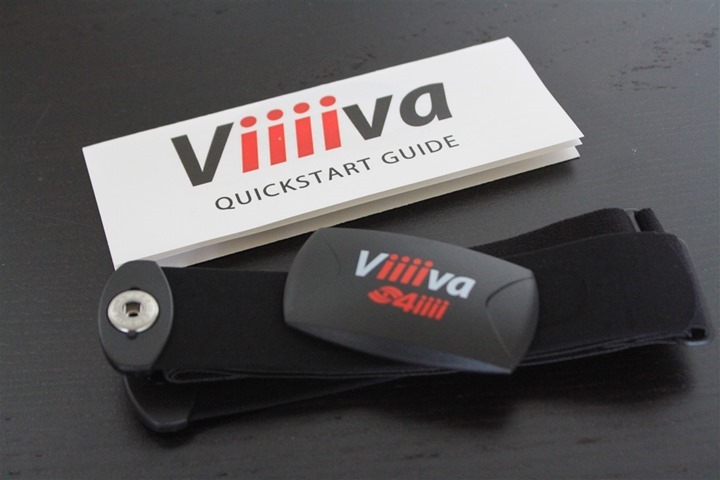 Like most heart rate straps, it'll come in two pieces: The strap and the transmitter pod.  The transmitter pod pops into the little metal snaps and holds the whole thing together.  It's adjustable of course, so you can adjust the strap as you see fit.
On the back you'll notice both the ANT+ and Bluetooth Smart logos.  The battery sits in that little door you see below.  Once you've reached  200 hours (or when it decides to stop pairing to your device), you'll want to swap out the battery.  Since it just uses a CR2032 user-replaceable battery, it'll only take a few seconds and about $2-3US.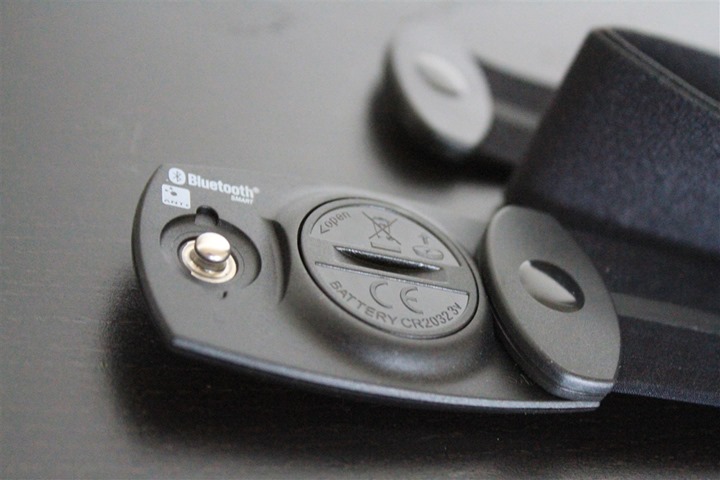 Next up is that quick-start manual.  It's pretty basic, but that's fine. By time you finish here on this post, you'll be well versed in how to use it.  Or, you'll be asleep. Or both.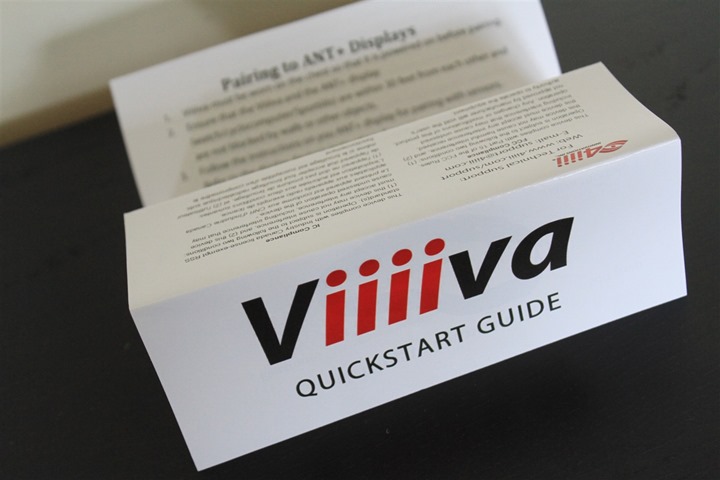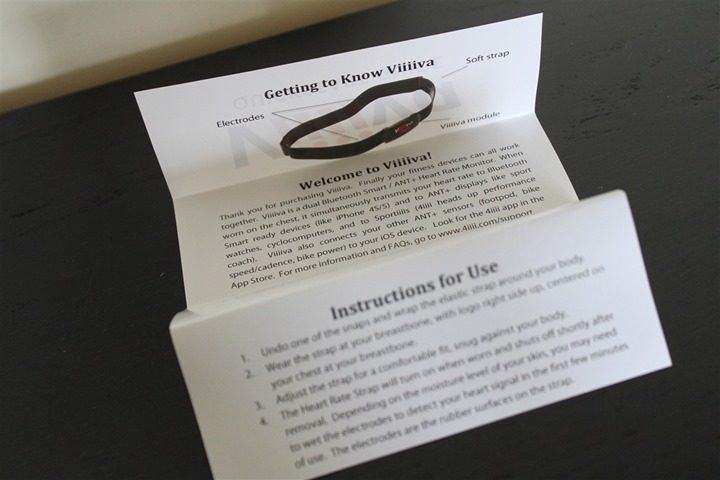 With that, let's get into why this strap is so unique.
Background and understanding what the product does: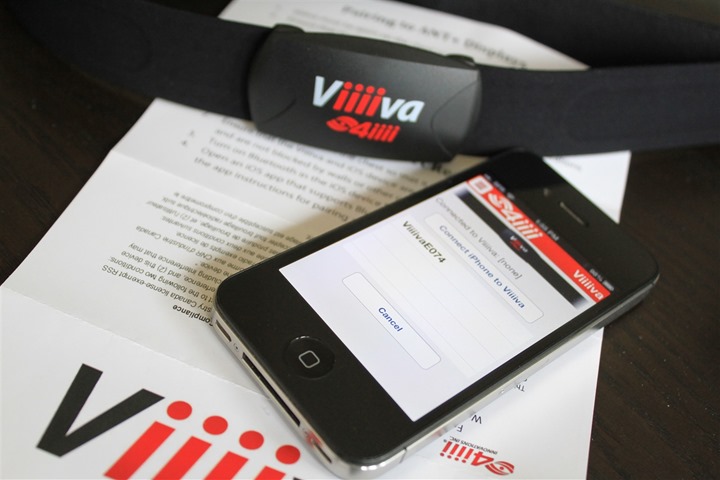 Ok, so you get that the strap is somehow different, but what is it really doing?  Well, let's start off with the core scenario: ANT+ to Bluetooth Smart.  The reason this is interesting to folks is that in the rise of phone apps, ANT+ accessories have been somewhat limited for app integration.  This is due (primarily) to the lack of ANT+ chipset support within the Apple devices (meaning, no ANT+ in the iPhone).  To get ANT+ on the iPhone, you'd otherwise need an adapter hanging out the bottom of your phone.  On the Android platform we see a handful of devices that natively support ANT+.  But most Android devices that want ANT+ connectivity need to do so via OTG adapters (more things hanging off your phone).
With the growth of phone apps and the lack of any native ANT+ method to get into the Apple platform, you start to see the rise of Bluetooth Smart in the fitness space.  Bluetooth Smart depends on Bluetooth 4.0, which started being introduced into phones about 18 months ago.  Bluetooth Smart adoption has been largely catapulted forward by Apple, whereas on Android it lags significantly in every aspect.
Within the health space, the first Bluetooth Smart device profile we saw was for the Heart Rate strap, before even the first Apple device was out that supported Bluetooth Smart.  A 'device profile' is essentially a way for a given device type to communicate in a standard fashion.  ANT+ has them, and Bluetooth Smart has them, though of course while similar they don't talk to each other (different protocols).  Typical examples of device profiles include the heart rate strap, bicycling speed/cadence sensor, bicycle power meter, running footpod, etc… They all have slightly different technical names (i.e. 'stride sensor' instead of running footpod), but ultimately they're pretty similar between the two wireless protocols.
Looking at market place up until this point, ANT+ heart rate straps have been ubiquitous with devices like Garmin, Timex, CycleOps and many others.  At the same time, so have a variety of cycling accessories like the speed/cadence sensor and the power meter.  The challenge is that while there are plenty of Bluetooth Smart heart rate straps – they won't work with your existing Garmin device (or really almost anything other than a phone).  On the cycling accessory side, there are only one or two companies making Bluetooth Smart speed/cadence sensors (such as the Wahoo Blue SC), and they too won't work with your existing ANT+ bike computers.  And finally, on the power meter side, there's only a single company that currently produces an on-bike Bluetooth Smart power meter – the Stages Power Meter (which is dual ANT+/Bluetooth Smart).  That means that everyone else with expensive $1,000-$2,000 ANT+ power meters is unable to use them with phone apps natively.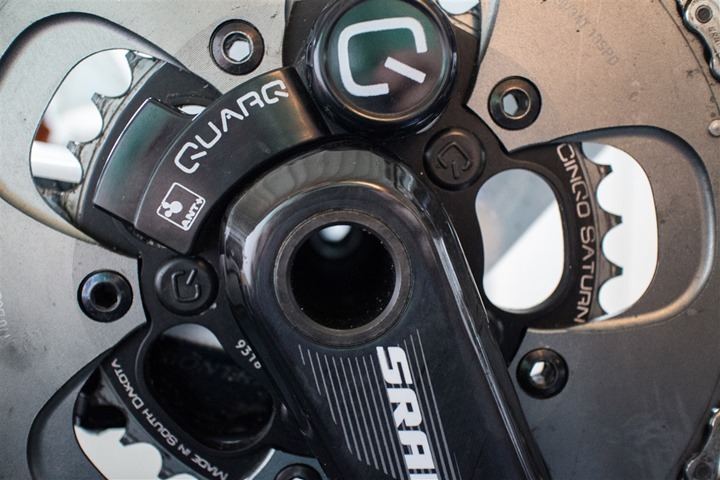 Given that, you can clearly see the market for a cheap device to be able to convert ANT+ into Bluetooth Smart, allowing folks to utilize their existing ANT+ accessories with both ANT+ and Bluetooth Smart computers/displays.  Nobody wants to re-purchase a $1,500 power meter simply to connect it to a phone app.  And the same goes for cheaper accessories as well.
Thus, Viiiiva.  Viiiiva acts as that conduit between one world and another, enabling one to take ANT+ data sources and convert them in real-time to Bluetooth Smart – all while still acting as a normal heart rate strap.
How the Viiiiva is different than a normal heart rate strap: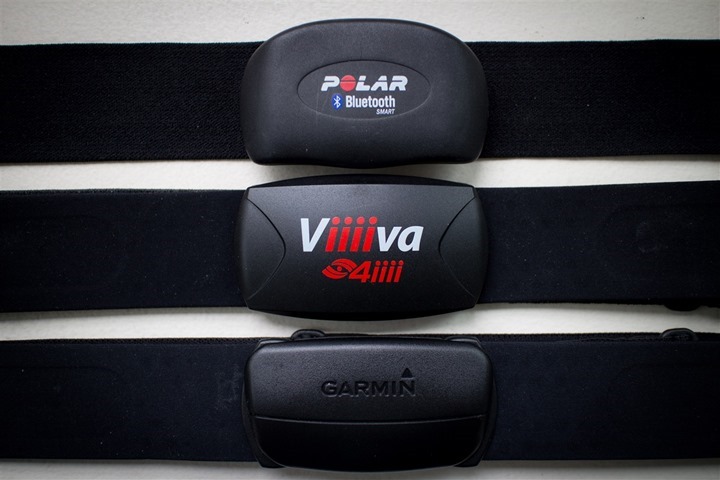 So while Viiiiva may look just like any other heart rate strap, the Viiiiva is really the combination of three different core functions – which would normally be three different products.  Typically, this is how you'd divide it up:
1) ANT+ Heart Rate Strap: Most Garmin users are familiar with the ANT+ strap, and the Viiiiva is also an ANT+ strap that will also broadcast ANT+ to your Garmin unit (at all times).
2) Bluetooth Smart Heart Rate Strap: For those users with more recent phones, the Viiiiva concurrently broadcasts your heart rate over Bluetooth Smart to supporting apps.
3) ANT+ to Bluetooth Smart Bridge: It's this last piece that's really where the magic filling is.  Inside that little pod it receives ANT+ device transmissions and rebroadcasts them as Bluetooth Smart devices.  Think of it like a live translator going from one language to another.  With this capability we can now bridge the gap between ANT+ devices such as power meters, and phone apps on platforms like the iPhone without native ANT+ support.
To put this in a more simple analogy, it's essentially like a ANT+ strap and a Bluetooth Smart strap got together one night, did the romance dance, and had a baby.  And even though the parents didn't speak each others languages, that baby ended up being bilingual.  Roughly.
Now, let's talk about what the Viiiiva is not:
1) It's not an analog heart rate strap: Meaning, that it won't work with gym equipment or treadmills.  But given you're reading this post, I suspect you've probably got your own device you'd use anyway.
2) It doesn't work with legacy Bluetooth standard: That means that you have to have a phone that contains Bluetooth 4.0 in it if you're connecting to an app.  Today that's basically anything after the iPhone 4s, plus 3rd generation iPad and beyond.  As of this writing, there are still no Android or Windows Phone apps that support Bluetooth Smart for application usage around health profiles.  Though both phone platform companies have announced plans to do so, it's still some ways off.
3) It doesn't work with Polar devices: Polar has their own proprietary W.I.N.D. protocol for use on the majority of their modern devices, and this won't work with that (nor the devices that use the analog or digital non-WIND straps).  However, in the event Polar develops a Bluetooth Smart capable device (which they say they are going to do), then it would work just fine with that.  More on that later.
Now that we've got that out of the way, let's dive into using it.
Using with the 4iiii's App:
There's a few different ways you can use the Viiiiva, but I'm going to start off with the most conventional method, via the 4iiii's app.  The App is free on the App Store (iDevices only today).
Once you've got it opened up you'll be able to create an account to save settings in.  It only takes a second.
From there you can hit the tab in the upper right corner to see all the options.  For now, we're going to dive into the one titled 'Viiiiva Configuration'.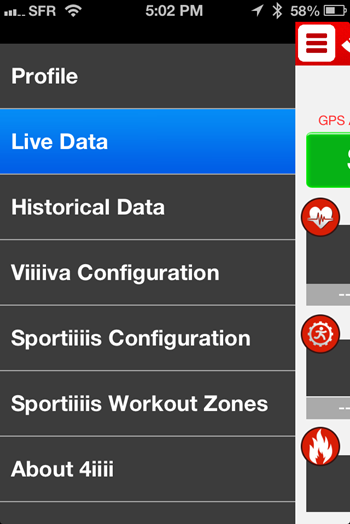 Once you do that, you'll be brought here.  This is the screen that allows you to go out and find your Viiiiva.  You'll press the 'Connect' button to start the search.  If for some reason you've disabled Bluetooth, it would now be considered critical path to enable it.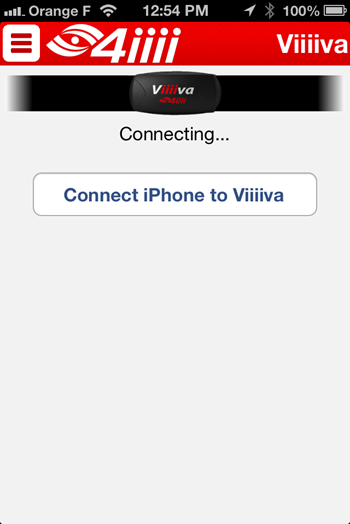 Within 5-10 seconds it'll come back with a listing of nearby Bluetooth Smart devices.  For most of you, you'll just see the below with a single sensor found (the one labeled ViiiivaB9EC in my case).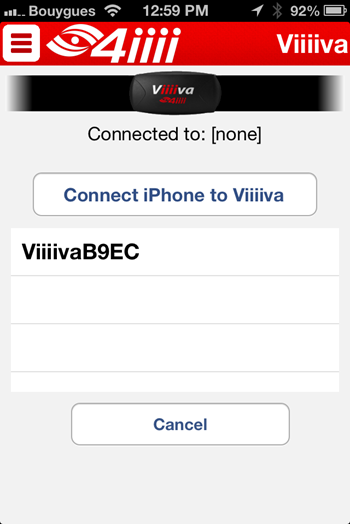 If you happen to have other Bluetooth Smart devices around, you'll see something like this: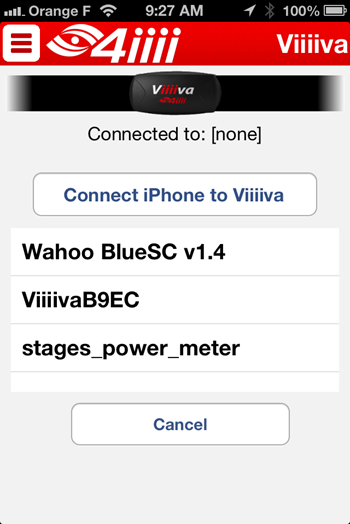 No matter, choose the Viiiiva one and it'll go ahead and connect to it:
Once you do that you'll see the device enumerated and that you can then pair to ANT+ devices.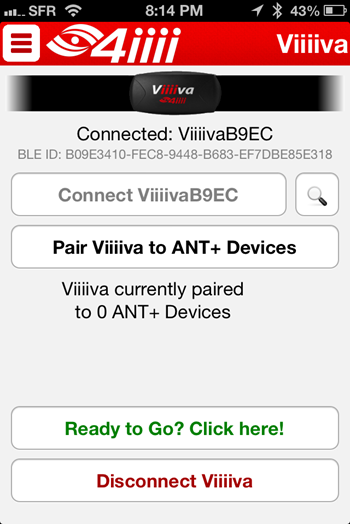 Next, we'll tap "Pair Viiiiva to ANT+ Devices", which initiates a search of ANT+ devices in your vicinity. For most of you, you'll probably just have a single speed/cadence sensor or power meter.  Or for runners, an ANT+ footpod.
In my case both my bike and The Girl's bike popped up nearby.  Remember that ANT+ sensors fall asleep when not in use, so give your bike wheel or crank a quick spin to activate them.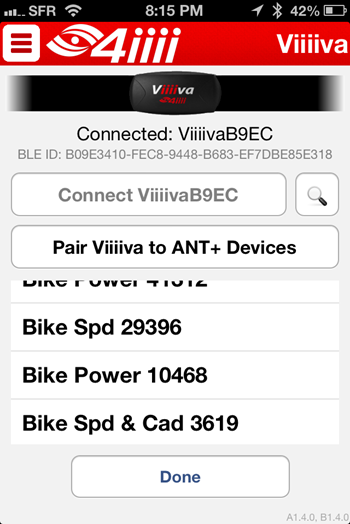 Once you've found a bunch of devices you'll tap the checkbox next to them to 'pair' to them.  Since ANT+ supports multiple sensors paired to multiple devices, this will have no impact on your existing GPS devices (i.e. a Garmin).  They can run concurrently.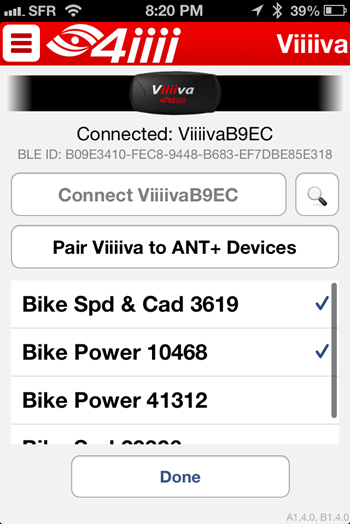 Once you're done, then go ahead and tap 'Done', which confirms it to memory in the Viiiiva.  Next we'll dive into using the app.
Note that if you're doing a footpod, it's exactly the same process – just select footpod from the listing: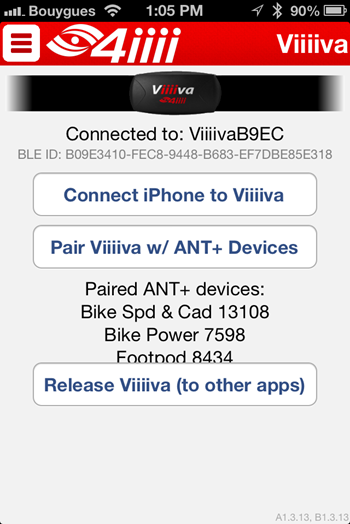 What's cool here is that you can pre-pair your different devices for both cycling and running.  So that when those sensors activate, it'll automatically start passing data through on them – no need to ever again touch the config app.
Note that you can only pair a single sensor type though, meaning pairing only one footpod, one power meter, one speed/cadence combo sensor, etc…
Cycling:
Now that we've got everything setup, tap the menu button and change to 'Workout' mode (previously called 'Live Data').  This will bring you here: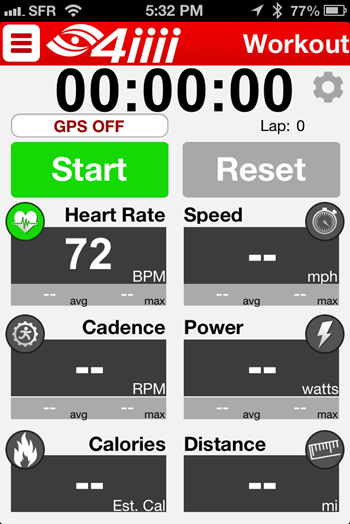 Before you get started, you'll want to quickly configure you're wheel circumference if you're using a speed sensor for distance.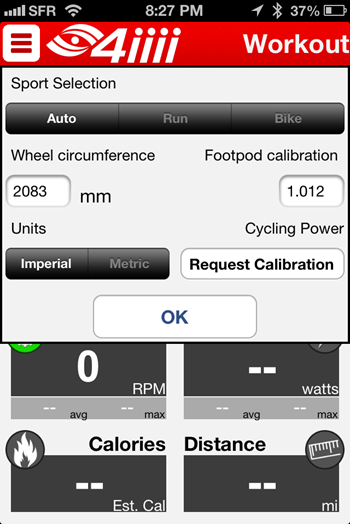 You can also change from imperial to metric here, and for power meter users you can initiate a standard ANT+ power meter calibration request.  Lastly within the settings you can have the option to have the app automatically switch between running and cycling mode dependent on the sensors activated.
Once out of the settings, there's one more option – which is whether or not to use GPS for distance/speed.  You can see the little GPS on/off button.  Inside, I'd go with off.
With everything set, we're ready to ride!  To begin, just hit the 'Start' button.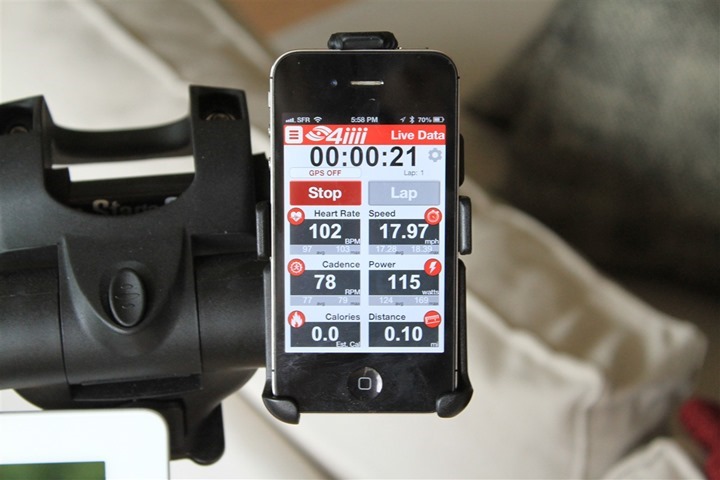 You'll see that my power, cadence, and speed are all showing up.  Note I've got no ANT+ adapter attached to the phone, everything is just routing right through the Viiiiva.
If I want to create a lap, I can simply tap the lap button, which resets the timer and marks a lap in the file for later analysis.
Or, in my case, I can just continue to ride on.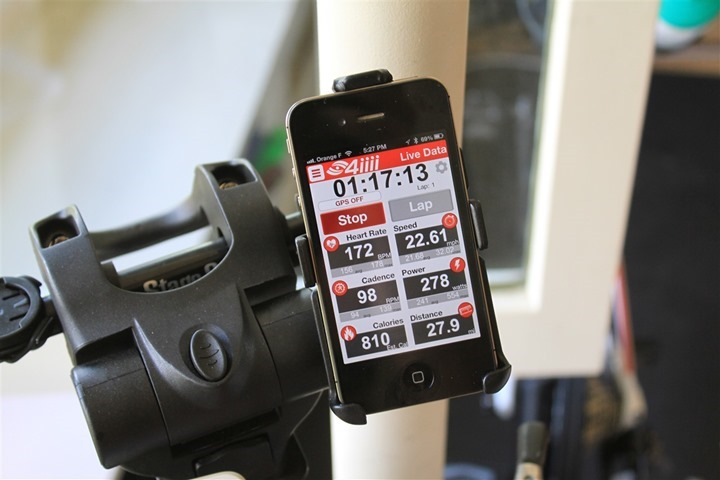 Once the ride is complete I hit 'Stop' to pause the timer.  You can press start to resume again.
As you can see, the data is almost identical to that of my Garmin.  You'll see the HR values (current) are nearly identical (they fluctuate within 1-beat of each other), and the power averages are within 1w (completely normal for different head units even recording the same stream), and finally my distance is similar – but I had the Garmin set for a slightly different circumference.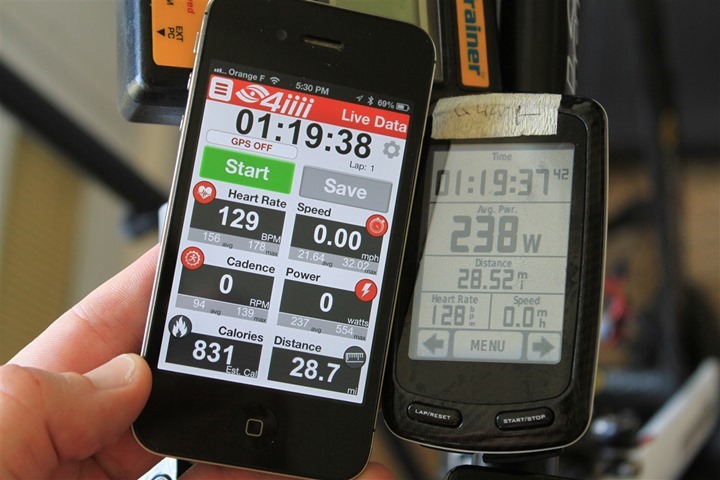 Once I'm done with the ride, I'll tap 'Save', which makes it available within the history menu.  The history menu will show all historical rides (or in my case, all rides since I had last loaded a different beta app to test new items).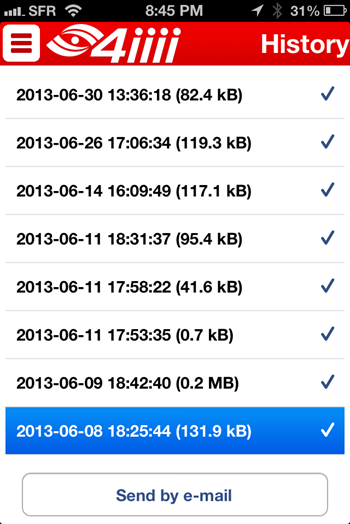 From an iPhone standpoint, while indoors you can place your phone anywhere nearby and it'll go ahead and record and relay the data.  In my case I just put it on this trainer stand I built that you see above a bit.
Outdoors, I generally leave it either in my back pocket, or on an armband that's otherwise under my jersey.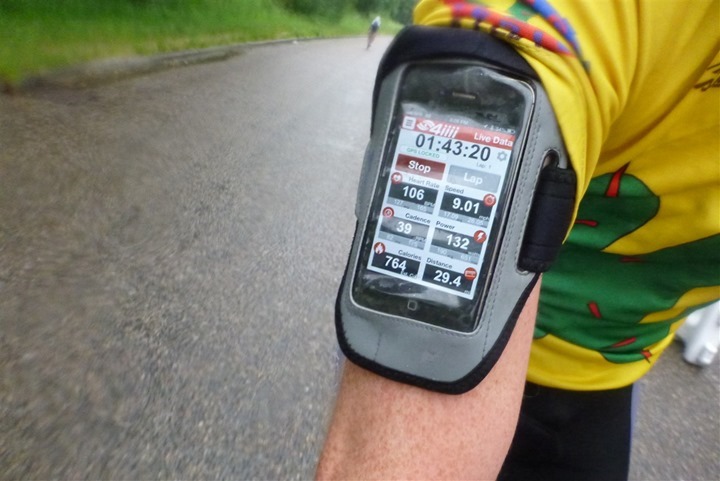 But there's a cool trick that's not well known.  If you don't care about the HR portion, you don't actually have to wear it.  The Viiiiva will automatically keep the connection on the Bluetooth Smart side alive as long as the ANT+ data continues to stream data.  Meaning that as long as your power meter, footpod, speed/cadence sensor send data, Viiiiva will continue to relay data.  Generally, that's whenever you're actively doing something with it.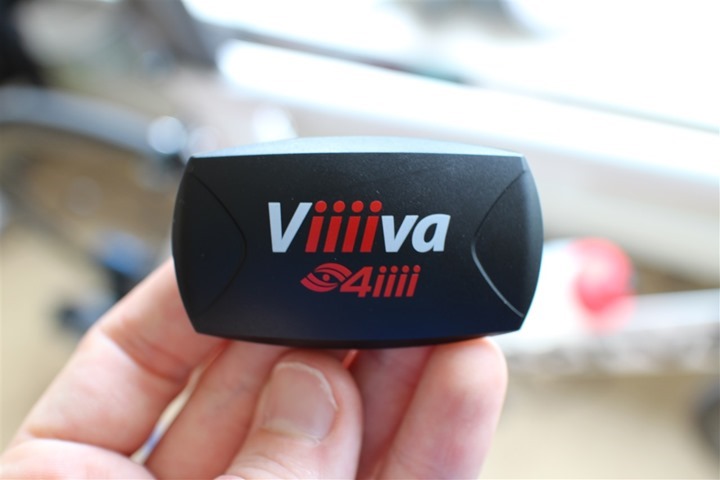 So you can actually toss just the transmitter pod in a bike bag and then have the data stream to your phone that way.  The only thing you need to do is to wake-up the Viiiiva.  To do so, just rub the two contacts: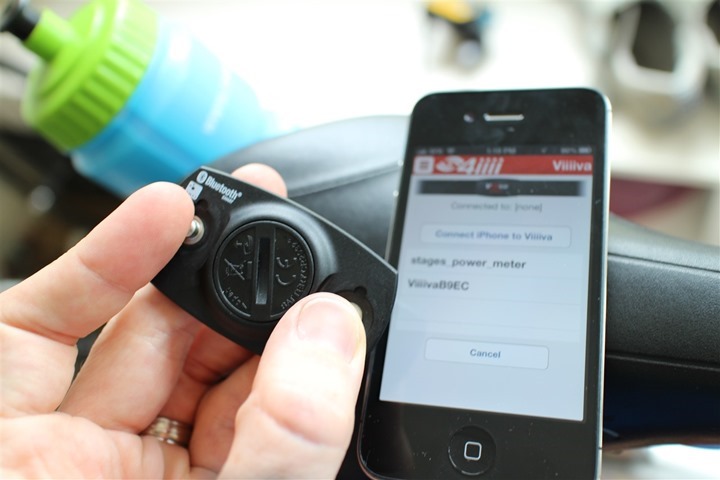 Then, just stash it anywhere you want.  That could be in your back pocket, or in a bike bag, or duct taped to the handlebars.  Whatever floats your boat.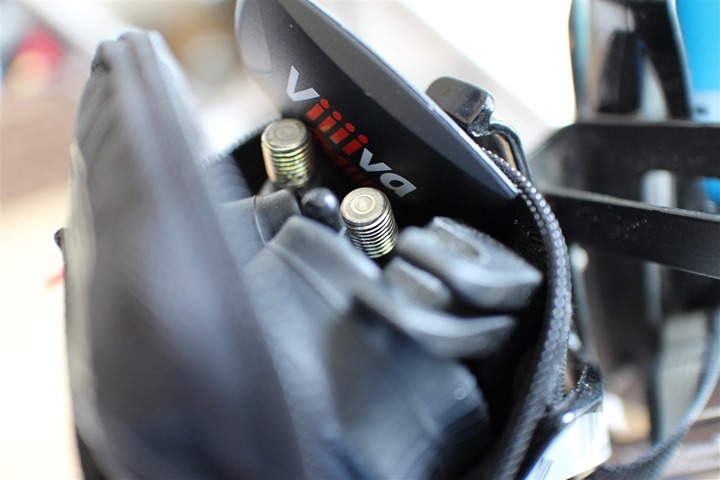 Once e-mailed to yourself you can look at the data for analysis in any program you see fit.  It's standard .FIT file formatting, which is the same that Garmin and many other companies use these days.  So you can upload it to Strava, Garmin Connect or elsewhere.
Here's a sample file from Garmin Connect of the Viiiiva data paired to the Quarq.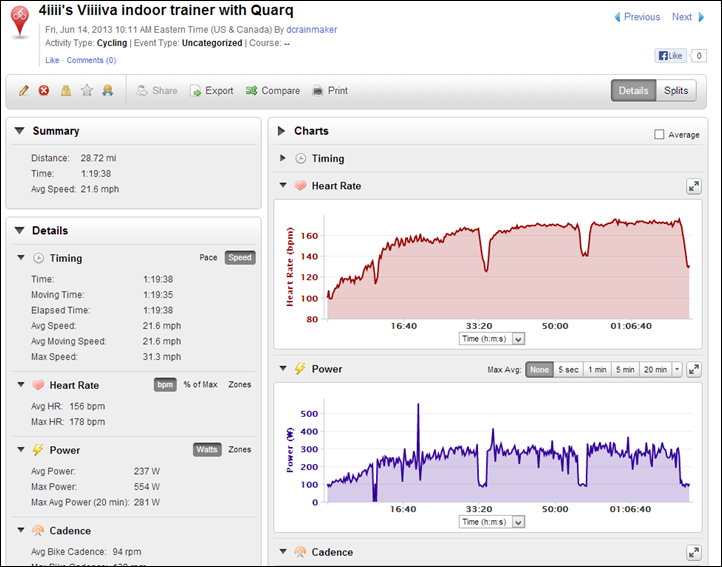 And, here's the same file from the Garmin Edge 800 paired to the same Quarq unit: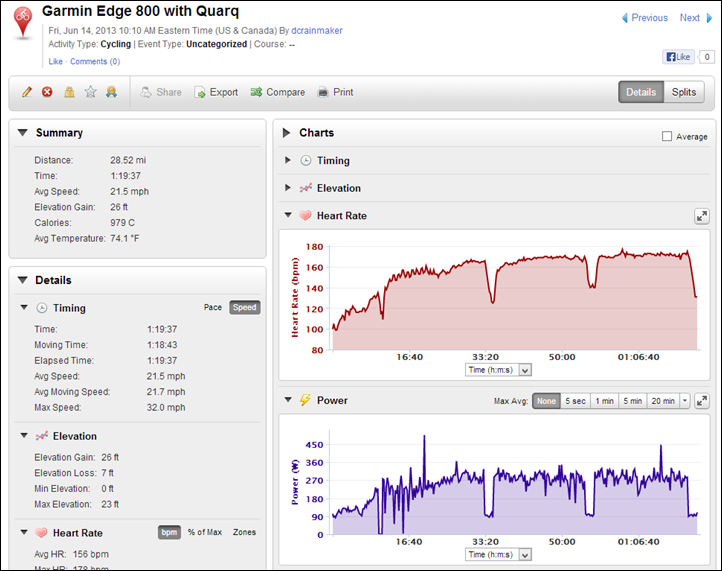 In comparing the files in more detail, I'm finding them nearly identical.  With power meters, you really need to look at whether an app is processing the data correctly.  To that end, there's open-source power meter head unit tests developed by Quarq that much of the industry is using now (regardless of which power meter you connect to).
In talking with 4iiii's, they've passed all but one of the tests (Test #3), and for that test they're looking to issue a fix in the coming days.  That particular test isn't a huge concern though since the scenario is primarily covering a case where someone is pedaling at sub-60RPM  and a value isn't written until the end of the stroke (which at say 20RPM would be 3 seconds later).  In practice, this is a pretty extreme edge-case, and to really see the impacts you'd have to be making a pretty big jump in wattage as well.  Nonetheless, a fix is coming for a problem that I'd guess impacts .0001% of the population.
Running: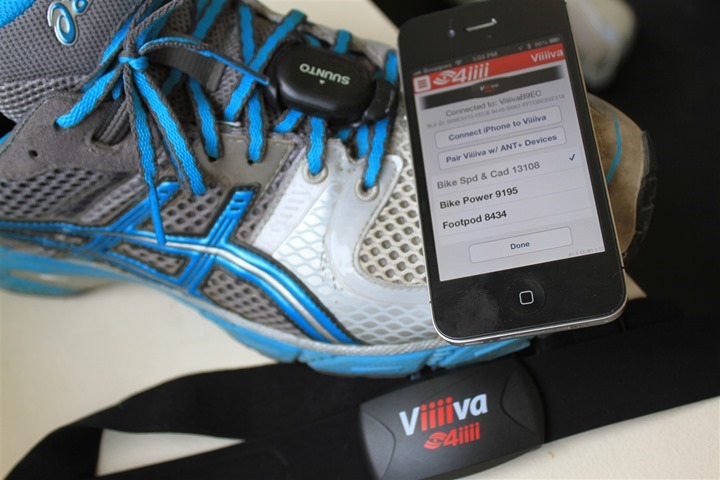 Next up, running!
This will be quicker, since we've already covered the configuration and setup.  In running mode, you're basically talking about the ANT+ footpod, and then of course the heart rate information provided by the Viiiiva strap itself.
Note that you can configure the calibration of the footpod within the app if you know your calibration value.  Since you have an ANT+ footpod already, that likely means you have an ANT+ display unit (i.e. Garmin watch), so you can just look in the settings there and re-type the four-digit calibration value.
Assuming your footpod is awake, you'll see '0' displayed for cadence if you're standing still at the start of a run.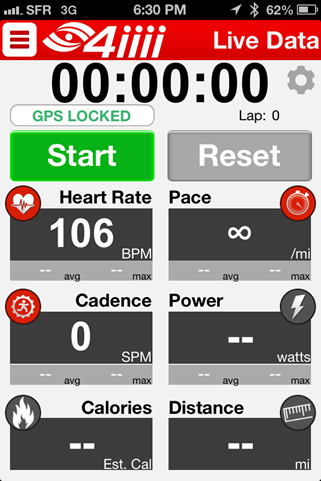 As we start to run you'll see my pace, heart rate, and cadence data is all displayed – along with the distance.  In my case I've selected to still use GPS data, but cadence is coming from the footpod.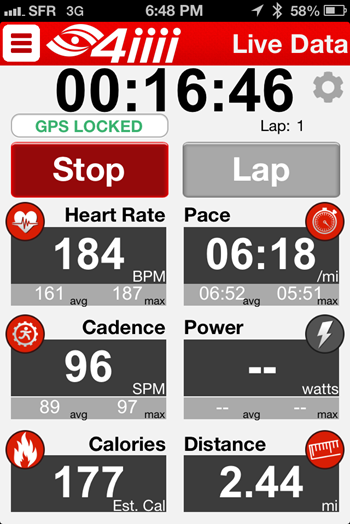 You'll see I still have the capability to set lap markers as well here by pressing the big lap button.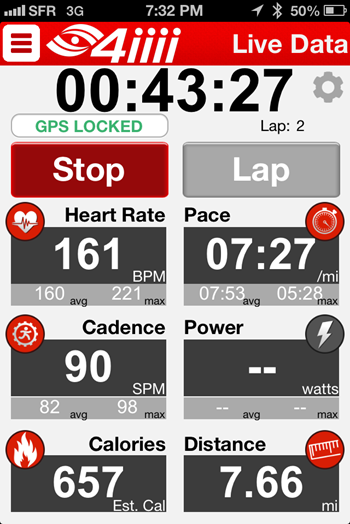 Once I'm done with the run, I can press the stop button and follow the same procedure to save the data and e-mail it to myself.
Ideally I'd like to see some built-in sharing options within the app itself so I could save the hassles – for example, posting directly to Strava or Garmin Connect, etc….
Once posted, you'll see the run data just like any other: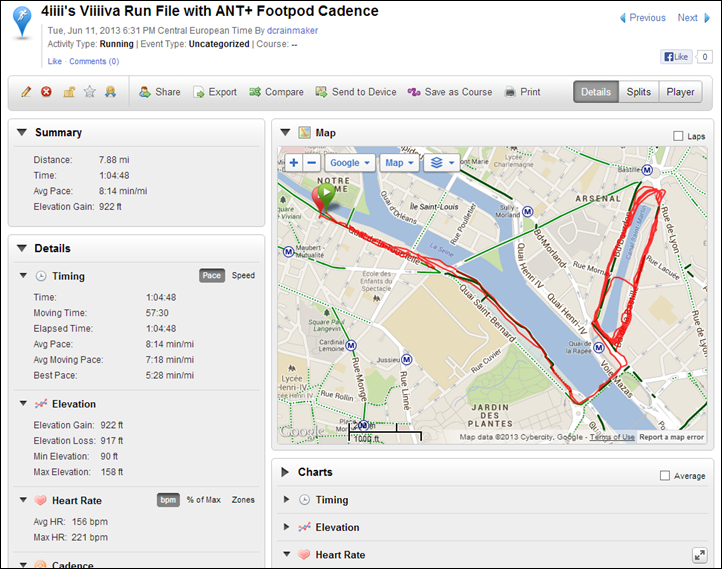 Of particular note here is the the cadence data from the footpod, and the lap data from me pressing lap button, both carrying through.

Astute readers will notice there was a HR strap spike in this file – where it spikes upwards of 210bpm (the spikes later in the file are correct as I was doing intervals).  I asked 4iiii's about this, and they've made some firmware changes since this particular run in an effort to better filter out these erroneous spikes.  In more recent testing I haven't seen any issues.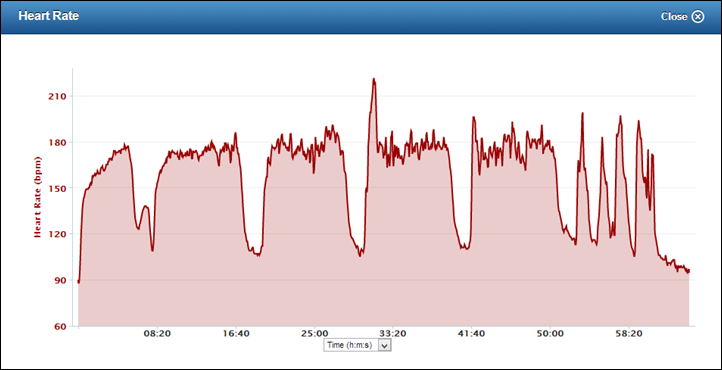 Overall, this is a great method for getting footpod data into your phone if you already have a ANT+ footpod.  Note that this isn't just for outdoor running, but also indoor/treadmill running where it's most applicable.
Right now the only footpod on the market that's Bluetooth Smart is the new Polar Bluetooth Smart footpod, but that's pretty big compared to the ANT+ editions that are the size of a quarter.  So this helps bridge that a bit.
Understanding the different modes the Viiiiva strap transmits in: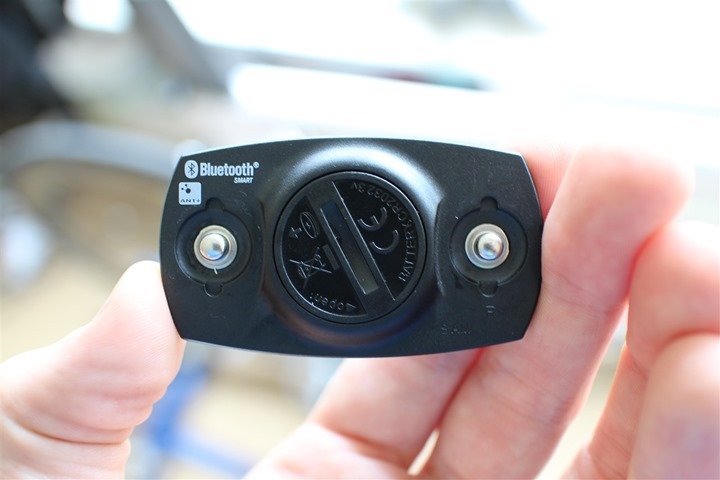 Now that you've got a grasp on how the platform works when it uses all 4iiii's components, let's dive into a bit more detail on the different modes Viiiiva supports – ultimately segueing into 3rd party support.  Understanding these modes is critical to getting accurate data – especially for power meter users.
When the Viiiiva strap broadcasts your ANT+ data back out as Bluetooth Smart, it's doing it using Bluetooth Smart device profiles.  These are standardized, and well understood – simply methods of transmitting a given type of information (i.e. heart rate data, or power data, or cadence data).  Normally, most sensors only transmit one type of data at a time.  A heart rate strap transmits heart rate data, and a speed sensor transmits speed data.  And given that, they're only using one device profile at a time.
Since they're only using a single device profile at a time, apps and devices see the sensor data from a single specific ID (a GUID technically, but think of it as a phone number).  The Viiiiva strap only has one phone number (in effect) and can only take one call at a time.  So, what happens when you want to have two channels of information such as power and heart rate?
Well, let's first start with the simplest operation – just transmitting heart rate data.  In that case, the Viiiiva strap isn't doing any ANT+ conversion, but rather acting as a standard Bluetooth Smart heart rate strap.  Most importantly though, it's only delivering a single data channel: Heart rate information.  So apps work great and the work goes around.
Now we layer in power information.  In that case, the 4iiii's developers were in a bit of a pickle.  How do you get twice as much information when you've already got a single 'phone number' taken up?  Well, they went ahead and added additional channels of information.  The phone number stayed the same, but more data was layered on top.  The problem here is that apps have to know to look for the additional data channel.
Now what happens if they (3rd party apps or devices) don't know about that data channel?  Well in that case the Viiiiva strap goes into alternating mode.  It transmits one data channel (i.e. heart rate) for a second, and then shifts and transmits the next data channel (i.e. power).  Rinse and repeat forever.  But what's the problem there?  Well, you get half as much data.  For heart rate users, that may not be horrible, but for power meter users, that's as bad as making a deal with the devil.
So where does that put us?  Well, two modes that the Viiiiva supports:
1) Full Compatibility: In this mode, the 3rd party application or device has been updated to understand the multiple data channels and will receive all data channels concurrently without any missing data

2) Rotating Compatibility: In this mode, the 3rd party app hasn't been updated yet, and thus will receive a rotating (round-robin) data set, resulting in the different sensors rotating live-data to the application.
Now you see the importance of having full compatibility.  Obviously, the default Viiiiva app has full compatibility.  From there, we look at the 3rd party apps.  4iiii's has developed a list here of fully compatible apps [PDF], but ultimately as consumers we want to see every app correctly parse the multiple channels of information.  The list of apps tested with at least heart rate compatibility is here.  And finally, for developers, you can start here.
The good news here is that the industry is going to force this issue pretty quickly.  Other products like the new/updated Bluetooth Smart PowerCal from PowerTap need this same capability to deliver power data alongside heart rate data.
A brief look at 3rd Party Apps:
Now that I've covered the different modes available, let's take a brief look at how this works in practice.  First up I'll look at a running-focused app – iSmoothRun.  This app supports the Viiiiva fully, and does correct parsing of data from both channels, so it doesn't have to skip data points.
Setting up the app you'll dive into the 'Settings', where you'll see the 4iiii Viiiiva listed: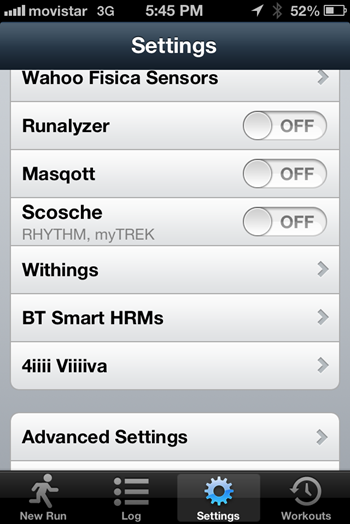 When you tap on that it'll go ahead and search for the Viiiiva, ultimately finding it: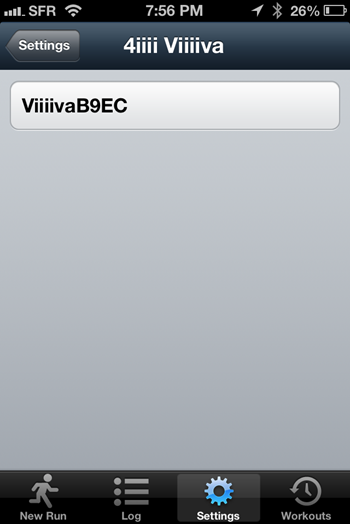 Once you tap on the Viiiiva it'll show you the configuration options.  You can see that it supports both cycling and running sensors.  Most notable you can select whether the distance comes from the stride sensor or the GPS.  The number you see above (1.012) that setting is the calibration factor.
In my case, I left the distance off, but wanted cadence.
From there I went ahead and created a new free-workout running activity.  Basically a non-structured workout to record data: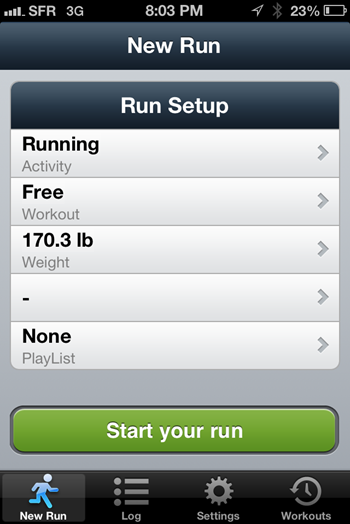 Once running, you'll  see my cadence listed below, as well as the heart rate coming from the strap.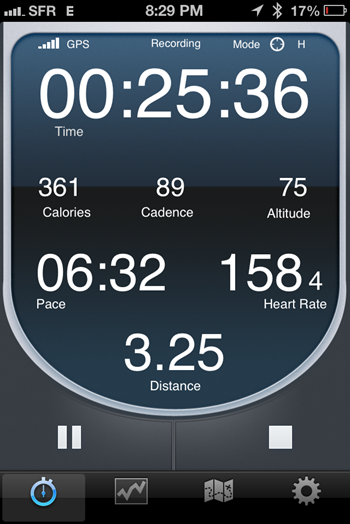 If I switch into a different view, you can see more averages.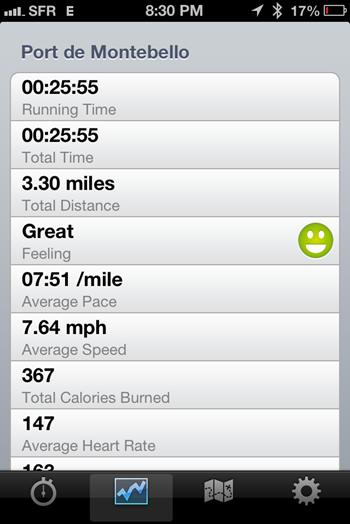 The app supports splits as well, allowing me to split up chunks of my workout.  Within that you'll again see the cadence and heart rate data coming from the Viiiiva.  If I had set it to off for GPS, you'd have the pace/distance data as well from Viiiiva:
Once I'm done I can save the activity and export it to a slew of different services: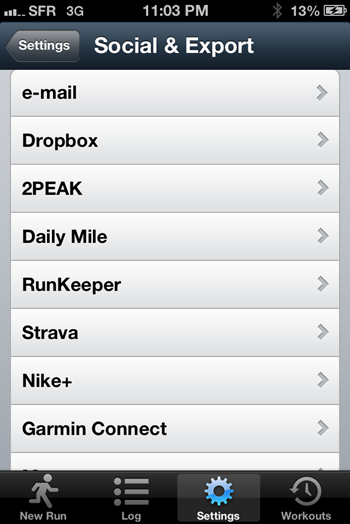 As you can see, it's all pretty straight forward and works exactly as you'd expect for an updated app.
Now, let's see how it works within a non-updated app.
I'll take a look at the default Wahoo Fitness app for a cycling workout.  Typically speaking this is my go-to app for any fitness data recording task on the iPhone, due to it having really good data cleanliness/processing practices and 3rd party integration.  In this case though, it doesn't yet support the multichannel data streaming that the Viiiiva provides, so it has to use the round-robin method.  In this test, I had already setup the power meter within the 4iiii's app, and then pressed the 'Release Viiiiva' button so that other apps could use it.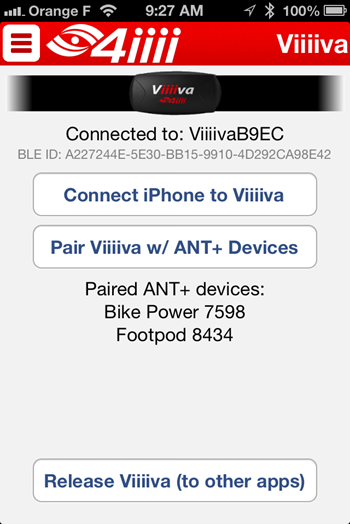 Then, over in the Wahoo app I went ahead and created a new activity profile and called it '4iiii's Viiiiva'.  You can call it Macaroni if you'd like though: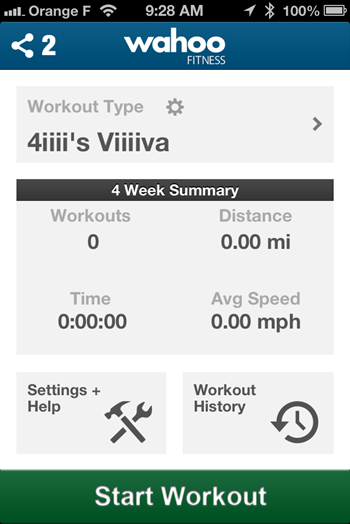 Next, I tapped to pair the HR and Power Meter sensors.  You'll see the power meter sensor pickup first: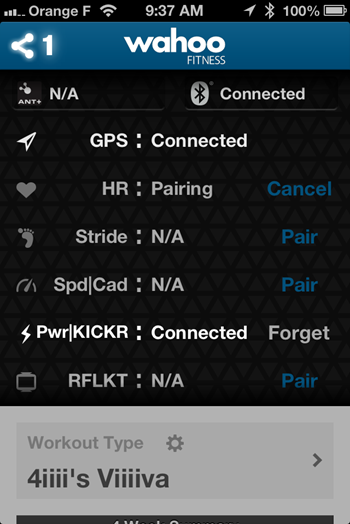 Then, a second later you see the HR sensor illuminate:
Now remember I'm about to show you an example of an app that isn't yet updated for dual-channel support.  Thus in effect, I'm showing you the non-ideal scenario.  I don't mean to pick on Wahoo, it's just a clear and simple example.
After starting an activity, you'll see the heart rate data streaming into the Wahoo app.  However, you'll note that the power data is missing – showing null: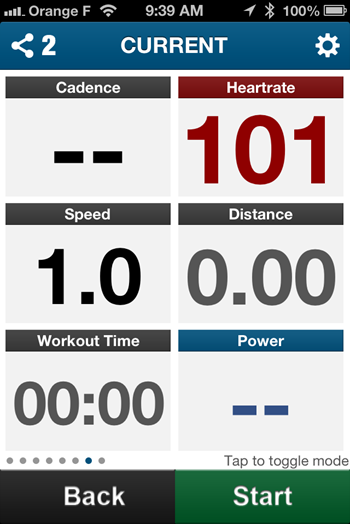 Then, a second or two later, the power data will appear (in this case, an easy pedaling of 72w), but when it does, the HR data stays stagnant.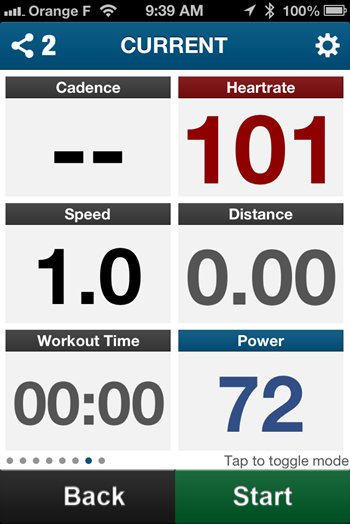 This round-robin will repeat over and over again.  As a result, all of your data points will likely show half of their actual value (or even less, if you round-robin in other devices).  From a power meter standpoint, this makes the device useless – as power meter data is all about having as accurate data as possible.
The good news here is that I think we'll see changes to apps, mostly because the wave of impending Bluetooth Smart devices will pretty much demand/require it.  For example, CycleOps has announced a Bluetooth Smart variant of their PowerCal heart rate strap, that will in turn be transmitting both power and heart rate data – thus requiring the same compatibility levels.
I've confirmed with Wahoo that they do plan on implementing support for this scenario, within their apps, but don't have a timetable yet for doing so.  That would also likely mean implementing it within their API's, making it near-instantly available for 150+ application developers out there on the Apple platform (virtually every application on the iOS platform today that does ANT+ or Bluetooth Smart health data uses the Wahoo Fitness API's).
An even briefer look at Bluetooth Smart 3rd party device support:
I was sorta excited to write this section, as I thought I'd be able to show some cool product integration that this could enable.  Except, in the end, there's actually nothing today to demonstrate.  Everything is still in the 'doesn't yet work' stage, not through the fault of 4iiii's or the Viiiiva strap, but simply as a result of the marketplace still not having any non-phone devices that actually support Bluetooth Smart accessories aside from the Bluetooth Smart heart rate strap.  And even then, that's highly limited.
(Note: All of the below devices except the TomTom support ANT+ and thus support the Viiiiva HR via ANT+, this section is purely talking about the Bluetooth side of things.)
In some ways, Bluetooth Smart is the the kid that everyone wants to call their friend, but nobody really answers the phone when they ring to play.
For example, I wanted to try it with the Leikr GPS watch, but today in beta that doesn't yet support Bluetooth Smart connections: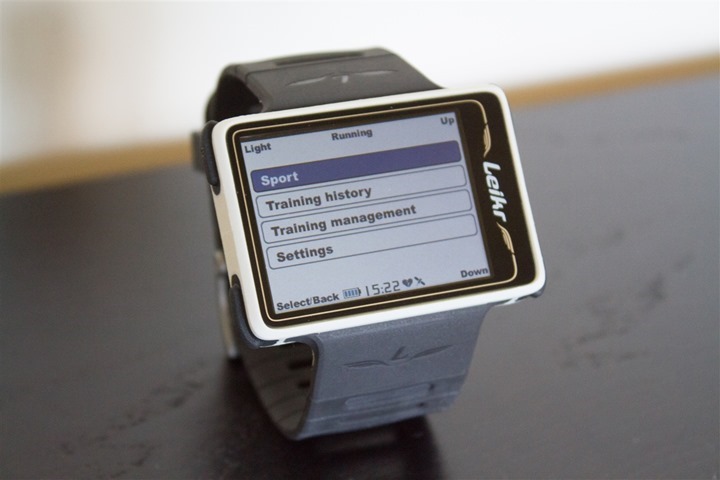 And then I wanted to see if the TomTom Multisport unit would show the potential here, but something isn't quite working out there and it wouldn't pair.  Since that product is still in beta (TomTom Multisport), I'll let them sort it out – I'm sure they'll get it figured out shortly.  But that would at least allow folks converting from ANT+ based devices (i.e. an older Garmin watch) with the ANT+ speed/cadence sensor to move over to the TomTom unit without having to buy a new cadence sensor.
And of course, I can't use it with the Garmin Edge 510/810, since while they have Bluetooth, it's old-school Bluetooth, and not Bluetooth 4.0, and thus not Bluetooth Smart compatible.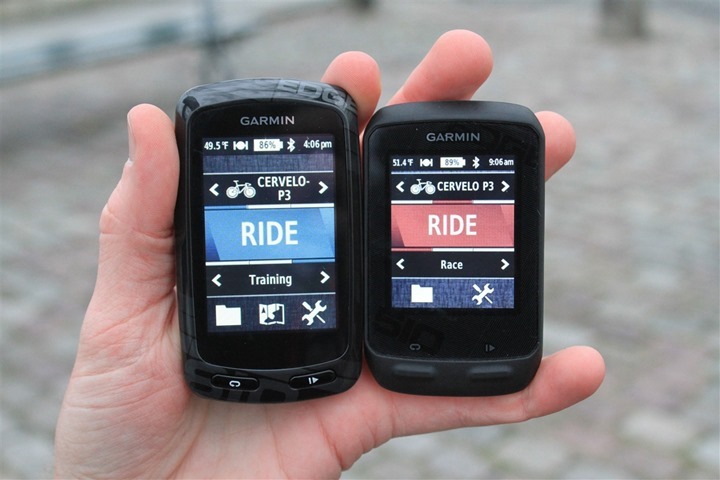 And finally, while the Garmin Fenix has Bluetooth Smart, it doesn't support Bluetooth Smart accessories.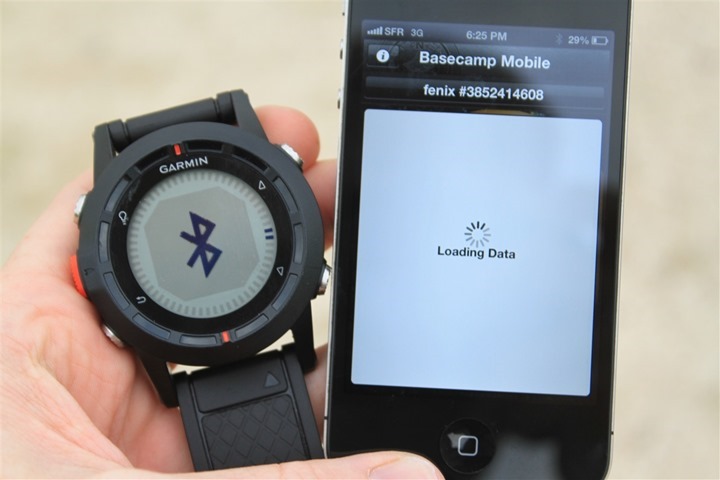 Alas, for now, you'll have to keep waiting.
In fact, the only device that it does at least connect with today is the now-discontinued Motorola Motoactv (just for heart rate).  But given that device has both ANT+ and Bluetooth Smart already, it doesn't really help much there.  And figures that the only device that works is the one that's discontinued.
But I suspect as we hit Eurobike and Interbike in late August and mid-September respectively, that you'll start to see Bluetooth Smart devices hit the market that can take inputs from Bluetooth Smart accessories.  As I noted earlier, Polar has long talked about it's plan to move to Bluetooth Smart (for two years now) – so I'd have to assume that their next release of devices (whenever that is, I don't know) would include support for Bluetooth Smart accessories.  Even more so since they recently released the Bluetooth Smart footpod, and then have previously released both the H6 and H7 Bluetooth Smart HR straps.
Once we have devices that support Bluetooth Smart profiles such as speed/cadence, and power meters, then we'll start to see the real power of the strap – such as being able to route ANT+ power meters to non-ANT+ bike head units.
General Maintenance: Firmware Updating and Battery Swapping: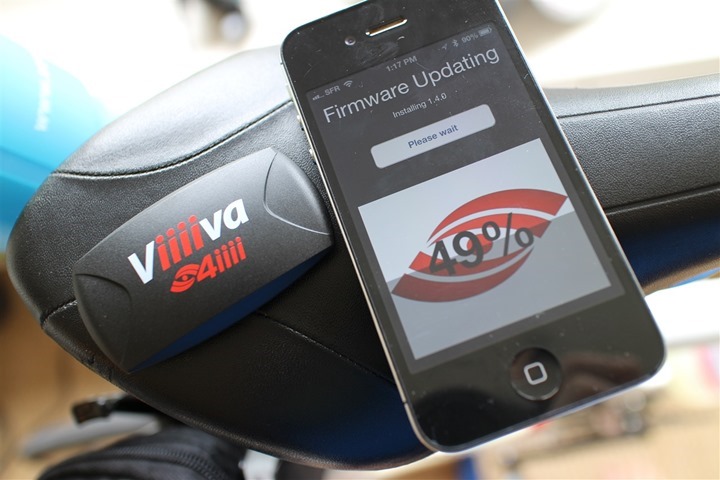 The Viiiiva firmware is updatable, and over the course of the past few months they've made updates to the firmware of the heart rate strap transmitter pod.  These updates have to this point concentrated on minor bug fixes, but long term, it could also bring new features (free or paid).  The reason they would want to include features in the firmware instead of the app is that the heart rate strap is designed to work without connectivity to the app (except for initial configuration).
The process is fairly straight forward.  When a new firmware update is made available, the Viiiiva app will notify you that it would like to update the firmware on your Viiiiva: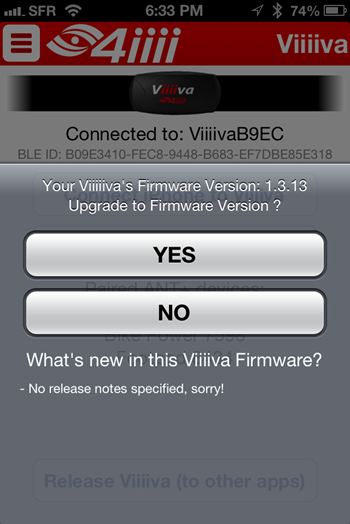 Assuming you press 'Yes', it'll then download the firmware from the interwebs.  This only takes a second.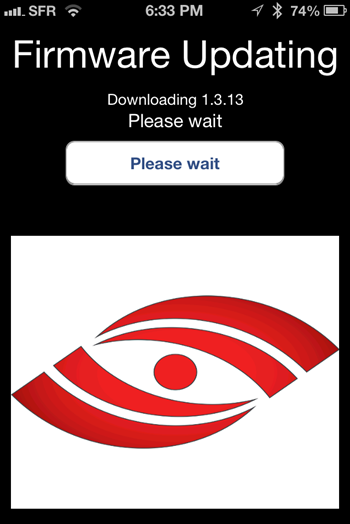 Following that it'll install the firmware.  This takes perhaps 20-30 seconds to complete.  The little 4iiii's logo will fill-up with gray as the percentage increases.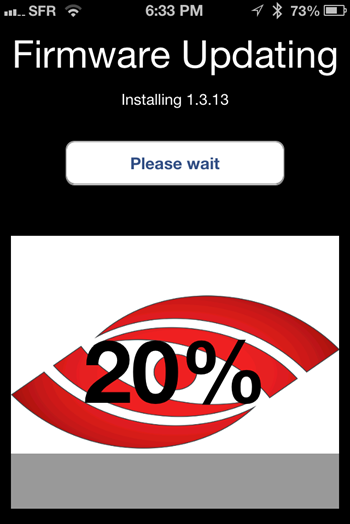 After that, the strap will reset itself and you're good to go.  No settings are lost during the firmware update (at least, none have for me to date).
Changing the battery is about as simple as it gets with an electronics device.  You won't need to do it often though, about every 200 hours of active use.  First up, you'll need a CR2032 battery (usually $2-3US).  Given the sheer quantity of devices I test, I buy them in bulk (all $9 of them!).  You'll also want some sort of straight-blade screwdriver, knife, or, in my case, a random bike tire-iron I had within reach.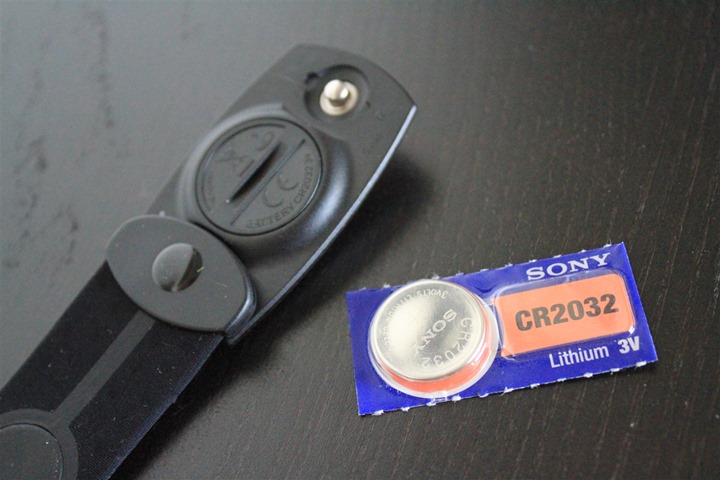 Simply twist the battery and it should pop out.  If not, just turn it over.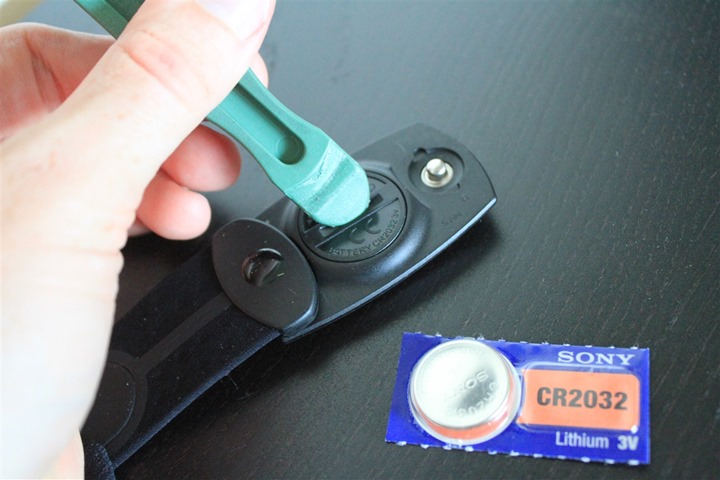 Inside you'll see the old battery hanging out.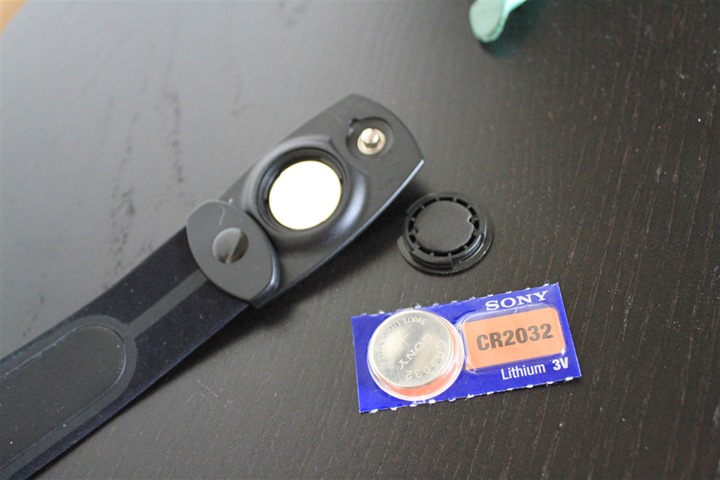 Dump the old battery out and toss.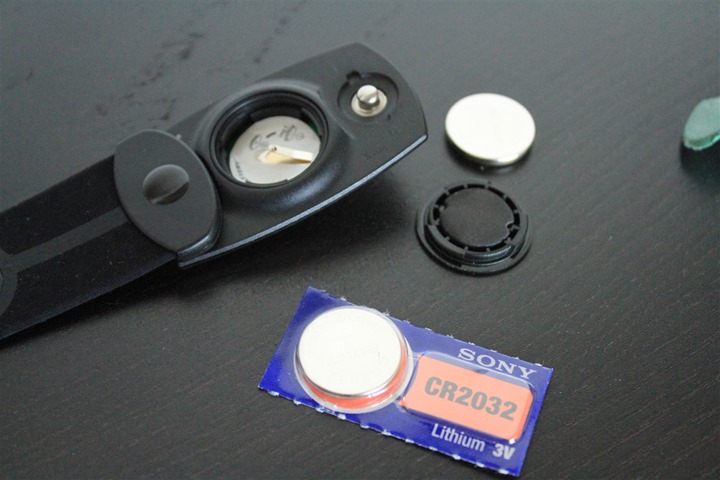 Plop the new one in and tighten back up.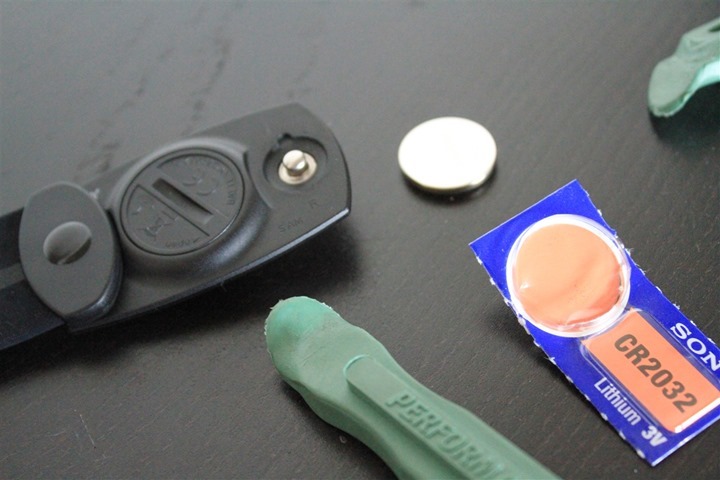 Mission complete!
In general, the way I know the battery is going is that the device will pair initially, but then you'll see it drop out.  This is pretty true of almost every CR2032-powered sports accessory/device I've tested.  The tell-tale signs are random drops in data (down to zero), especially a bit into the activity.  I always keep a few CR2032 batteries on hand, and one in my backpack and suitcases for when I'm travelling.
The Future and Potential:
What's fascinating about the strap is the firmware updating aspect. I chatted with 4iiii's around what they had on the radar for the future.  Here's where things stand for Q3 (the next 2-3 months roughly).  Note that these might end up being paid features, basically paying a small fee to unlock these additional capabilities, sorta like in-app purchases works today for buying extra levels in games.
– Download .FIT files directly from Garmin devices to iPhone (via Viiiiva)
– Viiiiva file saving – the ability to save data to the strap directly from ANT+ sensors (or HR) without a device, for example, during swimming or just out hiking for a day, then download later
– Add Fitness equipment profile for exercise equipment, enabling users to sync to gym equipment with "ANT+ Link here" logo (eg. BodyBike, Concept2, Nautilus, Schwinn, Startrek, Tacx, and Woodway)
– Stand alone Liiiink Mode with no Heart Rate, provides solid pass-thru of power for example.  Thus no rotation of data to the phone if you don't want HR, ideal for non-conforming apps
– Auto-Calibration for Power Meters (Auto-Calibration function works by itself in Viiiiva, but isn't extended yet to 3rd party apps via Viiiiva)
Longer term, they're looking to leverage the built-in accelerometer that the Viiiiva actually has in it (allowing them to detect motion and orientation).  This would enable the following scenarios:
– Activity Monitoring
– Cadence/Step Counting (Running & Walking)
– User programmable Tip-Tap: This would enable the ability to simply tap the HR strap to trigger events in an app, such as laps, changing screen display, or anything else an app wanted to trigger.
At the same time, they stressed that as a relatively small company (compared to say, Garmin or Polar), they were really looking for scenarios that users were interested in and appreciate any feedback.  I'm good with ideas being dropped below in the comments.
Summary: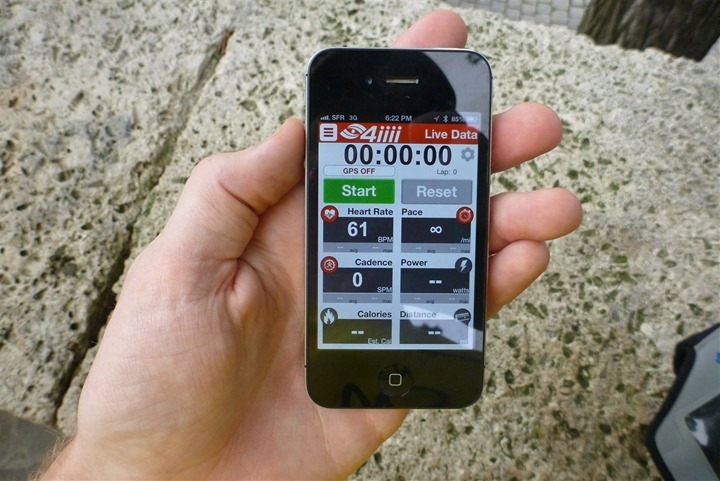 I've been excited about the Viiiiva strap since I first heard about it nearly a year ago at Interbike.  While they released it back in February, it's really been in the last month or so that I feel the bugs have been worked out, and that it's reached a level of maturity where I can now recommend it.
From a data standpoint, the native app is very solid – and I'm no longer seeing issues I saw back in the earlier releases.  Especially for cyclists, which is where I'd really recommend this product (and in particular, those power meter users out there).  Looking down the road, I'm optimistic this device will likely drive more cross-platform integration – which is a good thing for consumers.
Given that the unit follows all the Bluetooth Smart specifications, it enjoys pretty wide 3rd party support in the app world for heart rate data.  As a general rule of thumb, if the app supports the Wahoo Fitness (listed on their site), this device will at least work with it from a basic functionality standpoint (HR + rotating data from sensors)
The only area that is problematic however is the lack of support from 3rd party apps on the full dual-channel support (i.e. more than two devices paired at once).  As noted, only a few apps support that today, and I'd really like to see that become widespread.  I'm not terribly worried there, because ultimately, those apps will have to do so since device adoption in the Bluetooth Smart space in general will drive that.
As those applications update, I predict we'll see Viiiiva become core to bridging the gap between ANT+ and Bluetooth Smart devices for quite some time.
Here's my look at the Pros & Cons:
Pros:
– Converts ANT+ accessory transmissions to Bluetooth Smart easily
– Accurately records data, especially power data
– Gives you both ANT+ & Bluetooth Smart HR strap (can use concurrently)
– Can use with existing ANT+ display devices for heart rate
Cons:
– Doesn't yet have broad 3rd party support for all full multichannel transmission mode
Found this review useful? Here's how you can help support future reviews with just a single click! Read on…
Hopefully you found this review useful. At the end of the day, I'm an athlete just like you looking for the most detail possible on a new purchase – so my review is written from the standpoint of how I used the device. The reviews generally take a lot of hours to put together, so it's a fair bit of work (and labor of love). As you probably noticed by looking below, I also take time to answer all the questions posted in the comments – and there's quite a bit of detail in there as well.
I've partnered with Clever Training to offer all DC Rainmaker readers an exclusive 10% discount across the board on all products (except clearance items). You can pickup the Viiiiva below. Then receive 10% off of everything in your cart by adding code DCR10BTF at checkout. By doing so, you not only support the site (and all the work I do here) – but you also get a sweet discount. And, since this item is more than $75, you get free US shipping as well.
4iiii's Viiiiva ANT+ to Bluetooth Smart HR Strap – $79US
Additionally, you can also use Amazon to purchase accessories (though, no discount on either from Amazon) – of course in the case of Viiiiva it's mostly anything ANT+ is compatible from a sensor standpoint. Or, anything else you pickup on Amazon helps support the site as well (socks, laundry detergent, cowbells). If you're outside the US, I've got links to all of the major individual country Amazon stores on the sidebar towards the top. Though, Clever Training also ships most places too and you get the 10% discount. Thanks for reading!
And as always, feel free to post comments or questions in the comments section below, I'll be happy to try and answer them as quickly as possible. And lastly, if you felt this review was useful – I always appreciate feedback in the comments below. Thanks! Finally, I've written up a ton of helpful guides around using most of the major fitness devices, which you may find useful in getting started with the devices. These guides are all listed on this page here.