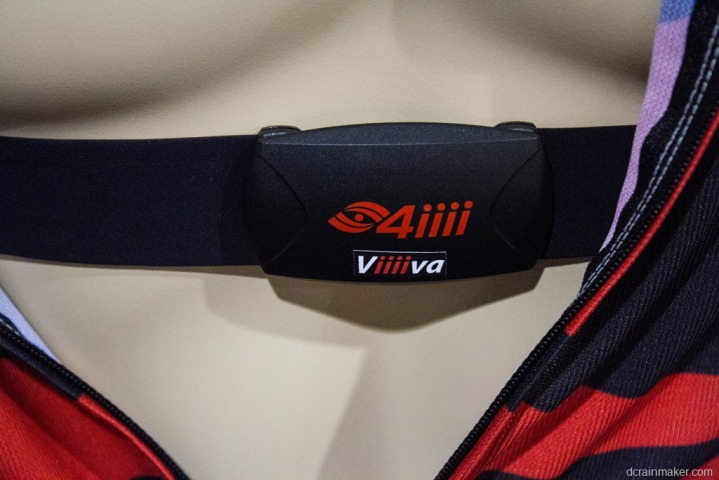 Today at Interbike, 4iiii's quietly showed off a new heart rate strap that contains both a ANT+ chip and a Bluetooth Low Energy chip within it (Bluetooth Smart).  At first glance, you may wonder why this is important – but once I walk through it, you'll see the implications are far more reaching than simply displaying heart rate data.  In fact, in my book – this has almost nothing to do with heart rate data.
I'd go as far as saying this easily ranks into the top three coolest sports technology things I've seen at Interbike this year.  Mostly, because it's what a lot of you have been asking for lately – even if you didn't know you've ben asking for it.
But first, to backup a second (or a few seconds).  Typically, if you look at a normal ANT+ heart rate strap (the one that almost everyone out there has today), it reads your heart rate, and then broadcasts that via ANT+ as a sensor device back to any ANT+ compatible unit, like a Garmin wrist watch or bike computer.  This goes the same for speed/cadence sensors and power meters.  That's worked well for years, but as cell phones have become more prevalent in sports, it's been harder to get that data onto cell phones (and apps like Strava).  ANT+ countered to solve that by working with cell phone companies to place ANT+ chips in them, like the waterproof Sony Ericsson Xperia Active.  And we also saw companies like Wahoo Fitness developing iPhone/iPod/iPad adapters for ANT+.  However, in large scale we haven't seen integrated ANT+ chips in cell phones catch on.
Meanwhile, on the Bluetooth side, it wasn't until the iPhone 4s was announced that we saw Bluetooth 4.0 in any mainstream fashion.  Bluetooth 4.0 enables the ability to connect to Bluetooth Smart devices (aka Bluetooth Low Energy), which can be used in sensors like heart rate straps and other sports scenarios.  I wrote a bunch up on that a few months ago as a primer.  Over the next 6-12 months, it'll be impossible to find a cell phone without Bluetooth 4.0 in it.  And in many ways, Bluetooth 4.0 is a competitor to ANT+ (though, in today's form, not yet a replacement for a number of reasons I noted above).
The challenge has been for many people though is how to get that existing ANT+ data (via the stuff you already bought) onto their cell phone.  We've seen folks like Wahoo Fitness become extremely successful with ANT+ adapters and cases, but many don't like the additional bulk.
Thus, what if you had a device that you wore just like any other device – but also did the consolidation of ANT+ data into Bluetooth Smart data, and therefor – straight into your new cell phone with no dongle/adapter/key?
(My couple second historical backup is now complete)
Now you see the potential for something like the heart rate strap based Viiiiva.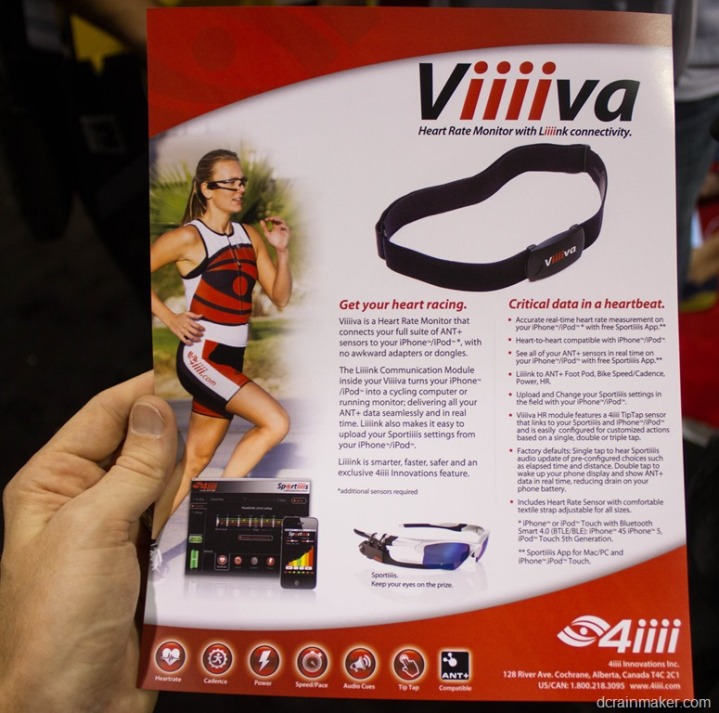 At present, 4iiii's is being a bit limited in what they are saying publically about the strap and the functionality, since they are working with a number of partners ahead of formal release in two months in November.
But after a long technical talk with them this morning – the implications are huge.  Here's just two scenarios you could potentially do with it:
A) You could be riding a bike with a ANT+ power meter and an ANT+ speed/cadence sensor.  That data is then consolidated into the Viiiiva heart rate strap on the ANT+ side.  From there, that data then gets sent outwards via Bluetooth Smart to your cell phone.  All in real-time.  Plus you get heart rate data from the strap itself.

B) You could be riding that same bike, but now instead with one of the Wahoo Fitness Bluetooth Smart Speed/Cadence sensors, and the newly announced Stages Cycling StageONE Power Meter (via Bluetooth Smart) – and then funnel that data BACK to an ANT+ head unit, such as a Garmin Edge 500.   And you still get that heart rate data.
From a data streaming piece, they are still finalizing those components (since the Bluetooth Smart spec is still being finalized a bit as well).  But expect to see them offer the ability to both act as a formal Bluetooth Smart device in accordance with the Bluetooth Smart device profiles, as well as offer a private Bluetooth Smart channel for applications to take advantage of separately.  I'd suspect the private channel side of things would be required if they wanted to deal with scenarios such as integration with the inRIDE accessory from Kurt Kinetic, which has to transmit/understand roll down and the like.  But this would be a prime area for a partnership to take on that component.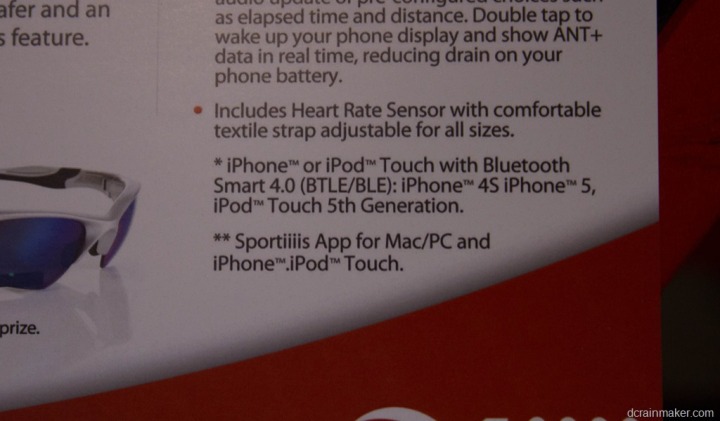 From my discussions with them, while the strap will release in November, expect to see more activity as they hit CES (first week of January), as they're working with a number of folks in the industry on partnerships.  The strap pricing is still a tiny bit of flux – but will be no more than $99.  For reference, the current Wahoo Fitness BlueHR Bluetooth Smart HR strap is $79, and is the cheapest Bluetooth Smart strap I'm aware of on the market today.
The Viiiiva unit uses a standard CR2032 battery, and they believe even with the dual chips in there, they'll be able to get close to a years worth of battery.  But for a single $3-5 battery, I'd even be happy if it were just three months.  Of course, since it is a heart rate strap, you'll still get simple heart rate data transmitted across either Bluetooth Smart or ANT+ from it.
Note that due to the non-multimaster nature of Bluetooth Smart today, you'll need to choose whether you pair Bluetooth Smart devices directly to your phone (i.e. CADENCE > PHONE), or whether you pair them to the consolidator (i.e. CADENCE > VIIIIVA).  Of course you can always change it.  Not really a huge deal in this context, but just a technical FYI.
In other 4iiii's news, they are on the verge of releasing an update to their 4iiii's Sportiiiis heads up display as well as app.  The display will now feature significantly brighter LED lights, as well as a re-arrangement of colors to try and address gaps with those who may be colorblind to certain colors.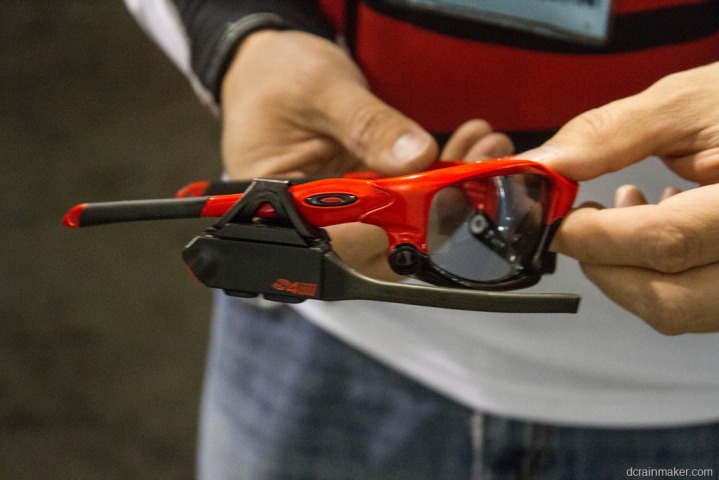 The app now has a much easier method of setting zones that in the past: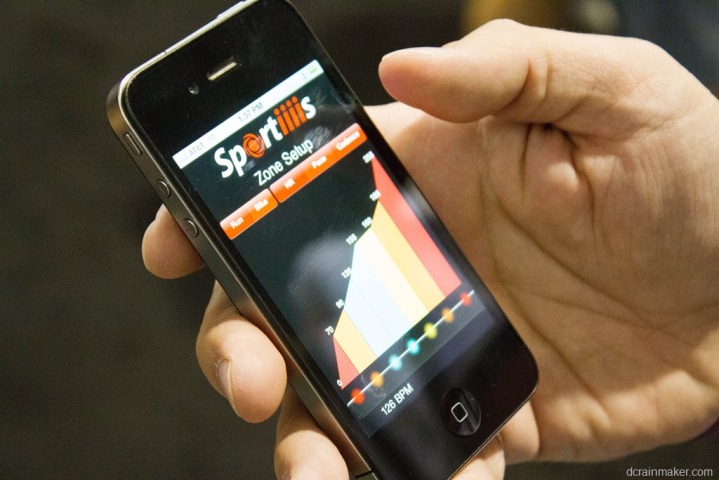 Further, the clip has been changed from a ziptie clip used in the past, to a quick release style design.  It will ship with three sizes of quick release attachments, depending on your glasses.  Additionally, they've also changed the button that controls the unit to be tactile, as opposed to straight touch like before.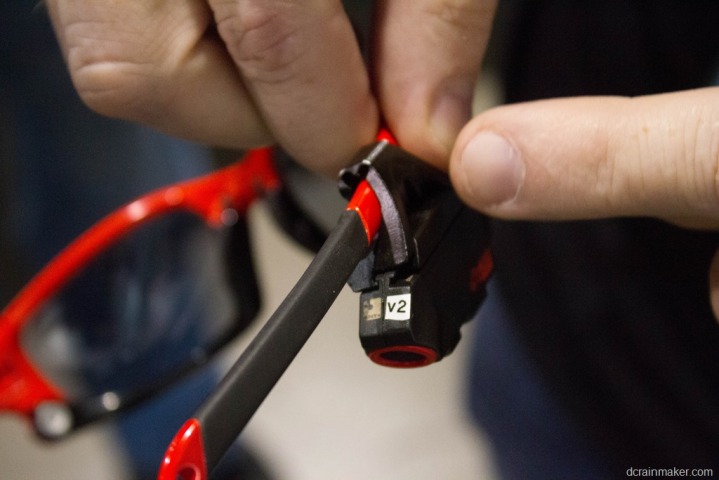 And finally, it's also Bluetooth Smart enabled as well (in addition to ANT+).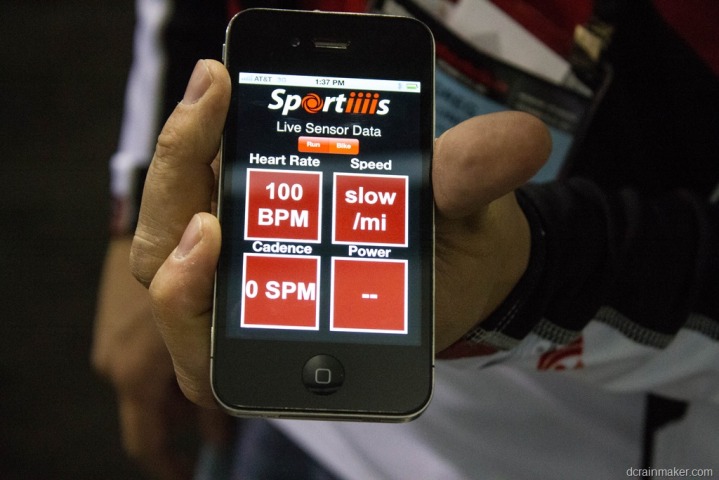 I'm definitely excited to see how this evolves, and most importantly, how this shifts the landscape for companies looking to do development, especially apps.  The ability for app developers to use the Viiiiva HR strap to reach ANT+ devices (which has huge penetration) without having to require users to buy a separate dongle, is massive.  Plus, the user gets a heart rate strap out of it.
As always, if you have any questions – feel free to drop them below, and I'd be happy to try and get them answered.  Thanks for reading!