NOTE: My full inRide In-Depth Review has been recently posted (click here), with far more detail and analysis than the below post.  Enjoy!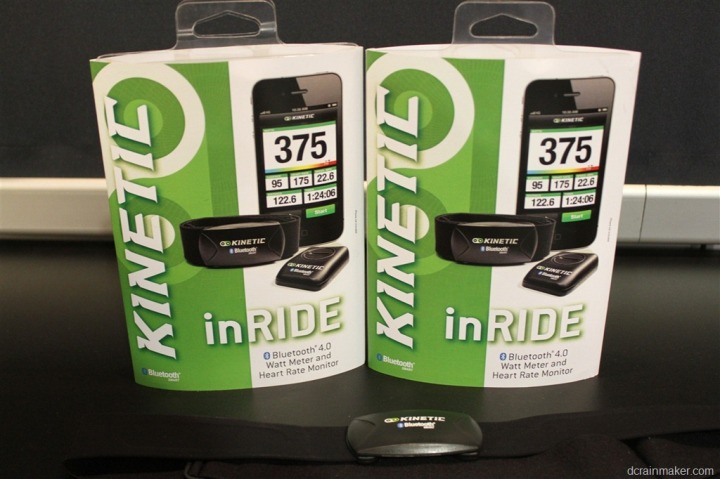 This is definitely the week of power meters, and there's no shortage of new products – for both Bluetooth Smart as well as ANT+.
Here at Eurobike, Kinetic introduced a power meter accessory/attachment (inRIDE) for their existing trainers – which adds highly accurate power meter measurement to a Kinetic trainer for about $200.  This data can then be transmitted to Bluetooth 4.0 compatible devices (like the iPhone 4s and Motorola Razr).  At which point you can use your favorite Bluetooth Smart compatible training app to record and analyze the data.
The sensor itself is about the size of a few Starburst candies and operates on a single CR2032 coin cell battery.  They expect about a year of battery life before you have to shell out another $5 for a new battery.
For installation, the unit mounts with double-sided tape to the back of an existing Kurt Kinetic trainer.  The following Kinetic trainers will work with the unit:
Kinetic Road Machine
Kinetic Rock and Roll
Kinetic Pro Trainer
You may be asking about other trainers.  In theory, if the trainer could support a magnetic that stayed absolutely still, and if the power curve was known, and if Wahoo Fitness worked with that vendor, they could probably produce something similar.  However, at present this is just for Kinetic trainers.
You can see the unit below mounted to the back of the Rock and Roll trainer: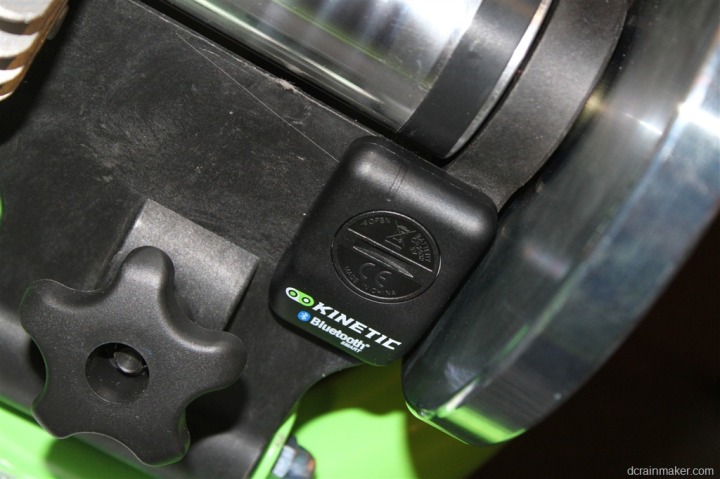 The unit is measuring the speed of the roller  In each of the trainers above, there's a small divot that's always been on the back of the trainer roller.  You can see it in the photo below as a small circle about the size of an pencil eraser.
By placing the small magnet in the unit, the sensor effectively becomes a speed sensor.  With the speed, it's in turn able to predict power based on a known power curve.  A power curve means that a given speed, the wattage will always be a specific wattage (regardless of gearing).
From there the unit transmits the final power wattage (as well as speed) per the tentative Bluetooth Smart power meter device profile.  At this point, applications and devices that support Bluetooth Smart can pick it up.
Kinetic has partnered with Wahoo Fitness to rebrand the Wahoo Fitness iPhone application for Kinetic (free).  This enables you to to pair to the trainer (just like you'd pair a normal power meter).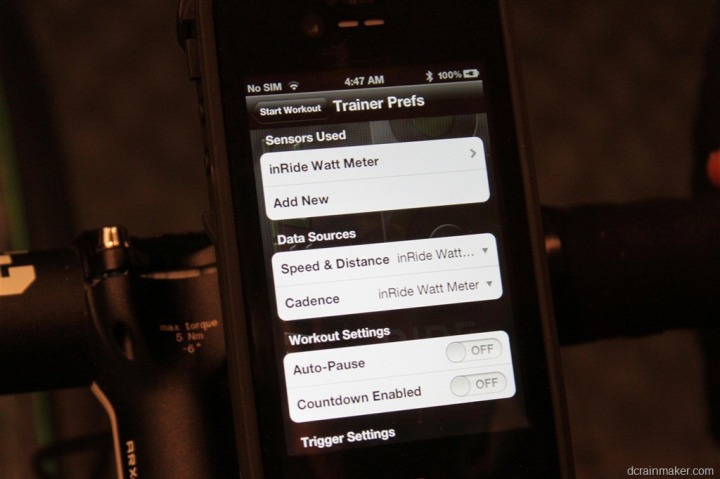 After wirelessly pairing, your data will be transmitted to the iPhone 4s (or other Bluetooth 4.0 device).  You can see below the screen showing the rider in the middle of the workout.  You can also pair existing ANT+ sensors with an ANT+ key, as well as other Bluetooth Smart sensors.
In order to test the integration across the Bluetooth Smart protocol with 3rd party apps, I kidnapped the TrainerRoad guys from a few halls away and took them to the Kinetic booth.  They'd never tried pairing with the new accessory before – so it was a bit of a fun test (well, fun from my standpoint, I'm not sure they were excited about the potential live demo fail).
Once TrainerRoad opened up, the pairing process was essentially no different than other sensors that TrainerRoad supports (such as ANT+ and Bluetooth Low Energy, as well as the CompuTrainer).  Within a couple seconds it showed up as paired.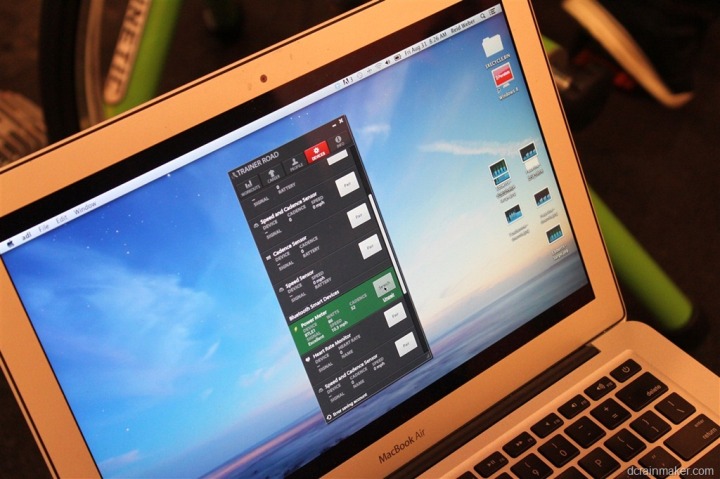 And a minute later I had suckered one of them onto the trainer to ride it.  In the photo with the laptop being held below, the upper left number is power (146w).  He also strapped on a Wahoo Fitness BlueHR Bluetooth Smart strap as well, which TrainerRoad picked up too.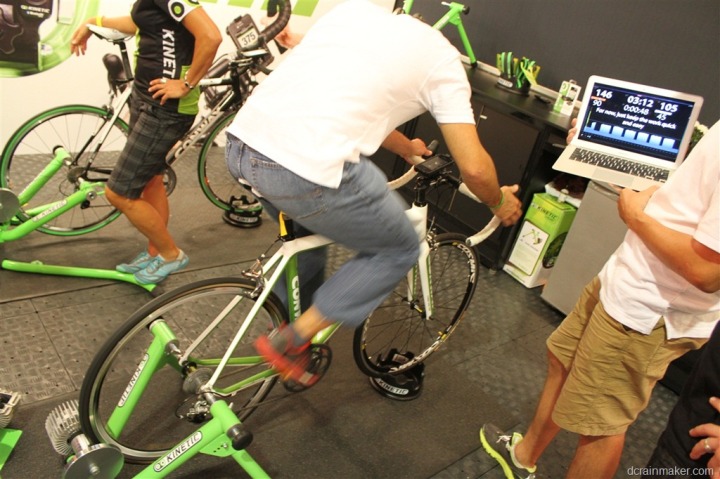 You'll note above that cadence is displayed.  The Kinetic trainer transmits virtual cadence – which is an estimation of cadence. In many ways, this estimation is not terribly different from that of what the PowerTap does today.  At casual glance is seemed reasonably accurate.  Though, more tests will be in order once I've got a unit.
I shot this brief 30 or so second video showing them spinning up and throwing down some watts.  You can watch on the TrainerRoad screen as the power updates.  Note in particular the reasonably quick drop-off when he stops pedaling (again, upper left corner).  That said, keep in mind that they are still working within beta firmware – and they are still actively developing.
TrainerRoad and Kinetic Road Machine outputting power via Bluetooth Smart and inRIDE
The majority of the guts of the unit are 'powered by Wahoo Fitness', and thus the same guys working on the Wahoo KICKR trainer are supporting Kinetic in this effort.  The power meter accuracy is within +/- 2%, but the Wahoo team is aiming to try and improve that (though that's still pretty impressive).
The goal is to have the inRIDE accessory pods available starting in October.  They will be officially priced at $225, but will be generally available for $199US.  However, that does include a Bluetooth Smart HR strap as well.  So basically, power, cadence, speed and heart rate for $200 (well, plus the trainer).  This rebranded the Wahoo BlueHR strap (which costs normally $80). So obviously, if you've already got the trainer – this is significant.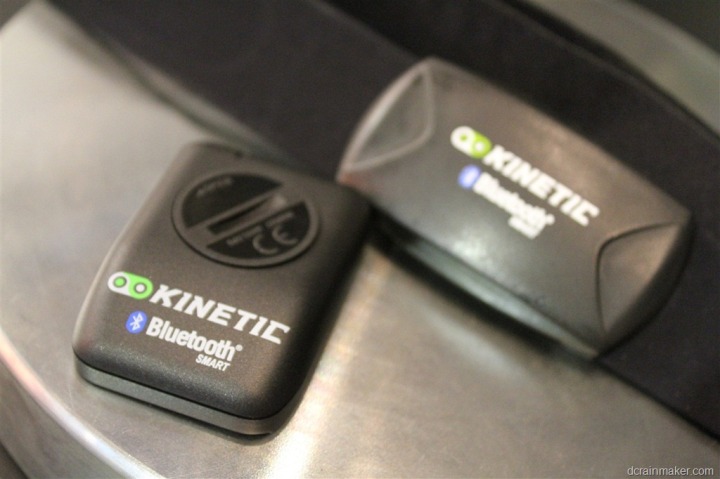 Note that unlike the Wahoo Fitness KICKR trainer, this won't allow you to control resistance – but instead, just reports accurate power.  Resistance on this trainer is controlled by your speed.  Nothing changes in that area.  For those that may have been using the Kinetic trainers previously with TrainerRoad with VirtualPower – the key difference here is going from estimation of power to more accurate readings.
I'll be grabbing a unit at Interbike in three weeks to take home, since I bought myself a Kurt Kinetic Road Machine trainer last winter to test out.  I'm really jazzed to see how this shapes up.
As always, if you've got any questions – feel free to drop them below and I'd be happy to try and get the answers.