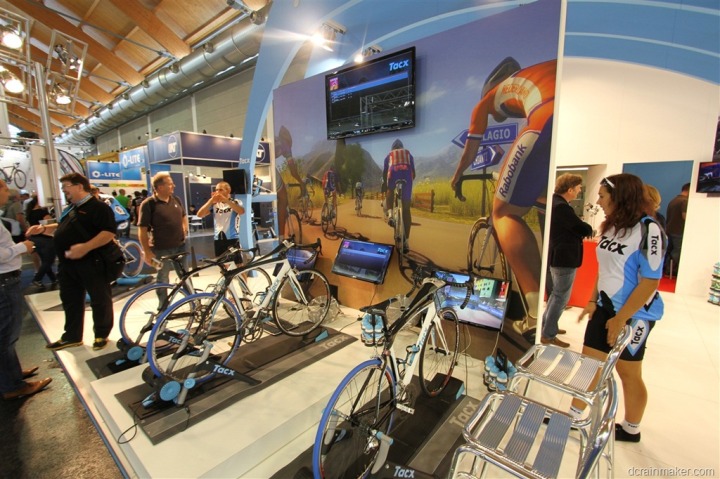 I spent a good bit of time at Eurobike talking with the Tacx folks about their upcoming TTS 4.2 software update, as well as what's in the pipeline for the one after that – version 4.3.
I'll be spending more time with them and the final version with at Interbike in just over two weeks, but this should give you a sneak peek at what's coming.  Additionally, while at Interbike I'll be able to give you a full roundup of the initial features as part of 4.3 (beyond 4.2).
First up on 4.2 is the hit list, here's the big ticket items:
– Completely revamped installer and initial configuration.  No longer is the process anywhere near as convoluted as it used to be.  They walked me through some of this.  Far better than before.  Bonus points for going back and fixing something as opposed to just spending time on a new feature.

– Starting Points.  You can now select any random point in any video or other course anywhere within the TTS suite.  Simply click on the timeline as the point you want to start with.  Whether that be 2 minutes down the road, or 35 miles down the road.

– Added a Velodrome.  For the indoor riding, you can now select a Veledrome, and go round and round and round.

– Added NY Metropolitan Race to TTS.

– New Gameplay options.  As we see elsewhere in the industry, this adds 'gamification' to the Tacx suite – including elimination rounds, and point race scenarios.

– Google Street View Changes when you turn steering wheel: In version 4.2 when you turn the steering wheel on the trainer, the view will look left and right – just like it would with your head turning left or right.  The bike will remain going forward/straight.  However, in version 4.3 – when you turn the wheel, it'll actually turn the bike down a new street (or I suppose, into a building) – within the confines of Google Street View.  You'll be able to simply 'ride' Google Street View without any predefined course.  Most applications that do courses/riding of Google Street View today require a set course/route.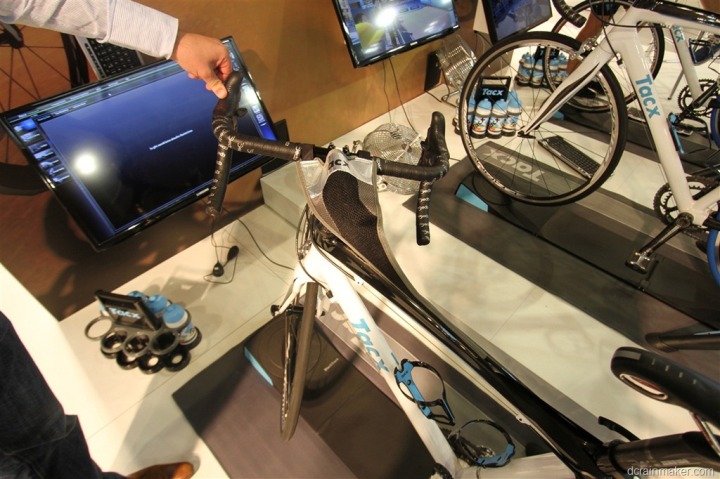 Of course, Google Street View isn't exactly like a real course video – far from it in fact.  Remember that Google Street View is simply images photographed from a car as it goes down the street.  As such it's not exactly smooth like butter to watch, nor video.  Here's a quick demonstration of the speed seen (note the upper left corner image – that's the street view):
Brief video of Tacx Google Street View
In addition to the changes noted about 4.3 and Street View, they'll also be releasing an iPad app with an ANT+ dongle/adapter/key on it.  They weren't clear exactly who's dongle/key they're using – but I can only hope that it's the Wahoo Fitness key just OEM'd.  That would allow you to use it for a gazillion other apps.
With the app, you'll be able to completely replace the handlebar mount unit (that's their goal), so it'd be just the iPad and the trainer itself.  Cool stuff.
Unfortunately, they didn't have the iPad or key with them at Eurobike, but will have it at Interbike and will be giving me a full tour there of the app.  In the meantime, here's it in the catalogue…which, is all they had.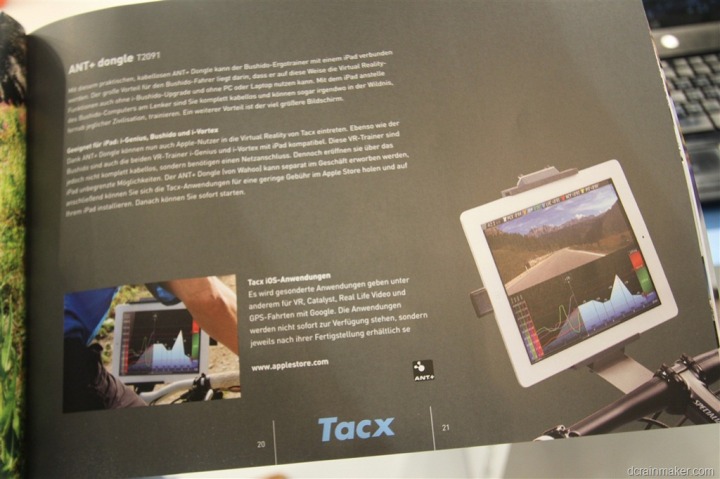 Speaking of Google related items.  Unfortunately, Tacx has selected to breakout the costs for access to Google Maps content as a separate license fee that you need to pay.  Starting September 10th, you'll be able to pay $30US/Euro per year to access anything that requires a Google Maps product.  This includes street view, course maps, route maps, and Virtual Reality involving the Google Earth layer.  This is due to them apparently becoming big enough that Google took notice and asked them to pay the typical Google Maps API licensing fees.  In turn, Tacx has passed that cost onto you.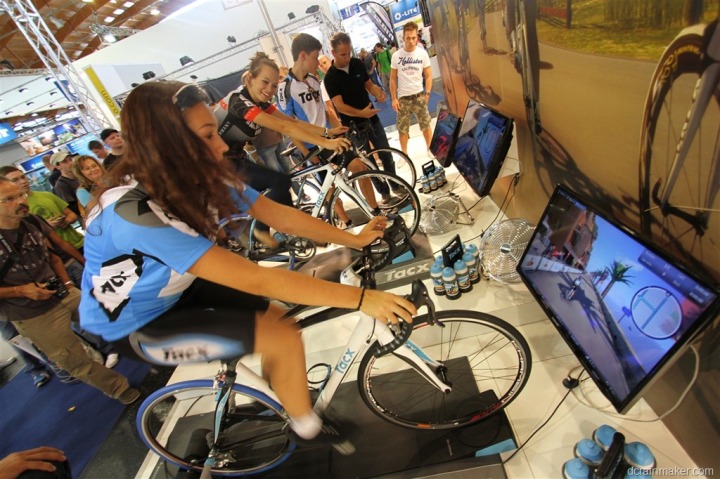 Tacx TTS Version 4.2 will be available within 2-3 weeks (should be complete by Interbike).  They have wrapped up development on it in the last couple weeks and are now just doing final QA.  No date was given for the version beyond that – 4.3 – nor for the iPad app.  Nor were costs known for the iPad app or key.  I suspect they'll have that better defined at Interbike.
Version 4.2 will be a free upgrade to all users on version TTS4.  Prior to that, you'll have to pay for the TTS4 suite, which is about $130.
Finally, they sent over a Tacx Genius unit earlier in August for trial.  I'll be putting together a review on that during the September timeframe – on the 4.2 software.  This will allow me to test all the features noted above.
As noted previously, my hope is that by early October I'll have a complete showdown of trainers available for ya – just in time for the upcoming Northern Hemisphere winter training season.