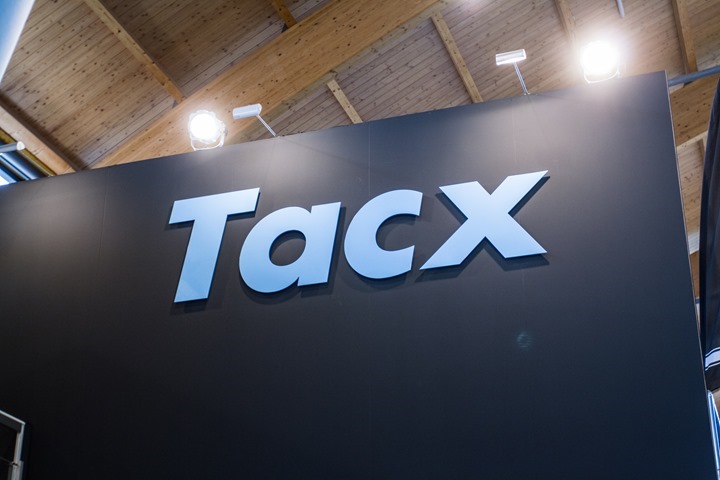 Over the last few weeks Tacx has trickled out details on their trainers for the upcoming season.  The overall theme of which is dual ANT+/Bluetooth Smart compatibility, as well as expanded app operating system compatibility and integration.  I'll start by going through the new trainers, and then talk about the sensors, and then wrap up with integration of apps and head units to control the trainers.
New Smart Trainers: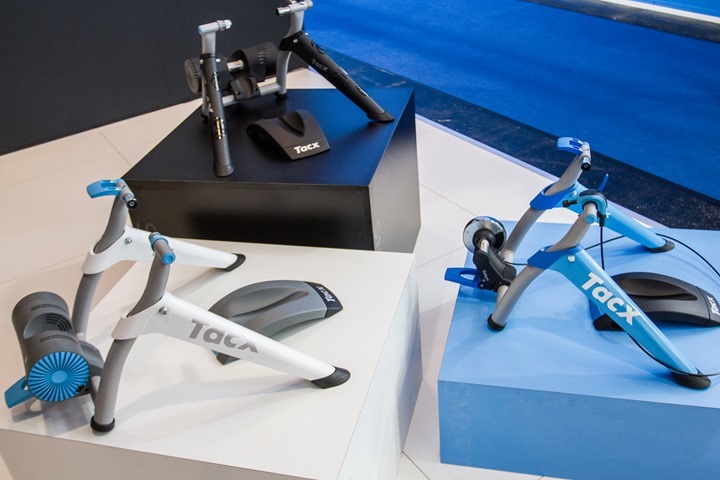 First up is the core of their business – the trainers themselves.  This year the major news is upgrades of trainers to support dual ANT+ and Bluetooth Smart compatibility.  This enumerates itself in the following ways:
– Bluetooth Smart resistance control of trainer from iOS/Android apps
– ANT+ broadcasting of standard power/speed/cadence data to any compatible head unit
– Bluetooth Smart broadcasting of standard power/speed/cadence data to any compatible head unit/app
– Private-ANT control of the trainers from non-Bluetooth Smart apps (such as the Tacx desktop application)
– Private-ANT control of the trainers from compatible head units (such as the Mio Cyclo series)
You'll see at this point they aren't yet using the new ANT+ Trainer Profile.  They're gauging customer demand for it, and determining whether or not there's reason to dedicate resources to it.  If additional head units support the new profile, then they're more likely to adopt it (i.e. if Garmin supports it).  If they were to support it, they noted that they'd pretty much have to do it across the board on all trainers, in order to ensure compatibility with future desktop application versions (which use the private-ANT variant).
The new trainers are easy to identify, because they simply have the word 'Smart' in them.  They are as follows, with prices:
– Satori Smart – $469US/349€
– Vortex Smart – $769US/479€
– Bushido Smart – $959US/749€
They will still continue to make the Tacx Ironman and iGenius units, but those haven't been updated to be 'Smart' with dual protocols, like the others above.
First up is the least expensive unit – the Satori Smart: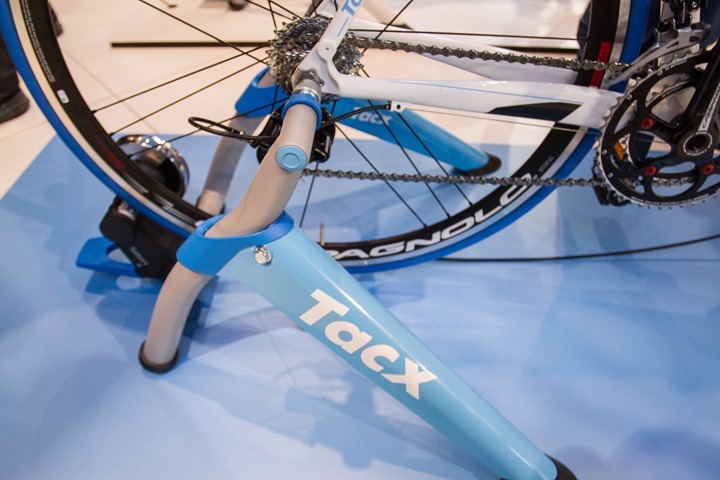 This unit is different than all the others in price above it in that it has a manual resistance control lever which is connected via wired cable back to the trainer (you can see the cable on the ground in the above photo):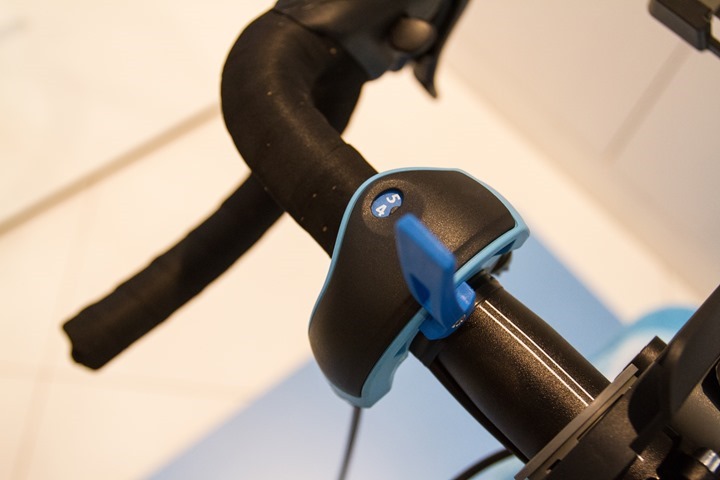 Thus, if you want to make the resistance harder you'll simply change the lever position – like most magnetic controlled trainers on the market.
The difference to those trainers though is that this one broadcasts your power/speed/cadence.  In order for it to know how to do that accurately however, it needs to be calibrated upon use (just like higher end trainers).  This is because it has to take into account your tire pressure as well as how hard you've clamped down the trainer onto the wheel.
To do this, upon first starting up you'll simply speed up to 40KPH (about 25MPH) and then stop pedaling to let the speed drop back down.  The unit will then flash lights in the back that confirms the calibration.  Again, this is virtually identical to most other high-end trainers on the market.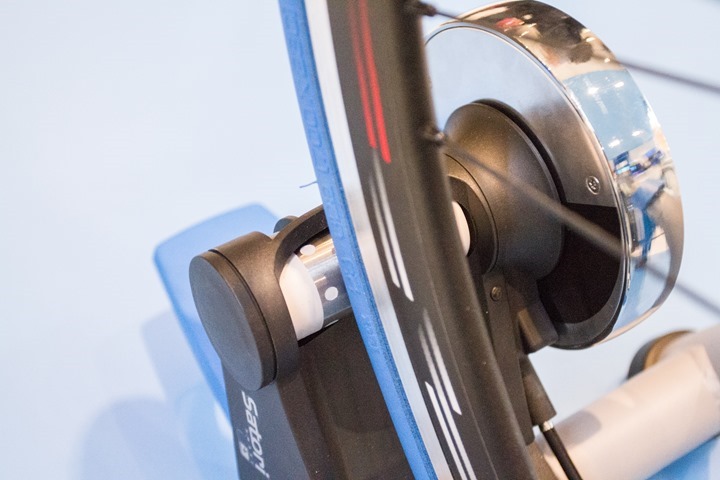 You can also trigger that via the app as well, as seen below: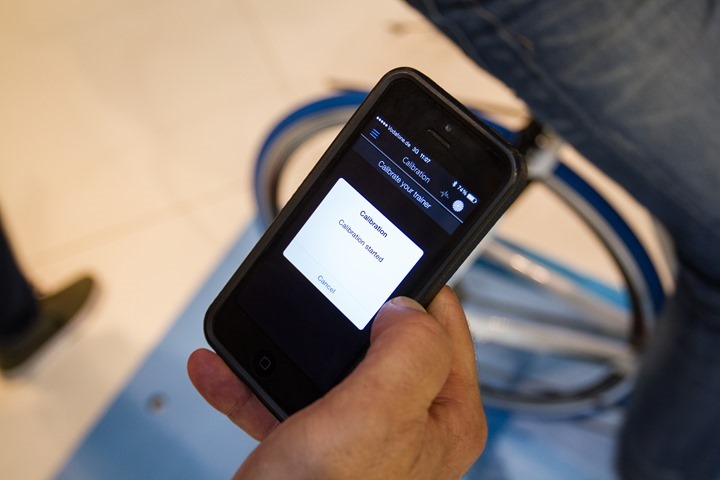 With all of the 'Smart' trainers, your speed, power and cadence are broadcast concurrently on both ANT+ and Bluetooth Smart.  So you can use either the Tacx app or 3rd party apps or devices to view and record the data.  Below you can see the 158 watts being put out, along with a cadence of 25RPM and a speed of 9.5KM/H.  The cadence is determined automatically without the need for a cadence sensor.
You'll also notice an 'estimated slope' value.  The trainer determines this after a proper calibration, and you can then use the little handlebar resistance controller to effectively adjust the slope.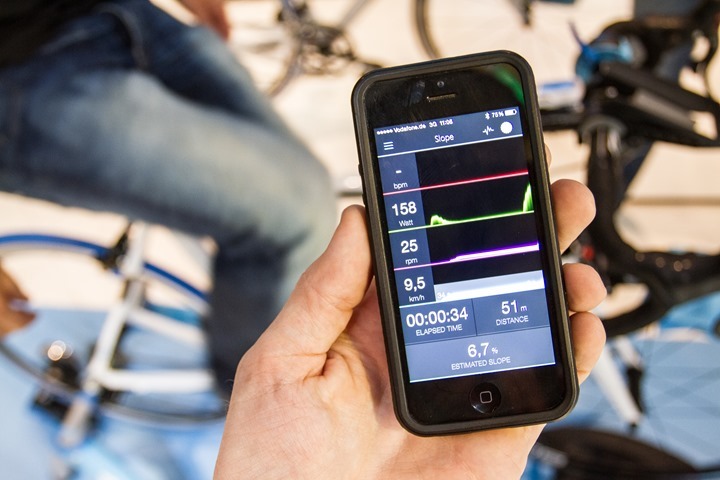 Of course, if you have an ANT+ head unit like a Garmin Edge or similar, you can now get that same information transmitted to it as well.  This allows you to record your power/speed/cadence directly on the device of your choosing.  For many people that might use a Garmin (or similar) head unit outside, it's preferable because it allows a single training log system/device.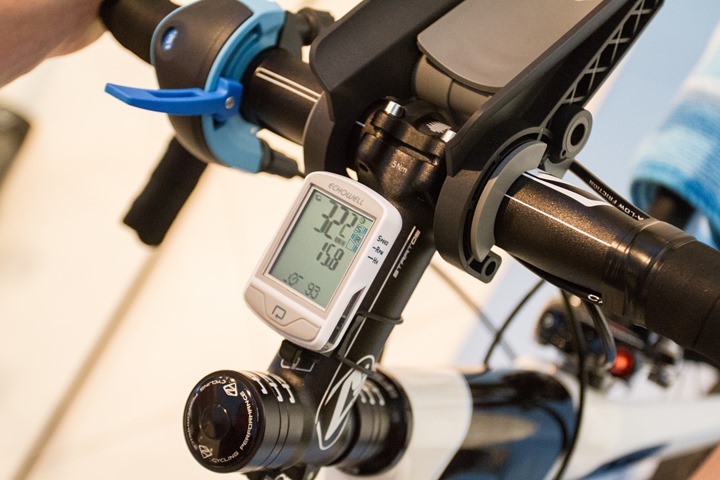 Now two other trainers are getting 'Smarted' as well, for lack of better term.  First is the Vortex, which does allow computerized control of the resistance from their apps: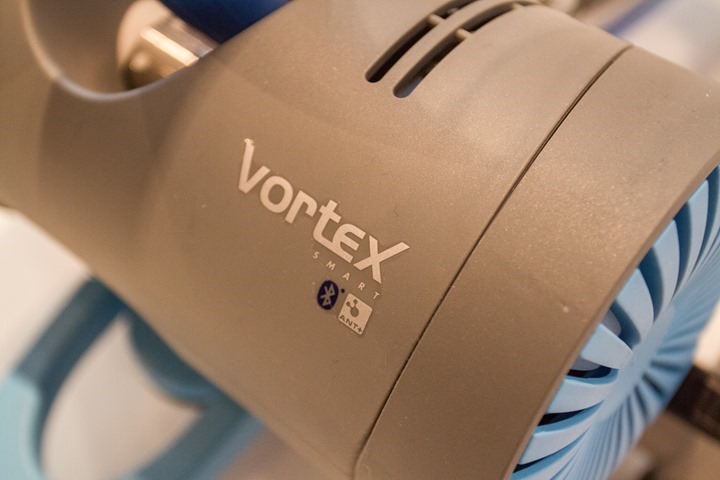 And then next is the Bushido Smart, which builds upon that by introducing a bit higher end flywheel and brake system, along with being completely wireless (no power required):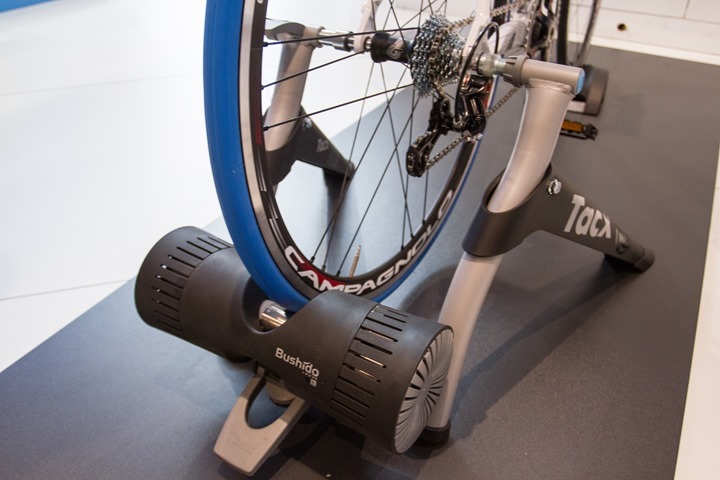 So to summarize on those three products, here's the key differences:
– Satori Smart: Not automated/computerized control of resistance, you use the little lever
– Vortex Smart: Requires plugging in, also uses a different braking system than the Bushido
– Bushido Smart: No power (self-sustained by your pedaling), virtual flywheel to simulate mass and the slop concurrently, allowing for slightly more realistic feel
All three products broadcast power/speed/cadence on both ANT+ and Bluetooth Smart concurrently.  The Satori does again not permit computer/head unit control of the resistance – that's just via the little lever.
Overall I think these are three really cool options.  In many ways I think the Satori Smart is the most 'unique' option in the market.  There are other trainers that do broadcasting of power/speed/cadence, but none in that price range, and none doing dual ANT+ & Bluetooth Smart.  And none that are as quiet as this.
Further, I think the lower-priced Vortex Smart is also at a very appealing price point, significantly differentiated from the ~$1,000-$1,100 level that I feel the Bushido gets grouped into with the CycleOps PowerBeam Pro and Wahoo KICKR, both of which are a bit more beefy trainers.  So by going with the lower price point for the Vortext Smart, I think it makes for a fairly compelling offering.
New Dual ANT+/Bluetooth Smart Accessories:
Next, in line with the Tacx thinking of doing 'everything' dual ANT+/Bluetooth Smart, they're releasing three specific accessories.
The first is a micro-USB adapter for ANT+ for Android.  So for those with Android devices that don't have ANT+ built into them, you can use this to do so.  Down the road they'll support Bluetooth Smart, but that's not quite ready yet.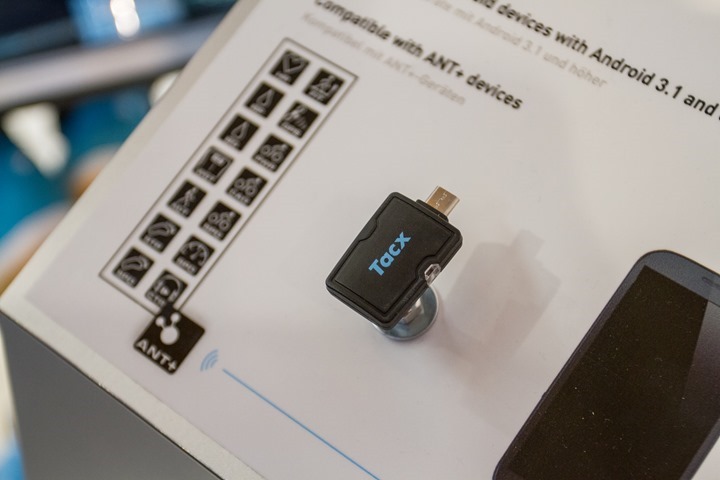 The adapter helps to skirt the issue of older trainers (non-Smart) not having Bluetooth Smart in them, so it allows Tacx to control the trainers from their Android apps.
Next, they'll be releasing a dual ANT+/Bluetooth Smart cadence sensor.  This is a split-sensor, meaning that it has two sensing components connected by a small wire.  First is the portion that picks up the magnet passing by on the wheel: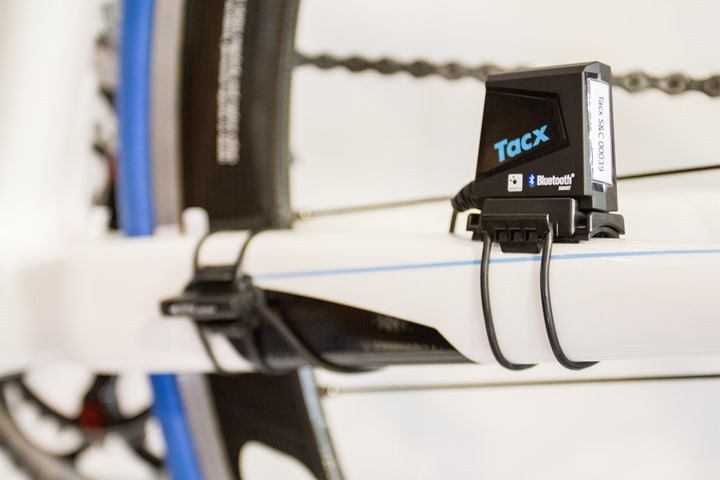 And then is the second portion that picks up the magnet passing by on the crank arm: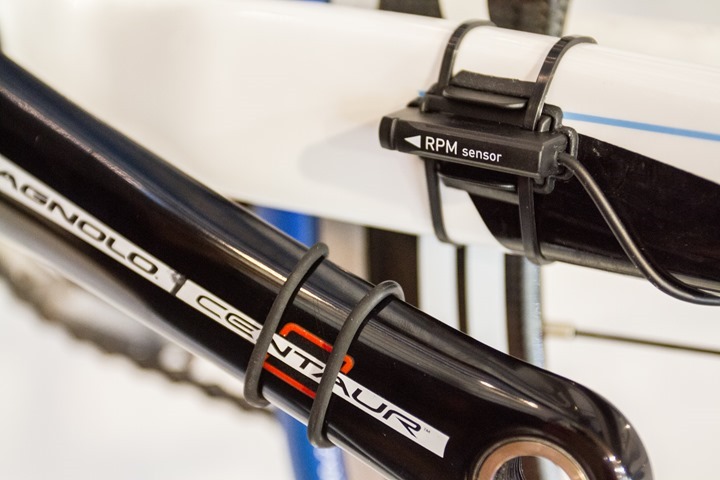 Again, it'll transmit on both ANT+ and Bluetooth Smart concurrently.  So you could for example also use it with a Garmin head unit (via ANT+), or with an iOS app (via Bluetooth Smart) – or even some of the Bluetooth Smart only watches like the TomTom Multisport watch.
Finally on the sensor front, they're releasing a dual ANT+/Bluetooth Smart heart rate strap.  Same concept and compatibility as the cadence sensor: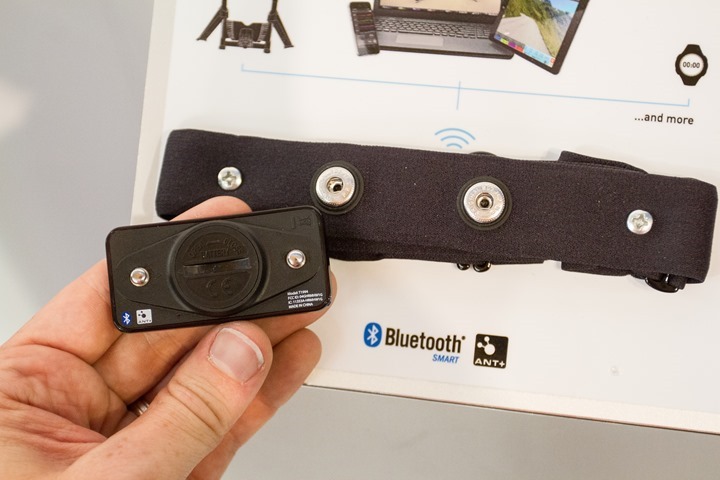 Here's the pricing on all three.  I think the cadence-sensor and adapter are probably the most interesting, whereas the heart rate strap is a bit overpriced compared to other dual ANT+/Bluetooth Smart offerings in the market that have more expensive functionality for the same price (like bridging, storage, etc…), such as those from Wahoo Fitness or 4iiii's.
Android micro-USB ANT Adapter: 35€
Dual ANT+/Bluetooth Smart Speed/Cadence Sensor: $59US/49€
Dual ANT+/Bluetooth Smart Heart Rate Strap: $69US/59€
Availability for the sensors is end of September, and the adapter is currently shipping.
Lastly, beyond that they're releasing/shipping a slightly new ANT+ base station for desktop computers.  This helps to reduce some of the signal transmission issues they've had in the past between their desktop-focused TTS suite and the Tacx trainers.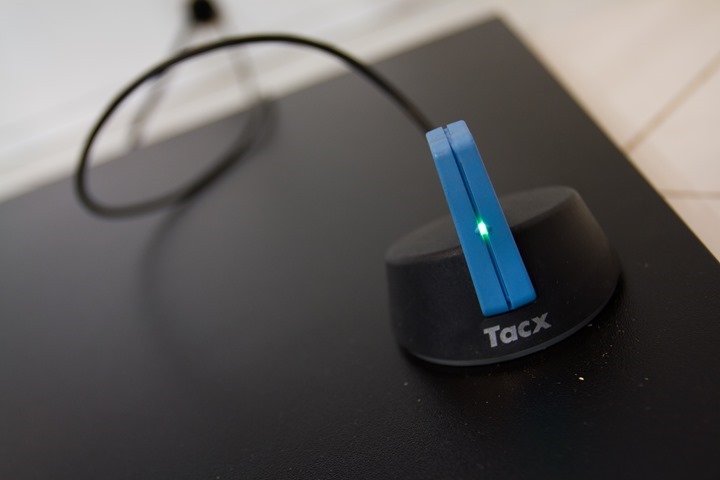 By being more of a base station design it sits a bit cleaner and potentially closer to your trainer, versus wedged behind the back of a desktop computer somewhere.
Updates on software apps, integration with head units: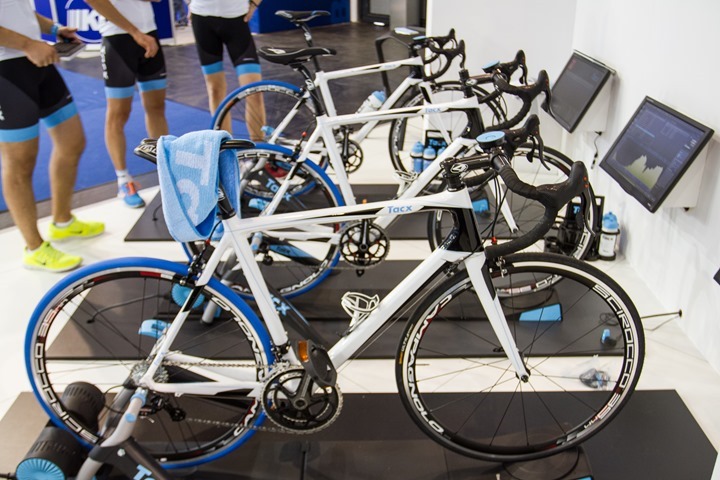 Finally, let's briefly look at some application updates.  It should be noted that over the past year Tacx has refocused on two core areas:
– Improving stability on the desktop suite (and associated trainer firmware)
– Introducing and expanding tablet apps (iPad)
The first one has come at the expense of new features.  But honestly, I think that's a good thing.  The singular reason I haven't (recently anyways) recommended folks buy the Tacx trainers is because the desktop/software suite was simply far too buggy.  I'm glad that they heard myself and many others in our recommendation to just focus on stability for now.  That said however, in October they'll be releasing a new 3D environment for the desktop suite.
On the second front, like others in the industry they've been hard at work on creating phone and tablet variants of their offerings.  Last fall they released their iPad app, and just last month (July) it got a pretty significant update.
At the same time, they've been working away on an iPhone app (seen up above in other sections too).  This app has all the same functionality as the tablet app, except that it doesn't do 3D or video training, due to the sizes of that content.  They're working through how to offer those pieces though in the future.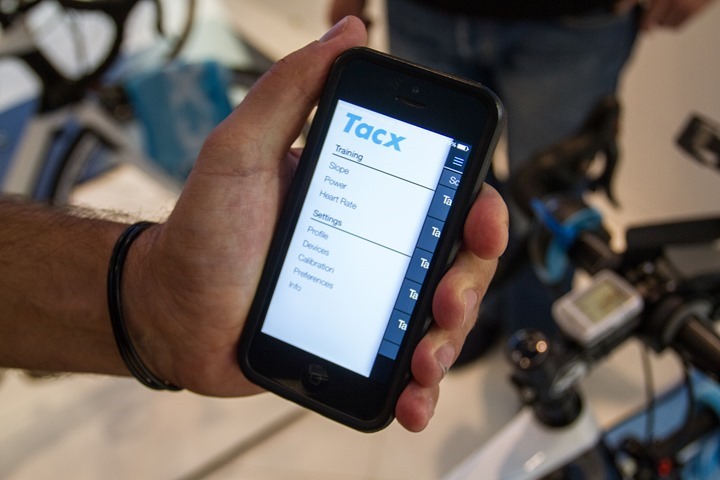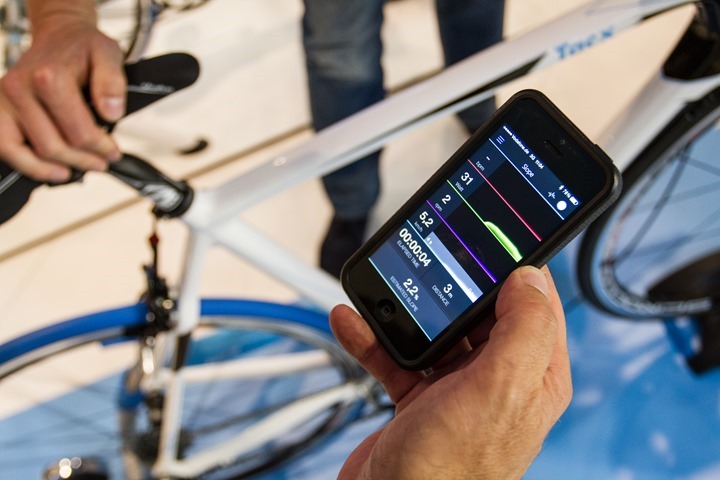 One minor little feature I found appealing is that they can store multiple sensors in the iPhone app, ideal if multiple people in your house are sharing a single trainer.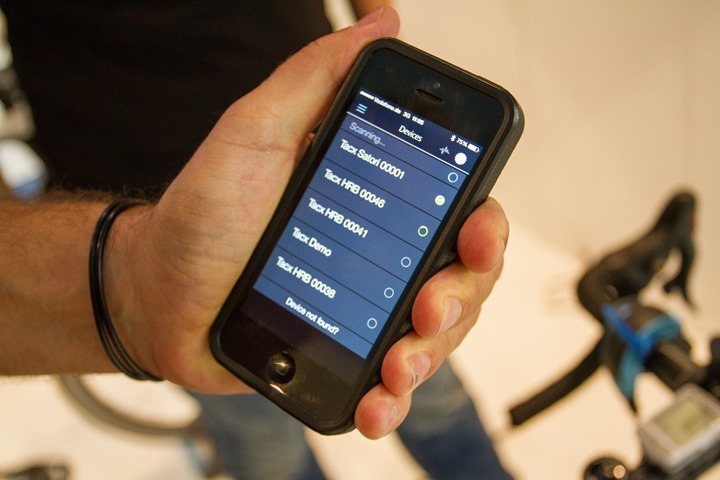 Next, turning to Android, they've got two apps coming there.  The first is an Android phone app that mirrors the functionality of the iPhone app: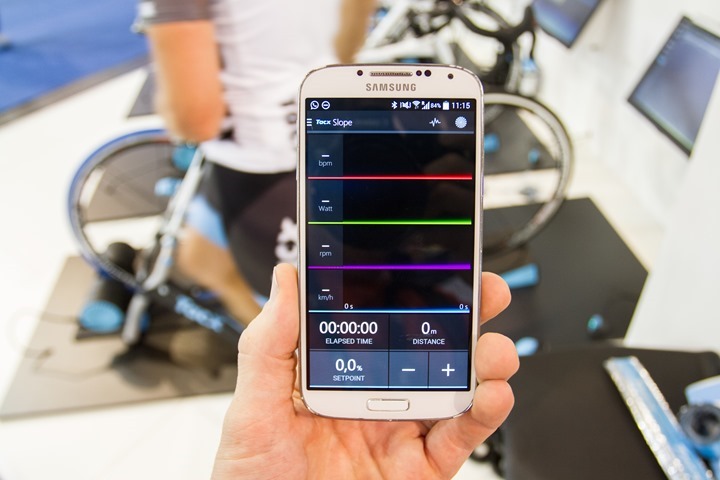 Next, in line with the iPad app they're also working on the Android tablet app as well: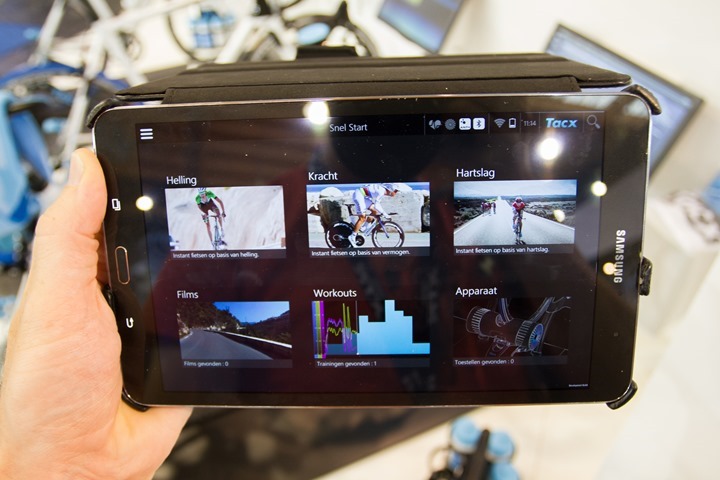 This app too will share the same functionality as seen in the iPad app today.  Initially however, for both Android versions they'll be focused on ANT+ control with Bluetooth Smart control coming down the line.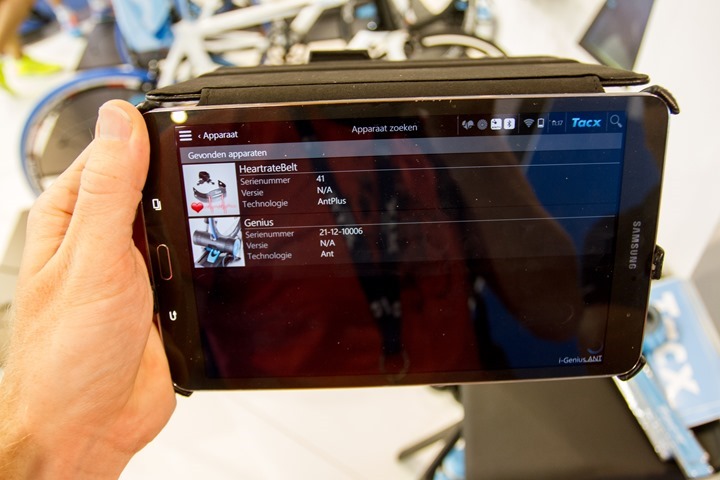 The Android apps are planned for the October timeframe.  They're also looking at ways to record rides using your phone and then easily re-ride them while indoors using just the phone.
Finally, I do want to very briefly point out that they recently added support for head unit control via the Mio Cyclo units.  This means that on those units you can actually go outside for a ride, then come back in and re-ride the exact same route.  This is available on the Bushido and iGenius at this point.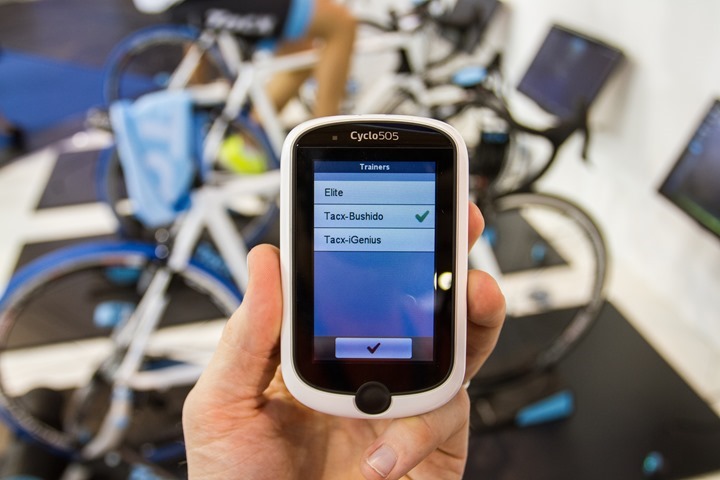 I'll be covering that functionality as part of my Mio Cyclo Review though.  And as for the rest of the functionality in these new Smart Trainers, I'll be looking at 1-2 of the units (at least the Satori, but perhaps also the Vortex) in upcoming reviews.  I believe the Satori arrived just yesterday at my house.
Definitely looking forward to putting it through its paces!
—
With that, thanks for reading!  If you're looking to burn a bit of time, here's all my Eurobike 2014 posts!