Over the past 2 years, Spanish trainer company BKOOL has broken into the resistance controlled trainer market with a lower priced offering that is undercutting some of the mid-range to the edge of the higher end trainers in the market (i.e. ~$400-$950), due to it's lower price of $650 with full resistance control.
I had the chance to spend an hour with the BKOOL product lead and their CEO to walk through many of the changes they've been working on over the past year.  Here's a roundup of their progress:
The New BKOOL Trainer: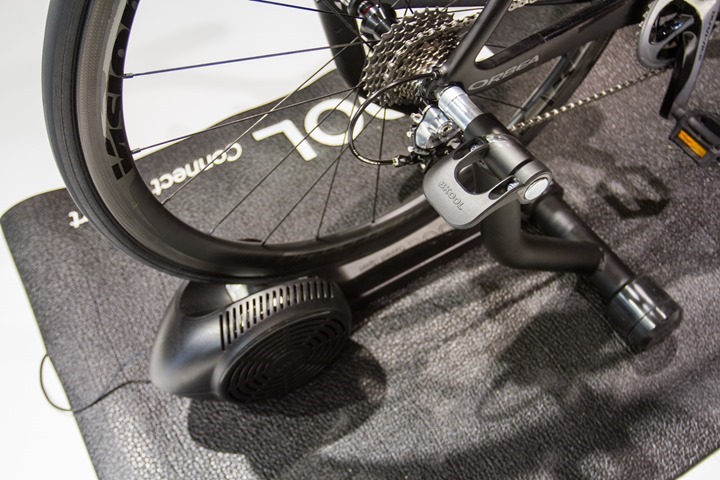 Starting first, we've got BKOOL's new trainer.  Those familiar with their past trainer will immediately notice some changes from a visual standpoint.  For example, the new system has a wider potential footprint, enabled by extending legs.  You can see the leg here first in the closed position: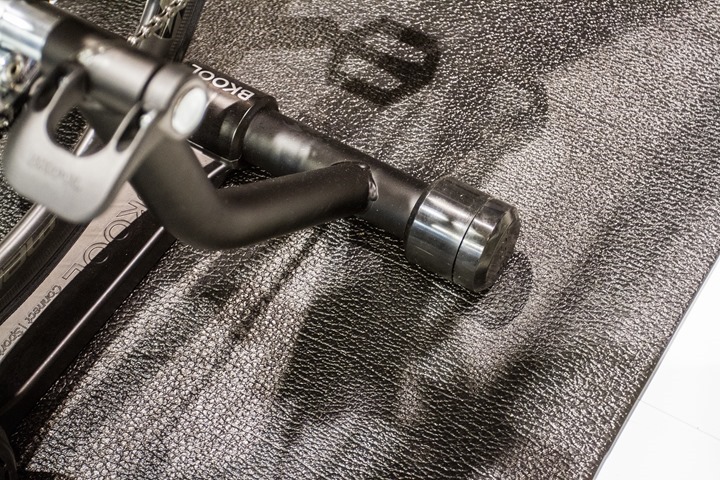 And then again in the extended position: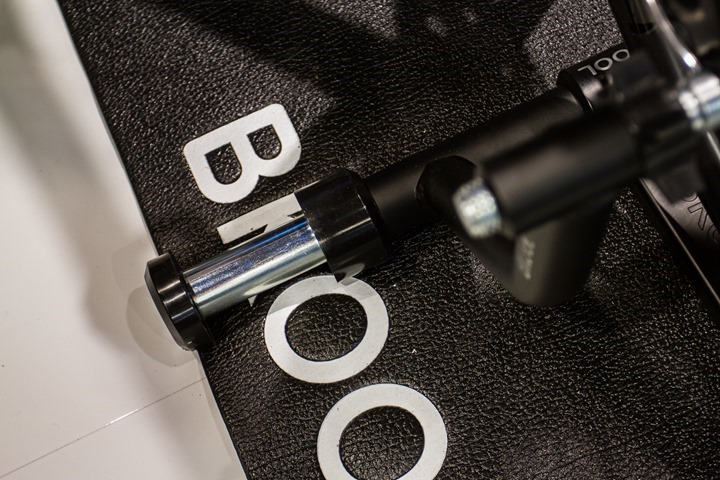 This greatly increases stability on the trainer, one of my complaints about the previous unit (which was fairly compact). But by making making the legs extendable, it keeps with a smaller footprint for storage.
Next, they've modified the design of the arms that connect to your bike.  Previously these didn't hold themselves up, rather, the bike held them up.  This meant that as soon as the bike was out of the way, they flopped back down again.  Sorta annoying, especially when moving it around or setting up.  Now these arms will hold themselves in place (but while also allowing adjustment).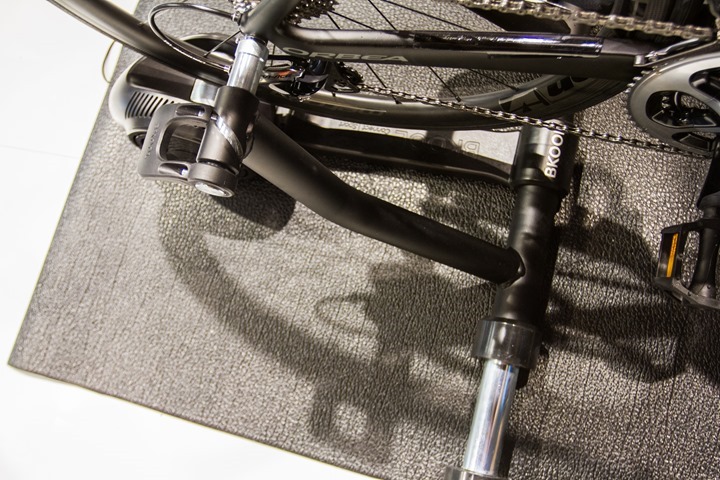 Next, they've got a new resistance unit.  This is the piece that controls the resistance on your trainer and ultimately is what makes a trainer a trainer (versus just being a bike stand).  First, the new unit is supposed to be quieter.  Given I was on an incredibly noisy show floor, it's not something I could really validate at this time.
Second, the unit will automatically smooth any transitions while riding a course.  This means that in the past it could occasionally be 'jerky' when it came to a climb where you were transitioning from a road at 0% grade and then started the climb at 8% grade.  Now the power is applied more smoothly so it feels more like a real road and the transition between the two.
Lastly, by changing the arm design in association with a few other tweaks that increase stiffness, they've been able to reduce (or mostly eliminate) the slippage problems that I noted in my review in certain high-wattage scenarios.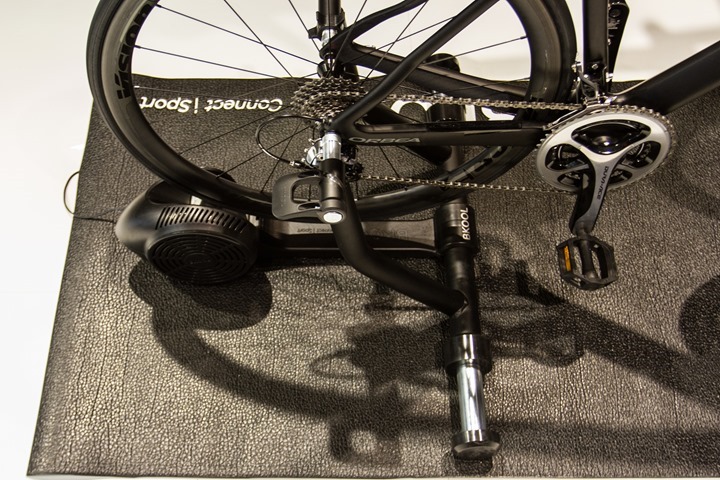 From a product/supply standpoint, the new BKOOL trainer replaces the existing model in their lineup as-is, so the price remains the same at $650US/500€.  Additionally, the new trainer is shipping effective immediately, with units already arriving to customers the past couple of days, and with containers already en route to other continents for subsequent delivery there.
The New Software Platform: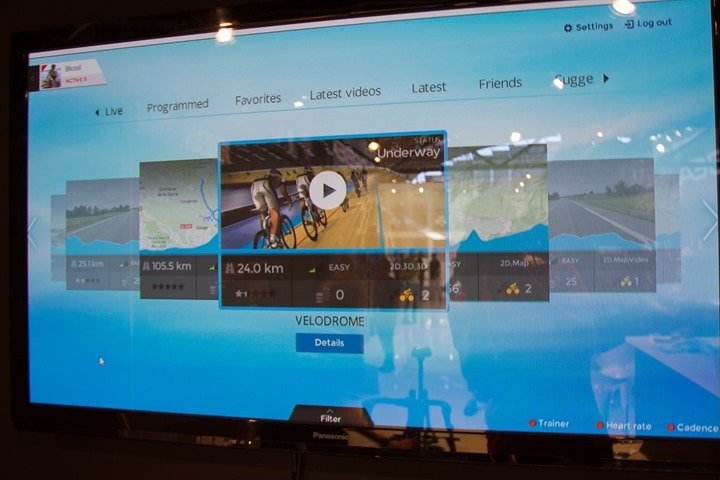 Next we've got their fully overhauled software platform.  Previously the platform was a bit….umm….Windows 3.1.  Now it looks much cleaner and feels like a fairly modern application.  In line with that, they've dramatically increased connectivity with their cloud-based training platform.
They've also greatly increased the platforms.  The updated app is available on Windows, Mac, iOS (pending approval from Apple) and here shortly on Android.  For iOS it will require an ANT+ adapter to control however, as well as on Android if your phone doesn't support ANT+ (many new models do).  The Apple approval could come tonight, tomorrow, or next week.  But it's out of BKOOL's hands at this point.
Like before, you'll still need connectivity to stream videos of rides and 3D environments.  But now you'll also at least need initial connectivity to start any ride.  In the event you lose the internet mid-way through any ride, it will continue on allowing you to ride (as I witnessed many times due to the poor Internet/connectivity in the show floor area).  It won't however still show you video, since that video is dependent on the connectivity.
Second, all rides in a 3D/Video environment are considered multiplayer.  Which means by default when you load up a course you'll be riding online with other cyclists.  You'll see them on the course and can race against them.  You can also voice chat with other riders that are within 50 meters of your position (on the course).
Don't worry though, you can turn this potion off through the settings if you'd like (listed as 'Solo Mode').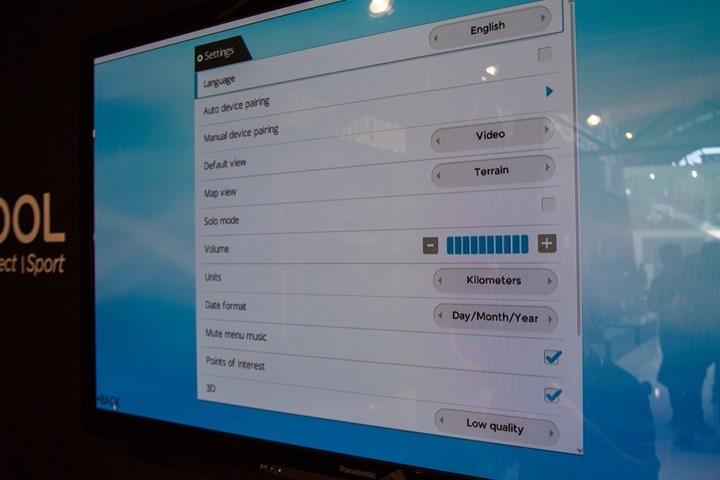 As part of that online connectivity, they've also introduced integration with Spotify.  This will automatically pull in your playlists and allow you to control them via a mini-player dropdown within the main screens during a ride.  Note that Spotify requires you have a Premier account in order for for this to work.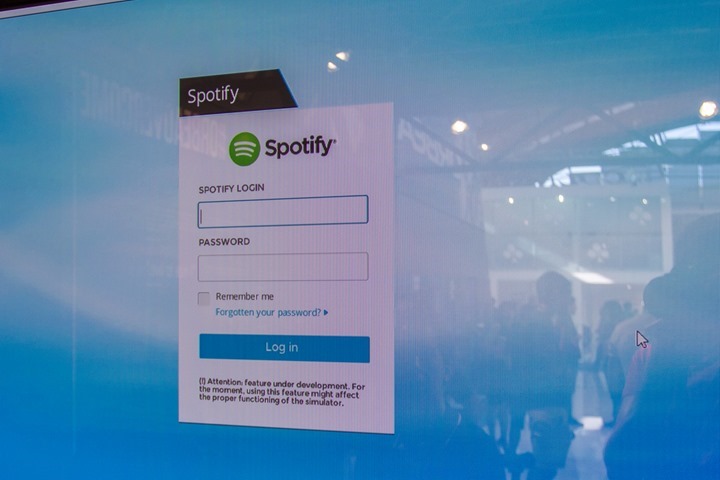 Next as we shift into the various training modes they've completely revamped the 3D engine.  That's visible in a few areas, starting with the much more visually stunning Velodrome.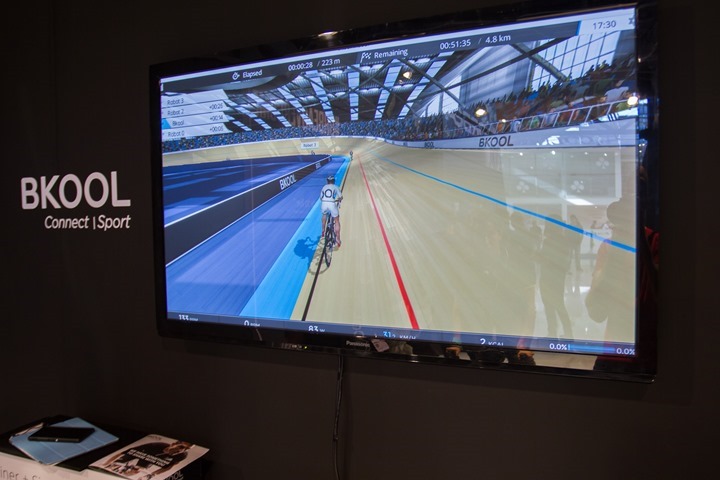 Now because all these environments are being streamed over the Internet they've added a new mini-settings option that you can expand mid-ride.  This will allow you to change the quality as well as map types.  This is useful if your interwebs are suffering a bit and you need to switch to a lower quality.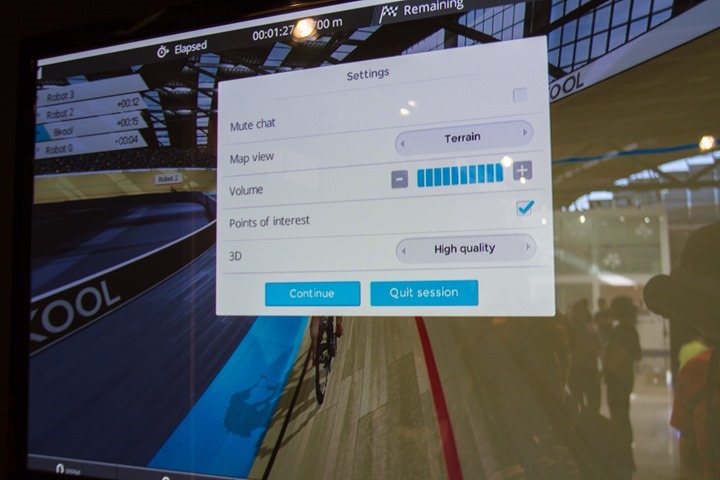 Moving outside, they've added a few really cool new features..  First is that they now support user-uploaded videos.  So you can go out and create your own course video and then upload it to the service.  For example, this video here was user created, and you can see the rest of their cycling team just a bit ahead.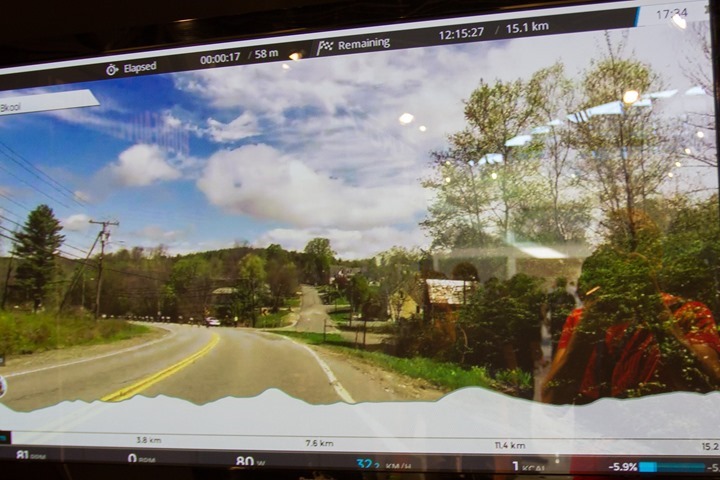 But here's where things get completely unseen in the industry.  They're able to automatically create a basic 3D world based on the video, or rather, based on the GPS file.  This means that if you upload a GPS file from a ride (with or without  video), it'll create a 3D world that you can ride in.  This 3D generation takes into account satellite imagery of the area (and other data sources) which then allows them to judge factors like vegetation density, housing density, and notifications of nearby landmarks.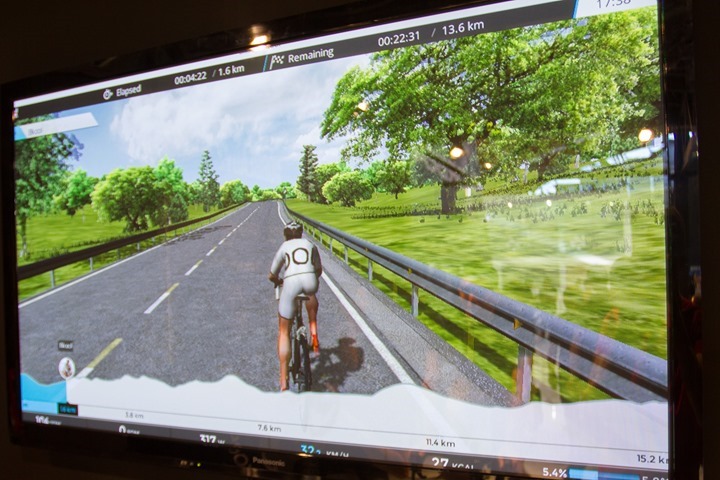 Below, you can see the video in the same segment (you can switch back and forth with one button press).  While it's not a perfect match – it's in the ballpark.  The most impressive thing is designing of the roadway to match the video/GPS file.  So as the rider went through curves and climbs, it was cool watching things match near exactly.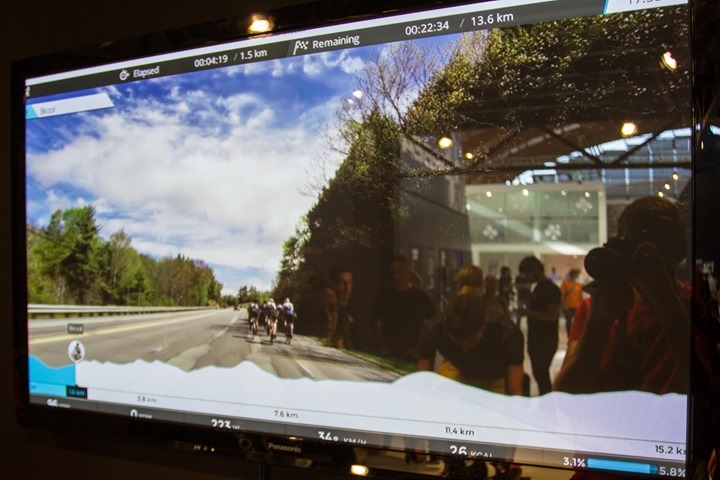 They're also working on getting lakes/rivers/oceans added in soon as well, along with dynamically generating buildings of well known points of interest.
You'll also see in the environment that they are generating road signs that would be appropriate for the environment, such as this 6% grade sign: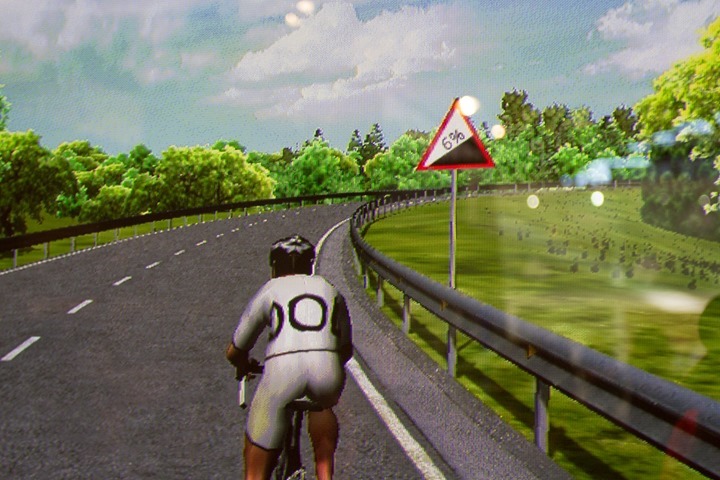 Speaking of videos, you can now stream those videos in 720p HD, a definite upgrade from the past.  There's a ton of additional minor things, but I'll look to cover that down the road in a future post.
Finally with respect to new major functionality in the app, you've also got a new map view that you can zoom in/out on, as well as change between terrain, map, and satellite view.
Lastly, I should note that they've completely revamped their online site where you post training activity to and schedule sessions.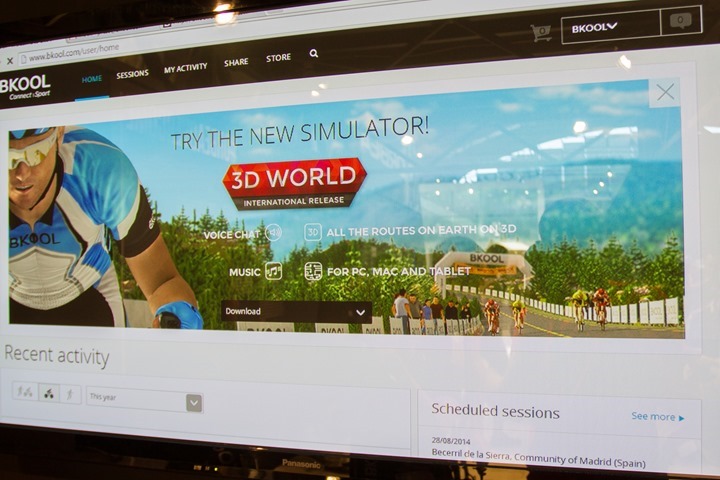 This new site looks worlds better than their previous site (which like the previous app looked a bit aged).  You can now filter rides more easily, and rides that you've ridden before will automatically note your best times on them – helping you to remember you actually did that ride.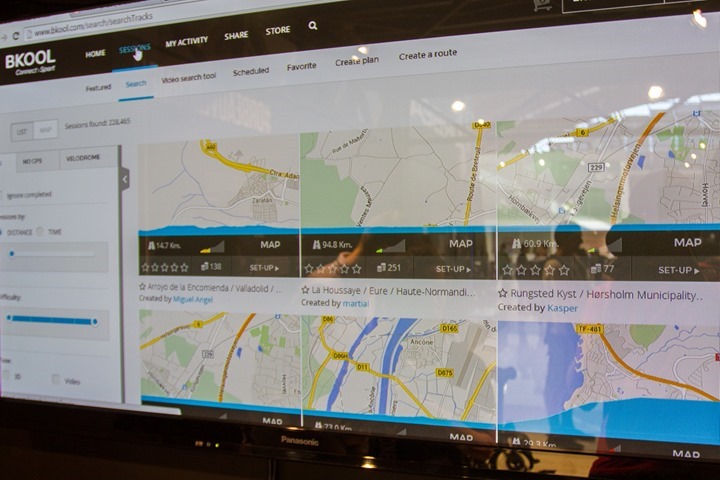 In general though, the whole site just feels…well…modern.  Things flow, they're quick and they're logical.  Again, a huge improvement – and one I'll cover more deeply in the fall.
Note that their app is a paid subscription model, which costs $15/10€ if paid monthly, and $12/8€ a month if paid annually.  Note however they sell globally, but I just went with listing these two major currencies rather than a gazillion others.
Odds and Ends: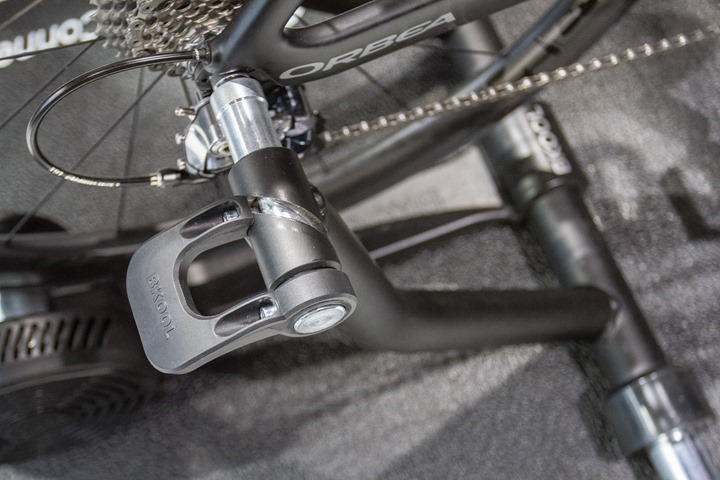 Last but not least, we've got the long-awaited aspect of the ANT+ Trainer Profile.  This trainer profile allows companies to seamlessly control one or more trainers via software through a standardized communication protocol.  Today, all the trainer companies each have their own protocols, thus anytime an app wants to support a new trainer – it has to work with that trainer developer to manually add support for it.
BKOOL had demonstrated ANT+ trainer profile support a year ago in some test/show settings, but a few things have changed since then.  According to BKOOL the ANT+ profile has expanded over the year (in talking with ANT+ however, that doesn't appear to be the case).  While that expansion (if true) probably makes sense long term, it meant that it increased the lift for companies like BKOOL.
As a result, BKOOL has not implemented the profile on their trainers.  They don't have a specific timeline to do so, though if they complete other new features they're working on, one might see it by Spring.  Might being the operative word.
On the flip side, their app does actually support the ANT+ trainer profile – so in the event another company implements it (none from a trainer perspective have thus far), then the app according to BKOOL is ready to work with it.  Note that the BKOOL app does work today already with the Wahoo KICKR trainer, as part of a collaboration they did with Wahoo Fitness.
I suspect the reason for slowing support of the ANT+ trainer profile is that BKOOL likely makes a significant portion of their revenue today from subscriptions of their service.  As a result, if they just sold the trainer and didn't sell a corresponding app subscription, they'd probably be losing out on a fair bit of cash.  No doubt I understand those economics, but at the same time, it's kinda chicken and the egg for the industry.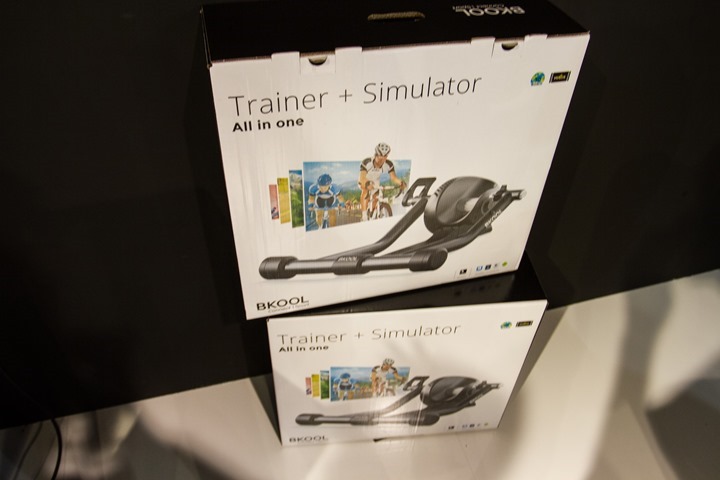 With that, feel free to drop any questions below on the BKOOL front.  I'm going to try and get a new unit in hand in the next few weeks, along with poking at their software – ahead of putting my usual trainer recommendations together for what I hope to be the first week of October.
—
With that, thanks for reading!  If you're looking to burn a bit of time, here's all my Eurobike 2014 posts!