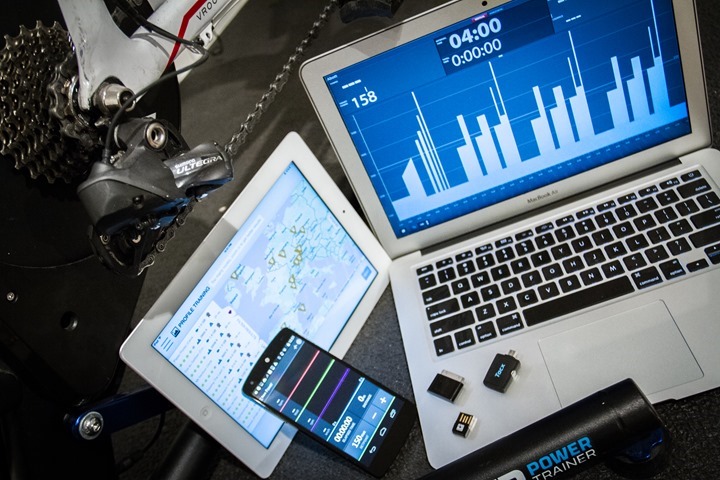 After my recent Winter 2014-2015 trainer recommendations post, many of you have been asking about trainer apps.  I decided against combining it with the trainer recommendations post in order to give its full due in a standalone post.  In retrospect that might have been a poor idea, since this has spiraled out of control into a massive post with over 20 different trainer apps and over 1,000 pieces of data into the product comparison tool.
That's largely because the trainer app market has exploded in the past 2 years, in large part due to trainer companies starting to open up their platforms and allow app developers to create cool stuff.  We saw the same thing happen on phones, and now it's becoming the norm on trainers.
Of course, with so many new apps on the market, it's impossible for me to do a full in-depth review on every app out there with every feature.  I'd basically be on a trainer 24×7 trying different options.  Which, I do suppose beats riding in the cold rain.
So instead I've put together a roundup.  Think of it like a sampler platter of trainer app options.  Some of these apps I actually have a ton of experience with, while others I've only poked at it for a bit.  Thankfully, many of them offer trial options – so you can use this guide to try out different apps and figure out what's right for you.
And that's a key point.  What I like in an app will likely be different than what you like.  Some people like interactive 3D worlds on a trainer, while others want real course videos, and yet others just want a single wattage number.  And even within a given category, viewpoints vary.
For example – take real course videos.  Some people want a wider variety of videos shot by anyone with a GoPro, while others prefer super-high resolution and fully gimbal stabilized footage on $10,000 cameras.  Just depends on what floats your boat.
So with that, let's get floatin'.
Understanding Types of Trainer Apps:
If you're looking for a trainer, you'll want to start with my overall guide from two weeks ago.  But, there's still a few things you'll need to know about trainer apps.
First is that most apps are taking data from your trainer or a sensor attached to your bike.  If you were to divide trainer apps up into three fictitious levels, they'd be as follows:
Level 1/Basic: No sensor data/integration/control – just showing a video/giving instructions
Level 2/Sensors: Able to consume sensor data like speed, cadence, heart rate – and adjust video/display metrics.
Level 3/Control: Able to electronically control the resistance on the trainer based on wireless or wired connectivity, virtually always includes sensor data too.
The first category (Level 1/Basic) is where trainer 'apps' were 5-10 years ago.  And by apps, I mean VHS tapes and DVD's.  These largely had no integration with your trainer and simply played a video.  You in turn did whatever you wanted on your trainer at the same time.  Effectively no different than watching a football game or The Muppets on TV.
The second category (Level 2/Sensors) is where most of the apps have functionality.  In this case, you can use pretty much any trainer you have.  But, you'll also typically need a cycling speed sensor.  The speed sensor is then used to control portions of the app, such as video playback speed.  Alternatively, these apps allow you to display, if not record data from your ride – like heart rate, cadence, power and speed.  They generally do this on ANT+ or Bluetooth Smart.
The third category (Level 3/Control) is where you get full control over your trainer.  You simply pedal, and it controls the resistance.  This can be to replicate outdoor rides and routes, automatically changing the grade of the trainer, or it could be to have you iterate through a specific controlled workout based on wattage.  Only the highest end trainers support this functionality.  And even within that, only some of them are supported by different apps.  You'll want to confer with each app on whether or not it supports your specific trainer.
The gear you'll need: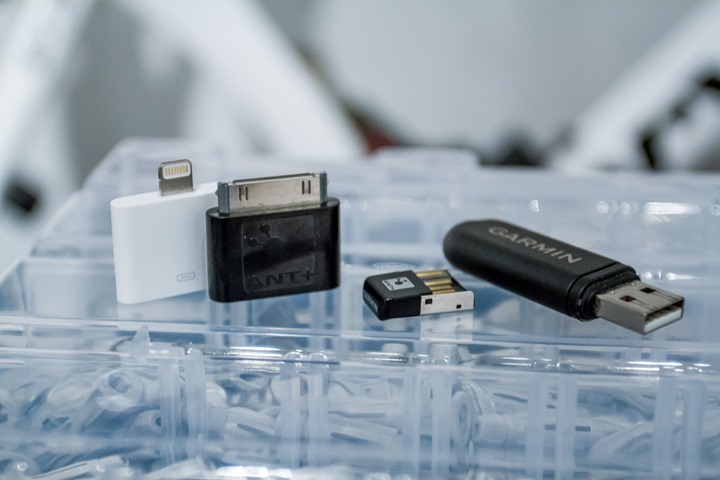 Now that we've got the basic types of apps sorted out, let's talk about what gear you'll need.  Obviously, you'll need a trainer.  But, beyond that, you'll likely need some way to get the trainer data to your app.  Though, for the Level 1/Basic apps, you don't need anything.  This is just for the sensor-capable apps.
What adapter you need will vary based on what sensors you have.  If you have ANT+ sensors (like those that are compatible with a Garmin device), you'll want an ANT+ adapter for your device.  If you have Bluetooth Smart sensors, you'll likely not need an adapter for any phones or tablets, but would probably need one for a PC.  Mac's would vary depending on how old the Mac was.
Here's the basic options, starting first with ANT+:
ANT+ on a PC/Mac: Standard ANT+ USB adapter. Using one from an older Garmin watch is perfectly fine.  Otherwise, either of these work.
ANT+ on Android device: Some Android phones have ANT+ built-in (such as the Samsung S4/S5 lines).  You can check the ANT+ website to validate if your phone does.  If not, then you can either make your own adapter (following instructions here), or, buy the Android adapter from Tacx.
ANT+ on iPhone/iPad (without Lightning connector): For this, you'll need the Wahoo Fitness ANT+ adapter.  There's also some re-branded variants of it, but you CANNOT use the Garmin FIT branded option – it's not compatible with anything.
ANT+ on iPhone/iPad (with Lightning connector): Same adapter as without the Lightning connector, but you'll need a Lightning adapter.  I highly recommend the official Apple ones, as Wahoo has stated they've seen issues with knock-off Apple adapters not working well.  I've heard this from readers too.
And here's the options for Bluetooth Smart:
Bluetooth Smart on PC: For this, you'll likely need a Bluetooth Smart/Bluetooth 4.0 adapter if your PC doesn't have Bluetooth already.  To be honest, it's only TrainerRoad that supports it on Windows.
Bluetooth Smart on Mac: All of the new Mac's made in the past few years have Bluetooth 4.0 within them, so no adapters needed.  Though TrainerRoad is the only one that supports Bluetooth Smart devices on Mac's anyway.
Bluetooth Smart on Android: Anything over Android 4.3 and you're pretty much good to go.  Below that, not much can help you there.  Sorry!
Bluetooth Smart on iPhone/iPad: As long as you have an iPhone 4s, or iPad 3rd gen or higher, you're good here with built-in capabilities.
The above may seem complex, but it's rather simple.  Just match up what sensor type you have (ANT+ or Bluetooth Smart), and then the device you want to use to put the app on (iOS/Android/PC/Mac).
Now, while there are other bridging technologies out there – like the 4iiii's Viiiiva, it unfortunately won't help you with any of the trainer apps here as none support it today (despite it having an API to do exactly that).  It's really too bad, as that'd actually be an ideal way to bridge ANT+ over to trainer apps.
With that – let's get into the apps.  I've simply ordered them in alphabetical order.
BKOOL Indoor Simulator: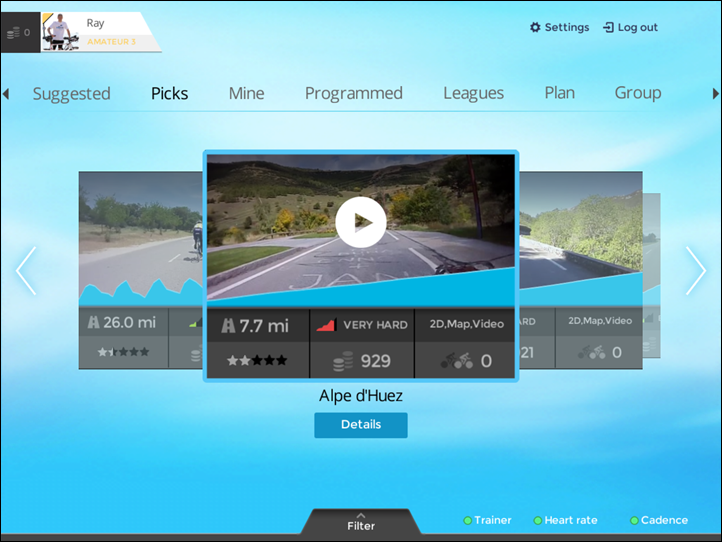 While BKOOL started off as a trainer company, they've now bridged to having standalone apps on all major platforms (iOS/Android/PC/Mac), while supporting other trainers like the Wahoo KICKR as well as their own BKOOL trainer hardware.  Their apps allow you to race videos from around the world, as well as to create 3D representations of GPS and other courses from outside.  This is handy when you don't have a video of a given route, as the system will automatically create a semi-accurate representation of the area in 3D using features of the topology around the GPS file.
In addition, the app is focused around online multiplayer aspects, such as voice chat between players.  It also supports leagues and stage-race style competitions.  Though, you can certainly just ride by yourself if you want.  It also has a training plan generator, though, the workouts generated from that are a bit simplistic compared to some of the more advanced workouts found from other apps.  But it is handy that it can create a plan focused on various end goals – such as losing weight or getting faster in a certain type of effort.  Note that you cannot however specify an exact wattage or %FTP level, one major downside unfortunately.
In addition the app has two unique features not found in other apps.  First it integrates with Spotify, so you can go ahead and listen to your music directly within the app.  And second, it has a Velodrome mode, so you can go endlessly around and around trying to best your times.  The app has both a free level as well as a paid subscription level, so you can poke around at both levels to see what fits you best.
CompuTrainer RacerMate One & ErgVideo: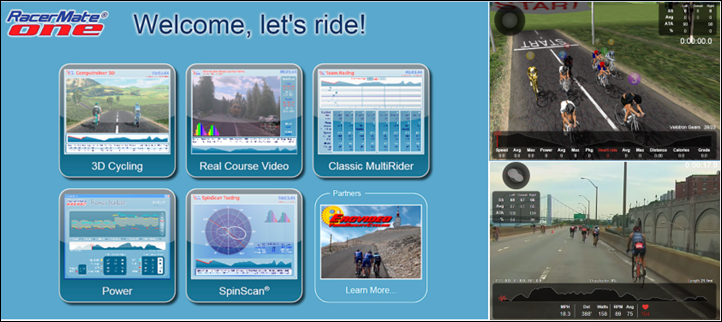 RacerMate One is CompuTrainer's in-house application for their trainer platform.  While it's only compatible with CompuTrainers, I figured I'd briefly mention it here.  The app contains these core modes: Real Course videos, 3D virtual reality style racing, an ERG workout mode, and then SpinScan.  It also has a multirider and ErgoVideo support.
For the Real Course videos, they've taken a bit of a hit over the past year or so.  With Tacx taking on sponsorship of Ironman, it means that RacerMate had to pull/delist all of their Ironman video courses – a huge loss, leaving them only a handful of route videos unfortunately.  For the 3D virtual reality style racing you can race against yourself, others, or virtual reality riders.  These riders can be programmed for certain wattages, allowing you to work on pacing.  You can import GPX courses into the app, though you'll need other tools to get standard Garmin files into GPX format.
Now, at some point in the last year or so the price dropped from it's planned cost of $200 down to $59US right now.  At that price it's actually not a bad deal if you have a collection of RacerMate videos, or really want SpinScan support.  But for everyone else, I'd recommend probably looking at PerfPro or one of the other options to control your CompuTrainer.
Finally, I should briefly mention ErgVideo as well.  They're a 3rd party company that only supports the CompuTrainer (for control).  But, you can use their app without the CompuTrainer as well using just a power meter.  They make both videos as well as a tool to allow you to create CompuTrainer workouts that you can then align to a video.  Additionally, you can make plans using the tool.  You'll typically buy these videos as part of a pack.
(Note: Screenshots from RacerMateInc, since I decided against buying the software to take a single screenshot.  I have used it previously though when it first came out.)
Elite Real Training: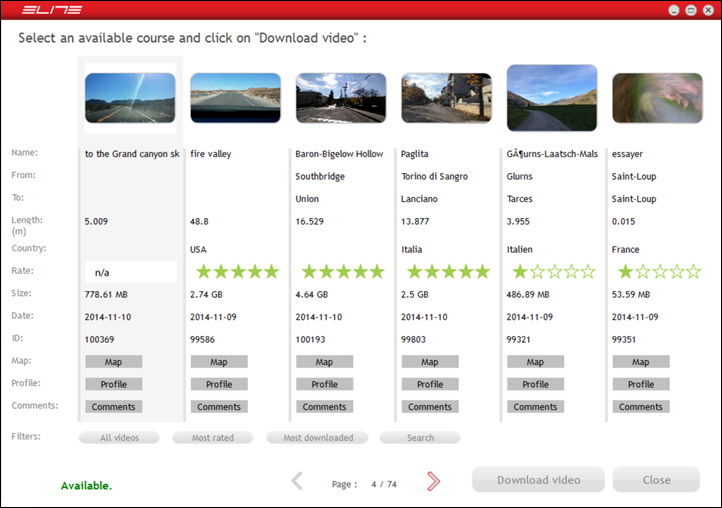 Elite makes a suite of apps for their trainers, some of which are capable of having resistance control over the trainer.  The apps actually have quite good feature parity between the tablet and desktop versions.  For example, it's the only app that you can easily just pick two cities and it'll create a cycling route on the iPad app and have it work – without any other downloading or uploading from desktop apps.
The app also supports both paid videos, as well as free videos that others have uploaded.  These videos are from around the world, so plenty of options.  Both apps support variations on structured workouts, though it's not quite as easy to build as some of the other apps.
If you have an Elite Trainer, it's certainly worthwhile to see if this collection of apps will meet your needs.  It's not the prettiest app out there, but the core functionality is there.  And with the desktop version, there's a surprising amount of little tweaks you can make to how things work and respond.
Now at present if you have an Elite Real Trainer (their highest end controllable ones), you can only use this and Kinomap to control your trainer.  But Elite has re-iterated to me in the past few weeks that they're still working away on adding ANT+ Trainer Control support.  With this it'll quickly open the door to other apps, many of which in this list have stated they'll add support for it once trainers start doing so.  Albeit, a bit of a chicken and the egg scenario.
FulGaz: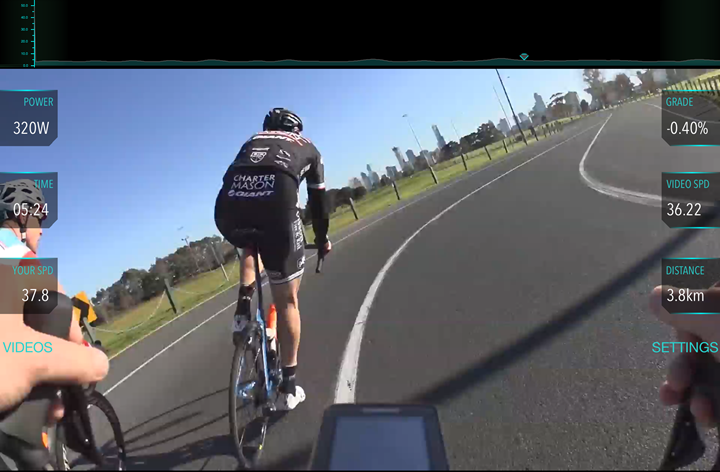 FulGaz is an iOS app that blends videos from real rides with automatic control of your trainer.  The videos are fairly high quality, but shot on-bike, so it feels like you're actually on the group ride.  They vary in length upwards of 90 minutes, though some are much shorter.
The shorter ones are fun though because the software is one of the few that supports automatic looping, so you can take some of these and do them as repeats – focusing on consistent efforts each time (or, faster efforts each time).  For example, one of the short 8-minute videos is on a loop, whereas another is a tough climb.  Perfect for hill repeats.
The videos are downloaded to your iPad and cached offline, so you don't have to worry about connectivity if it's an issue.  The app also allows you to tweak everything from headwind and tailwind to the aerodynamic drag and rolling resistance.  In the coming weeks, they'll add in the ability to connect to non-resistance controlled sensors (like power/speed/cadence/heart rate) as well.
The app is about as new as any of the apps here – hitting the market just in the past few weeks.  But even though it's new, it's got a nice selection of videos already.  And best of all you can use the free trial mode to see if you like it.  Cool stuff.
Golden Cheetah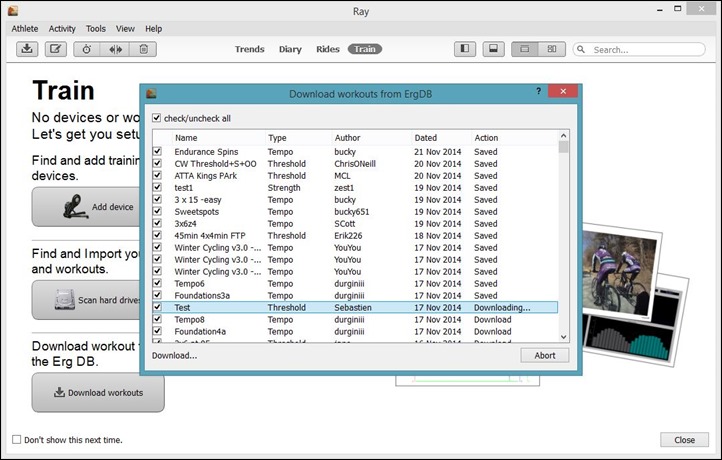 Golden Cheetah is the only fully free option here, and yet still has an impressive amount of functionality. While the app started off as a way for advanced cyclists to keep a training log of their efforts, over the years it's grown to cover more functionality – including a trainer mode.  Within this mode it'll allow you to create structured workouts using everything from %FTP to exact wattages or even gradients.  Additionally, you can download workouts from the massive online ErgDB data (though, that sometimes can be a bit like sifting through the beach sand for a jelly bean).
The app can also control certain trainers, including the CompuTrainer and Tacx Fortius trainers.  But, more than that it can utilize known trainer power curves to estimate power for a number of popular trainers – like the Kurt Kinetic Road Machine and others.  This means you'll just need a speed sensor to in turn get power information.
The app can consume ANT+ sensor data using a USB stick and then display/record that within the trainer view.  Afterwards, your data can easily be uploaded to numerous sites either via the direct file option, or the integration with sites like Strava and Training Peaks.  Overall the app is definitely worth a look, especially if you're on a budget and just need the core recording functionality.
Hurts Ergo:
Hurts Ergo is a very cost effective option for controlling the KICKR through ERGDB, as the app will allow you to pull those workouts from the database and then ride them on the KICKR.  You can of course also create your own intervals within that and then ride those too.
One cool feature of the app is that you can instantly drag and drop to any point in the workout and continue from there.  This is handy when you may be running tight on time and after you're sufficiently warmed up you could skip to the good parts (hard parts) and get right into it – versus some longer warm-up routines.
Now the application is pretty bare bones at the free level – which many folks will appreciate.  In the event you want to save workouts it'll be $2, or $3 if you want to upload to both save the workout and upload to Strava.  Those are one-time fees though, so that seems quite reasonable.
iMobileIntervals
iMobileIntervals was actually one of the very first 3rd party apps out there for the Wahoo KICKR.  It's unique in that it can both control the KICKR for basic wattage modes, but more importantly allows for an easy way to create an interval workout on the KICKR and then execute that workout.  Effectively, it's the functionality that Wahoo should have built into their own app to begin with.
It's super simple to use, and easy to save workouts for future use.  They've also got a library of workouts you can use as well as workouts designed for testing (i.e. FTP test).  Within the app you can display scheduled workouts from sources like Training Peaks and Garmin Connect.
Like most phone/tablet apps it'll support sensors from both ANT+ and Bluetooth Smart, including heart rate, speed, cadence, power meters, and then the KICKR itself.  It's also got a number of neat little features like if you want to set a KICKR watts offset (to then align with other power meters you might have), or, you can simply pair directly to a power meter and use that data stream.
For the price ($6), it's probably the cheapest iOS option for getting automated KICKR interval resistance control.  Plus, it uploads to a slew of different online services like Strava and others.
Kinomap Trainer: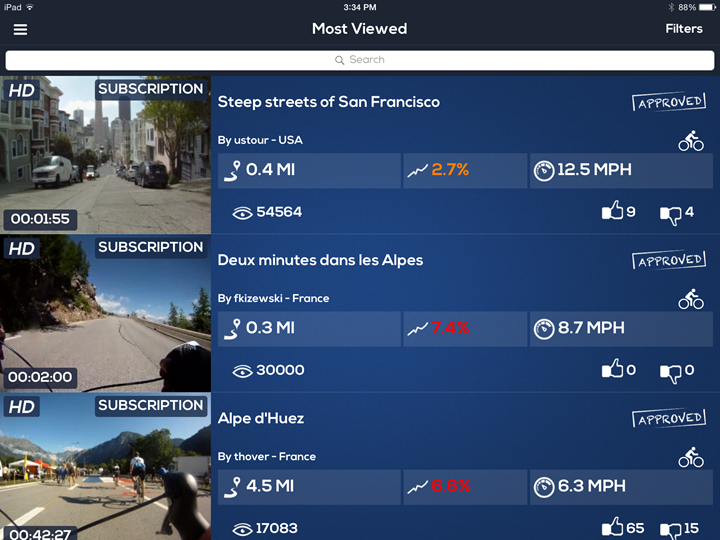 Kinomap was one of the first all you can eat training video apps out there, which initially got started supporting the Wahoo KICKR, but has since expanded to other brands including the Elite Real trainers.  The app allows you to ride outdoor routes shot by both professionals and amateurs.  It has a vast library of videos online of varying quality.  These videos then control the resistance on your trainer based on the outdoor geography.
You can also upload your own videos pretty easily using their web uploader, which means you can go record your favorite routes in the summer for riding in the winter.  Or, when on vacation somewhere record those routes to take home for the rainy days.
The app is subscription based and the base level includes virtually all except the 'Premium' videos, which are à la carte items you can pay extra for.  These premium videos are akin to what you find in other apps at the pay-per-video level.  So they essentially offer you a bit of a blend to go either direction depending on what you want.
Like most of the apps, Kinomap can connect to a wide range of ANT+ and Bluetooth Smart sensors, as well as two trainer types that no other tablet can connect to: The Elite Real Trainers and the CompuTrainer.  For the CompuTrainer, it does require installing a small application on a nearby computer though to act as a bridge.  Still, very cool.
Maximum Trainer: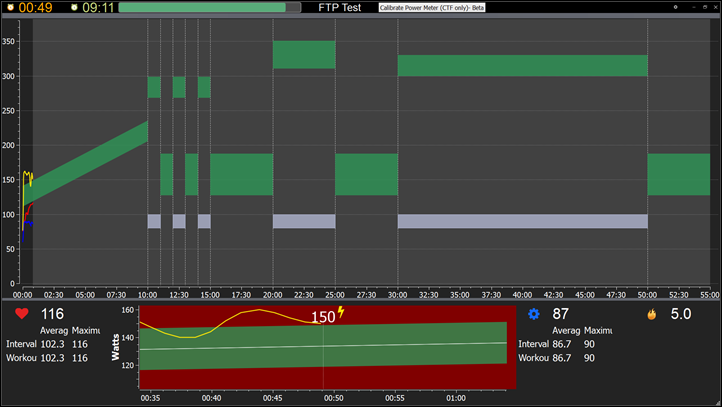 Maximum Trainer is another one of the fairly new to the scene apps, still in beta.  The app is aimed at a simplistic power-focused training experience, even if you don't have a power meter.  It can use known power curves for specific lower-end trainer models to determine an estimated power value.
These power values can then be mapped into workouts which you can create using their workout creator in the app.  What I like is that unlike other apps where you set an exact power level, this allows you to set power ranges (and also exact levels).  So you can see in my screenshot that I set a power target, but also have a ~10w cushion on either side of that.  The app will then show you the state of your various ANT+ sensor metrics like speed/power/heart rate/cadence in real-time plotted against that.  Note that it doesn't control your trainer however – but it sounds like that might be on the way.
You can drag any media file into the window, so if you have movies you want to watch you can do that as well.  Afterwards, you can simply save the workout files and upload them to sites of your choosing.  The service is still in beta, and at the moment also still free – so definitely an option if you're looking for a minimalist workout app.
PerfPro: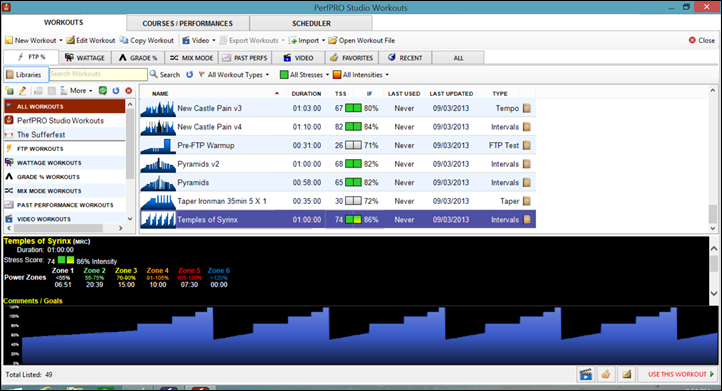 PerfPro is probably the most advanced of all the apps listed here.  At least when it comes to configuration options, trainers, and ways you can use and tweak the app.  It may not have as many broad feature areas (like 3D worlds), but for power-based workouts it has a ton of flexibility.  PerfPro is only available as a desktop app on the PC.
The core focus of the application is around tracking your workout and controlling your trainer.  It's a great option for CompuTrainer owners as it really opens up a ton of options for them, like direct Strava and TrainingPeaks integration.  It's also about the only viable option out there for multi-rider studios, like I demonstrated here.
The application actually has two parts – the Analyzer application and the Studio piece.  It's the Studio piece where you do the actual training, while the Analyzer component can track details from all your workouts.  You'll start in the Analyzer creating your profile, as well as importing in past workouts.  This is handy because it can take in course files – like a GPS course – and then control a trainer to replicate that course.  Similarly, it can integrate with training videos including ones from SufferFest.
PerfPro is a juggernaut when it comes to features and options.  I'd have to expand my charts below 1000% to cover all the little tweaks and ways it can integrate with stuff.  If you're more on the geeky side, you'll love it.  Conversely, if you're more on the 'just keep it simple' side, you might get a bit flustered with the overwhelming user interface.  Though, I suspect once you set it up you'll find it's pretty easy to use day to day.  And best of all – they have a 14-day trial.
Peripedal: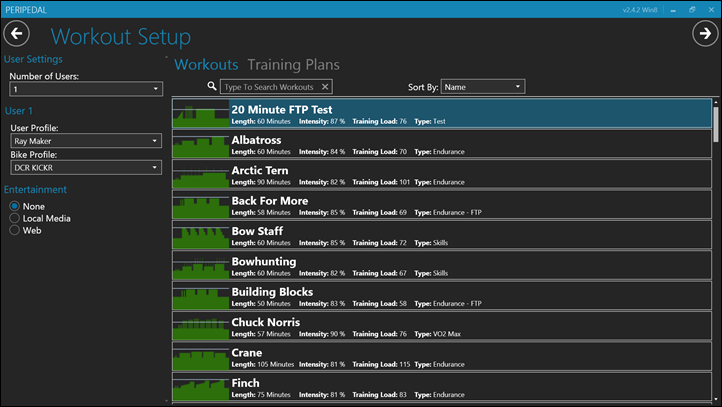 Peripedal is a structured training app for Windows that allows you to create or follow workouts that will control various trainers.  The application includes a deep library of not only pre-built workouts, but also full-on training plans for both cyclists and triathletes (focusing on the bike part for triathlon).  And unlike a lot of the apps out there today, it's a one-time payment, which can often be quite a bit cheaper than $5-$10/month for years.
The app features a very clean interface using the so-called Metro design style found in Windows 8.  It also supports automatic uploading to Strava and Training Peaks, as well as being able to simply save your workout file locally upon completion.
It's one of the few apps that actually supports the ANT+ Muscle Oxygen profile, which I posted about just on Wednesday. Of course, that does involve purchasing another sensor, but still – it's cool that the app integrated it.  It also supports regular sensors like ANT+ speed/cadence sensors and power meters.  And it can control a handful of trainers wirelessly as well.
Finally, the app supports both multiple user profiles as well as multiple bike profiles.  Those combined means that you can easily use it with others in your house/garage/etc.  Not at the same time, but taking turns.
RaceMyGhost
RaceMyGhost allows you to race against your past performances on preset tracks.  Each of these tracks specifies a given duration (be it time or distance).  This means you can go ahead and pair up sensors (Speed/Cadence, Heart Rate, Power, KICKR), and then each successive time you open the app you'll attempt to beat your previous performances.
These performances will be shown on a small road that has your past attempts as a 'ghost'.  Your current progress against that is also shown.  In the event you have a KICKR, it can control the KICKR level (the resistance).  After you're done with a workout you can upload it directly to a handful of sites including Strava, TrainingPeaks and MapMyFitness.
The app is free for the base version, but then costs $10 to upgrade for live heart rate comparisons, graphs and the export options.
SufferFest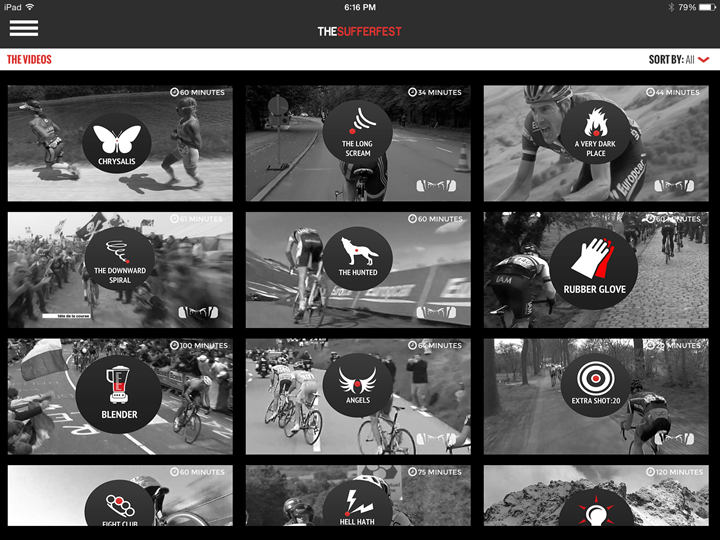 SufferFest isn't quite in the same technical category as most of the apps I've listed above.  That's because they focus on making videos that you watch on your trainer, rather than a fully sensor-driven experience.  While they have an app, these videos are also used by other apps – such as TrainerRoad – which can then control the trainer based on the video.  Whereas the SufferFest tablet app itself is essentially just a video player.
SufferFest has been around a rather long time – and continues to grow in popularity due to their painfully addicting videos along with a legion of dedicated fans.  They now also have an all you can eat plan for $10/month, which means you're no longer paying for single videos but rather you can just watch anything they have, like Netflix.
It's worth noting that they have a deal with Strava where if you have a Strava Premium account you can get access to a handful of videos for free, from the Strava app.  Details here.
They introduced tablet apps, which is what allows you to partake in the all you can eat extravaganza.  The tablet app doesn't have any way to connect to sensors though, so you'll need to record/display that data somewhere else.  Though, most people can do that on their existing cycling computer or in combination with one of the other apps.
They have both cycling and running focused videos, so you can be all triathlete-like and do bricks between the treadmill and the trainer.  However, I wouldn't recommend taking your iPad into the pool.
Overall I think SufferFest is pretty cool.  I've done a few workouts here and there with it – primarily tied into TrainerRoad – which is awesome with one of the resistance controlled trainers.
Tacx Training Software: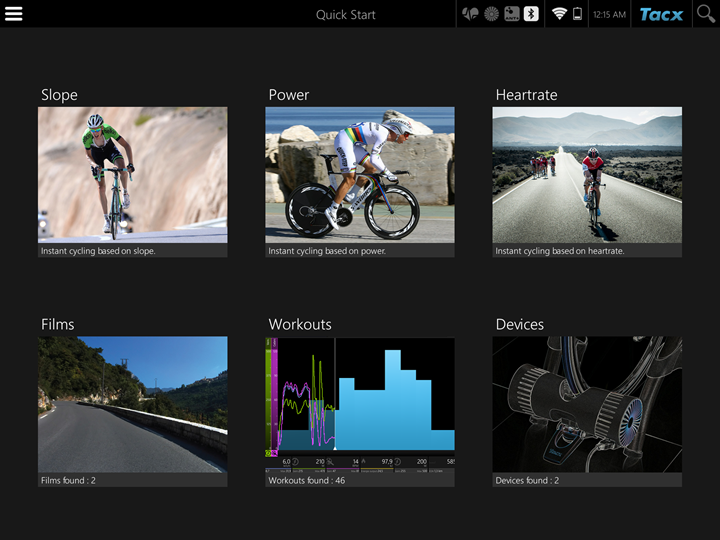 The Tacx software is divided into two camps – the desktop app and the tablet app.  The desktop app is expansive with many features, while the tablet app is a bit more focused with the key features most people enjoy.  In general, I find the tablet app the way to go.  That's because my luck with the desktop app hasn't always been terribly awesome, and even to this day I get folks that find the desktop app kinda buggy.
Still, I really do think their tablet app is the right direction for the company since introducing it last year.  They now have both iOS and Android.  The app requires a Tacx trainer to do anything with it – so you'll need one of those.  Thankfully their latest round of 'Smart' branded trainers are pretty solid for the money.
As for the app functionality, you've got core pieces including a workout creator for running through structured workouts like those based on wattage or grade.  Then there's the ability to purchase videos from an online store and download the high quality videos to your tablet.  From there the app will automatically adjust the resistance of your trainer to match the grade in the video.
On the desktop side, you've got far more functionality including 3D worlds as well as the ability to ride through Google Earth created maps.  The trick is that costs a fair bit more than the free tablet app.  You can read all about the desktop app in my in-depth review.
If you're looking at a Tacx trainer – check out the tablet app first and see if that meets your needs.  One of the only downsides to purchasing a Tacx trainer is that it's not compatible with other resistance controlled apps like those seen in this post.  So ensure the two apps cover what you want training wise…at least until Tacx changes their mind and opens up the trainer to 3rd parties.
Tour de Giro: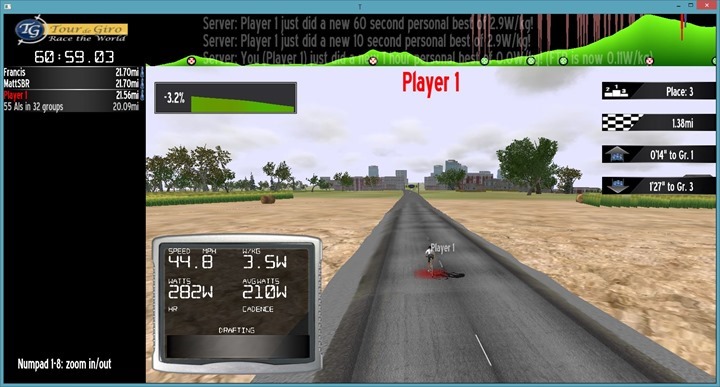 Tour de Giro is a multiplayer 3D environment application that allows players to race online within 3D generated courses that replicate a given route in the real world.  For example, one could race on a given well known stage race (like a time trial stage in the TdF from Nice), or, a longer route like Ironman 70.3 St George.  The app has scheduled races that people can plan ahead for and then join on the given date time.
The application will leverage ANT+ speed and power sensors to control your position within the race, and you're able to see other players on the map and screen.  And It is cool that they allow me to show multiple users views on the same screen – like a quadrant of riders.
While the graphics aren't super high end, they are just fine within the game itself (and they'll easily work on older computers).  I would comment that the menu graphic system (not seen in main screen shot above) is pretty rough/dated.  Still, for an application to race other people and generally find people in the larger scheduled events, it's certainly worth checking out – and they have a free trial that makes it easy to see if it's what you like.
TrainerRoad: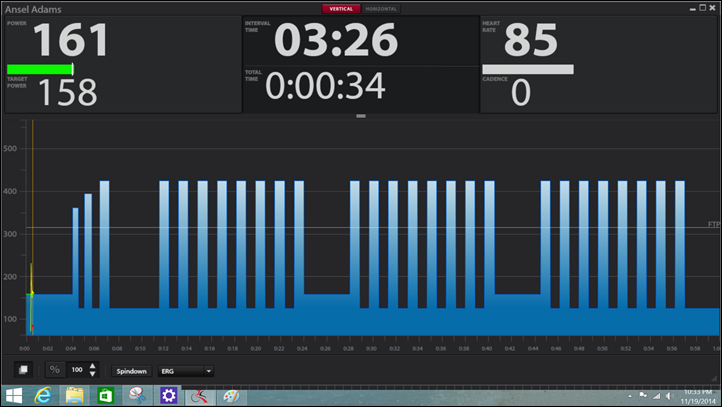 TrainerRoad has steadily grown over the past few years since its introduction as one of the first apps to support a wide variety of trainers and not be locked to a single vendor.  The app focused heavily on power-based workouts, but that doesn't mean it requires a power meter.
While it can connect to power meters and fancy trainers to control them, it can also estimate power using their Virtual Power concept for a crapton of trainers out there (including many cheaper ones).  Then, it'll actually broadcast it back out again as an ANT+ power meter using their Power Relay feature, so you can just as easily record it on your ANT+ bike computer (such as a Garmin).
They've got a voluminous library of workouts that'll keep you busy all winter, along with a ton of video partnerships.  So you can ride SufferFest videos, Spinervals videos, epicRides and many more.  If your trainer supports it, it'll automatically control the trainer to match the video.
They've had PC and Mac support for some time, but just introduced iOS support this past week.  If you're looking for an app that'll keep you busy and focused on structured power-driven workouts, this is one of the best ones out there.
VeloReality: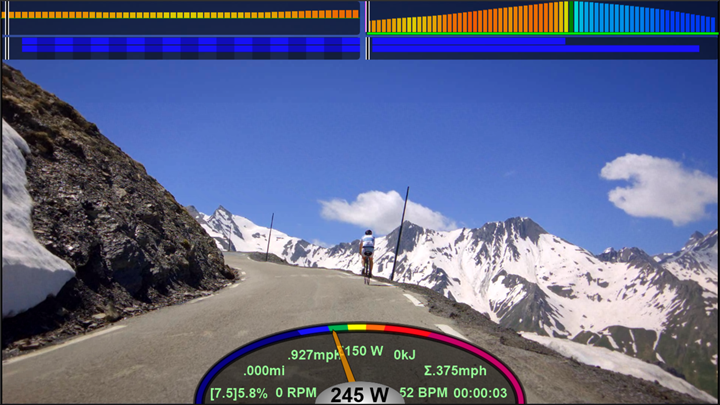 The VeloReality app is all about amazingly high quality video footage of incredible routes around the world.  By comparison, it makes everything else look like grainy cell phone videos from 1999.  The PC app is about as slimmed down as you can get, and really aims to exist as a way to playback videos and control your trainer.
The videos are from a variety of places around Europe (mostly), with a handful from Canada.  They cost $14US a piece, or you can actually buy a hard drive of every video they have (40 of them) for $300US.  Kinda a neat option to just buy everything.  Though, they don't offer a subscription plan or all you can eat monthly payment option.
In addition to playback of videos, you can create specific wattage based structured workouts using their workout creator.  These workouts can then be saved afterwards just like ride files from the videos.
While the app initially was focused on their house branded trainer Lynx (much higher end), they now support controlling the Wahoo KICKR as well as soon supporting the PowerBeam Pro.  They also support a ton of other trainers using a resistance curve, so you're still in business if your trainer costs less than your bike.
If super high quality legit 1080p videos are your thing, and especially if you plan to put them up on a big screen, then definitely check out VeloReality.
Virtual Training: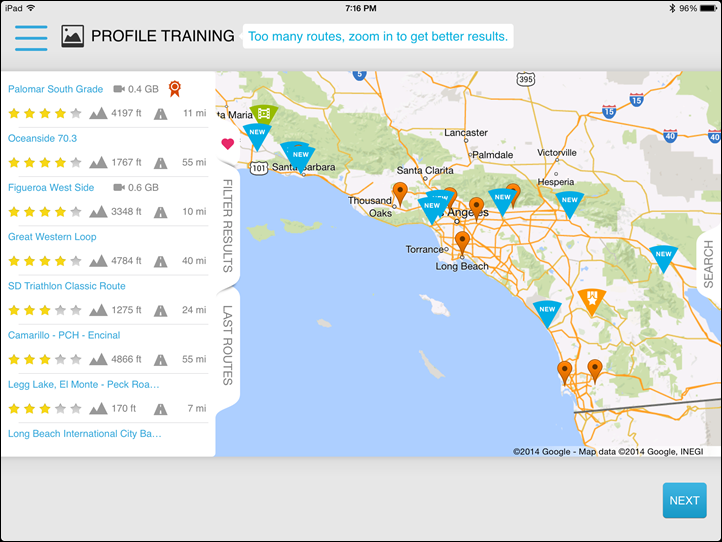 When I look at all the tablet based apps, the Virtual Training app is probably the most complete.  It can do everything from structured workouts, where it has the easiest structured workout builder of all the training apps, to real course videos.  The videos it pulls from a massive online database of rides.  You can either ride other people's videos, upload your own, or choose from higher quality ones sprinkled throughout.
You can also ride routes without videos – just like GPS courses.  While you can't directly upload a GPS course via the tablet app, you can use the desktop app to do so (and it doesn't require payment in trial mode).
From a sensor standpoint it'll connect to and control resistance controlled trainers including PowerBeam and KICKR, as well as estimate wattage on a number of other trainers.  It can connect to both ANT+ and Bluetooth Smart accessories easily.  And it's available on both Android and iOS, as well as the PC.  The PC version has additional Google Earth functionality and integration.  Given the tablet version is a sweet deal at $5-6 a month (depending on how you purchase), I'd start there and see if it meets your needs.
Overall, when it comes to tablet apps the Virtual Training app and platform is the most complete one out there.
Wahoo Fitness App:
The Wahoo Fitness app is hands down still one of the best apps out there when it comes to recording sensor data and uploading it to sites of your choosing.  And, it's one of the best 'simple' options when it comes to controlling the Wahoo KICKR.  It's generally what I use when I'm riding the KICKR to control the resistance – just keepin' it simple with easy to use pages that are intuitive.
The app can control the trainer in a number of modes from grade/slope to set levels to ERG mode (setting a wattage level).  It can save and then connect to more sensors than you can wave a stick at, while also allowing you to create highly customized activity profiles.  It could be used for different bikes you have, or different activity types like indoor cycling vs indoor treadmill.  I often use the app when in hotel gyms to record my workouts there.
From there you can upload to tons of different online services, or just e-mail yourself the raw completed workout files so you can use them in any software on the planet (it will send you tons of different file formats).  It's my go-to software when it comes to testing devices, as well as just doing a simple workout on the KICKR.  Oh, and it's free.
Wahoo Segments (for Strava):
Wahoo Segments is an app that allows you to compete/race on any given Strava Segment anywhere in the world with the Wahoo KICKR.  The app started as a bit of a demonstration app for the Wahoo KICKR at the products launch, however, was ultimately released as a standalone app (though it still requires the KICKR).
The app allows you to zoom around (or enter an address/location), and then select a Strava Segment.  Once you've selected a segment you'll be given a short warm-up (10 seconds) before diving straight into things in an all out race.  It'll pull the current King of the Mountain (KOM) leader from Strava and then it'll show you virtually racing against that person throughout the entire segment.
Once you're done it'll show you how you did against the record as well as record your current KICKR record within the app. While the workout effort can be uploaded to Strava, it won't count against any official Segments (it won't show up on the leaderboard).  Perhaps down the road Strava will have a virtual training type segment score as well.
The app is no doubt fun. But because the app depends on elevation data from many devices, sometimes the elevation profiles can be a little wonky.  Wahoo has done a fair bit of work to try and smooth things out, but applying that logic to what is likely hundreds of thousands – if not millions of segments is tough to get right 100% of the time.
WattzAp: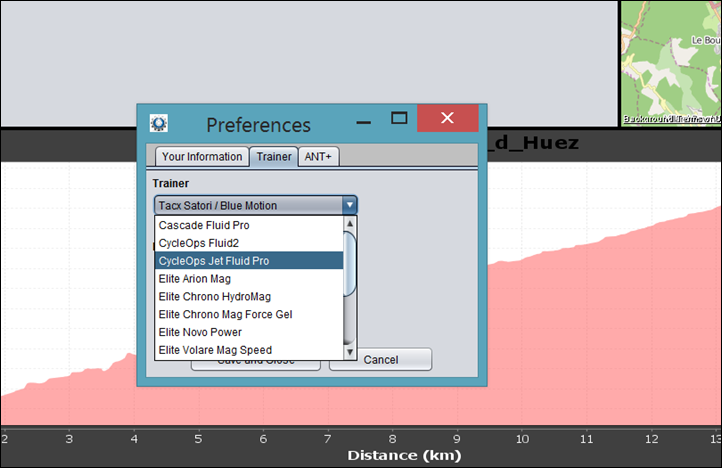 WattzAp is a video-focused training software that allows you to download videos from various sites (including theirs) and then ride them indoors.  This includes both aspirational cycling locations like Mont Ventoux, as well as indoor focused experiences like SufferFest.  It also supports the Tacx RLV videos too – one of the only ones outside of Tacx to support these.
While the software is a bit dated in appearances, it does get the job done.  It only connects to ANT+ Speed/Cadence sensors and heart rate sensors, but from that it'll go ahead and determine power based on a small range of supported power meters.  During the ride it'll record all this data so you can upload it afterwards to a variety of sites using standard .TCX files.
Further, the app also has an analyzer built in, so you can analyze existing rides as well – so it's part trainer app and part analyzer.  The only downside to the trainer app is that they don't support power meters (as a sensor) or advanced trainers like the KICKR, and don't appear to have any plans to either.
Zwift: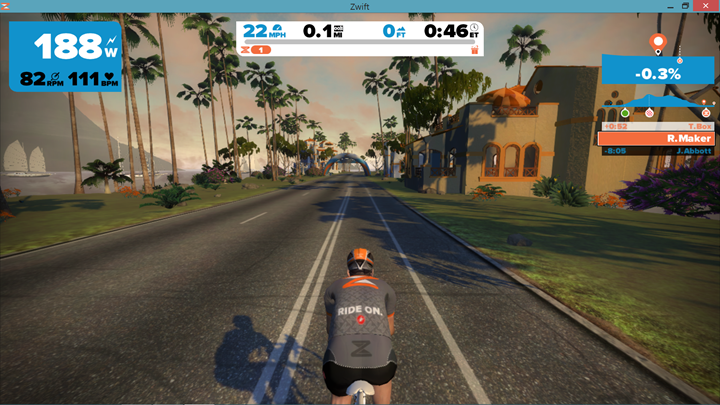 Ahh yes, the very last app in the list.  And I'm actually writing these in order – so at this point, I suspect I could talk about the history of Nacho Cheese here and nobody would notice (perhaps including me).  Though, fortunately for the alphabetically challenged Zwift, it's actually a pretty darn cool app.  I recently wrote a whole piece about it and how it works.
But, the down and dirty version is that Zwift is really the first true massive multiplayer online game for cycling.  It's designed to scale to the tens of thousands of concurrent riders realm, all cycling around 3D worlds built specifically for the game.  The app though is more than just about cycling in circles on fake terrain.  It's designed to host everything from cycling celebrity events to allowing you to customize your jersey's and bikes with team and branded specifics.
Moreover, it's designed to simply be addicting.  One of the challenges of many of the 3D world type apps is that there are so few players (if any) online that there isn't really any competitors when you go online.  Zwift meanwhile has a single world for now, so there's almost always someone there (or, lots of someones).
At present it's in beta, and the backlog of beta requests stands at well over 13,000 people.  Eek!  But it sounds like they're adding more and more people into the beta each day.
Comparison Tables:
I've created a new section within the product comparison database that now covers trainer apps.  This allows you to compare any of the trainer apps out there and which features they have.  You can click on the below image to be taken to the page to compare: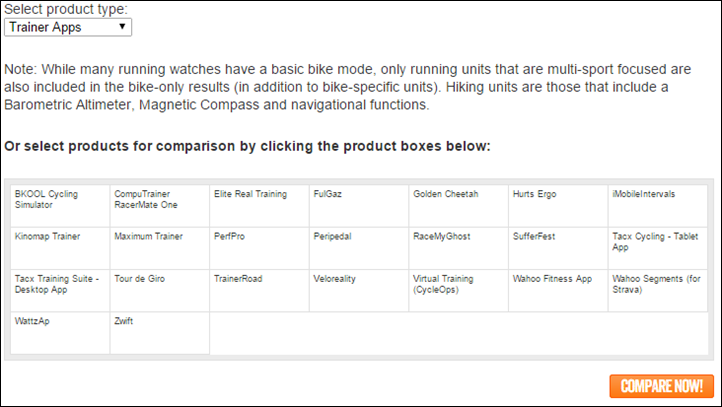 As you can see there are a ton of options on the market today, with even more in the pipeline and yet further some I've probably missed (such as pure iPhone non-tablet type options that are merely data collectors).  As I noted above you'll really need to figure out which specific type of app you're looking for. There are a few that are good all-around options like the Virtual Training app, but there are also specific apps that completely nail the exact niche segment they're built for.  To each their own!
Thanks for reading!