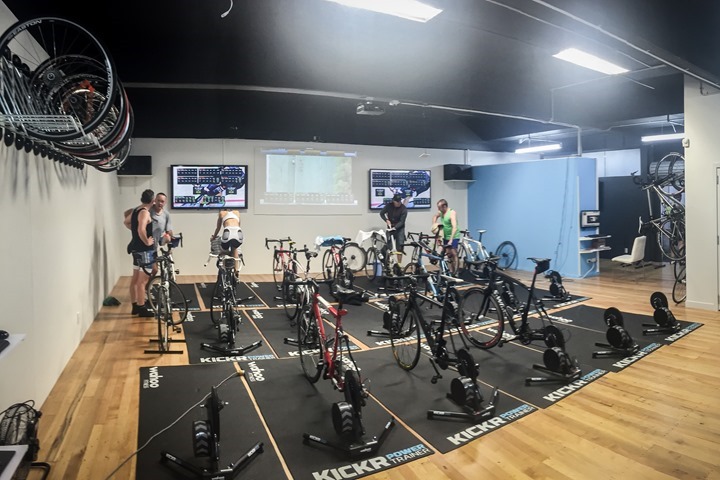 Earlier this week while down in Auckland for work a reader (Marc M.) shot me a note via Facebook letting me know that there's actually a full-on Wahoo KICKR studio setup just a few blocks away from my hotel.  They offered a number of daily sessions where you bring your own bike in and suffer on a KICKR in a group setting.  Given I've never ridden in any sort of BYOB cycling studio (KICKR or otherwise), I figured it'd be interesting to give the place a try.  Of course, similar concepts aren't new – there's been CompuTrainer studios around the world for some time for example, but an all-out KICKR studio is pretty rare as far as I know.
In looking at the prices they seemed pretty reasonable to me:
– Casual Class: $25
– 10 Class Card: $175 – Expires in 3 months
– 1 Month Unlimited: $150 – Valid for 31 days
– 6 Month Unlimited: $120.00 per month – Pay Direct Debit
– 6 Month Unlimited: $720 (One Off Payment)
– 1 Year Unlimited: $100 per month – Pay Direct Debit
– 1 Year Unlimited: $1,200 (One off payment and receive one bonus free month)
(For reference, the above are NZ Dollars, which are $1.22NZ – $1.00USD, so for American's look at it as  basically 20% cheaper than above.)
Apparently the longer duration memberships also get you free FTP testing too (in case you wish to subject yourself to even further pain and suffering).
So I signed up the night before for a single class using their little online appointment tool.  It only took a few seconds to complete and I was on my way.  I also spent a few more seconds configuring my account in their database as well so that my FTP and associated information was already setup and ready to go when I arrived.  Below is a screenshot of the booking tool, in this case for tomorrow.
At around 5:10AM I woke up and meandered over through the rain to the their warehouse-style location, situated in the marina area of Auckland near the downtown waterfront.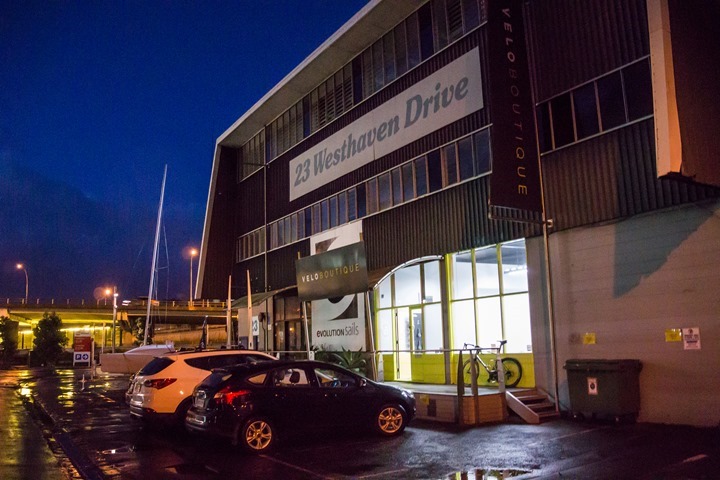 After extracting my bike from my little car, I headed inside.  In addition to the KICKR studio you'll go through a combination lounge/bike shop.  They have a collection of typical items that you'd expect from a bike shop, though keeping it relatively simple.
In talking with the owner he noted he didn't want to get into full blown bike shop retail situation and really wanted to be a cycling studio.  These items are mostly just to tide folks over for pre-ride needs (indoors or outdoors).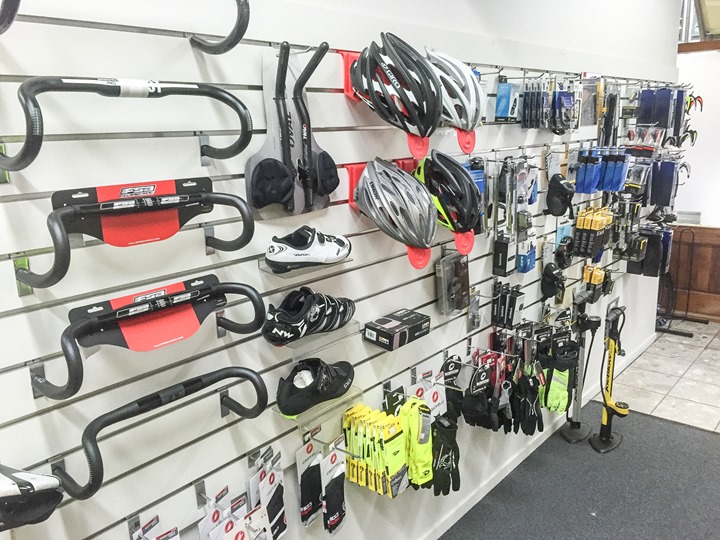 They also have a complete fit studio as well, which is also one of the services they offer onsite.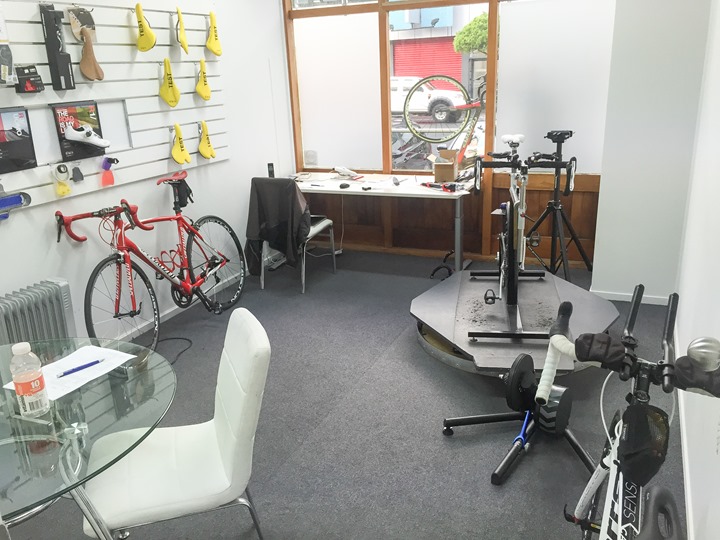 But, I was here for the KICKR cycling studio – so let's head on in there.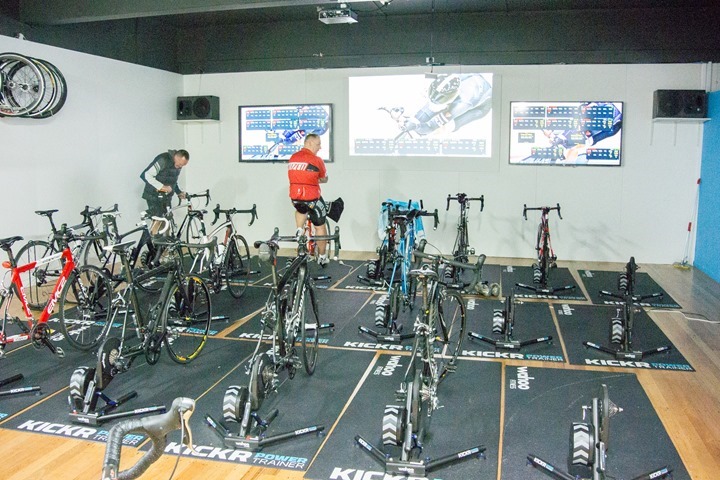 Inside they've got by my count 19 KICKR's setup in formation, with another few more floating around the room as lone soldiers.  Some of them had bikes already setup on them, sans-human, which are ones were people have simply paid for an annual membership and left their bike there.  Of course, there are bike racks around the facility if bikes have to be moved.
There's also a nice handy wheel rack on the wall for your rear wheel to lounge in.  The KICKR of course requires you remove your rear wheel and therefore attach your bike directly to the KICKR itself.  The studio thus has a variety of KICKR's in both 10-speed and 11-speed cassette configurations depending on what you roll through the door bike-wise.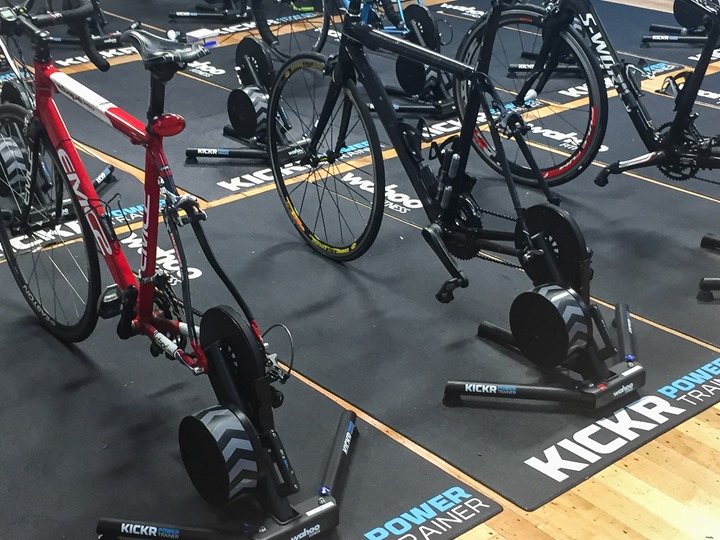 While people were still streaming in a bit before 6AM I got all configured as a user in their system.  While I was already created they still needed to pair my ANT+ sensors (HR, Cadence, and power in my case came from Vector but normally it's the KICKR).  The system will show available ANT+ sensors and then you can assign them permanently to riders.  Riders can have numerous sensors assigned so them, so they can mix and match what equipment/bikes you bring in on any given day.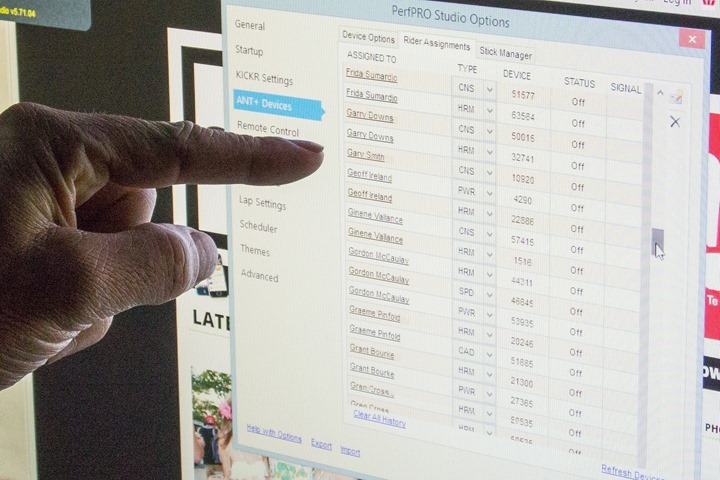 Next, I was able to authenticate my Strava account with the system.  This means that mere moments after my session was completed, it was already on Strava.  I could also set it up to do the same with Training Peaks.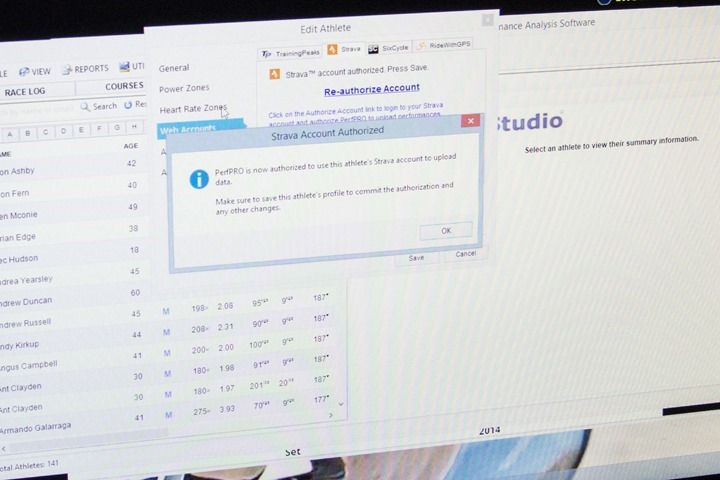 All of this is using the PerfPro software, which works on home trainers as well as studio setups like this.  While the software can be a little bit intimidating to setup at first, it provides an incredible wealth of options.  It also is compatible with just about every trainer out there, making it easy to get way more bang for your buck out of older CompuTrainers found on eBay, just as easily as new KICKR's or PowerBeam Pro's.
Now in a home environment you'd simply use an ANT+ USB stick to connect to your trainers (or, multiple ANT+  USB sticks if you have lots of trainers at home).  But, in a larger studio environment that becomes a bit clunky and cumbersome.  So here they're using North Pole Engineering's WASP system.  Right now they have one unit enabled, seen sitting on the floor in between the rows.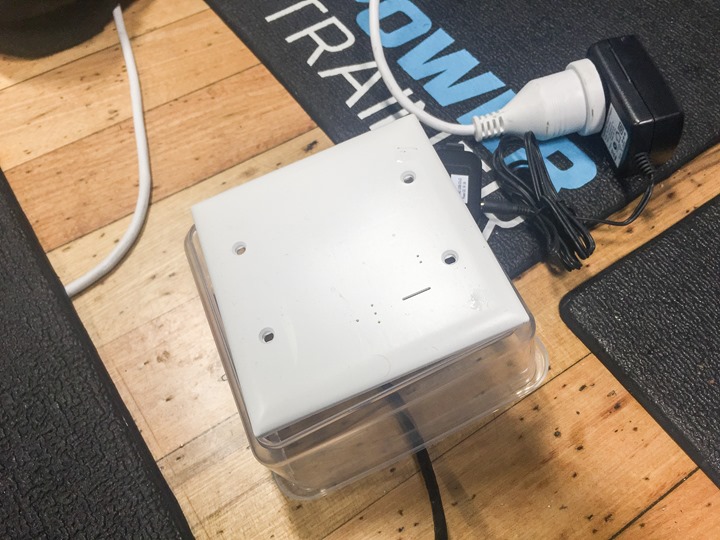 But they've got the wiring in place for a few more around the room just in case there's any sensor devices that aren't transmitting very strongly.  If you flip the unit over you can see it's not just any old wall plate: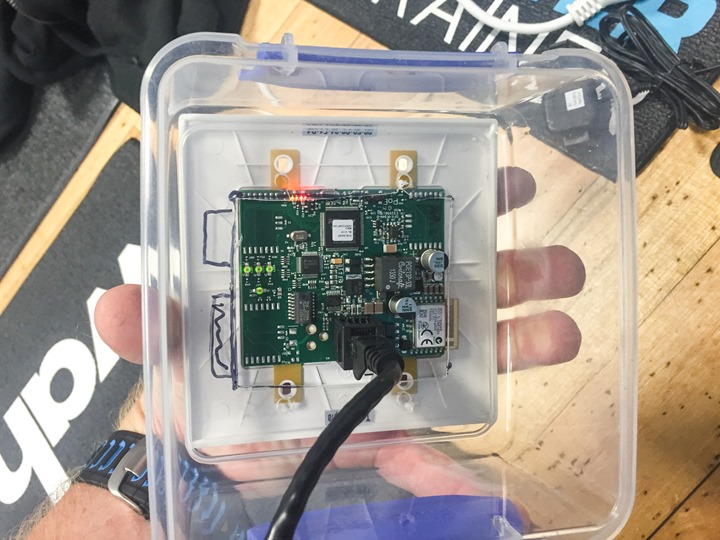 It connects via Ethernet cable to the wired network, which then in turn allows PerfPro to consolidate all that data in and ultimately control the trainers as well via ANT+.
You'll remember this is almost identical to the WASP system that I use to consolidate ANT+ signals for device testing such as power meter testing.  In my case, I use a small portable one that retransmits the ANT+ data over WiFi to an iPhone which captures it.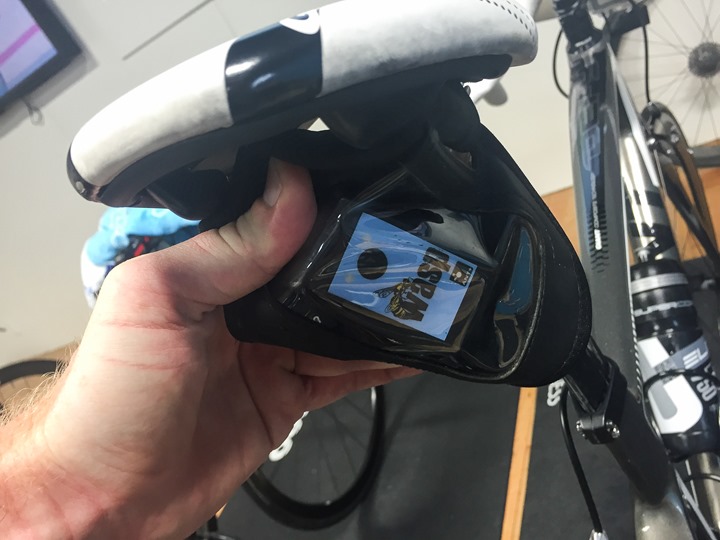 With everything all set it was time to get started.  Everyone was on their bikes and getting morning kinks worked out.  There were three main screens along the front, which had different rider names and information being displayed in real-time to them from PerfPro.
You can see along the top there's a graphical representation of the workout structure for the 60 minute session.  A thin red line showed the current point in the workout, while the other screens had more detail about the current steps.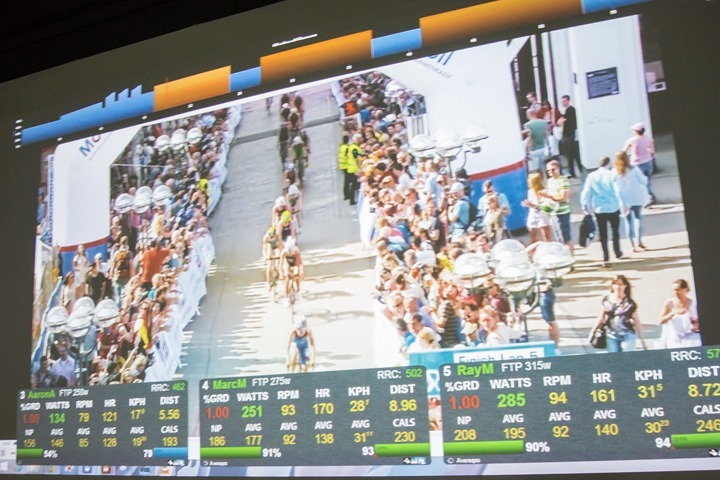 In addition, there was a video playing behind it all.  In this case it was the Hamburg ITU Sprint Race (women's, then men's).
After the initial warm-up about 5 minutes, all of the trainers were triggered into the KICKR calibration mode to ensure accurate data.  This lasted about 30 seconds and included a simple spin-up and coast down of the KICKR's.  You'll then see the rolling resistance calibration value displayed in the upper right corner of each rider (RRC).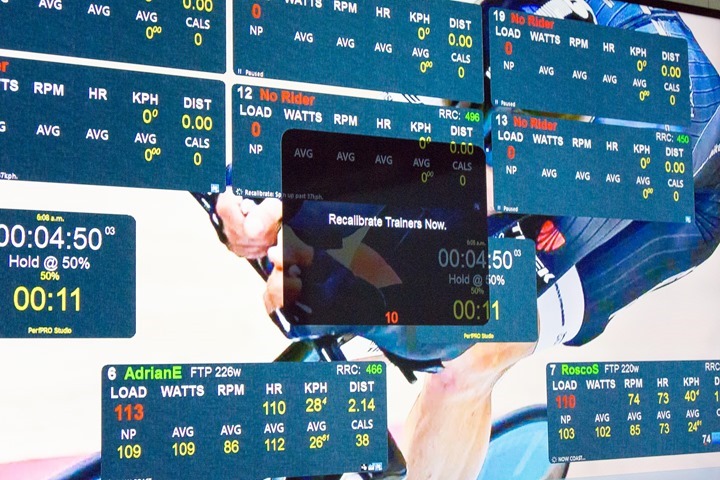 With that out of the way, it was basically time to get on with the workouts.  And that we did.
Unlike a spin class there wasn't anyone yelling at you to ride harder or faster (though perhaps on other days/workouts there are), rather it was more of a generalized group affair, just enjoying things a bit and pushing through together.  Below, reader Marc M. was the one that let me know about the studio: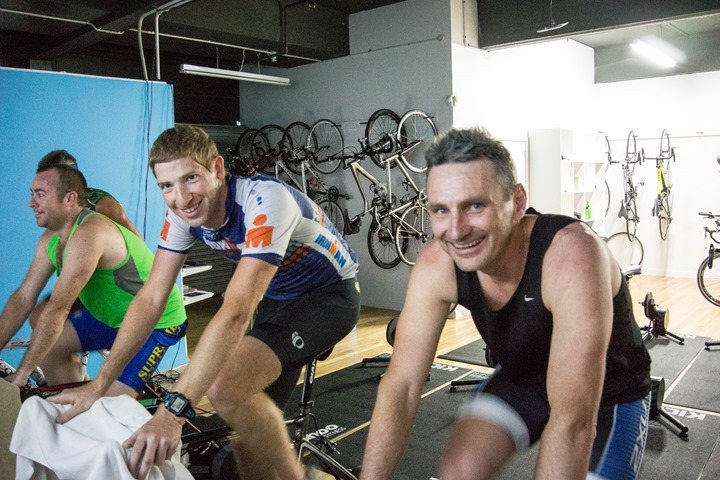 This particular workout had some building initial warm-up for 15-20 minutes, and then three longer chunks at about 88-93% of FTP.  These longer chunks lasted between 8 and 12 minutes, with about 2-3 minutes of recovery.
All of these instructions were these little time boxes spread across the monitors showing overall workout time, time of day, current workout section goal, as well as time left in that workout section.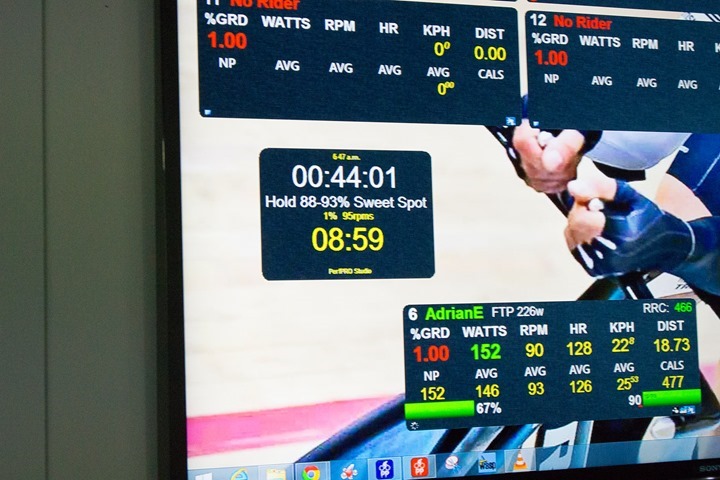 The way the workouts were configured was that the trainer didn't hold you to a specific wattage during the main harder sets, but allowed you to ride up to that wattage.  This was advantageous in that if you had a reason to be lower (i.e. an upcoming race, or just a hard night at the bar 4 hours prior), you could do so.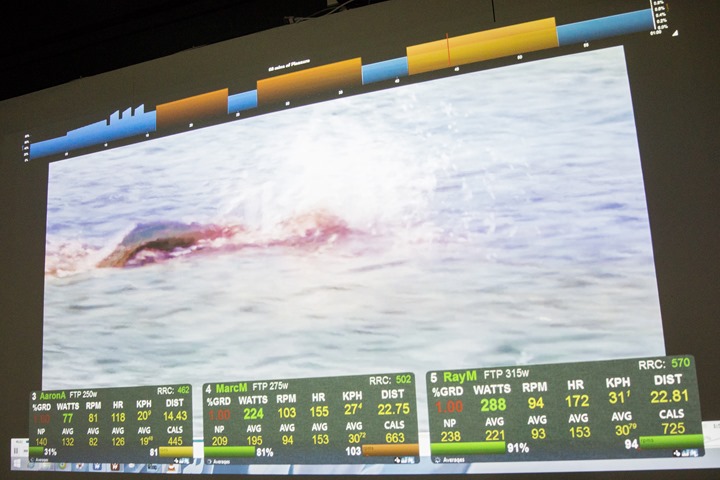 Thankfully, even the hard workout sections went by quite a bit faster in a group environment than sitting alone.  And, before I knew it we were wrapping up.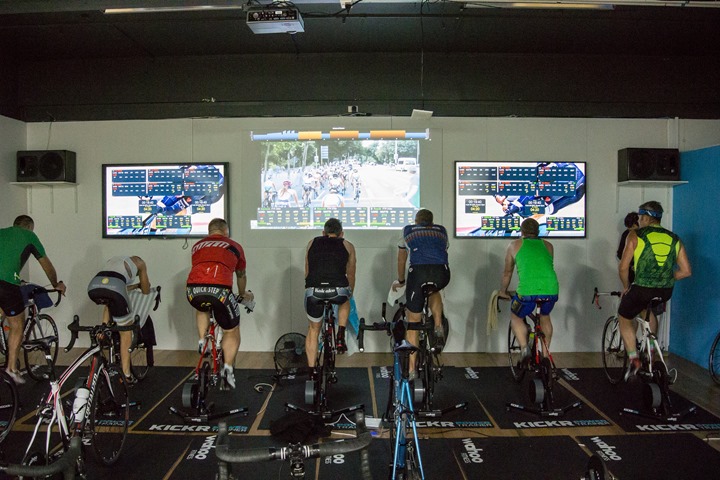 Just like a proper workout there was a structured cool-down for the last 5-6 minutes or so, rounding out the session.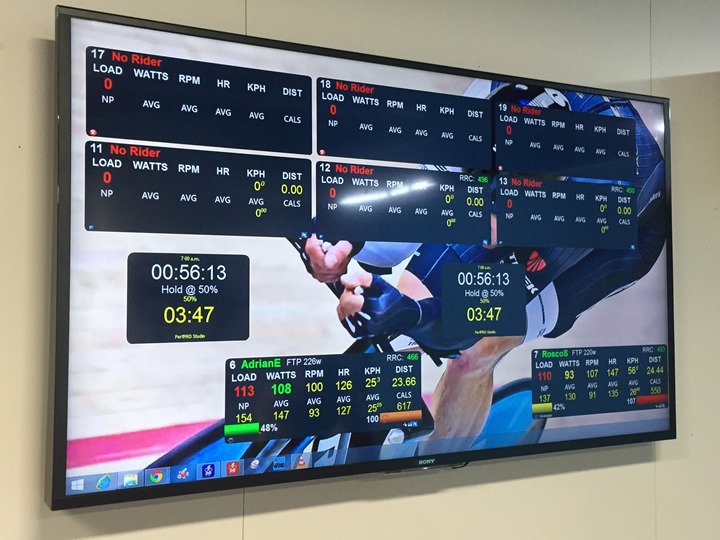 What's cool was that within a minute or so of the session officially ending I already had an e-mail in my inbox with a link to the completed workout information: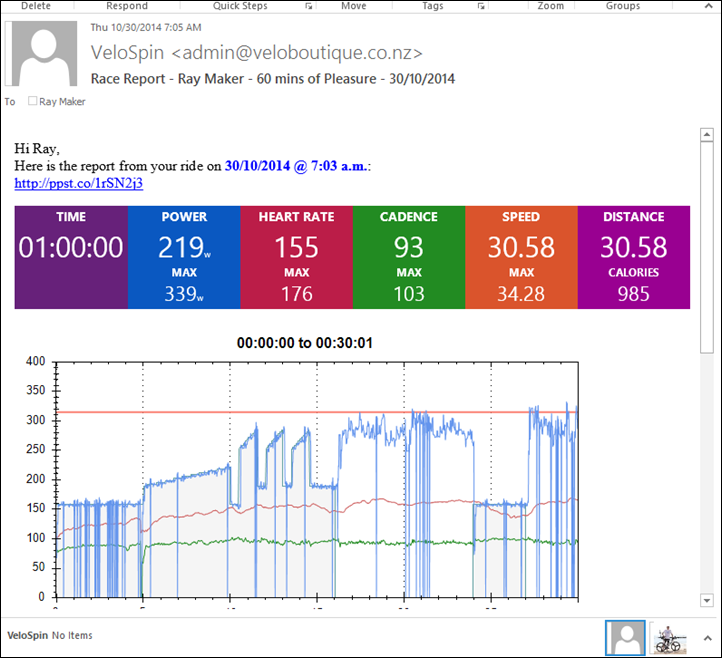 That in turn had a link to an online page from PerfPro to view way more information about the workout: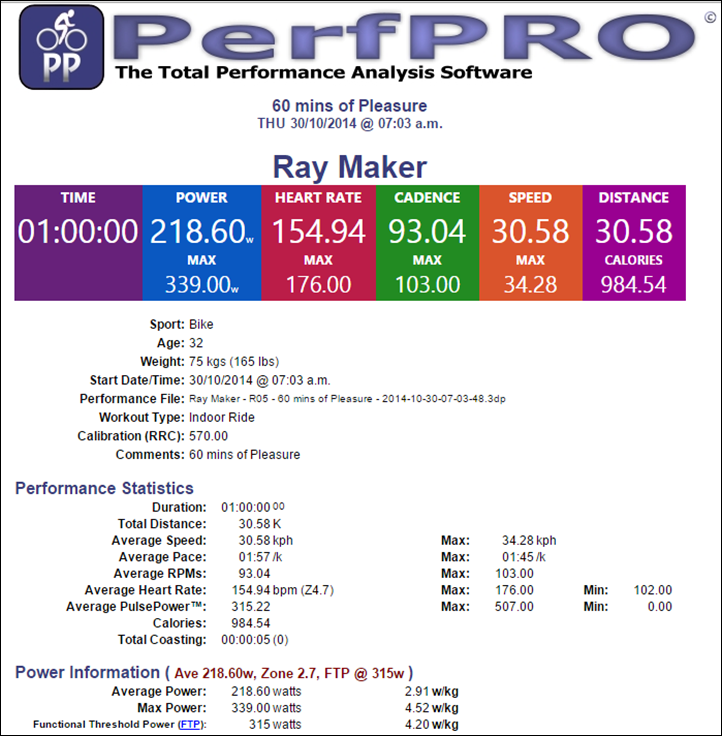 And, at the same time, my workout ended up over on Strava too.  Had I configured Training Peaks, it would have done the same as well.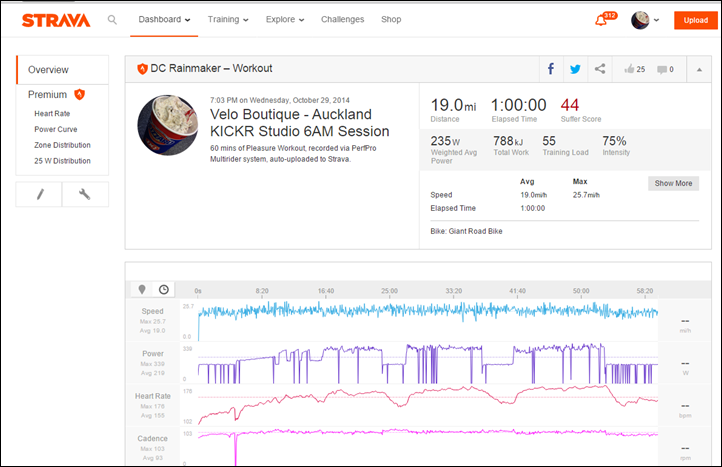 With that, it was time to head over to the cash register to pay, and then out into daylight.  From there I was off to the real world…the office and work.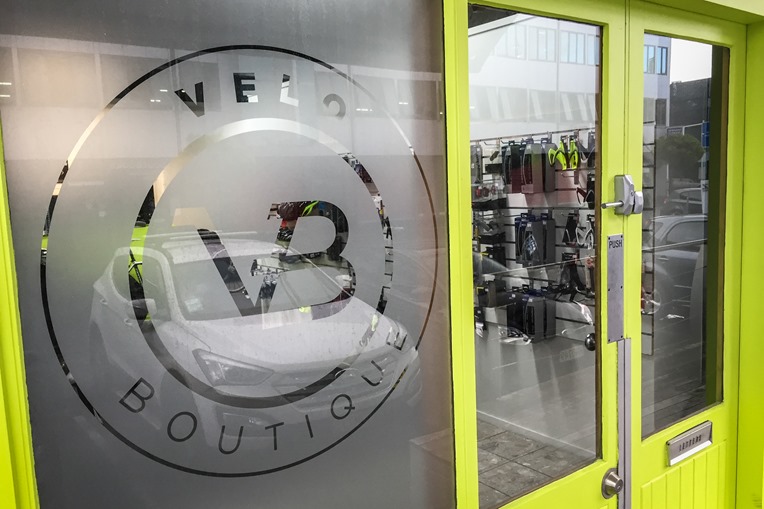 It's definitely a pretty cool concept, and neat to see things fairly well gelled despite only opening up a few months ago.  They're also experimenting with doing recorded local rides with the Garmin VIRB Elite's and then playing the video files back using PerfPro's ability to ride the GPS files – allowing them to emulate outdoor courses as a group indoors.  Very cool.
Finally – thanks for everyone being so friendly this morning (despite the arrival time of 5:40AM!), as well as to Marc M. for making me aware of the place.  I had a great time!
Thanks for reading!