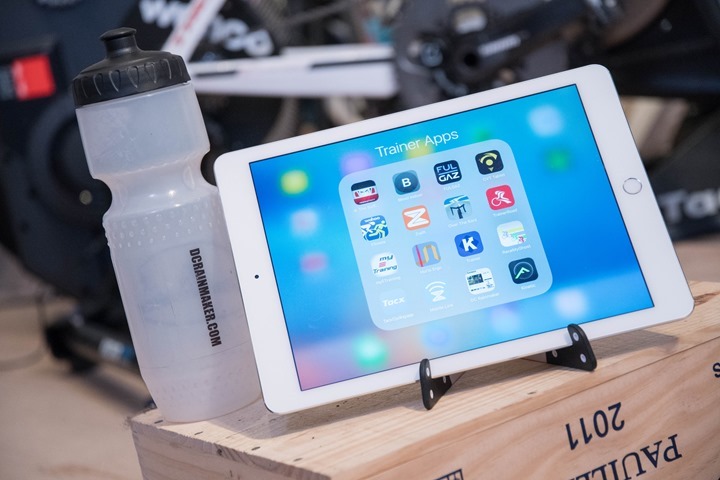 It's been two years since I've last done a Trainer App guide.  And in that time we've continued to see the trainer app world expand with ever better options.  There are both new companies, and existing companies that have exploded in popularity.  And of course, there are also some companies that are no longer with us.
Like before, the post is massive in content.  With over 20 different apps covered, and generating over 1,000 pieces of data for the comparison database, there's literally something for everyone.  Of course, with so many new apps on the market, it's impossible for me to do a full in-depth review on every app out there with every feature.  I'd basically be on a trainer 24×7 trying different options.  Which, I do suppose beats riding in the cold rain.
So instead I've put together this roundup.  Think of it like a sampler platter of trainer app options.  Some of these apps I actually have a ton of experience with, while others I've only poked at it for a bit.  Thankfully, many of them offer trial options – so you can use this guide to try out different apps and figure out what's right for you.
And that's a key point.  What I like in an app will likely be different than what you like.  Some people like interactive 3D worlds on a trainer, while others want real course videos, and yet others just want a single wattage number.  And even within a given category, viewpoints vary.
For example – take real course videos.  Some people want a wider variety of videos shot by anyone with a GoPro, while others prefer super-high resolution and fully gimbal stabilized footage on $10,000 cameras.  Just depends on what floats your boat.
So with that, let's get floatin'.
Understanding the Types of Apps:
If you're looking for a trainer, you'll want to start with my overall guide from three weeks ago.  But, there's still a few things you'll need to know about trainer apps.
First is that most apps are taking data from your trainer or a sensor attached to your bike.  If you were to divide trainer apps up into three fictitious levels, they'd be as follows:
Level 1/Basic: No sensor data/integration/control – just showing a video/giving instructions – these are pretty rare these days.
Level 2/Sensors: Able to consume sensor data like speed, cadence, heart rate – and adjust video/display metrics.
Level 3/Control: Able to electronically control the resistance on the trainer based on wireless or wired connectivity, virtually always includes sensor data too.  This is most common these days.
The first category (Level 1/Basic) is where trainer 'apps' were 5-10 years ago.  And by apps, I mean VHS tapes and DVD's.  These largely had no integration with your trainer and simply played a video.  You in turn did whatever you wanted on your trainer at the same time.  Effectively no different than watching a football game or The Muppets on TV.
The second category (Level 2/Sensors) is where most of the apps have functionality.  In this case, you can use pretty much any trainer you have.  But, you'll also typically need a cycling speed sensor.  The speed sensor is then used to control portions of the app, such as video playback speed.  Alternatively, these apps allow you to display, if not record data from your ride – like heart rate, cadence, power and speed.  They generally do this on ANT+ or Bluetooth Smart.
The third category (Level 3/Control) is where you get full control over your trainer.  You simply pedal, and it controls the resistance.  This can be to replicate outdoor rides and routes, automatically changing the grade of the trainer, or it could be to have you iterate through a specific controlled workout based on wattage.  This is very common these days, and with ANT+ FE-C it makes it easy to figure out if your app supports your trainer.  On the flipside, Bluetooth Smart control works better for tablets, but you'll find it quite variable with a given app supporting only a specific trainer on Bluetooth Smart.  You'll want to confer with each app on whether or not it supports your specific trainer.
The Gear You'll Need: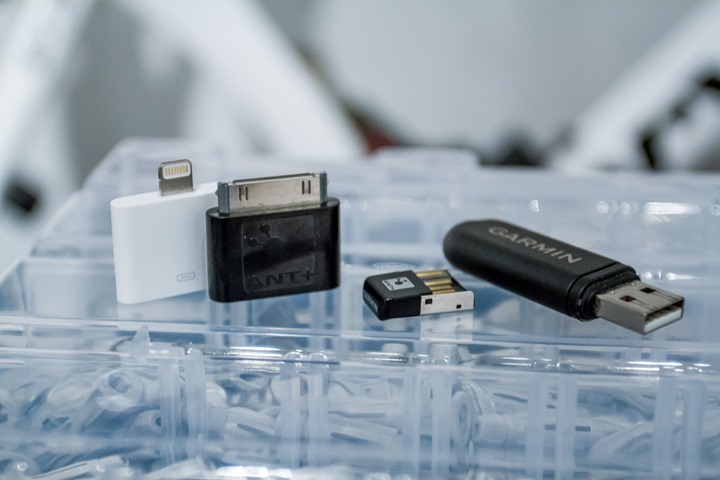 Now that we've got the basic types of apps sorted out, let's talk about what gear you'll need.  Obviously, you'll need a trainer.  But, beyond that, you'll likely need some way to get the trainer data to your app.  Though, for the Level 1/Basic apps, you don't need anything.  This is just for the sensor-capable apps.
What adapter you need will vary based on what sensors you have.  If you have ANT+ sensors (like those that are compatible with a Garmin device), you'll want an ANT+ adapter for your device.  If you have Bluetooth Smart sensors, you'll likely not need an adapter for any phones or tablets, but would probably need one for a PC.  Mac's would vary depending on how old the Mac was.
Here's the basic options, starting first with ANT+:
ANT+ on a PC/Mac: Standard ANT+ USB adapter. Using one from an older Garmin watch is perfectly fine.  Otherwise, either of these work.
ANT+ on Android device: Some Android phones have ANT+ built-in (such as the Samsung devices).  You can check the ANT+ website to validate if your phone does.  If not, then you can either make your own adapter (following instructions here), or, buy the Android adapter from Tacx.
ANT+ on iPhone/iPad (without Lightning connector): For this, you'll need the Wahoo Fitness ANT+ adapter.  There's also some re-branded variants of it, but you CANNOT use the Garmin FIT branded option – it's not compatible with anything.
ANT+ on iPhone/iPad (with Lightning connector): Same adapter as without the Lightning connector, but you'll need a Lightning adapter.  I highly recommend the official Apple ones, as Wahoo has stated they've seen issues with knock-off Apple adapters not working well.  I've heard this from readers too.
And here's the options for Bluetooth Smart:
Bluetooth Smart on PC: Almost nobody app-wise actually supports Bluetooth Smart sensors on PC's today.  The reason for this is that older versions of Windows haven't had great support for it.  Nonetheless, for this, you'll likely need a Bluetooth Smart/Bluetooth 4.0 adapter if your PC doesn't have Bluetooth already.  To be honest, I believe it's only TrainerRoad that supports it on Windows.  In the case of Zwift, they support Bluetooth Smart sensors via the mobile phone apps that hand the data back to your PC.
Bluetooth Smart on Mac: All of the new Mac's made in the past few years have Bluetooth 4.0 within them, so no adapters needed.
Bluetooth Smart on Android: Anything over Android 4.3 and you're pretty much good to go.
Bluetooth Smart on iPhone/iPad: As long as you have an iPhone 4s, or iPad 3rd gen or higher, you're good here with built-in capabilities.
The above may seem complex, but it's rather simple.  Just match up what sensor type you have (ANT+ or Bluetooth Smart), and then the device you want to use to put the app on (iOS/Android/PC/Mac).
Now, while there are other bridging technologies out there – like the 4iiii's Viiiiva, it unfortunately won't help you with any of the trainer apps here as none support it today (despite it having an API to do exactly that).  It's really too bad, as that'd actually be an ideal way to bridge ANT+ over to trainer apps.
With that – let's get into the apps.  I've simply ordered them in alphabetical order.
App Selection Process:
For the most part, if it was a trainer app, I've included it within the app guide below.  But I did have some restrictions.  Or rather, one restriction:
My rules for 2016-2017 are simple: In order for an app to be included, it must have been updated at some point since June 1st 2016.  Any trainer app worth investing in (aside from smaller couple-dollar one-time purchases) should be updating on a regular basis, and certainly going into the Northern Hemisphere training season.  That would have given them 5 months to have an update out.  Failing that, you can always look at older apps in my previous guide here.
As a result of this, the following apps were skipped this year (links go to my last app review for that app):
CompuTrainer RacerMate: Last Updated Sometime 2015
iMobile Intervals: Last Updated Mar 24th, 2016
Peripedal: Last Updated Oct 19th, 2015
Tour de Giro: Last Updated Early 2016
Wahoo Segments: Removed from app store
WattZap: Last Updated Feb 10th, 2016
Of course, apps like Peripedal are still quite valid if you've got them, or if they meet your requirements.  It's just that I didn't want to spend time re-hashing what I've already written.  Also, I have specifically excluded the KICKR Studio platform, since that basically requires you own a bike shop and is more than just an app but a bunch of hardware too.
But fear not! Where some apps disappeared, new apps have shown up in their place.  So with that in mind, let's roll!
BKOOL:
While BKool is best known for their trainers, it's the software that they actually want you to focus on. And, like virtually every other app here – they work cross platform and support more than just their own trainers.  Their app platform has a variety of functions, from velodrome to recreating outside GPS routes in 3D, to structured workouts/training.  That's in addition to the outside video elements as well.
Further, the app contains online multiplayer aspects, such as voice chat between players.  It also supports leagues and stage-race style competitions.  Though, you can certainly just ride by yourself if you want.  It also has a training plan generator, though, the workouts generated from that are a bit simplistic compared to some of the more advanced workouts found from other apps.  But it is handy that it can create a plan focused on various end goals – such as losing weight or getting faster in a certain type of effort.  Note that you cannot however specify an exact wattage or %FTP level, one major downside unfortunately.
My screenshots are from the iPad variant, however it supports PC and Android as well.  Note that there are nuances to each platform (as with all these apps) so do keep that in mind.  One cool feature they introduced a few years ago though was Spotify integration.  As a hardcore Spotify user, I love seeing this type of thinking.
Elite myETraining:
Like Bkool, Elite is better known for their trainers than their training app.  However, their app is quite fully featured, and is available on both tablet and desktop.  The app includes the ability to ride outdoor videos that are professionally made (higher quality, and cost money), or free videos that others have uploaded.  This model is pretty similar across apps.  Further, it supports both structured workouts as well as some testing functions (i.e. FTP and related tests).
In my case for this year I tried out the iPad app, which has a refreshed interface that's much better than years past. In addition, if you have the higher end Drivo or Kura trainers, they've introduced advanced pedaling metrics from the app (which I outlined here).  Note that specific piece doesn't cost anything.
Note that certain Elite trainers also include 12 month free memberships to the platform.  For example, I noticed a redemption card in both the Kura and Drivo trainers.  I'd encourage anyone with an Elite trainer to dig around in the box and give the free trial a whirl.  If it doesn't float your boat, you're not out anything.  But it may be just what you're looking for and save you some cash.
FulGaz:
FulGaz is all about beautiful rides that you can re-ride on their iPad app.  However, where they differ from others in the field is that they've specifically targeted high-profile events and routes within their app.  For example things like the Rio Olympic courses and Tour de France courses.  Plus a host of other major cycling routes worldwide (aspirational riding routes, if you will).  You'll see some of those listed in my screenshot above.
The app has received an overhaul since the last time I tried it out, not just on the user interface, but also behind the scenes when it comes to how they cleaned up data from the rides captured outdoors.  In talking with them, they wanted to find the middle-ground between low-quality bike cam footage (by the average person) and "sterile" looking footage from cars.  Thus they're shooting on bikes, but they're doing a bunch of work to ensure the footage feels like you're riding, without being crappy.
And that seems to work – the experience is very solid.  The only downside is that the whole kit will really only control your trainer if you're on either Wahoo or Tacx trainers.  You can pair other sensors of course, but only via Bluetooth Smart.  Still, if you fit that bill – definitely give it a whirl.
Golden Cheetah:
Many know Golden Cheetah as the super-advanced cycling analytics app that also happens to be open source (and thus free).  However, the app has grown to include trainer integration via a trainer mode.  Within this mode it'll allow you to create structured workouts using everything from %FTP to exact wattages or even gradients.  Additionally, you can download workouts from the massive online ErgDB data (though, that sometimes can be a bit like sifting through the beach sand for a jelly bean).
The app can also control FE-C trainers, or other trainers via older private-ANT variants.  Further, it supports the CompuTrainer.  But more than that it can utilize known trainer power curves to estimate power for a number of popular trainers – like the Kurt Kinetic Road Machine and others.  This means you'll just need a speed sensor to in turn get power information.  More than that though – the app just supports so many different data types and sensors.  Aspects like BSX and Moxy sensor support, the ANT+ remote control for controlling the trainer page, and even the FIT2.0 developer fields that both Training Peaks and Strava have basically shunned.
The app can consume ANT+ sensor data using a USB stick and then display/record that within the trainer view.  Afterwards, your data can easily be uploaded to numerous sites either via the direct file option, or the integration with sites like Strava and Training Peaks.  Overall the app is definitely worth a look, especially if you're on a budget and just need the core recording functionality.
(Note that while the current production version is 3.3 and technically 'prior' to my cut-off date, their upcoming 3.4 version is in Release Candidate status, and brings many additional trainer features as outlined.  As such, I've included it within this post since it's clear the software is being constantly updated.)
Hurts Ergo:
If you're looking for a quick and easy way to ride a specific Erg workout, there might be no better solution than Hurts Ergo. If Apple ever made a Erg workout app, I suspect it'd function a lot like Hurts Ergo.  Just the facts, nothing else clouding it up.
The app will connect to your KICKR trainer to control it based on workouts you download from the 'ErgDB', which is their cloud of workouts.  Now the only downside here is that with 600+ workouts, it's kinda a complete mess to find something if you don't know what exactly your looking for.  Meaning there isn't much structure in finding the structured workouts.  Still, assuming you find it – you're good to go.
Now the application is pretty bare bones at the free level – which many folks will appreciate.  In the event you want to save workouts it'll be $2, or $3 if you want to upload to both save the workout and upload to Strava.  Those are one-time fees though, so that seems quite reasonable.
Kinetic Fit:
The Kinetic Fit app is a structured training app focused on cycling training programs.  The platform has a wide number of training plans for different target groups.  For example, road cyclists, mountain bikers, triathletes and just general fitness.  Each of those training plans has a set number of weeks associated with it – and within those weeks you'll be given different workouts to complete.
The app has two tiers: A free tier and a paid tier.  The free tier is actually one of the most impressive free tiers of apps in this entire buyer's guide, in terms of what you get.  Their site lists the exact differences.  Meanwhile, you can pay $10/month and that then gets you access to Sufferfest workouts (along with some other differences as noted in that link).  Note that's actually separate from the $10/month (or $5/month if annual) for the premium tier of Kinetic Fit.
In a bit of ironic twist, the app actually has quite wide support for Bluetooth Smart devices beyond their own.  Heck, it even supports all the major Bluetooth Smart standards and other trainers like the Wahoo KICKR and Tacx NEO.  This being odd since Kinetic shunned these standards in their recent Smart Control trainer.  Still, it's good to see here.
Your completed workouts can be sent to a slew of different platforms from Strava to Training Peaks, and Dropbox to Apple Health – nine platforms in total.  So plenty of 3rd party integration offered here.
Kinomap Trainer:
Kinomap has continued to expand their core platform into other areas, as I outlined in my recent post on their Interbike announcements.  However, at the center of it all is the Kinomap Trainer app, which allows users to ride outdoor video routes on their trainers indoors.  A few years ago they were the first to introduce an 'all you can eat' concept when it came to indoor trainer videos.  Previous to that you had to purchase each video individually.  These days their library of videos is so vast that you can pick out Strava segments from almost anywhere on earth and find a corresponding video (see that first post I linked to).  Not only that, you can actually go out and race those Strava Segments.
You can also upload your own videos pretty easily using their web uploader, which means you can go record your favorite routes in the summer for riding in the winter.  Or, when on vacation somewhere record those routes to take home for the rainy days.
The app is subscription based and the base level includes virtually all except the 'Premium' videos, which are à la carte items you can pay extra for.  These premium videos are akin to what you find in other apps at the pay-per-video level.  So they essentially offer you a bit of a blend to go either direction depending on what you want.
Like most of the apps, Kinomap can connect to a wide range of ANT+ and Bluetooth Smart sensors and trainers, as well as one trainer that no other iOS device can connect to: The CompuTrainer.  For the CompuTrainer, it does require installing a small application on a nearby computer though to act as a bridge.  Still, it's a unique distinction that may be of extreme use to you if you want to control your CompuTrainer via iPad.
Note that Kinomap as a platform also has two additional apps that I haven't included here at this time, which are Skuga and Intervals by Kinomap.  Skuga is all about re-riding Strava Segments, while Intervals by Kinomap is about structured workouts.  I talk about those in this previous post. Those apps come as part of your Kinomap Trainer subscription.
Maximum Trainer:
Maximum Trainer is focused on structured workouts, but with a portion of the added deeper sensor and multi-user flexibility of PerfPro.  However, Maximum Trainer does so in a fairly streamlined interface that may make it easier for those wanting to get into the multi-user realm (in one physical location).
The platform supports creating your own structured workouts, or downloading them from a database.  Further, it supports training plans that have structured workouts in them.  Once you've picked out a given workout you'll enter the portion of the app to execute the workout.  Here the interface is super clean, and also super crisp.  I like it.
On the advantages of Maximum Trainer to something like TrainerRoad, is the ability to utilize multiple ANT+ USB sticks to connect to numerous sensors beyond the standard 8-sensor limit per stick.  This of course is used for multi-user configurations, which the app supports.  It also supports tying specific sensor ID's to specific users, so it remembers you versus your riding partners in the garage.
Over the Bars:
Over the Bars is kinda a mix between an arcade game and Zwift.  Like an arcade game it has racing against a computer and doesn't require monthly payment.  Whereas like Zwift it has a virtual world on what appears to be an island and supports connectivity to the Wahoo KICKR and other smart trainers.   However where it gets interesting is that you actually use your phone on your handlebars to steer – allowing you to either stay on the road, or make your own trails across the island.
The app will use the sensors inside your phone to detect when you want to turn left and right, and it actually works pretty well.  You'll do a quick calibration of the phone on your handlebars, and you can adjust the steering sensitivity as well.  On my triathlon bike I was even able to just wedge an iPad on the aerobars and it worked fine and dandy.
The app has a handful of options like changing the play mode and the graphics, but it's really designed to be just fun and simple.  Oh, and the best part?  The crashes.  Yes, you can crash your bike.
PerfPro:
There's no other words for PerfPro other than: Beastly.
PerfPro as an app is focused on riding structured workouts, either solo or in group settings.  In addition, it has extensive sensor and trainer support, while also supporting entertainment options like watching movies on your computer or YouTube.  It's super-flexible when it comes to how it looks and feels.
Seriously, it's a beast in terms of functionality, options, and things you can tweak.  While the app development team is small, the user base (especially among cycling studios) is huge.  In likely that's because I believe there's never been a feature request that PerfPro said "no" to.  As a result, it's incredibly powerful and incredibly customizable.  Inversely, it's also overwhelmingly complex at times, and could greatly benefit from some serious simplification.
Of course, if you're a geek in any way, you'll likely love the never-ending ability to tweak things.  This is especially true in the multi-rider arena, so if you want to use the software for multiple users in your home or cycling studio – it's ideal for that.  Same goes for numerous pieces of equipment.  And the best part?  No subscription fee.  Just a one-time payment.
Note that the software technically has two pieces.  One is the Studio piece, which is for when you're on the trainer.  While the second piece is the Analyzer toolset, which acts like a self-contained training log platform.  So you're killing two birds with one stone here.
RaceMyGhost:
Simplicity is the name of the game here, but in a fun way.  You've got a road (a straight one), and you've got yourself.  Then you go out and throw down a hard effort for a distance or duration of your choosing.  Once completed, you try and beat yourself.
Really, it's that simple.
But, it's also cool – because it connects to your trainer/sensors and allows you to make those data comparisons more easily.  I could see this game being a bit of a fun party game amongst friends for something like a 30-45 second throw-down.  Very similar to what we see at cycling trade shows in booths where companies will arrange a 30-60 second all out effort competition and the winner gets something.
So that'd work well here in either a party situation, or even inside a bike store or such.  Still, given the app has a free tier – it might just appeal to you.
Road Grand Tours:
Road Grand Tours is new to the scene. So new in fact that it's not entirely out.  Right now it's in beta, which requires an invite.  Or rather, being invited.  Given I included Zwift in the round-up last time when they were in beta, I figure it's only fair to include RGT this time.
Road Grand Tours is actually in a lot of ways like Zwift was at the beginning, except that instead of fictional locations, they're starting off with a real world location – the famed Stelvio (which is a massive climb).  The environment is computer generated to mimic the real pass.  And as more people sign-on, you'll see other competitors out there. Now since things are still pretty new, it's kinda hard to get a feel for that since nobody else was around during my ride.
The app supports the ability to connect to trainers to control resistance, as well as power meters and other sensors.  I think there's definitely some interesting potential here down the road as it matures.  But they'll need more users to make it compelling.  The good news is you can sign-on for an invite at their site, and since they just made a major release update over the weekend, I suspect we'll see more people added soon.  Of course, the biggest difference between Zwift and this is what you don't see: The massive financial backing Zwift has.  As such, it may be difficult for RGT to compete in this space directly with them, but then again, the other 20 apps in this list lack that backing too and make out just fine.
The Sufferfest:
The Sufferfest has seen a very solid evolution of their business model.  From something two years ago that wasn't exactly top-notch in terms of your integrated trainer experience (though the videos were great), to a legit online platform where you can not only download their famed videos on the fly – but also control your trainer to match the action in the video.  Not only that, over the past year they've revamped the app to make it one of the cleanest looking interfaces out there.
You'll start by selecting a given video from their inventory.  Each video is often tied to real-world training or racing events, such as from the Giro d'Italia.  The text on the screen 'coaches' you through the workout.  And by 'coaching', I mean what happens if your buddies get drunk and taunt you from the couch.  Either way, it's all good fun and incredibly addicting.
The app on iOS easily connected to my Bluetooth Smart sensors, as well as could control the KICKR (other trainers like Tacx showed up, but control is still forthcoming).  The sensor settings panel is super easy to understand, and in the same vein, you can also connect to Strava, Training Peaks or e-mail for sending your completed workouts.  If you haven't tried Sufferfest in a few years, I'd strongly encourage you to give it a whirl now – especially if you have an interactive trainer.
Tacx Training Software:
The Tacx Training Suite is a vast platform covering a wide variety of features and modes.  These modes differ whether you're on PC or tablet versions.  My screenshots in this post are focused on the tablet side, however I'll speak to both pieces.  Within both platforms you've got the ability to ride outdoor videos (films) from famous places around the world.  Many of these films are actually from the folks behind Veloreality (a few entries down from here).  And both platforms offer the ability to do structured workouts, such as intervals and FTP testing.  And both platforms include the ability to control your trainer based on slope or power (i.e. ERG mode).
Where the desktop platform differs though is the ability to also compete in 3D generated worlds, kinda like Zwift.  In fact, they were doing Zwift-like stuff before Zwift was doing Zwift-like stuff.  Further, with some of the Tacx trainers supporting steering, you can actually steer your way through these worlds.  However note again this is limited to just the PC platform.
The entire platform is actually a pretty good deal if you buy the Smart Upgrade add-in package from Tacx, which means you'll get all this goodness for a one-time fee, versus a monthly payment program.  While subscription fees offer an incentive for companies to continually innovate, one-time fees are typically cheaper for the consumer.
Note, below table is focused on tablet app.
TrainerRoad:
TrainerRoad was really the first mainstream trainer platform out there to go with a subscription model. And it alongside Zwift are without question the two most popular apps there are.  Its primary purpose is structured power based workouts.  So everything is based on power, and the company can use either a power meter or power-based trainer to control those workouts.  Alternatively, they can also use simply a speed sensor against their vast database of trainers to give you what they call 'Virtual Power', which is an estimate of your power based on the speed and known trainer power curves.
In addition to specific trainer workouts, they've also got training plans.  These are notable because unlike every other app here, they actually include multisport workouts.  So if you're a triathlete and use a TrainerRoad triathlon workout, it'll also give you swim and bike workouts.  Whereas other companies just give you bike workouts and let you try and figure out how to plug in the other two pieces.
Over the last year the company has spent considerable effort revamping their underlying software platforms such that they are now on PC, Mac, Android, and iOS.  They've also expanded their compatibility with devices and now support virtually all the majors brands (Elite, CycleOps, Tacx, and Wahoo), across all platforms for trainer control.  Finally, one widely used feature that isn't widely seen on other platforms is their ability to use your power meter to control your interactive trainer.  This is useful if you want to eliminate any differences between indoor and outdoor workouts from a wattage standpoint (effectively normalizing your data).
Veloreality:
Veloreality is all about super high quality outdoor videos shot in beautiful settings on high-end equipment and rigs.  It's designed to look stunning on the biggest screen you've got.  And bigger is better, right?  Plus, they're the only one to offer 4K videos – should your setup be appropriately sized to handle that.  If you're looking for big screen beauty – this is it.
You can purchase individual videos from them, with the distances being usually pretty solid – often good for a couple of hours riding each.  There are at present over 130 videos, with many of them being historic climbs and routes.  All of which are then playable within the their free VRide software.
What's cool here though is that the app isn't just a pretty face.  It's got legit support for virtually all the major trainers, be it via ANT+ FE-C or directly to units like the CompuTrainer.  Plus they also support their high-end trainer platform, the Lynx and Lynx II.  You can also pair to ANT+ sensors and export to standard .TCX files which works on any training platform on earth .
Virtual Training:
If there's any app out there that deserves more street cred, it's Virtual Training.  Seriously.  I always forget what an incredibly impressive app it is.  On a feature by feature breakdown basis, it has more features than anyone else.  And does so in a more industry compatible way than anyone else too.  You can easily match protocols (i.e. ANT+ & Bluetooth Smart)and platforms, and all still works seamlessly.  The number of devices/sensors they support is awesome.
There are two major areas to the Virtual Training app – one is focused on completing outdoor video rides indoors on your trainer.  These are both 'curated' videos (read: professionally done videos), as well as user uploaded videos (still great, but quality can vary widely).  In fact, you'll even find one of mine in there (I also uploaded it to Kinomap too).  The playback speed of these videos is matched to your trainer speed.  There are thousands of videos on every continent.  I included some screenshots of that above.
In addition to the video side, you've also got the structured training piece.  This allows you to either create your own structured workouts, or ride ones from a library of structured workouts.  The platform will automatically control the wattage on your trainer to match the workout (assuming your trainer supports that).
Xert Training:
Xert is new on the scene in the training app realm, and in this case it's Android only at the moment. Though, the company is on the cusp of releasing a Garmin Connect IQ variant.
Xert's play here is integrating with their existing training and analysis platform, which is a bit of an up and coming competitor to Training Peaks, Sport Tracks, and Today's Plan (though only focused on cycling right now).  So the app is designed to integrate with that and execute structured workouts from both their database, as well as ones that you've created.
The app can connect to both ANT+ and Bluetooth Smart sensors, as well as control ANT+ FE-C capable trainers.  The app is pretty simplistic in terms of user interface, but it actually has a fair bit of depth in terms of data metrics and integration.  As such, it includes MMP data in the workout, and even shows your predicted MMP right onto the different portions of the workout.  Which is pretty darn cool.  If you're already using Xert, then it's definitely something to check out if you're a fan of more structured workouts (either your own, or their bundled ones).
Wahoo Fitness App:
Wahoo App is basically old faithful.  Old and freely faithful.  It's not fancy, but it's really good at what it's good at: Controlling Wahoo trainers, and reading open-standard sensor data from any other trainer (except FE-C data).  If I'm doing something where I don't want to deal with building out a workout in some 3rd party app, I'm likely to just use the Wahoo Fitness app to control my KICKR.
More than that though, it's awesome for recording data.  You can record data in a boatload of formats, and export it out to equally more formats. Whether it be Dropbox or e-mail, Strava or Training Peaks, it's got it.  I also love the way it categorizes sensor pages.  Though, I do wish you could actually customize data fields within data pages, an oversight that's been there for years.  But for basic trainer control and such, it works great.
Zwift:
Z is for Zwift.
It seems appropriate to end on the app that may well now be the largest cycling trainer app ever.  With some 170,000 people having tried Zwift, it's certainly popular (Note: That isn't the number of current paid users, or even trial users, just people that have at some point tried out Zwift at least once).  Zwift is of course a massive multiplayer 'game' where you cycle around on either a virtual island, or two different real-world courses (the UCI Richmond course, or a new course in London).  You'll easily see upwards of 1,000 other cyclists on the platform at any given moment, even over the past few months – ahead of the core trainer season.
What makes Zwift so compelling is how mindless it is to begin.  It's perfect for those weeknights where your tired and really don't want to do a workout, but tell yourself "I can do an easy 30 minutes pedaling on Zwift", and then before you know it you're hammering through 50 minutes of ego-driven competition.  Even if you choose to use their semi-recently added workout mode, you're still 'in it' with other people in that world. You aren't directly competing against them per se, but you feel like you're still part of a community.  It's the single biggest draw to the platform: A sense of not being alone.
From a technical standpoint, it captures data from virtually all trainers out there, and all sensor types.  They recently announced their beta iPad app (no Android yet), but are otherwise available on PC & Mac.
Comparison Database:
Still can't decide?  No worries!
The DCR product comparison database includes all of these trainer apps within a section of it.  This allows you to compare any of the trainer apps out there and which features they have.  You can click on the below image to be taken to the page to compare:


I've tried as best as possible to call out specific platform differences (i.e. between a given app on iOS vs desktop), but in some cases you'll want to double-check with that trainer company.  The good news is virtually all these apps allow free trials, which I *highly* encourage you to use to test out your hardware and make sure all is good.
As you can see there are a ton of options on the market today, with even more in the pipeline and yet further some I've probably missed (such as pure iPhone non-tablet type options that are merely data collectors).  As I noted above you'll really need to figure out which specific type of app you're looking for.  To each their own!
Thanks for reading!