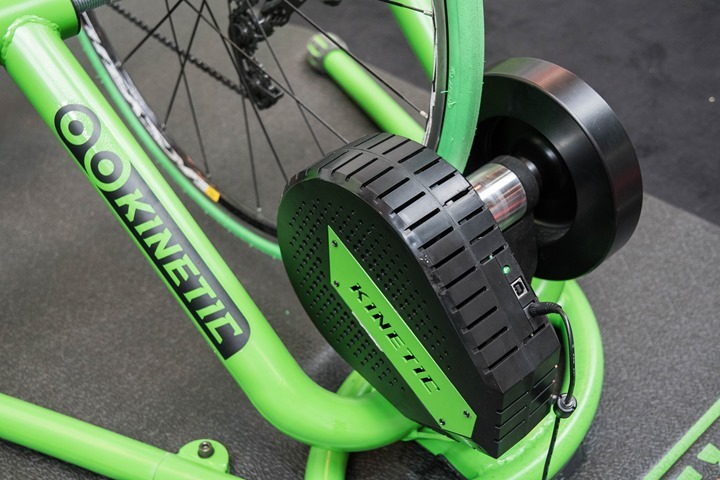 It's been nearly a month since Kinetic quietly added their new lineup of smart resistance controlled trainers to their website, a fact not gone unnoticed by DCR readers.  But it wasn't until this past week at Eurobike that we'd actually get to touch and see the units in person.  But before we do that, it's probably worth having a brief history lesson.  History is fun, right?
A Bit of Backstory: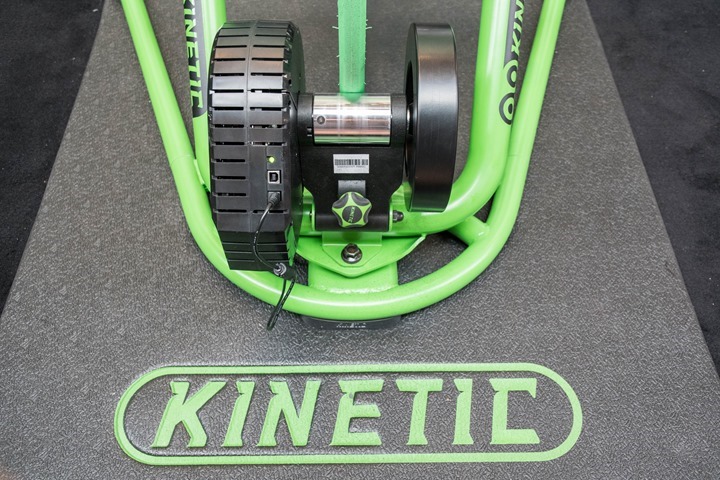 For those familiar with Kinetic, the American company has long been a mainstay in the trainer business with their green trainers.  They've historically been pretty popular, including the Rock & Roll trainer that actually allowed you to rock back and forth.  About four years ago, just ahead of the tidal wave of new electronic controlled trainers, they released the InRide accessory.  This allowed you to get more accurate power data from your (existing) Kinetic trainer.  It didn't control the trainer, but it did get folks Bluetooth Smart data integration with apps like TrainerRoad.
Fast forward to last year and they released their Kinetic Smart Trainer software platform, effectively a training suite.  At the same time, they tweaked their trainer lineup by making InRide standard-issue on their trainers – the Rock & Roll and Road Machine editions.  These being basically the two core trainers they make.  They make two other lesser known models, but they don't have anywhere near the uptake as the Road Machine and Rock & Roll models.
In general, last year's news didn't go over well – partially because the market was just moving too fast for Kinetic.  There were numerous new trainers and lower price points with far more functionality.  Kinetic was competing at the same price as trainers with full resistance control, ANT+/Bluetooth Smart, and countless other connected features.  While it's true that Kinetic had a better road feel than some, it wasn't really enough to cover the functionality gap for most.
Upon concluding my chat with them at Eurobike last year, they noted plans for a new electronic trainer for the 2016-2017 winter training season.  Which, is where we find ourselves now.
The New Models: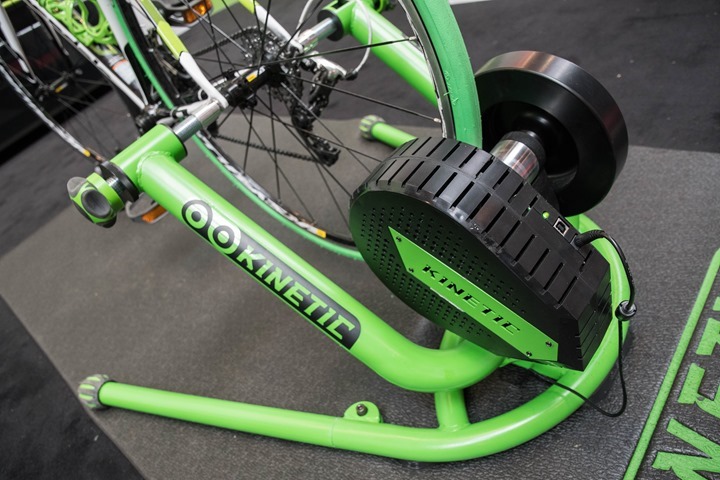 Kinetic has gone out and introduced three new products; two trainers and one upgrade kit.  It's a pretty customer-friendly approach for past customers, which will enable them to upgrade their existing Kinetic trainers with this new electronic controlled piece.  That's cool.
The three devices they've introduced are:
Kinetic Road Machine Smart Control: $649USD
Kinetic Rock & Roll Smart Control: $849USD
Kinetic Smart Control Power Unit (Upgrade Kit): $549USD
The first two models simply take the existing frames (Road Machine/Rock & Roll) and make them resistance controlled trainers as a complete package.  Whereas the last item allows you to upgrade *any* past model of those trainers, no matter how old, to a smart trainer.  The same resistance unit (RU) is used on all of them.
That resistance unit allows for approximately 1,800w of resistance, though they're finalizing the exact spec as we speak.  Testing is also showing that it can replicate grade in the 10-15% range.  But stay tuned for the final spec there as well.  Both of those numbers are in the ballpark for resistance units at this price point, with the 1,800w being on the higher end, and the 10-15% being in the middle of the road.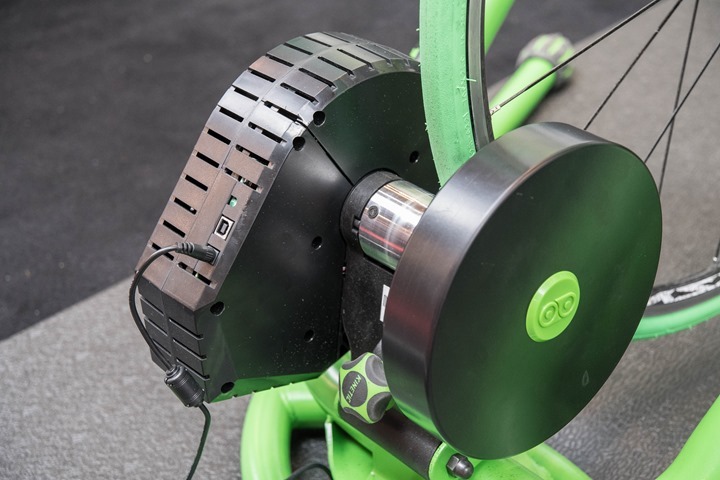 Now one unique feature that the Kinetic Smart Control trainers will offer is the ability to actually control the trainer via a wired connection.  This is upon request from cycling studios that were having challenges with wireless connectivity.  This gives them a way to control numerous trainers using simple long USB cables.  While I don't think this is necessary for the average home, it may be a good option in wireless-challenged environments with lots of trainers.  Kinetic says that PerfPro should have this ready in their multi-user training suite by time the units ship.
Beating to their own drum: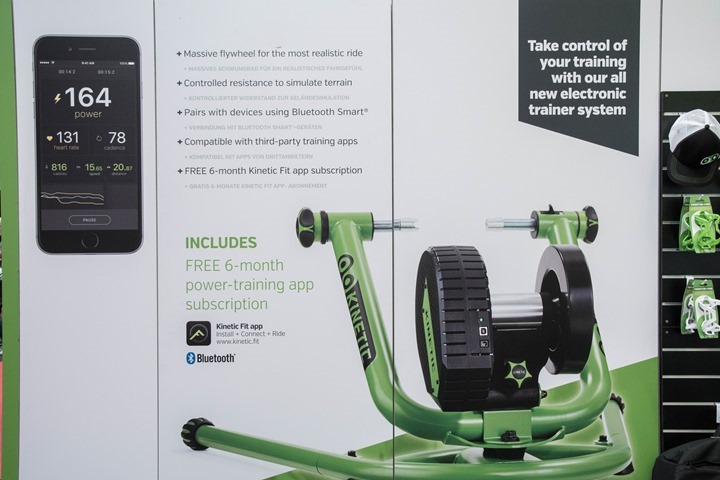 Now this is where things take a bit of a left-turn off the road of normalcy: The unit doesn't support ANT+ (any variant, including FE-C), or even standard/open Bluetooth Smart.  Rather, it only supports a closed/private Bluetooth Smart protocol instead.  This would make for the only major-retailer electronic trainer on the market that lacks such support for both protocols, let alone either.
Kinetic counters that they've got the apps that matter to users on them ready to roll, such as Zwift and TrainerRoad.  Further, Kinetic says that they'll work with other app partners that request access.  Even going as far as offering an open SDK that they'll be publishing to Github as open source.  That'd be great if they did that in addition to just using the normal ANT+/Bluetooth Smart protocols.
So why does this matter to you as a consumer?  Well, I outlined a lot of reasons in the ANT+ FE-C post in this section, which actually has nothing to do with ANT+ FE-C.  But rather, all about understanding how software companies work.  See, in this case they convinced TrainerRoad and Zwift to add support.  They've got a big enough user base to sway them.  But the challenge is what happens to the other 20+ apps out there?  Sure, they could add support, but it's house to house firefighting.  Each app has to ensure that these trainers work, versus just using one of the standards.
The same goes for head units.  These trainers won't work with any of the following head units: Garmin, Suunto, Polar, Wahoo, Stages, SRM, Ben & Jerry's, Lezyne, Sigma, Magellan, Mio, etc… None.  Not one.
Instead, Kinetic is offering to work with companies, such as Polar, to build in trainer support.  But you and I know that just won't happen, at least for all (or any) products.  Whereas had they used the standard power/speed/cadence profiles on Bluetooth Smart (or ANT+), it'd work out of the box. Presto Magic!
The move is rather peculiar, because the vast majority of chipsets these companies use these days are fully capable of dual ANT+/Bluetooth Smart.  For most of the chipsets the companies utilize, they'll pay a licensing fee dependent on whether it's ANT+ only, Bluetooth Smart only, or dual.  That licensing fee is substantially less than a quarter (yes, less than 25 cents).  Let alone the fact that implementing already existing standards is leagues easier than creating your own.  Plus, it offers no competitive advantage. This move will simply drive users elsewhere – even users that already have Kinetic gear and likely would have just paid the upgrade cost.
Going Forward: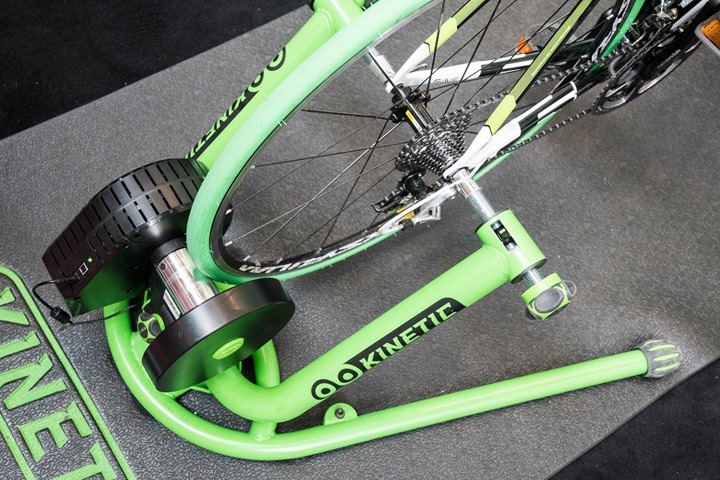 I really hope that Kinetic reconsiders this move, perhaps by Interbike.  It's just software, and their chipsets would likely easily support following industry standards.  And the kicker is, I think what they had on the table at first glance would have been a rather strong offering, especially for the upgrade kit for long-standing Kinetic folks, as well as for training studios.  Plus, some folks really enjoy the Rock & Roll sensation that moves side to side.
But not following standards these days is just a deal killer in this market. And with the upgrade kit priced at the same price as a new competitive trainer with full dual ANT+/Bluetooth Smart compatibility and FE-C/Bluetooth Smart control, it's a really tough recommendation to make.  Nonetheless, I'm interested in seeing how the road feel is on final production units – which arrives at the end of September.  It sounds like they'll have some of those at Interbike as well in a few weeks.  Thus giving them plenty of time to change their mind.
With that – thanks for reading!